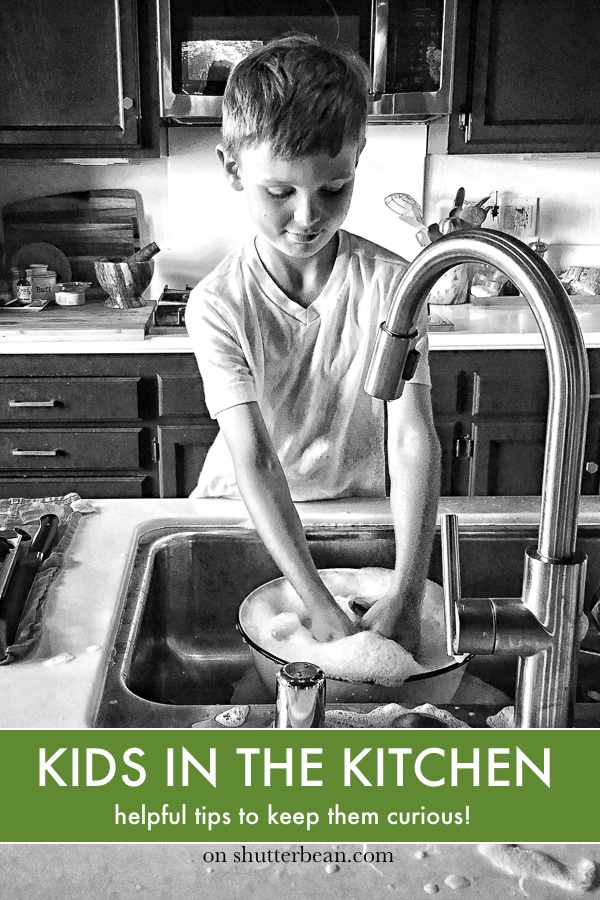 It's SUMMER and that means Cooper is home with me in between camps so I'm putting him to work work work work around the house!
Here's a little back story:
I've been wanting to get Cooper working in the kitchen with me for a looooooong time but he gets bored after a bit and then cuts out. I even tried super hard to tackle my OCD brain that wants him to GET HIS HANDS OUT OF THE FLOUR AND STOP SPREADING IT ALL OVER THE TABLE tendencies. Then one day we watched an episode of Chopped Junior on TV and SHAZAM. He's interested in cooking!  All it took was watching older kids compete in a kitchen for my son to gain respect for my kitchen prowess.
But, wait! There's more.
The other day Cooper came up to me and asked for a snack. I replied with a, "I believe you're old enough to make yourself a snack," and he did just that.  Fifteen minutes later, I walked into the kitchen to find Cooper cutting up a turkey sandwich he had made (grilled bread! with mustard!). I had to mask my excitement (!!!!!!!) or else he would know how important that moment was to me and then he'd never do it again. Power trips start young, you know?
Let's talk about some of my Tips to getting Kids in the Kitchen: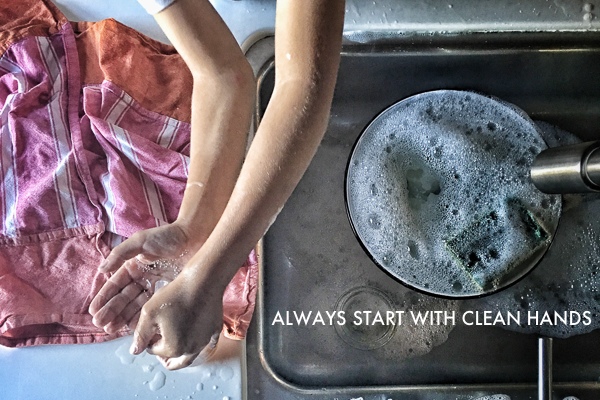 FIRST FIRST FIRST.
Start with clean hands (this is a MUST) and clean hands along the way
Food safety is important. Kids hands are notoriously NOT CLEAN, so whenever we get started in the kitchen, we wash our hands first. Nails are checked. We're good to go.  We also wash our hands when we're handling meat or anything sticky! One day this will become muscle memory, but for now I constantly remind Cooper that we start with clean hands.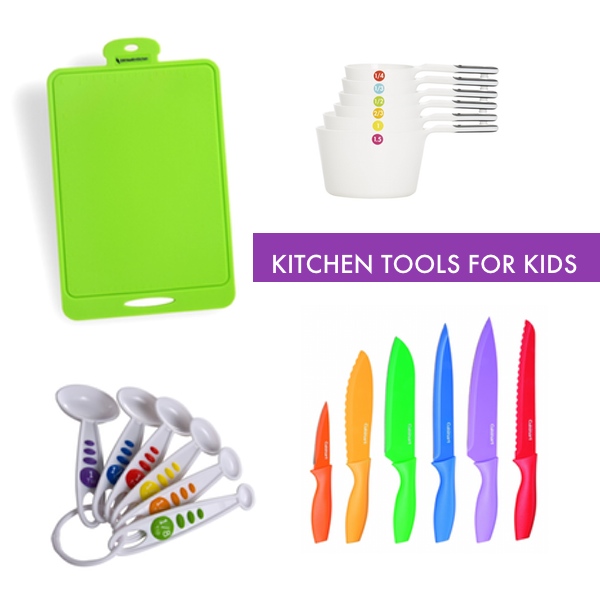 Give them the TOOLS- LITERALLY.
Kids need to feel like they have a place in the kitchen. They need their own tools. They need to feel empowered. I started Cooper out with a few things that are JUST HIS and was so unbelievably stoked about it. If you give them something that is their own, like a knife, apron, cutting board they will feel special and most likely take the responsibility seriously.
Knives – I bought Cooper this set to "grow into."  He currently uses the smallest orange knife, but we will learn to use the other, bigger knives in time.
Non-slip cutting board – I love this cutting board because it's not only non-slip but there's a ruler on the sides so when I tell Cooper how big something is, he can refer to the ruler. When I tell him to get the cutting board out, he immediately grabs his green one.
Measuring Cups – It's so helpful that the numbers are big and bold. There's no denying that these are kids…which is awesome because when I need my measuring cups, I am not going to find them in a lego bin. These are his, NOT MINE.
Measuring Spoons– Cooper is eager to measure out things with his measuring spoons now. He's my baking soda/baking powder measurer. We are learning out to level things off with a butter knife. He loves it.
Also- I bought this book from Cooper's Scholastic Book Fair- How to Cook in 10 Easy Lessons at school a few months ago and he LOVES it. We've knocked out a few recipes so far. There are really cool illustrations and the information is easily digestible!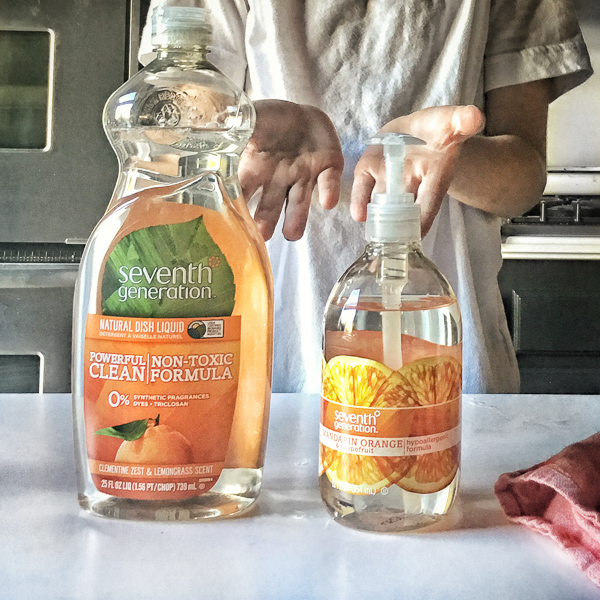 Give them as many choices as you can tolerate.
Kids love to feel like they're in control. You can start giving them choices from the ground up.  Ask them for their input!
Pizza or Pasta?
Rice or Noodles?
Beans in your burrito or no beans?
Do you want your cookies to have raisins or chocolate chips?
I bet the answer is chocolate chips. It almost always is, but in that moment they made a choice and already they feel included in the process.
Also, if you want them to get involved in cleaning, let them choose the cleaning product scents!  Cooper picked out  Seventh Generation's Clementine Zest + Lemongrass scented dish soap and Seventh Generation Mandarin Orange + Grapefruit Hand Soap. Now he is more likely to clean because he was involved in that decision and wants to use what he picked out.  He's really in it for the "orange" flavored bubbles though.  We love Seventh Generation's dish soap & hand soaps because they're not only plant based and dye free but they're also non-toxic! That is especially important to my family as we work together in the kitchen.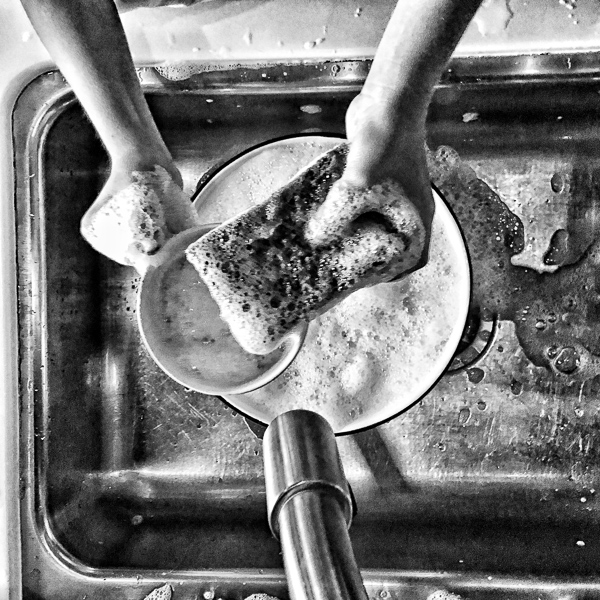 Show them how you clean as you go.
My mom ALWAYS ALWAYS ALWAYS told me that "A good cook always cleans up." She was definitely onto something there. While we are waiting for things to cook, we clean as we go!  One of Cooper's jobs is to fill up a bowl of soapy water and clean the utensils we've used. He also helps me load/unload the dishwasher. Gotta train them early!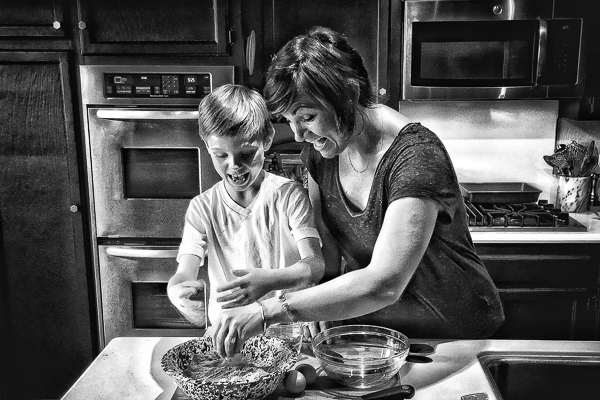 Believe in them. Praise them. Tell them what they are doing right. 
Sometimes I'm really blown away by Cooper's initiative. When he wants something, he goes for it and my job is to encourage him along the way. The more I praise, the more he wants to challenge himself and be better. Encouragement is what keeps him coming back for more.  A couple of months ago, he started fixing his breakfast in the morning. It's sad to see him growing up, but so joyful to see him taking care of himself.  He makes me proud!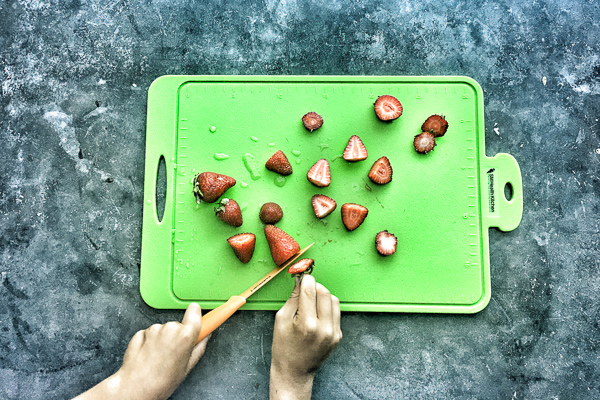 Give them responsibilities and know how to frame it.
For Cooper, I leverage his interest in doing "adult things," by framing the responsibility like this: "I'm not sure if you're old enough to do this because this is kind of an adult responsibility…but…" (he perks right up and wants in on the action). When he does something advanced for his age, I make sure he sure is aware of how excited I am for him to learn something new.
One of Cooper's main responsibilities is emptying the dishwasher (he's better at it than Casey because he knows where EVERYTHING GOES!). Sure, he gets annoyed with the chore at times, but I always tell him that the sooner I can get out of the kitchen, the sooner I have time to hang out with him and that usually does the trick.
Show them how to stay organized- both physically & mentally.
It's actually a necessity when you're working with kids because they can throw you off with their curiosity/questions. Sometimes I have to say "OK. Let's stop and think about what our next step is."  We center ourselves and then continue.  We also gather all of our ingredients before we start, that way we are not going back and forth into the fridge/pantry and potentially forgetting something.
Have them try things as they go.
Want to know what all-purpose flour tastes like? Sure, try it!  The more they taste the ingredients separately, the more they will understand the foundations they bring to the recipes you try together.  Just warning you….flour is messy.
Talk about your successes & failures.
Sometimes when we're in the car driving home from school we talk about flavor profiles and food combinations that we should try. We talk about what we liked and what we didn't like about a certain recipe. If something doesn't turn out the way we expected it to, we talk about it. The dialogue gets them thinking.
Don't be such a clean freak to the point where you ruin the magic & fun of it.
When your kitchen session is over, everyone helps clean up and you time yourself with one of your favorite playlists. I've had to take myself out of the brain space of "OMG LOOK AT THE MESS WE MADE THIS IS GOING TO TAKE FOREVER TO CLEAN UP UGGGGGGH," and replace it with- "We had fun. We did this together. We will clean it up together. It's cool."
All you need is a really good playlist and a timer. If I challenge us to get the kitchen done by the end of three songs or set a timer for 15 minutes, Cooper is super motivated to help. He wants to beat the clock!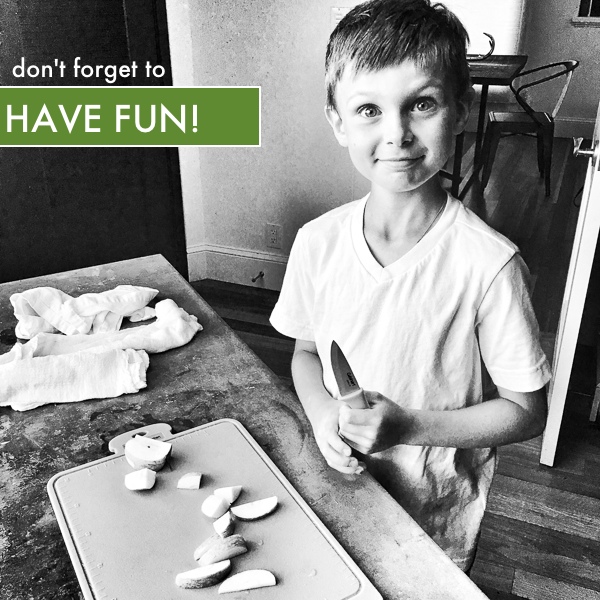 There you have it. This is where you'll find Cooper and I this summer— Shutterbean Cooking Camp! We can't wait to show you our creations.
This post was produced in partnership with Seventh Generation. As always, all thoughts and opinions are my own.