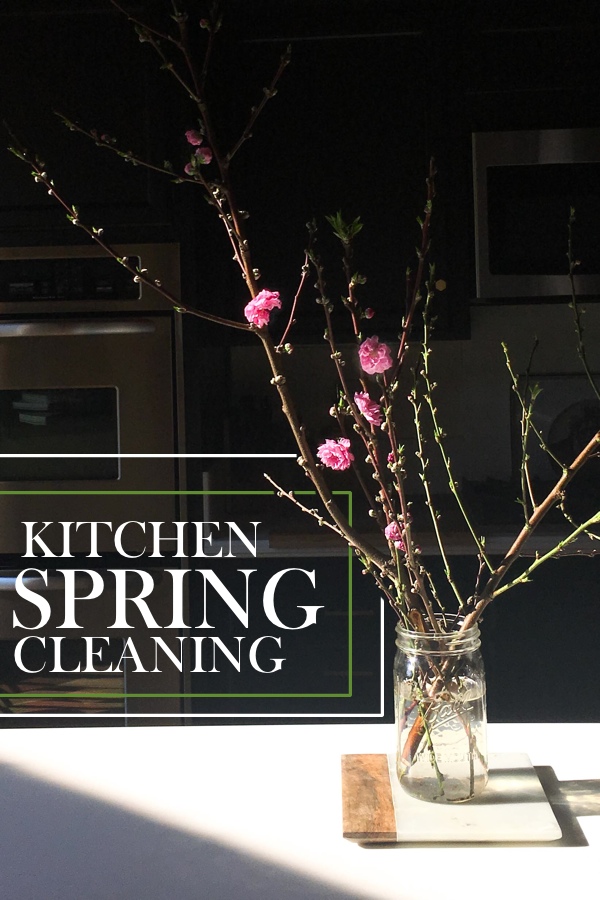 The most used room in our house is the kitchen. I bet you would have never guessed that, huh? I am CONSTANTLY cleaning my kitchen-sometimes 3-4 times a day. It never ends! I'm working with Seventh Generation (love their products!) to produce several organizing/cleaning posts, so I spent last weekend doing some intense Kitchen Spring Cleaning.  Now my kitchen sparkling clean!
Here, let me show you what I did. Let's start with my TO DO TO LIST: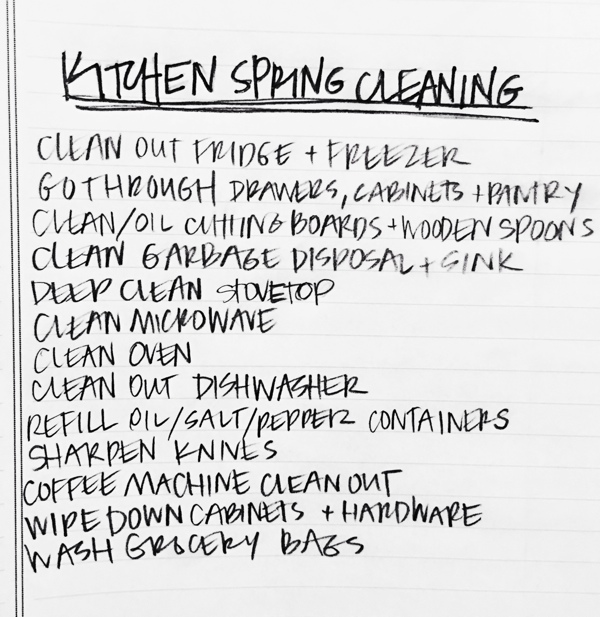 Here's my dream clean team: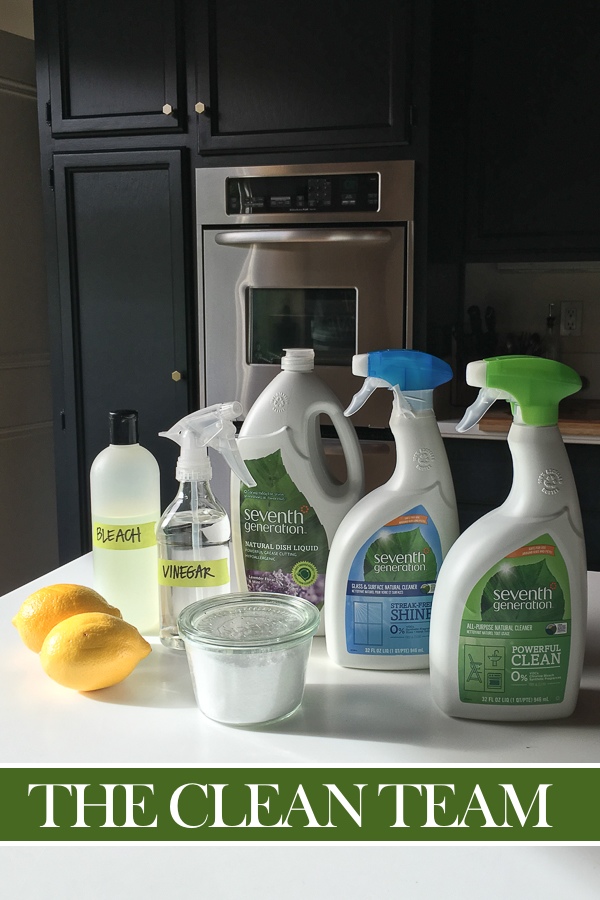 My Magic Cleaning Arsenal: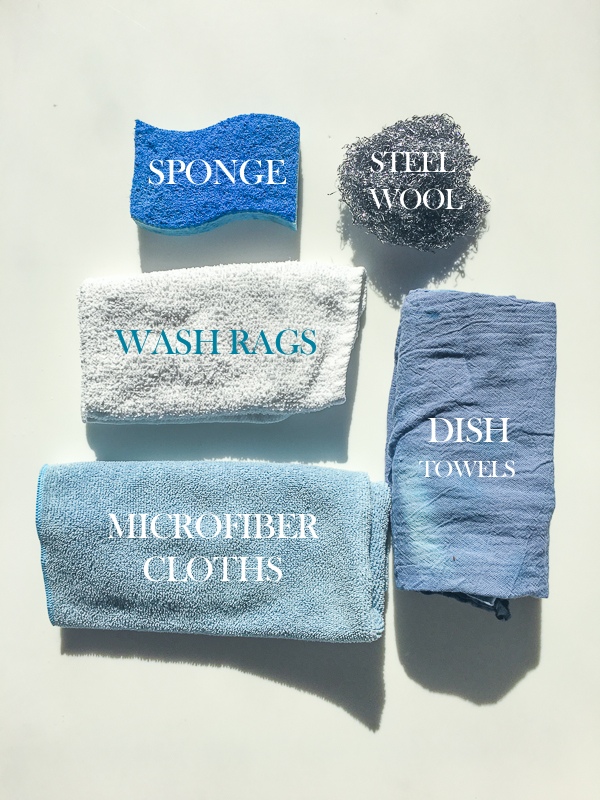 CLEANING ESSENTIALS:
sponge
steel sool
wash rags
microfiber cloths
dish towels
First things first. We're going to clean out the fridge! I try to do this every week when I'm working on a meal prep. I do a DEEP clean every few months.  Spring is the perfect time to take everything out and start fresh.
This is what my fridge looks like after a 4 recipe day. It's a "jam anything where it can fit" situation.  Time to change that!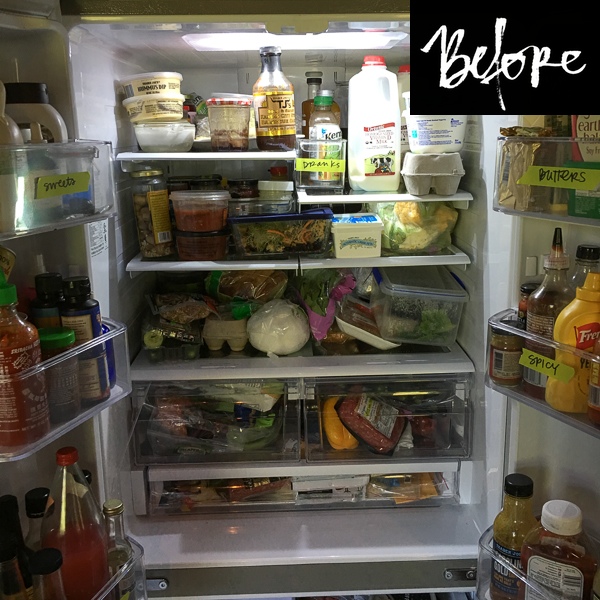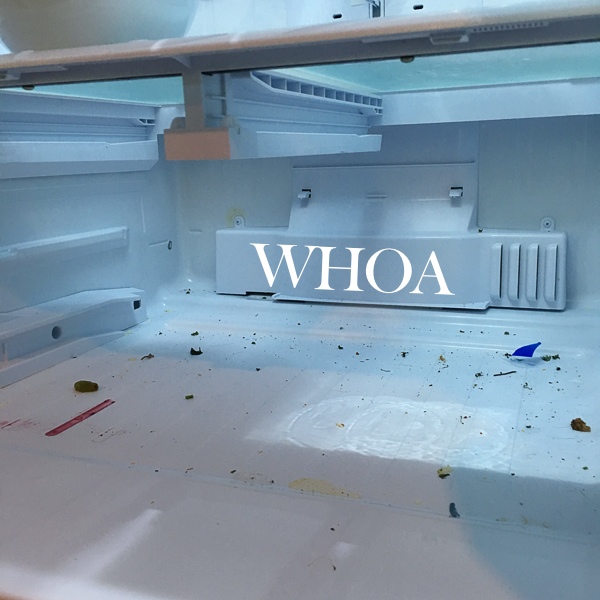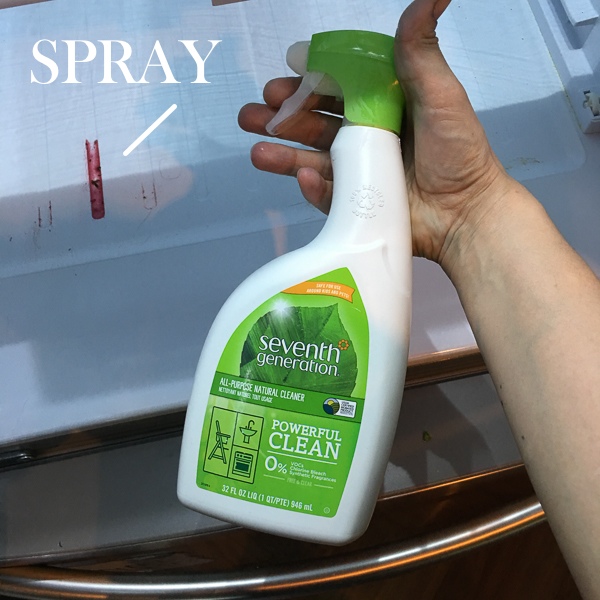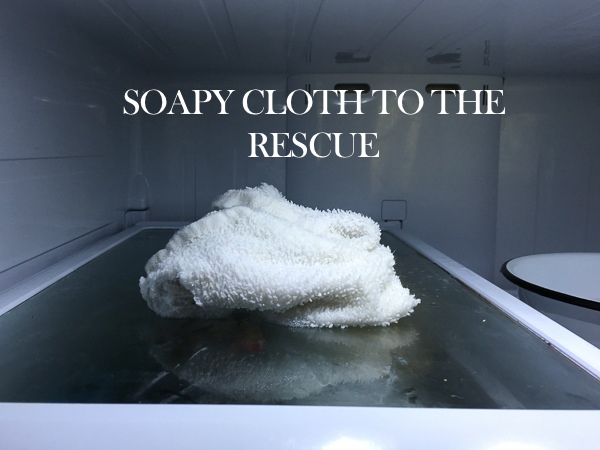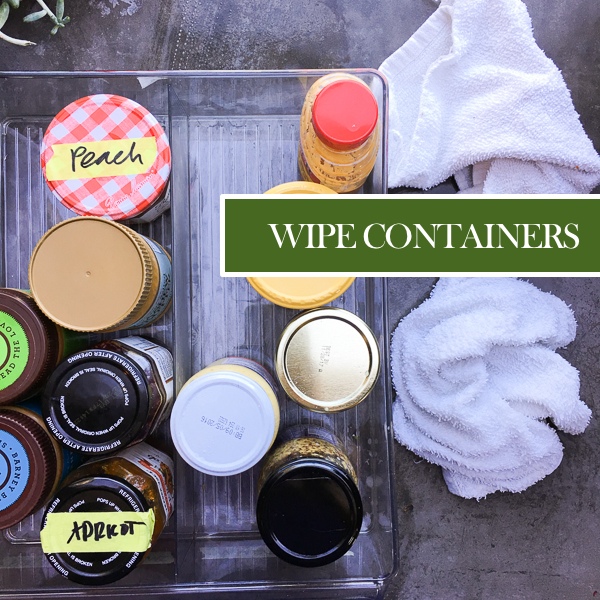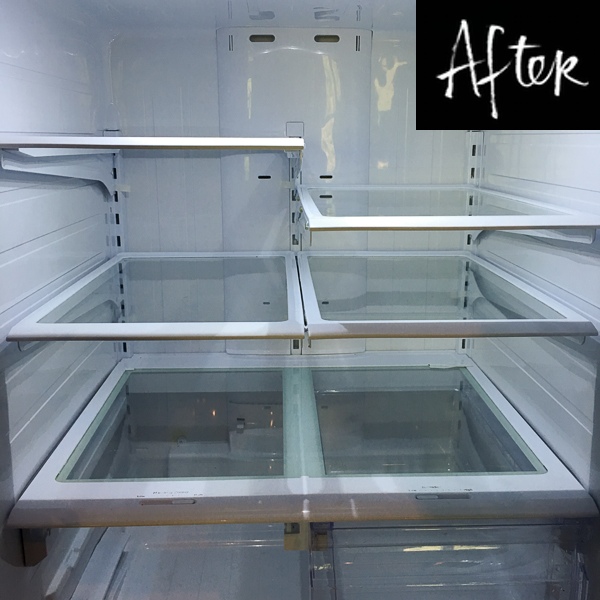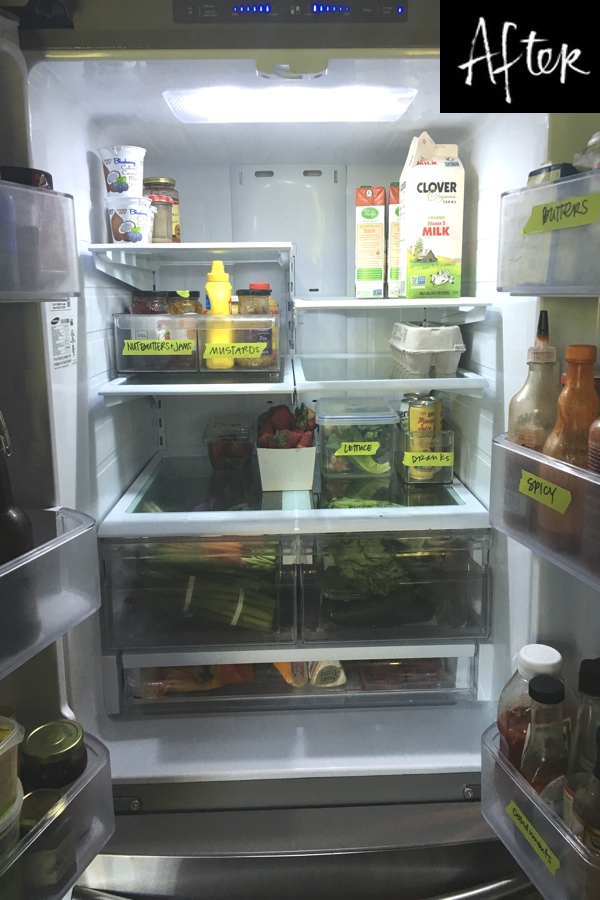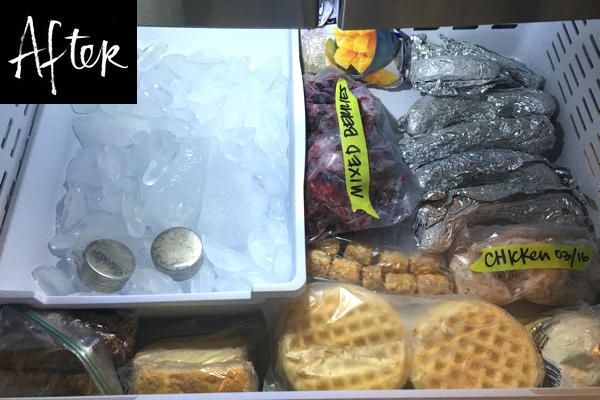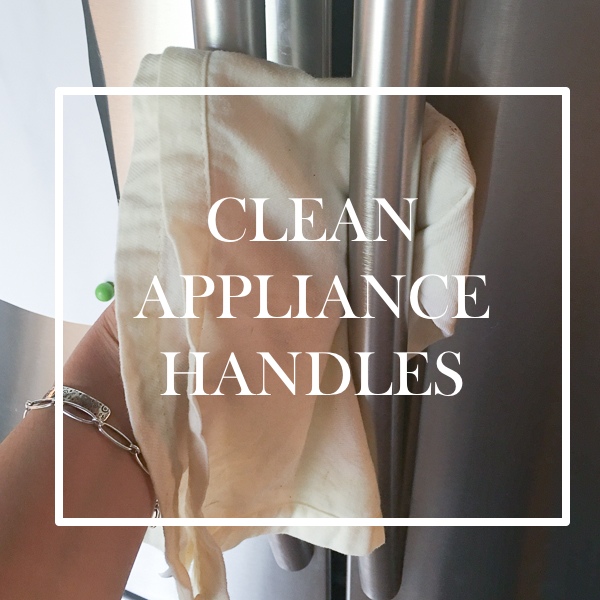 Clean Out Fridge & Freezer
When you have too many items in your fridge, it doesn't run efficiently.  Like I said, I try to straighten up things every week and I'll wipe down any big spots/spills with a soapy rag or a Seventh Generation Disinfecting Wipe.  This is what my process looks like:
-go through all items/toss expired food
-vacuum inside the fridge & freezer
-clear all items off shelves & in drawers and put on countertop
-remove drawers and shelves & wash in soapy water
-wipe down food containers & jars with soapy rag
-wipe down the inside of the fridge with a soapy rag
-wash out ice container
-add baking soda the fridge & freezer to deodorize
-put everything back neatly & organize
-spray a microfiber with Seventh Generation All Purpose Natural Cleaner Spray and wipe down the outside of the fridge and thoroughly clean the door handles (do this with all appliances!)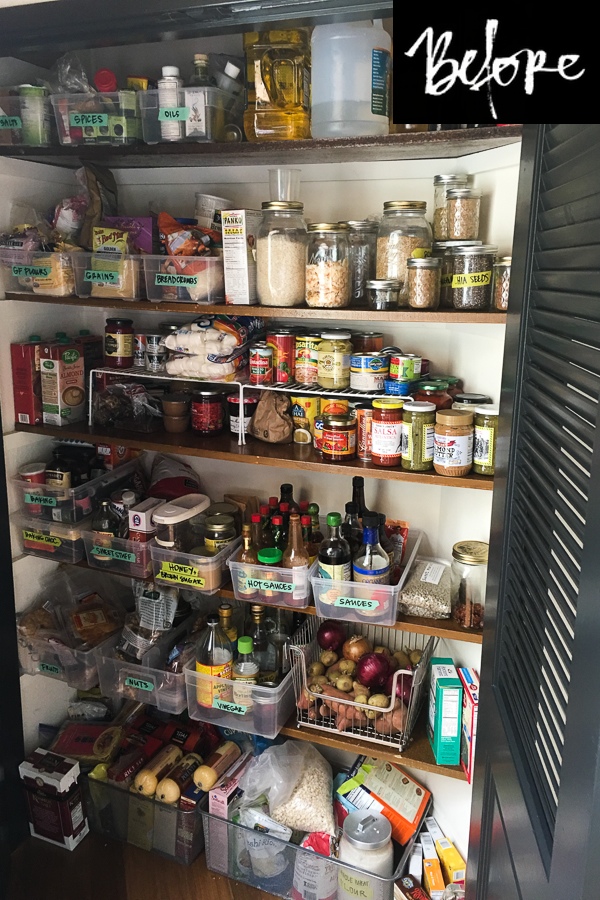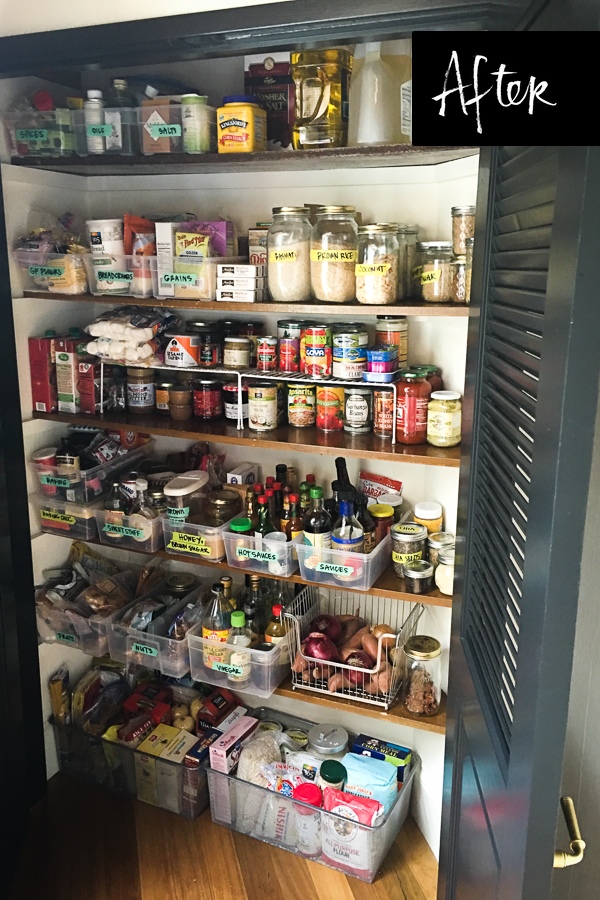 Go Through Drawers, Cabinets & Pantry
-put everything back where it belongs (especially in silverware/utensil drawer)
-vacuum inside of drawers & cabinets
-toss old/expired food
-wipe down anything sticky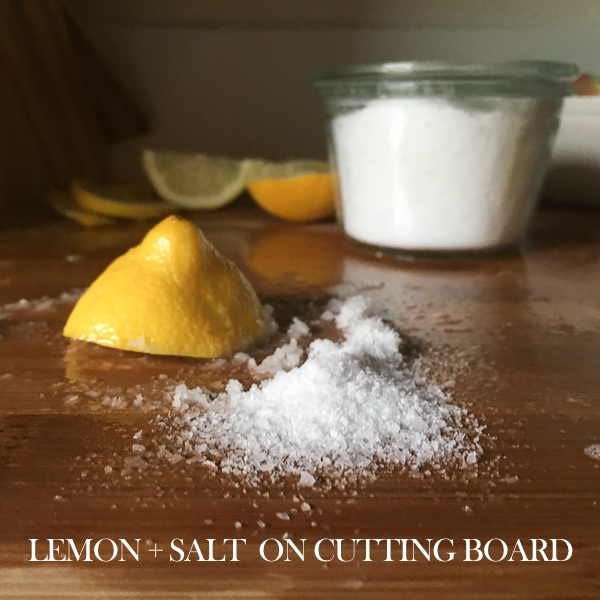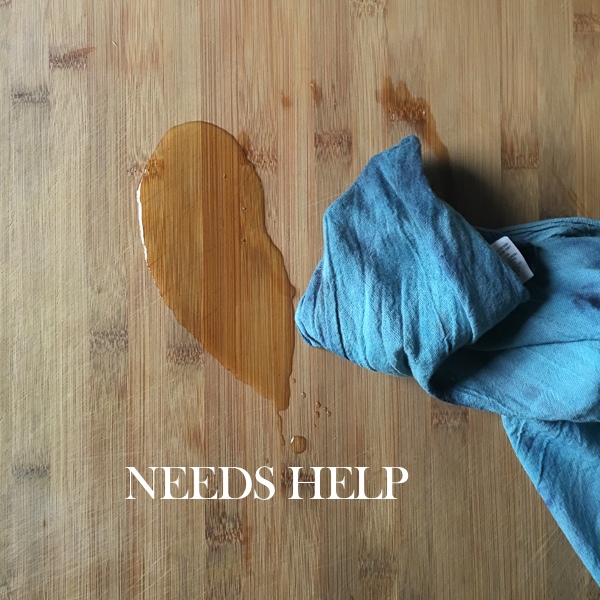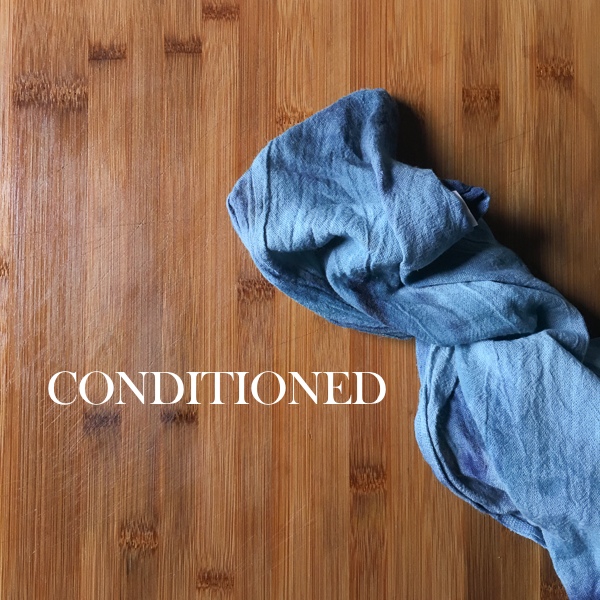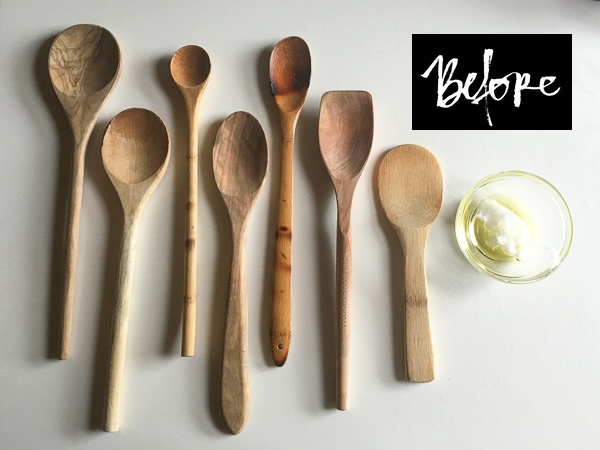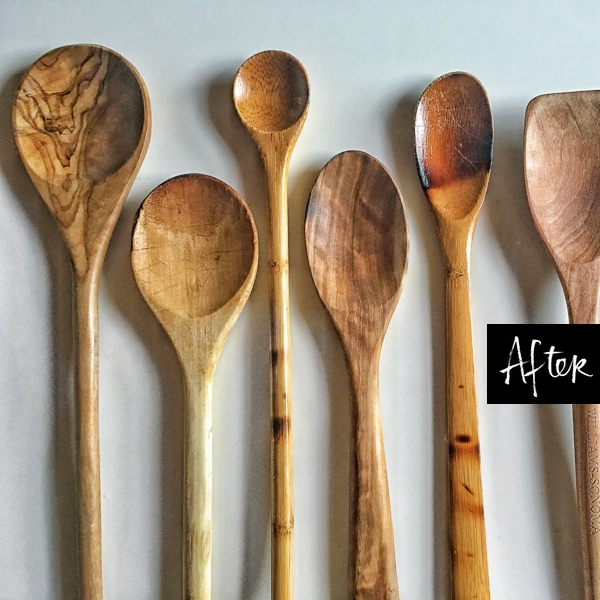 Clean/Oil Cutting Boards + Wooden Spoons
After a few months of wear & tear, the wood in my kitchen needs maintenance. I wash everything and oil it. Sometimes I'll oil my salad bowls while I'm in the zone. Over time wood gets dull,  so let's make things shine!
-clean & disinfect cutting boards (I add a little bit of bleach & water to sanitize)
– scrub surface with lemon + salt to pick up any bits & freshen
-rub a 1:1 ratio of coconut oil and olive oil onto wood to protect it/ wipe up excess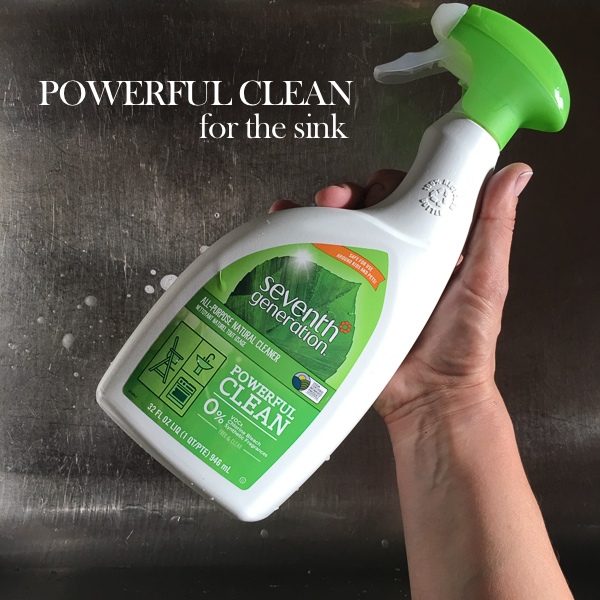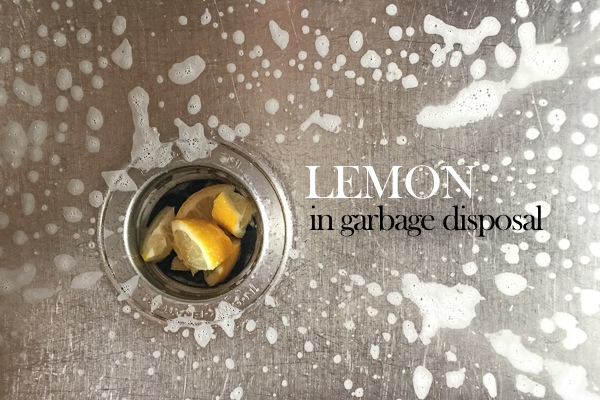 Freshen Garbage Disposal + Deep Clean Sink
-spray vinegar in garbage disposal to neutralize odor
-toss cut up lemons into the garbage disposal & run until the lemon is gone
-scrub sink with soapy sponge & steel wool
-finish with All Purpose Natural Cleaner  + wipe clean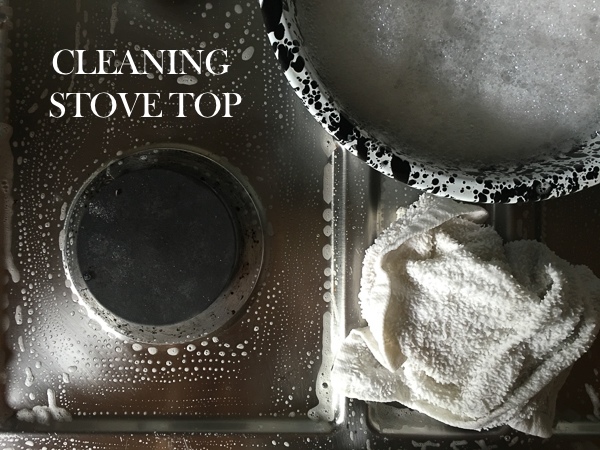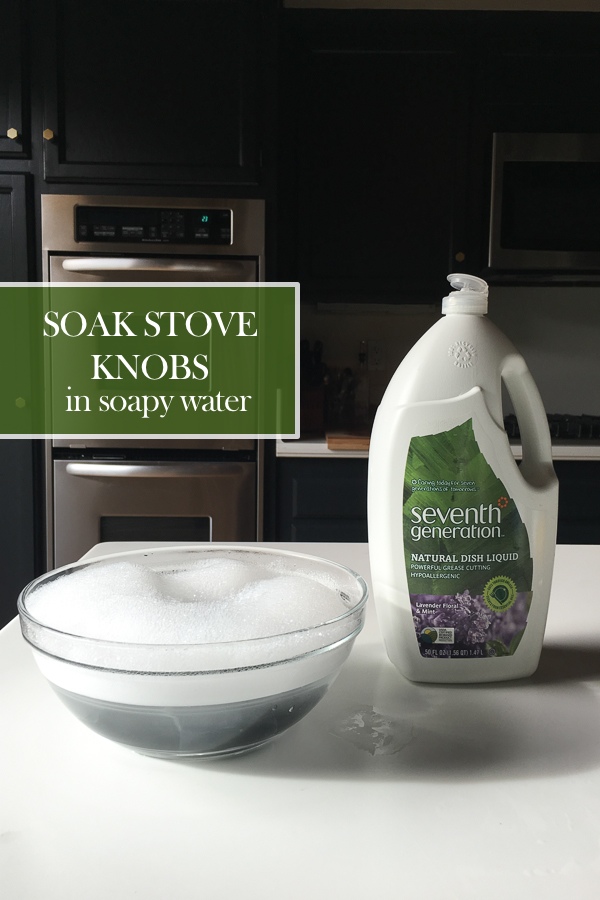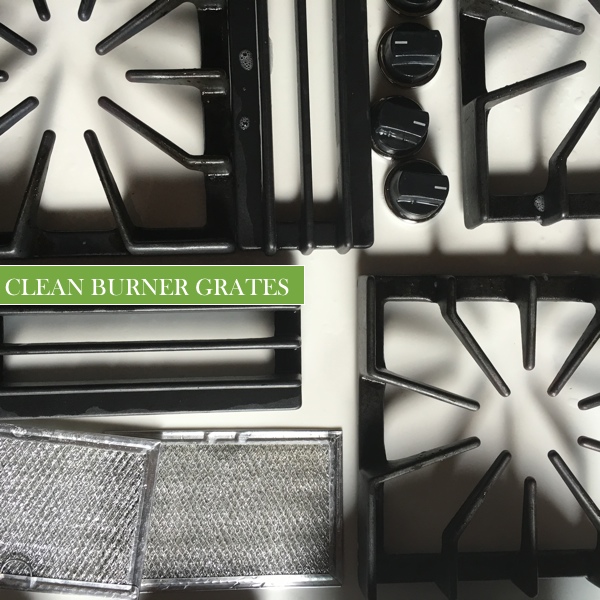 Deep Clean Stove Top & Burners
-wipe down & dust stove top
-remove burner grates and knobs and soak in hot soapy water/scrub
-deep clean stovetop with soapy water and clean stubborn stains with All Purpose Natural Cleaner 
-get into the crevices with a toothpick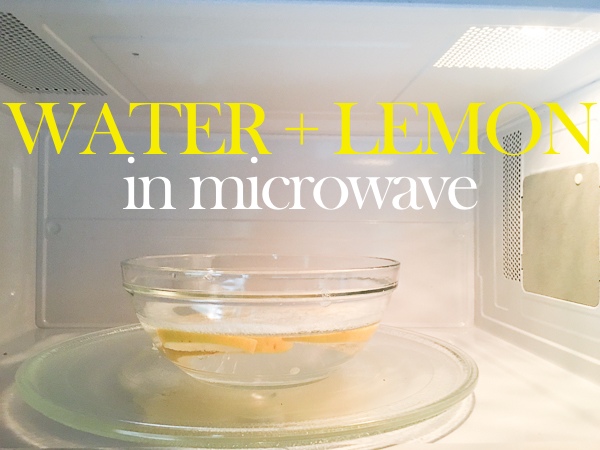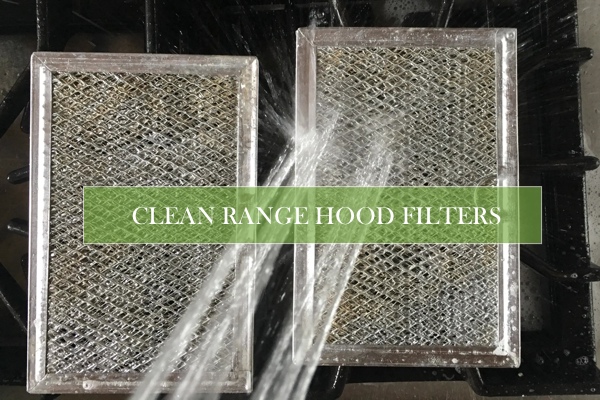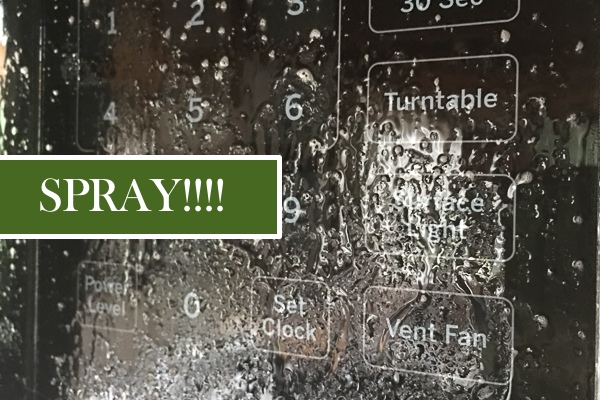 Clean Microwave 
-remove microwave plate & spray with All Purpose Natural Cleaner . Wipe clean.
-fill a bowl with water + lemon slices & microwave for 3 minutes
-let bowl of lemon steam the microwave- about 10 minutes
-wipe down the inside of microwave with a dish towel
-return plate to the microwave
-spray the outside of the microwave Glass & Surface Natural Cleaner & wipe clean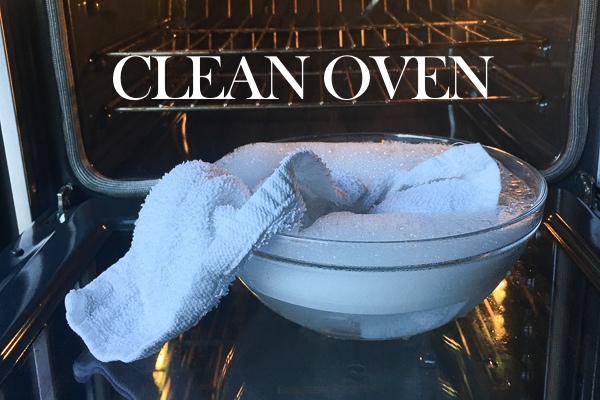 Clean Oven
-clean/sweep any crumbs
-pull out racks and wash in hot soapy water
-spray a microfiber towel with All Purpose Natural Cleaner  and wipe down the inside of the oven
-clean the inside of the oven window with and the outside with Glass & Surface Natural Cleaner 
-wipe the inside clean with a wet rag
 For tough stains, make a paste out of baking soda and water and scrub the inside of the oven. Clean off really well with wet rag.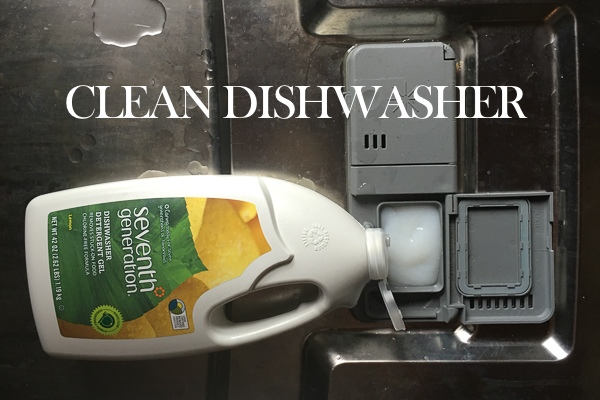 Clean Dishwasher
-clean out drain filter
-run a quick cycle (without any dish ware inside) with  Dishwasher Detergent Gel to clean inside
-pour vinegar into a measuring cup (about 1/2 cup) and nestle in the top rack of the dishwasher and run dishwasher through a regular cycle
-spray a microfiber towel with All Purpose Natural Cleaner  and clean the outside of the dishwasher, including the handles
 
Refill Oil, Salt & Pepper Containers
-go through containers and refill anything that's running low
-refill dishwashing soap & hand soap if it's empty

Sharpen Knives
-sharpen knives & wash in soapy water to remove any debris
-wipe down knife block and oil if necessary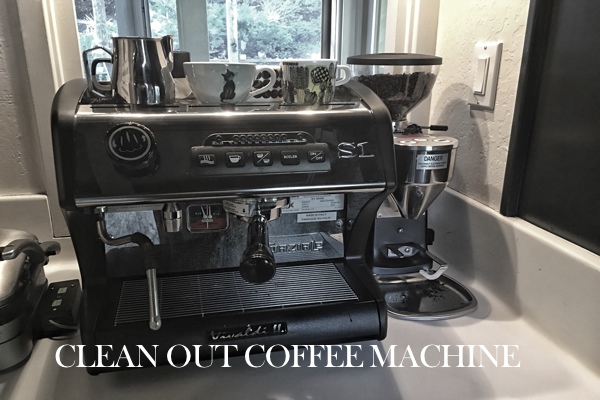 Coffee Machine Clean Out
We have an espresso machine that requires regular maintenance. Casey just cleaned it last week. He had to remove & clean the group head screens and back flush with a detergent designed for specifically espresso machines.
If you have a coffee maker, I recommend filling your coffee maker's water reservoir with equal parts white vinegar & water. Run the machine the through a regular cycle (without coffee). Rinse & wash coffee pot machine and run machine again with regular water.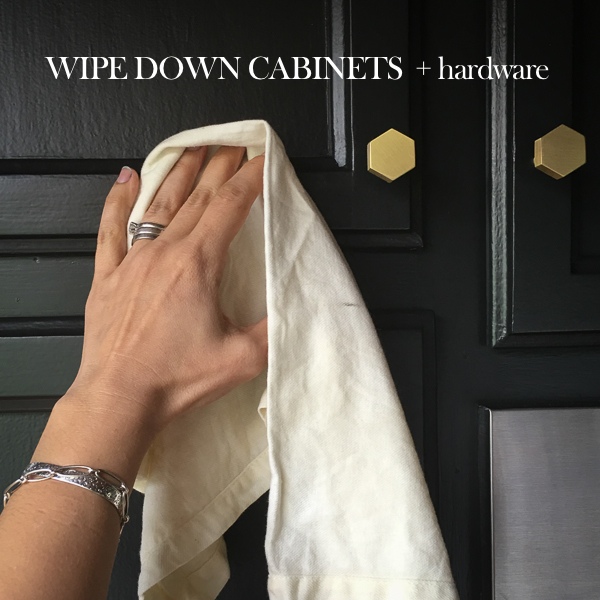 Wipe Cabinets & Hardware
-wipe down cabinets with a damp cloth & dry immediately to avoid water spots
-spray a microfiber cloth with All Purpose Natural Cleaner  and wipe down all of the handles & knobs

Wash Reusable Grocery Bags
Reusable grocery bags can harbor a lot of bacteria, so it's really important to wash the periodically. Toss the reusable grocery bags in the washing machine & wash with Seventh Generation Free & Clear Laundry Detergent. Fold and reuse!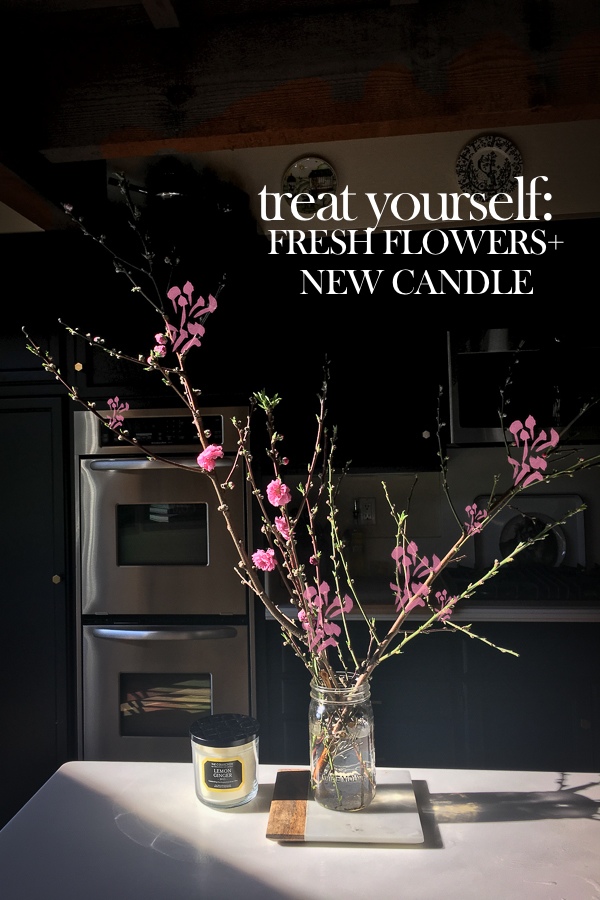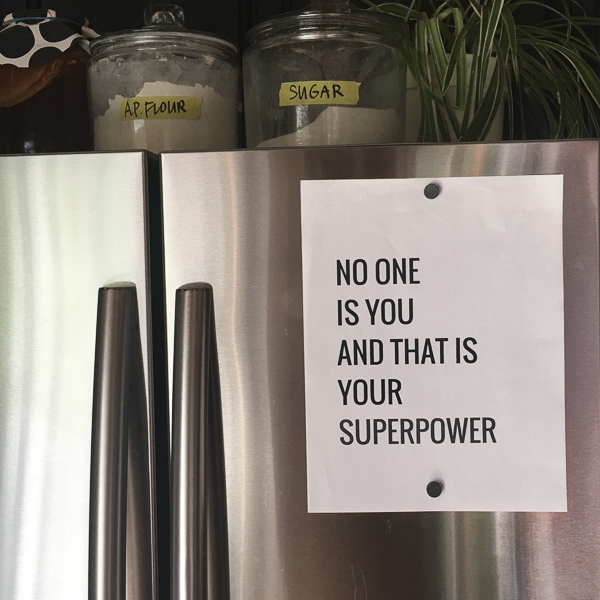 Final Touches
-add a new plant to the kitchen (I bought myself some cherry blossoms!)
-remove any clutter on the countertops
-light your favorite candle
-put an inspirational quote on the fridge
This is what my kitchen look looked like before: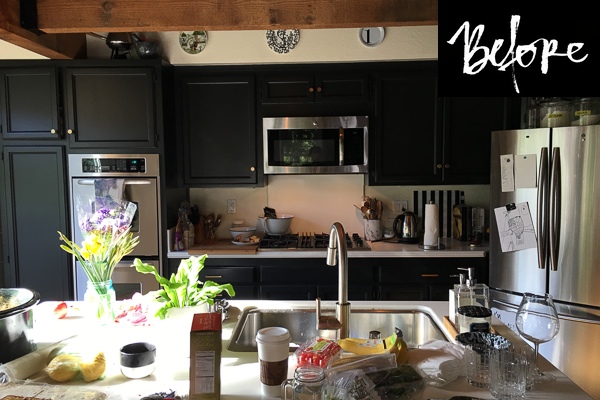 And AFTER! Ahhhh. CLEAN!!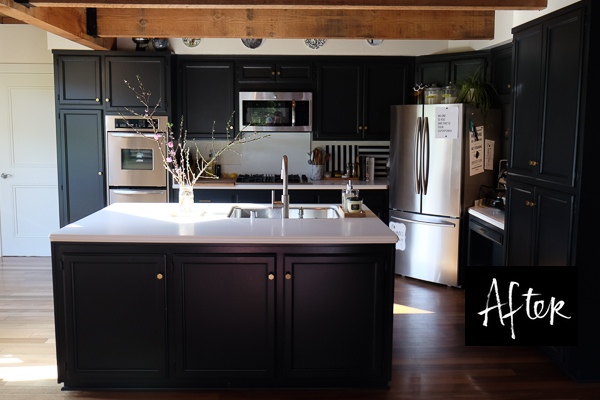 Hope this inspires you to do some Kitchen Spring Cleaning!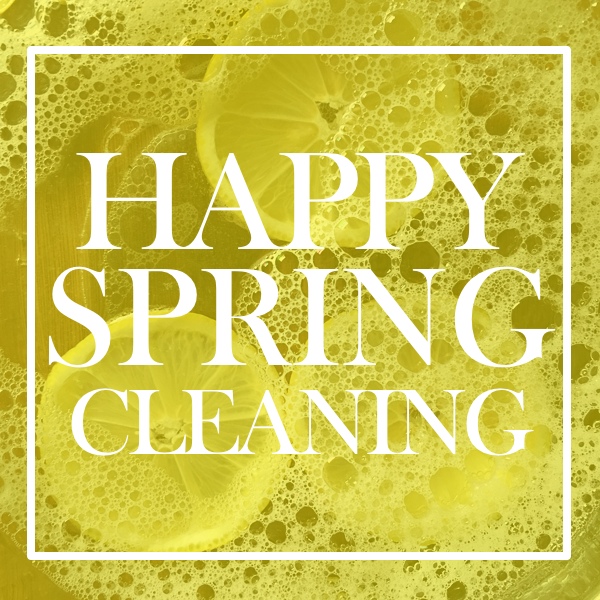 This Kitchen Spring Cleaning post was produced in partnership with Seventh Generation. As always, all opinions are my own.