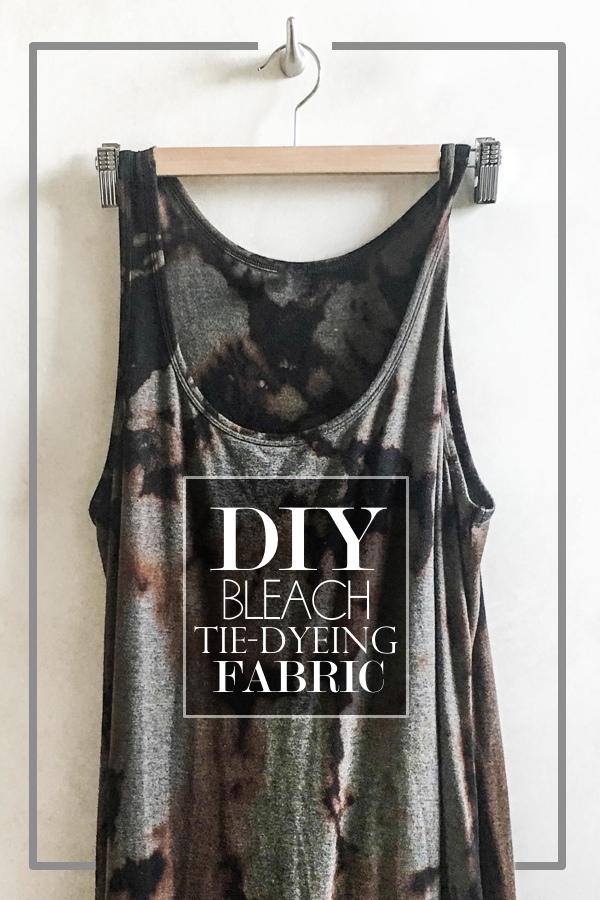 When I was in art school, I used to cherish my time in the photo lab. Many years later, I found that bleaching/dyeing fabric gives me that same sense of excitement I had while watching photos develop in a developer bath in the darkroom. Maybe that's why I've been on a tie dying/ bleaching kick these days?  I think it's also that I love breathing new life into things I already have.  Let me show you what I've been up to!
First things first. Let's talk about what's involved. It's not much. It's actually really simple!
What I use for bleach tie-dying fabric:
a squeeze bottle filled with bleach
rubber gloves
a bath tub or large bucket/container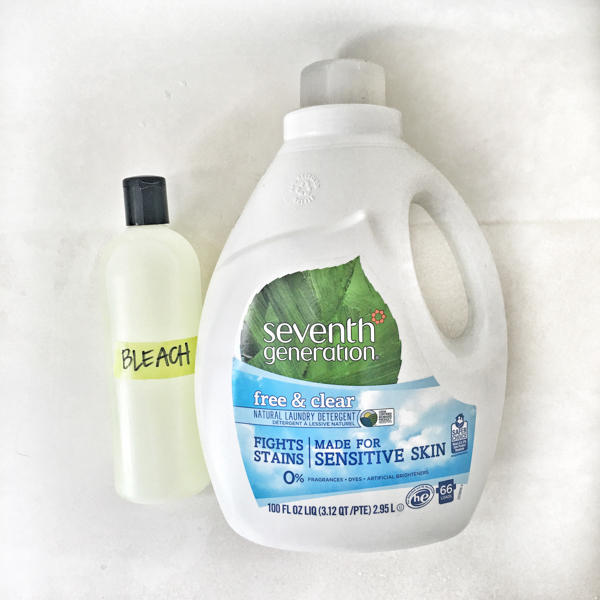 The first step in this process is to make sure your fabric is washed.
One of the reasons why I use Seventh Generation Free & Clear Laundry Detergent is that it's fragrance free. Most of the towels/napkins that I've been dyeing are used at the dinner table and I find it super annoying to wipe my face while I'm eating and smell overly perfumed fabric. I think it messes with how you taste/experience food.  I find this super important when I'm wrapping hot tortillas up in a dish towel for taco night.  It's those little things that make a big difference.
When I'm washing our clothes, I use the Seventh Generation Blue Eucalyptus & Lavender Laundry Detergent because it smells good and it's free of dyes & synthetic fragrances.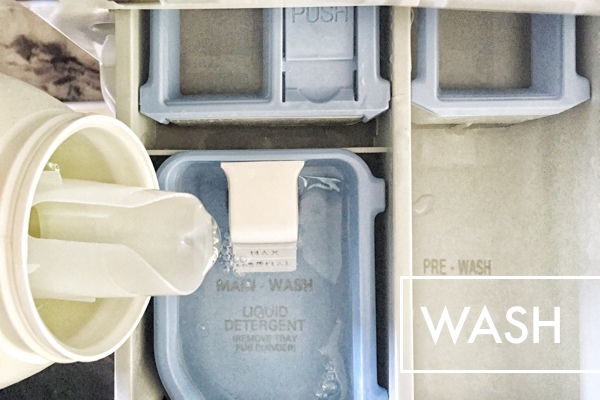 For any type of bleach dye job, you should experiment with the color first.
I recommend taking a little bit of bleach and dabbing it on your fabric to seee how the color develops. The bleach will essentially lift the color up and reveal a new color.
Alternately, you can dip the eraser end of a pencil into bleach and create polka dots on your fabric. I plan on doing that next!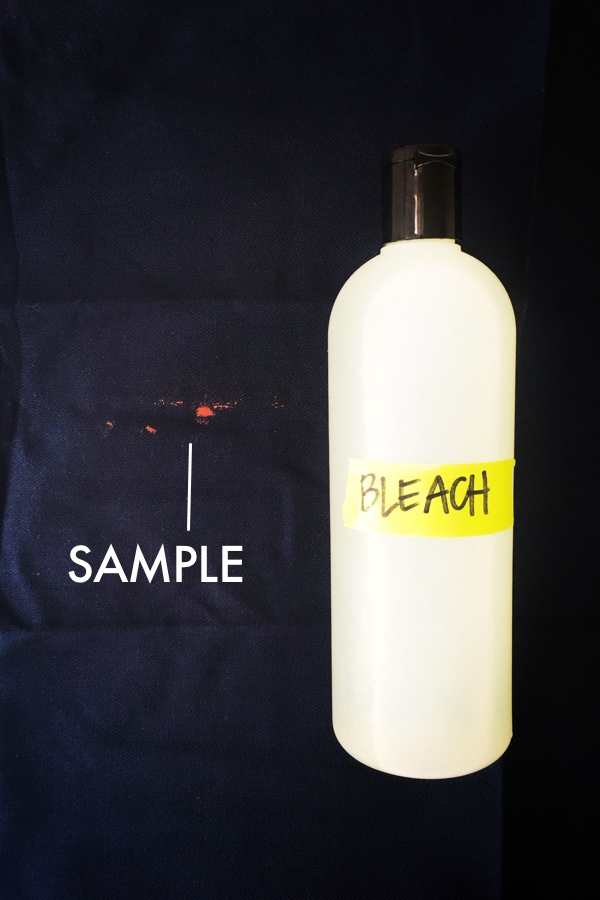 I have a set of navy napkins that I wanted to bleach tie-dye.
Let me walk you through the steps. But first, let's look at the before.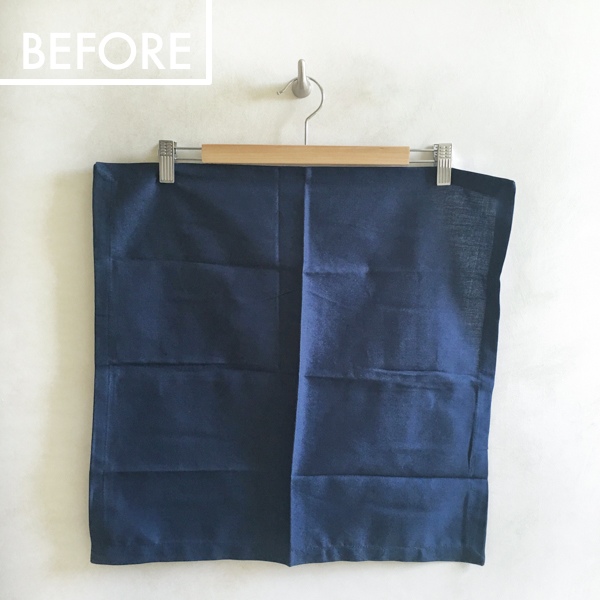 Here's what a little bleach action can do.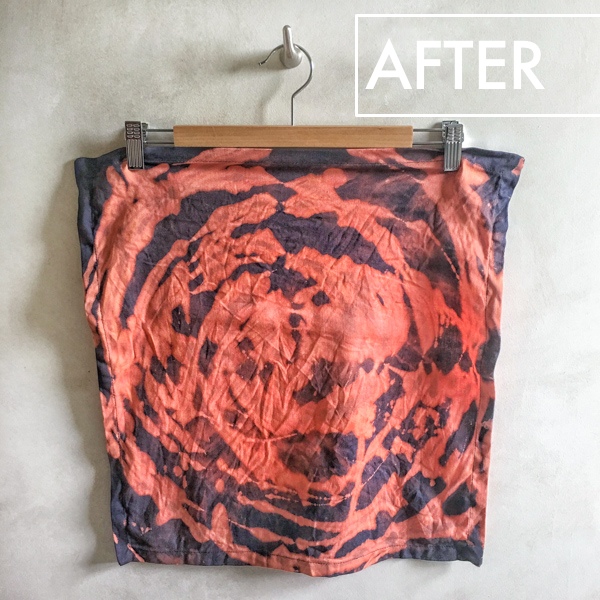 Fun, right?  I love how it made the blue reddish/pink.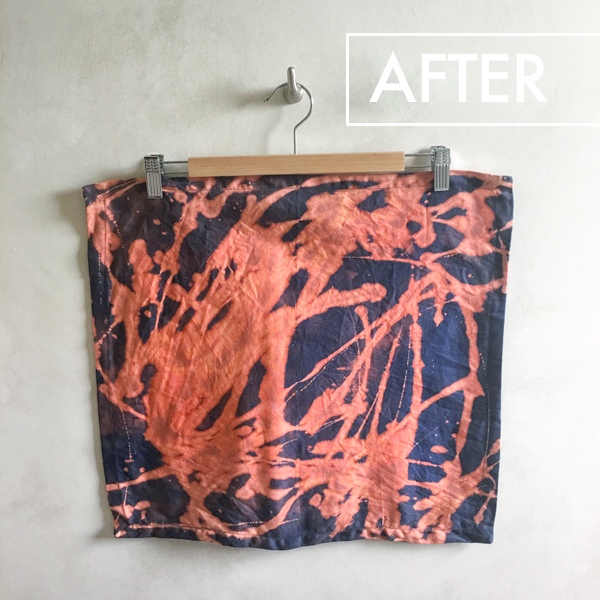 Here's a nice layer of bleach applied with a squirt bottle.
I like to make squiggles. It's a little nod to Jackson Pollock 😉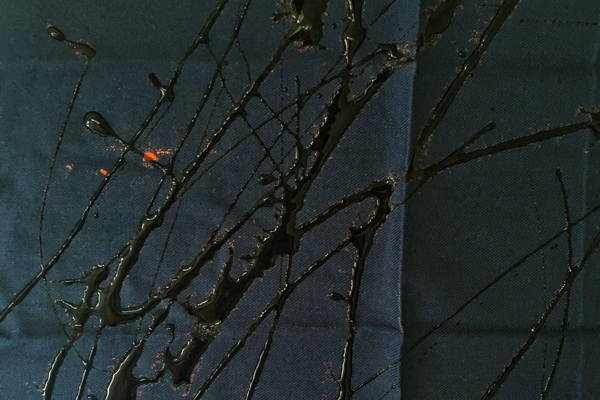 And here's what it looks like after about a minute. I love watching that happens on the edges.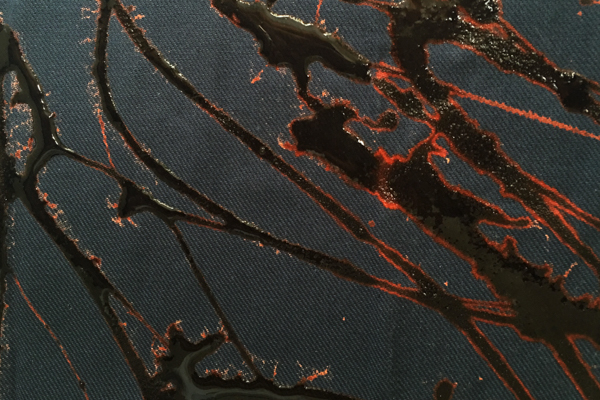 I should mention that I do this all in the bath tub (with the window open) because helps contain the mess AND it cleans the bathtub in the process. Win win.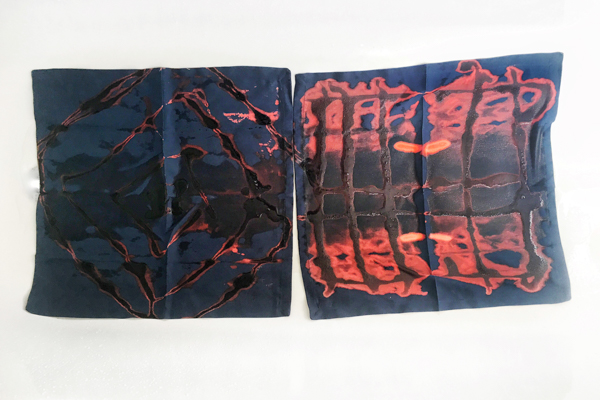 Here's what we have going for us after about 5 minutes.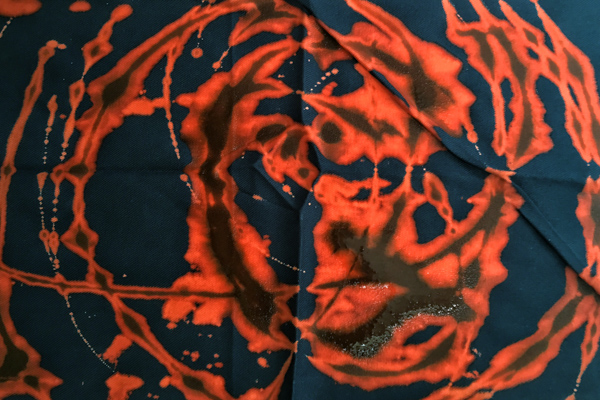 Pretty, right?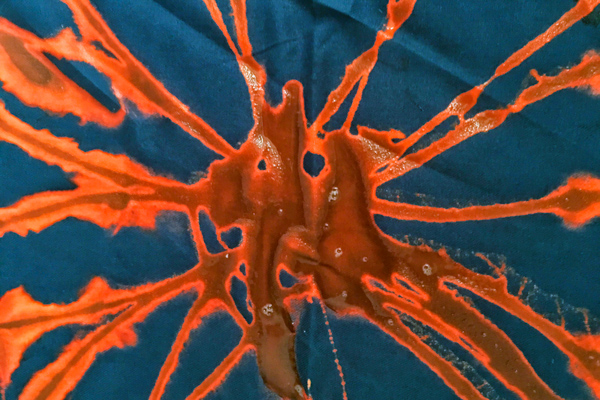 When I feel like the bleach has lifted enough from the fabric, I rinse off the bleach in the tub.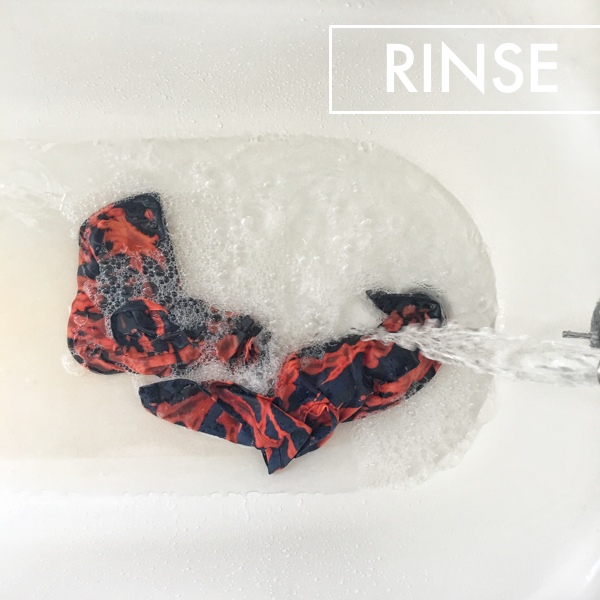 I squeeze the water out of the fabric and put everything in a big tupperware so I can start another batch in the tub.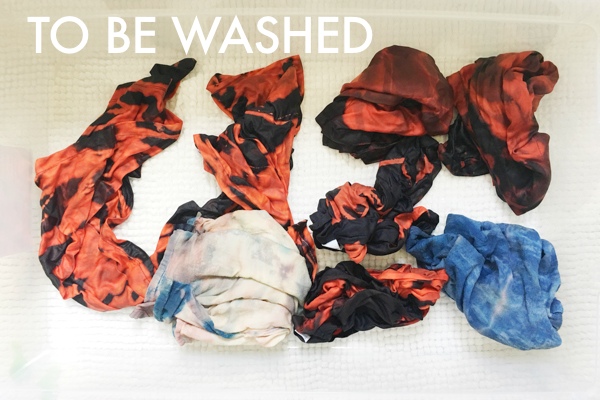 When we're done, we wash the fabric.
I've found that if you don't do the pre- rinse before you put the fabric in the wash, the washing machine (at least my front loader) will continue to bleach your fabric while it's washing. Rinse then wash!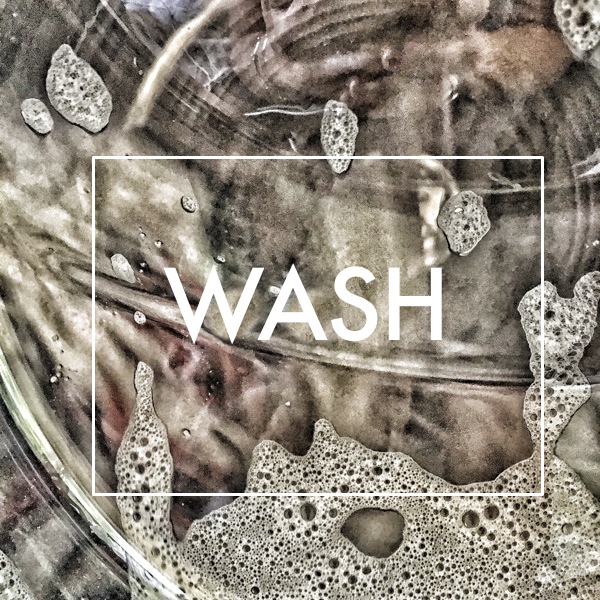 Hanging up to dry. You can put it in the dryer if you want.
I just took a picture on a drying rack for effect 😉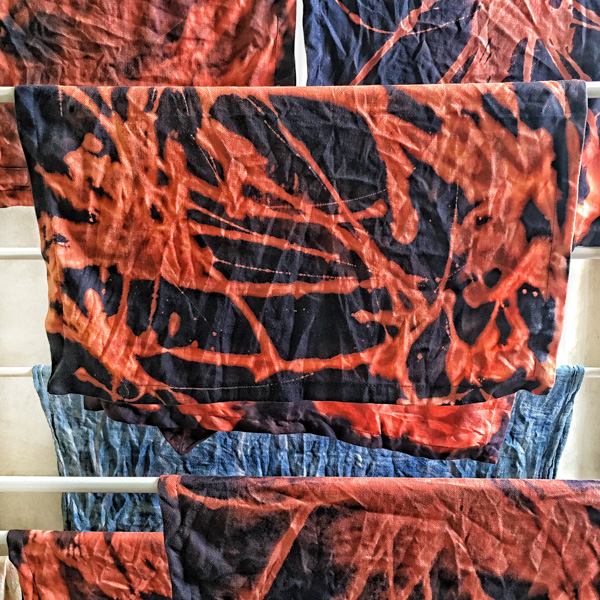 Let's look at my other experiments.
Here's a dish towel that I dyed blue last year. I think over the year I did a bleach treatment to it—making stripes and now I'm ready to take it to another level. Experimenting is fun.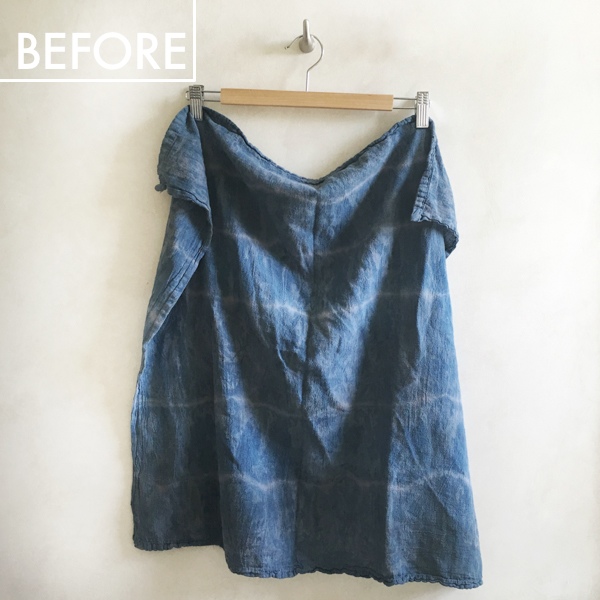 For this one, you can see that the overall fabric is lighter. When I did this one in the tub, the tub was a little wet with water and so it got all of the fabric a little wet. When you bleach fabric that's wet/damp, you get more of watercolor look. It's not as concentrated, so you can see here that it made some really pretty textures in the fabric.
I've had this dishtowel for 3 years and this is its third incarnation!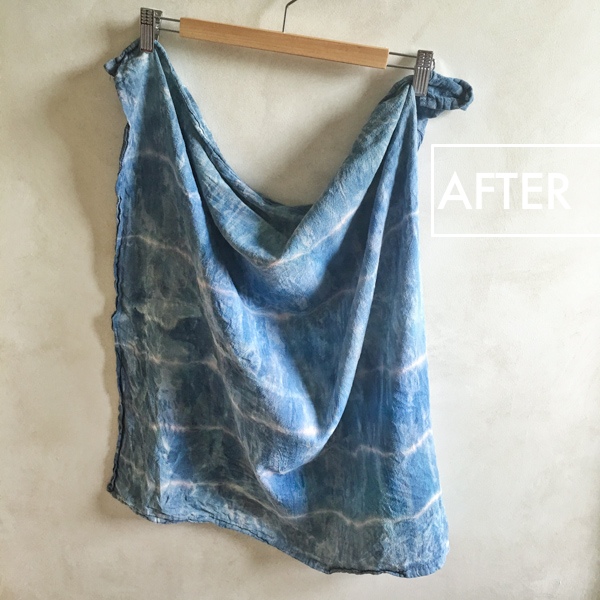 Here's another one of my projects.
Can you believe this dish towel was originally white?  I like to dye my dish towels because they get stained so easily. When you tie dye/bleach them it's harder to see the stains.
Here's the before: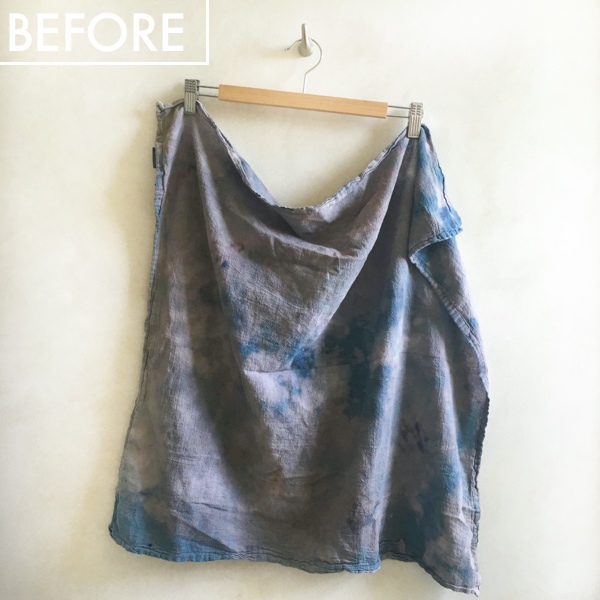 During!  Isn't it pretty??!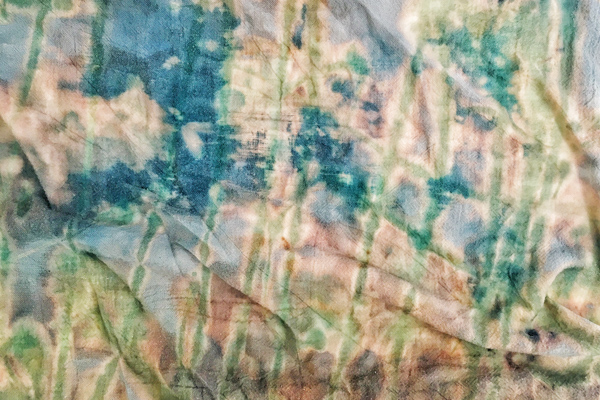 After— This totally looks like something that they would sell at Anthropologie.
It would actually make a beautiful pillow!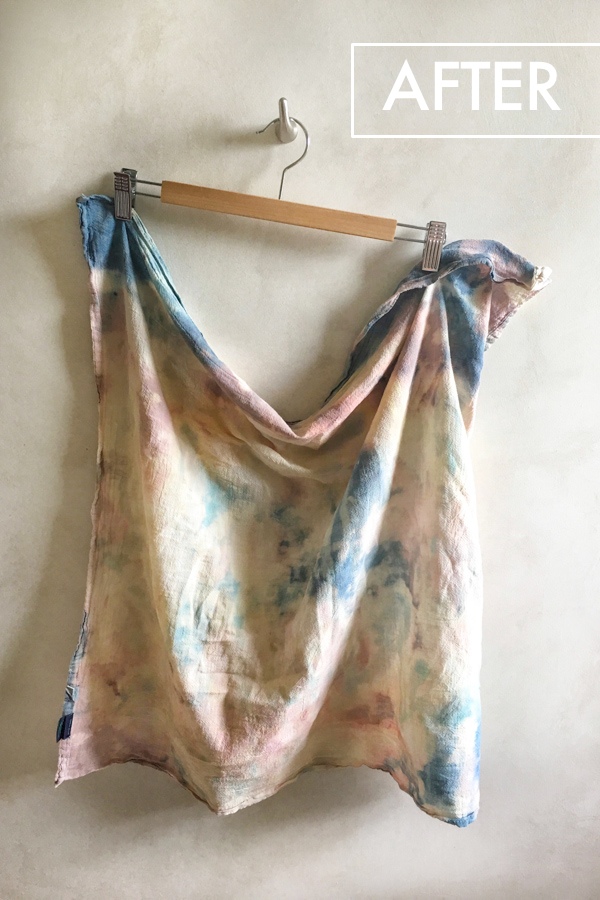 And FINALLY—-
I have a few Black Maxi Dresses from Old Navy  (hello, closet staple!) and I love how they fit so I turned one of them into a tie-dye dress.
This is actually my favorite piece I've worked on so far. I'm actually wearing this dress right now.
BEFORE: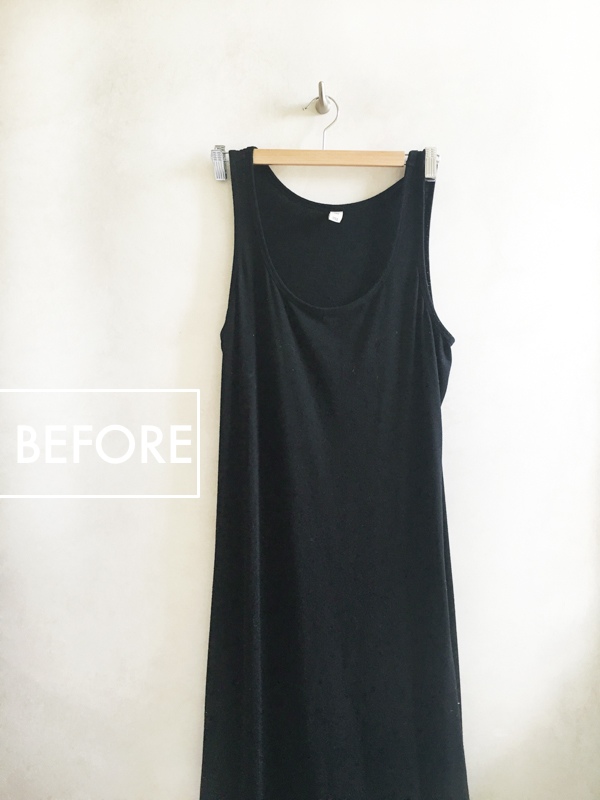 I put a layer of the bleach down with a squeeze bottle. You know…my signature squiggle moves.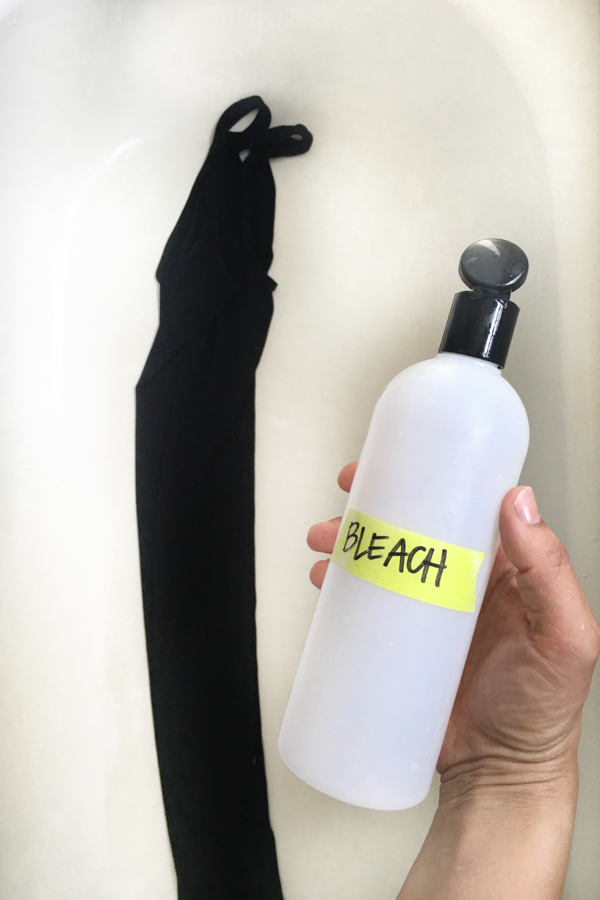 Then I take bleach and mix it with water about a 1:1 ratio and then pour it over the dress- making sure to leave a few parts black.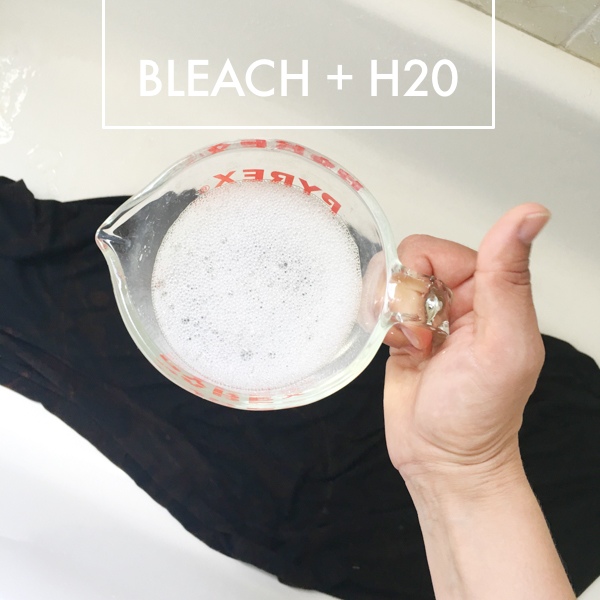 After 5 minutes the colors develop into this. The longer you go, the more color comes out.  The cool part is that the black turned to gray!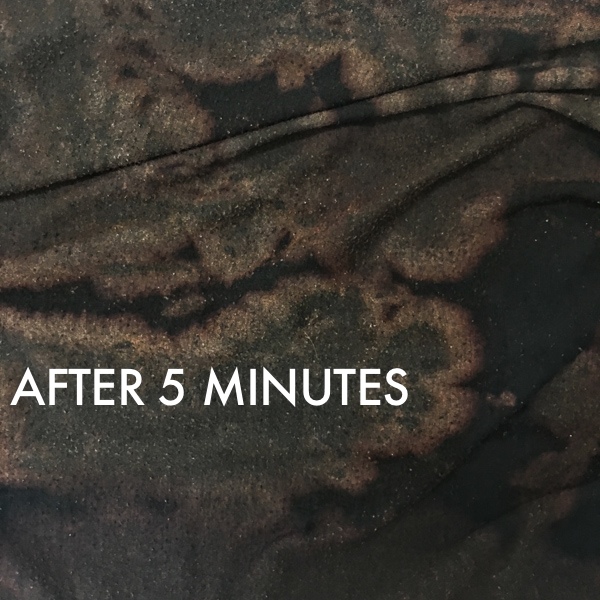 Now I have a cool looking dress I plan on wearing year round. Real talk: I sometimes wear it as pajamas.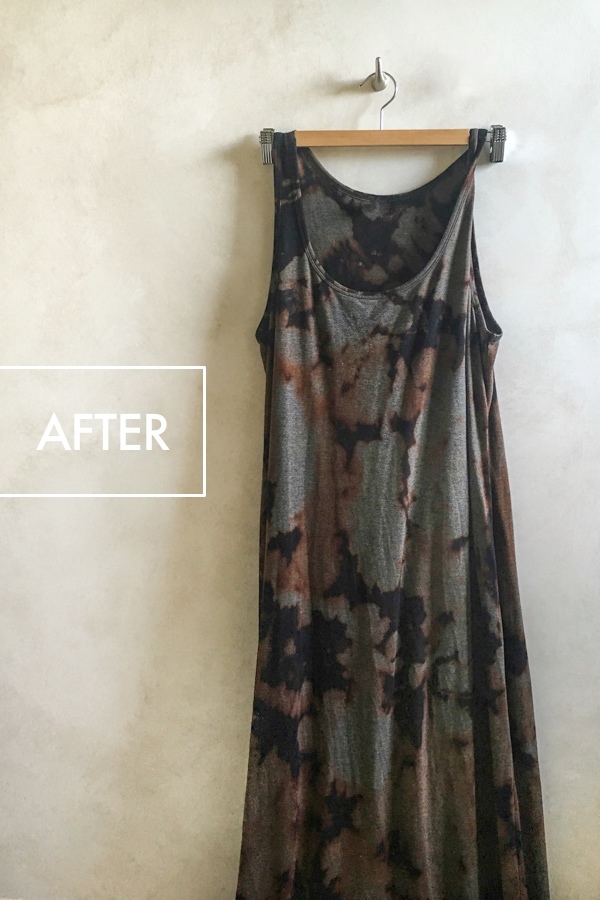 Closeup!  The black came up and turned grey in the parts that had full bleach coverage and the other parts that didn't get as much bleach turned into a beautiful rust color.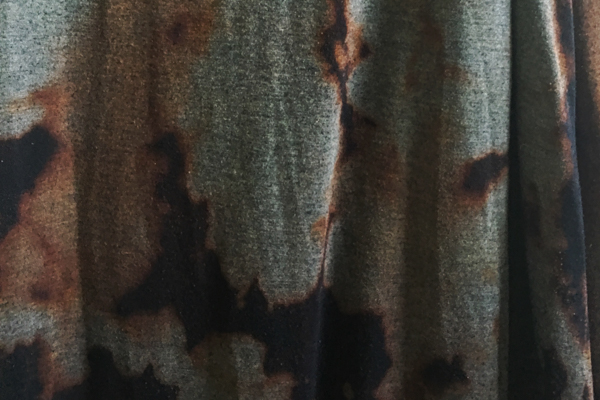 I LOOOOOOOOVE how this turned out and the best part is that it cost next to nothing to enhance it.  You can see that I left the bottom part fully black.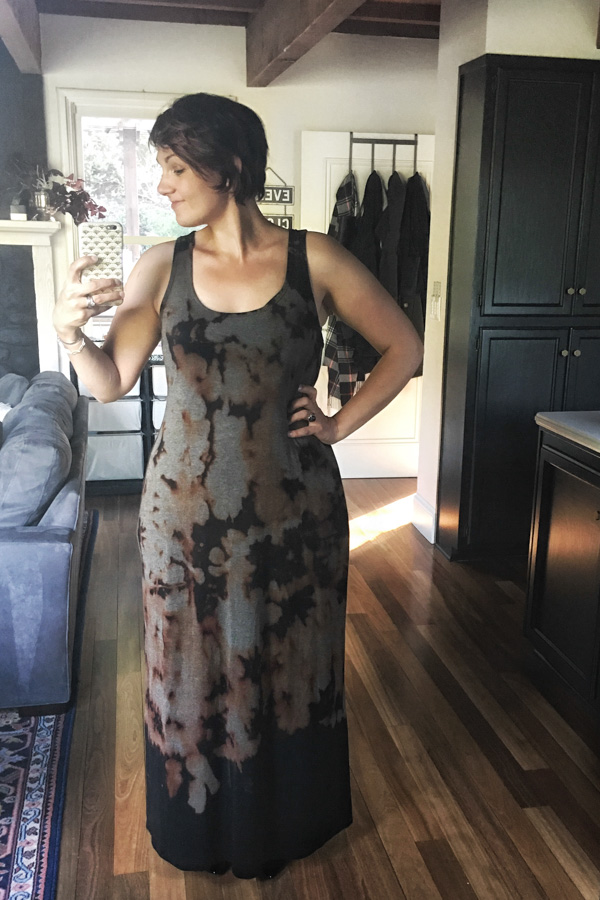 Kinda feels like my summer capsule wardrobe might channel my modern hippie vibe with this dress!
Hope this inspires you to do some experiments of your own!  The more confident you feel, the bigger the risk you can take. Like….who knows? Maybe you have something in your closet that will look STUNNING with a little Bleach Tie-Dying Session?!! You never know unless you try.
This DIY  Bleach Tie Dyeing Fabric post was produced in partnership with Seventh Generation.  As always, all opinions are my own.