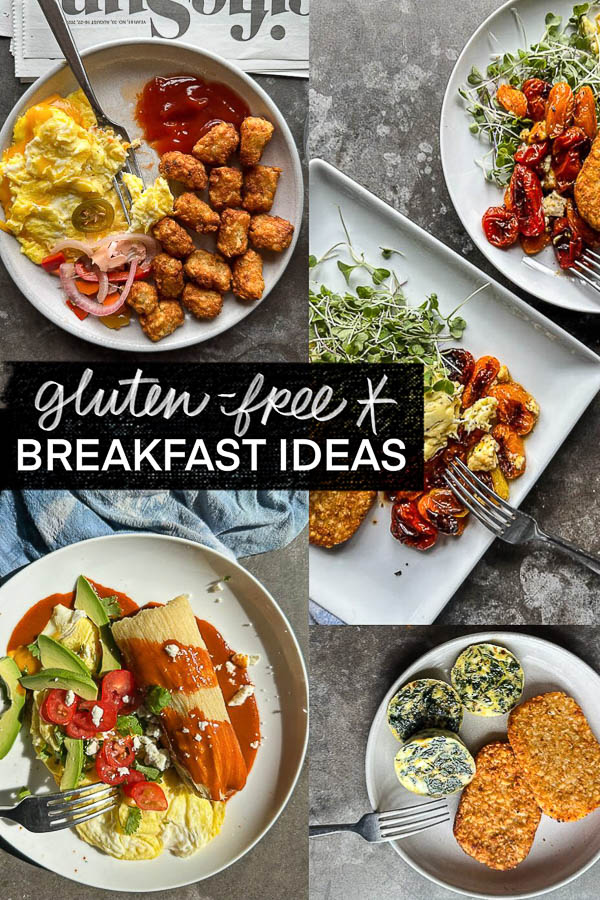 Gluten-Free Breakfast Ideas:
A lot of people showed interest in seeing what I eat so I am going to roll out every meal for you! We will start with my favorite Gluten-Free Breakfast Ideas so you can see what I have in my rotation. Like I said in my weight loss post, I stopped eating gluten this past year.
I also changed my eating times. I used to have breakfast between 7-9AM and now I opt for a late breakfast somewhere between 10-11AM. I make a big breakfast so that I am full until around 2/3PM and then I have some type of snack or small lunch. My breakfasts are usually a heavier meal and I like it that way. Working from home makes it easier to eat later. I am grateful for that.
To recap I eat:
potatoes
corn tortillas
rice (not a lot, I'm not a big rice fan)
I don't eat bread.
Let's talk about Trader Joe's hash browns for a second. These things have saved my life. I FREAKING LOVE THEM.
One of the things I am working on with my relationship with food is abandoning the idea that certain foods are BAD. There has been a lot of judgment in my family growing up over potatoes. You are a holy person if you sacrifice potatoes on your plate at a restaurant for greens. For many many years, I was convinced that potatoes were bad. Then I did Whole 30 and I learned that my body likes potatoes and they're only an issue for me if I have them in addition to bread and ALL THE BAKED GOODS.
I heat my hash browns in my air fryer
. I like them super crispy so I do 400F for at least 15 mins sometimes 18.
My go-to breakfast is hashbrowns and cheesy eggs.
I make some kind of quick omelet (with sharp cheddar) and I eat it with Tapatio.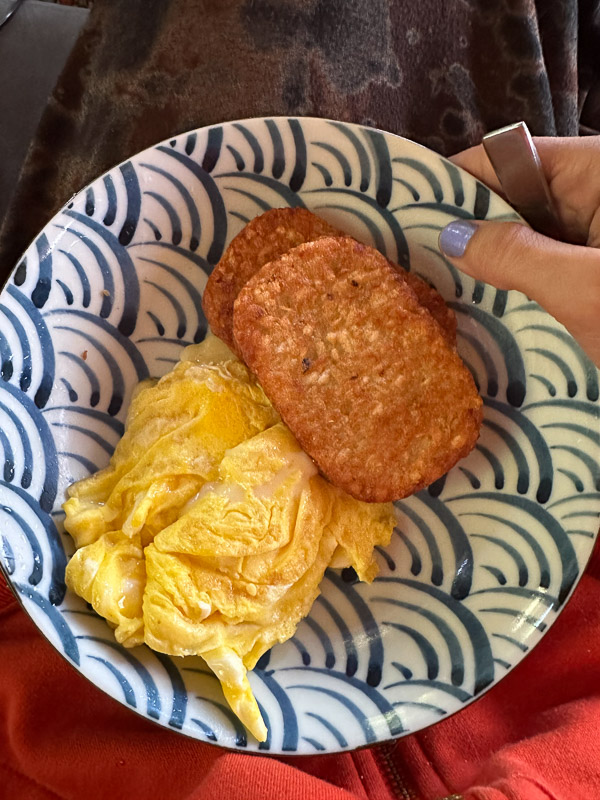 I fell in love with the hash browns when I made my ultimate breakfast sandwich: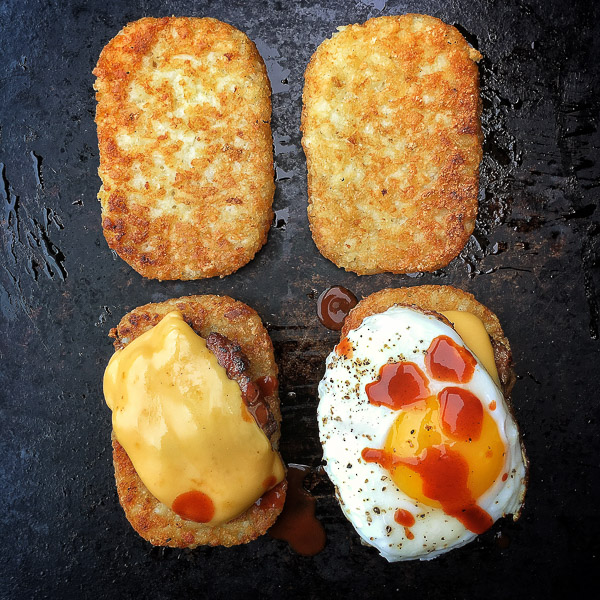 Here are some other ways I like to use them: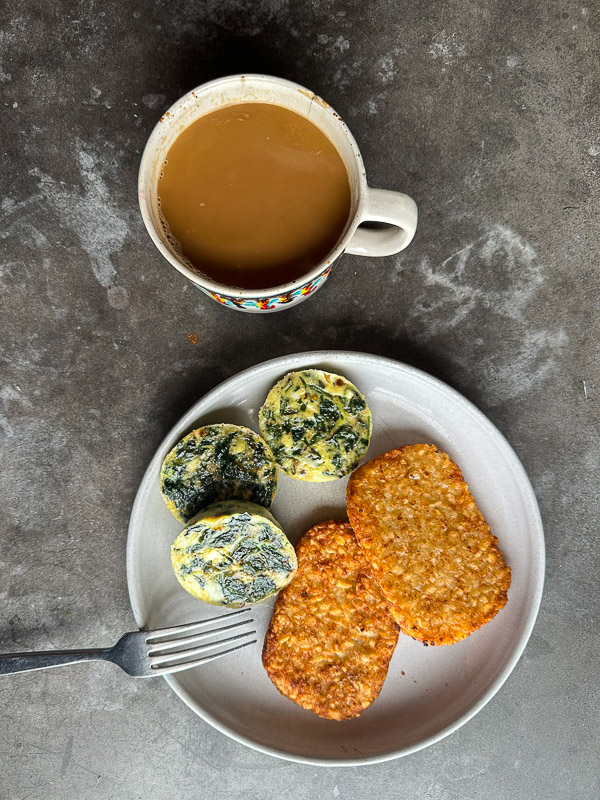 Hash browns + egg bites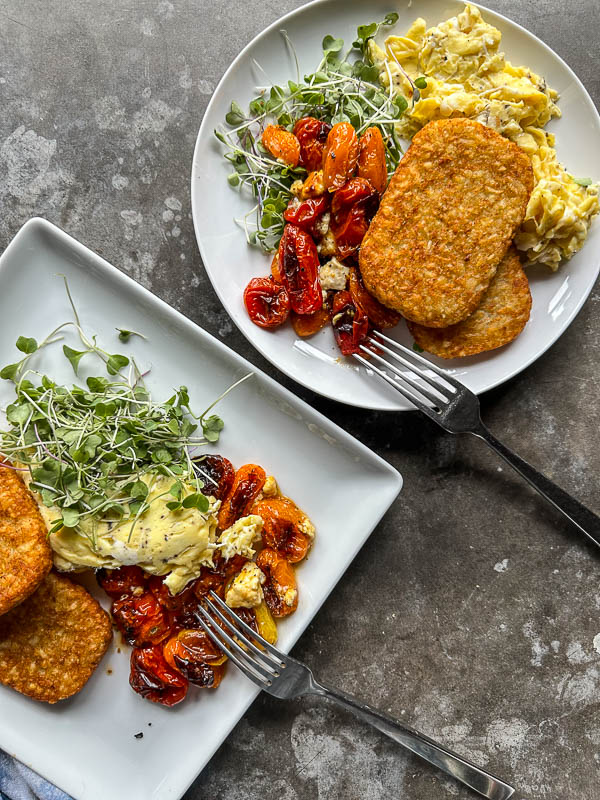 Hash browns + roasted tomatoes + scrambled eggs with microgreens
( a good way to use up tomatoes that have been sitting on your counter too long)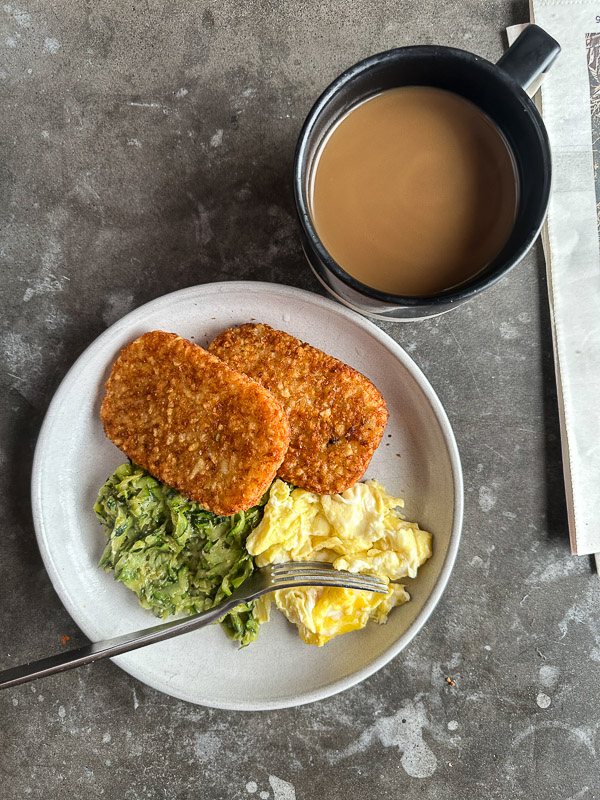 Hash browns + eggs + zucchini parmesan hash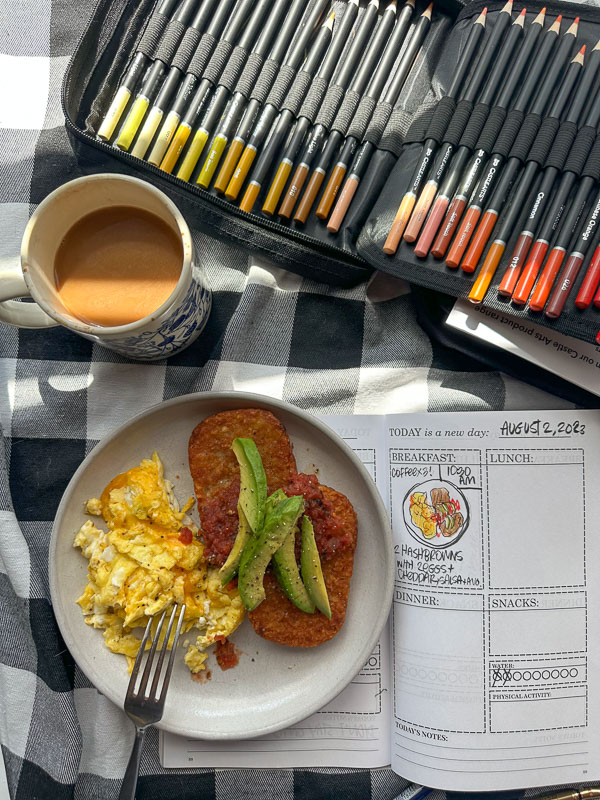 Hash browns + cheesy eggs+ avocado + tapatio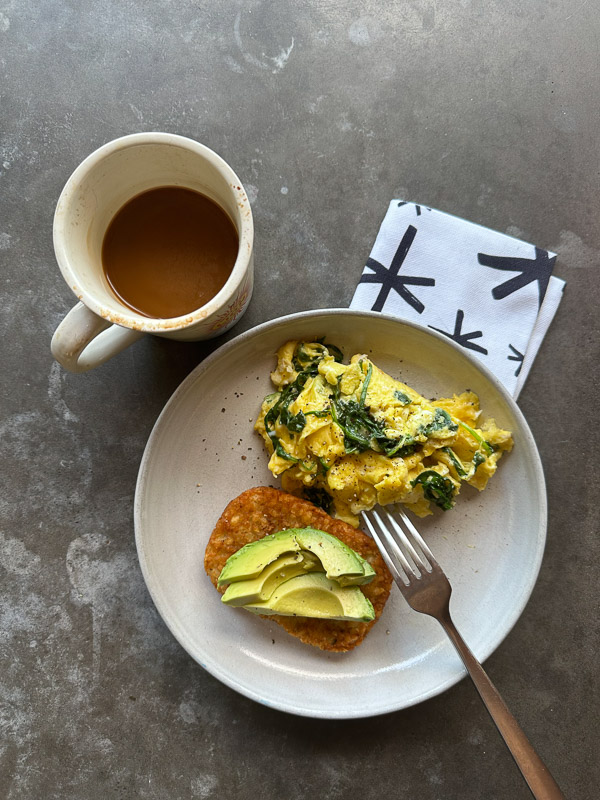 Hash browns + spinach egg scramble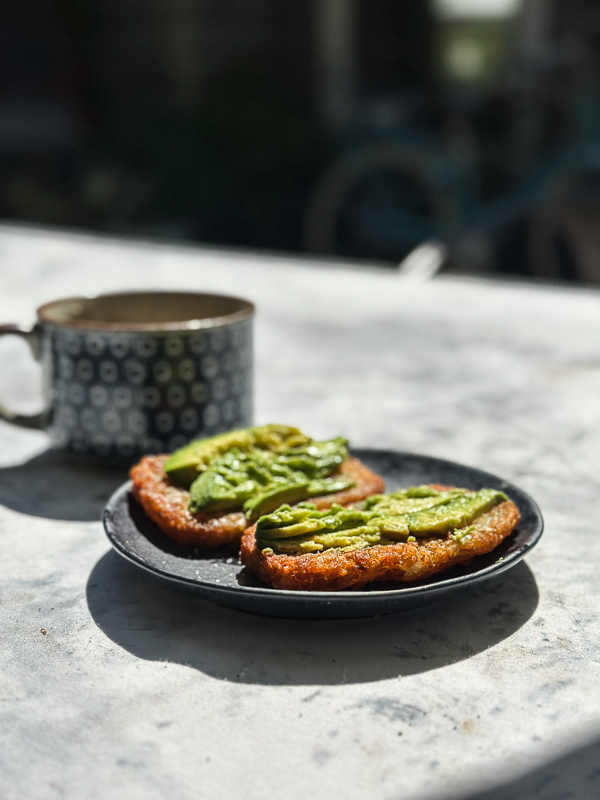 Hash brown avocado toast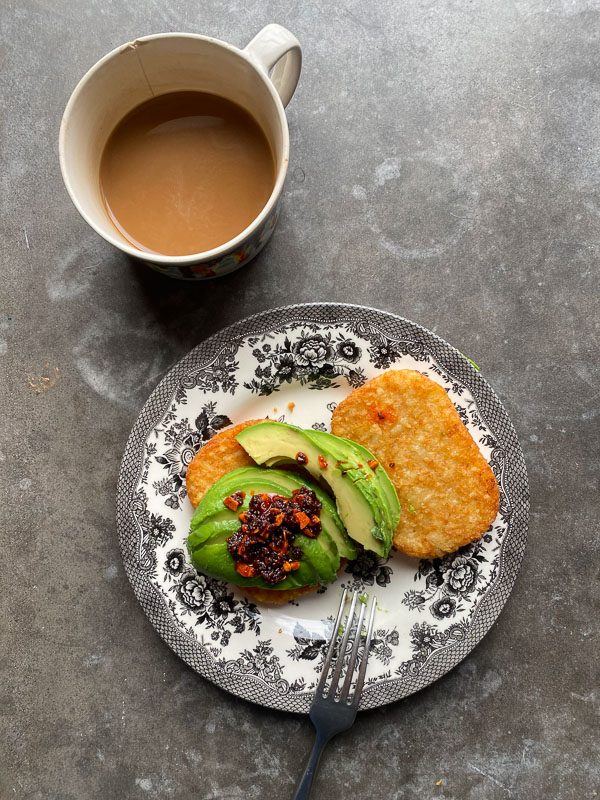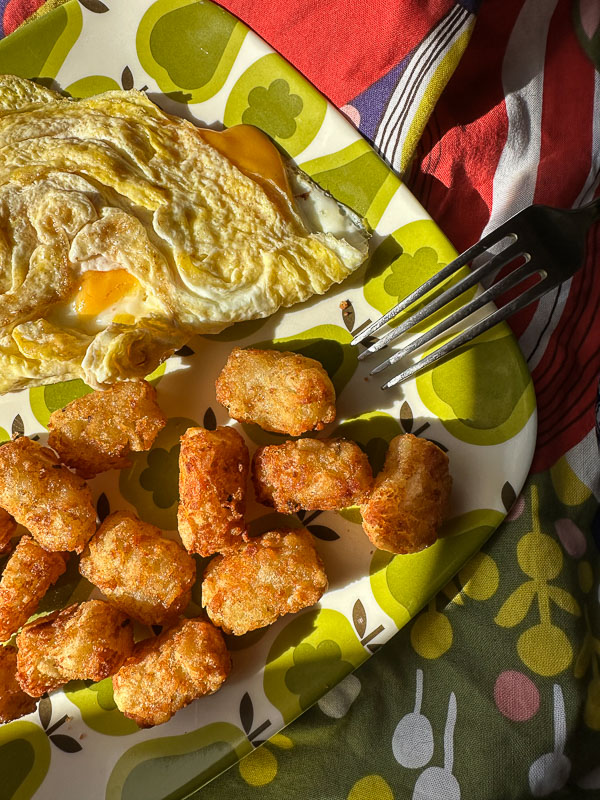 And if I'm out of hash browns, I use tater tots! Here they are with a cheese omelet.
Another good potato egg situation I like: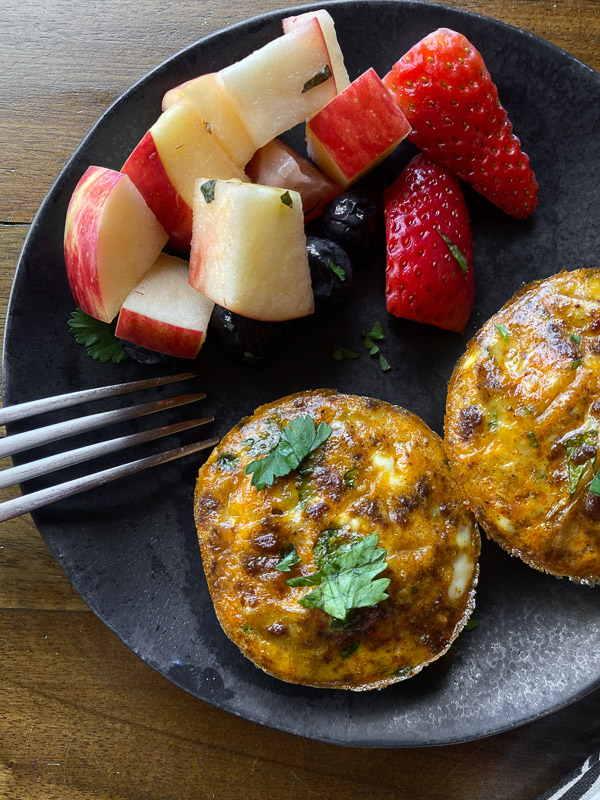 These are meal prepped ahead of time gives me nourishment for a few days. My husband will heat them up and put them in an English muffin to make a quick breakfast sandwich.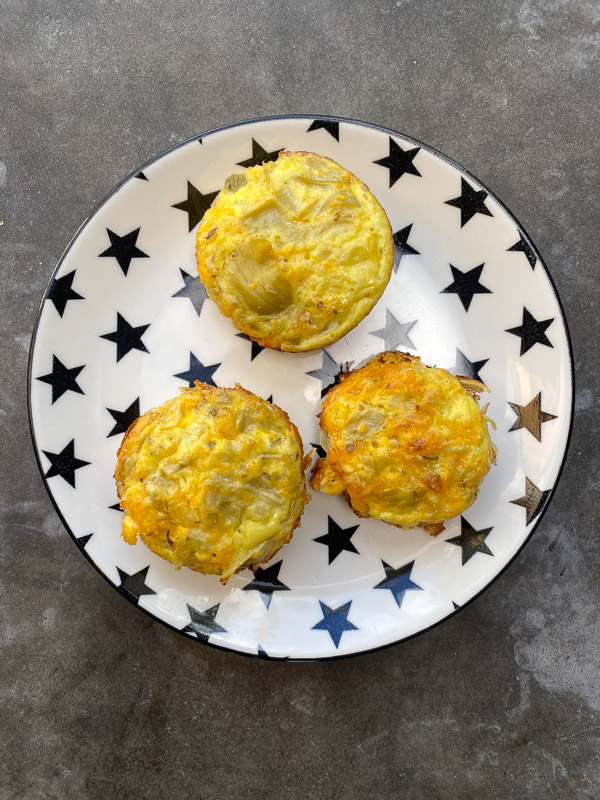 Now we move on to my Mexican cravings.
Breakfast tacos = scrambled eggs, chorizo, cheese, green onions, hot sauce on charred tortillas.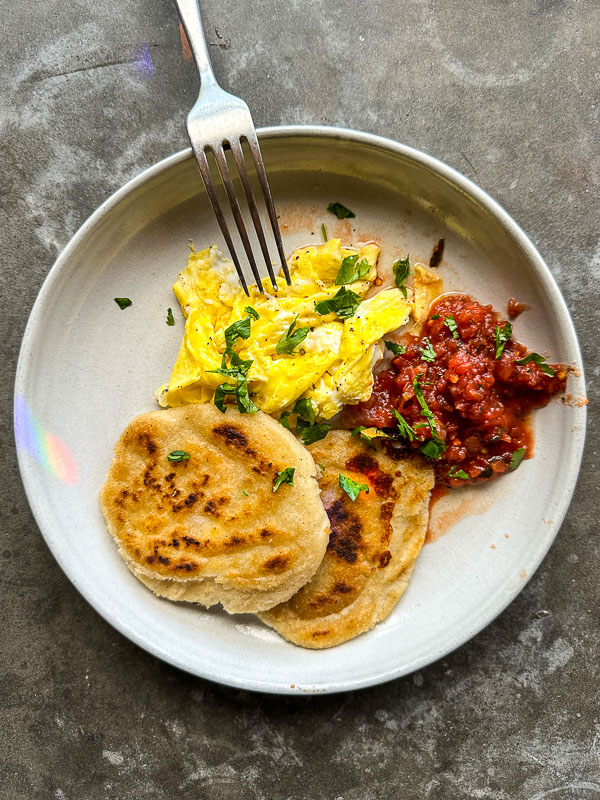 This year I brought pupusas into the mix. They've been a great breakfast, lunch, and dinner option. The batter comes together super fast and I can do it a day ahead. Here it is with scrambled eggs and salsa.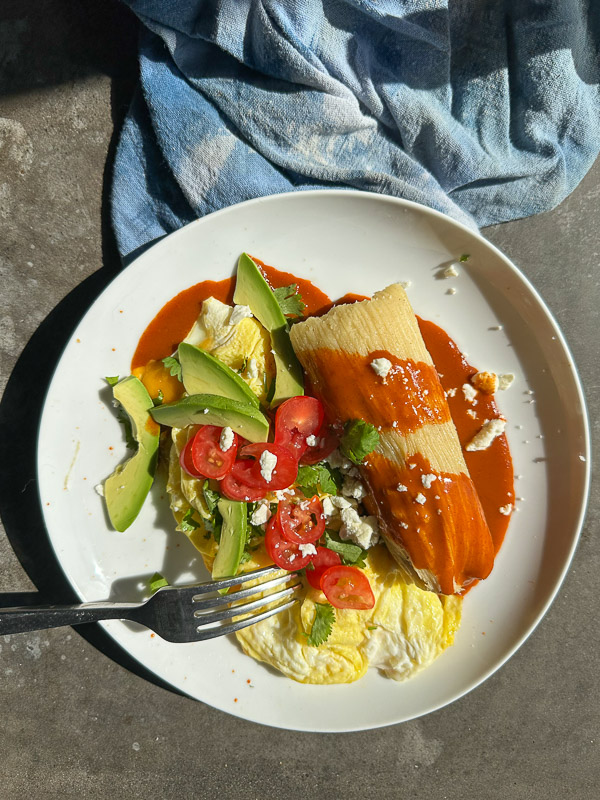 The reason why I brought pupusas into the mix was because I went through a mushroom tamale phase in the past year and kind of wanted to create that experience at home without making a whole batch of tamales. There's a store near my house that sells them and I heat them up in the microwave (with the husk on), take off the husk, add it to a plate, and smother it with enchilada sauce. Then I have it with eggs and avocado (if I have it). Feta is a nice topping.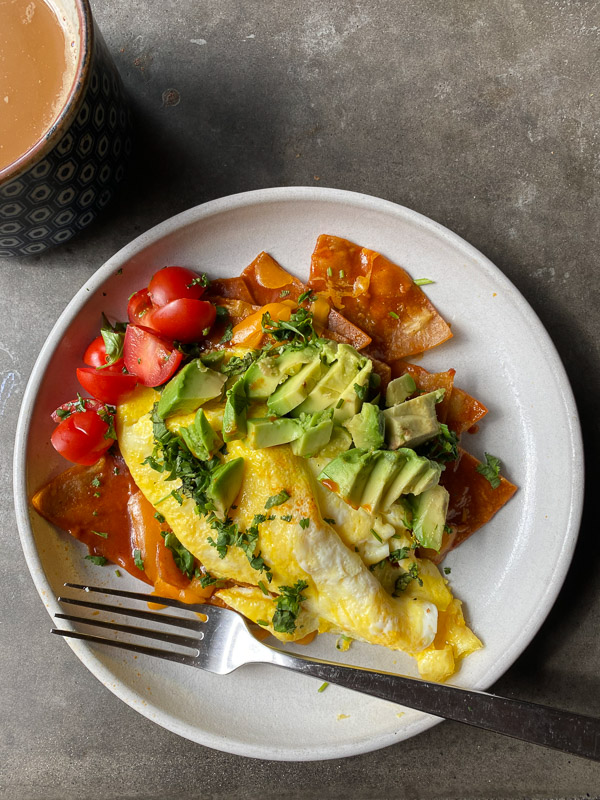 Chilaquiles for the win! Enchilada sauce in my pantry and leftover corn tortillas are put to good use!
Sometimes I eat the Chilaquiles with a fried egg and sometimes I make scrambled eggs.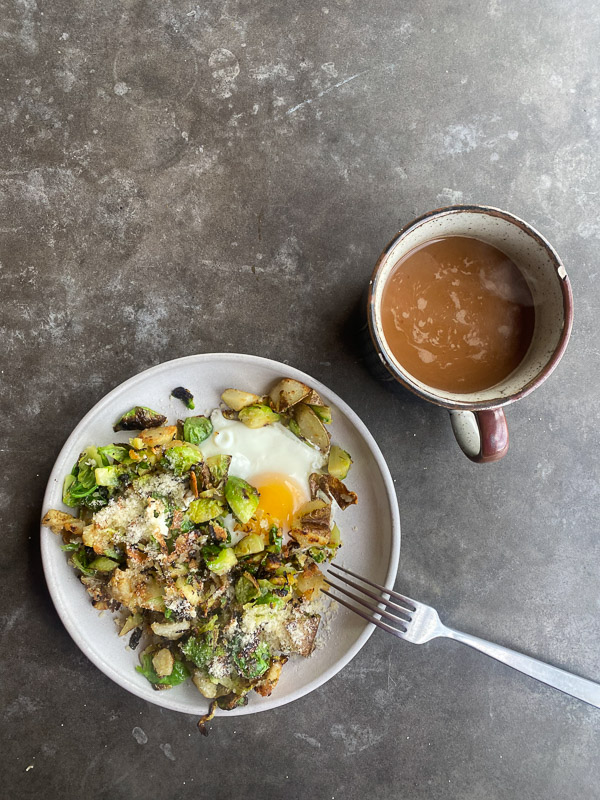 During the winter months, I add Brussels sprouts to the mix. This hash has always been one of my favorites. I love a fried egg and parmesan on top!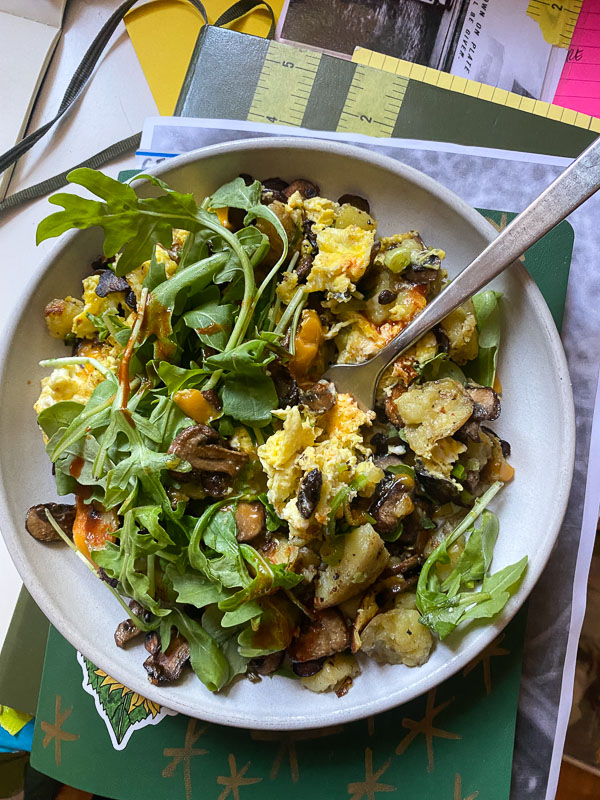 This is a potato mushroom situation with eggs and arugula. I love arugula in my eggs too.
Having cooked potatoes in my meal prep makes having homefries so easy!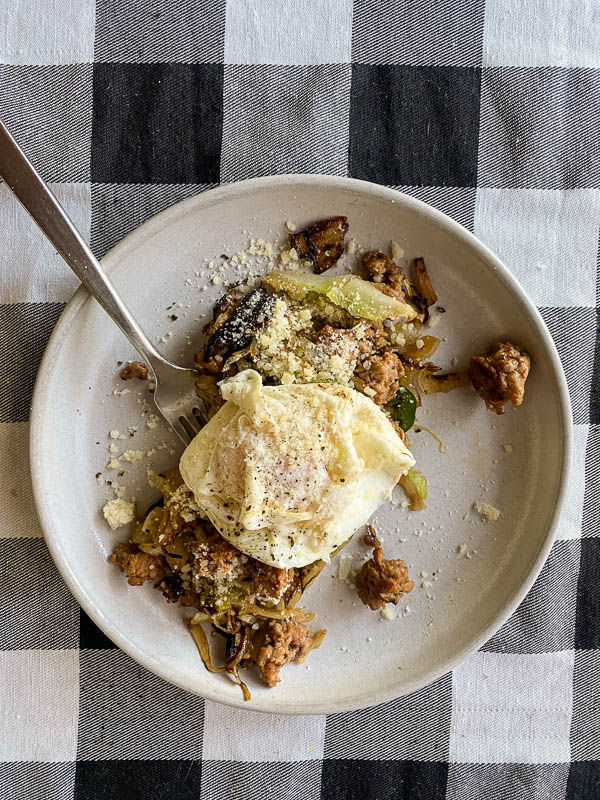 This is a leftover sausage white bean bake (without the breadcrumbs!) with an egg and parmesan on top.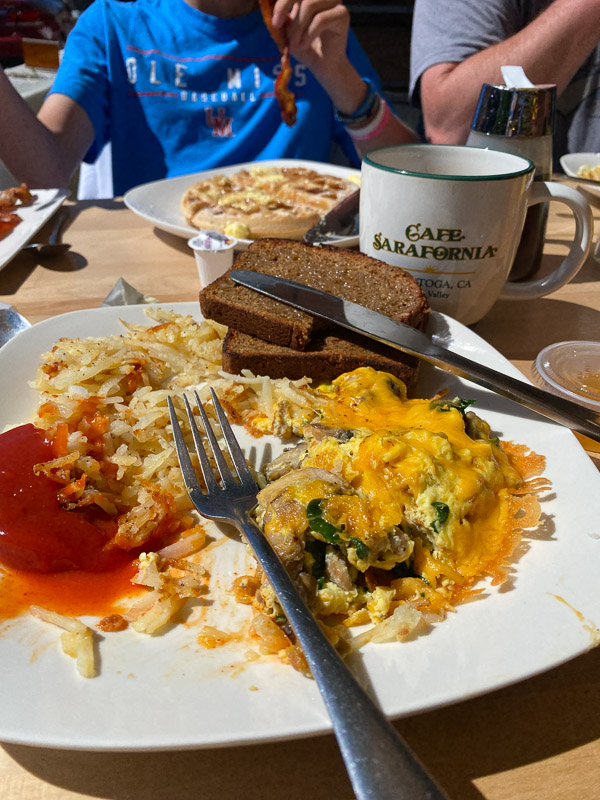 If I am going out to breakfast I usually have some scramble and a hash brown (extra crispy!) combo. I'll try gluten-free bread if they have it but I can easily do without now. I told you, I LOOK FORWARD TO POTATOES.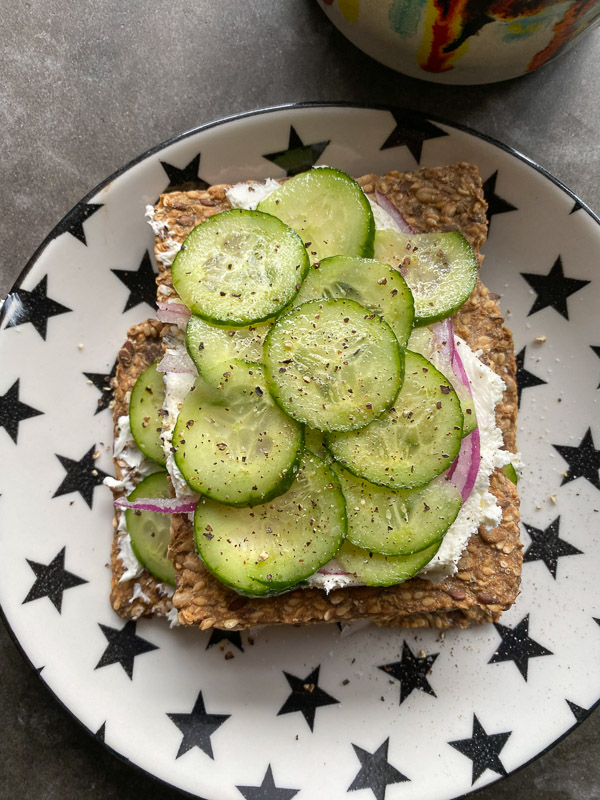 One of my staples is this Trader Joe's Norwegian crispbread. They're crunchy and super seedy and I love putting cream cheese on top with sliced cucumbers and red onions. It's a good snack/breakfast/lunch situation.
I've been known to add smoked salmon…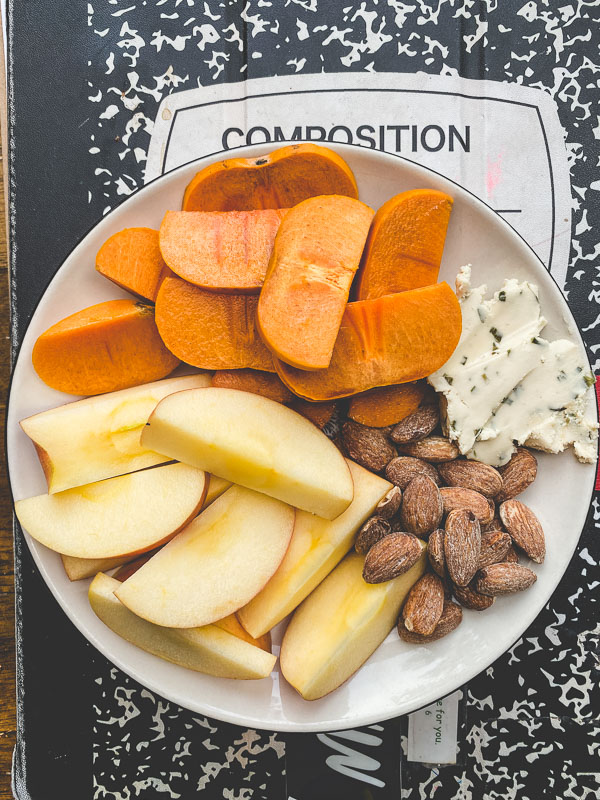 I've also been known to have a snack plate for breakfast. I love it when persimmons and apples are in season. There's always some kind of cheese on the snack plate!
I am not a huge sweet-for-breakfast person, but when I'm in the mood I usually have: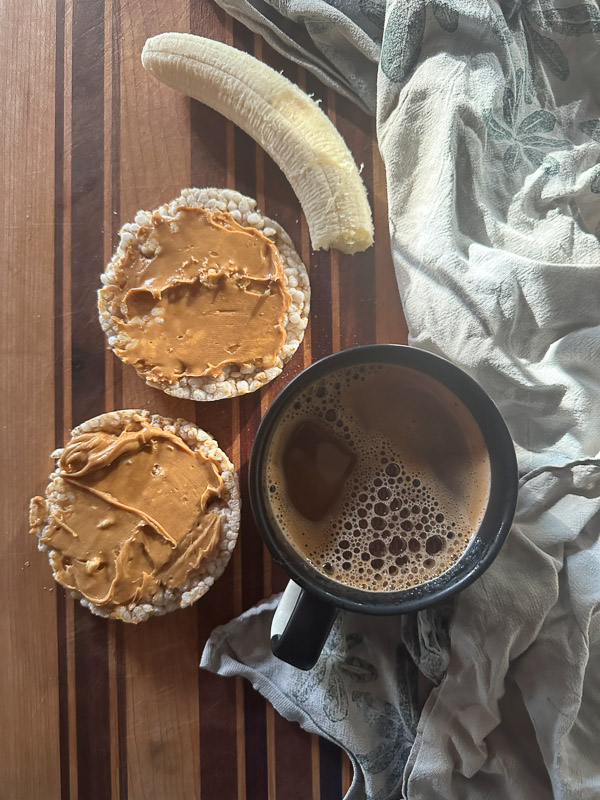 Peanut butter + brown rice cakes + banana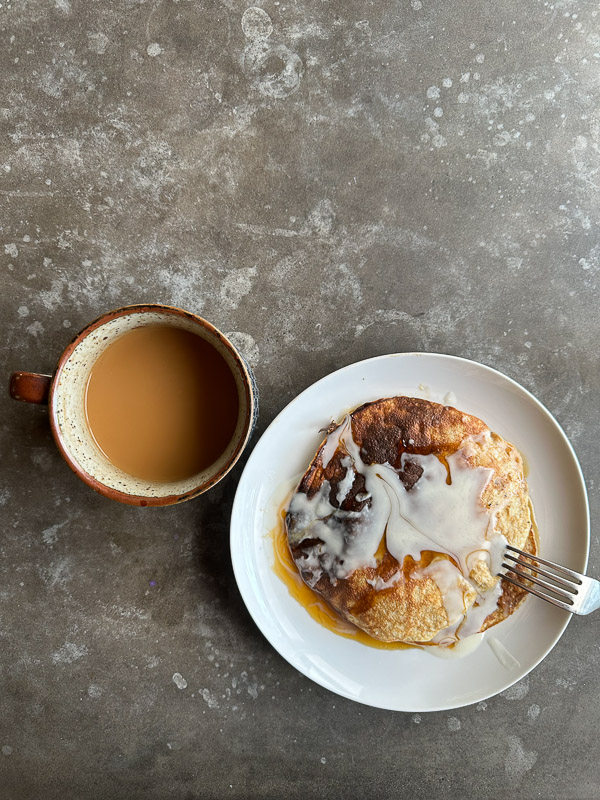 I have a recipe for flourless pumpkin spice pancakes that I make with cooked sweet potatoes or bananas.
I'll add coconut manna and a little bit of maple syrup on top.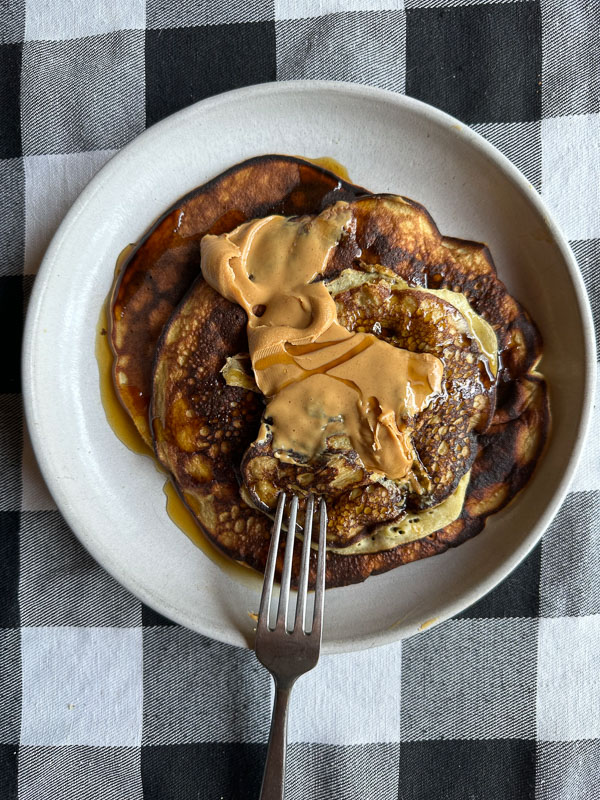 Sometimes I add peanut butter…Sometimes I'll add 2 tablespoons of gluten-free flour
to it.
During the winter, I like to do more baking so these things help:
These Gluten Free Blueberry Muffins are really good. Here they are with buckwheat because I didn't have cornmeal and I really liked them!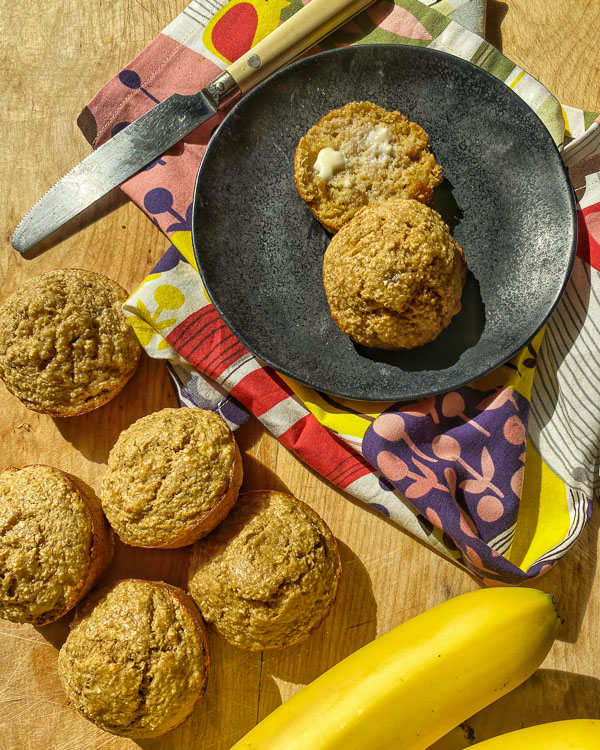 These peanut butter oat muffins are also delish. I make them with GF oats. I usually have them warm with some butter.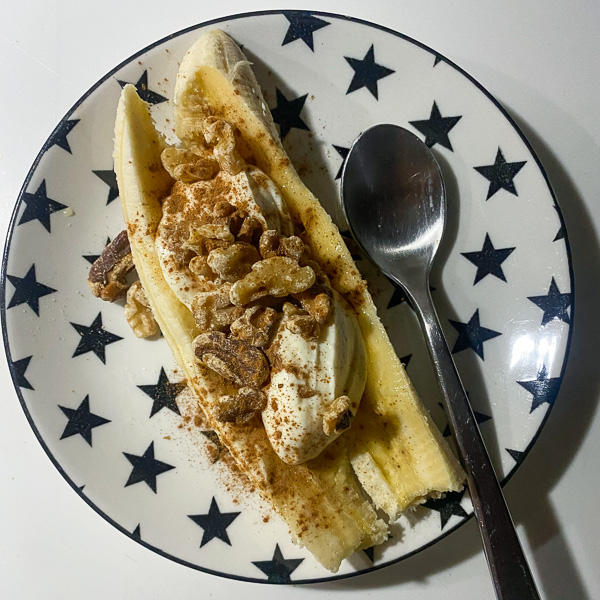 Here's a banana with Greek yogurt, cinnamon, and toasted walnuts.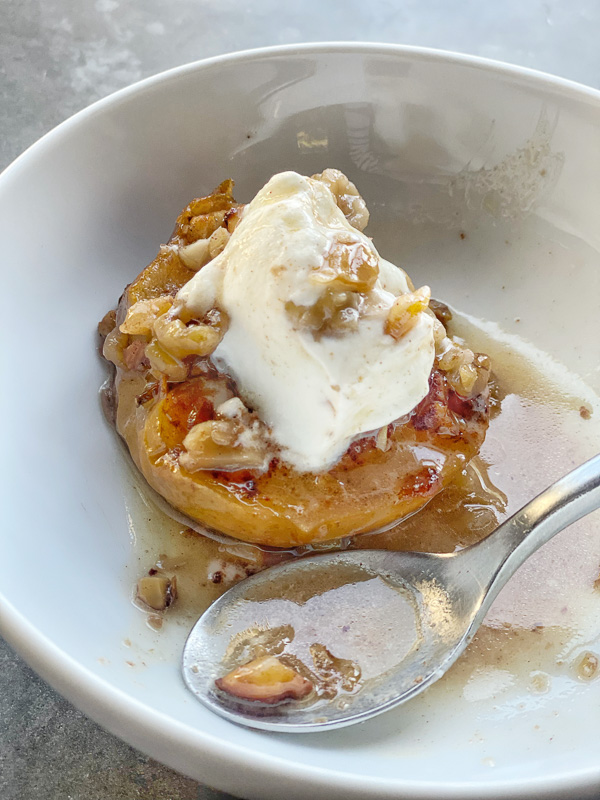 Baked apples with an oat crumble. I'll have it warm with Greek yogurt on top.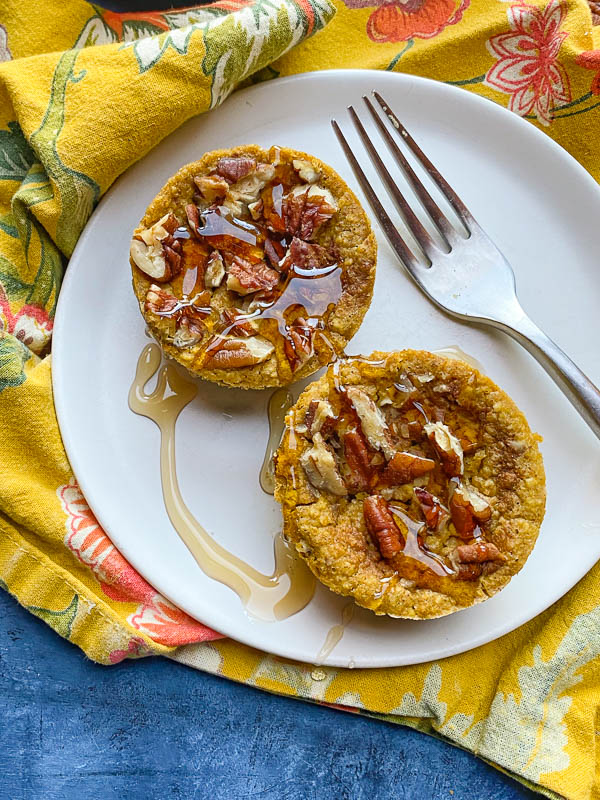 Another breakfast I love during colder months- Baked Pumpkin Oatmeal Cups. It's like a muffin meets oatmeal. I have them warm with a drizzle of maple syrup.
That's my list of Gluten-Free Breakfast Ideas. I have enough of them that I don't feel oppressed!
I'll keep adding to the list. I hope this helps!