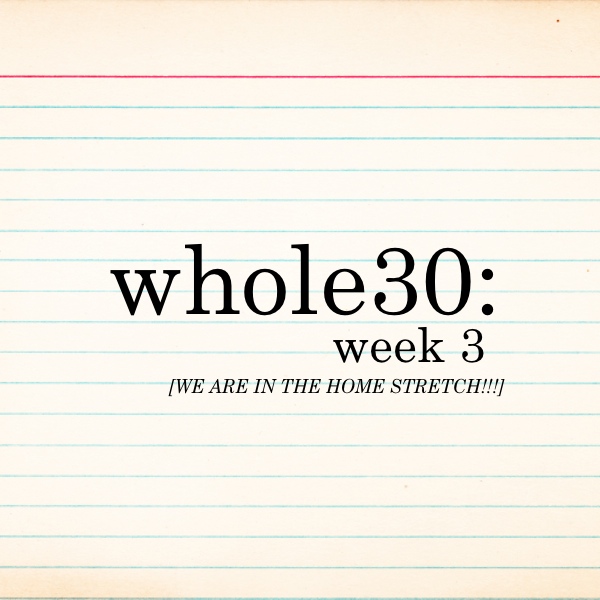 As I write this I am on Day 24 of  Whole 30:
I have 6 days left.
Why is this starting to sound morbid. It's not!!!!!
I HAVE 6 DAYS LEFT. WAHOOOOOOOOO. I am almost done.
WE ARE IN THE HOME STRETCH.
Part of me wondered why I shared this journey with you.  Is it annoying? Is it boring? Do you think I am crazy? Don't answer that.
I am sharing this process because I want to be accountable for my actions. I want to say I am going to do something and DO IT. Having you involved in the process means I have more motivation to keep it going.
My willpower is stronger as a result.
So, thank you.
I believe that this is proof that we build better connections when we allow ourselves to be vulnerable. 
This week I've been working on:
IMPULSE CONTROL.
because…
What I learned most during week 3 was this:
I have incredible willpower. What I need to manage is my impulse control.  Through this process, I am starting to understand what kind of habits and patterns I've created for myself. Slowly, I am figuring out ways to fix them. I am loving how less stressed I am about food because I don't eat the things that triggered my anxiety. 
What is impulse control?
-failure to resist a temptation, urge or impulse that may harm oneself or others.
When I am stressed, it is much harder for me to control my impulses (like drinking alcohol or having a carb party). Taking the time to understand what my impulses are has helped me make better choices around food. Impulses come from feelings and I HAVE SO MANY OF THEM throughout the day while I am rushing around-doing too many things at once. Instead of understanding how I am feeling and WHY I am feeling a certain way, I tend to self-medicate by swallowing my feelings.
Impulse control can be managed by slowing myself down.
I am learning how to tell myself —in a gentle way— that it's OK to eat certain things but I need to be aware of how much I am eating. AKA DON'T GO OVERBOARD.
Before I would say things with a mean/angry/jerk voice.
That jerk voice is definitely not a voice I would EVER use for anyone I loved.
When I am not surrounding myself with distractions, I can CLEARLY think about the food choices I will make based on the structure I have for myself right now.
Before, I impulsively ate my face off because I had no structure/no limits/no boundaries.
EXAMPLE:
before (said in a frantic/jerk voice):
omg there's cake
i want cake
omg i should just have a sliver
but then i'll just want another slice
just get the bigger piece, Tracy
WHOA YOU JUST ATE THE BIGGER PIECE
HOW DID THAT HAPPEN. WERE YOUR EYES CLOSED?!
but that bigger piece WASN'T ENOUGH.
have another slice! make it SMALLLLLLLL
oh. you did it. wow. OK. So WOW. Ummm.
how are you gonna work this off?
what do you have to sacrifice today to feel OK ABOUT EATING ALL THAT CAKE?
YOU DONT EVEN LIKE CAKE.
WHAT DID YOU DOOOOOOOOOOOOOOO??!!
WE WERE SUPPOSED TO BE HEALTHY TODAY
now (said in a loving, supportive mom voice):
Slow down
Pay attention
Take a deep breath
Examine the situation
How will cake make you feel? Can you have a little or would you be happy with fruit?
Do you even like cake?
Make the choice that will make you feel best.
PROCEED, you got this.
What else is up this week?
I had a few moments this week when I went CRAZY on a bag of  plaintain chips. BECAUSE OLD HABITS DIE HARD.  Just because I can eat something within this "structure," doesn't mean I can eat ALLLLLLLLLLL of it. If I want to end this program feeling lighter, I have to pay attention my portion control.
Last weekend I spent 7+ hours at a family party where everyone was drinking (too) much wine and eating crazy good food. I put kombucha in a wine glass… I ate a lot of salami and nuts. I made some solid choices and I put myself in a quiet place every time I felt like I couldn't handle being around so many people/temptations.
Sometimes you just gotta walk away and give yourself some time and space. 
LIKE SERIOUSLY. GO INTO ANOTHER ROOM. COLLECT YOUR THOUGHTS.
.I threw my back out. Felt sorry for myself. Crawled into the kitchen and still made good choices. Laid in bed with a heating pad while my husband drank a hot toddy RIGHT NEXT TO ME. The jealousy! It was cold out! I wanted a hot toddy. I made myself tea. EVERYTHING WAS FIIIIIIIINE.
OK. That's all for now. 6 more days!
BTW- I am working on a bigger post to show you all the foods I've eaten and what I'm into.
You can read my Week 2 post here btw.
If you're doing the Whole30:: What day are you on? How's it going?!!!