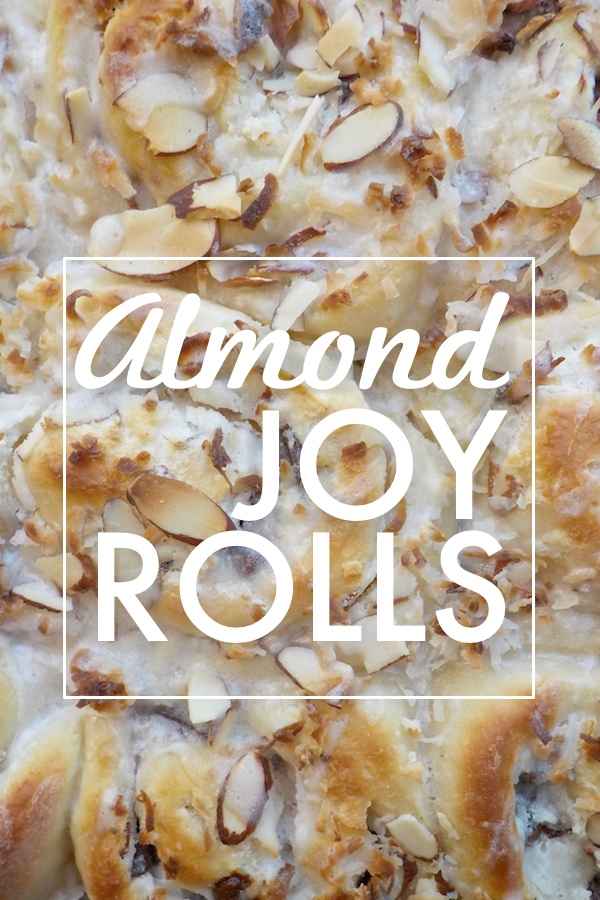 In my friend Billy's new cookbook Whip it Up! (comes out soon!)  there's a section called "Choose Your Own Adventure Rolls."  I thought…OOH. YES PLEASE. LET'S MAKE THE ALMOND ROLLS.  Because DOUGH and ALMONDS and DO I REALLY NEED TO EXPLAIN WHY?! No.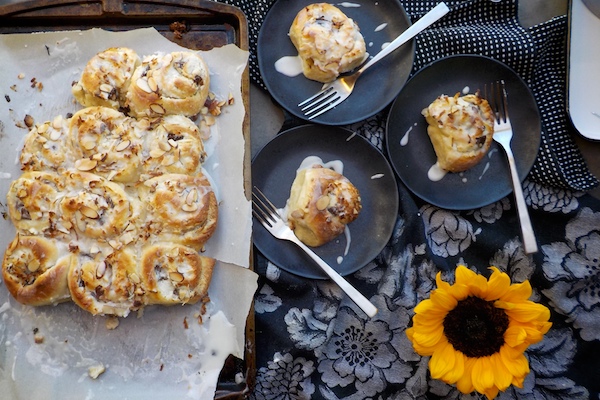 After I measured out all the ingredients for the dough, I went to take a picture and realized I left my camera at my parent's house.  I thought, "Oh! I'll just use my older camera!"  Which… lead me on an hour long hunt around my house that left me empty handed. I grabbed my phone and Cooper's point & shoot camera and here we are.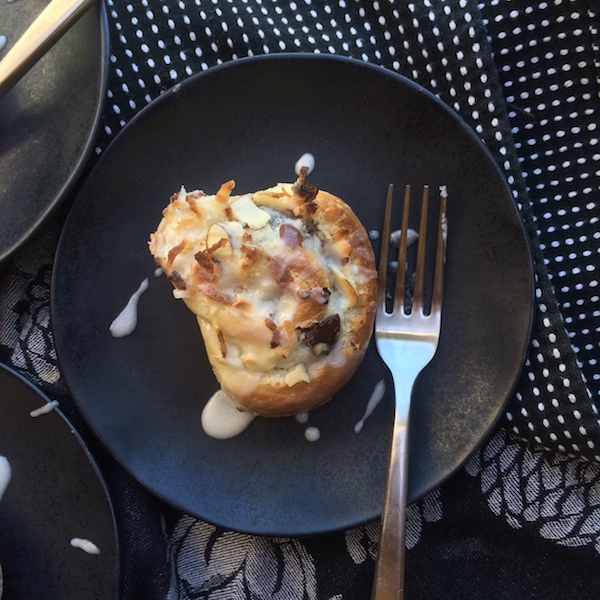 All of this happened on the last day of Mercury being in retrograde. Figures, right? Fortunately, the batteries on both the camera and the phone died RIGHT before I was finishing the last shot. Oddly enough, I find those particular photography challenges exhilarating. I mean… it's kind of unnerving and stressful, but I think it's fun to try new equipment out and test myself. Also, I'm lazy. I didn't want to drive to my parent's house. Let's just be real here.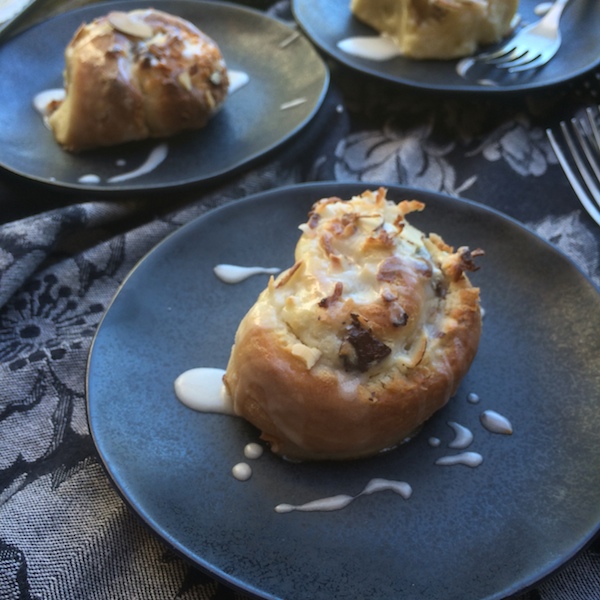 The rolls turned into Almond Joy Rolls with the addition of milk chocolate and coconut shreds mixed in the cream cheese filling.  I know, you're thinking where's all the chocolate? There's melted chunks studded throughout the inside of the rolls!  They're doughy, they're gooey and holy mother….they need to get out of my house right now before I eat them all. Thanks, Billy for an awesome recipe. So proud of you and your book!  And thanks for cellphones that have pretty decent cameras. Look, Mom! There's a benefit to having my phone attached to me. We have Almond Joy Rolls to enjoy now and I now I can say that I totally "phoned" it in.
Let's gather our ingredients: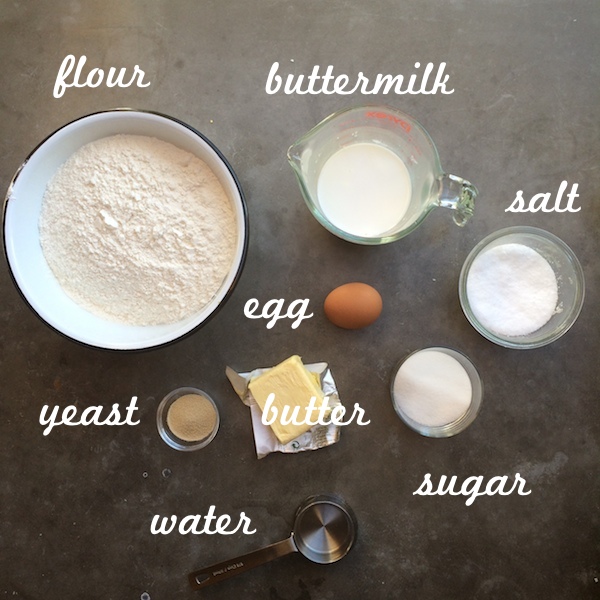 Warm water + yeast. Use a thermometer.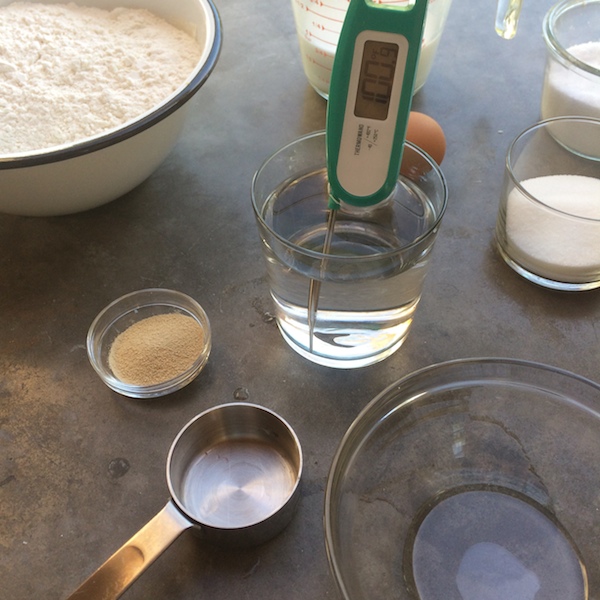 Yeast getting it on with water.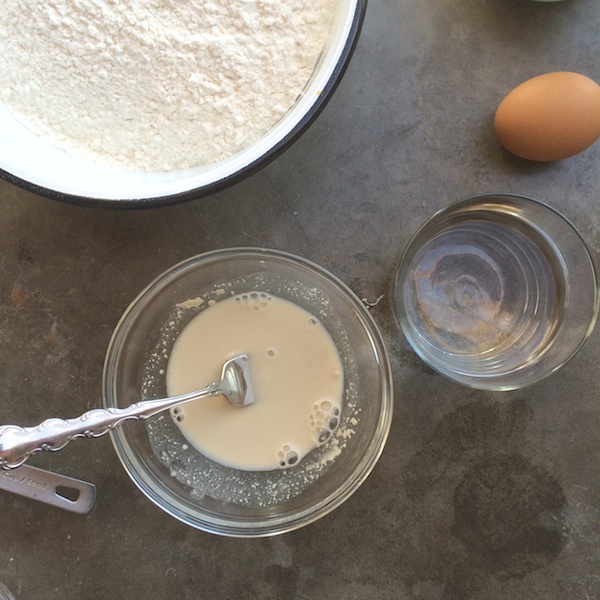 Melted butter.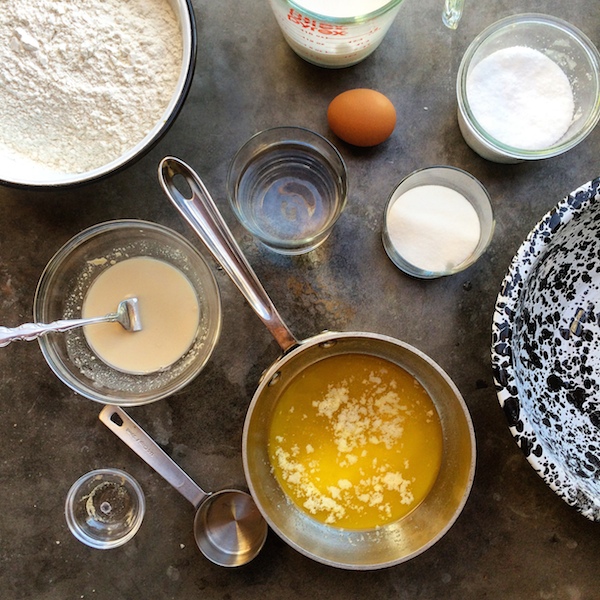 Egg sugar/salt/mix.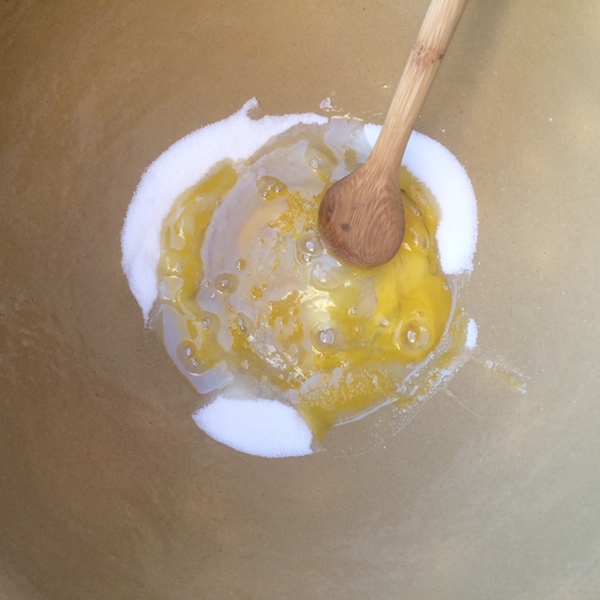 Butter + buttermilk.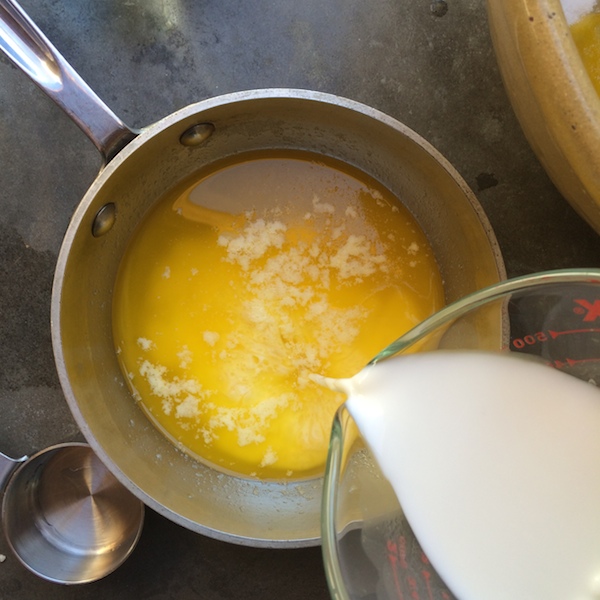 Egg sugar mixture with butter/buttermilk mixture.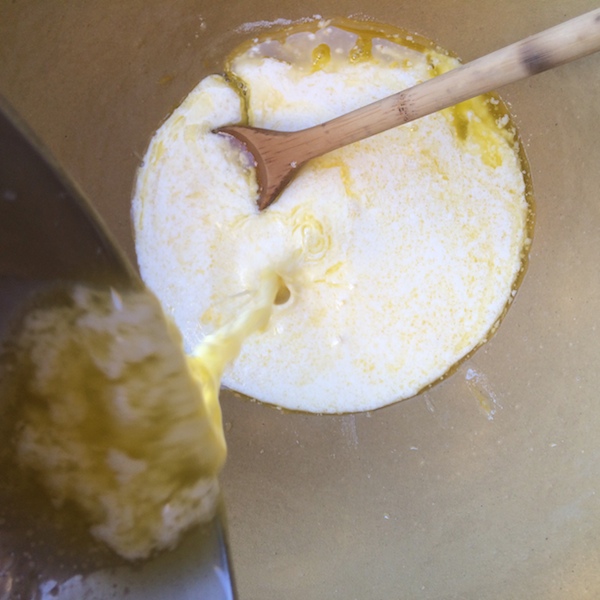 Most of the flour goes in.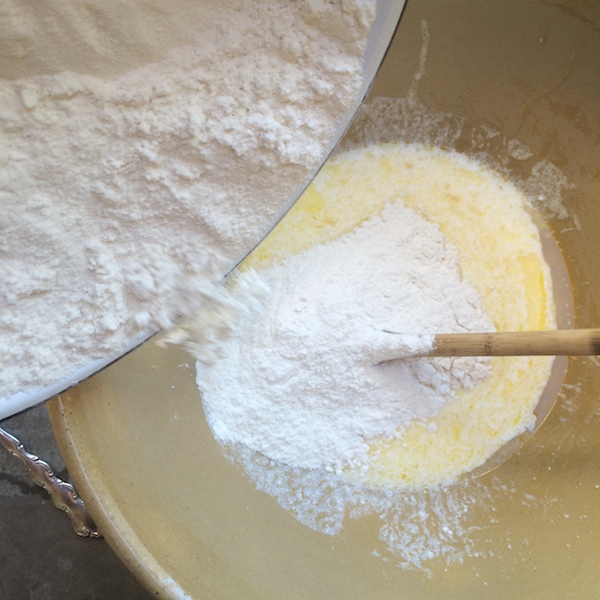 Yeast enters. More flour goes in.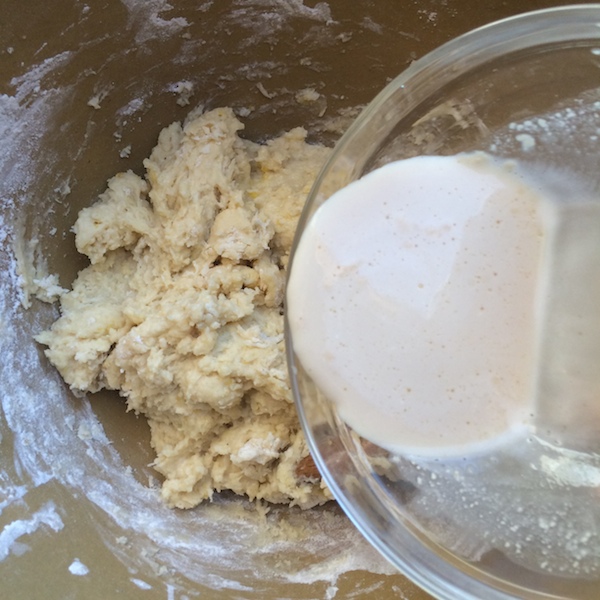 Wrapped up. Oven bound for proofing.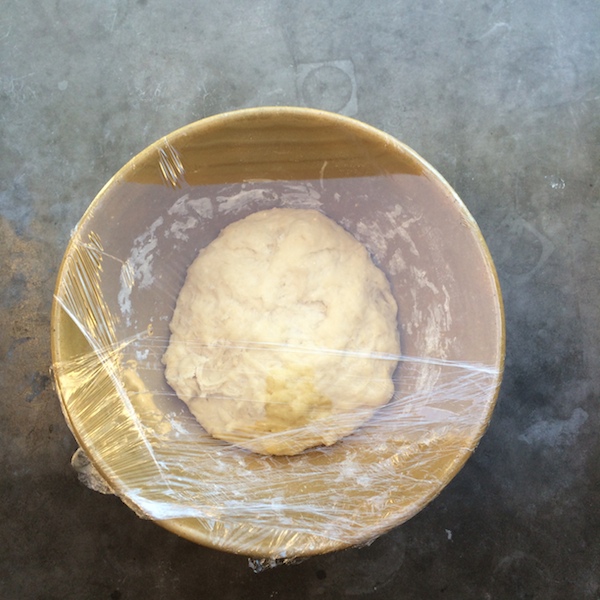 Dough. Done.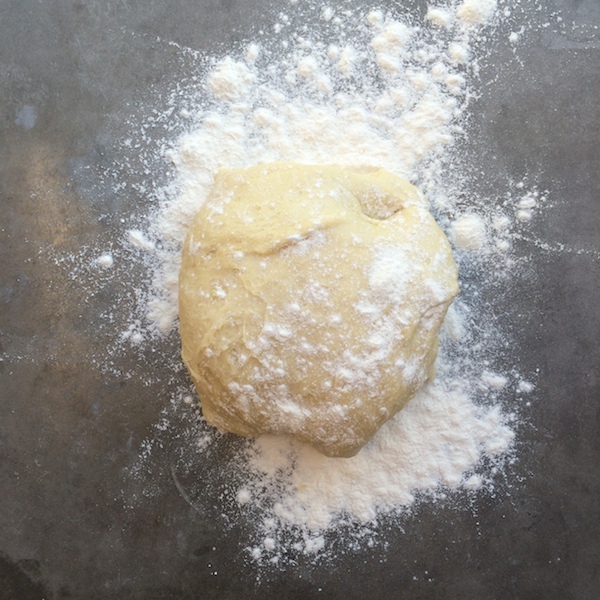 Filling time.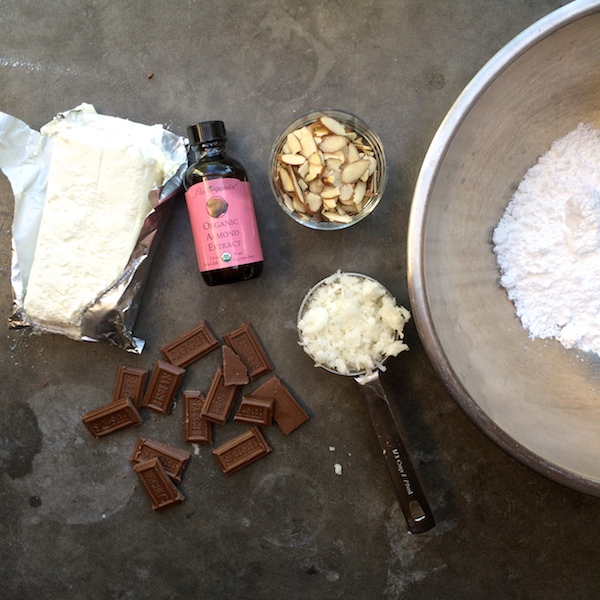 Coconut/sugar/cream cheese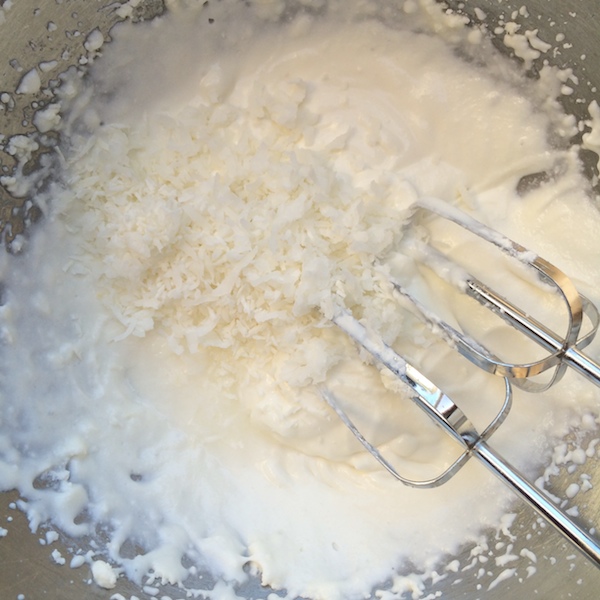 Reminds me of cannoli filling.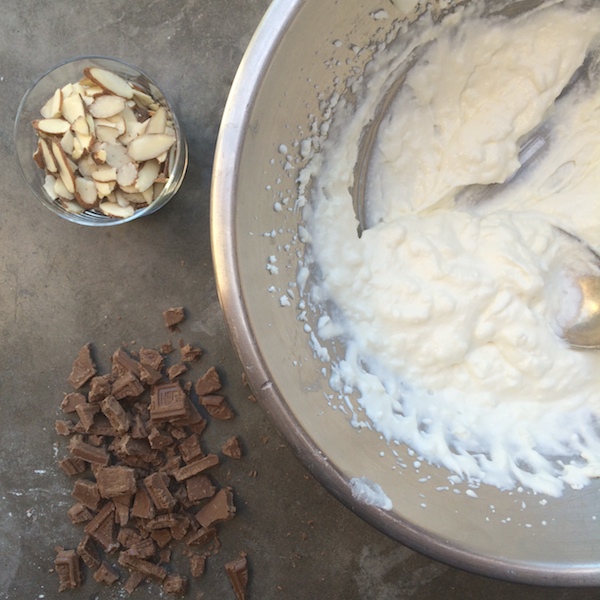 ROLL OUT.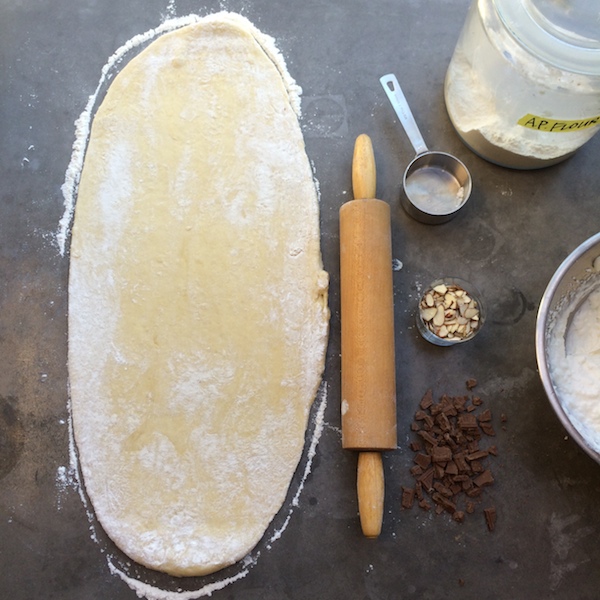 Topping party.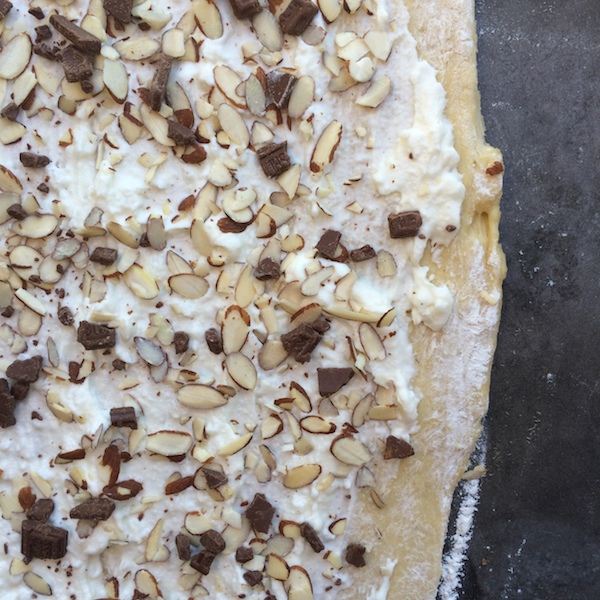 The dough is nice to work with.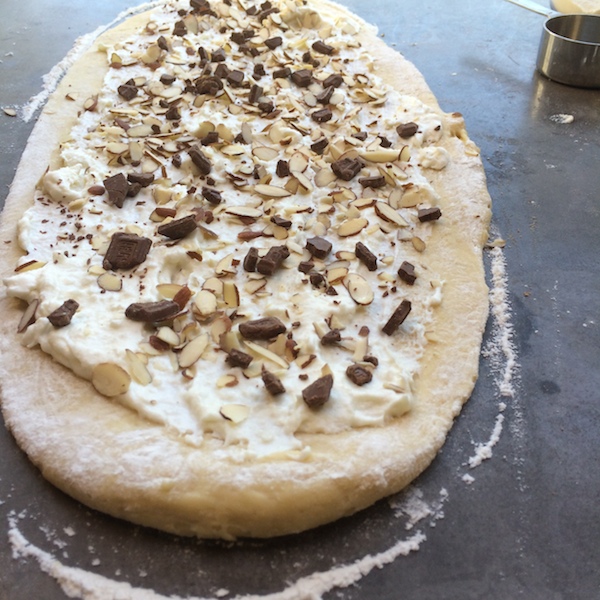 Roll up.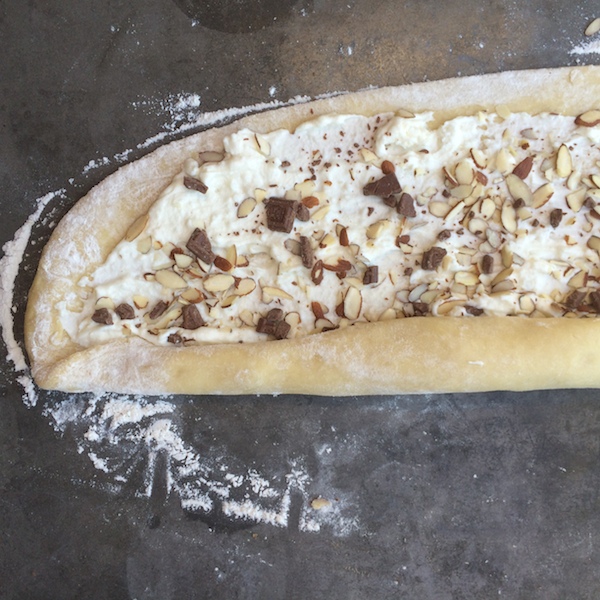 Cut up.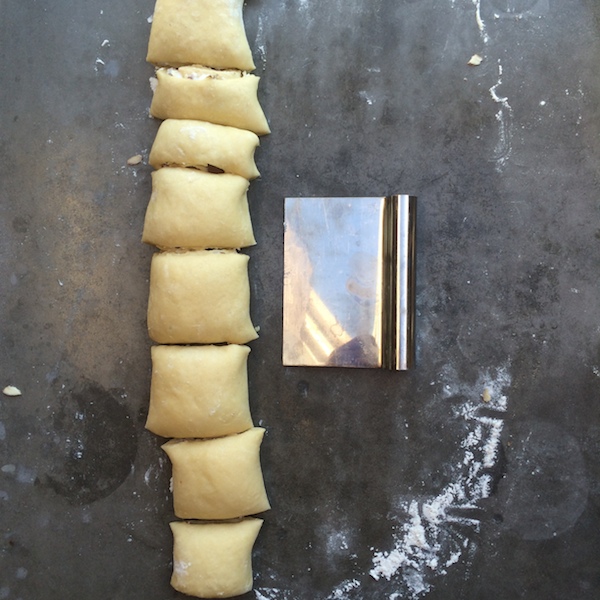 Put on a parchment lined baking sheet. Top with additional almonds.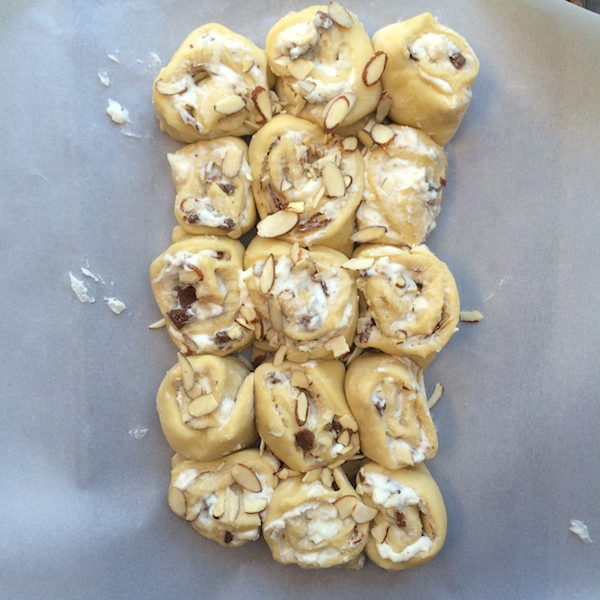 After a little proofing we bake. LOOK AT THEM ROLLS.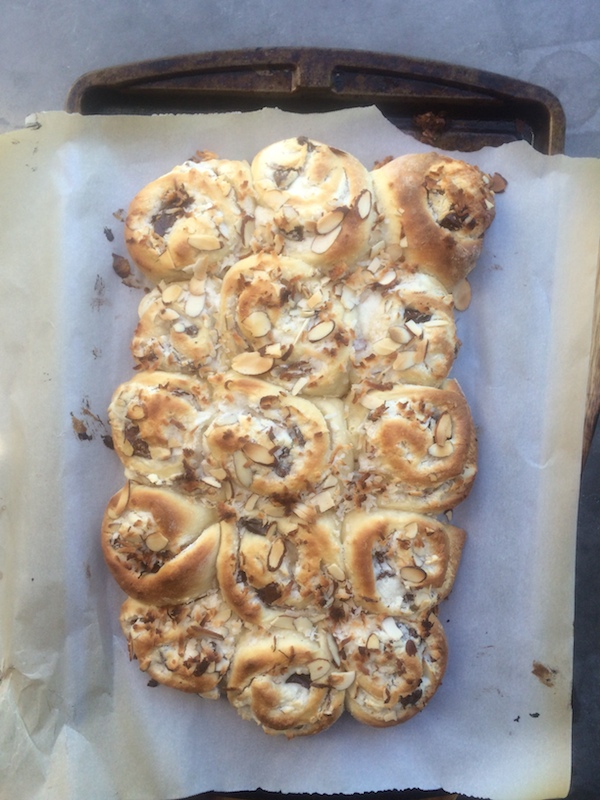 Glaze.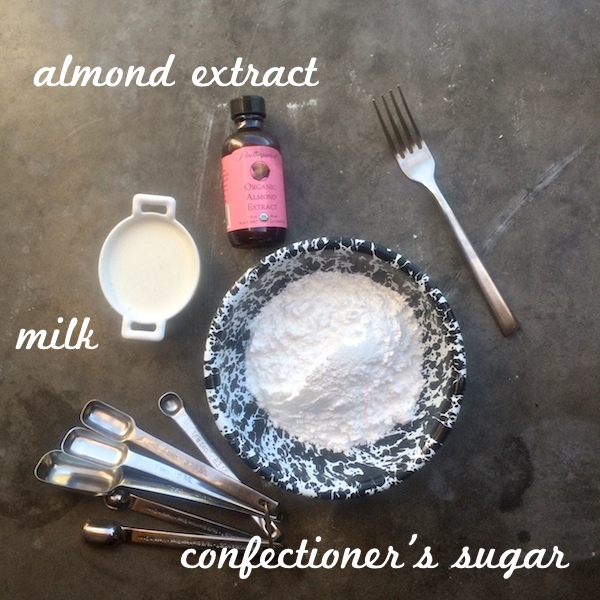 GLAZEEEEE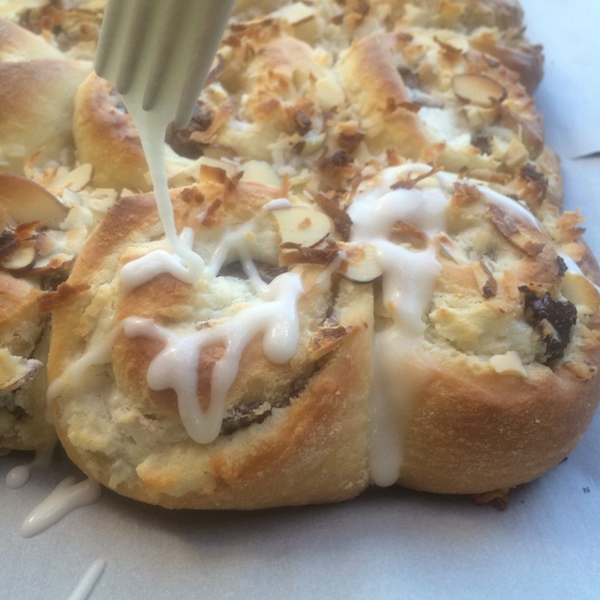 I also sprinkled a little coconut on top- some of it burnt but some of it was perfect.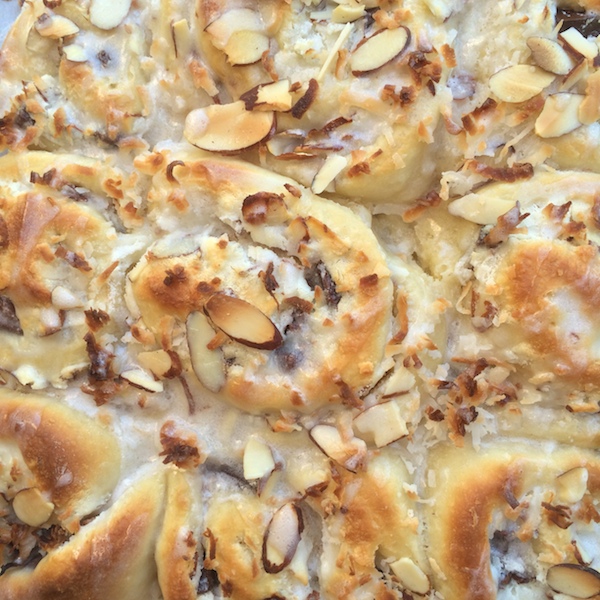 Side view.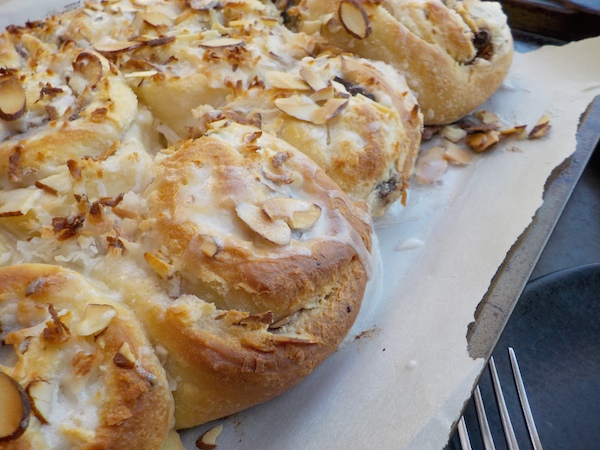 Inside view. Told you it was gooey. LOOK AT THE HIDDEN CHOCOLATE PILE.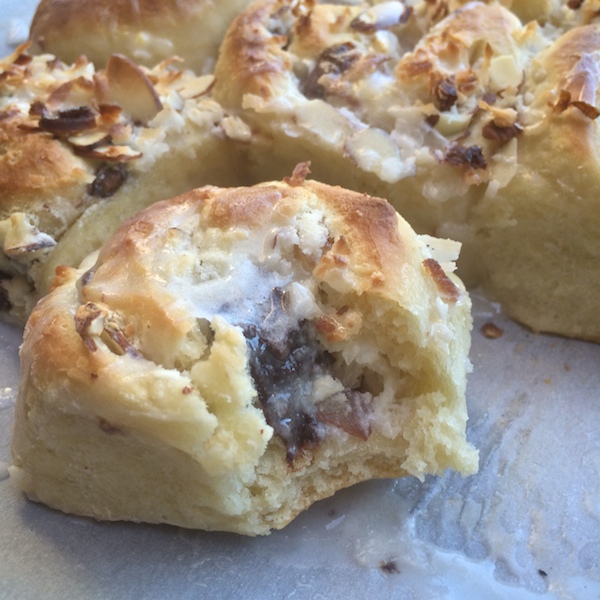 FACE DIVE.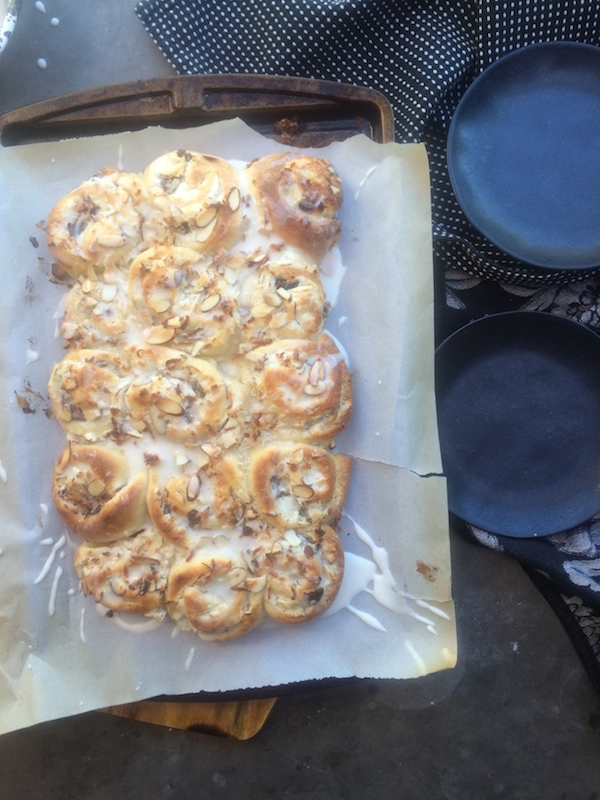 All three for me.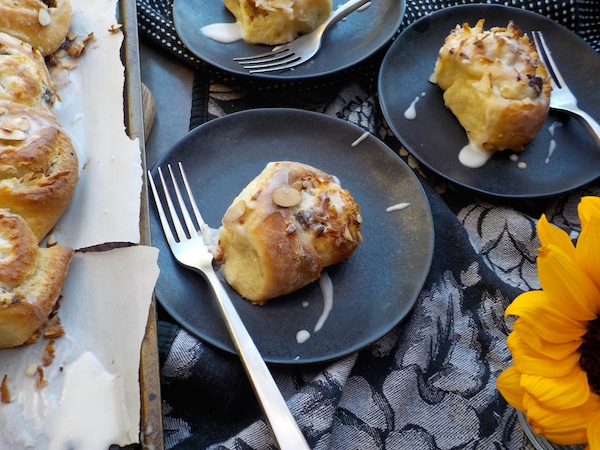 Extra glaze if you're fancy.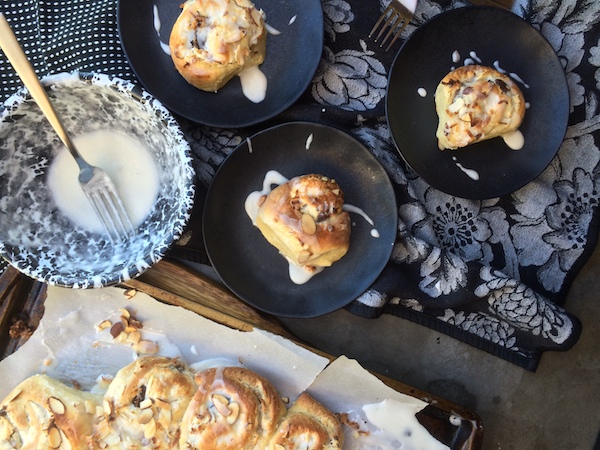 Excuse me while I walk over to the tray and "pick off" a few little crumbs….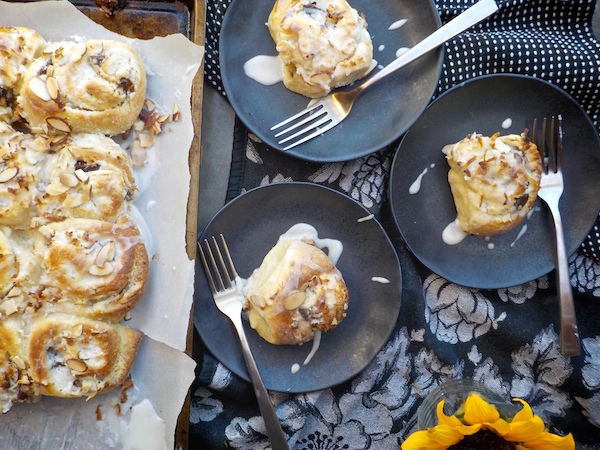 So ridiculously dreamy.
Thanks for reading Shutterbean!  If you'd like check out my everyday life, follow me on Instagram and be sure keep in touch via Facebook, Twitter,  Bloglovin,  Pinterest, or subscribe via email to get new posts delivered to your inbox.
Almond Joy Rolls

makes about 15 rolls

recipe adapted from Whip it Up!

for the dough:

1/4 cup warm water
1/4 oz. sachet active dried years
1/2 cup unsalted butter (1 stick)
3/4 cup buttermilk
1/2 teaspoon salt
1 egg
1/4 cup sugar
3 1/2 cups all purpose flour

for the filling:

8 oz. cream cheese
1/2 cup confectioner's sugar, sifted
1 1/4 teaspoons almond extract
pinch of salt
1/2 cup sliced almonds
1/2 cup shredded sweetened coconut
1/2 cup chopped milk chocolate

for the glaze:

1 cup confectioner's sugar
4-6 tablespoons whole milk
1/2 teaspoon almond extract
pinch of salt

Turn oven to the lowest setting to create a makeshift proof box.

Mix yeast in a small bowl with warm water (temperature between 100-100F). Let sit for 10 minutes, until yeast has bloomed.

In a small saucepan, melt the butter. Remove from the heat and add the buttermilk. Set aside.

In a large heatproof bowl mix together the salt, egg and sugar. Mix in the butter-buttermilk mixture, then add 2 cups of the flour and mix until it's all combined. Add the yeast mixture along with the remaining flour. Mix until the spoon's not really doing its job, then use your hand to finish kneading it all together for another minute or so.

Turn off your oven and cover the bowl loosely with plastic wrap and place inside for 1 – 1 1/2 hours, until the dough has doubled in size.

Meanwhile, make your filling. In a medium bowl, beat together cream cheese, confectioner's sugar, almond extract, salt and shredded coconut.

On a floured surface, roll out dough into a rectangle. Spread the cream cheese mixture evenly over the dough and sprinkle with most of the almonds, reserving a few for the top. Finish with the chopped chocolate and carefully roll up the dough, starting from one long end of the rectangle until you've got a long log of dough. Cut the knobby ends off of the rolls and cut log into about 15 rolls.  Carefully transfer each roll to a parchment lined baking sheet. Lightly cover with plastic wrap and let dough rise for another 45 minutes. After about 30 minutes, preheat oven to 350F. Remove plastic wrap and bake for 20-30 minutes, until golden brown. If the almonds start to brown, tent rolls with aluminum foil.

Make the glaze by stirring together all of the ingredients in a small bowl. After rolls have been out of the oven for at least 15 minutes, drizzle the glaze over the top. Serve warm.