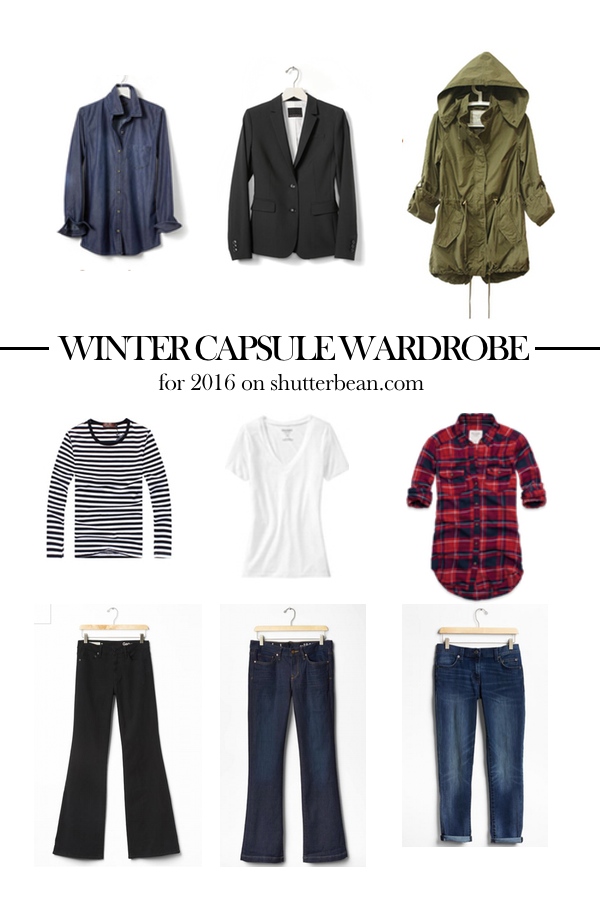 I'm glad you liked my Closet Organization post! Thanks for the feedback. Some of you wanted to see what I picked for my capsule wardrobe for this winter. Here it is!  Let me walk you through it.
Wait? What's a capsule wardrobe?  <—-read this
I started off by going through my favorite pins on pinterest and compiled them onto a new board called Winter Capsule Wardrobe 2016. <—-that's it!
Once I had my outfits picked, I printed out the photos from pinterest and went through my closet to find all of the items I already had to create these looks.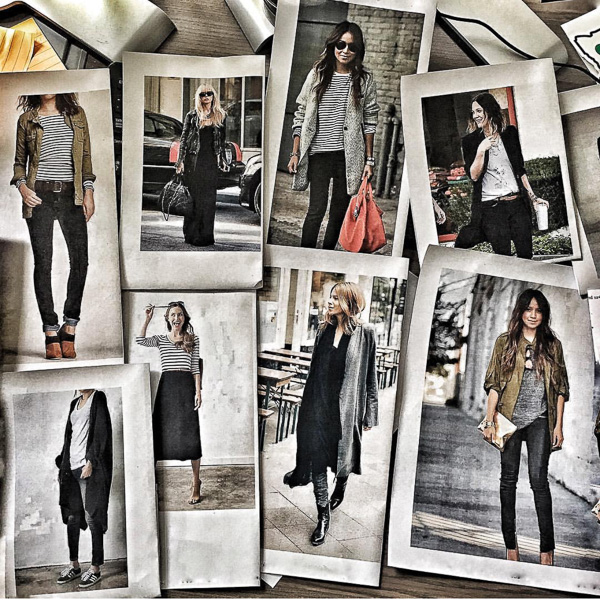 In doing so, I realized that I was creating my own color story and here it is.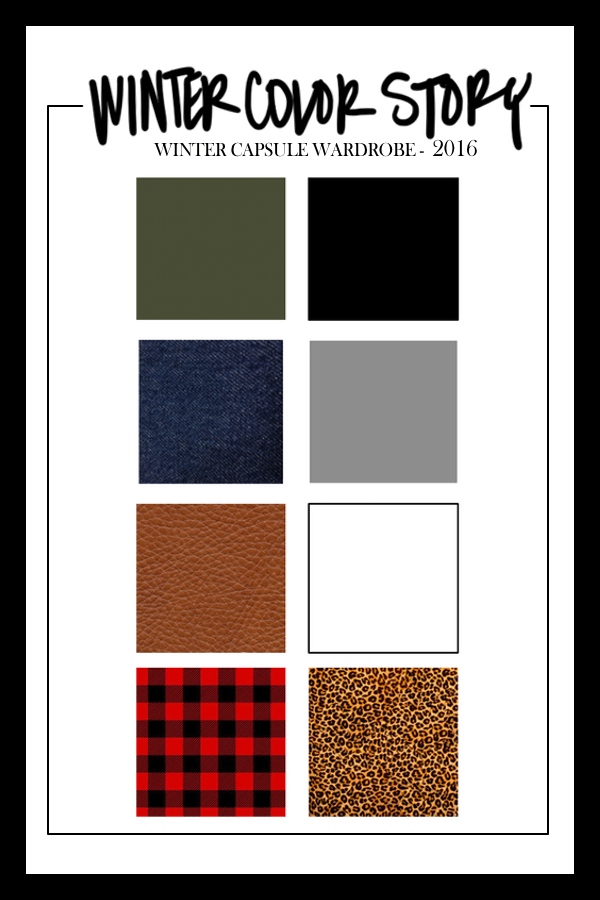 As you can see from my color story, my neutrals are black, gray, white, army green & denim. I want to add a pop of color/statement with my accessories through a red flannel print, leopard print and accents of cognac colored leather. Having this color scheme has made getting dressed so much easier because everything I picked pretty much goes together.
Here's a little glimpse of how the color story looks in my closet.
I paired down a few items since I took this photo!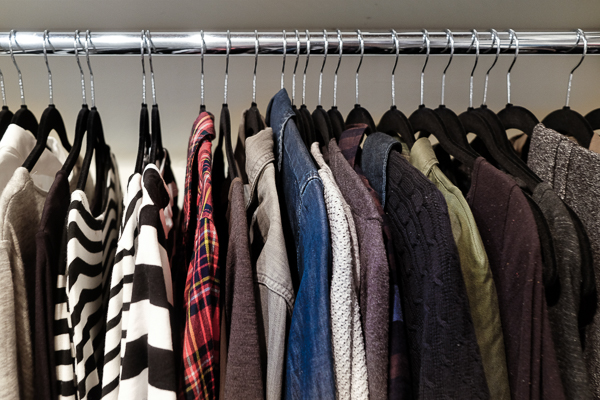 I wanted to do a capsule wardrobe because I want to make deliberate choices of what I keep in my closet. I wanted everything that was in there to be something I loved/something useful. I honestly had too many wildcard pieces that made it hard for me to put outfits together because I lacked a solid foundation & good basics. Like…I would have a really cool dress but didn't know the right shoes/jacket to wear with it. Then my dress was just sitting there…unworn and ignored.  I found that I am more creative when I have less stuff to work with.
Making a capsule wardrobe is just like packing a suitcase for a trip. But imagine your trip is 3 months long and you don't really worry about all of your clothes fitting in a suitcase.  You have to think about your essentials. What are your basic needs? What are the things you love that make you feel good in?  Since I live in California, I don't have a ton of cold weather clothes. It's all about layering here in the Bay Area, so my winter capsule reflects that. I work in an office twice a week and from home the rest of the time. Most of my outfits are casual but can be jazzed up if I need to them to be more professional.
These pieces make up my foundation. All my outfits are built off of them: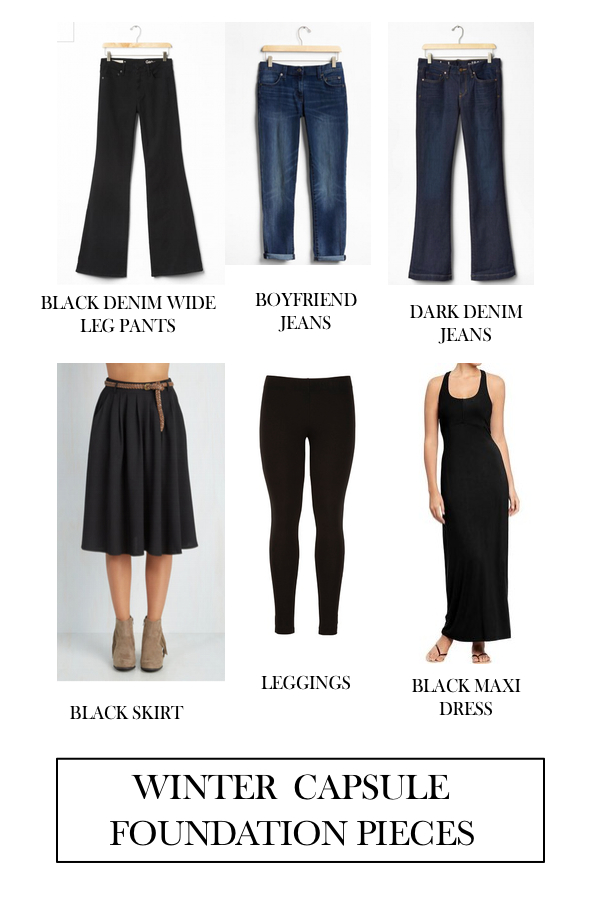 And now we move onto the tops. Before I paired down my closet I had SO MANY TOPS. To tell you the truth, I was super overwhelmed by having so many options. I have 13 tops in my capsule compared to the 35+ tops used to be in there (YIKES). They all can be dressed up or dressed down depending on the bases & accessories. Each t-shirt works with all of my pants. Each shirt works with my skirt and all the button ups can go well with pants and my maxi dress.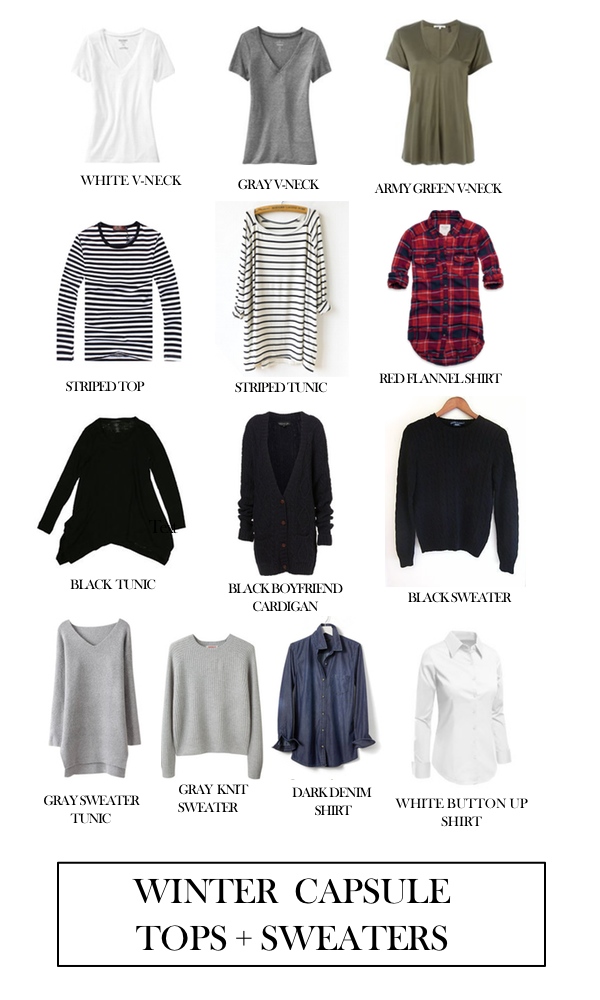 Because it's winter, I need some jackets. I have one main black coat that I LOVE! There's  a blazer if I need to a business lady or dress up jeans. The green army coat is more of a casual coat. I like it because it polishes some of my more casual outfits. I'm pretty sure it will being in my Spring Capsule.
I also have three dresses in my collection right now. That denim dress I got from GAP a few months ago has been one of my uniform staples. They unfortunately don't have it at GAP anymore 🙁  I'm currently wearing it with a black sweater on top.  I'm pretty sure it will come with me when we move onto Spring because I can throw it onto run errands with some leggings  and not look like a slob.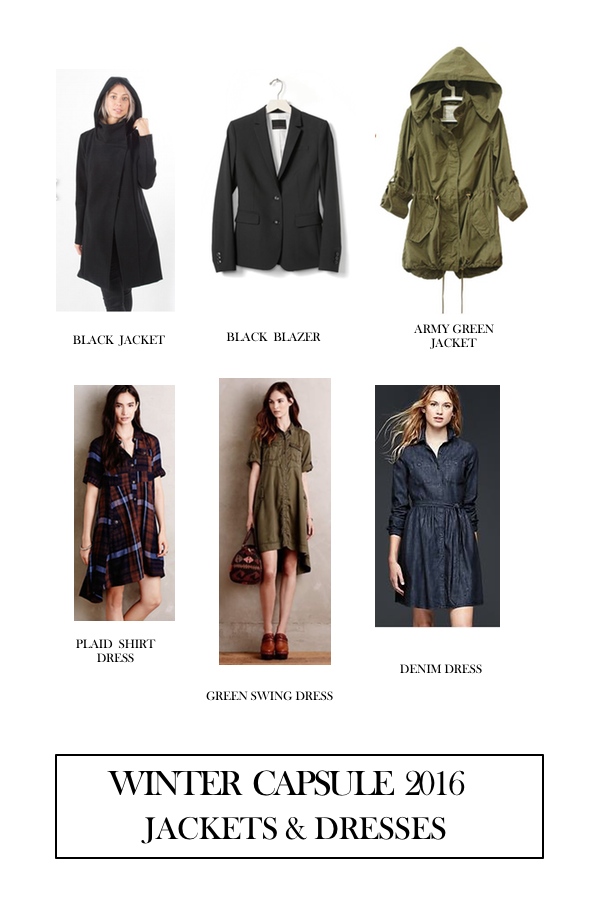 To make these staples come alive, I rely heavily on my accessories. I like having some statement pieces in my arsenal. Here's all the fun/subtle pops of color that I'm incorporating into my looks this winter.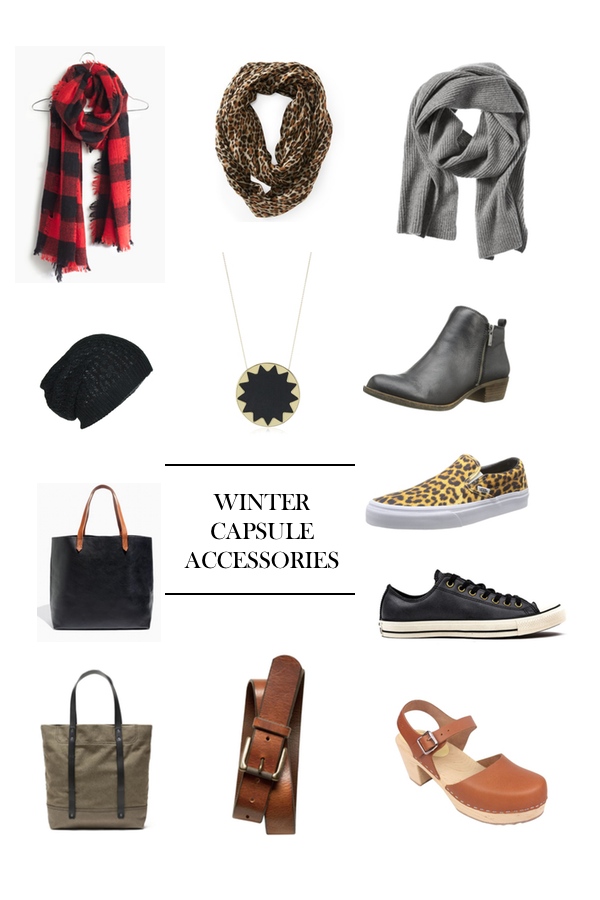 There you have it! If you don't count the accessories & shoes, I have about 25 pieces in this capsule. 29 if you include the shoes. So far it's all working out well. I am not tempted to go into my guest bedroom closet (where the rest of my clothes are) to cheat. I'm also not tempted to go shopping because I have everything I need.
This project is also forcing me to look through my jewelry collection to enhance my outfits (must purge a few things from my stash). Another side effect is that I am clearing out all of my makeup and getting rid of what I don't use anymore. I'm only one month in….so I'll let you know what happens when we move onto spring!
Have you done a capsule wardrobe before? Do you have any tips or tricks? How many seasons did you make it through??!
TELL ME EVERYTHING.