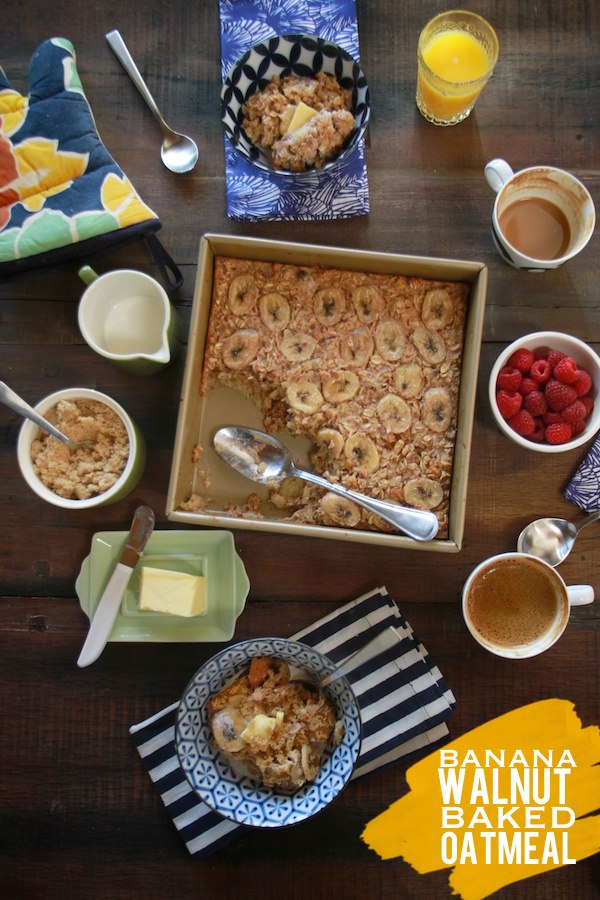 Banana Walnut Baked Oatmeal
My friend Megan's new cookbook, Whole-Grain Mornings: New Breakfast Recipes to Span the Seasons has arrived!! I can't tell you how excited I was to find it on my doorstep last week. To say that I've been eagerly anticipating its arrival is an understatement. I spent an afternoon with a cup of tea and a notepad, writing down all the recipes I wanted to try. Turns out I wrote down practically ALL of the recipes. I just KNEW it would be a hit.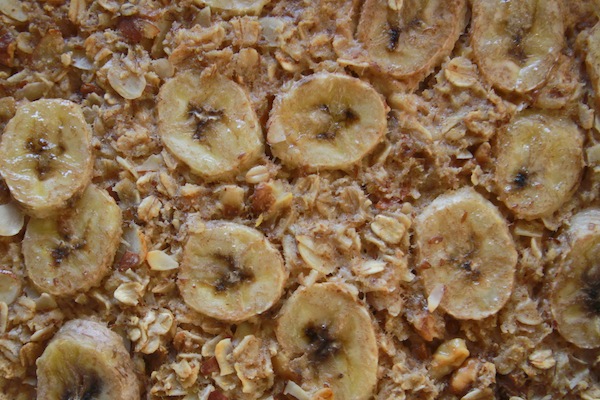 What I love about this book is that Megan loves to fortify her breakfasts with good/healthy ingredients. There are some indulgent recipes but for the most part, each one will get you off to a pretty healthy start in the morning. That's important to me since I find that breakfast usually sets the tone for how I eat the rest of the day. Breakfast is kind of my gateway drug. If I begin with doughnuts, the rest of the day gets blown. These things happen.
I started with this Banana Walnut Baked Oatmeal mostly because I had all of the ingredients at home. There are a few grains and flours I'm excited to try and I've already got my list together for when I do some bulk grocery shopping next week. I'm looking forward to that! I've tried a version of Baked Oatmeal before and loved it but I was intrigued by this recipe. There's a substantial amount of nuts in this oatmeal and that's just fine by me. The more the merrier, I say! The sweetness with the bananas and applesauce creates an oatmeal/banana bread hybrid. I've been enjoying a bowl every morning this past week with a little bit of milk, a tiny pad of Kerrygold salted butter & the littlest sprinkle of brown sugar. I think my regular avocado toast is getting jealous.
And we're off! Ingredient gathering. A whole lot of goodness.
Toasting the walnuts & almond slivers is key! I put them on a baking sheet and toasted them at 350F for 5-8 minutes.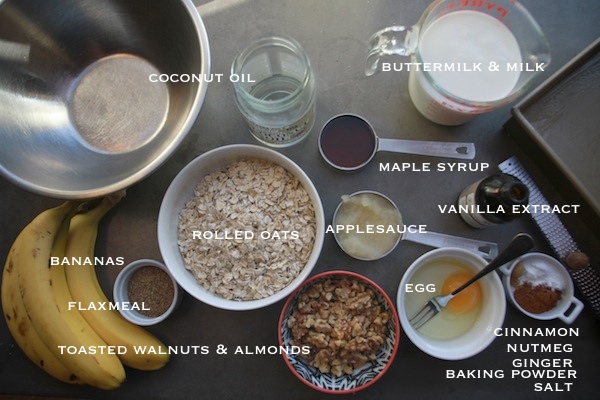 First we have our oatmeal base.
Nuts, oats, spices, baking powder & salt get tossed together.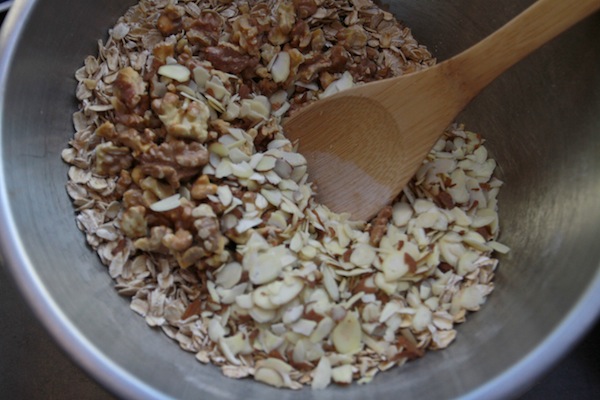 Mix the wet ingredients in.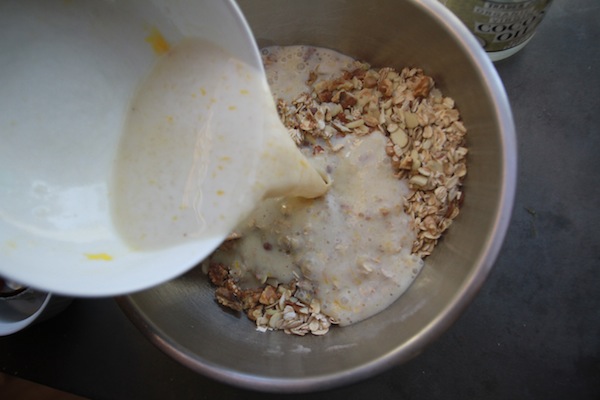 Rub coconut oil into an 8 x 8 baking pan. Add two sliced bananas on top.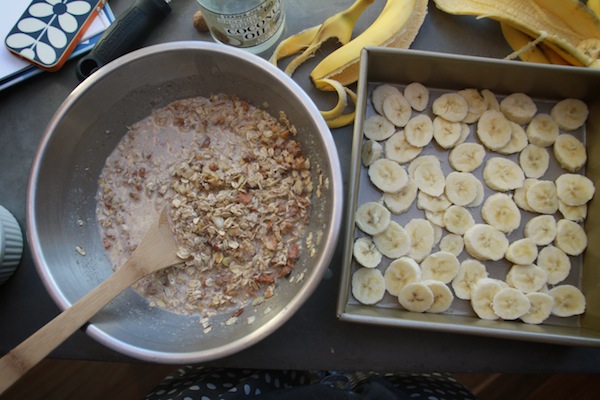 Layer the oat mixture on top. Add the rest of the banana. Drizzle with more coconut oil. BAKE.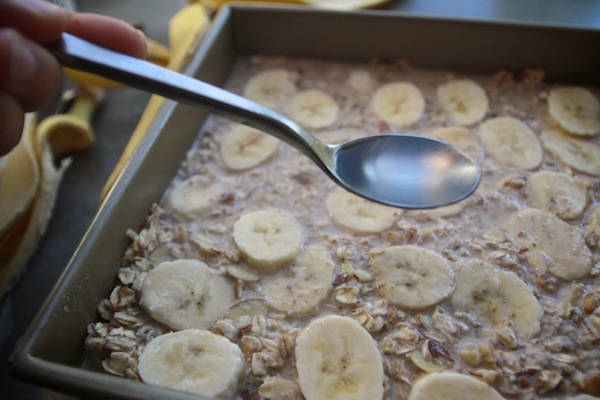 Get your breakfast items together!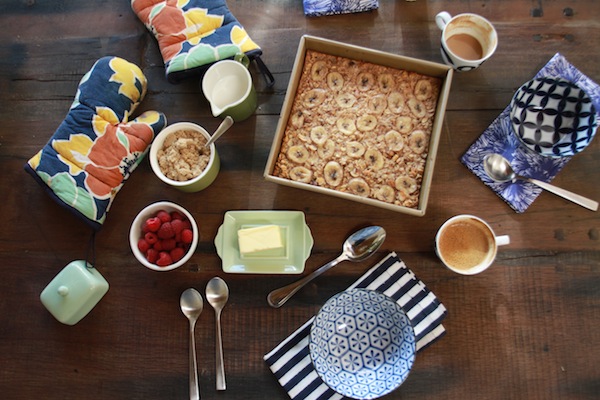 So good with a little bit of butter. I get dibs on an edge piece!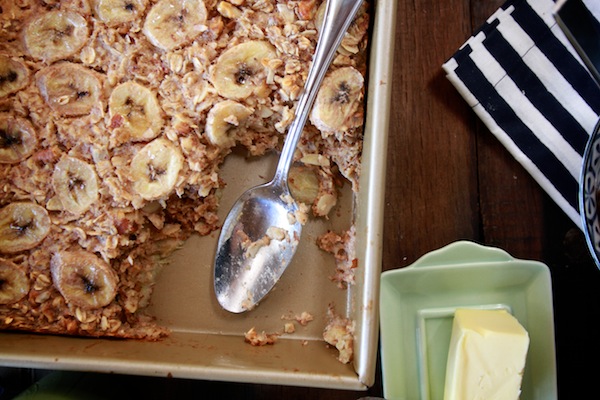 We added a bit of cream on top with a little bit of brown sugar.
Bananas on top. Bananas on bottom. Spices, oats and a delicious almond & walnut combination!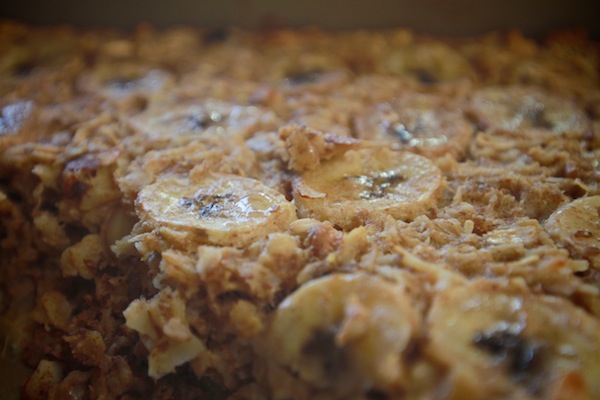 I was so happy that breakfast was figured out for me all week.
Banana Walnut Baked Oatmeal

serves 6 to 8

recipe slightly adapted from Whole-Grain Mornings

2 cups rolled oats

1/2 cup sliced almonds, toasted and cooled
1 cup walnuts, toasted, cooled & coarsely chopped
3 tablespoons ground flaxseeds
1 teaspoon baking powder
1 1/4 teaspoons ground cinnamon
1/4 teaspoon ground ginger
1/4 teaspoon ground nutmeg
1 teaspoon kosher salt
1 1/2 cups milk
1/3 cup buttermilk
1/2 cup applesauce
1/3 cup maple syrup
1 large egg, beaten
1 tablespoon pure vanilla extract
3 ripe bananas, cut into 1/2 inch slices
3 tablespoons coconut oil, melted plus more for greasing the pan
warm cream or milk, for serving
salted butter, for serving
brown sugar, for serving

Preheat oven to 375F. Grease an 8-inch square baking dish with a little coconut oil, fully coating the bottom and sides.

In a large bowl, mix together the oats, almonds, walnuts, flaxseeds, baking powders, cinnamon, ginger, nutmeg and kosher salt.

In a medium bowl, whisk together the milk and the buttermilk, applesauce, maple syrup, egg and vanilla. Add to the oat mixture and fold together quickly until just combined.

In the prepared baking dish, spread an even layer of sliced bananas (this usually takes 2 full bananas). Then evenly spoon the oat mixture on top of the bananas. Top with the remaining bananas and drizzle the coconut oil on top.

Bake until the oatmeal is bubbling and has a slightly golden top, about 40 minutes. Let cool for at least 15 minutes before serving. Serve warm with a small spoonful of brown sugar, a little bit of butter and cream on top. Cover and refrigerate leftovers for 4 to 5 days.