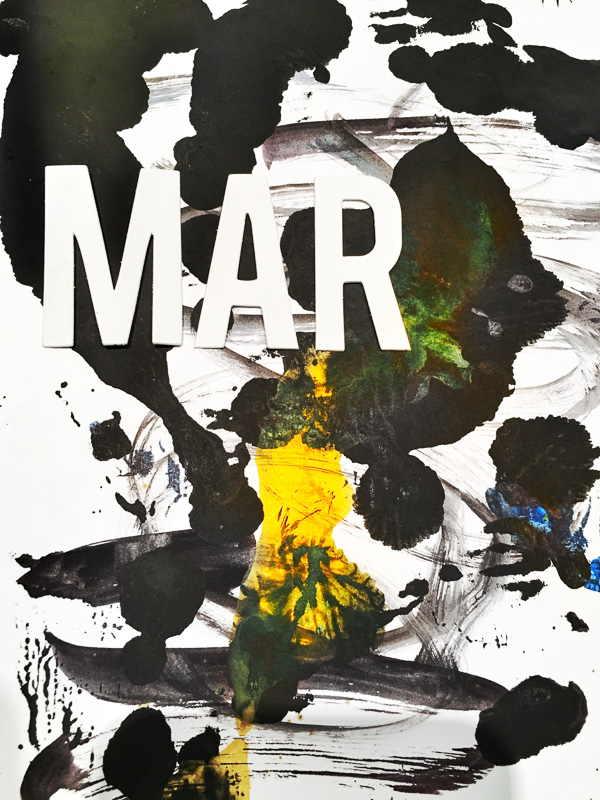 Currently March 2017
A few more days before this month comes to a close. This month seemed to fly right by. It was filled with outings and celebrations. We celebrated Casey's birthday and my brother's birthday. They both turned 40. We also celebrated our 11th anniversary/18 years of being together!  Needless to say, this month was pretty indulgent with all of the celebrations. Can't wait to start adding more spring vegetables and fruit into the routine. Hopefully, I'll be able to add more trips to the farmer's market in my future.  Cooper has also started baseball season so our weekends are pretty booked these days. I've been sneaking in some time to garden on the weekends. My succulent arrangements on the deck are looking pretty good! I am starting to research ideas for our front yard.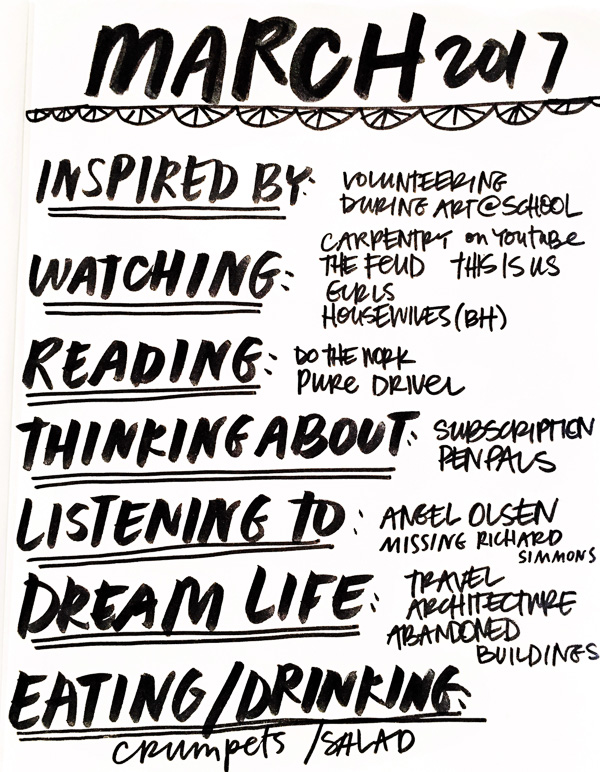 Inspired by:
Volunteering at school during art class. I've been going in once a week or so to help out. I absolutely love working with kids on art. Their talent blows me away! We've been learning about primary and secondary colors and we've been applying the technique to a bowl of fruit. I watched so many kids paint today that I was jonesing to make a bowl of fruit myself. This was a fun way to start the evening.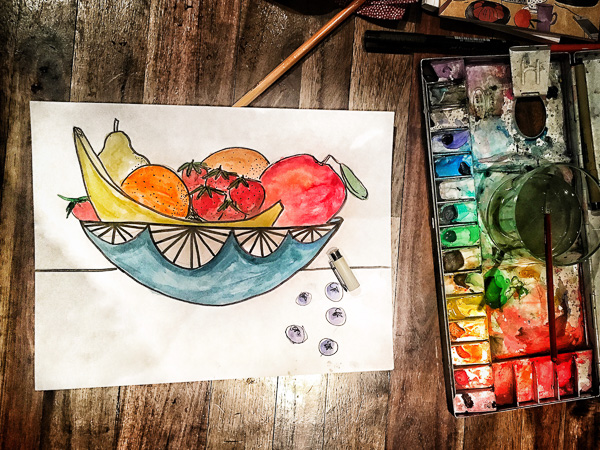 Watching:
Casey has been deep in a rabbit hole of carpentry videos on Youtube this month and I've been catching myself watching some. Our favorites include Samurai Carpenter, Steve Ramsey, and April Wilkerson.  Casey put in some shelves in our liquor closet and is scheming on some outdoor furniture for our deck.
I've also been watching The Feud. Thanks for the recommendation, Jerry! It's a show about the feud between Bette Davis & Joan Crawford and I love it. The set design/costume design is pretty epic. Can't wait to see how their feud unfolds. I'm an episode behind.
I'm sad that This is Us ended. I can't wait to see what happens next season. I'm not going to spoil anything for anybody, worry not.
Watching Girls. I think this season (the last season!) is actually pretty well written compared to the past few. I thought the episode where she meets the writer guy was fantastic. Did you see it? What a mental game!
And yes…Housewives. Watching the Beverly Hills season while I do laundry on Monday nights. It's so mindless, I'm absolutely sucked into seeing what Erika Jayne wears/how her glam squad puts her together. Did any of you catch that spiral notebook of her looks? I wanted to see more.
Also watching Billions…having a hard time not falling asleep during it. I think it's mostly because we're up late watching it. Gotta be better at going to bed earlier in April.
Reading:
I haven't had much time to focus on leisure reading this month, but I've been turning to two books right now on my nightstand before I go to bed.  Do the Work which is motivating me right now (I'm definitely getting in my own way right now). While I was at the library, I picked up Pure Drivel by Steven Martin (one of my favorite writers!). His writing is so playful; I love it.
Thinking About:
I've been playing around with the idea of having a subscription service/pen pal experience. Who wants mail???
If you want to send me mail
Tracy Shutterbean
P.O. Box 604
San Anselmo, CA 94979
Listening to:
Angel Olsen (seriously go listen to her and watch all of her videos). I might have to put someone else in the rotation or else I'm gonna get sick of her because I've been listening to her non-stop.
Finished the Missing Richard Simmon's podcast. I really loved Richard Simmons when I was young (I used to sweat to the oldies and I had deal- a-meal!), so I'm so curious to know more about his life. He's been out of the spotlight for years now and his fans want to know what's up.  He had such a long career (40 years!) of non-stop working. I hope he's doing OK and I wonder if he's permanently retired? The weird thing is that he just vanished with no word why.
Dream Life:
Remembering dreams again this month. I'm on the road in them, looking at abandoned buildings. There are a lot of trees and architecture in my dreams lately. Had a really good one about a cabin with this cool fireplace and just as I was asking about it, Cooper came in and woke me up.
Eating/Drinking:
Bought some crumpets from Trader Joe's this week. Gonna put those back into the rotation. I love how the butter gets into all the nooks and crannies.
I really need to eat salads. More and more of them! I have to remember how good I feel when I eat healthier. Time for a good reset button salad. Pretty excited for grill season soon. That means I can start grilling asparagus and other vegetables.
How was your March?? What's up with you?
Let me know by leaving your stream of consciousness in the comments.