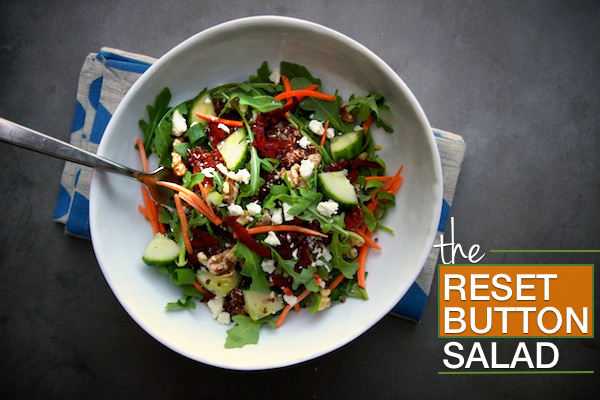 For the past few weeks leading up to my juice cleanse I've been going to my local Whole Foods and making this salad for my lunch at work. I learned to bring my own cucumber, walnuts and dressing in my purse so I can get my salad for about 3 bucks. Over the years, I've learned what weighs down a salad bar salad. Stay away from cherry tomatoes, cucumbers (WHY DO THEY CUT THEM SO BIG?) hardboiled eggs, chicken & beans. They'll tip the scales for sure.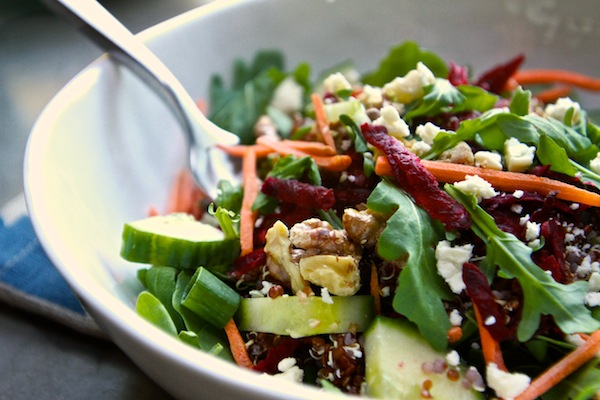 I like to call this salad The Reset Button Salad because it's filled with goodness. The biggest impact comes from the red quinoa. It's totally nutty and makes it more of a meal. I'm less inclined to want a side of bread or (cough cough) french fries as a result. Just this salad has the tendency to fill me up! The shredded carrots & beets add a nice crunch while the green onions give it a good onion flavoring without overpowering. For extra oomph, I added toasted walnuts (because I adore them!) and some crumbled feta for contrast. Arugula…well…you know me… My arugula obsession continues, but I find that it works really well here. It's the type of salad that will help RESET your brain into remembering that healthy food can be so satisfying. And if you have an avocado just lying around, I promise that it would be a great addition to! Omit the feta and it's a vegan dream.
Later this week, I'm gonna bring you a foccacia recipe which will probably spur you to eat this salad even more. Cuz, BALANCE.
And we're off!
Let's create a salad bar. I cooked the quinoa and rain it under cold water to cool it down. Then I shredded a beet (without skin) with my cheese grater, diced up green onions, toasted walnuts in the oven (350F for about 6-8 minutes) and used up some shredded carrots I bought at the store.
I love this kind of activity in my kitchen.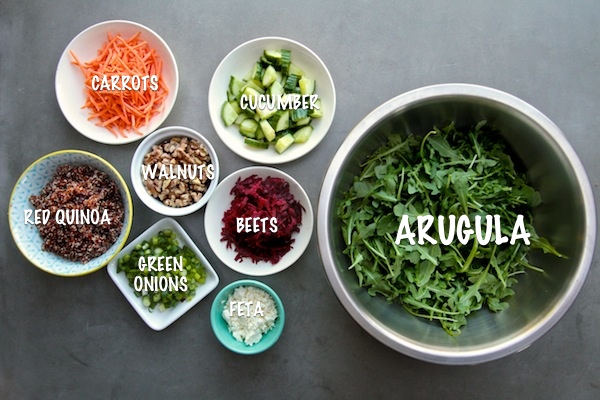 This dressing is SIMPLE! It's just balsamic & extra virgin olive oil. Salt & pepper to taste.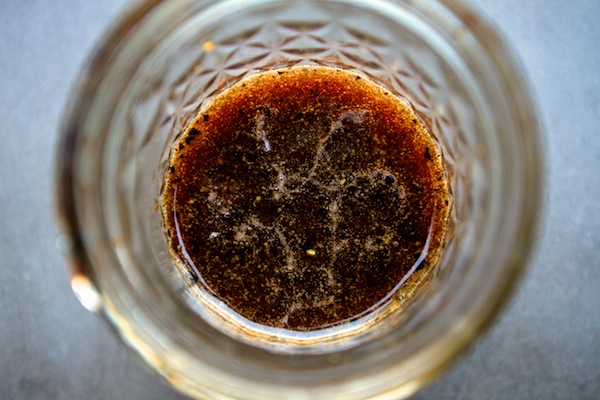 I created one salad for my dinner and the rest for the week!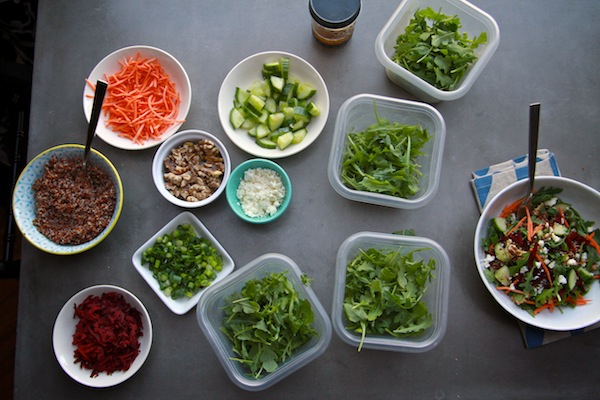 I've found that the key to eating healthier during the week is doing a little bit of legwork. As long as I have my fridge organized & stocked, I feel like I can accomplish anything. I currently have 4 portions of this salad and some extra cooked quinoa in my fridge thanks to properly allocated 20 minutes over the weekend.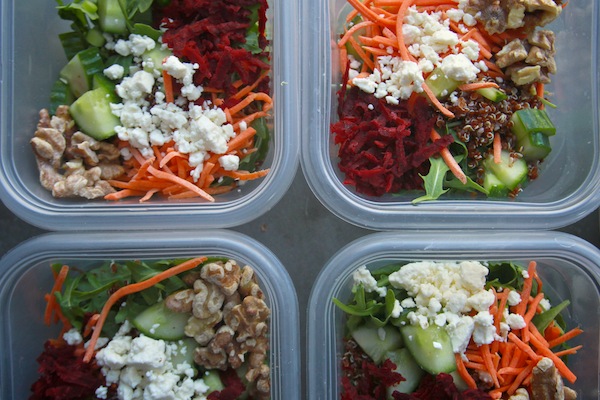 The organized neat freak in me loves a stack of salads waiting for me in the fridge.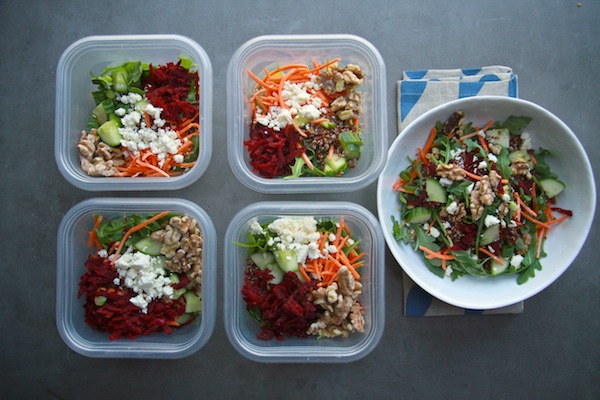 No more stalking the salad bar for me!!!  Although, it was a pretty healthy obsession if I do say so myself.
The Reset Button Salad

serves 4-5 people

for the salad:

7 cups arugula
1 1/2 cups cooked red quinoa
1/2 English cucumber chopped
1 cup shredded beets
1 cup shredded carrots
2 green onions, thinly chopped
3/4 cup toasted walnuts
1/3 cup crumbled feta (totally optional)

for the dressing:

7 tablespoons extra virgin olive oil
3 tablespoons balsamic vinegar
salt & pepper

In a large bowl, toss arugula, quinoa, cucumber, beets, carrots, green onions, walnuts & feta together. In a small jar, mix oil and balsamic together with a pinch of salt & pepper. Put the lid on jar and shake a few times to emulsify dressing. Drizzle dressing on top of salad and toss to combine. Season with pepper and serve immediately.