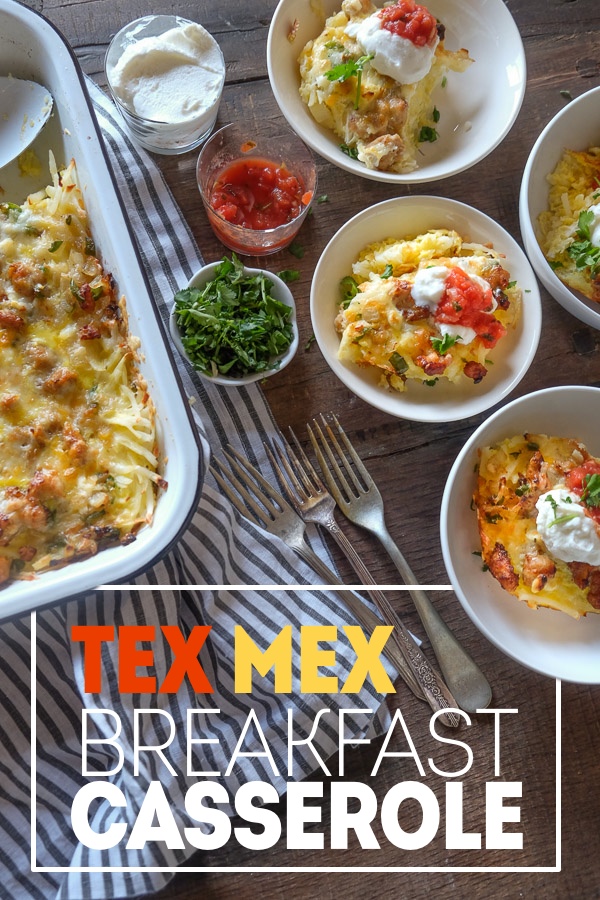 I'm already thinking about your weekend. Your weekend that includes this Tex Mex Breakfast Casserole.
Your weekend might also include a little too much bourbon/wine/dessert/what have you…. and the only cure is a really hearty/savory breakfast.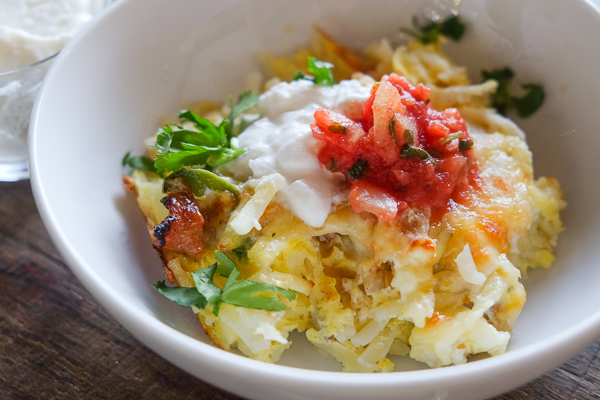 Hash brown base mixed with breakfast sausage, eggs, jalapeños & a ton of cheese….
HELLO!
It's kinda like spanish tortilla meets an omelette. It's a Christina Tosi concoction!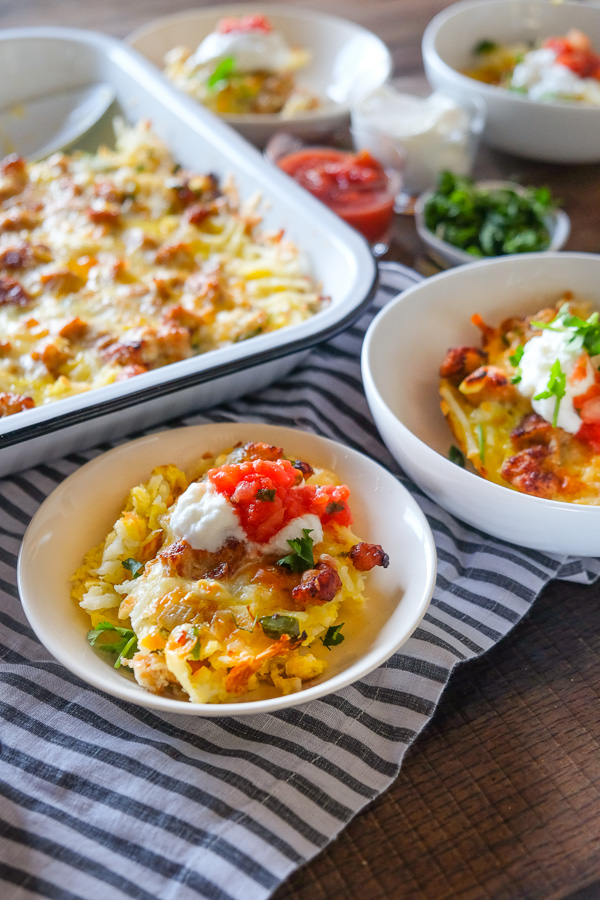 This recipe belongs to the kind of morning filled with too much coffee, reading good magazines & staying in bed a little longer than normal. Or maybe that's too quaint for you? Perhaps you're hosting some friends for the weekend? They need to eat and you need something that you can do ahead of time/set + forget because you want quality chats with your friends…not a session of hiding in the kitchen for introvert time while you sit there listening to them in the other room and eat leftover shredded cheese off the cutting board…..which I know nothing about.
Let's gather our ingredients.
I used the chicken breakfast sausage from Trader Joe's for this.
Makes for a less greasy casserole.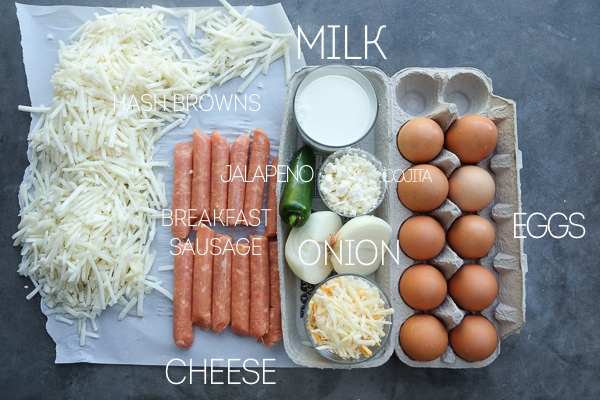 Sausage is cooked. Onions go in with the jalapeño.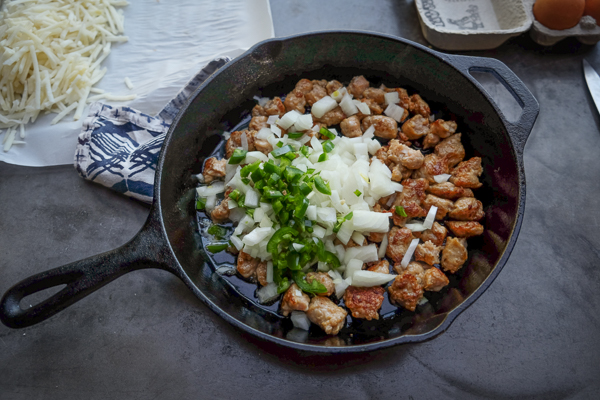 Eggs, milk and most of the cheese gets whisked.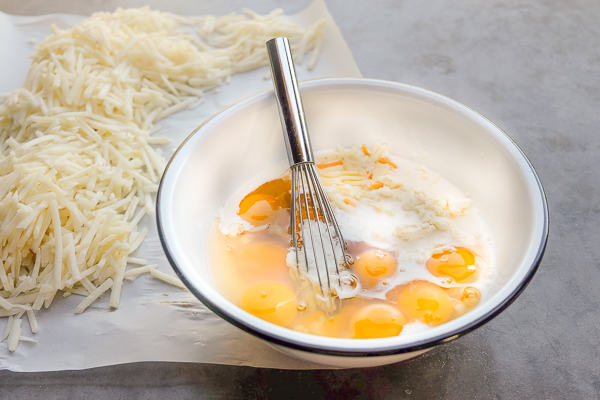 Sausage component done.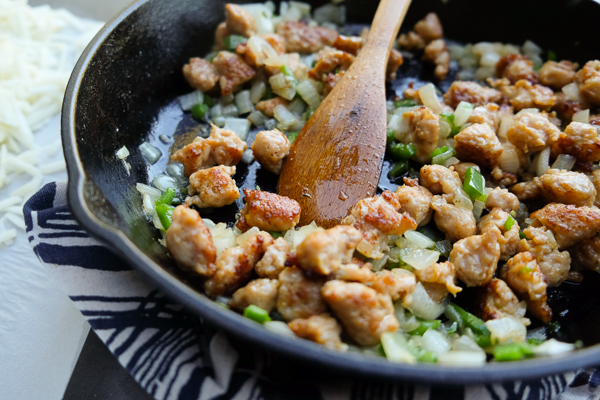 Let's get ready to ASSEMBLE.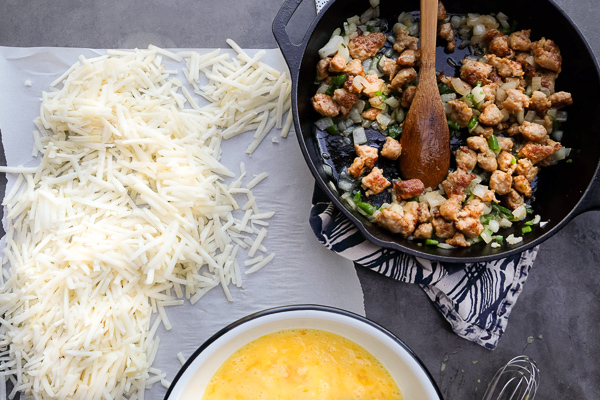 Hash browns go into a greased baking pan. Season with salt & pepper.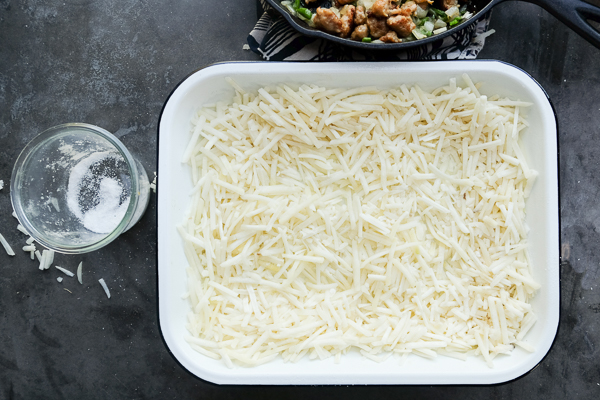 Hey sausage.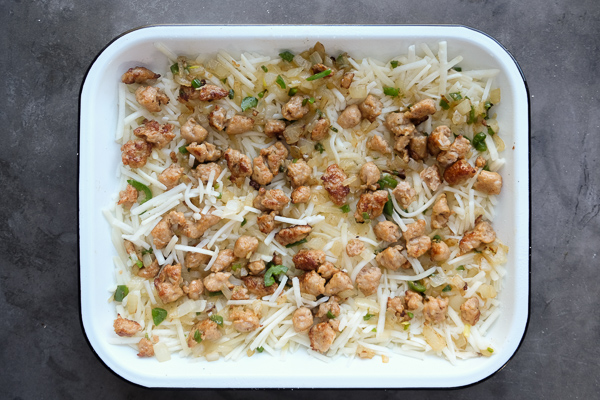 Hello egg cheese mixture.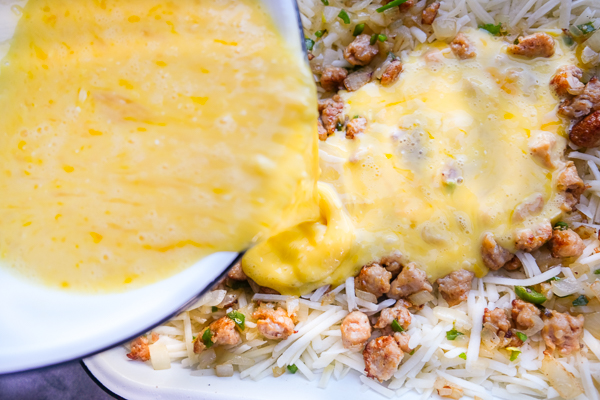 Hello additional cheese topping.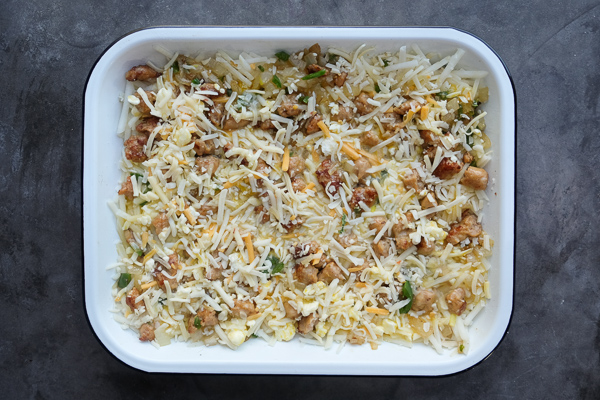 Hash browns and cheese look very similar.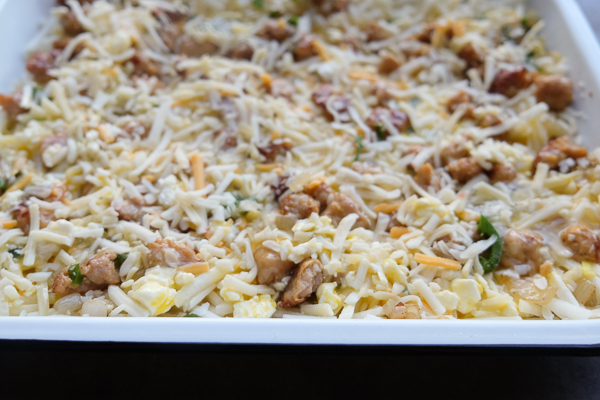 B A K E D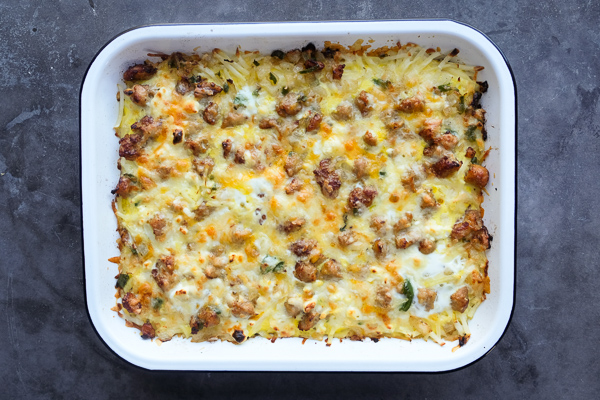 Those crispy sausage bits.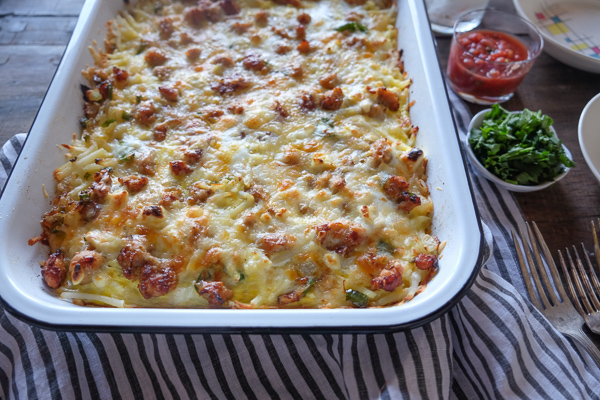 Serve it up.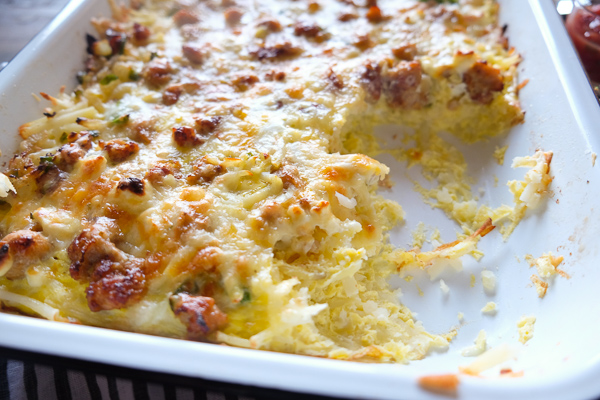 We're gonna need to add some toppings!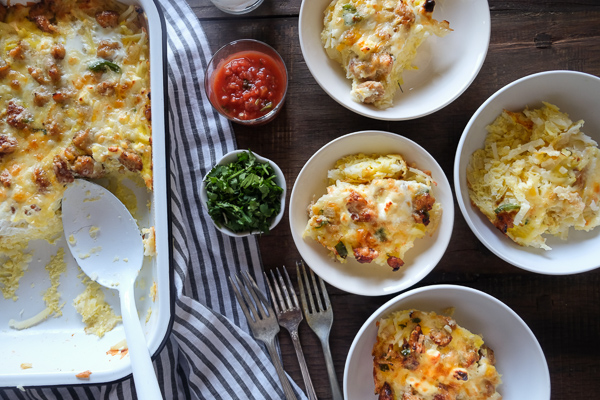 Topped.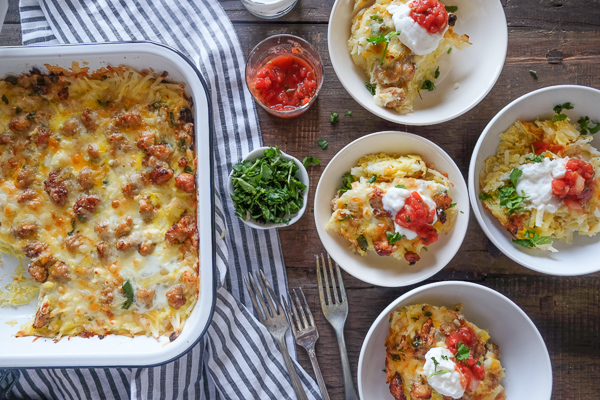 Dig in.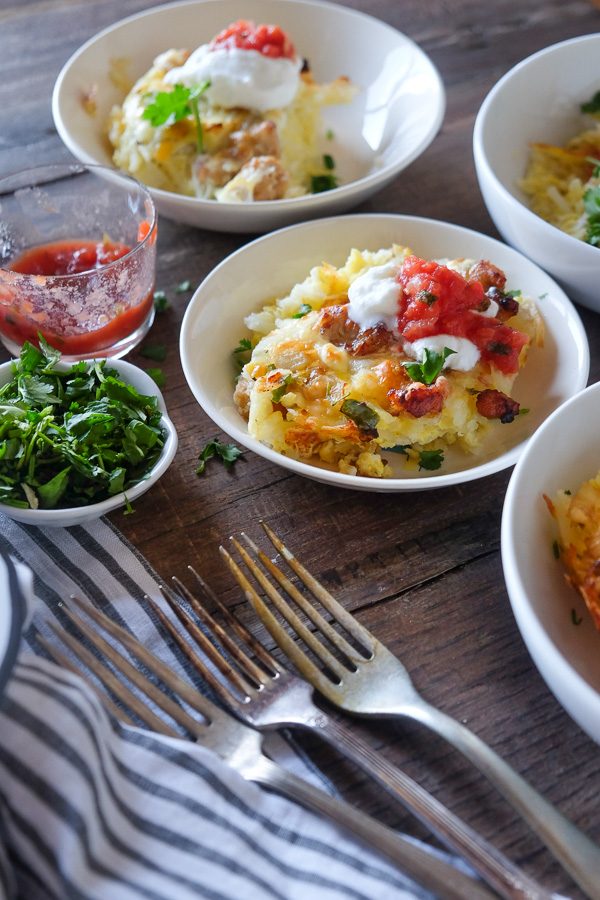 Pass me a fork.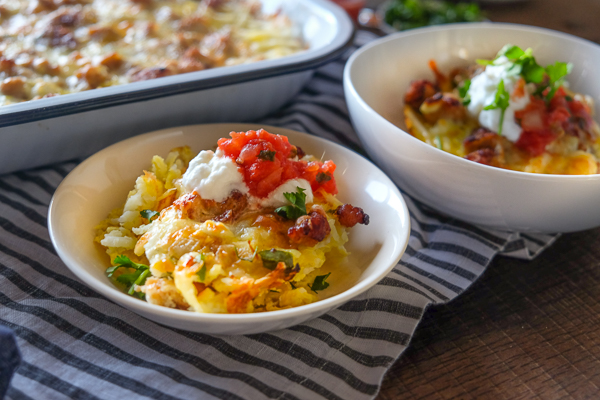 And a ton of hot sauce, please!
For more breakfast options, check out my:
Tex Mex Breakfast Casserole

serves 6-8

recipe slightly adapted from Milk Bar Life by Christina Tosi

1 12 oz. package breakfast sausage links
1 medium yellow onion, diced
1 jalapeño, diced
10 large eggs
1/2 cup whole milk
1/4 cup crumbled cotija cheese
2 cups shredded cheese (I used a combination of pepper jack & cheddar)
3 cups frozen hash browns
1 teaspoon kosher salt
fresh cracked pepper
sour cream, for serving
cilantro, for serving
hot sauce & salsa, for serving

Preheat oven to 350F.

Remove the sausage from casings and cook in a skillet over medium heat until lightly browned, about 3-4 minutes. Add in the onion and jalapeño and cook over medium low-heat until the onions are tender, about 4 minutes.

Whisk together the eggs, milk, cotija, and 1 1/2 cups shredded cheese in a medium bowl.

Line a greased 9 x13 inch baking with the hash browns. Season liberally with salt & pepper. Top hash browns with the sausage onion mixture and then pour the egg and cheese mixture on top. Top with remaining 1/2 cup shredded cheese.

Bake for 20-25 minutes, or until the casserole is golden brown and the eggs are set. Serve hot with sour cream, cilantro & hot sauce.