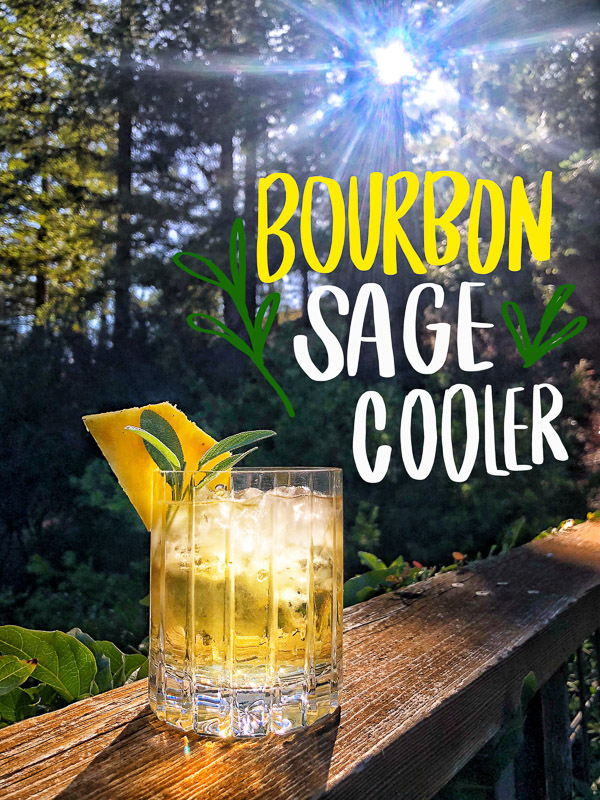 Father's Day is Sunday! We're having a BBQ at my house for Casey and my Dad. It will be in the afternoon and we'll be grilling. Conditions will be perfect to make a cocktail and sit outside on our deck. My dad has recently started drinking both old-fashioneds and manhattans (you should see how cute he is when he makes me a drink!). I want to create something for him that will be good for warmer weather. Something light and refreshing!
That's why I made this Bourbon Sage Cooler recipe to try out this weekend.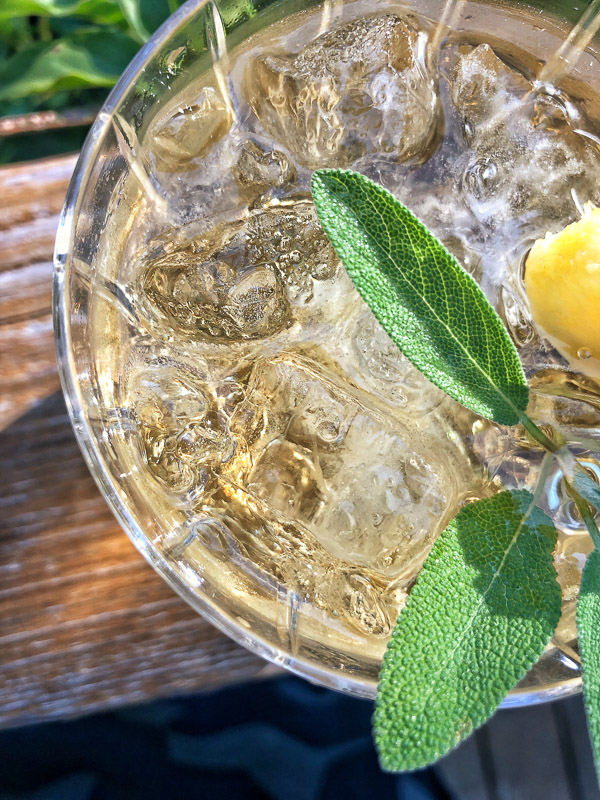 A combination of sage simple syrup, bourbon, sparkling water and bitters.
It has just the right amount of sweetness for my Dad who detests any drink that is super sweet.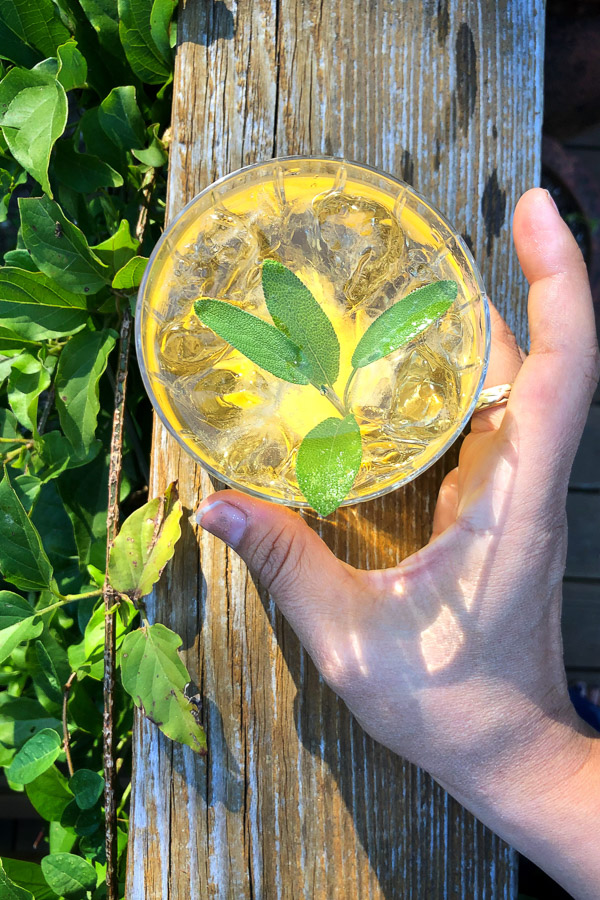 We start by making a sage simple syrup.
Time to get some water boiling!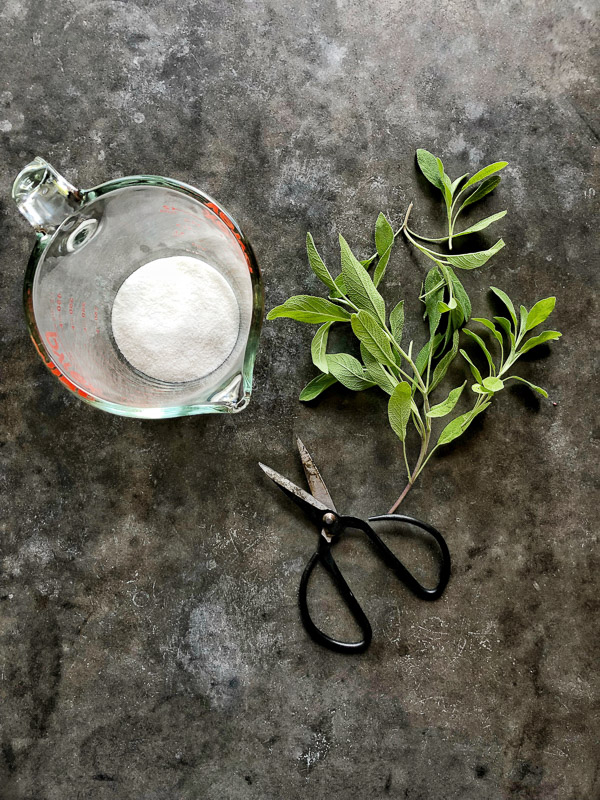 Boiling water goes into sugar. Stir it around to dissolve. Sage gets steeped. We strain after about an hour (or go more if you feel like it!) and set aside.
This sage simple syrup can amplify many drinks in your future. Add it to lemonades, iced tea or even to sparkling water for an Italian Soda situation.
I find myself with a ton of sage in my garden this time of year (humblebrag) so it's nice to have a reason to put it to good use.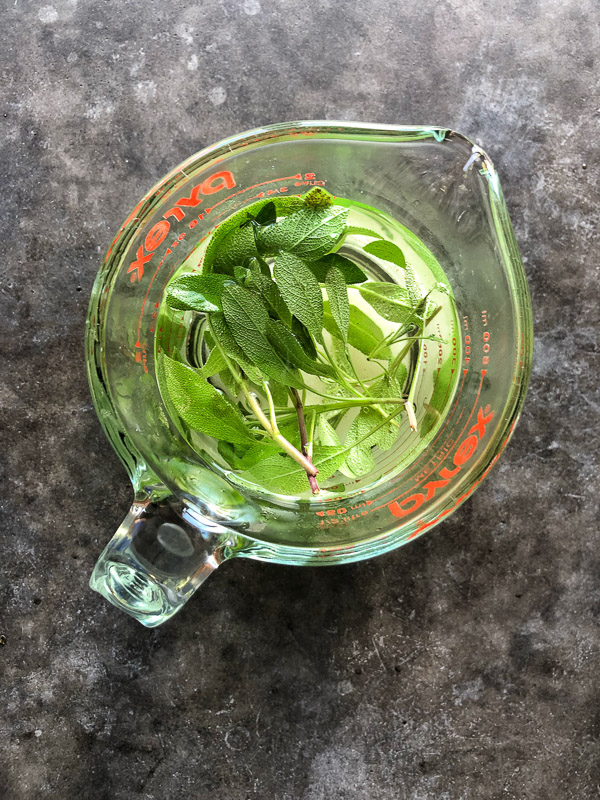 Such pretty leaves!  When you grow something, it makes you so excited when you get to use what you grew. Insert happy dance here ______.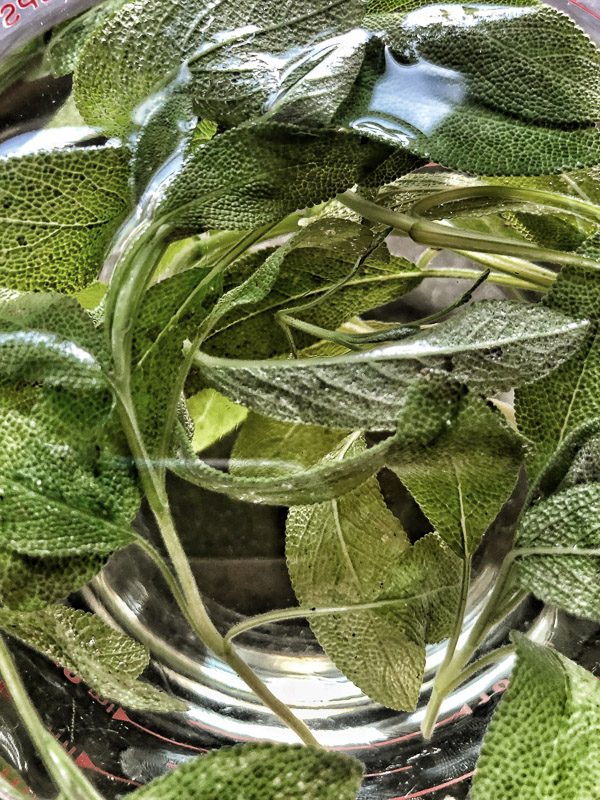 Now we gather our ingredients for a cocktail!
I ran to Nugget Markets to get myself a good mixing bourbon (I like Bulleit) and a few collectible bottles for my Dad & husband.  The men in my life appreciate nice spirits!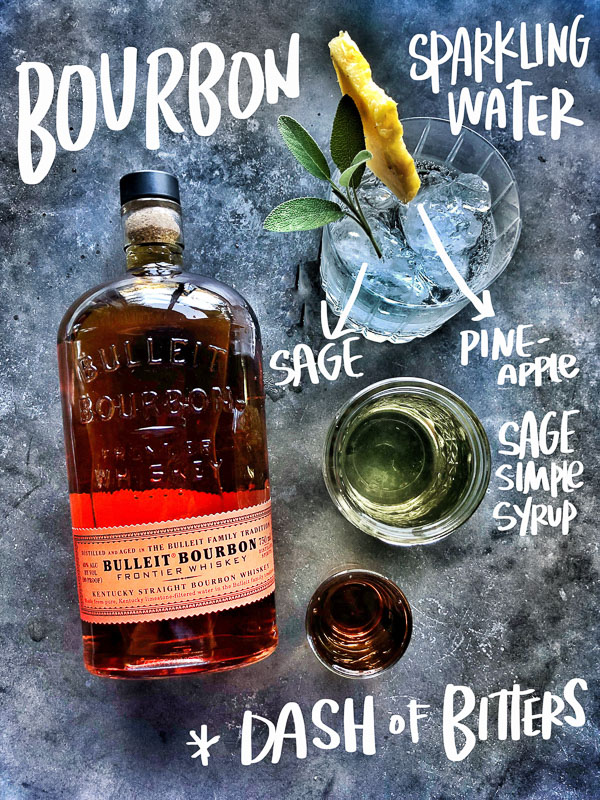 Fill up the glass with the sparkling water. Garnish a glass with pineapple and sage.
I like having a little something sweet to look forward to hence, the pineapple.
If you're feeling like you need a little sweeter, add a splash of pineapple juice.
Better yet, muddle a few pineapple slices with a sage leaf. I mean, let's have some fun with this!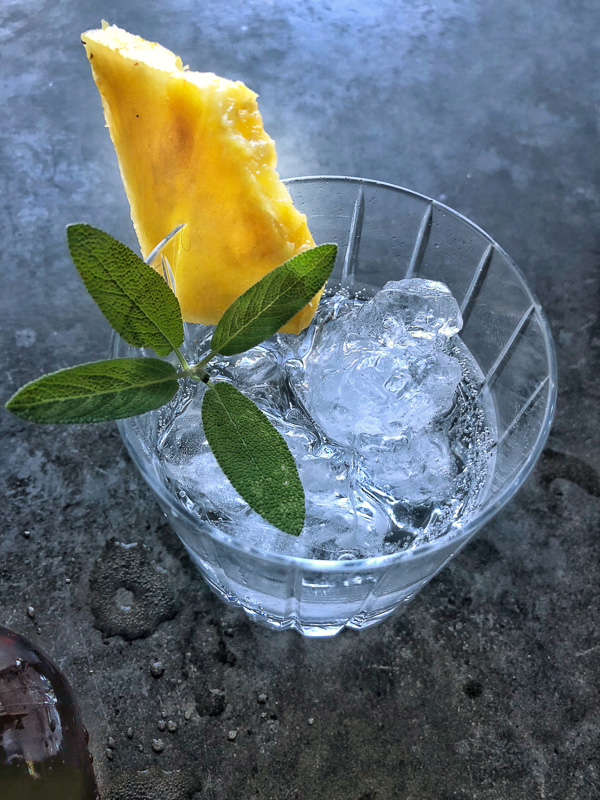 Pour in the bourbon and the sage simple syrup. Add a dash of bitters. Stir.
Check for taste. Need sweetness?
Add more.
I know how much sweet my Dad can handle (it's not a lot!) so I err on the side of less sweet.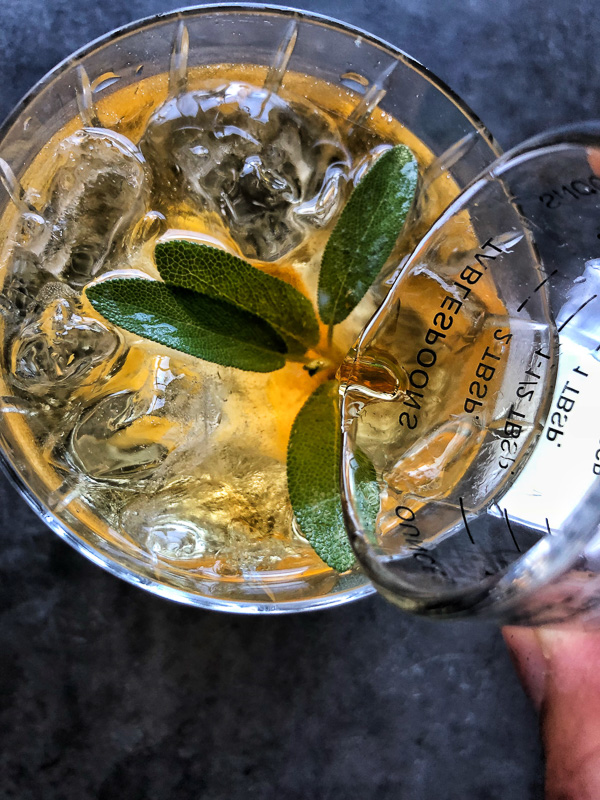 This week I learned the term "Porch Sipper."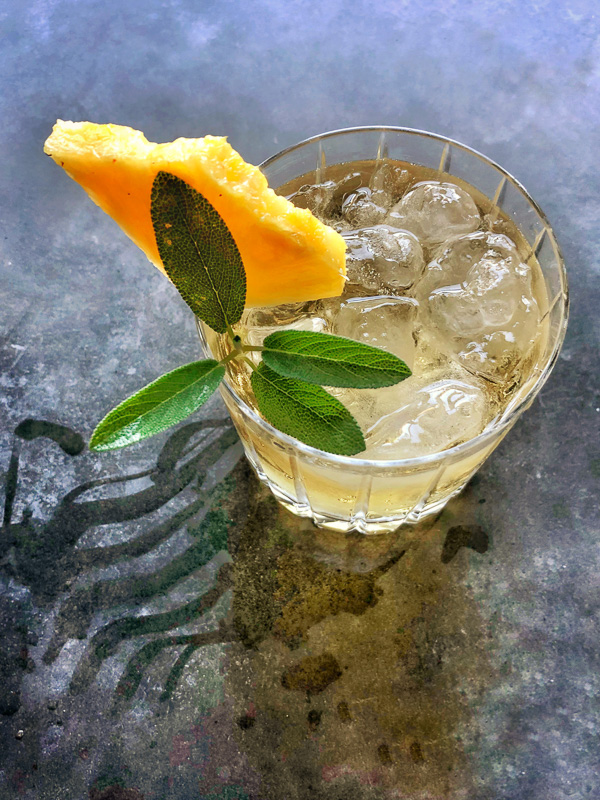 It means you definitely want to sit on a porch and sip this Bourbon Sage Cooler.
Look at how it lights up in the afternoon sun!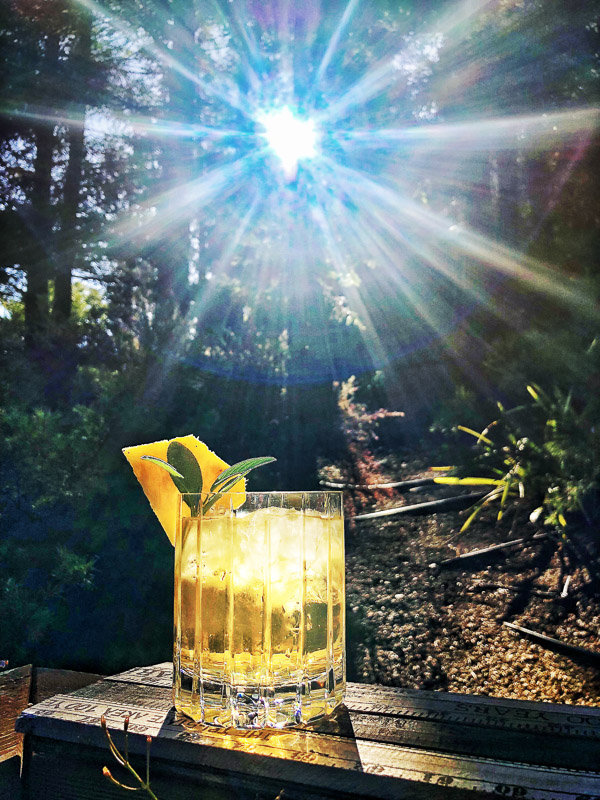 If you're looking for a great gift for Dad, how about giving the gift of spirits?
My whiskey collecting husband deserves something nice for his collection! My Dad too!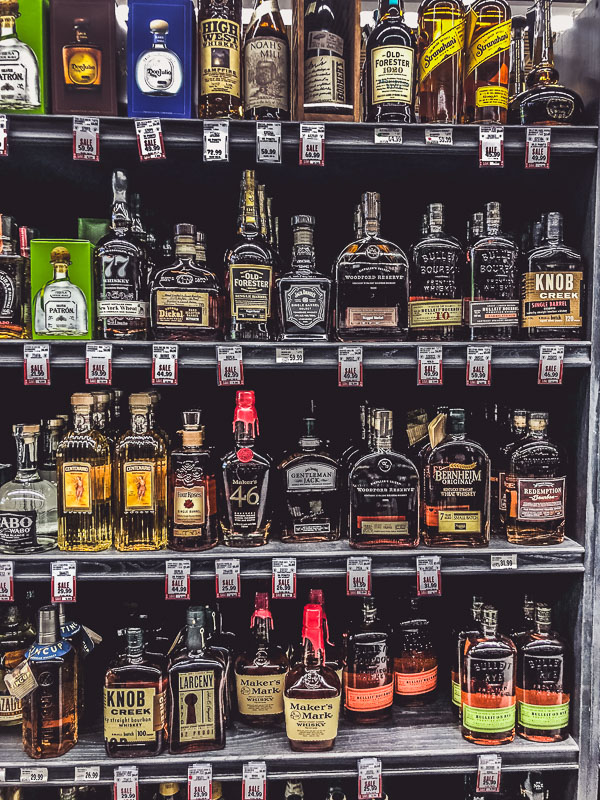 On my tour last month, I learned that Nugget Markets has quite a few collectible bottles in their lineup.
Mike Taylor, the Adult Beverage Director at Nugget Markets taught me that they have a relationship with several distilleries in Kentucky and make their own special Single Barrel blends. They taste about 3 to 5 whiskey samples from each distiller. Each sample has been taken from just one 55 gallon American Oak barrel (whereas most whiskey is a mix of many barrels blended together before bottling). The age of the whiskeys can be anywhere from 6 to 12 yrs old. Once they decide which barrel they like best, the barrel is pulled out of their warehouse and a special label is put on it stating that all the whiskey inside comes from just that 1 particular barrel,  the label also states that the "barrel" was chosen by Nugget Market.
Whiskey connoisseurs know that that the flavor of any 'Single Barrel" whiskey will likely never be duplicated, each has its own nuances based on age, type, and where it was stored in the distillers warehouse (in a cooler section, the whiskey develops slower, in a warmer spot is ages faster and develops different characteristics).
After the whiskey is bottled and specially labeled it is shipped to Nugget Markets, along with the actual barrel the whiskey was aged in. They use the barrels as part of their displays, so check that out!
So when you see a bottle like this at Nugget Markets, you'll know that it's one of the very few bottles made for/with Nugget Markets.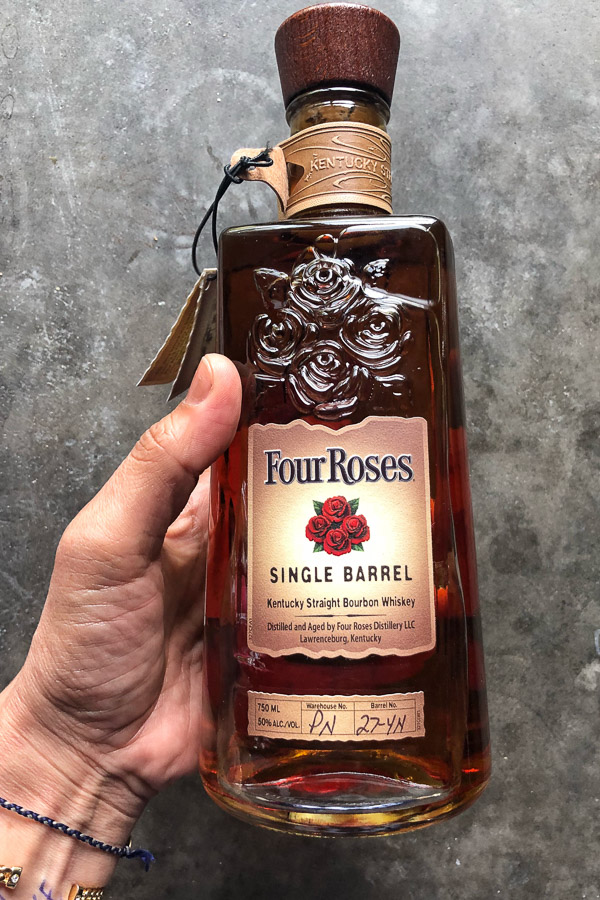 Turn it over for more information! TADA!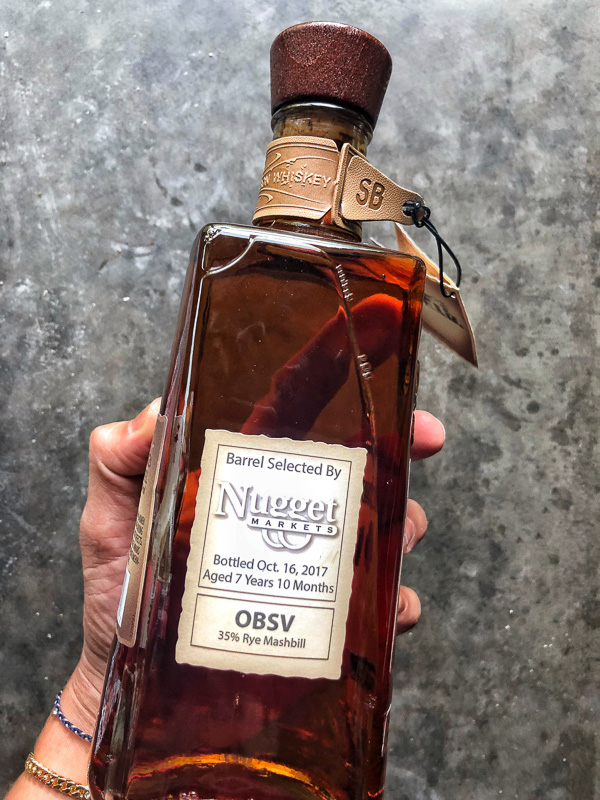 You'll know that it's one of the very few bottles made for/with Nugget Markets. Anyone who is a collector will appreciate such a unique collectible bottle! Just make sure you don't use the good stuff for mixing. Drink it straight or on the rocks!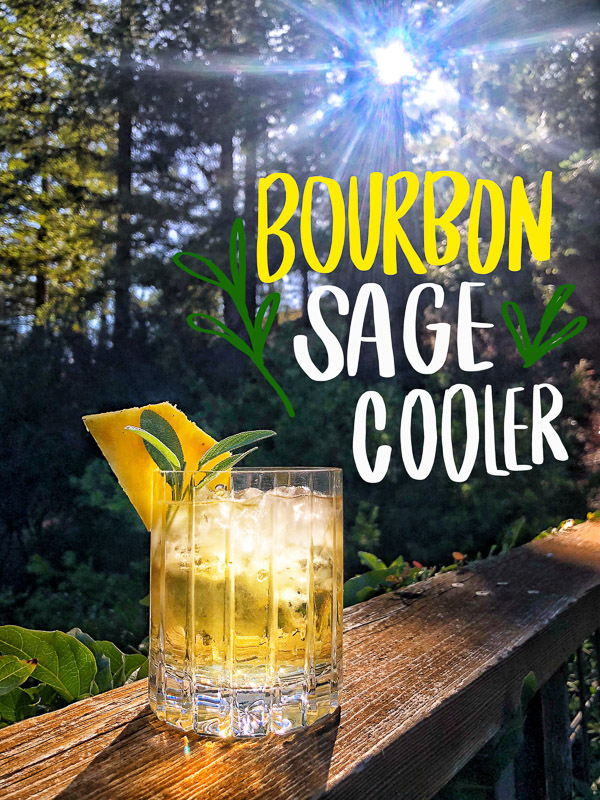 Enjoy family time and get spirited with Dad this weekend!
This post was produced in partnership with Nugget Markets. As always, all opinions are my own. Be sure to check out Nugget Markets. They definitely make grocery shopping enjoyable!
Bourbon Sage Cooler

makes one drink

for the cocktail:

1/2 cup sparkling water
handful of ice
2 oz. bourbon (more if you'd like!)
1 1/2 tablespoons sage simple syrup (see below)
dash of bitters
sage, for garnish
pineapple for garnish

Pour sparkling water into glass with ice. Follow with bourbon, sage simple syrup and bitters. Give drink a stir. Garnish with fresh sage and a pineapple wedge.

for the sage simple syrup:

1/2 cup sugar
1/2 cup fresh sage
1 cup boiling water

Combine ingredients together. Stir mixture until sugar has dissolved. Let steep for about an hour. Strain mixture into a jar. Discard sage. Syrup should last for about a month in the fridge.