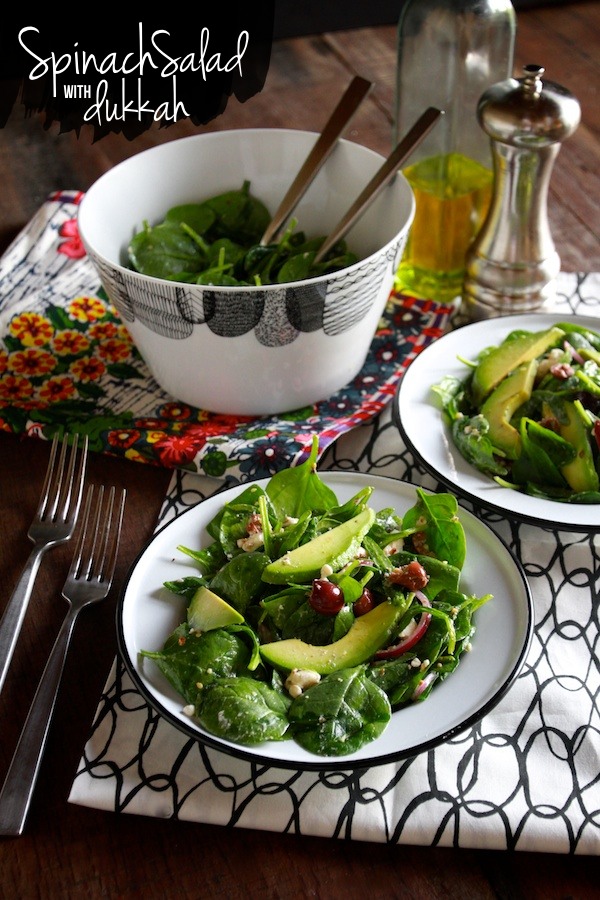 I got my first letter yesterday from the child we started sponsoring this month. She's a 10 year old girl who lives in a small village in Togo, with her mother & brother. She drew us the cutest picture of a hen and wrote to tell us that she loves spaghetti, sewing, running, and the color pink. There was a line designated for "question for your sponsor" and she filled it in with, "What do you like to eat?" I found it incredibly heart warming/ironic that the first thing she wanted to know about me what was food related. That's usually how I get to know a person. I love her already.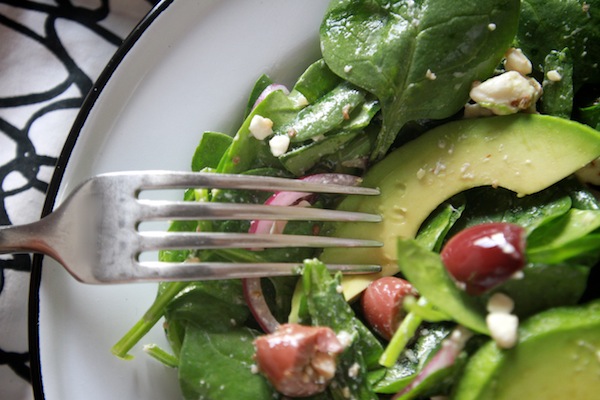 One of my favorite things to eat is salad. I've always liked how it doesn't take much to create a wonderful salad. Some salads benefit from many ingredients and some are so incredibly simple that they rely on the strength of a good dressing. As a child I remember always being excited to go to restaurants with salad bars (especially if they had croutons!). It was like walking into an art studio with all of the paints, canvases & brushes lined up on a table. Options! Choices! FUN! Salads are so incredibly personal and your favorite ingredients can tell you a lot about yourself. Salads make me feel healthy. Salads make me feel good about ordering french fries or garlic twists 😉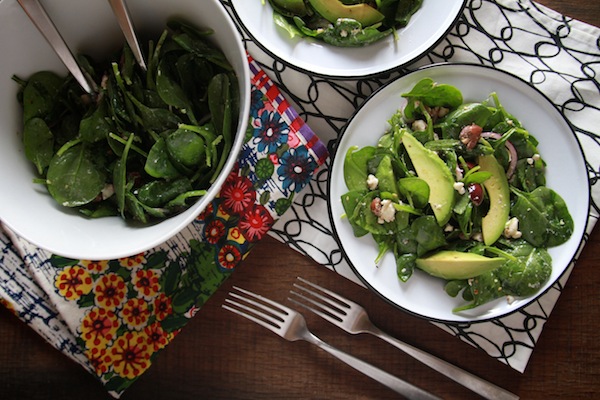 It's taken me a very long time to embrace the olive and understand its place in a salad. I think I finally embraced it! It's one of the essential ingredients in this salad. It adds a sharp tangy and saltiness in the same way the feta does. The red onions make it spicy, the spinach provides a tender bite and the avocados bring a much needed creamy element to the salad. The dukkah dressing creates a bit of smokiness (Casey asked if there was bacon in it!) and rounds out all flavors. I used a store bought dukkah, but can't wait to try making my own!
So, there you have it. Salad is my favorite. Always & forever.
You best believe I'm gonna draw her a picture of a salad in my next letter.
And we're off!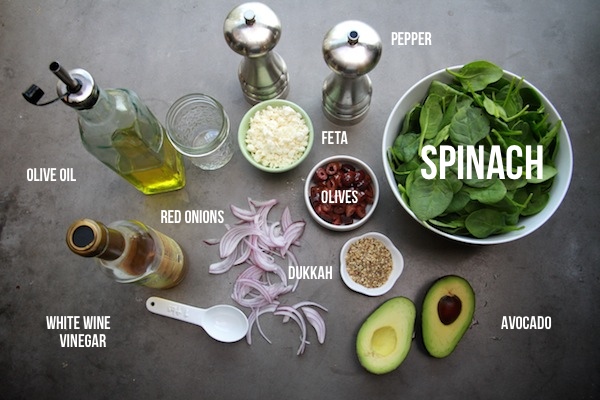 The dressing is seedy! This dukkah blend is heavy on the sesame seeds.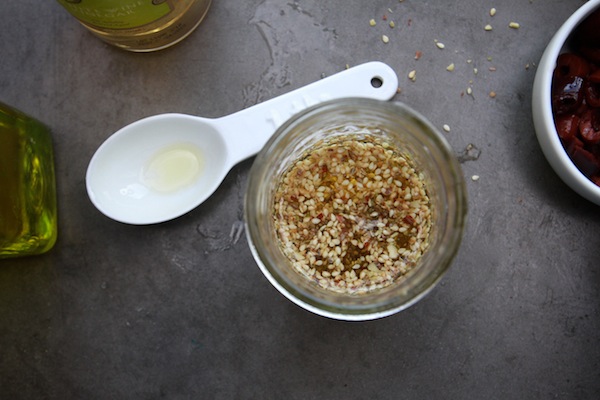 Mix the dressing into the onions. We're gonna let them sit in the vinaigrette for a bit.
This cuts the sharpness. Your breath will thank you later.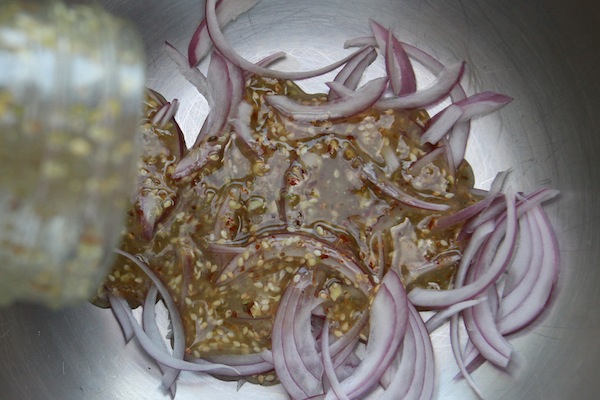 Then we mix in the olives & feta.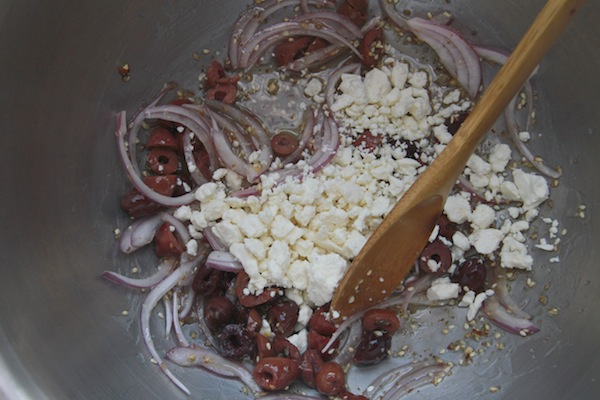 Really incorporate them in there!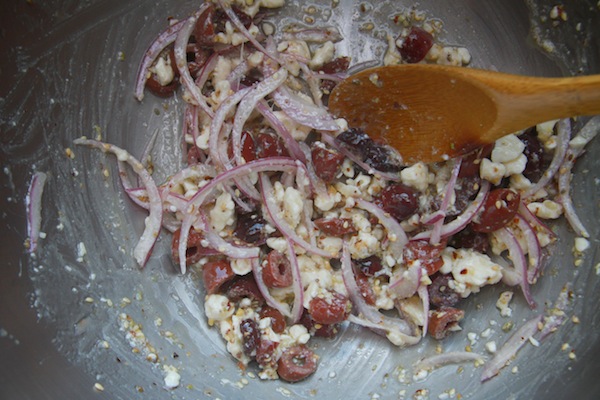 Slowly we add the spinach.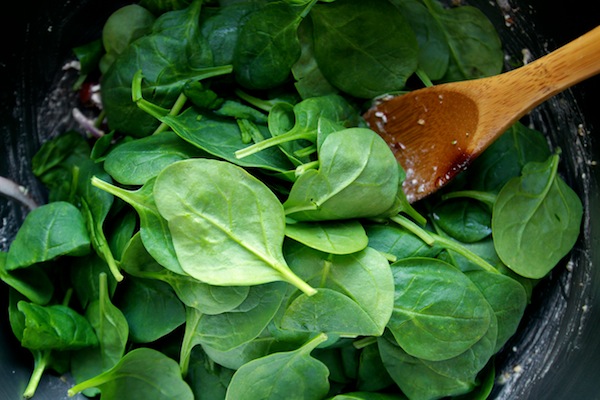 Deliciousness is happening.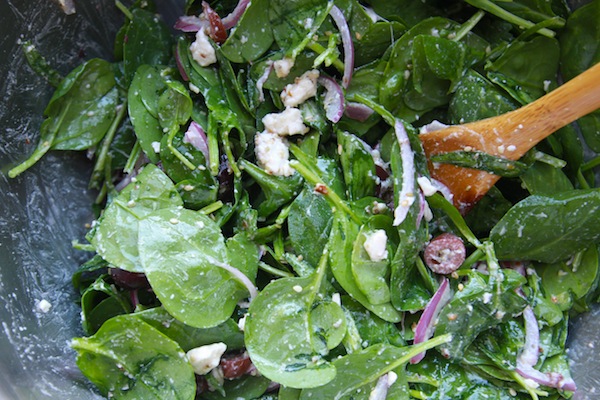 And we plate! Add the avocado on top. Sprinkle with a little extra dukkah.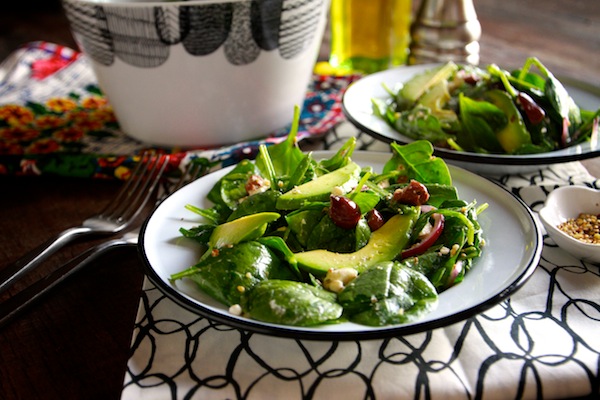 It's a hearty salad!
For more spinach salads, you might like
SPINACH SALAD W/ DATES & ALMONDS
Spinach Salad with Dukkah

for the vinaigrette:

4 tablespoons extra virgin olive oil
2 tablespoons white wine vinegar
1 tablespoon dukkah

for the salad:

6 cups baby spinach
1/3 cup crumbled feta
1/3  cup kalamata olives, pitted and roughly chopped
1/4 red onion, thinly sliced
1 avocado, thinly sliced
fresh cracked pepper

 Make the dressing:

In a medium bowl or mason jar, whisk the vinaigrette ingredients  until well combined.

Make the salad:

Place the onions in a large bowl. Add the dressing and give the onions a good stir. Let them sit in the dressing for about 5-10 minutes (this cuts down the sharpness of the onions) and add the feta and olives. Mix until well combined and gently fold the spinach into the onion mixture until all leaves are coated. Season with fresh cracked pepper and serve with sliced avocados on top. Sprinkle extra dukkah on top to finish.