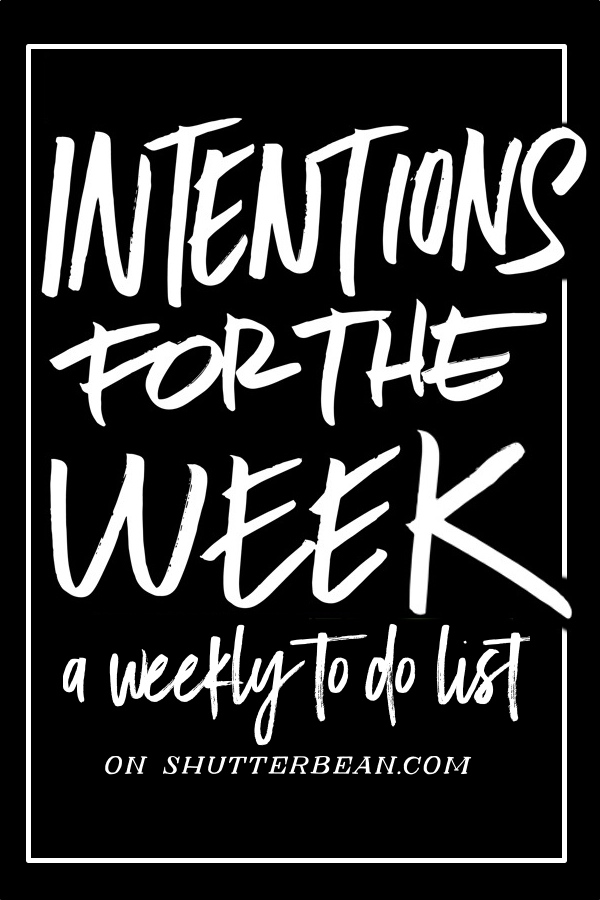 Happy Monday, Friends!
How are we feeling today?  MY TO DO LIST IS GROWING BY THE SECOND. HOLY COW.
How are we going to take care of ourselves this week?
Take a pause and have some hot tea. Gather yourself. Drink liquids.  Your body needs it.
This week is all about packaging up things and sending them out in the mail. My food journal is on sale.  THANK YOU for those of you who ordered last week. I posted it on my Instagram/Instagram stories and I sold out in a few hours!  I am doing it all on my own so I want to make sure that I have enough time to fit it into my schedule. Thank you for your patience!  Buy one here!
Also, a reminder that I'm teaching a food photography workshop in Santa Fe, NM May 2019. If you're looking to expand your photography or give an amazing experience to someone special (ahem, cough cough YOU),  sign up here! 
Feeling overwhelmed? Let's start with a list! Write down your Intentions for the Week!
Intentions for the Week:
laundry
sell Food Journal!
address my holiday cards & send them out!
make a new cookie recipe/share recipe
work on packages/orders
trip to the post office (maybe a few trips!)
go out for a drive at night this week with the family- look at lights!
get some exercise
spend time around the Christmas tree
clean up office
clean out fridge/do some meal prep
remember to eat healthy food
drink enough water/tea
have a date with the calendar
plan a date night with Casey
grocery shop
bookkeeping
library time
donate items to school
work on Christmas shopping
keep the house tidy
give myself permission to go slow when I need to!
Last Week's Intentions:
paint nails

(didn't get a chance to)

make gingerbread cookies with kids
charge Fitbit and use it!

(found the charger last night! UGH)

get outside/go for a walk
be good about going to bed on time
work on packages
figure out holiday presents
grocery shop
find three outfits to wear for parties
post Currently November post
edit photos/post new recipe
make an arugula pasta recipe
mammogram appointment (a friendly reminder get yourself checked out!)
write in food journal/eat healthy
sell Food Journal!
be better about drinking water (this is my favorite cup these days)
follow up on invoices
have a turmeric latte
catch up on social media
clean out fridge
return to Target
address holiday cards/send out

(got them this weekend!)

post office visit
Mantra for the Week:

Pump Song for the Week:
Make sure to write down your own Intentions for the Week if you wanna get stuff done.
Have a great week! I'm rooting for you.
xo Tracy