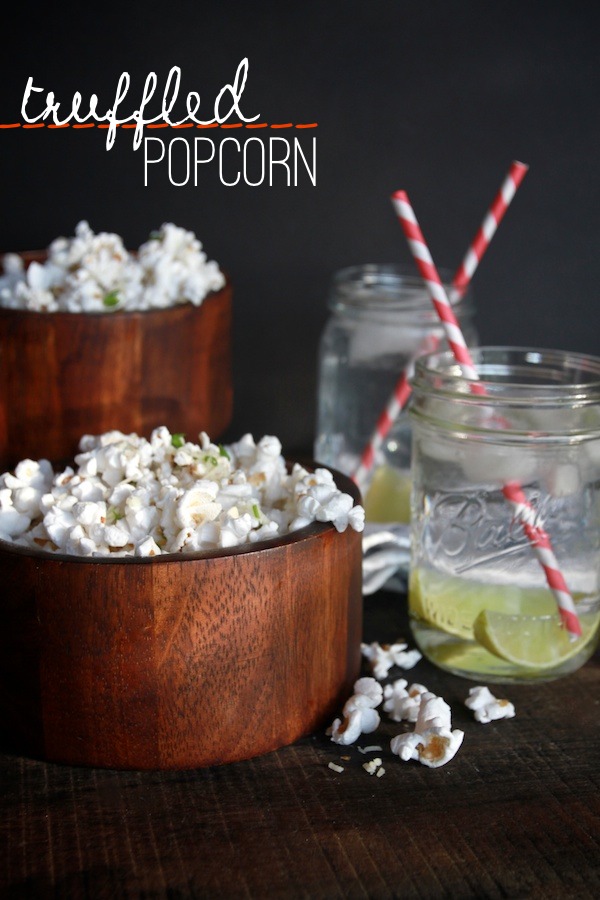 I'd like to introduce you to a REAL CROWD PLEASER popcorn recipe. TRUFFLED POPCORN!! Casey and I had a batch of truffled popcorn at Farley Bar at Cavallo Point a few weeks ago and we just couldn't get ENOUGH. When our bartender brought out the batch we demolished the bowl in 2.5 seconds. I'm surprised we didn't choke.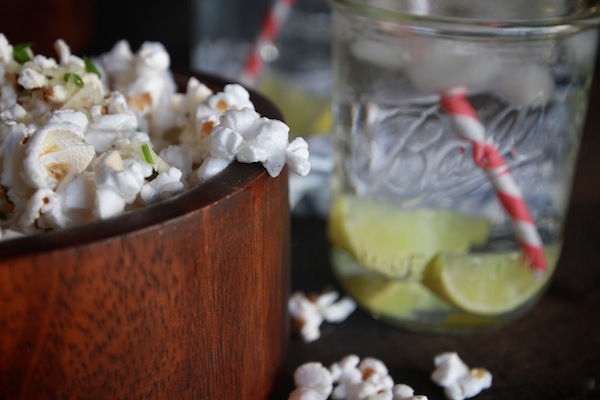 Truffle oil AND truffle butter coat the crunchy/salty popcorn and both shredded Asiago & chopped chives litter each handful.
FLAVOR PUNCH!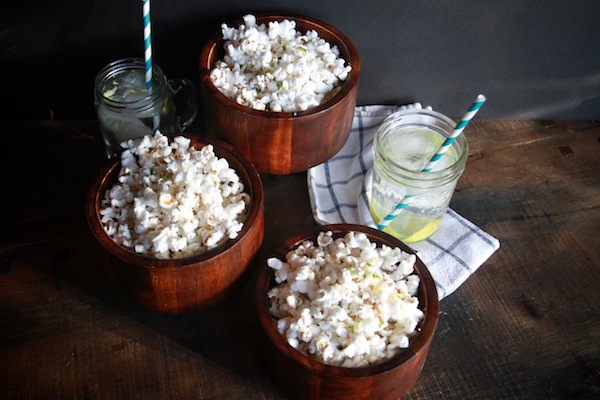 It's a wonderful marriage of flavors. If you make this at your holiday party (I'm making it for Thanksgiving) I'm pretty sure everyone is going to be standing over you in the kitchen begging you for the recipe. I say this from experience. I say from experience that if you don't want people standing around you in the kitchen, place the bowl AWAY from the kitchen. No one likes a hovering guest. Unless you do…
And we're off!  We need to gather our gear.
First things first. Whirley Pop Popcorn Popper  If you don't have one, you're making things harder for yourself.
Second. White truffle oil & Truffle Butter   If you don't have access to truffle butter you could double up on the white truffle oil OR you can use salted butter for the mixture.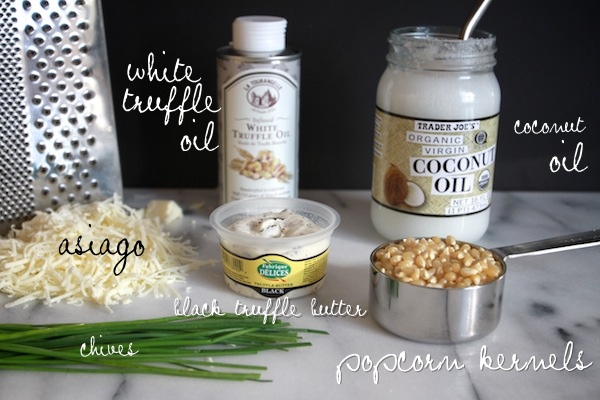 You need to melt the butter & mix it with oil. Shred the Asiago (Pecorino & Parmesan are also good substitutes).
Chop your chives. I used about 1 bunch. They add a nice little somethin somethin!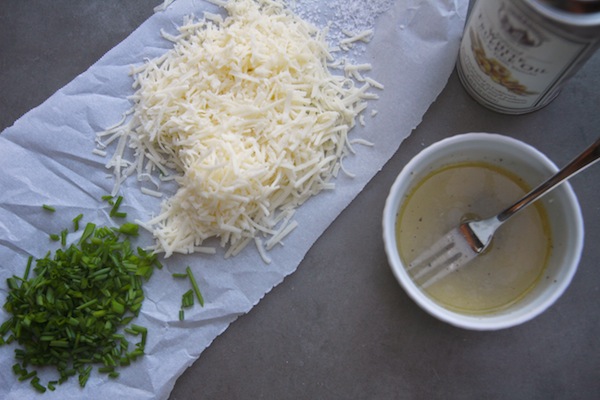 Coconut oil & popcorn. If you're wondering if you can use vegetable oil, you can. I just always love coconut oil- and you can't really taste the coconut, so fret not.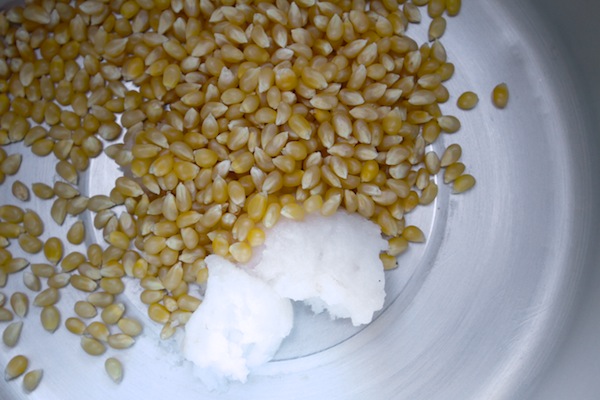 Now that you've popped your popcorn we need to dress it.
After months of searching, I finally found a BIG BOWL bowl for our popcorn binges at home. It's great because the outside has a really good grip to it and when I'm mixing up popcorn with toppings/flavors there's enough room for me to stir the popcorn without getting it all over the place. PRO TIP!
So, we talk half of the popcorn and mix the truffle butter/oil mixture on top. STIR LIKE MAD to coat the popcorn.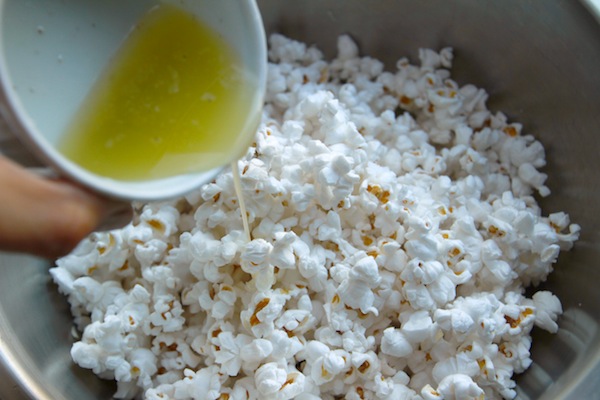 Sprinkle cheese on top.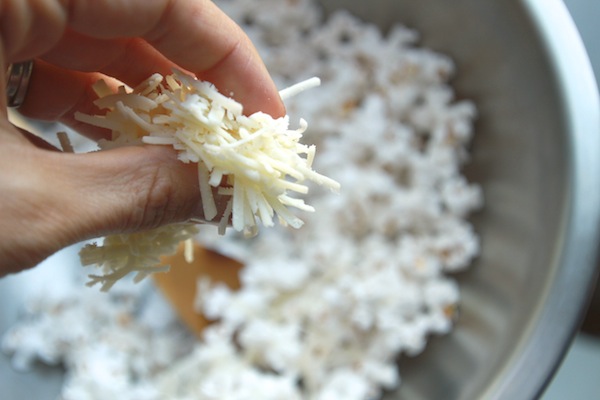 Sprinkle on the chives. Season with salt.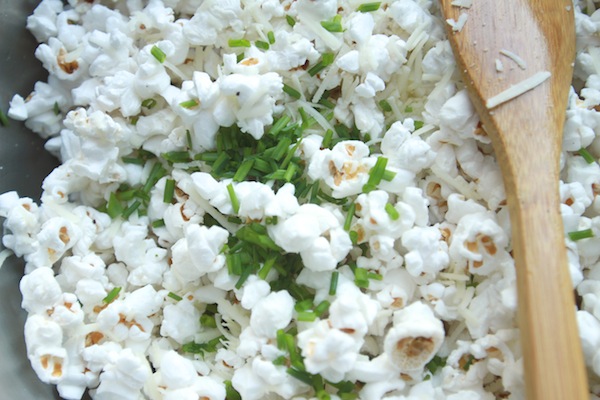 And repeat process again by adding the second half of the popcorn on the first half. STIR.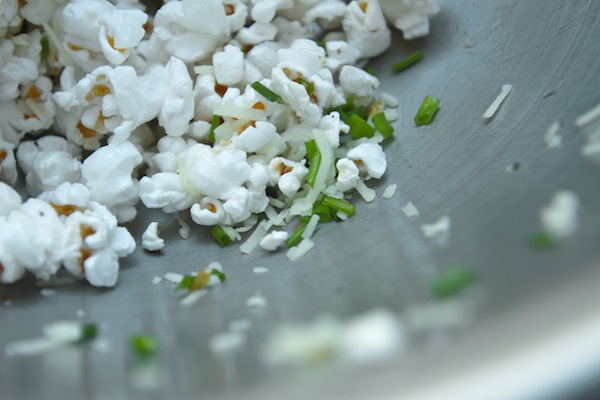 If you feel like adding even more truffle oil, go for it.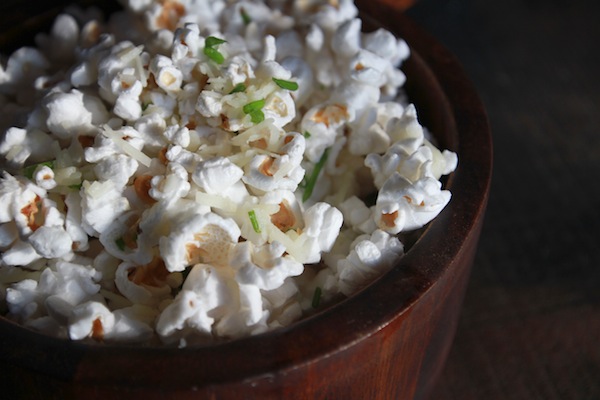 It's kind of fun when you get a really saturated popcorn cluster.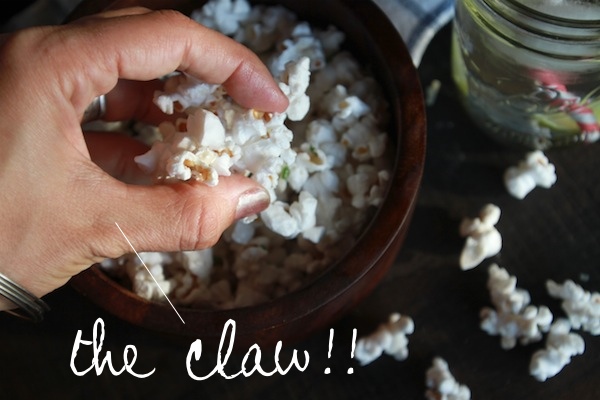 Now excuse me while my claws come out and EAT ALL OF THE POPCORN.
For more popcorn recipes, you may like:
Truffled Popcorn

makes about 16-18 cups

2 tablespoons truffle butter (or regular salted butter)
1 tablespoons truffle oil (I used white)
1/2 cup popcorn kernels
2 tablespoons coconut oil
1 cup shredded Asiago
2-3 tablespoons chopped chives
kosher salt

Melt the truffle butter in a small ramekin in the microwave (about 30 seconds), add truffle oil and set aside.

Place a 3 quart saucepan (or Whirley Pop) over medium-high heat. Add 2 tablespoons coconut oil and popcorn kernels to the pan. Close the lid and  move pot back and forth  (or whirl around!) on the stove and pop the popcorn until you start to hear the popping slow down. Remove from the stove.  Put half the popcorn in a large bowl. Drizzle half the truffle butter/olive mixture on top and stir thoroughly to coat the popcorn. Top with half of the asiago, and chives. Season with salt and add the second half of popcorn to the bowl and finish topping with the remaining truffle butter, asiago & chives.