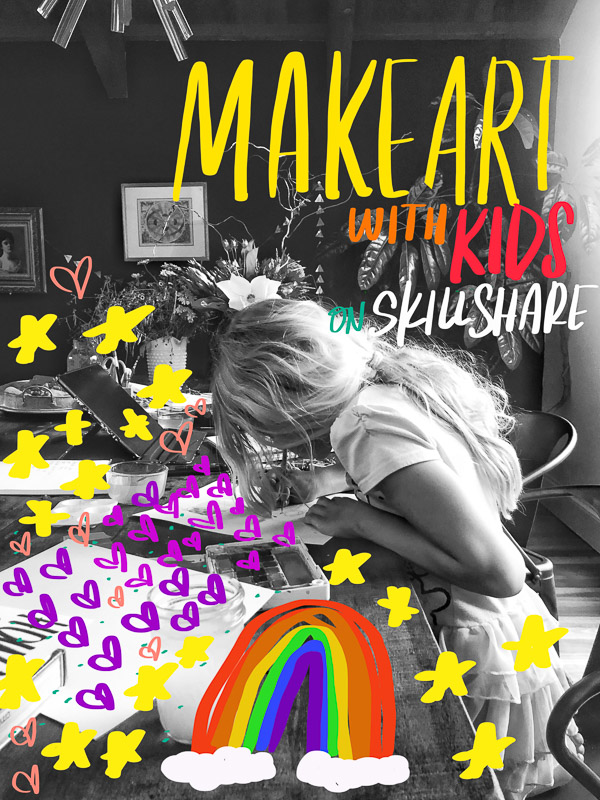 My niece Abby is an incredible artist at 9 years old!  I was excited to have her spend the night this weekend because I never get girl time in my house of boys AND I knew she would be happy to do a few art classes on Skillshare with me.  Armed with snacks & watercolor supplies, we went through the course catalog and decided on taking two classes.
By the way, if you have kids at home this summer, Skillshare  is a GREAT resource for you. If you're not familiar with Skillshare, it's an online community for learning & teaching creative skills. Skillshare connects expert practitioners with students around the world who collaborate on everyday skills from culinary arts, photography to design.
They have kindly offered my readers TWO MONTHS free of Skillshare Premium!  
You can basically set up your own Summer Art Camp using their workshops!
OK So let me show you what our afternoon art date looked like!
We started with: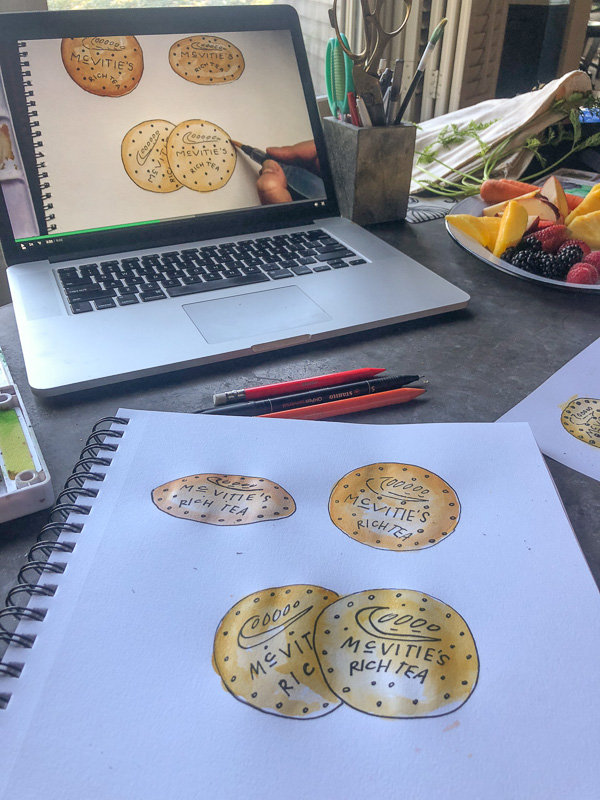 Abby + Me!!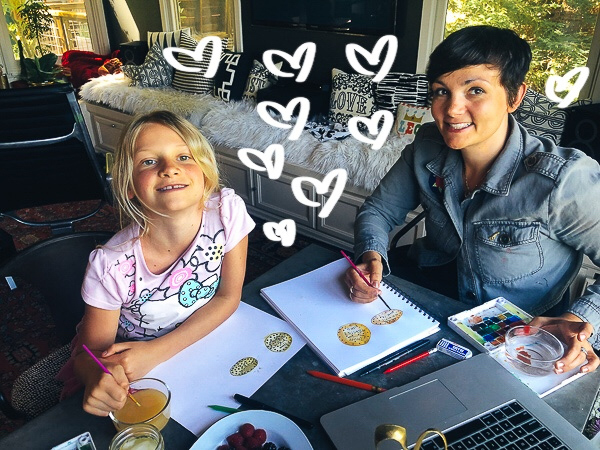 Look at us go!  We eventually left the family room because baseball was on.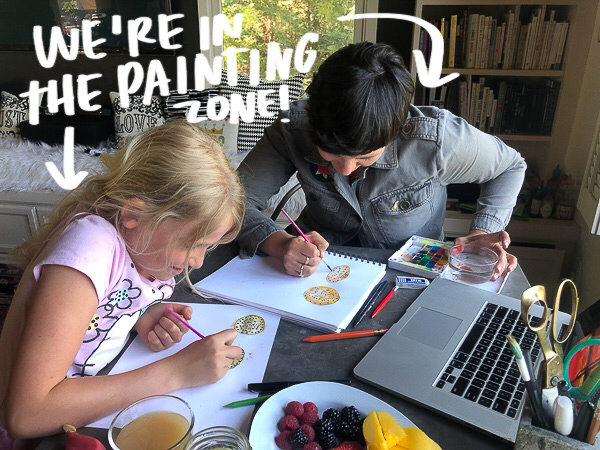 BTW- DON'T FORGET THE SNACKS!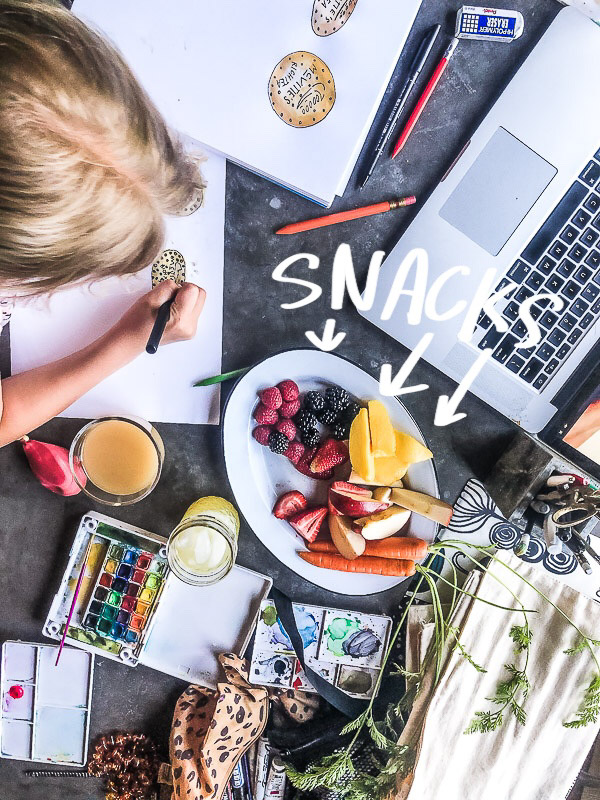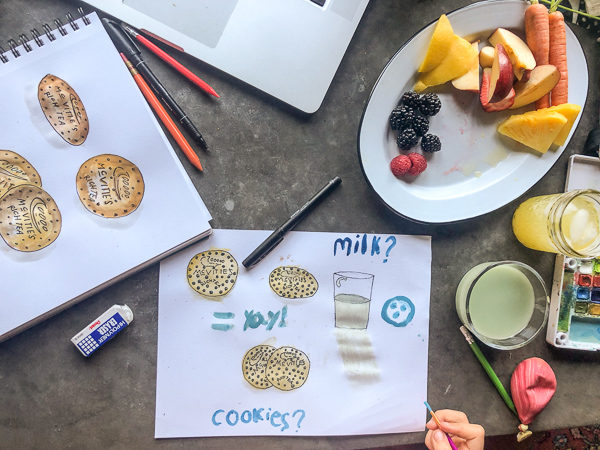 She was on a roll and wanted to paint more food!
The best part about art time with kids is the conversations. We discussed our favorite foods and least favorite foods. We went around and talked to the guys (who were watching baseball in the other room)and asked them their favorites too.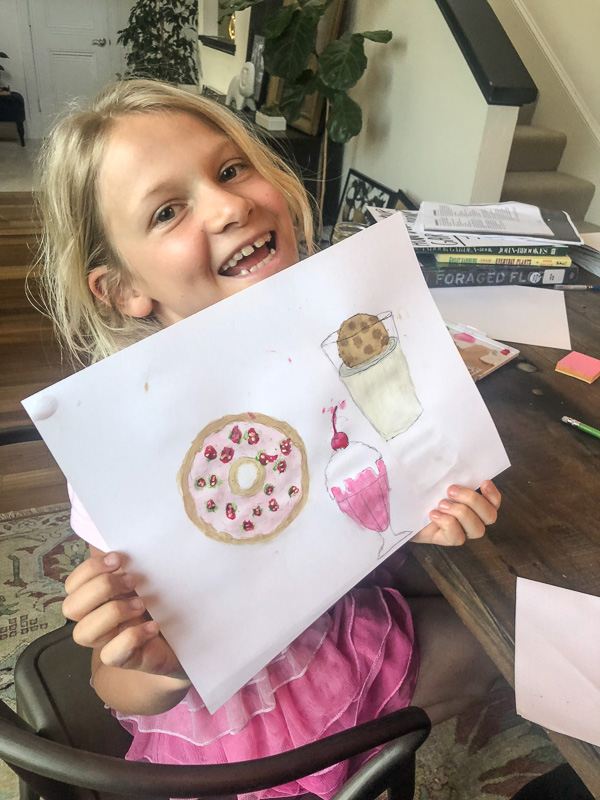 While she was painting food, I put on another class-
I thought it would be a good way to get one of my #100daysartbeforebreakfast paintings out of the way!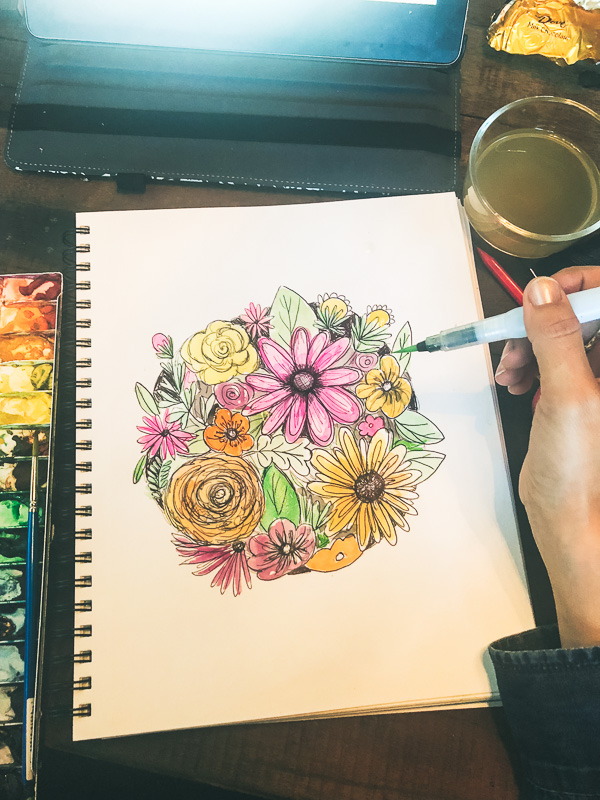 This one is a fun class because you use a ballpoint pen to do outline your drawing.
I've been so into inky pens that it was fun to do something different. I REALLY ENJOYED ballpoint pens more than I thought I would. I love that these little skills + tips find a way into my own art practice.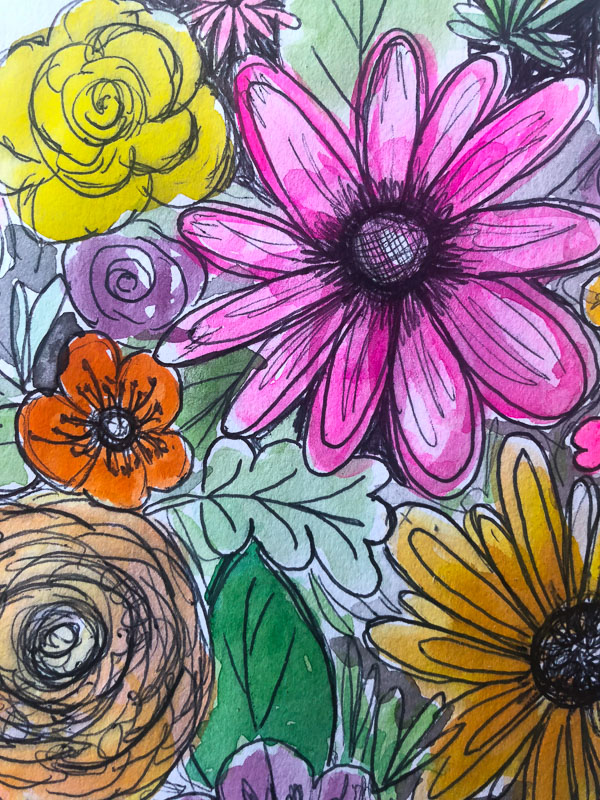 I loved the result!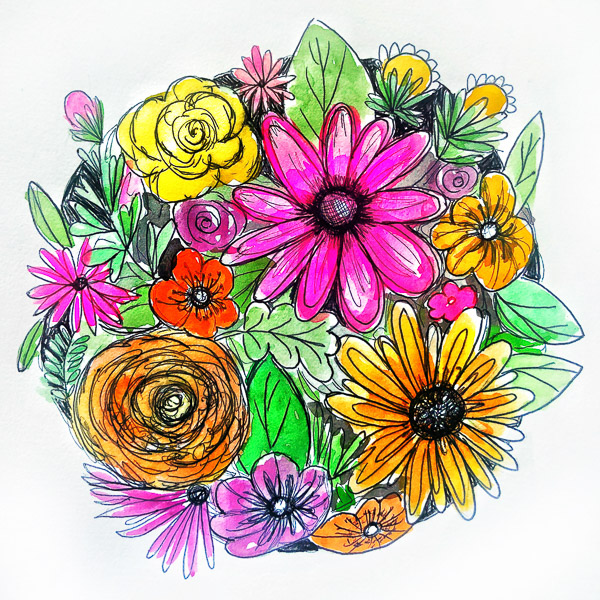 And while we were playing around, we collaborated on this cat graphic!
I LOVE HOW IT TURNED OUT. Would make a great fabric or wrapping paper, huh?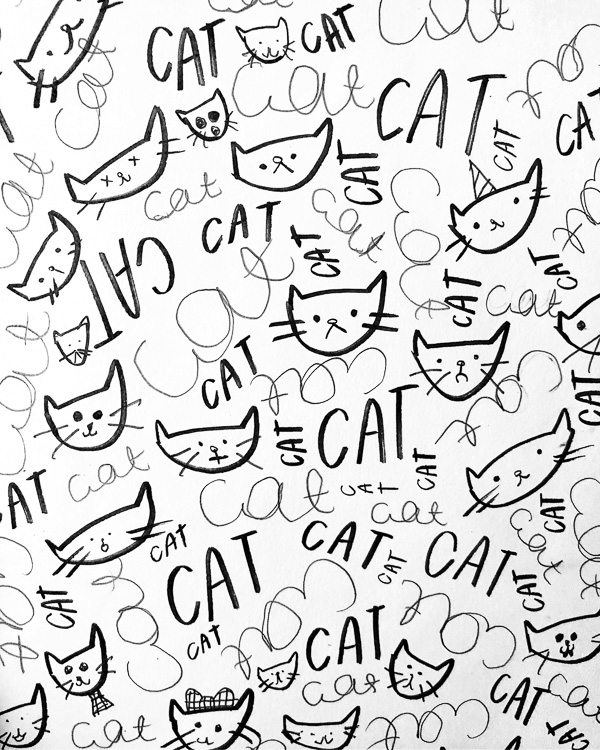 What a great way to spend the afternoon. Now we just need an art show!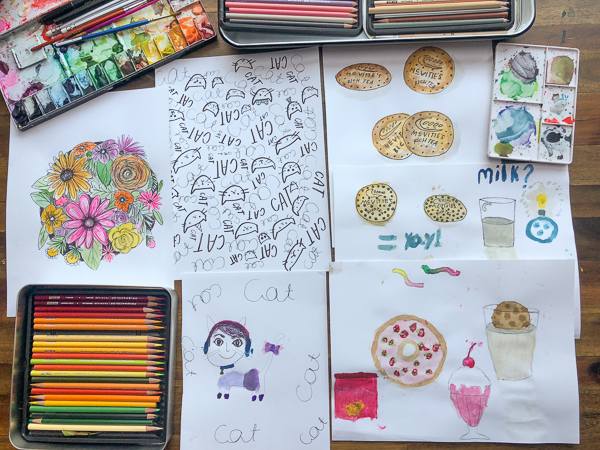 Oh, and this is probably my favorite piece from our art playdate:
It's ME AS A CAT with headphones on and a skirt!
KID ART IS THE BEST.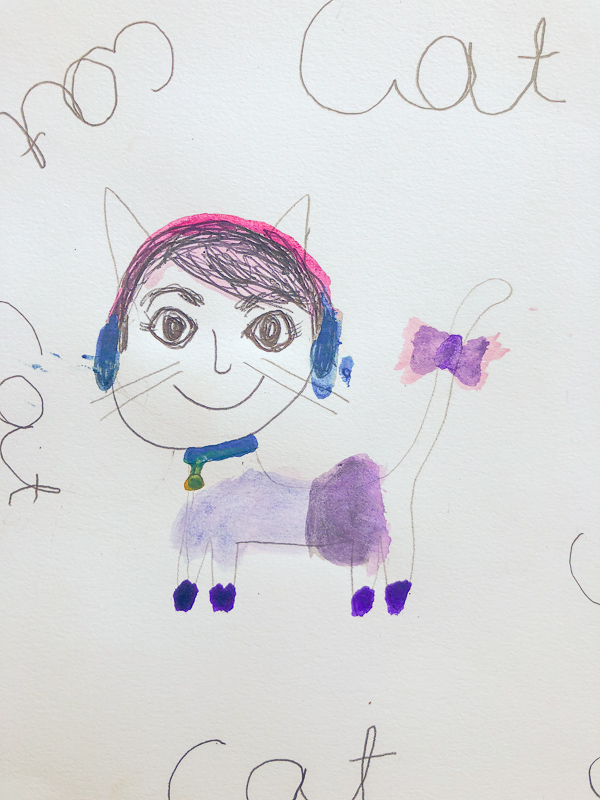 It's a good reminder that the best gift you can give a child is YOUR TIME!
If you're gonna be on a screen, at least have something to show for it.
ART!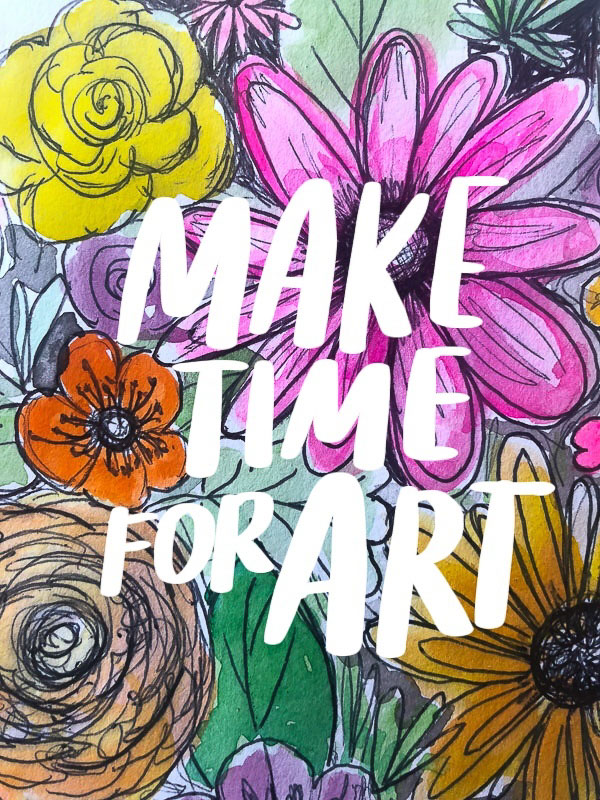 Curious about Skillshare???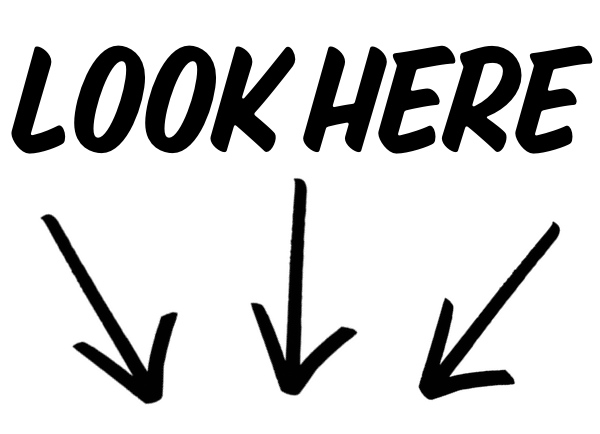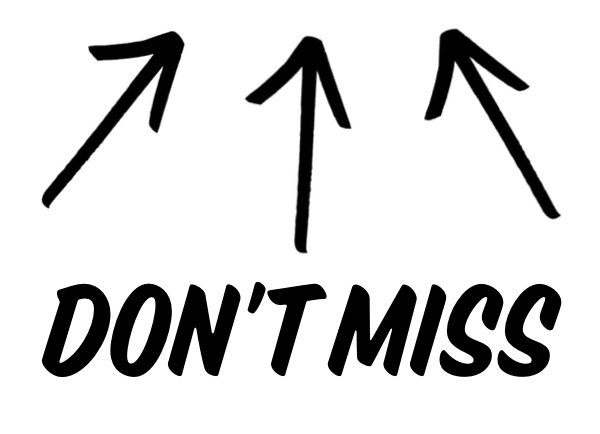 Classes on my list to take:
A BIG thank you to Skillshare for sponsoring this post and helping to invest time in my art practice! As always, all opinions are my own.