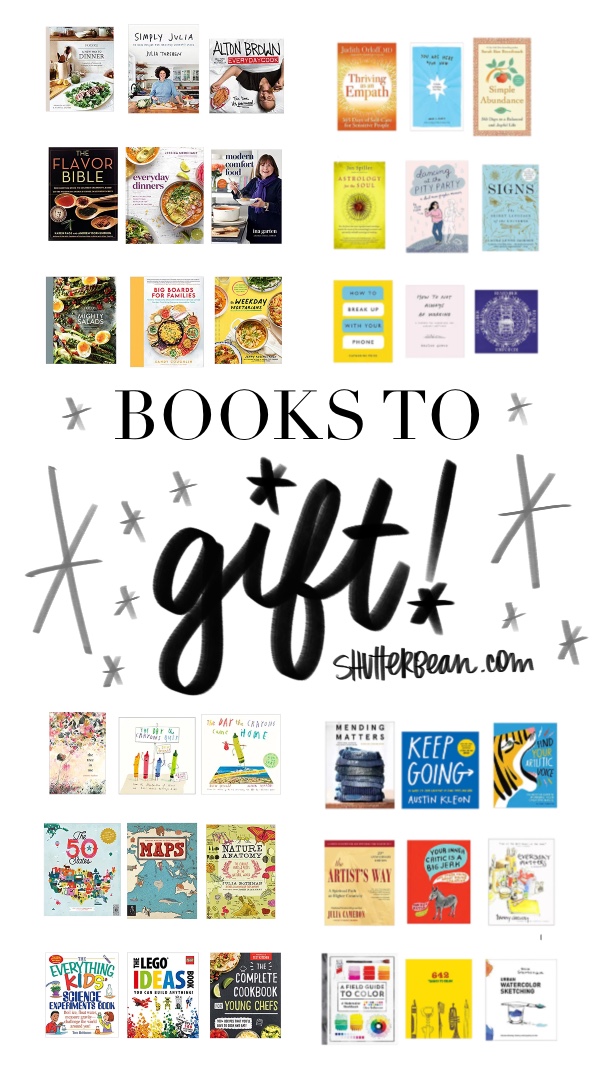 I love books. Don't you? If you have a book lover in your life to shop for, here are a bunch of my favorite Books to Gift!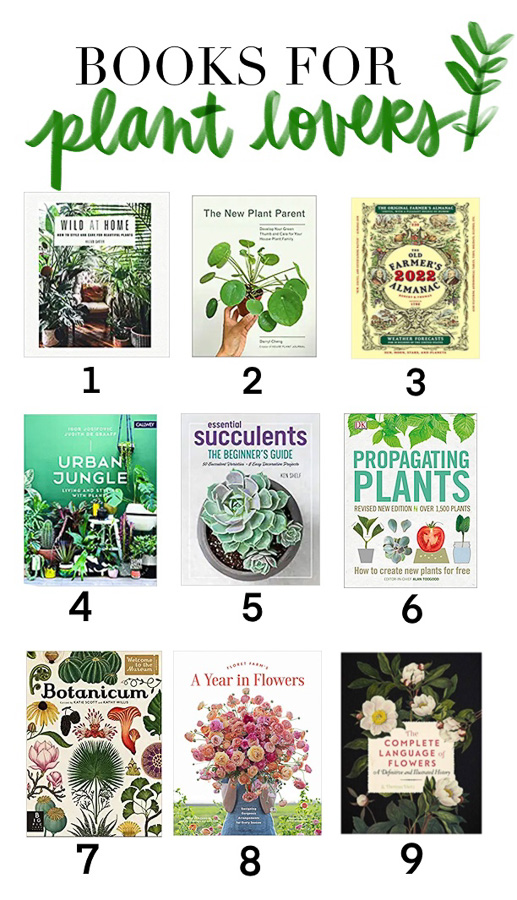 BOOKS FOR THE PLANT LOVER
Wild at Home – so much inspiration by my friend Hilton!
The New Plant Parent – how to be a good plant parent.
2022 Farmer's Almanac – an essential for anyone who grows plants outside.
Urban Jungle – for the crazy plant lover in your life.
Essential Succulents – succulent 101. So much good info.
Propagating Plants– knowing how to propagate is alchemy.
Botanicum – such a beautifully illustrated guidebook.
A Year in Flowers– if you're wanting to learn how to arrange flowers.
The Complete Language of Flowers – flowers have meanings!

BOOKS FOR THE CREATIVE:
Mending Matters– Katrina shows you how to upcycle/mend your clothes beautifully.
Keep Going: 10 Ways to Stay Creative – don't give up the fight!
Find Your Artistic Voice– Lisa is a true inspiration!
The Artist's Way – a classic for every artist.
Your Inner Critic is a Big Jerk– how to battle through your inner critic!
Everyday Matters– a beautiful story of how to make the most of each day.
A Field Guide to Color– a beautiful book you can paint in and learn watercolors with!
642 Things to Draw– so many prompts if you're feeling stuck drawing.
Urban Watercolor Sketching– this artist's work is GOALS!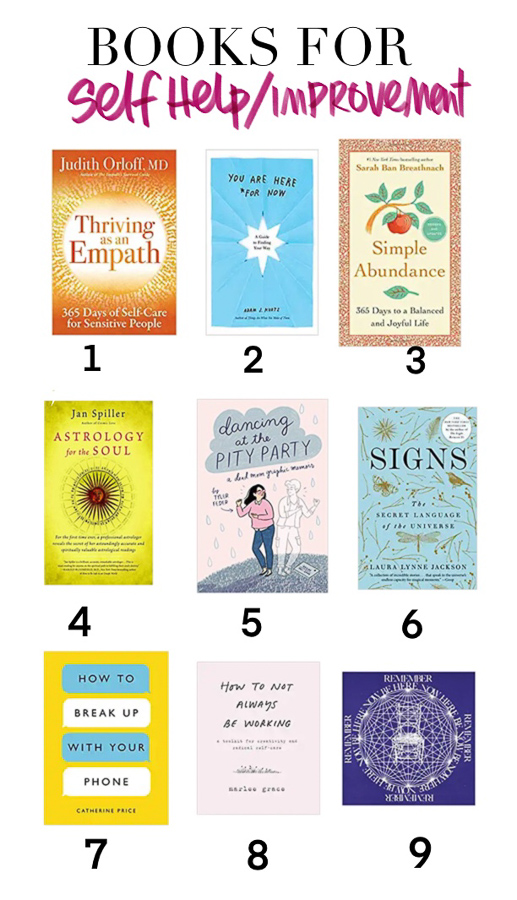 BOOKS FOR SELF-HELP/IMPROVEMENT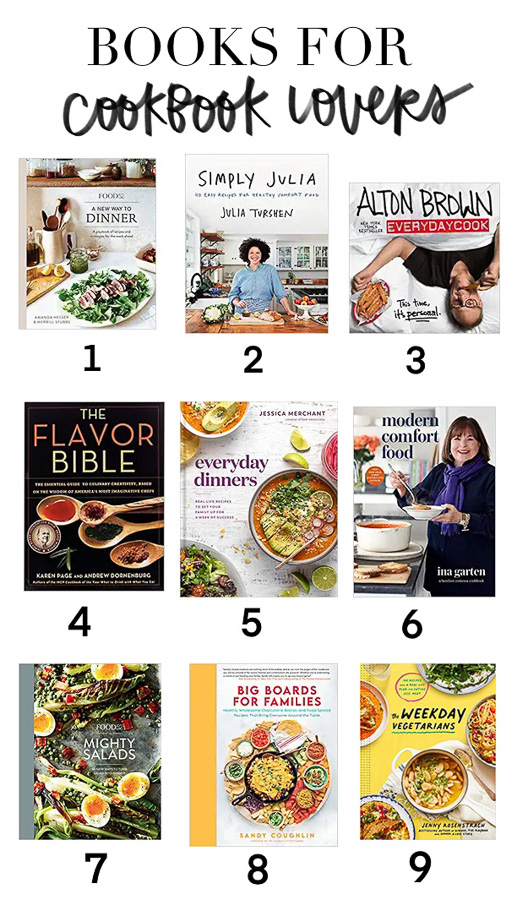 BOOKS FOR COOKBOOK LOVERS
Food52: A New Way to Dinner– so much dinner inspiration!
Simply Julia– I love Julia's way of cooking.
Alton Brown: EveryDayCook– I've made a lot of recipes from here.
The Flavor Bible– if you're wondering what pairs well with what, GET THIS.
Everyday Dinners– Jessica is one of my food icons.
Modern Comfort Food– Ina is the best. The end.
Mighty Salads– we all could use more salads.
Big Boards for Families– boards galore!
The Weekday Vegetarians– inspiration for #meatlessmondays!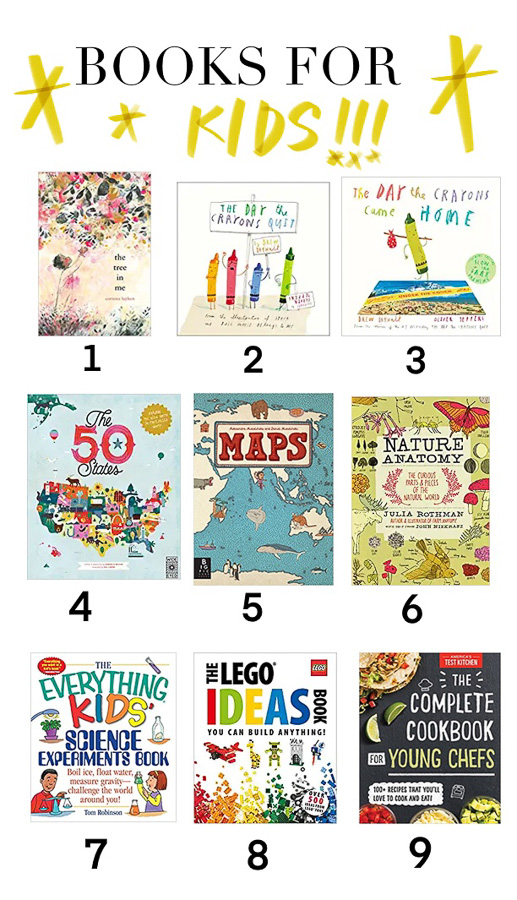 BOOKS FOR KIDS!
HAPPY READING!!!