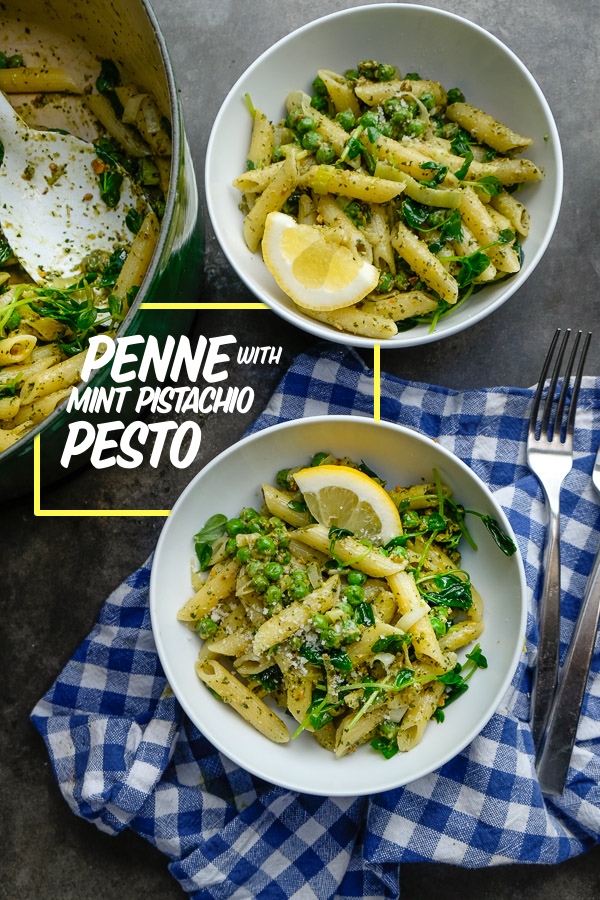 Spring!! Spring makes me want pesto for some reason.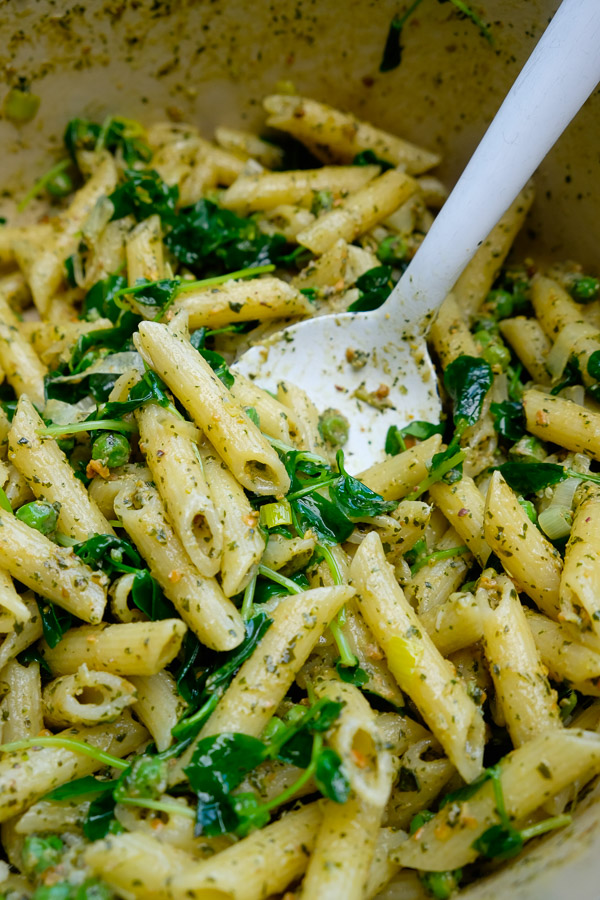 Pesto and peas and leeks and leftover Easter candy….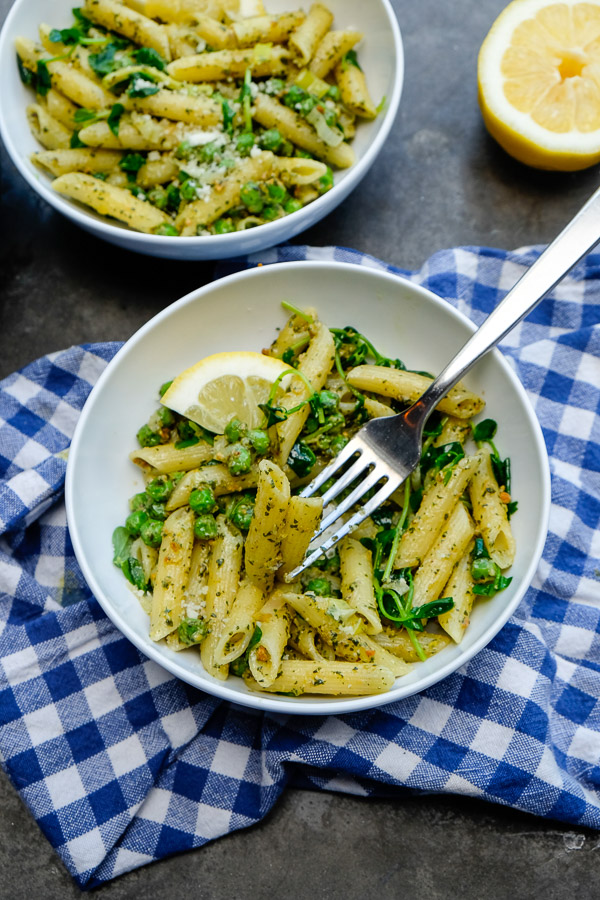 Let's celebrate all of Spring's goodness with a bowl of this Penne with Pistachio Mint Pesto. It's fortified with sauteed leeks and peas and topped with fresh pea sprouts and a heavy dose of Parmesan. Don't have peas or pea sprouts? Throw some asparagus in there!
Let's gather our ingredients.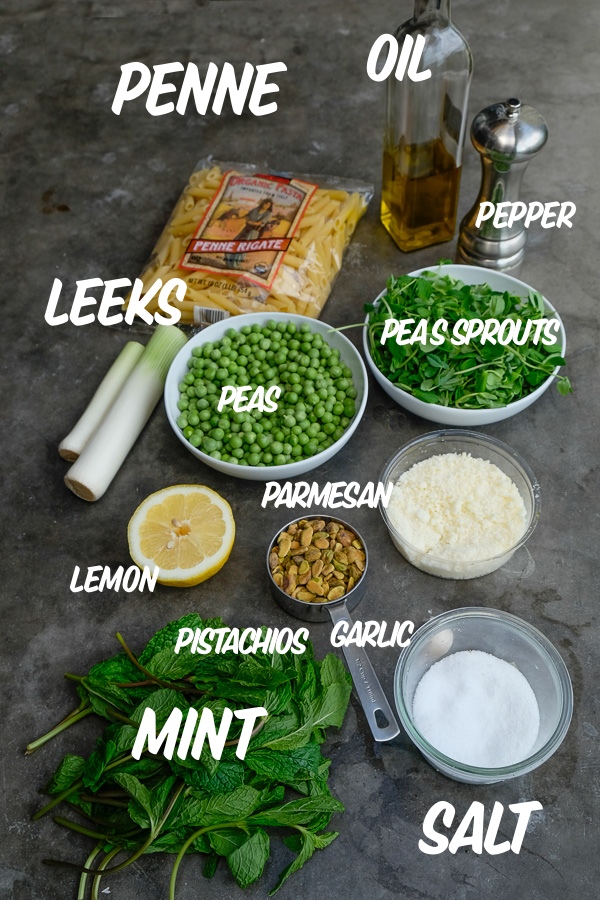 While the pasta is cooking, we make our pesto in a mini food processor.
I always start with garlic first when I'm making pesto.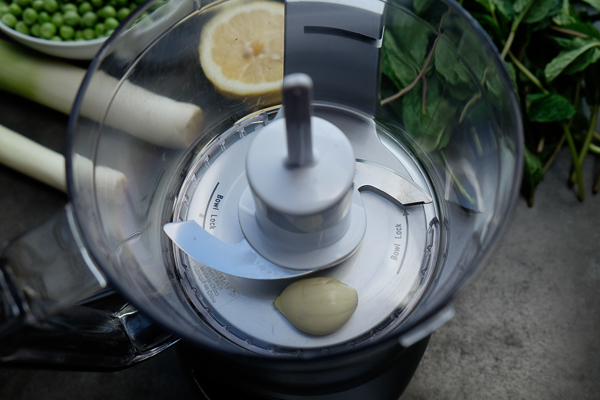 In goes the mint, pistachios, lemon juice and olive oil.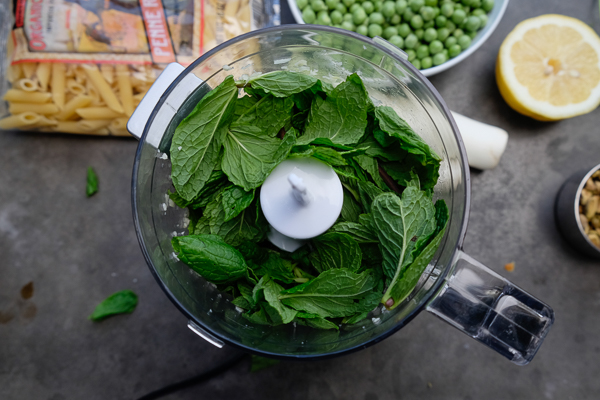 PESTO!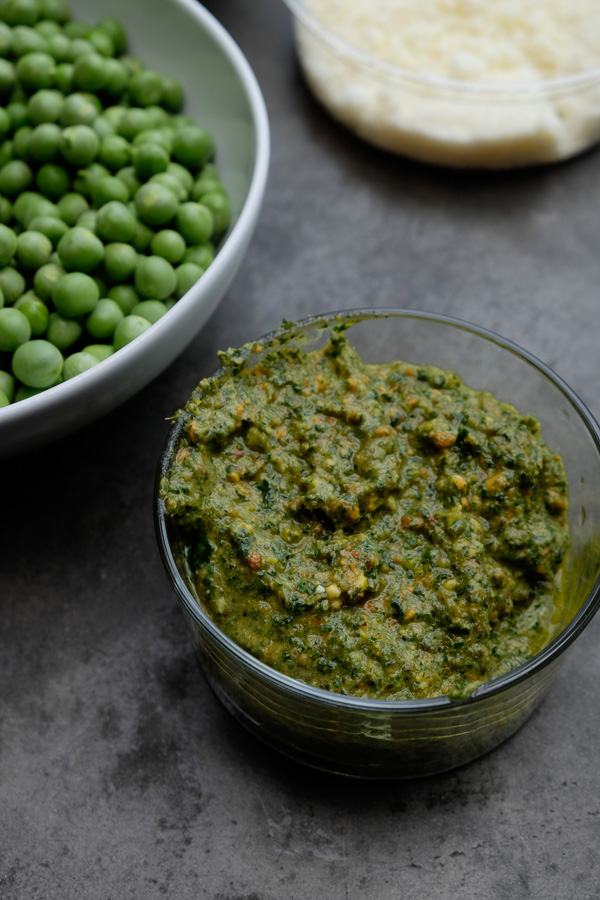 Saute leeks (white parts only) in olive oil.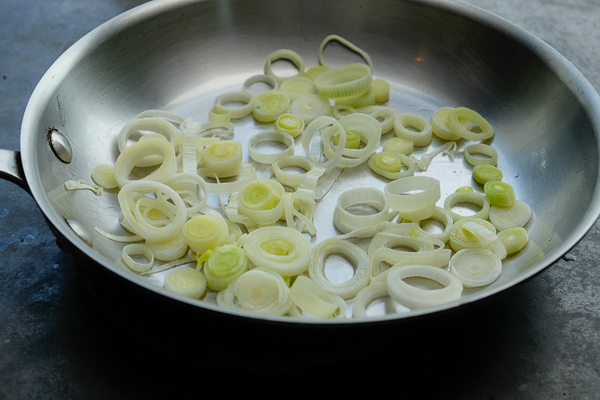 Add peas and cook.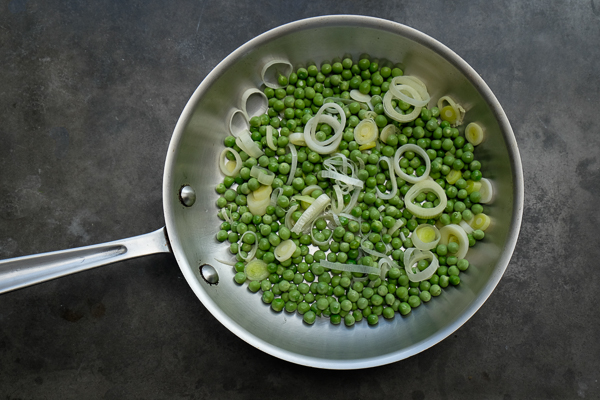 We are ready to assemble.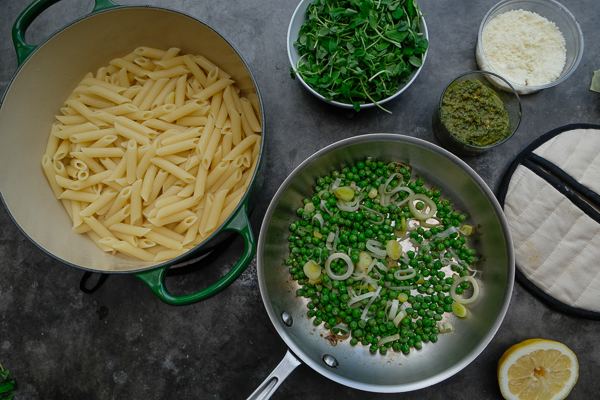 Stir in the pesto, peas, leeks and some reserve pasta water to make the sauce saucier.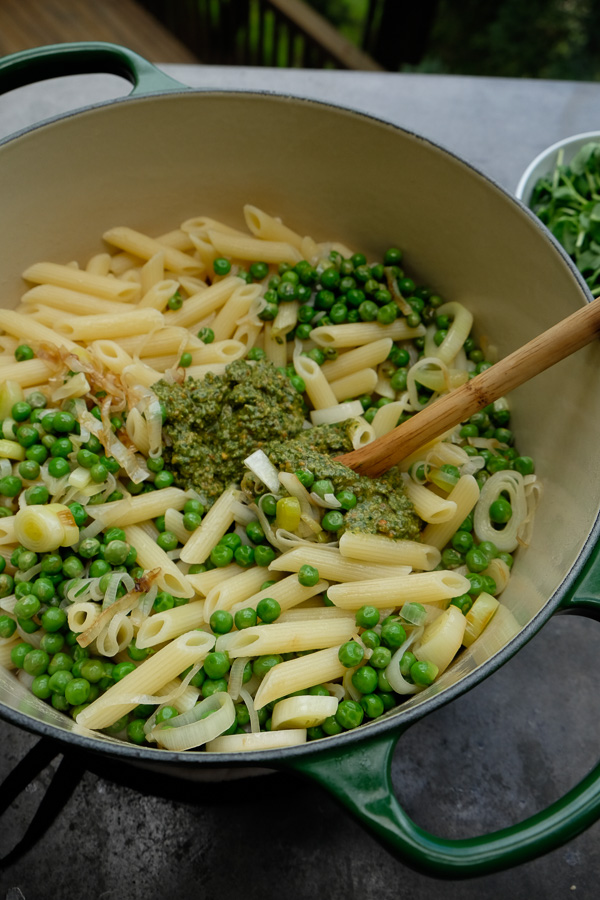 HELLO CHEESE.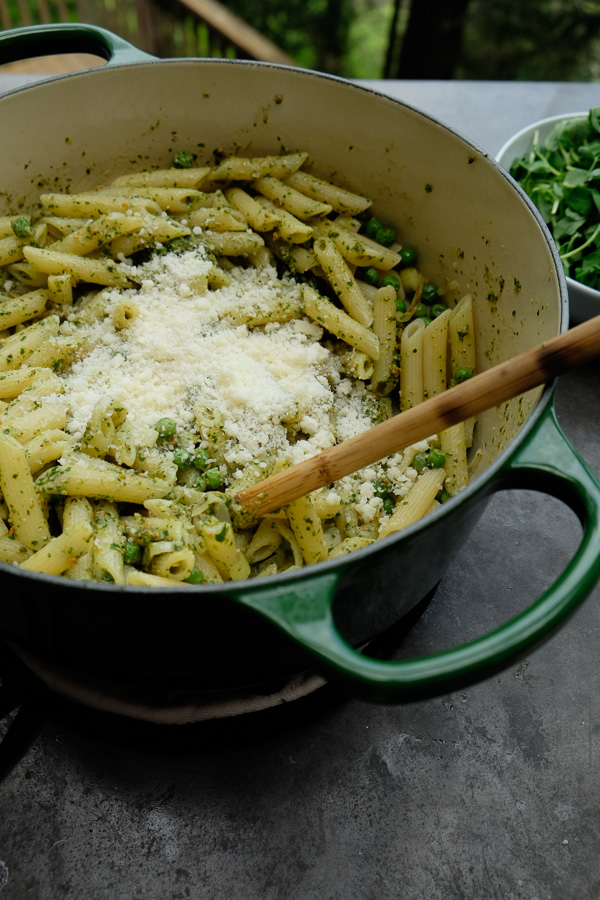 Pea shoots!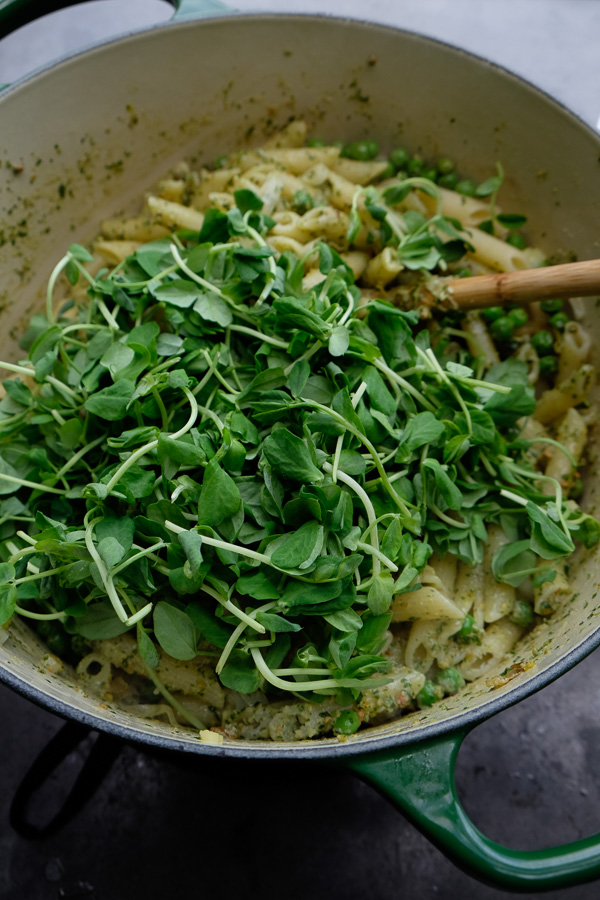 I love pea shoots in here. SO GOOD!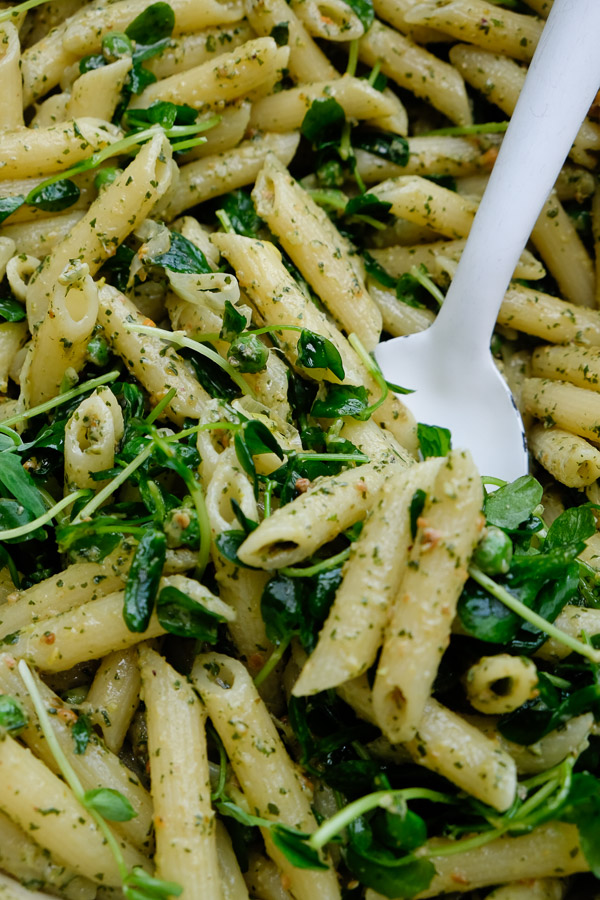 DINNER IS SERVED.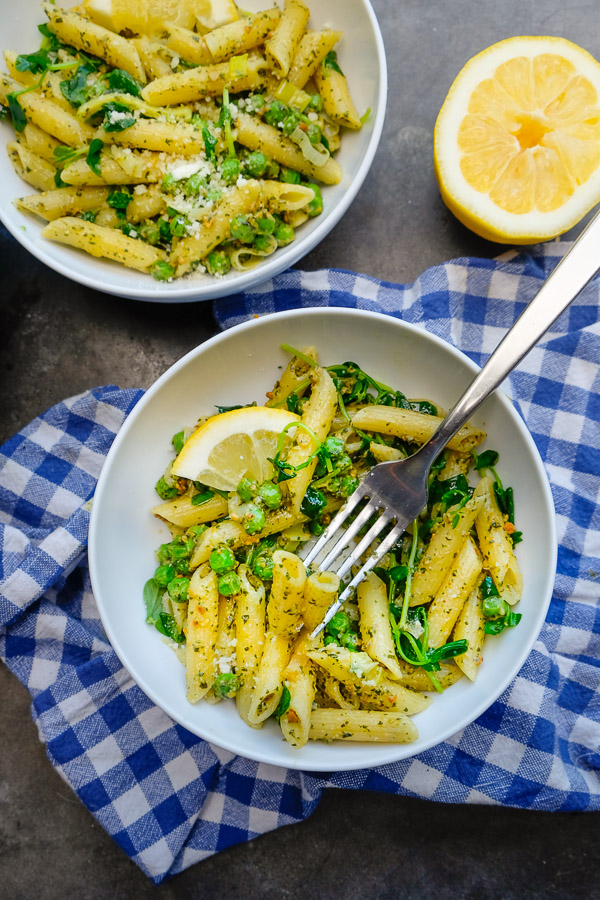 I'd be happy with a little bit of this for lunch all week!

serves 3-4

for the pesto

1 clove garlic
1/3 cup pistachios
2 cups packed mint leaves
2 tablespoons fresh lemon juice
1/2 cup extra-virgin olive oil
salt and fresh cracked pepper

In a mini food processor, chop the garlic, followed by pistachios, mint, lemon juice and olive oil. Season with salt and pepper and set aside.

for the pasta

2 leeks (white parts only), thinly sliced
1  1/2 cups fresh peas
1 tablespoon extra olive oil
1 1lb. penne
2 cups fresh pea shoots
1/2 cup grated Parmesan cheese
lemon juice for finishing

Saute leeks in olive oil a medium pan over medium-high heat until softened, about 3 minutes. Add fresh peas and continue cooking until peas have softened, about 4 minutes. Set aside.

In a large pot of salted boiling water, cook the pasta until al dente; drain, reserving 1/2 cup of the cooking water. Return the pasta to the pot. Add the cooking water and the pesto and toss until well coated. Stir in the leeks, peas, pea shoots and Parmesan cheese. Squeeze fresh lemon on the pasta and serve immediately.