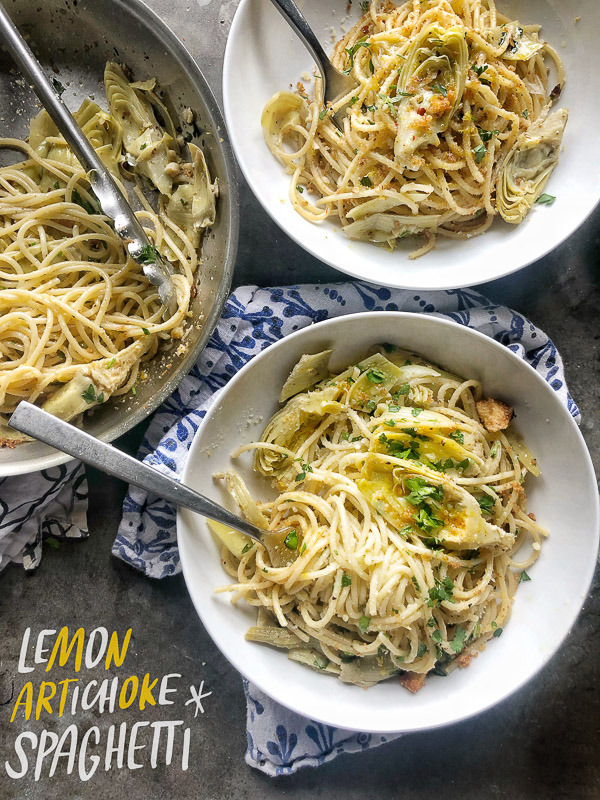 I saw this recipe for Lemon Artichoke Spaghetti with Bread Crumbs in my friend Christina's new cookbook- Dinner Just for Two
 and quickly made it because I almost always have a lemon, spaghetti and artichoke hearts (jarred)  in my kitchen. Also, my husband and I were home alone without Cooper and I felt like I HAD to take advantage of the fact that our pasta + artichoke despising kid wasn't around to complain.  Dinner for THREE can be so complicated sometimes.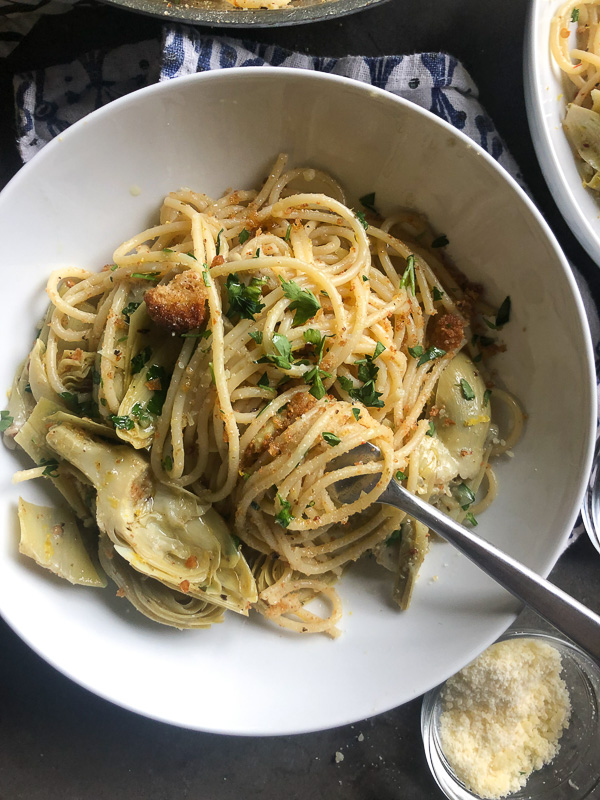 You know what sold me on this recipe? The bread crumbs!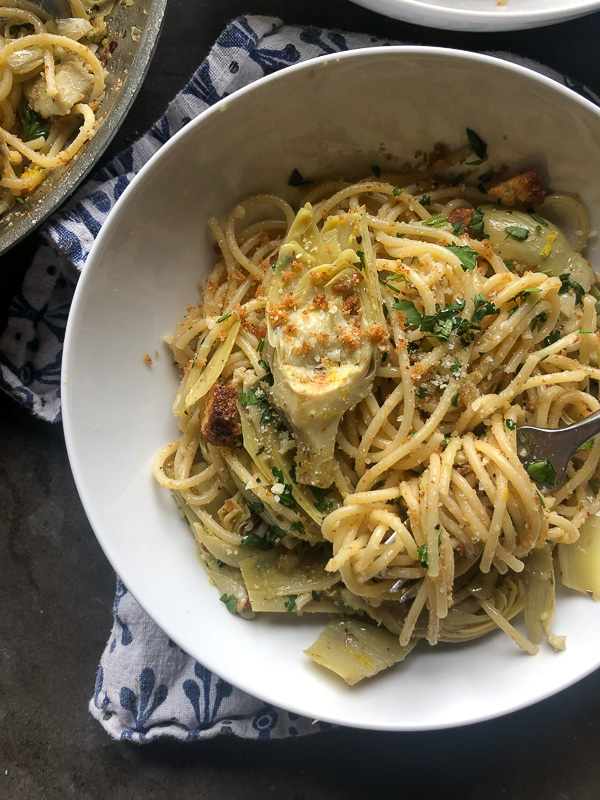 We have a lemony artichoke sauce that's slightly tangy mixed with creamy Parmesan cheese and bits of crispy breadcrumbs.  The flavor profile reminds me a little bit of a fried artichoke, which I almost always order if I see it on a menu.
For all the times we're home alone without kid(s), Lemon Artichoke Spaghetti for two is the ultimate love language.
Let's gather ingredients.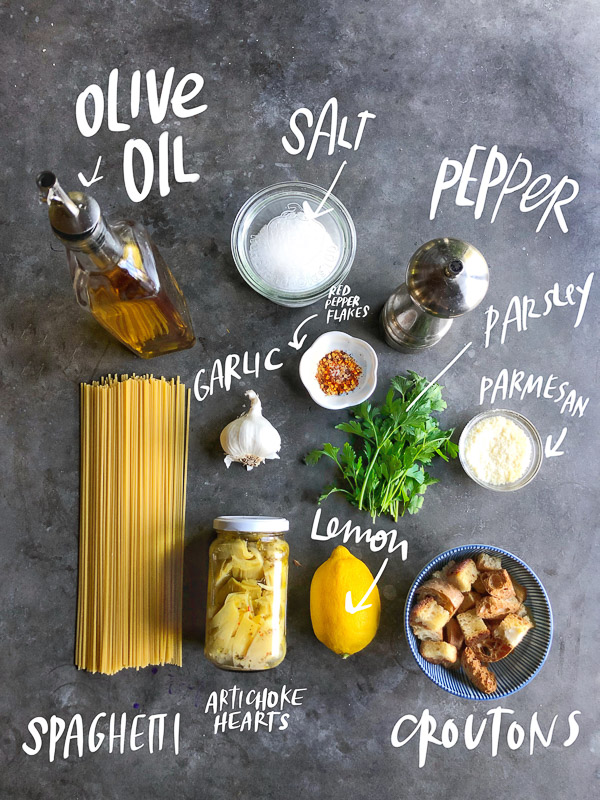 First, we make breadcrumbs if we find out we don't have them like we thought we did in the pantry.
I pulled croutons from the freezer (best place to store them, btw!) and pulsed them in a mini food processor.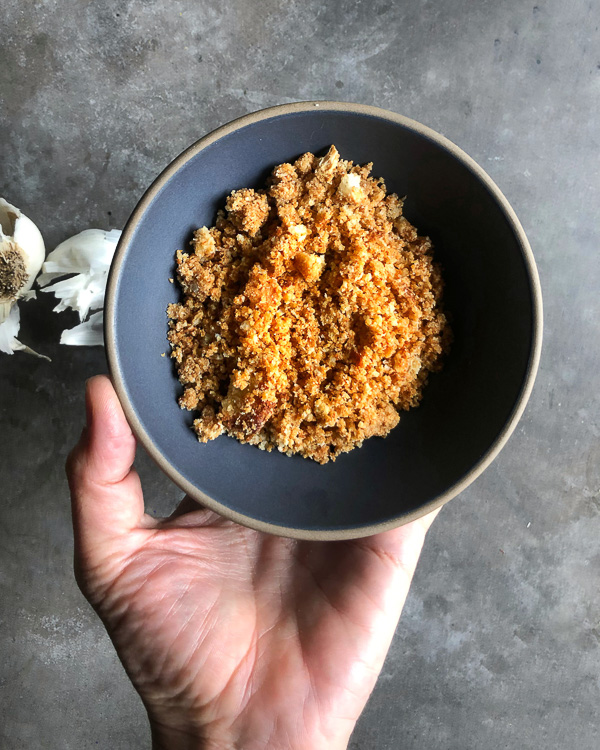 Toast the breadcrumbs in a skillet with olive oil.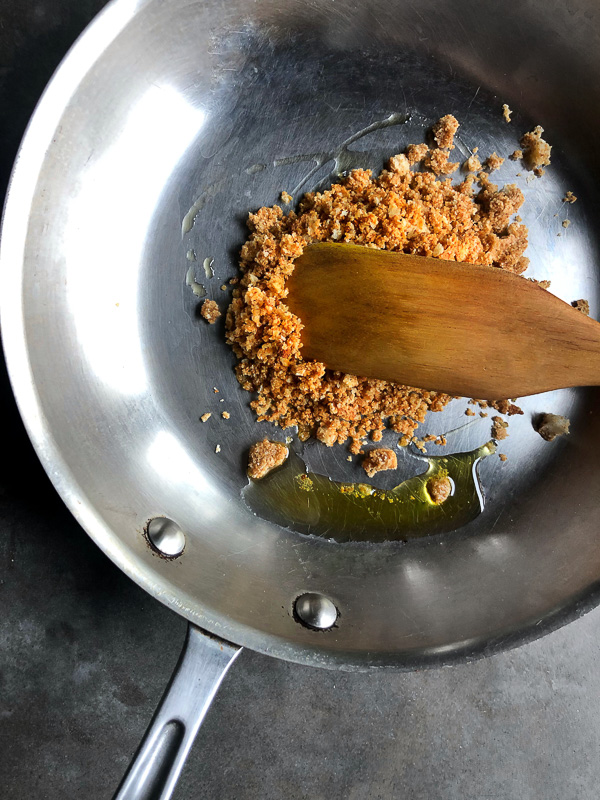 Set bread crumbs aside.  Olive oil goes in pan. Garlic and red pepper flakes are introduced.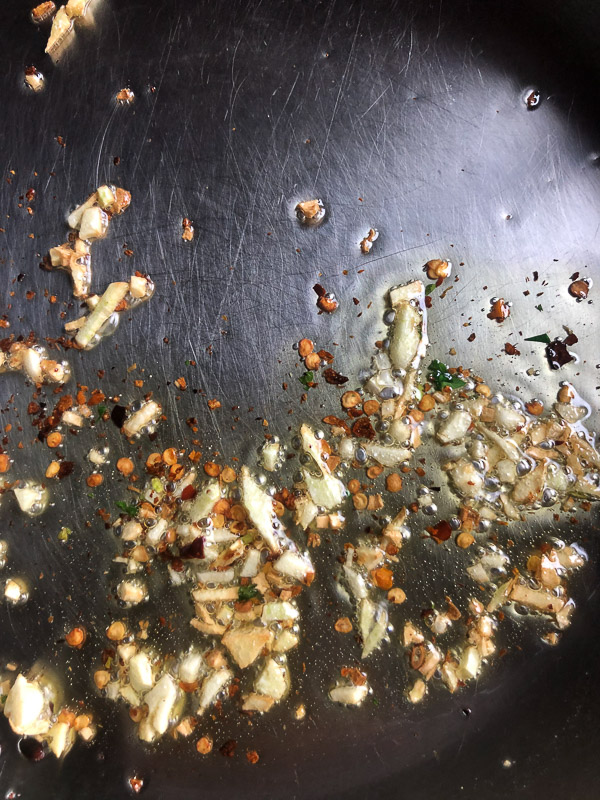 Hello, jar of artichokes and their juices.  Let's cook you for a bit and get you all saucy.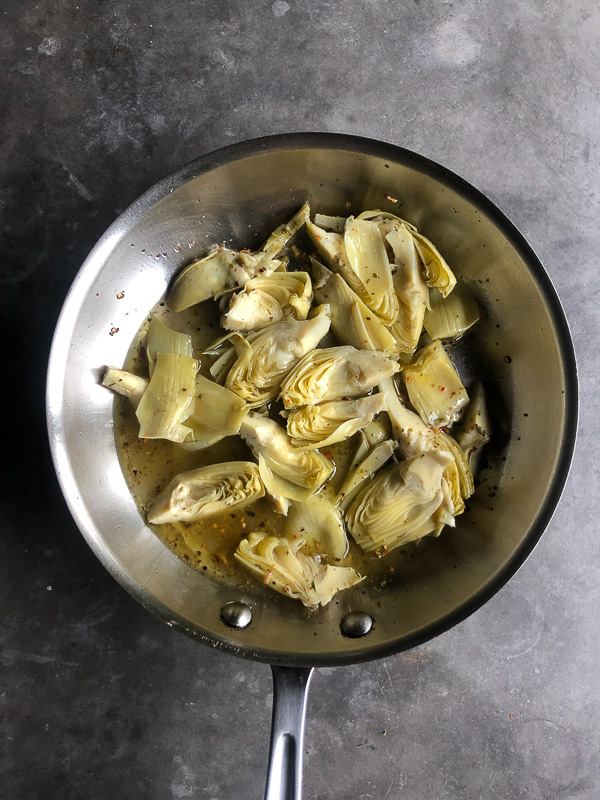 Lemon zest gets ready.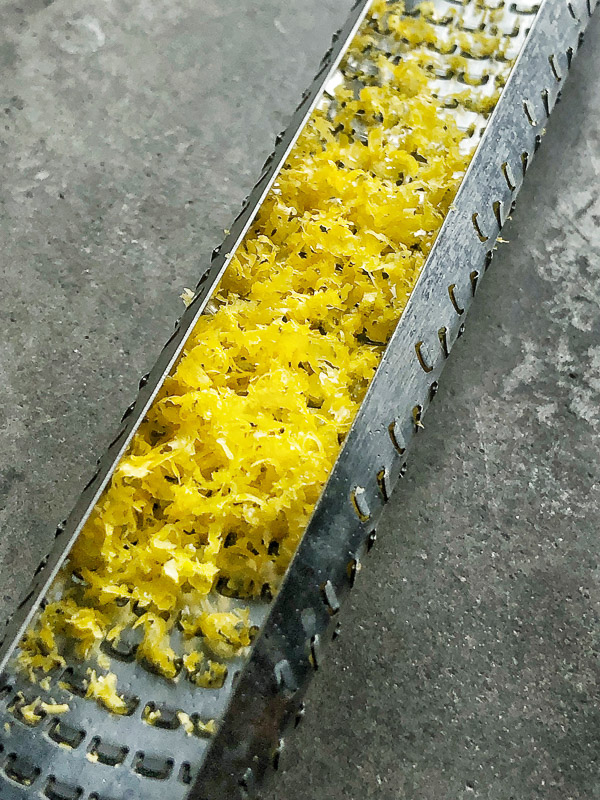 Sauce is done!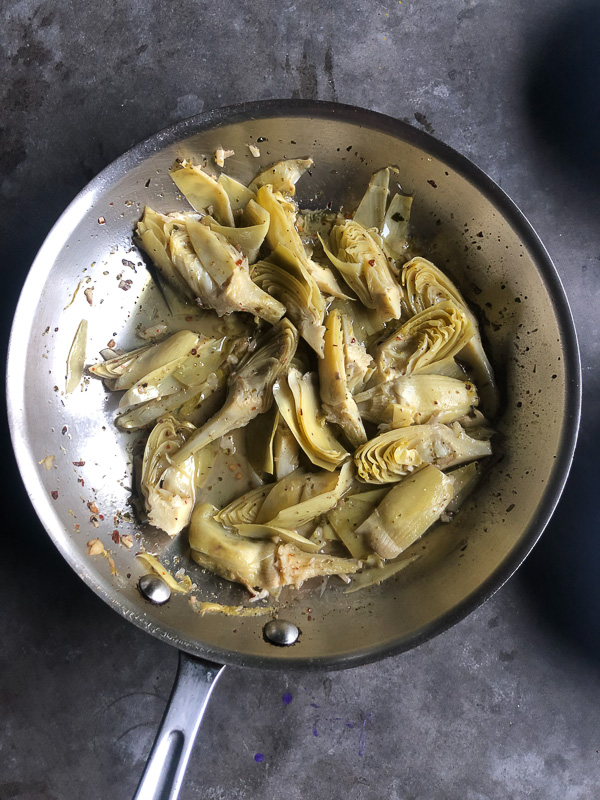 Hot pasta goes into the mix.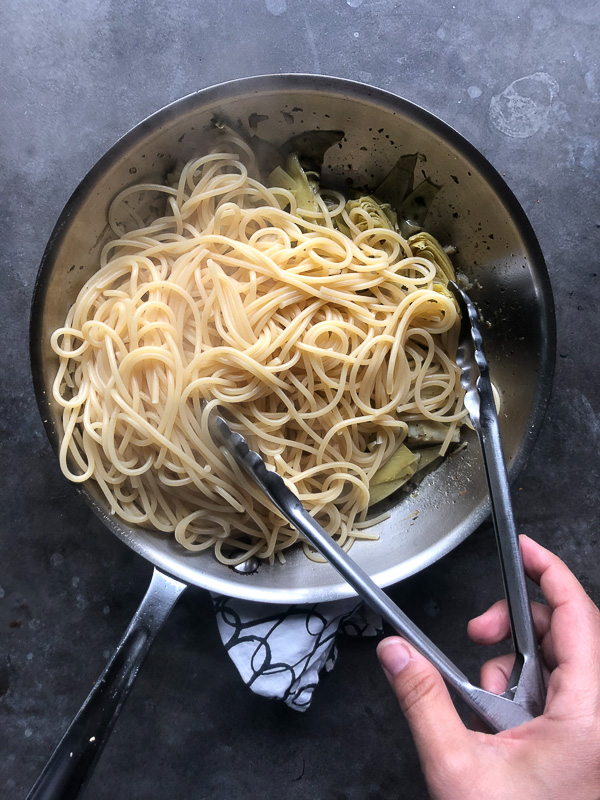 Get that lemon zest in there.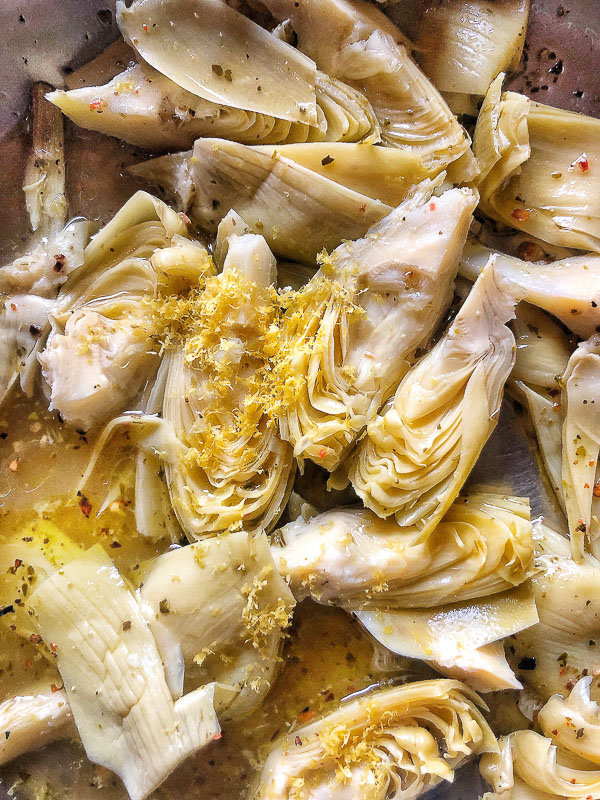 Bread crumbs make their appearance.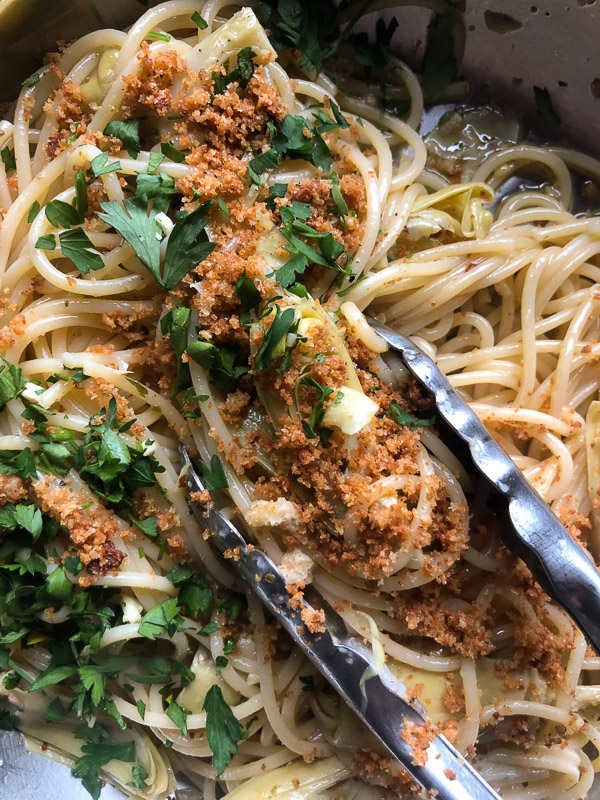 HELLOOOOOO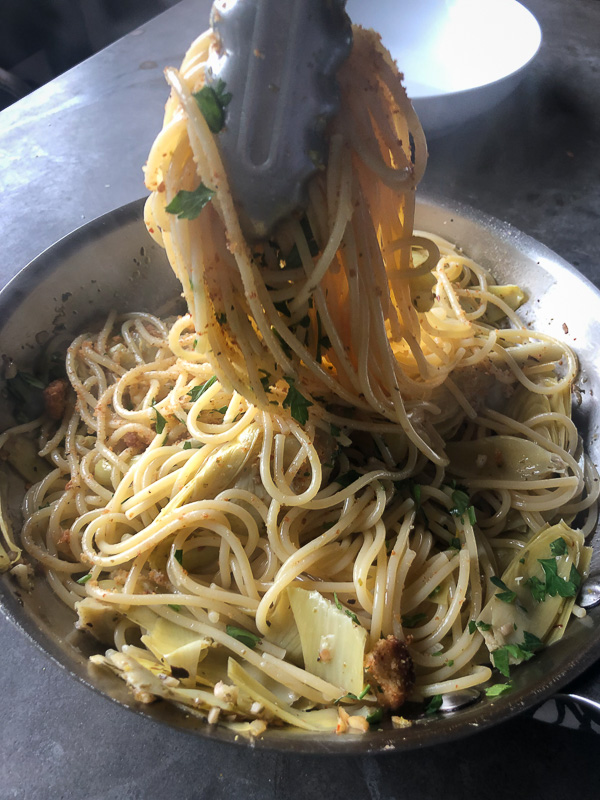 All the things.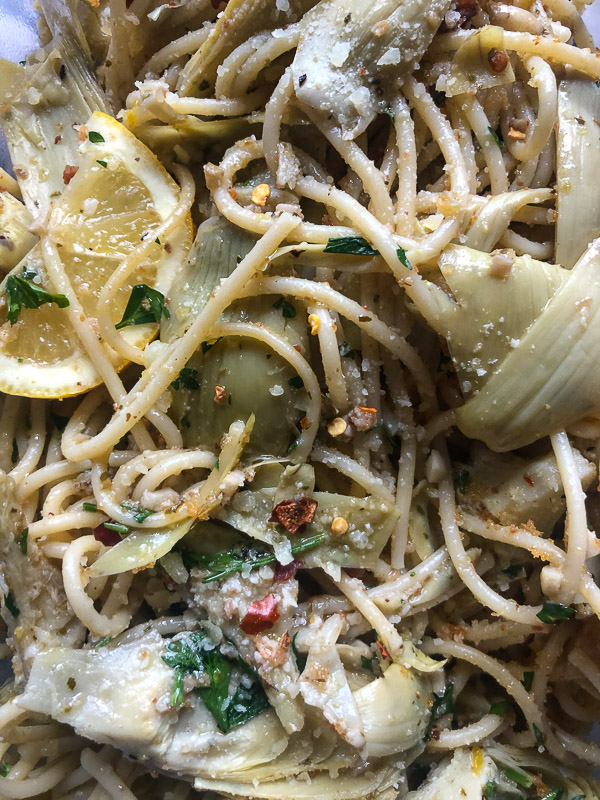 Cozy up to a bowl or two.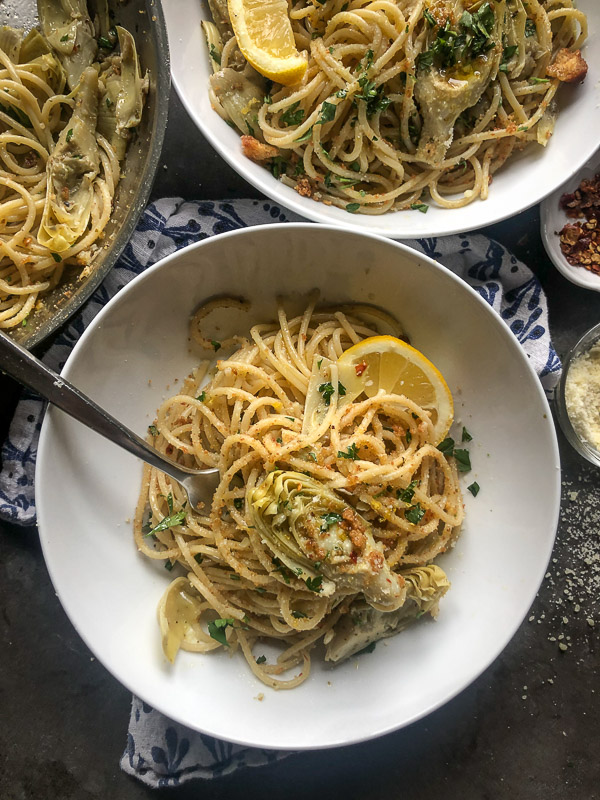 YUM.
Lemon Artichoke Spaghetti with Bread Crumbs

serves 2-3

recipe adapted from Dinner Just for Two

for the breadcrumbs

1 tablespoon olive oil
1  1/2 cup croutons (or 1/3 cup bread crumbs)
salt
fresh ground black pepper

for the rest:

1 tablespoon olive oil
2 cloves garlic, minced
1/4 teaspoon red pepper flakes, plus more to taste
12 oz. jar of marinated artichokes, juice included
salt and fresh ground black pepper
8 oz. spaghetti
zest of 1 lemon
1/2 cup grated Parmesan cheese
2 tablespoons fresh Italian parsley, chopped (for garnish)

First, make the toasted bread crumbs In a large skillet, heat the olive oil over medium heat. Add the bread crumbs and toast, stirring frequently, until they are golden brown. Add a pinch of salt and pepper and remove from the heat. Remove from the pan to cool and set aside.

Meanwhile, bring a large pot of salted water to a boil. Cook the spaghetti according to package directions. Drain and set aside.

In the same pan used for the bread crumbs, make the rest of the pasta sauce. Add the olive oil and turn the heat to medium. Saute the garlic and red pepper flakes.

Add the artichoke hearts and the liquid from the jar and cook until sauce reduces and the artichokes are tender, about 5 minutes.

Add the drained pasta to the skillet with the artichokes and toss to combine. Stir in the lemon zest, bread crumbs, and chopped parsley. Taste and adjust for additional salt, pepper, and red pepper flakes if desired.