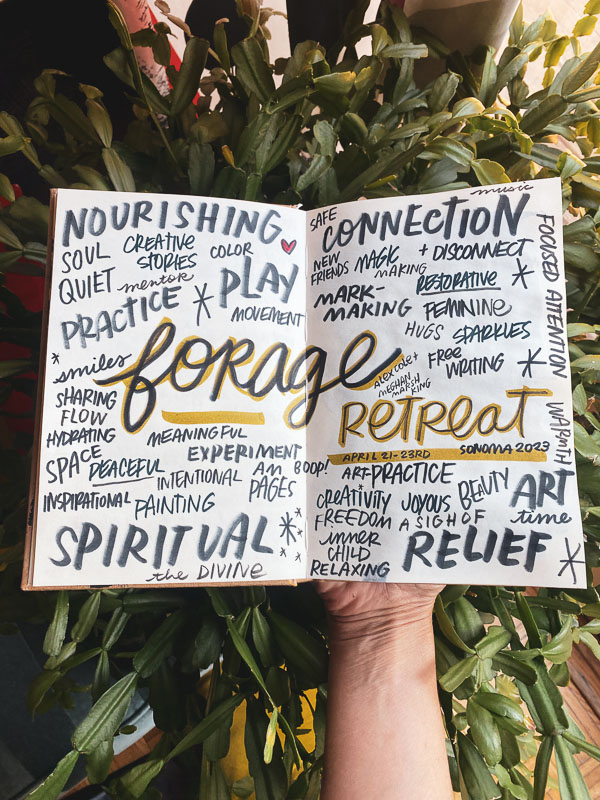 FORAGE RETREAT, SONOMA 2023 with ALEX COLE + MEGHAN MARSH KING
A feeling I love:
Coming back from an artist retreat and living in the liminal space of
WAS THAT REAL LIFE?
or
WAS I DREAMING?
That feeling of living soo. much. life. in the span of two and a half days.
Like camp time. You're exhausted and messy and it's glorious.
With that feeling comes the aftershocks. The little clips replay in my brain throughout the week. What do I want to keep alive from that time? How can I do it?
My real life ran differently this week because I feel refueled after many strong connections at The Forage Retreat in Sonoma this past weekend with fellow creatives Alex Cole and Meghan Marsh King.
I was also more present,
I started doing my morning pages again
and I connected more to myself this week than I have in A LONG TIME because I took the time to nourish my:
mind
body
soul
spirit.
After a retreat, I always want to find a way to recreate that magic, and let me tell you I experienced A LOT.
What I will tell you FIRST is that I was overwhelmed with how beautiful everything was upon arrival. Every single detail was carefully/beautifully considered. EVERYTHING DOWN TO THE PENCILS (which were my favorite btw
).
The first night I got to spend cocktail hour catching up with my friend Emma and meeting other creative women.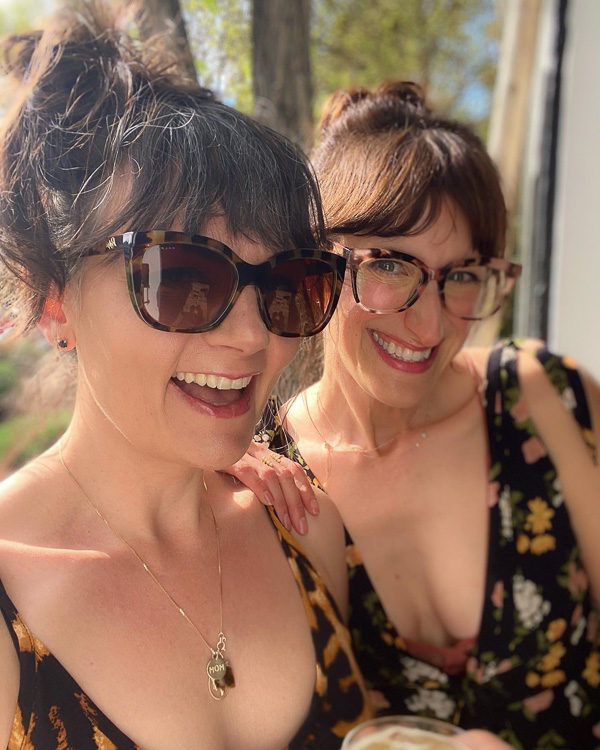 The property where the reception was held was so beautiful and there were so many fun things to look at.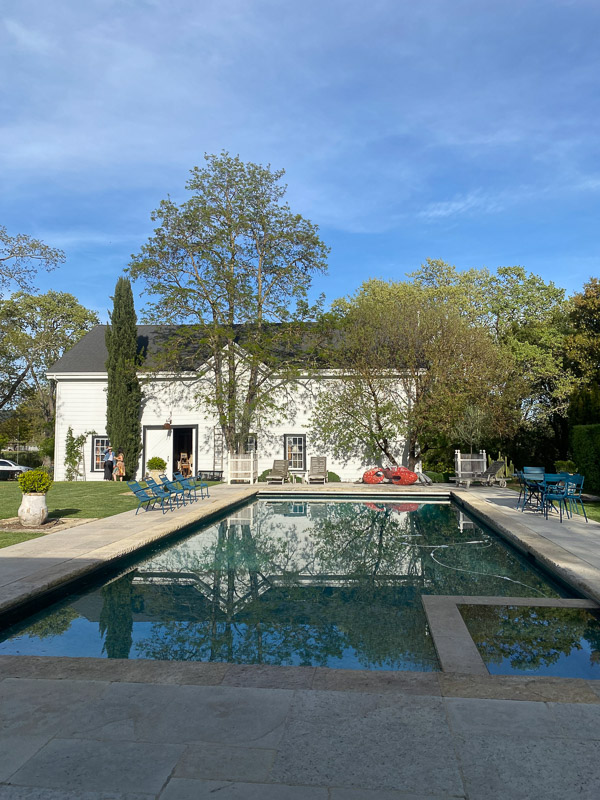 The afternoon light was stunning. Gave me chills!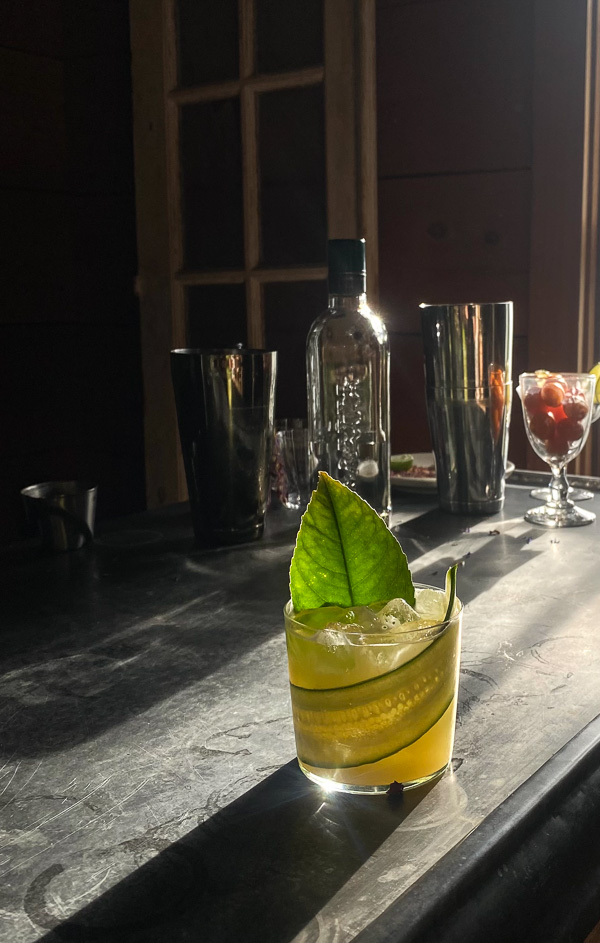 Of course, we find the animals…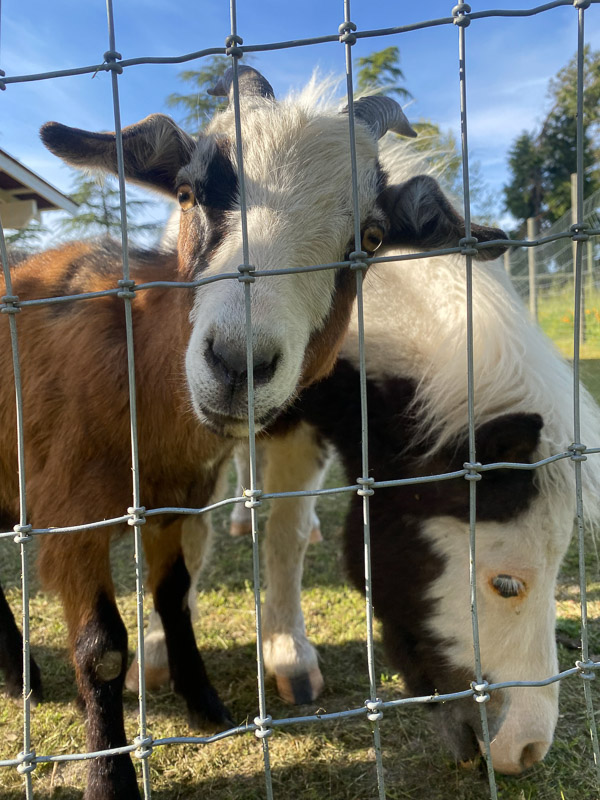 There was a mini pony named Party Girl!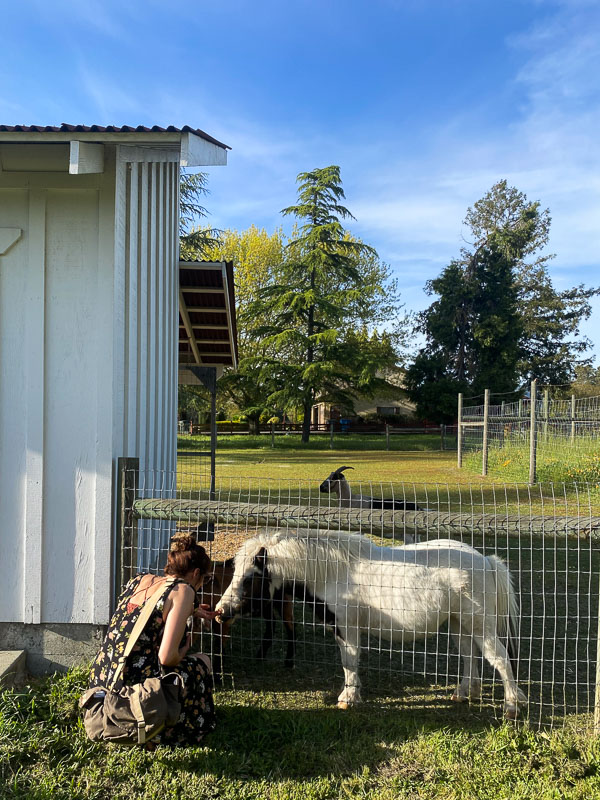 The food all weekend was exquisite. Food by Andrea of Mortar Pestle Cooking. I felt very cared for and well-nourished the entire time. Thank you so much, Andrea!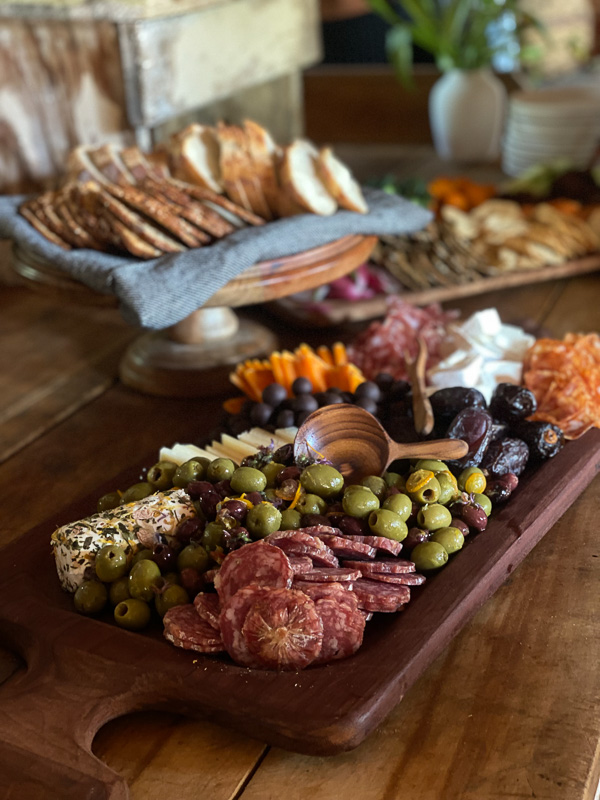 Dinner upstairs was all so beautiful. Flowers and mushrooms foraged for the table.
We were given a chance to get to know each other and learn about local wine.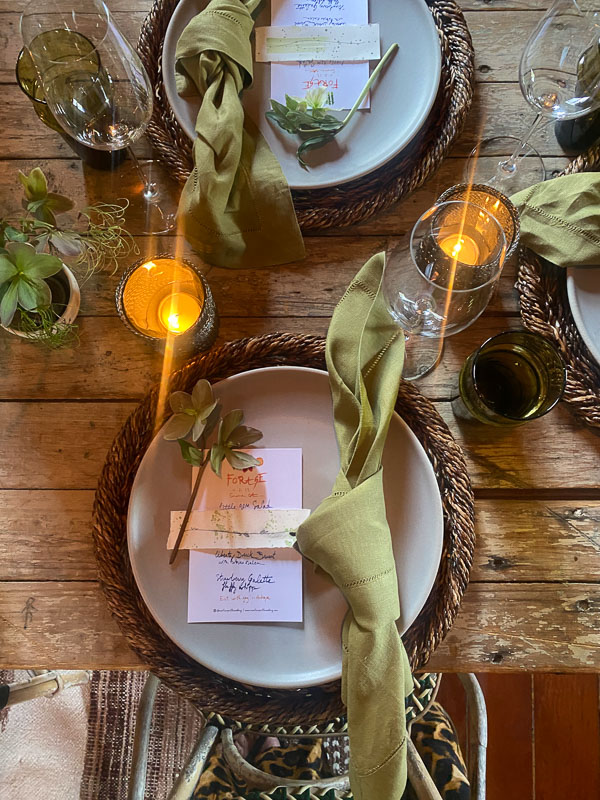 All of the little details throughout the weekend didn't go unnoticed. I collected so many of them. You'll see.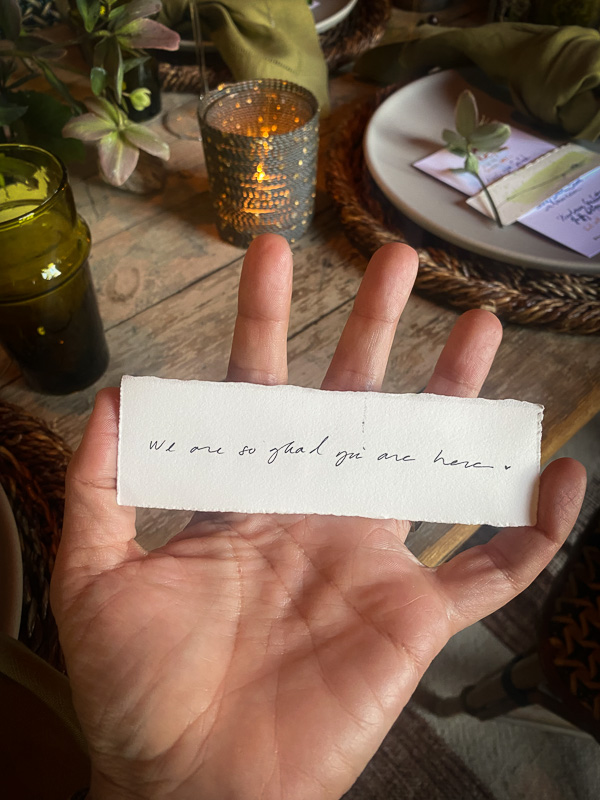 Incredible dinner and good chats. From the winemaker, the chef, florist, the photographer & the musician, Alex and Meghan helped us all see how wonderful creative collaboration is when you can share each other's talents and gifts.
Each person involved was able to share a piece of their creative journey with the attendants which made the meal/retreat so filled with meaning.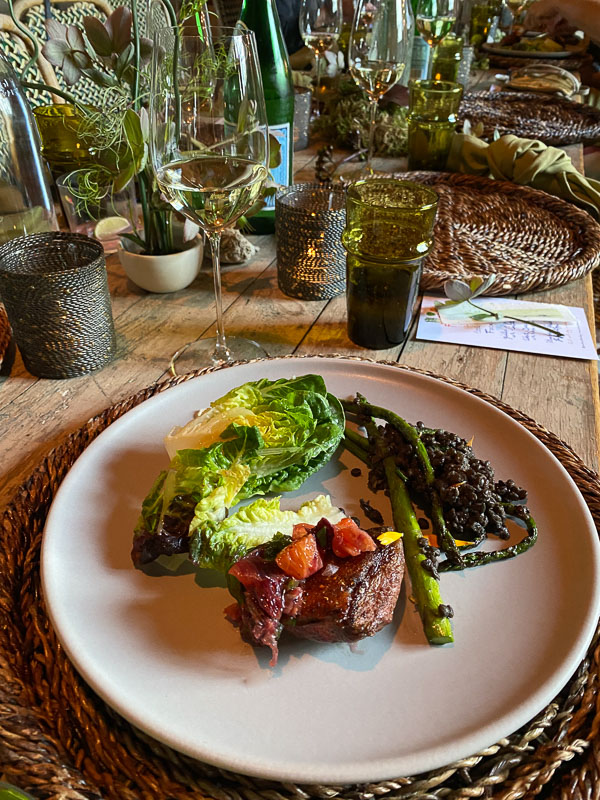 YUM! Andrea's handwriting sample!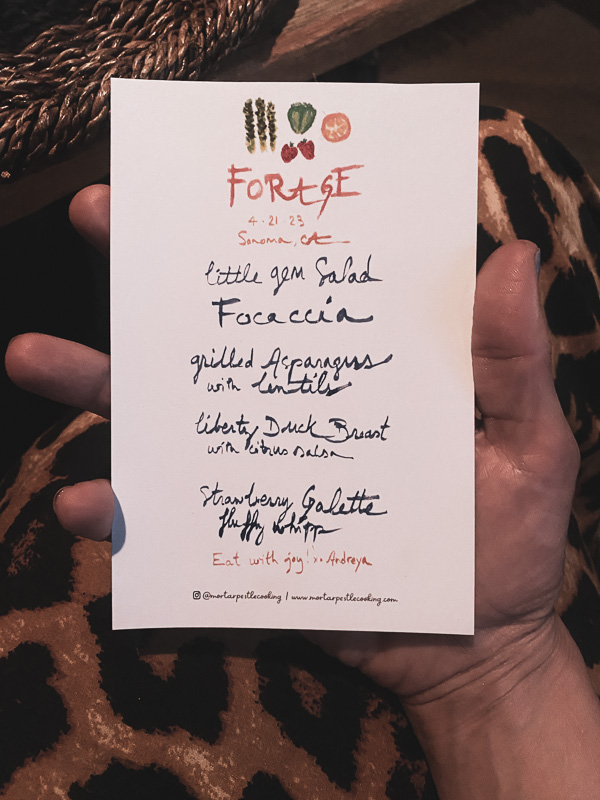 Such a beautiful start to a weekend of intentional play.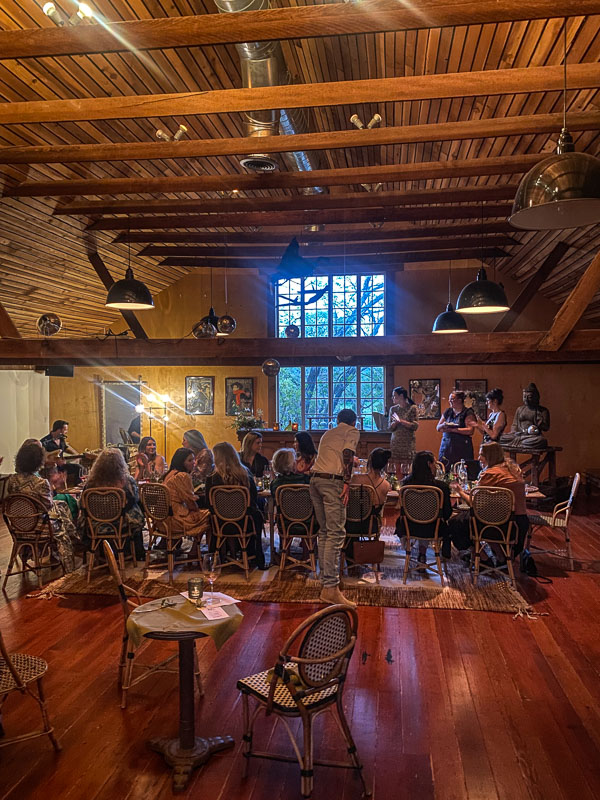 Everything felt like a painting! That evening ended with a sleepover at Emma's.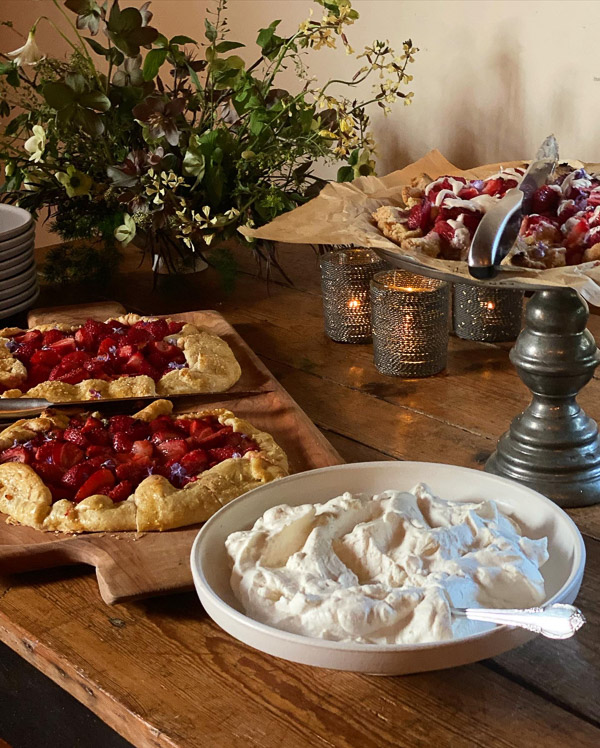 Day 2! The fun begins. Rise and shine. A time for morning pages and foraging.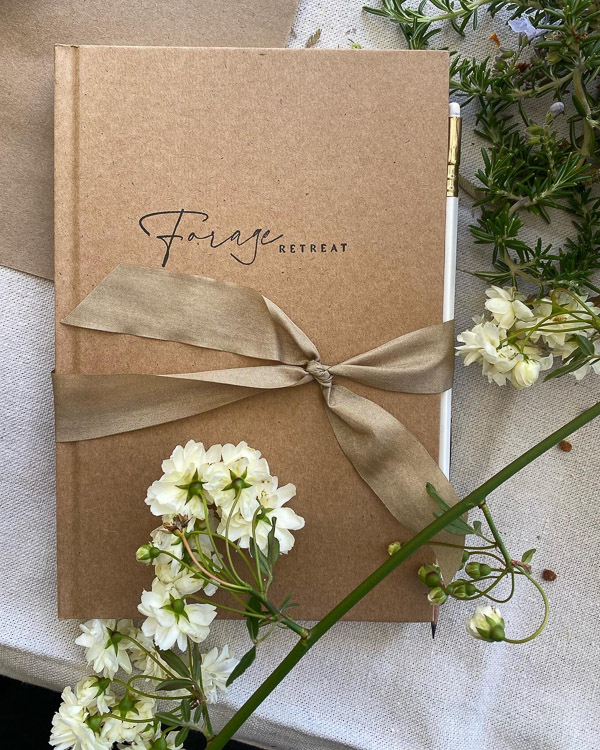 This was under my place setting and it became my mantra for the weekend.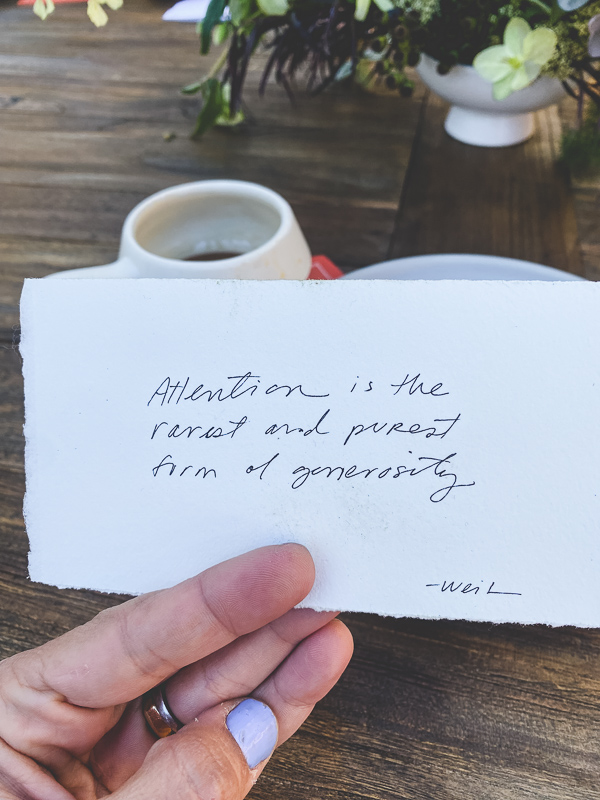 It made me think about quality time being a love language.
Quality time means your attention is undivided.
Where does attention belong? Who does it belong to?
Stepping away from my phone during this retreat helped keep my attention on the PRESENT and NOW. Present Tracy is grateful for that past Tracy attention.
Again…nourishment!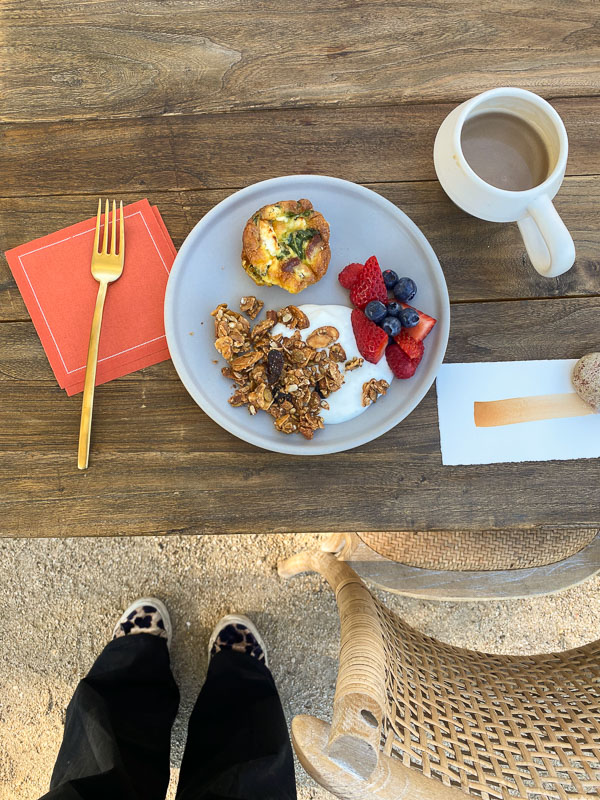 We were split into two groups. One group forages while the other group writes.
So many fun things to see on our foraging walk with Alex…including a super bloom in the field. Notice the yellows and oranges! We also chatted with peacocks and said our hellos to a donkey and more goats.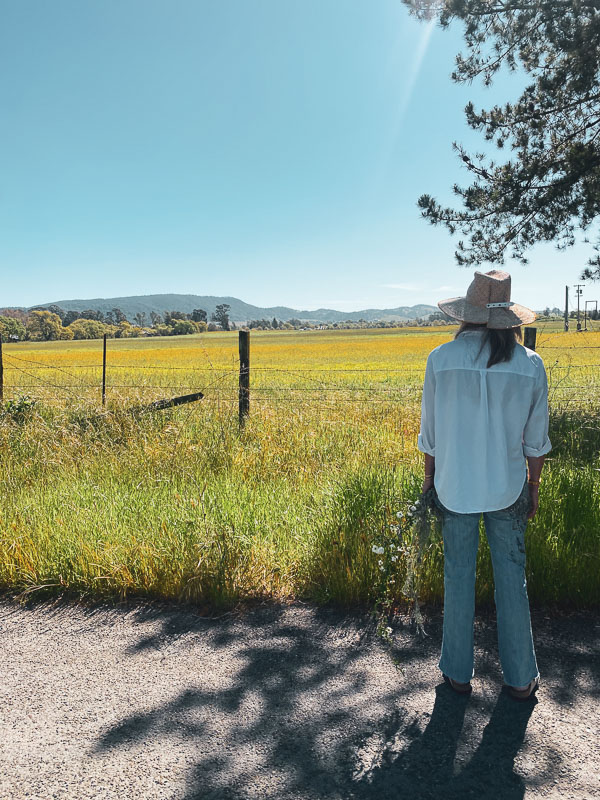 Under oaks…wildflowers…pruning shears.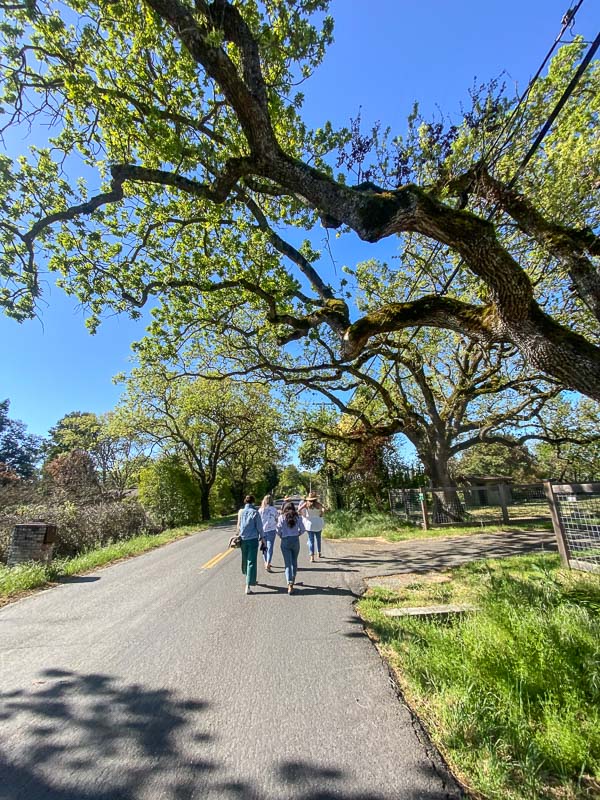 Something changes in your brain when you look at the world as a floral arrangement.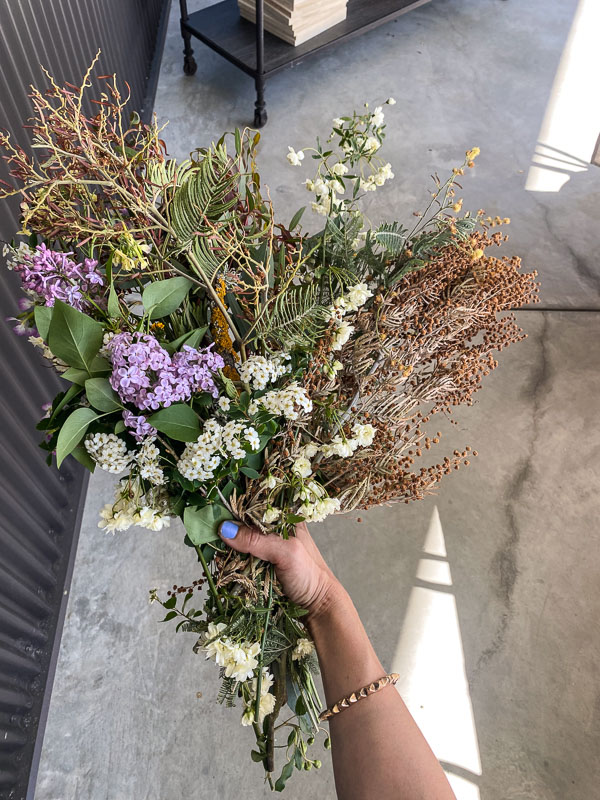 I will always and forever remember to keep pruning shears
in my car.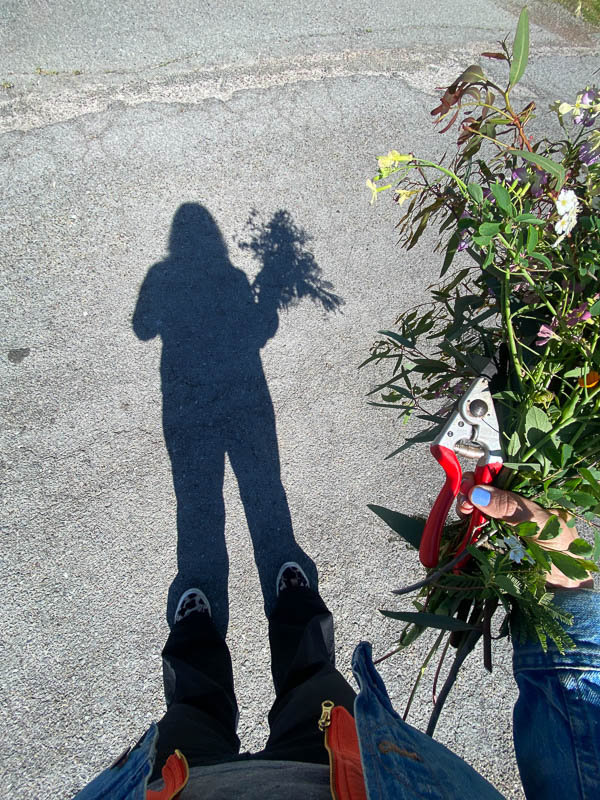 This is the writer's tent. I spent time working on my morning pages here and then writing again in the afternoon. The dappled light was hypnotic.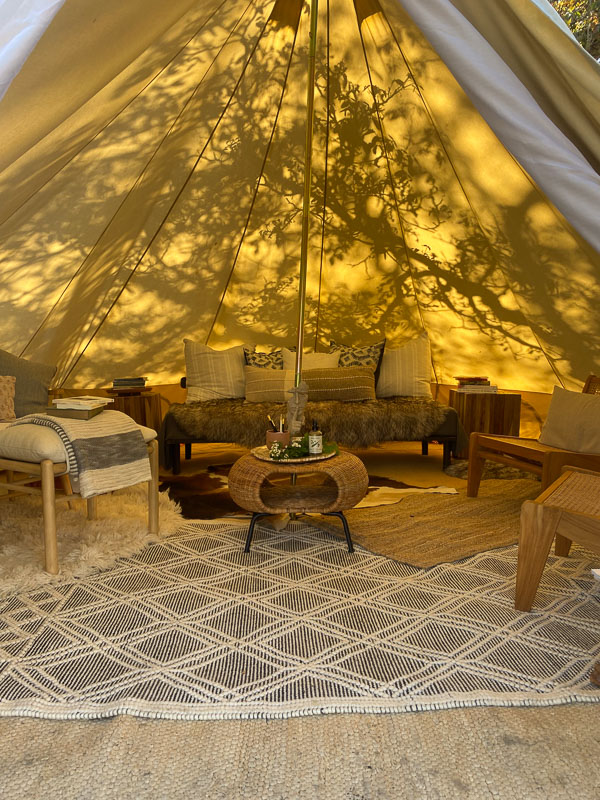 I've had morning pages in my morning routine for a while and in the past few months fell off of the practice because life got so lifey. I am thankful Meghan got me back into the process that helps clear my mind in the morning. It was the boost I needed!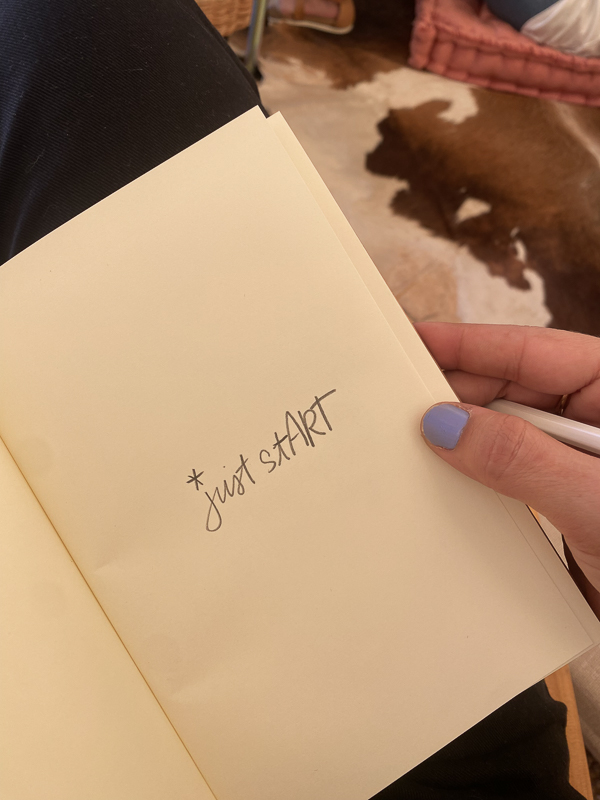 I got it all out.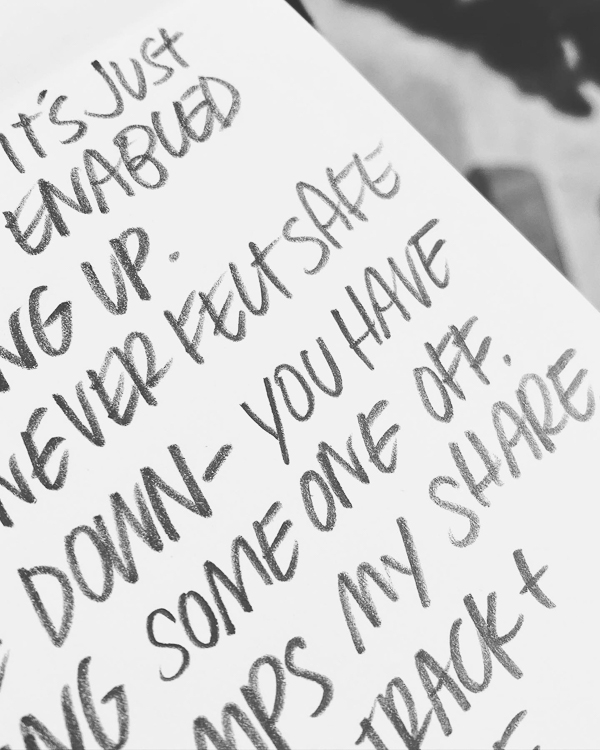 After writing, we moved into PLAY.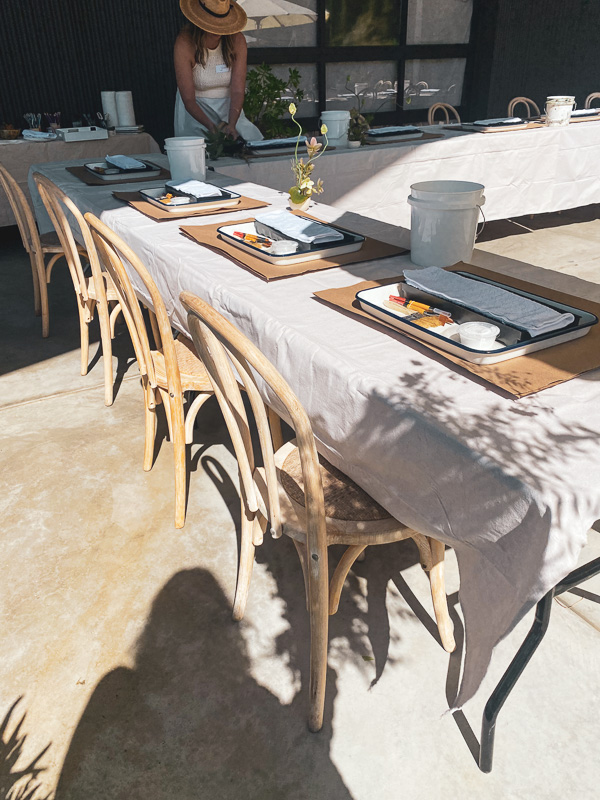 With what we foraged and the amazing art tools laid out for each one of us, we worked on a few things to be used for the following day.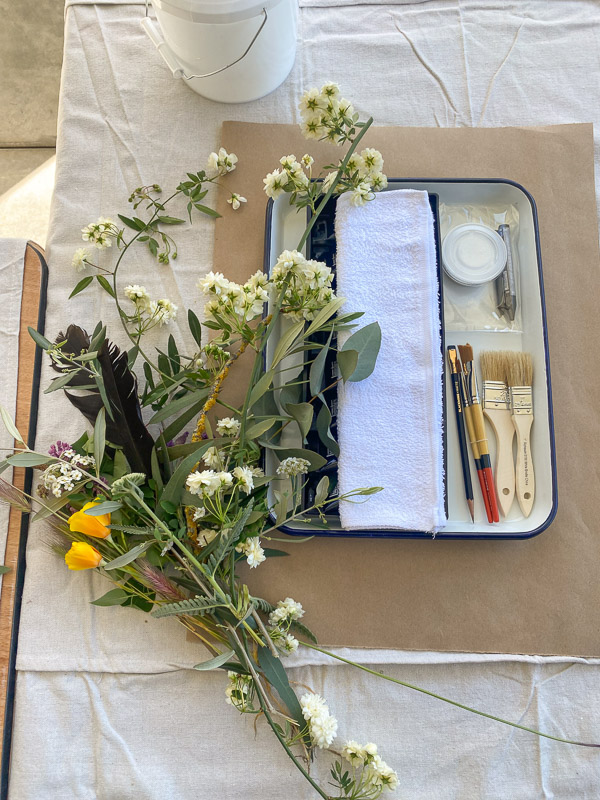 Watching Alex teach was incredible. Her enthusiasm is contagious and she encouraged everyone to play with reckless abandon.
I love her reminder that "there are no mistakes."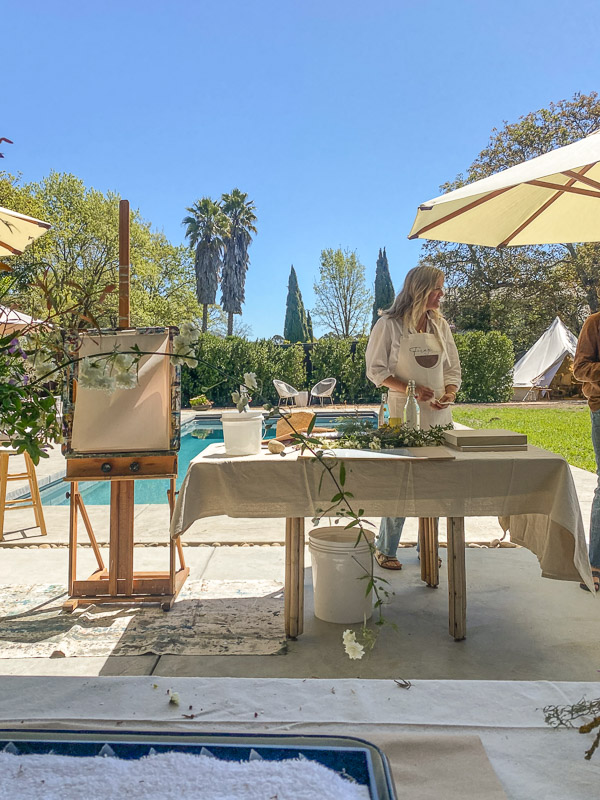 All the patina, forever and ever!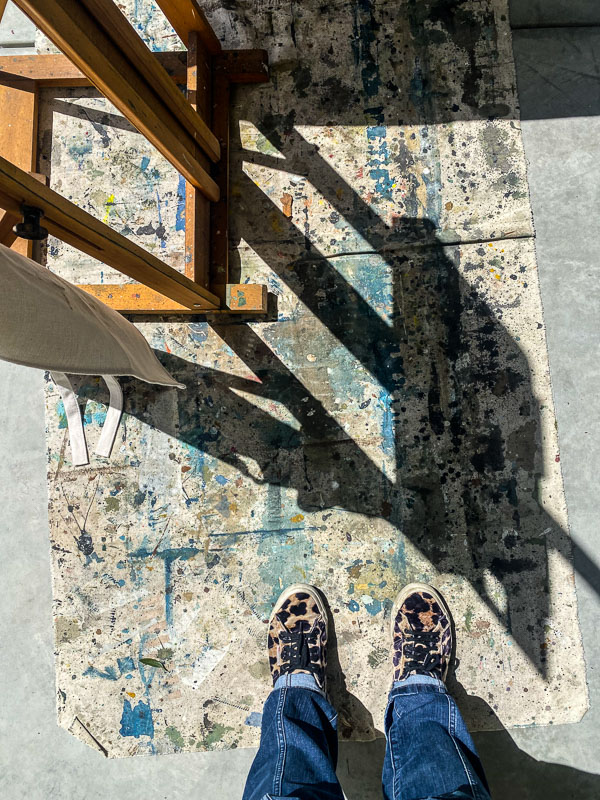 An invitation to begin.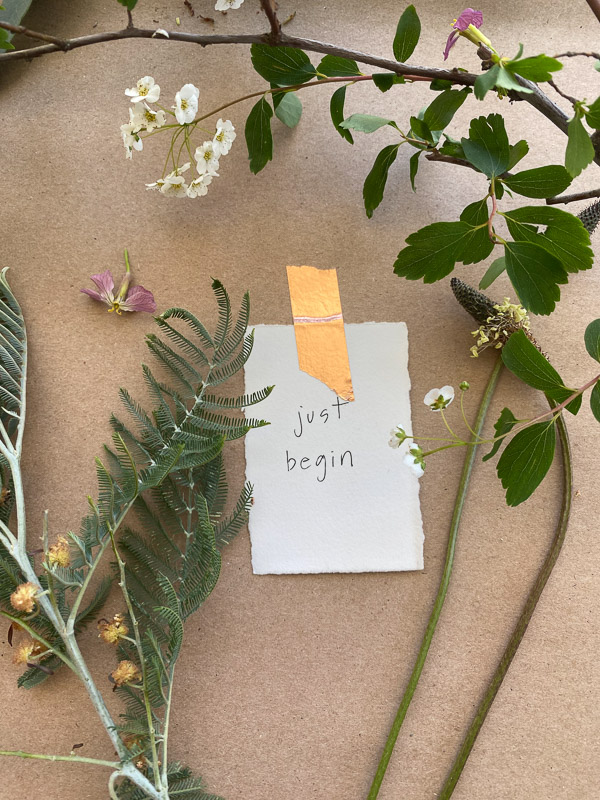 Playing with lines to become something else. Never lifting the pen from paper.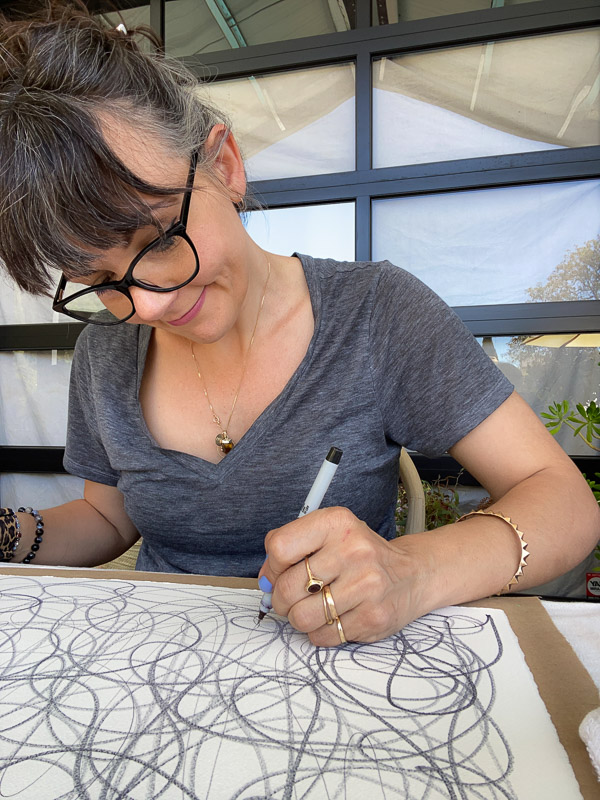 Drawing without looking. Drawing while looking.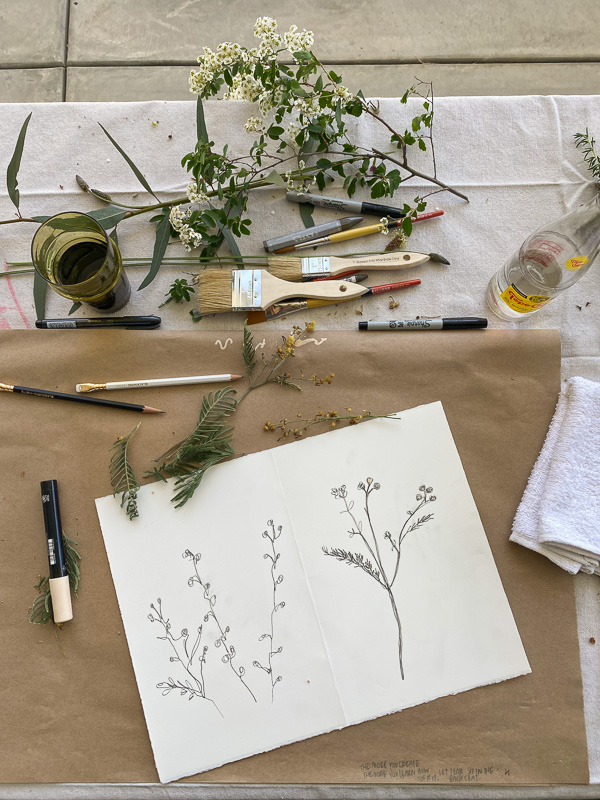 Color study and the process of watering paint down to build things up again. Texture party. Very appreciated.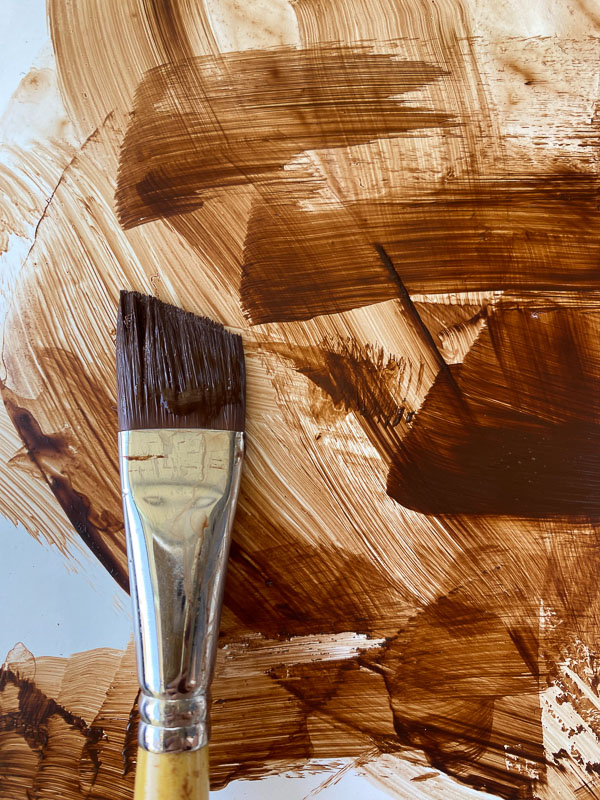 So many fun things to look at and get inspired by. Treasures at every turn.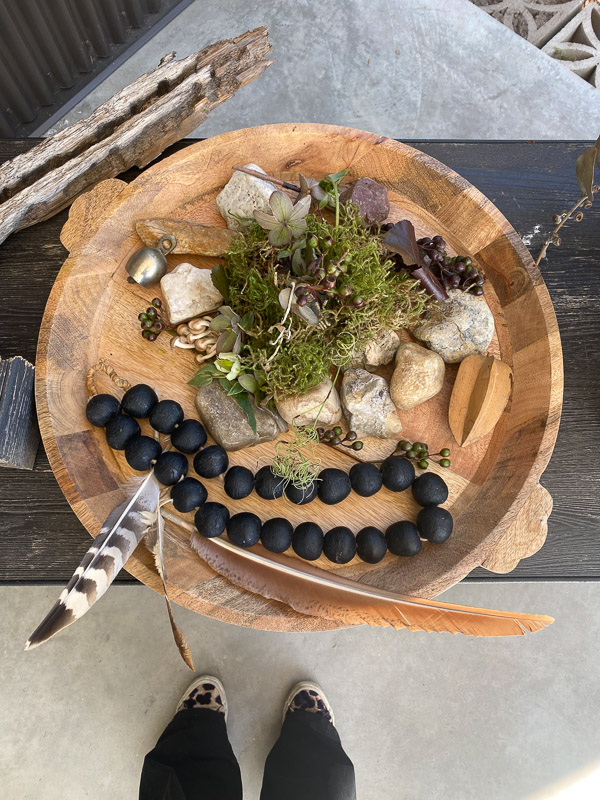 Day 2 ended with a bunch of love and hard work…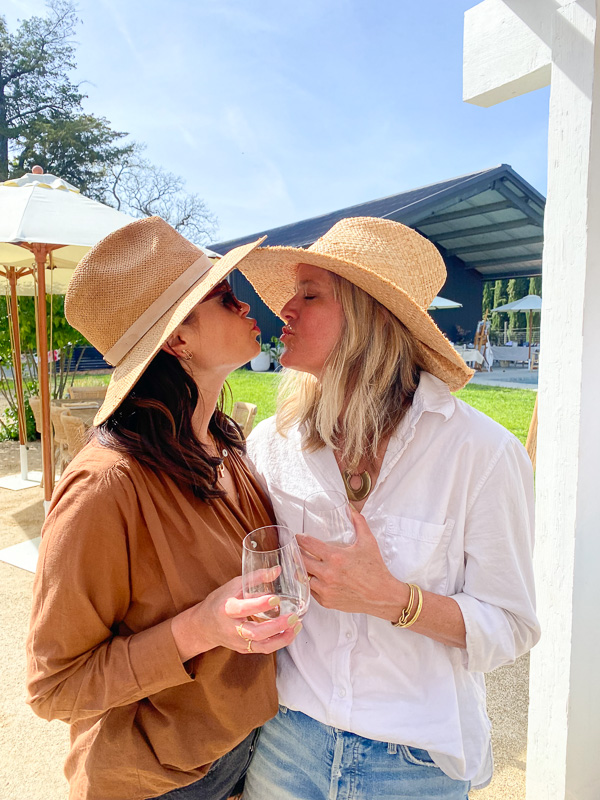 And feet dipped in the pool with some wine and real connection. My day ended there while the rest went out for dinner.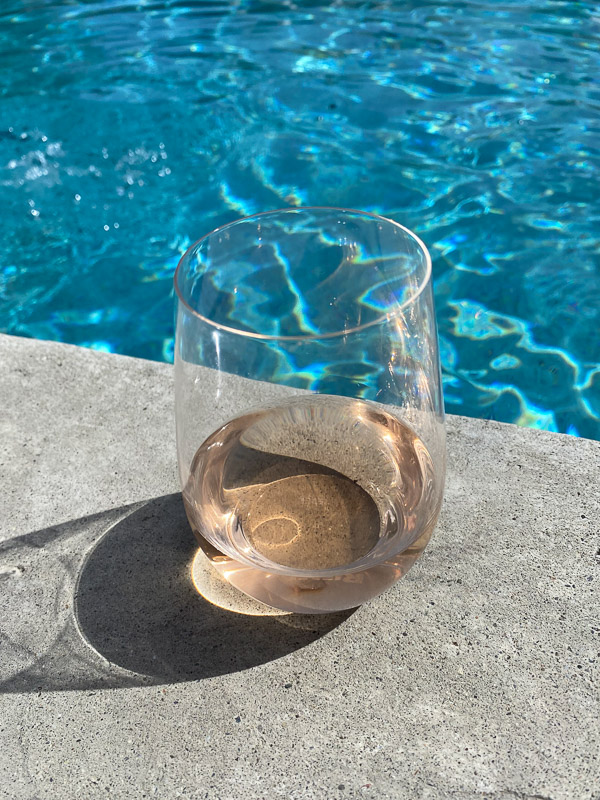 Day 3 started with more nourishment.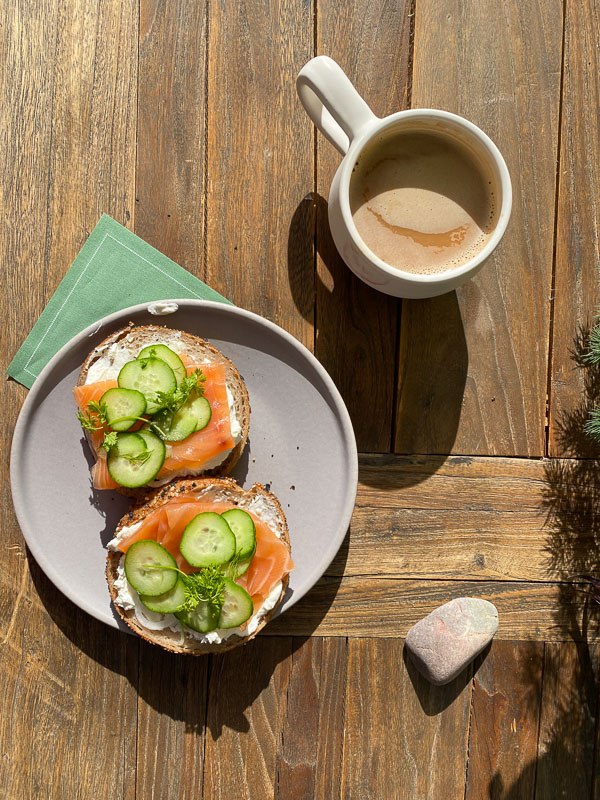 And a new writing prompt.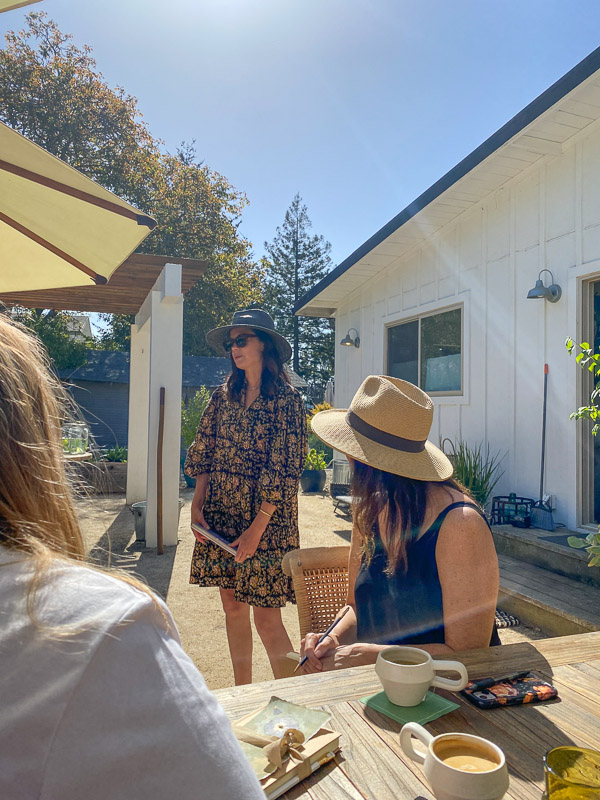 I pulled out the happiness card and wrote about it.
Off I went to the tent.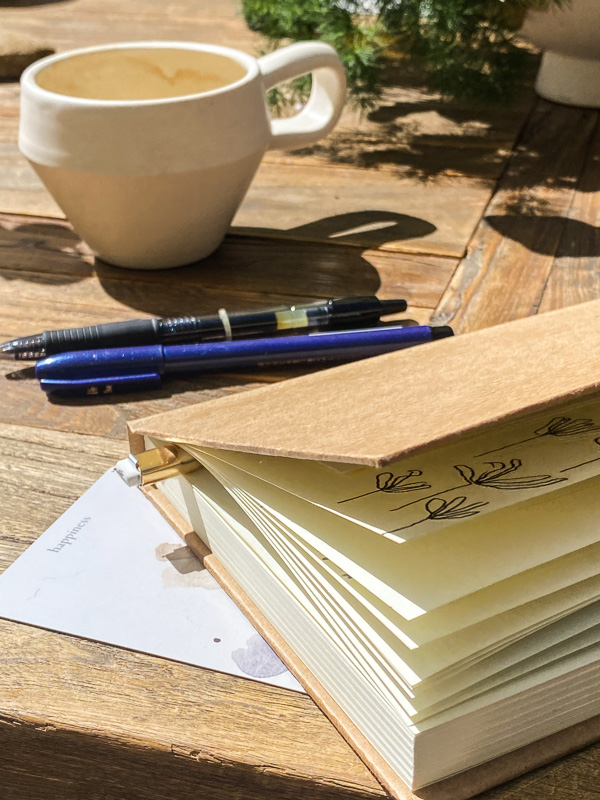 Here's what I came back with.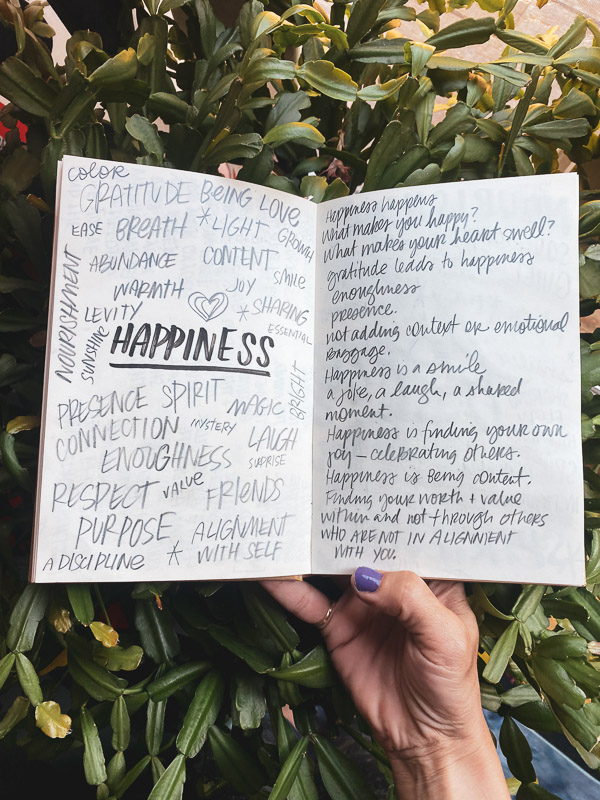 Later in the morning, we got to visit Alex's studio.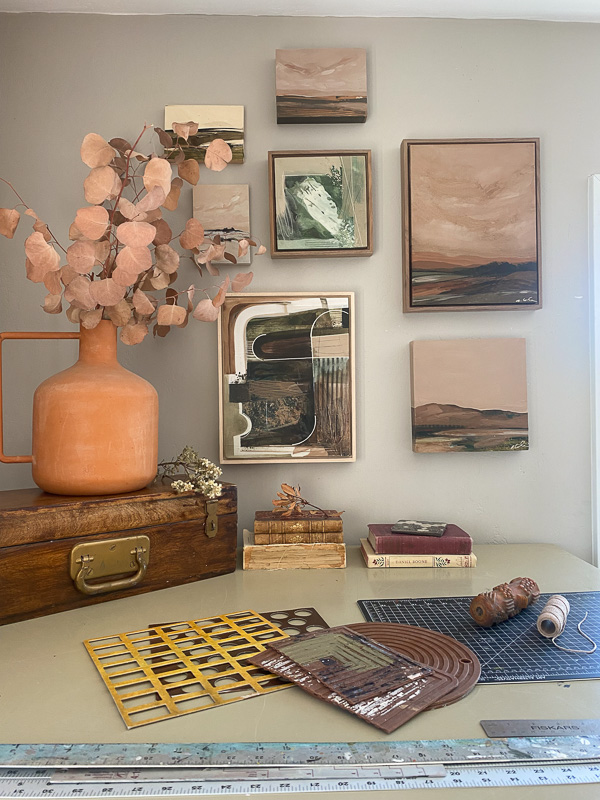 Magic in her color moments.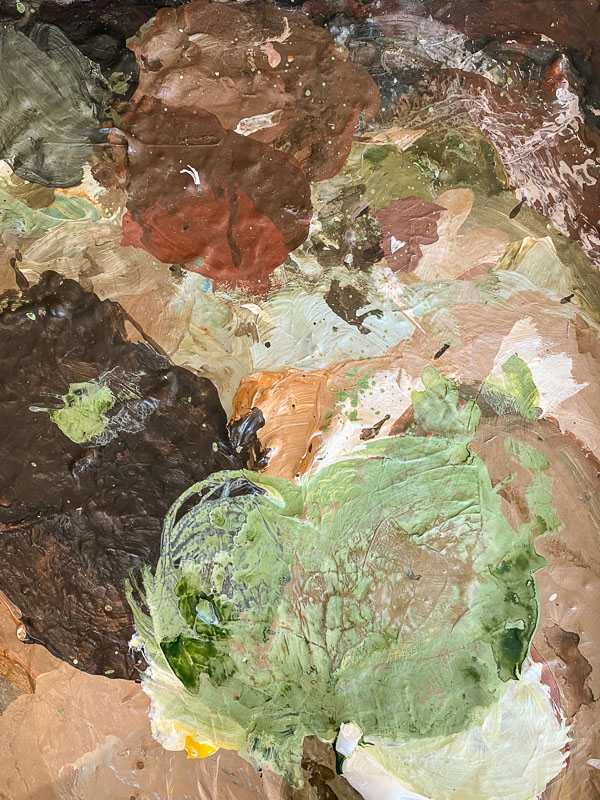 Seeing her process and play. Notes scribbled while listening/working.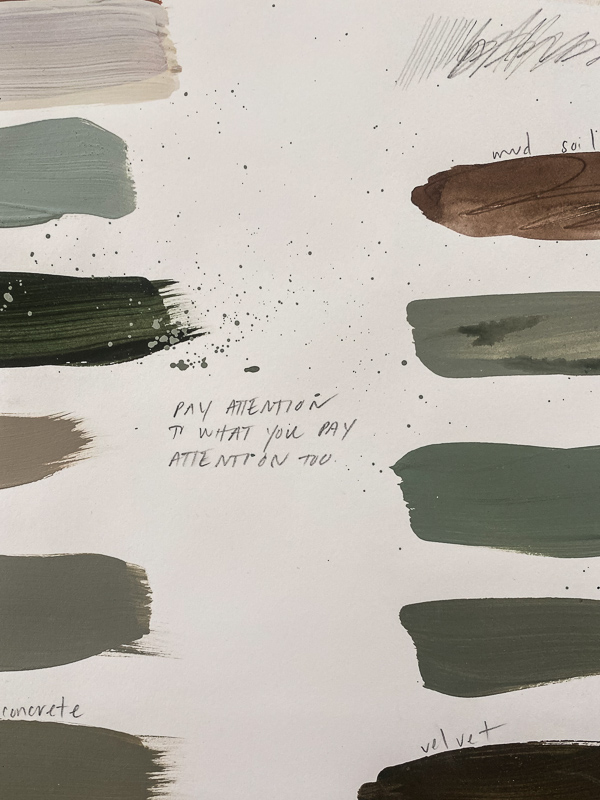 Seeing what inspires her. The beauty in the in-between.
And all of the notes along the way…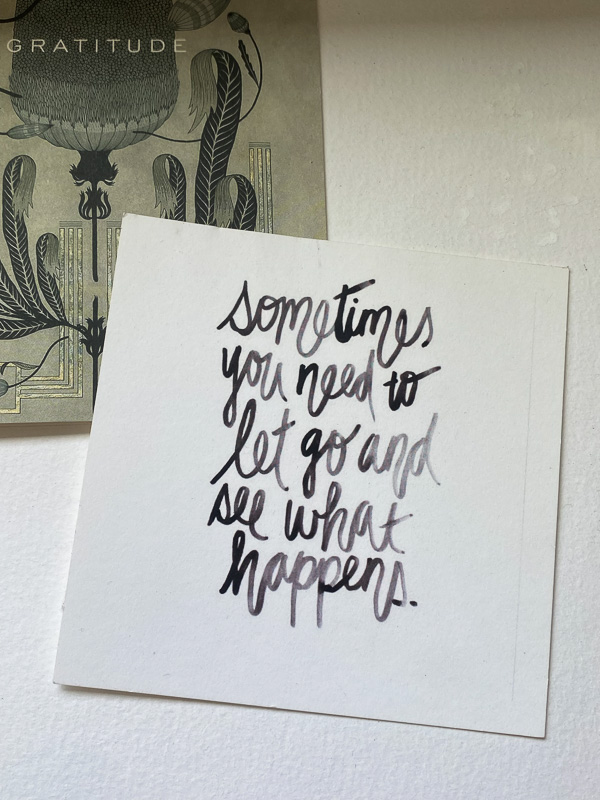 I loved playing with COLOR.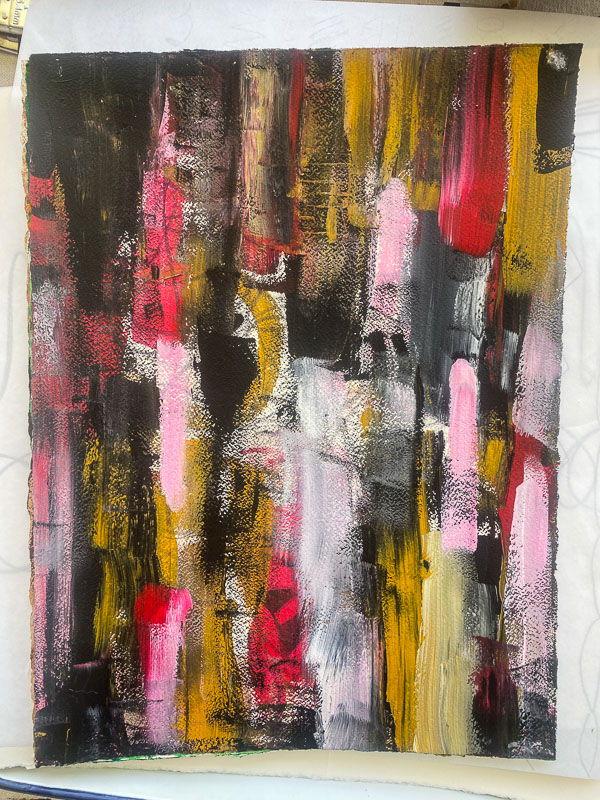 After painting, we had another beautiful lunch.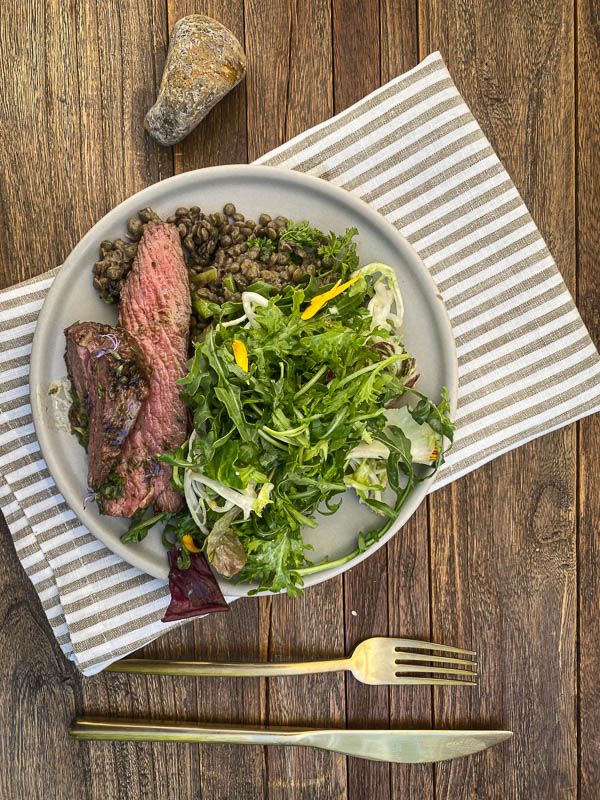 Back to work making our pieces.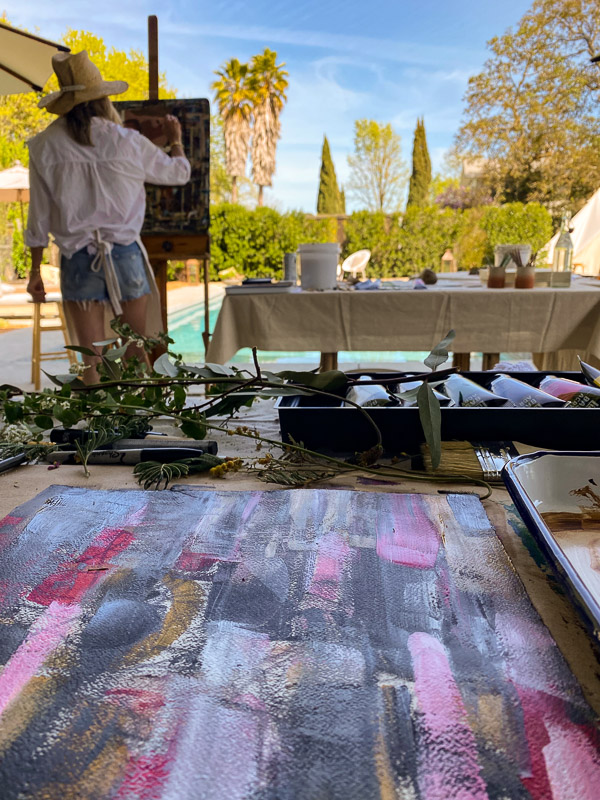 Mine are both layered with messages under each layer.
A nice way to make a magic spell.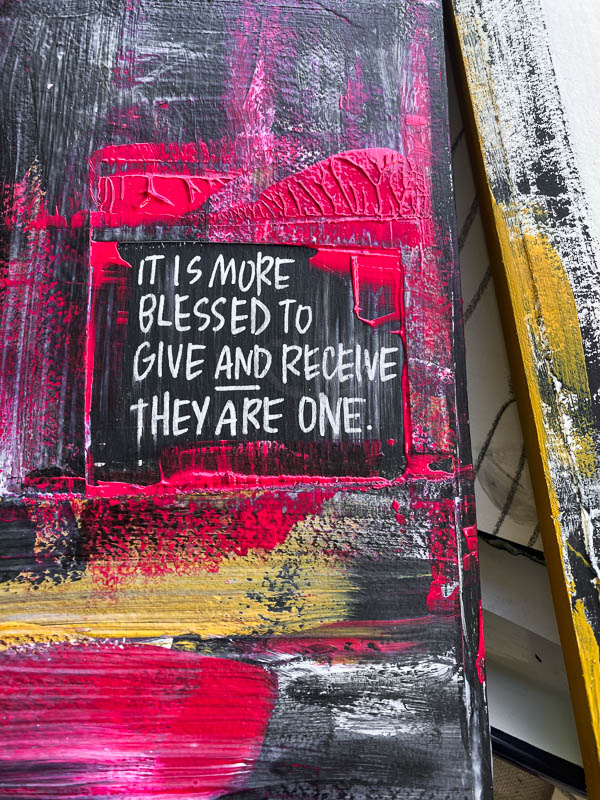 Some things I left up front.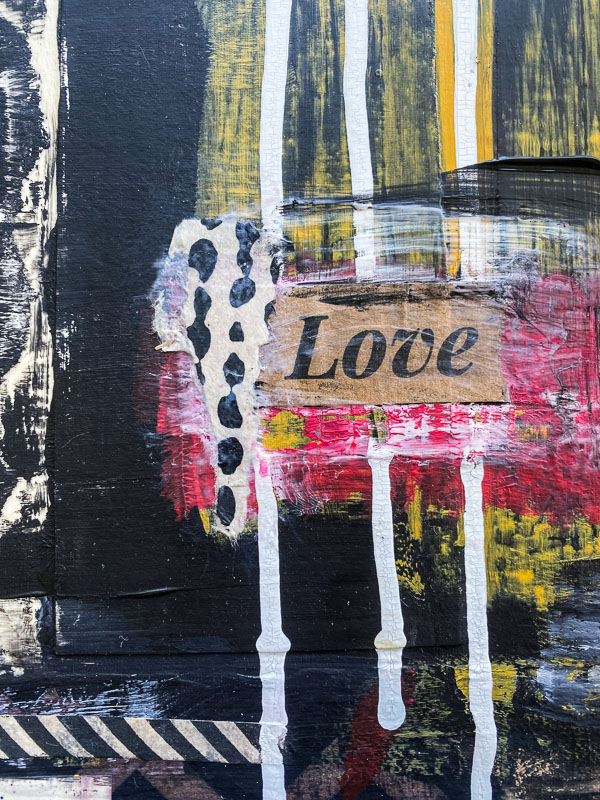 My hands looked like this by the end of the day which to means a JOB WELL DONE.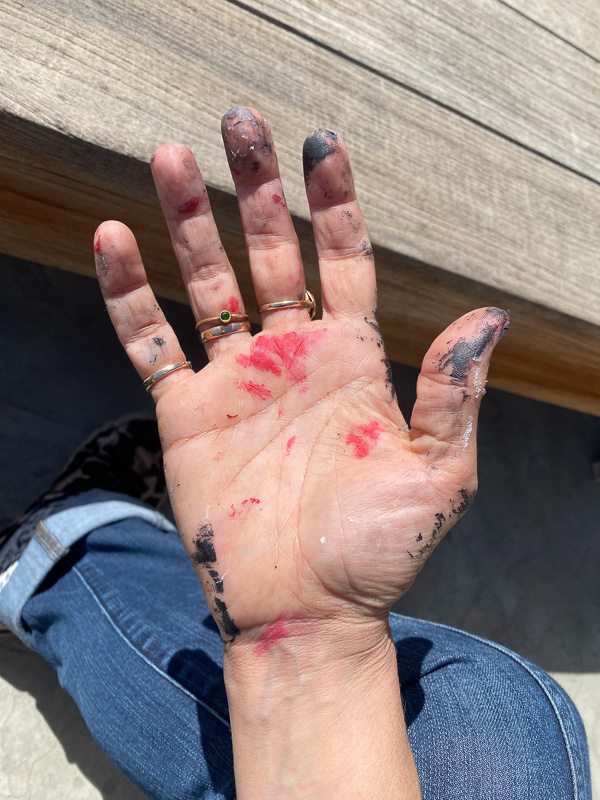 So many things to think about while playing, painting, writing, and meeting new friends.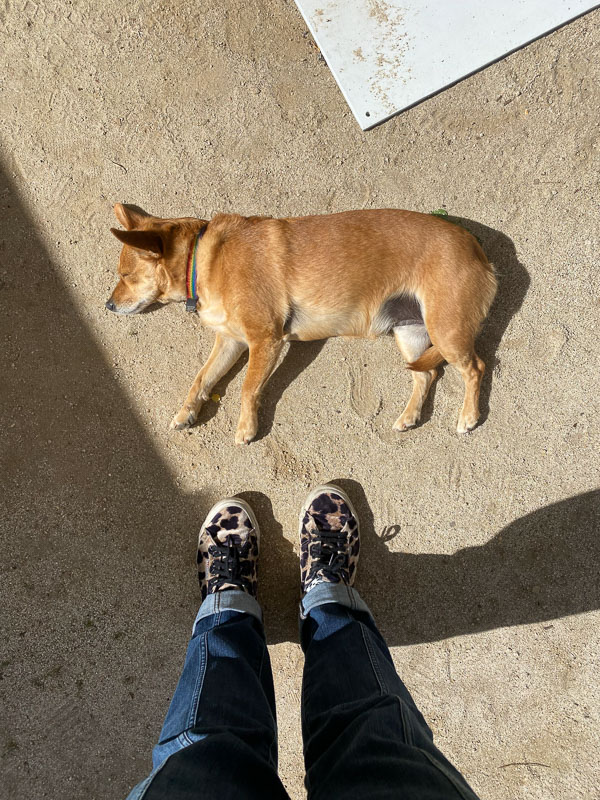 I am so grateful to have experienced all that these two beautiful souls intended to create-
A safe space to meet yourself
where you are,
to check in with yourself
to figure out
who you will become.
With art, writing, and magic too!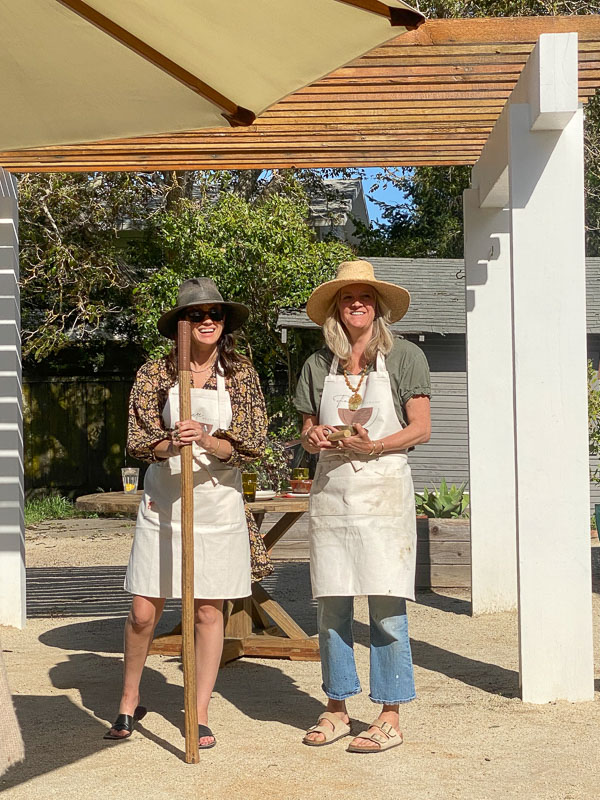 I came home with an amazing gift bag that I was able to carry my treasures home in. This is part of the art I made over the weekend and the floral arrangement I foraged.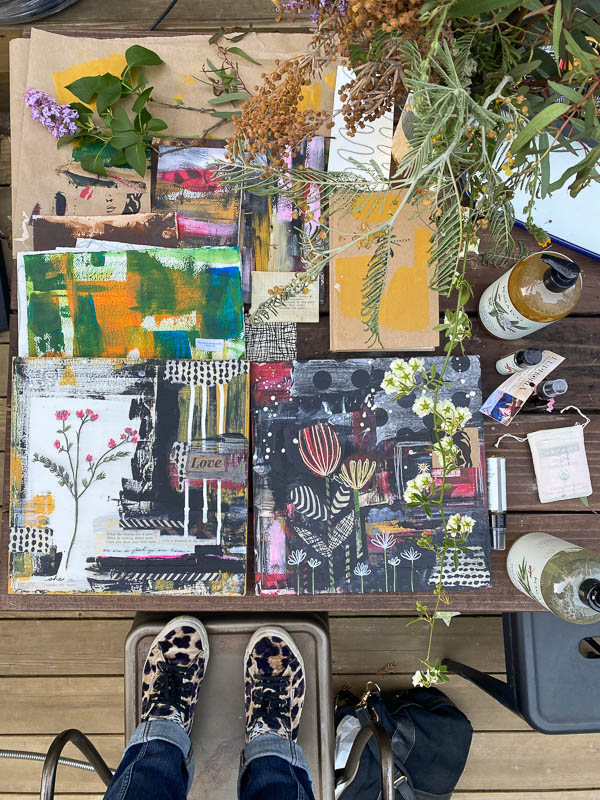 My bouquet!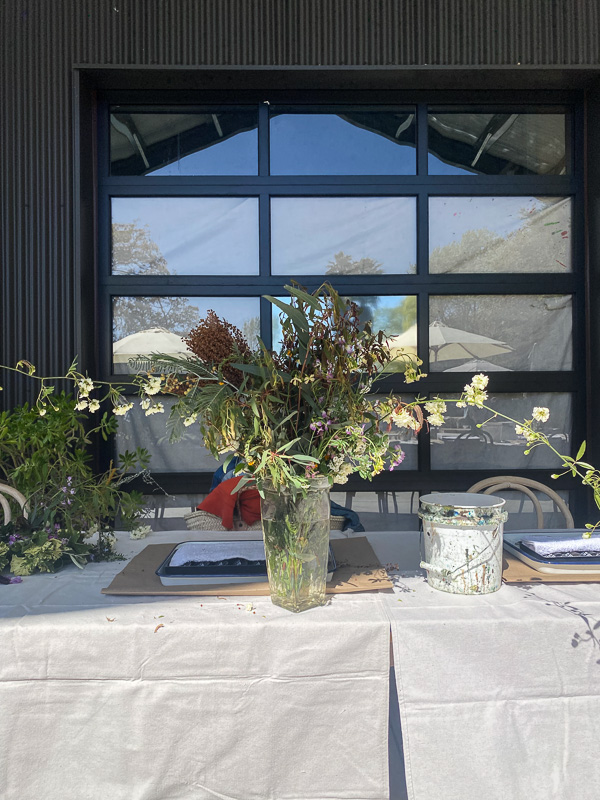 Pages in my notebook from the retreat.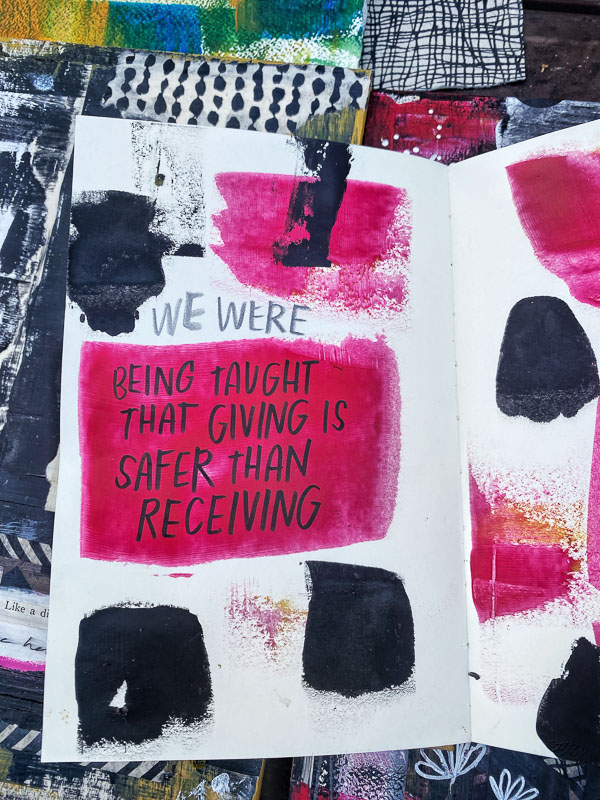 To summarize: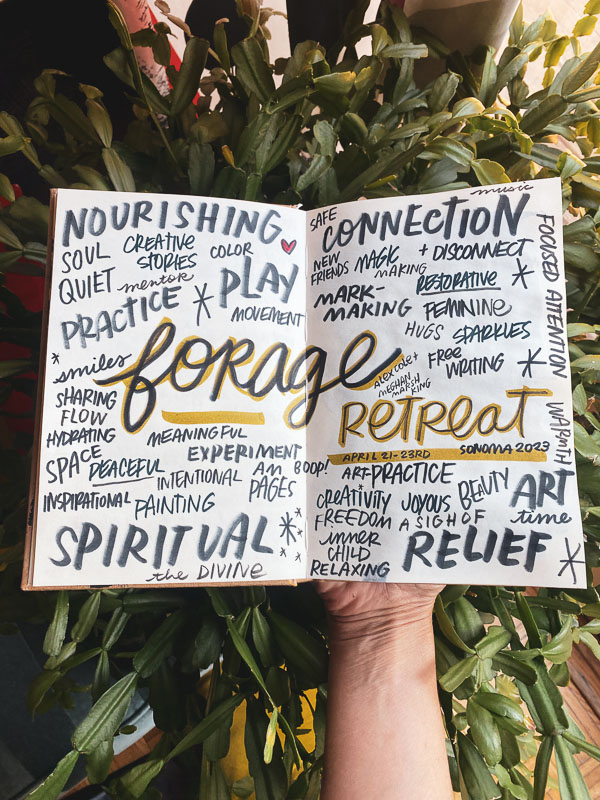 One of my pieces which I think is done.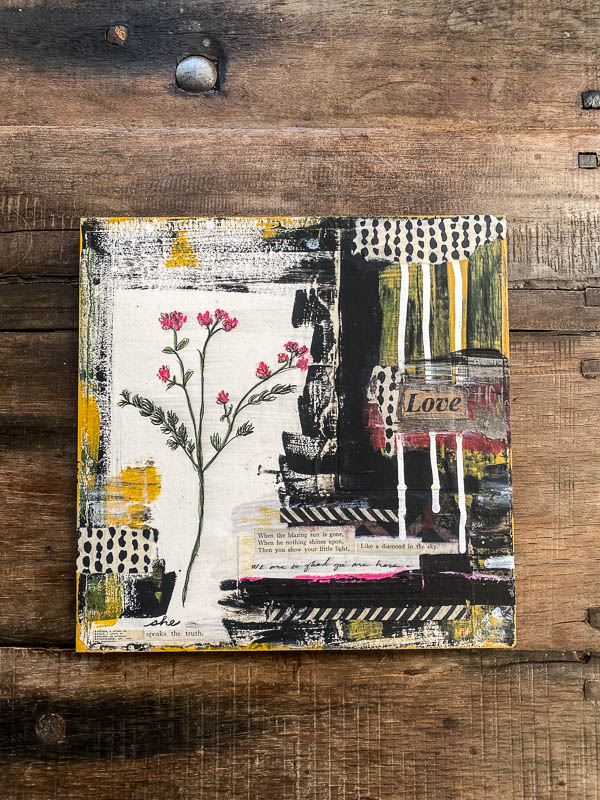 This one I'm still working on:
A video of tiny joys
View this post on Instagram
Thank you for having me, Alex & Meghan. My art practice is INFUSED with your inspiration now.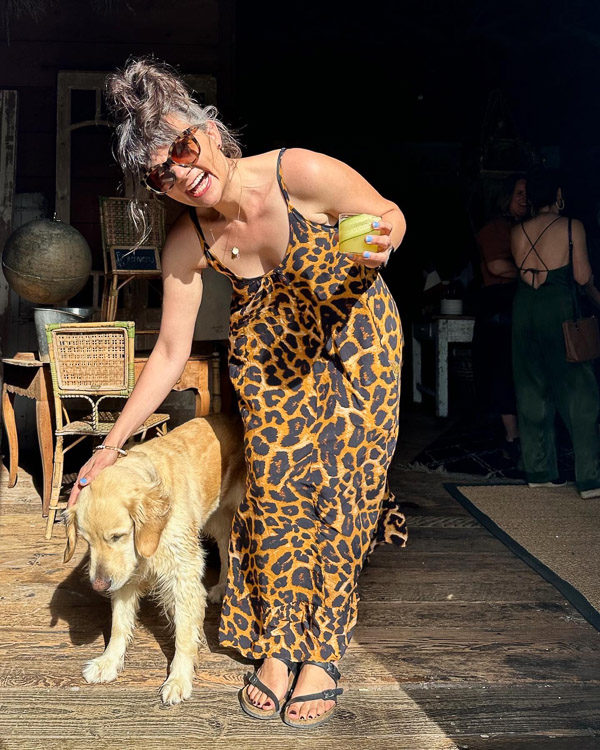 You helped me get my smile back 🙂