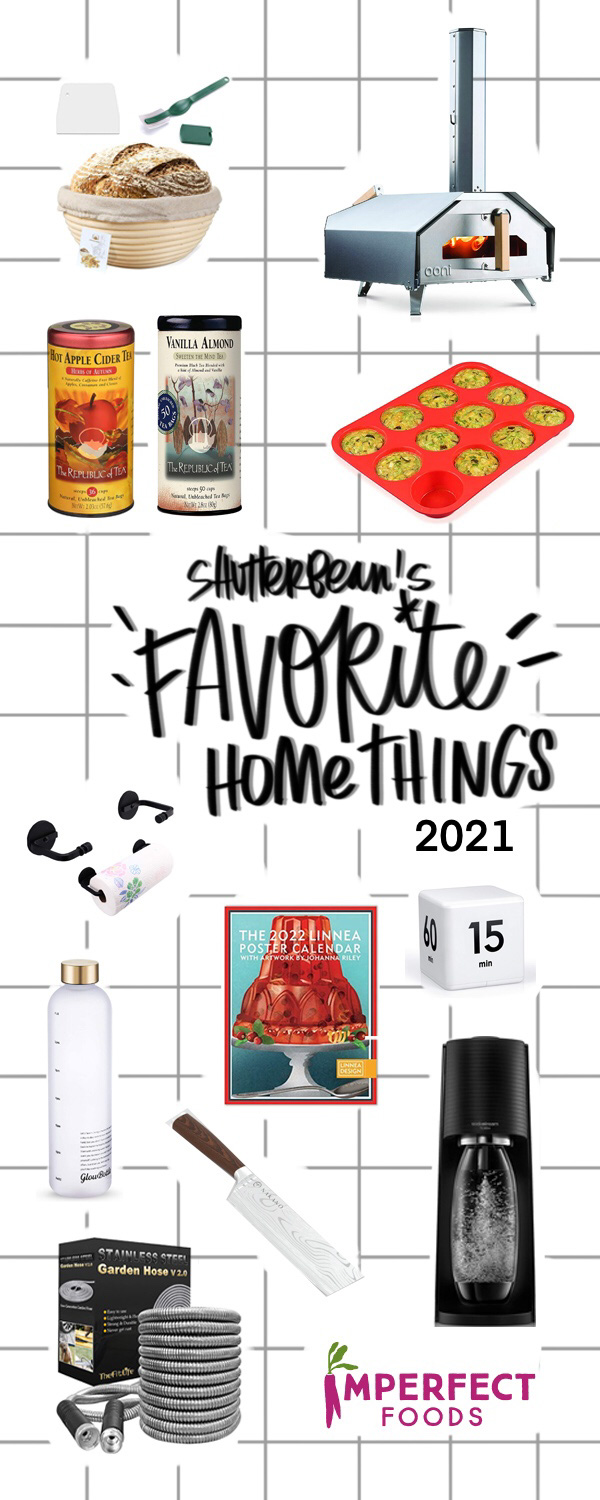 It's time for Shutterbean Favorite Things Gift Guide 2021- Another year, another list of favorites! Everything on the list is something I own/something that's brought value to my life this year. Here are some ways to treat yourself & others:
For the Home:
Bread Proofing Basket– My sourdough bread game got taken up a notch with this bread proofing basket. The bread doesn't stick and I love how it inadvertently creates these pretty rings on my bread because of the shape of the basket. If you have someone in your life who is getting into bread baking, this is a great gift.
Ooni Pro Pizza Oven– This was our Christmas present to ourselves last year. It has been a real blessing. The best part is that it motivated my husband to get really into pizza making and he's really good at it now. HE NOW MAKES DINNER when it's pizza night and that is worth every penny. We haven't ordered pizza delivery since!
Republic of Tea- Hot Apple Cider Tea– Instant apple cider!! I am a big fan.
Republic of Tea Vanilla Almond Tea– You may have seen me love on this tea with my Vanilla Almond Milk Tea concoction! It's my go-to afternoon pick-me-up. It satisfies a sugar craving immediately without having sugar!
Silicone Muffin Pan– If you're ever going to make egg bites and you don't want anything to stick, this silicone muffin pan has been a real game-changer in my kitchen. They pop right out!
Magnetic Paper Towel Roll holder- Our paper towel roll holder took up too much of my limited counter space and I was OVER IT. I did some research and found out that they make magnetic towel roll holders you can put on your fridge and I bought this right away. I love it. I love that it doesn't take up counter space and it's easy to use. Hooray!
Water bottle– If you aren't the greatest at drinking water, this water bottle will help you! There's markers on the side to show you how much water you should have had to drink by a particular time. Fill it up twice every day and you've met your daily water intake. Also, I love the design of it. It looks like glass but isn't!
Mom's favorite calendar– I'm continuing my Mom's tradition by purchasing this calendar every year. She had it in her kitchen and delighted in seeing what the artwork looked like for each month. The print quality is amazing and the colors are so vibrant. I think of her every time I glance at it.
Timer Cube– I bought two of these this year and my productivity shot up! See also: my favorite productivity tools. One sits on my kitchen counter (I use it to time myself cleaning) and the other one sits on my desk so I can employ the Pomodoro technique while I'm working on my computer.
Nakano Nakiri Knife – This knife is a dream to work with! It has helped me immensely throughout the year. It's a meal prep essential! Nakano was nice enough to give my readers a discount if you'd like to order! Use code SHUTTERBEAN for 20% off.
SodaStream– We drink a lot of sparkling water in our house. Even more so when it was pandemic time and we were cutting back on alcohol consumption. The trick to actually using our SodaStream is to keep extra bottles of water filled in our fridge. That way you always have cold water ready to be carbonated at the ready.
Flexible Garden Hose– One of my pet peeves is a hose that tangles. Casey did some research and found this incredible metal hose that has been such a pleasure to use. It never tangles or crimps and it's lightweight and easy to put away. I love it!
Imperfect Foods: I really used this service a lot while we were in lockdown and we couldn't go grocery shopping easily. I still use it because I find their prices very reasonable. I have to place my order before noon on Monday and it gives me a kick in the pants to do some meal planning before the week starts. It makes a great gift for people who have new babies or could use some help around the holidays.