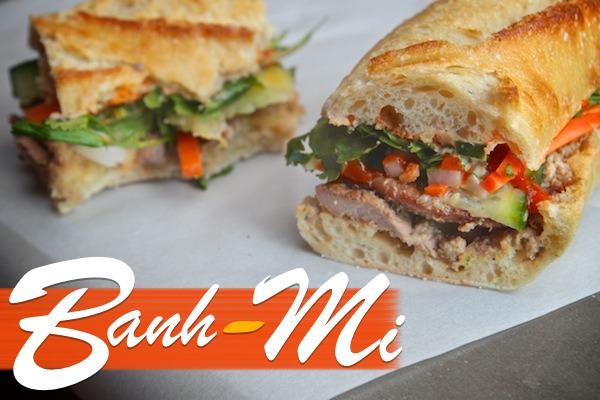 I overheard Casey telling my parents last night during Easter dinner that he had an epic food week (thanks to me). That's exactly what you want to overhear, isn't it? Especially when you pour your heart & soul into feeding others. It's not like he doesn't tell me he loves it when I make food for him, but to hear him tell other people? Well, that's just awesome. During this "epic" food week, I made a version of Greek salad that had tabouleh mixed in, summer rolls from scratch, some of the crispiest potatoes ever  with grilled lamb for Easter and his most favorite food ever—Banh-Mi. Whew! Epic!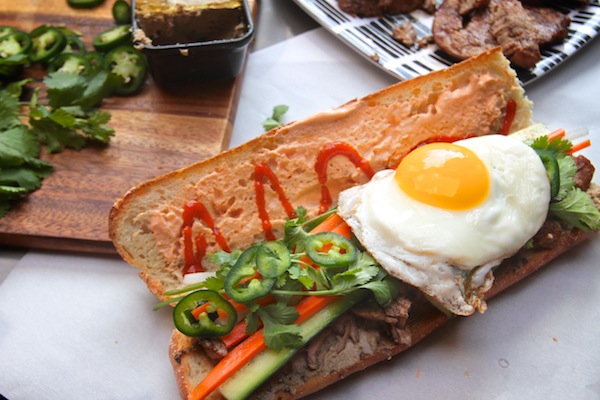 I've never made Banh-Mi before. I've always wanted to but it seemed kind of out of reach. We usually go out for Banh-Mi because it's pretty reasonable, but the last time we went out they tried to charge us $8 per sandwich. I don't think so!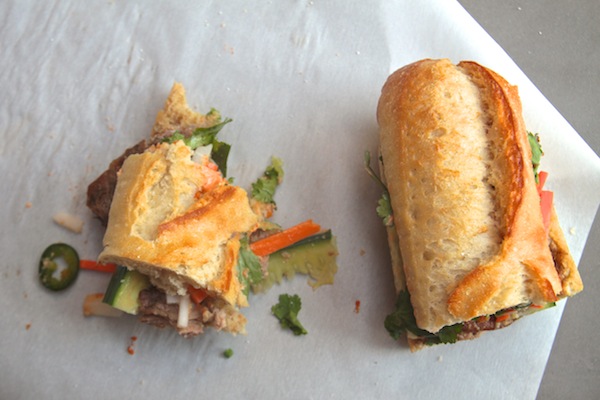 What was stopping me?  First of all, I felt like I might not be able to match all the sandwiches my husband has devoured in the last 6 years. I also thought that grilling pork would be hard (it's NOT). I was super concerned about getting the bread right (the bread worked, but now I think I have a better source!). Pickling my own veggies seemed laborious (so super duper easy and daikon is at my local Whole Foods). I was also worried that what I made wouldn't be super authentic (who cares when it tastes soo dang good & just like the Bahn-Mi we get out to eat?!)  All the issues were just in my head because this recipe is a snap!
The only problem is…I think I set the bar even higher when it comes to home cooked meals. Oof!
And we're off!
It all starts with the marinade. The flavor is FANTASTIC.
Sidenote: I'm totally going to make this pork over & over again. It's so good.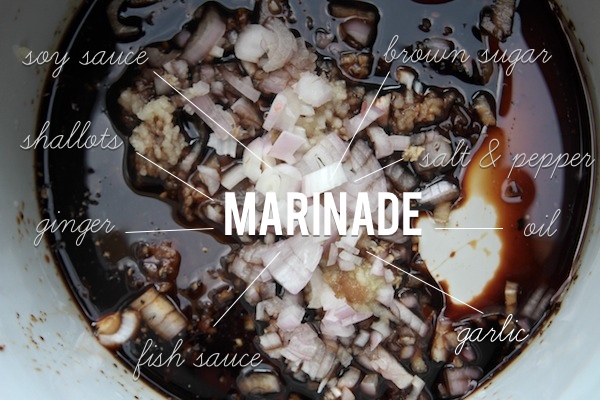 Slice up the pork tenderloin and evenly coat in the marinade. Let it sit for 30 minutes.
The key to an authentic Banh-Mi is the pickled vegetables. Carrots & Daikon.
Daikon tastes a lot like a radish mixed with jicama.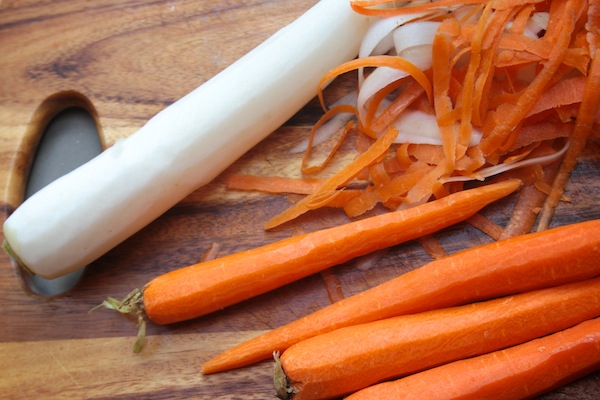 Heat the water/vinegar/salt/sugar in a sauce pan til the sugar dissolves.
Put the julienned carrots & daikon in the pan. Turn off the heat and let it sit until it reaches room temp.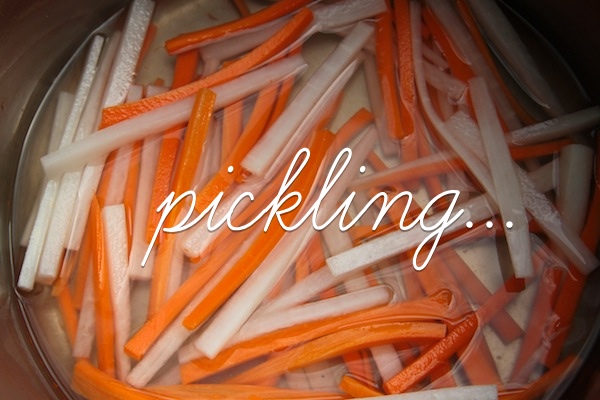 It's all about the assembly line!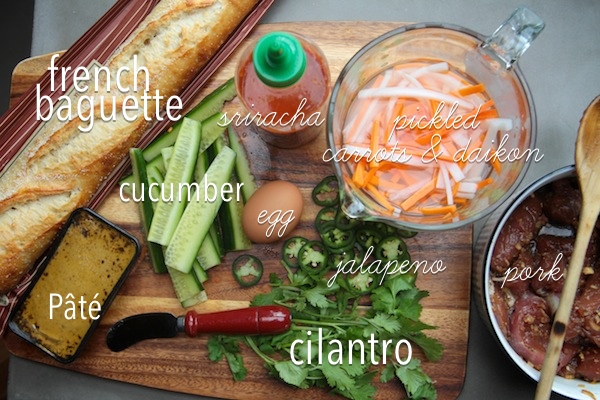 Authentic Banh-Mi includes mayo. We don't have mayo in our house because we don't like mayo.
So I used Greek yogurt with the sriracha sauce for the spicy spread. It worked like a charm!
Heat up your grill or grill pan. Grill the meat!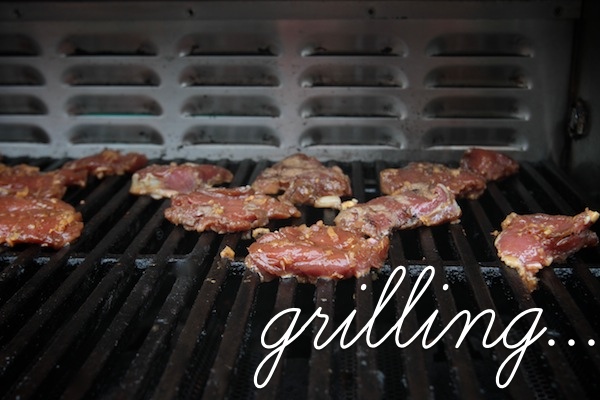 Cut up the bread and get it ready to broil.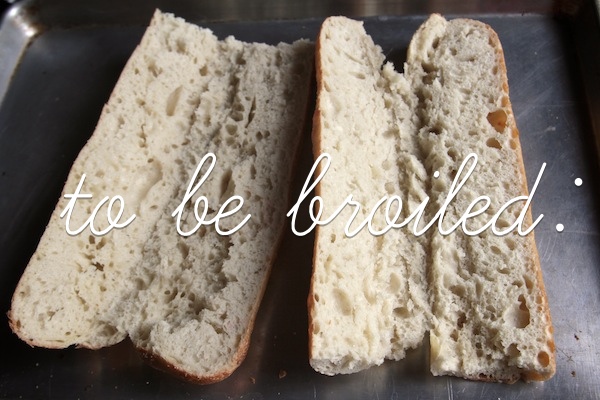 Meat's done. Bread is in the broiler.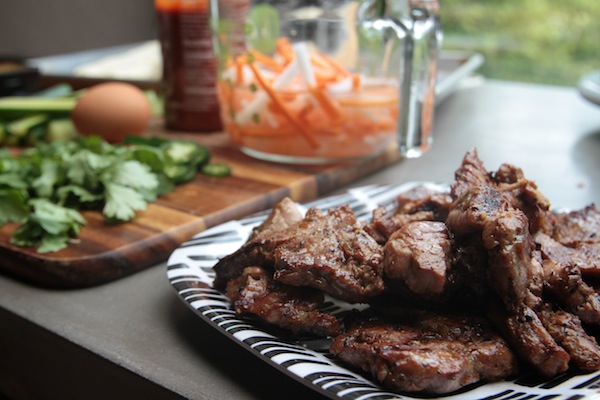 Now let's build one of our sandwiches!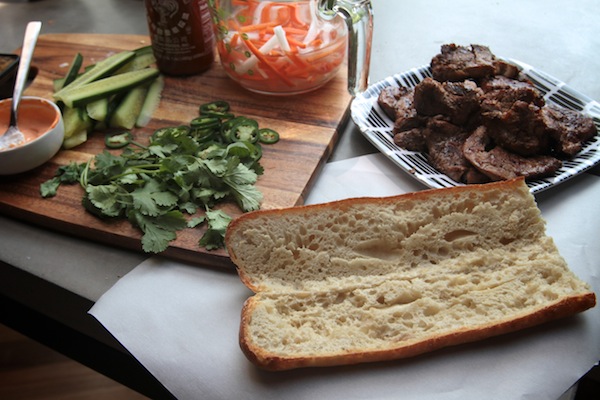 Spread the bottom with pâté & the spicy spread.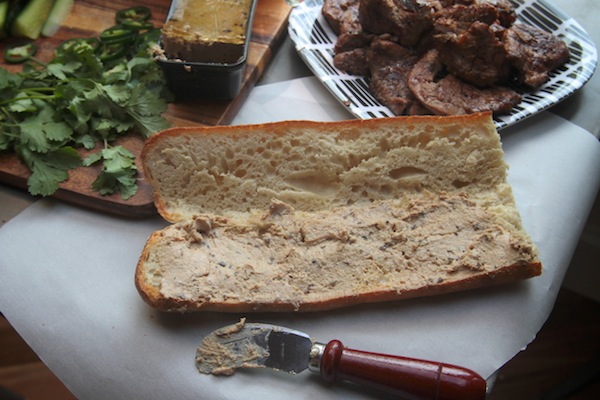 Now add the pork.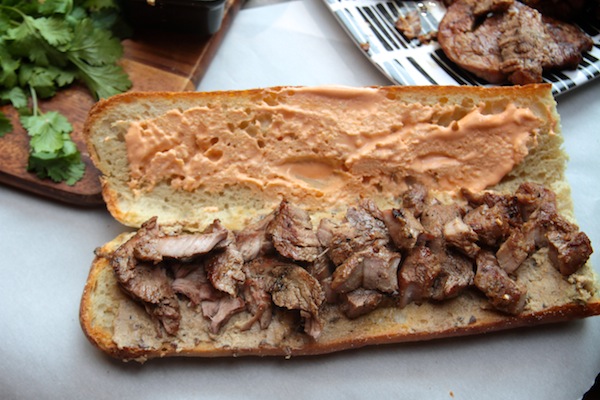 Layer on the cucumbers, pickled vegetables, cilantro…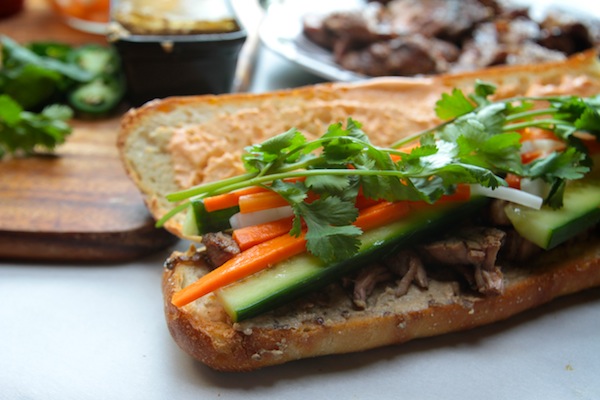 And top with jalapeños.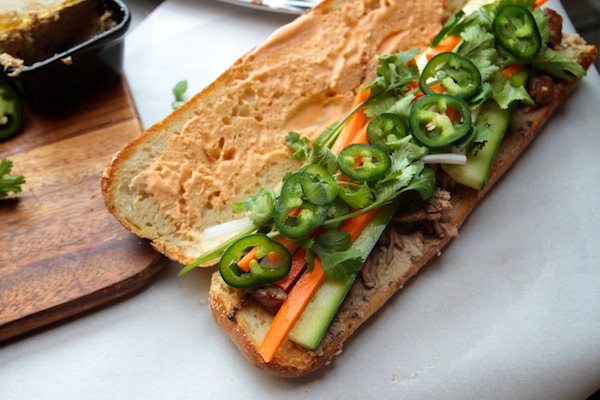 Because my husband loves a fried egg on his Banh-Mi….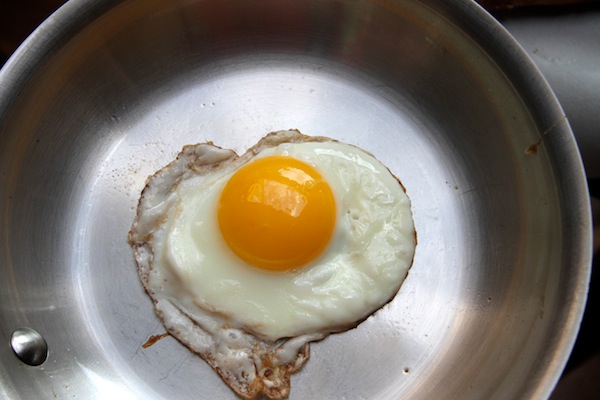 I just had to. If you're wondering how to make a Perfect Fried Egg. Here you go!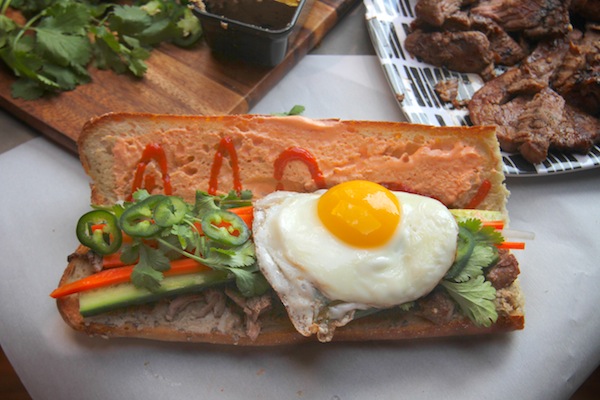 Time to get super excited.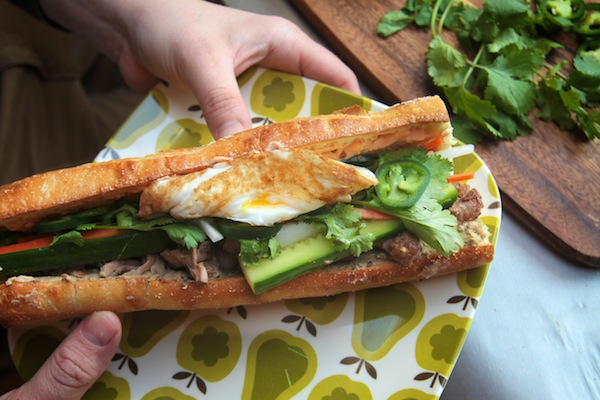 You'd better get in here….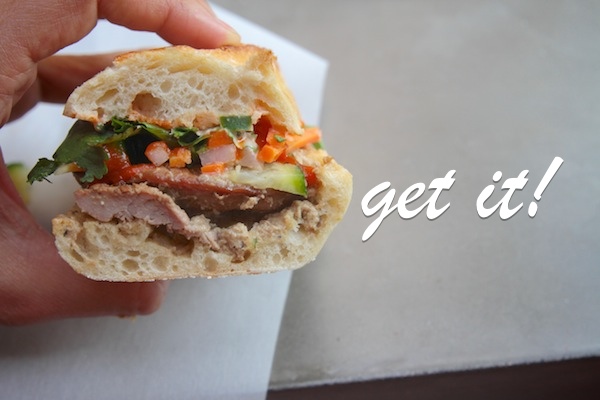 Before I eat your sandwich and this is all that's left.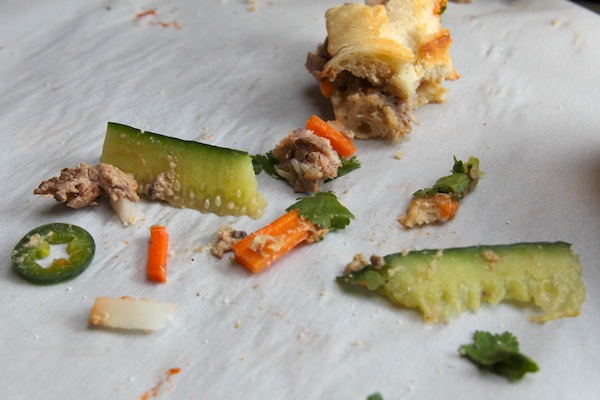 Excuse me while I act like Roomba and inhale the scraps.
Banh-Mi

makes 4-6 servings
recipe slightly adapted from Mad Hungry Cravings

for the pork marinade:

1/4 cup dark soy sauce
2 tablespoons fish sauce
one 2 inch piece of ginger, peeled & minced
3 cloves garlic, minced
1 large shallot, minced
2 tablespoons brown sugar
1/2 teaspoon freshly ground black pepper
3/4 pound pork tenderloin, cut crosswise into 1/2 inch wide pieces

for the pickled vegetables:

3/4 cup white vinegar
1/2 cup water
2 tablespoons sugar
1 teaspoon coarse salt
1 cup julienned carrots
1 cup julienned daikon

for the sandwich:

1 french baguette
1/3 cup Greek yogurt (or mayonnaise)
2 teaspoons sriracha
6 oz. store bought pork pâté, thinly sliced
1/3 English cucumber, cut into 16 spears
10 cilantro sprigs
1 jalapeño, thinly sliced
fried egg (totally optional, yet awesome)

Combine all marinade ingredient in a medium bowl. Add the pork tenderloin, stir to coat evenly and let marinate for 30 minutes.

To make the pickled vegetables, bring the vinegar, water, sugar, and salt to a boil in a small saucepan, stirring to dissolve the sugar. Add the carrots and daikon, remove from the heat and let cool to room temperature.

Preheat grill or grill pan over high heat. Grill the pork, turning once, until meat reaches 140F, about 4 minutes. Remove the pork from grill/grill pan let rest for 5 minutes, and thinly slice.

Preheat the broiler with the rack in the upper third position. Halve the baguette lengthwise. Place cut side up directly on the oven rack and broil until toasted and brown around the edges, 2 minutes. Remove from the oven.

Combine the yogurt (or mayo) and sriracha in a small bowl, then spread evenly across the bottom of the baguette. Top with pâté, pork, cucumber spears, pickled carrots & daikon, cilantro & jalapeños. If you're down with a fried egg, add that too! Close the sandwich, cut into portions & serve.