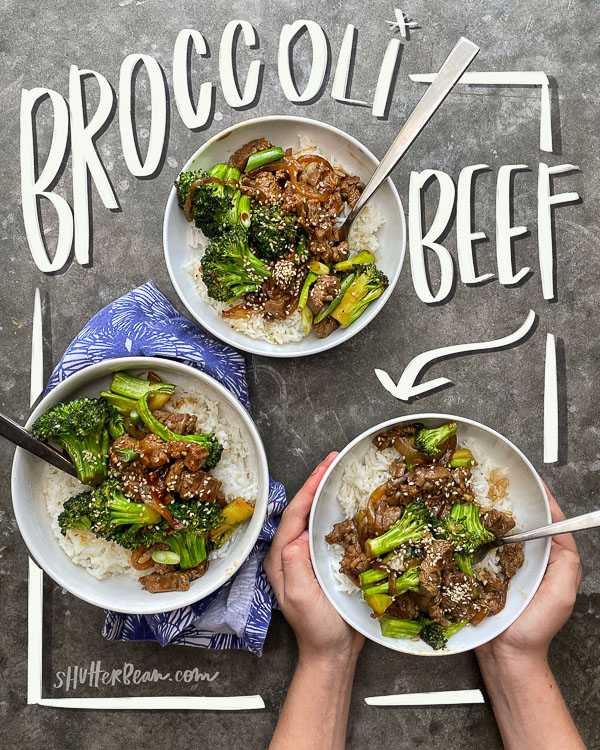 On about day 40 of sheltering in place, I lost my cooking mojo. I found myself in a major food rut. I didn't want to clean anymore and my back hurt. I got caught up in making bread and OH MY GOD THAT GETS MESSY. When I'm in a food rut, making a new recipe can usually pull me out of the funk. But I didn't know how to get groceries regularly and panicked about having enough food (that my family would like). So we all ate a lot of bread until I could find a good way to get food during this pandemic. My friend Gaby's new cookbook – Eat What You Want
arrived last week (around day 55 of sheltering in place) and while I was flipping through I spotted the Broccoli Beef recipe. Oooooh! I had a head of broccoli to use up and some flank steak in the freezer!
Having all of the ingredients to make something new during this time is a special kind of magic.
(look how many recipes I've marked to try in this cookbook! It's my kinda food!)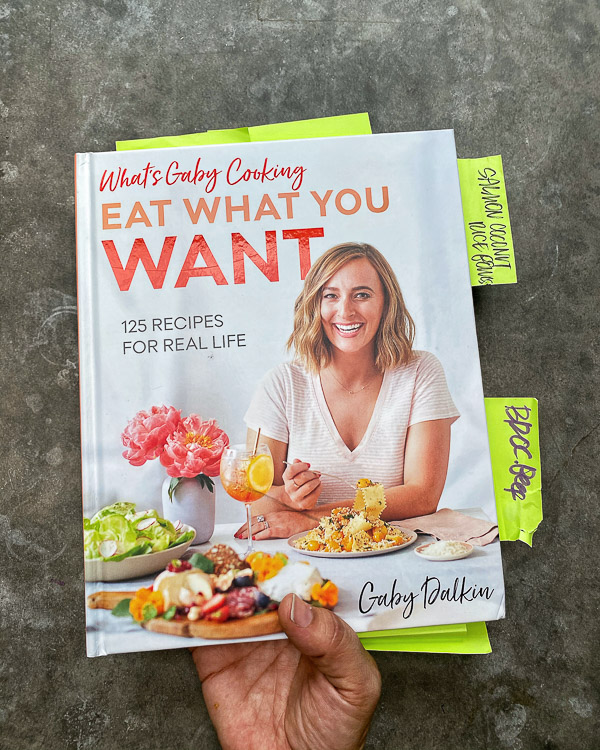 This Broccoli Beef recipe fits the bill for everyone.
I love broccoli.
My boys love meat.
If we combine it with rice, we have a full meal.
IN A BOWL.
Do you know how much I love eating things in bowls?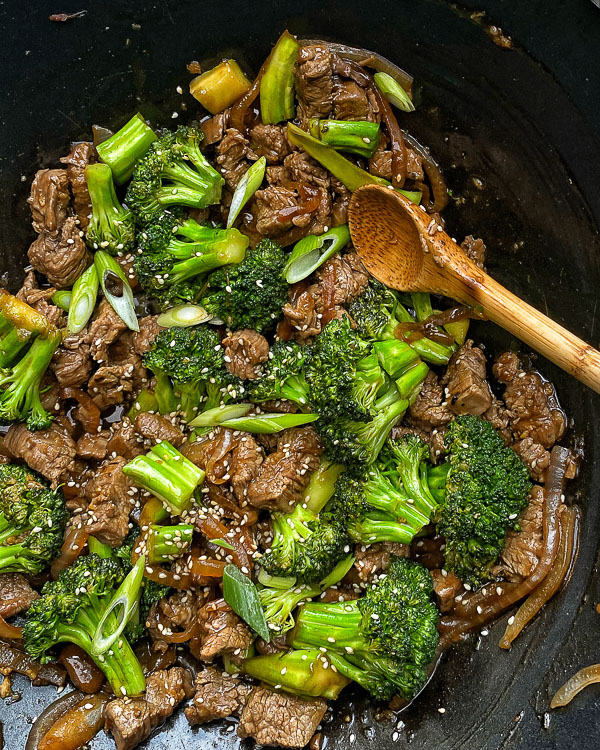 Cooper didn't complain about the onions (YAY), Casey had seconds and we saved a portion for me to use in fried rice the following day. The sauce is gingery and slightly sweet. I love how the onions melt in the dish. It really did taste like we ordered takeout! Welcome to the meal rotation, Broccoli Beef. The Benjamin Family is happy to have you cuz WE ALL EAT BROCCOLI AND THAT IS GREAT.
Ingredients are: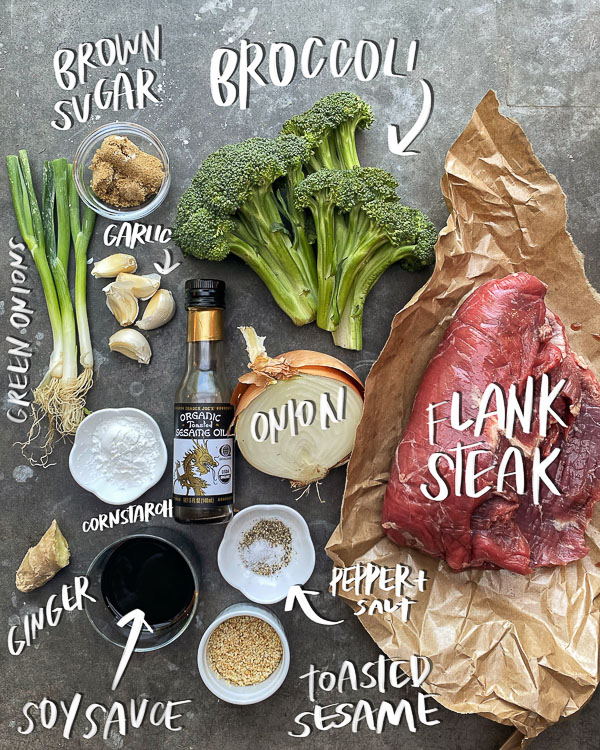 Delicious sauce! I doubled the ginger from the original recipe because we love ginger here!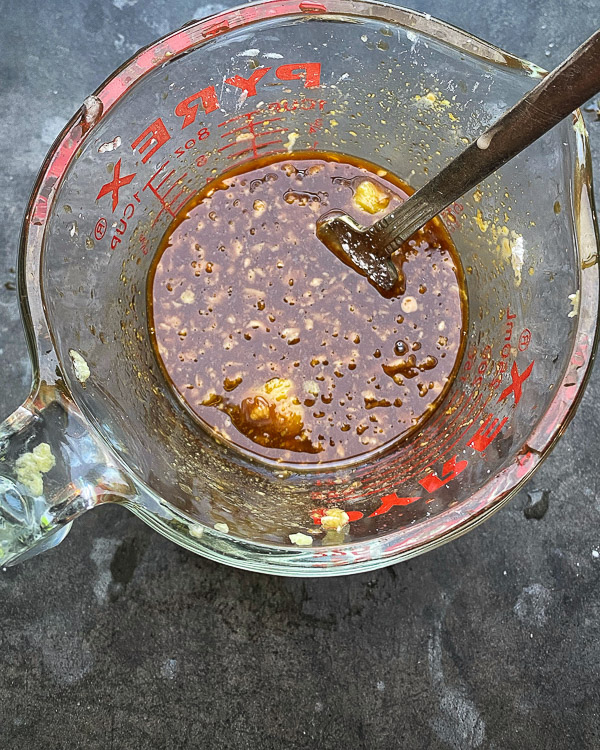 Cut up meat. Cook in sesame oil.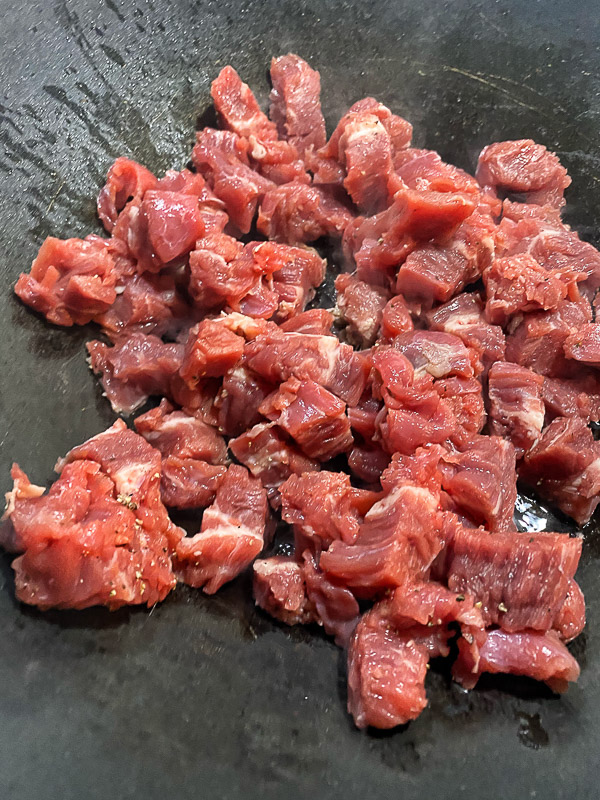 Cook all the way and set aside.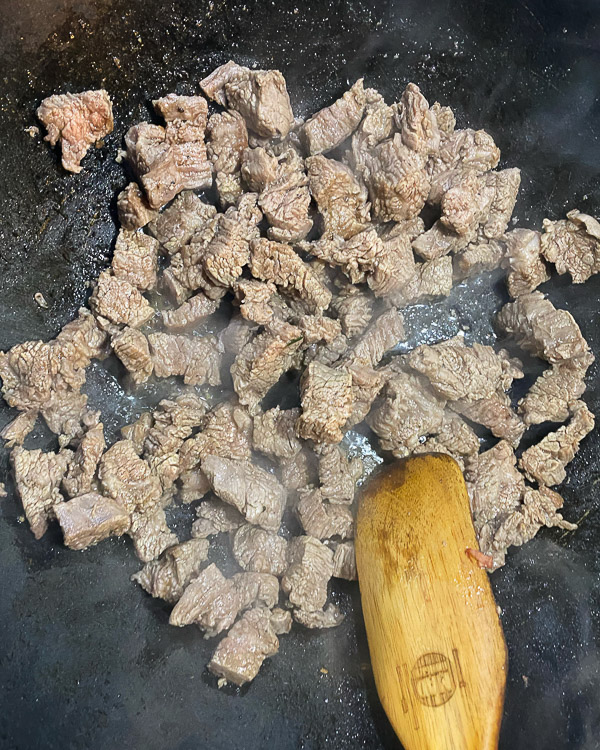 Add in the onions.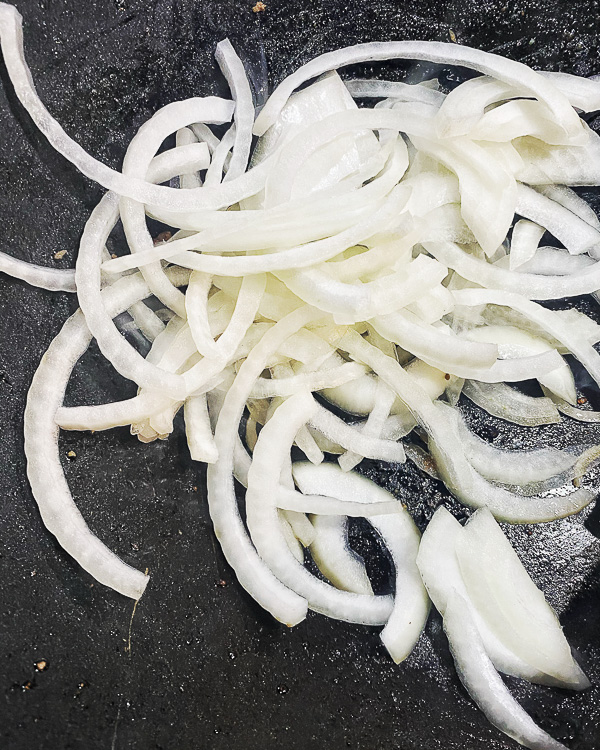 My Mom used to make something similar but with no broccoli. It totally gave me a flashback when I smelled the beef and onions together.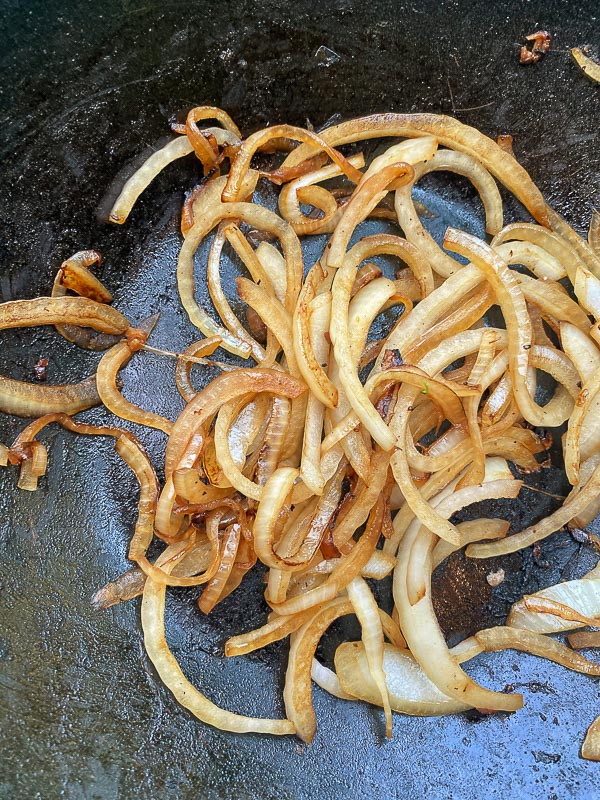 Blanched broccoli goes in.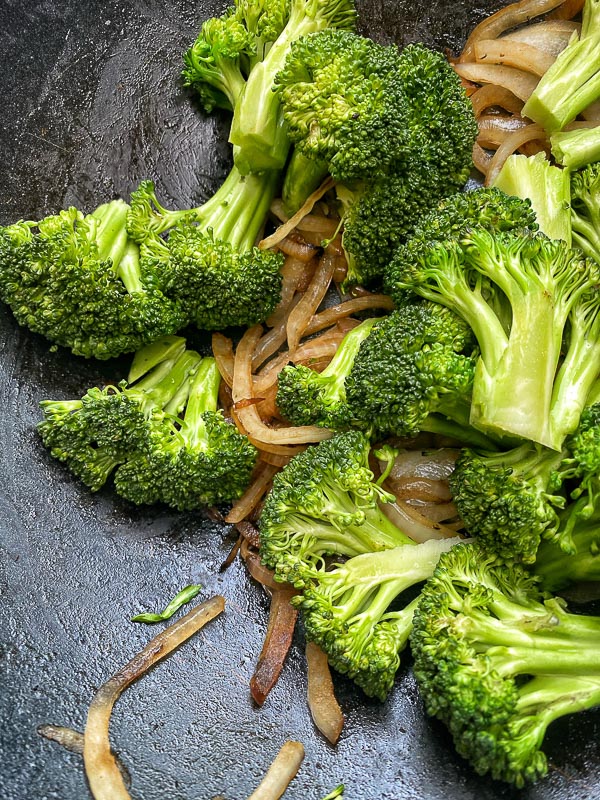 The delicious sauce goes in.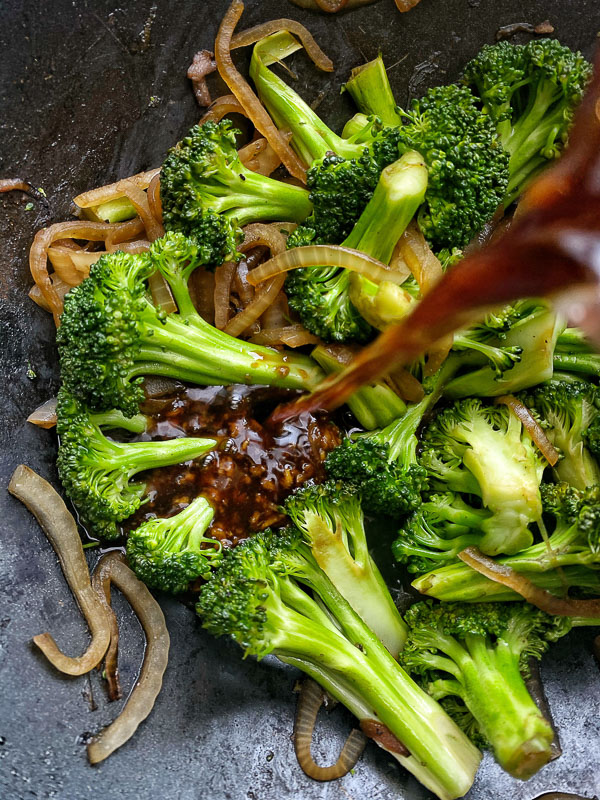 Meat goes back in.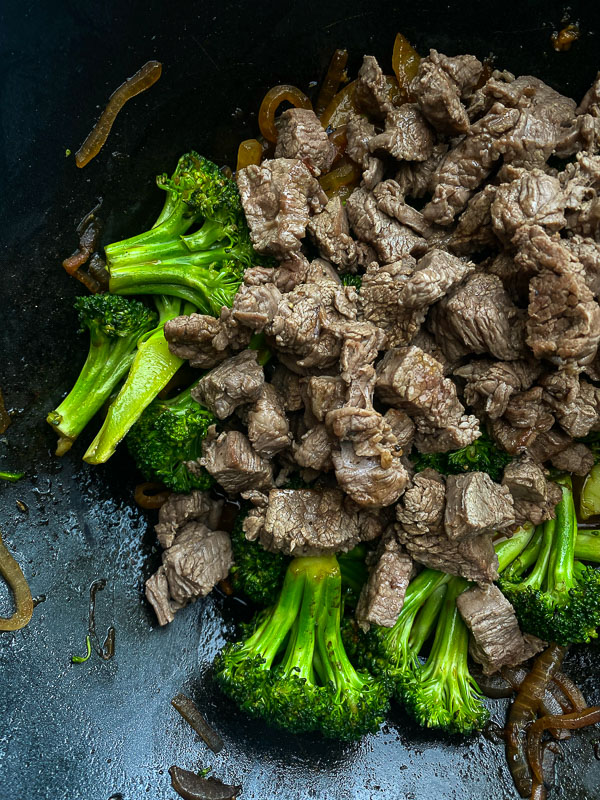 Stir stir stir. Top with sesame seeds and scallions.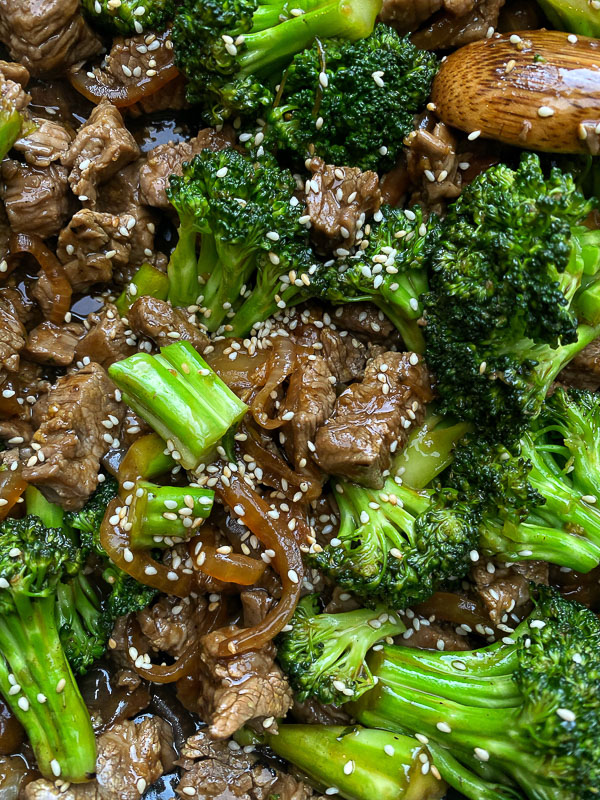 Serve up in bowls!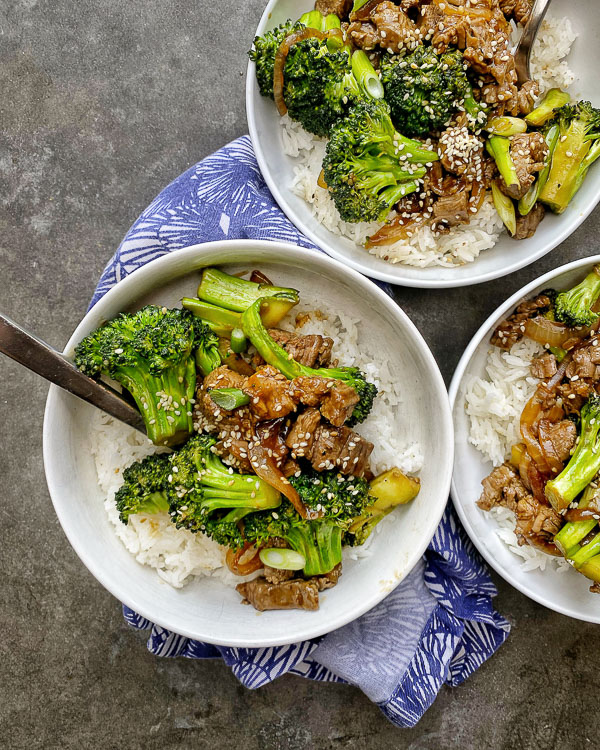 Three bears dinner!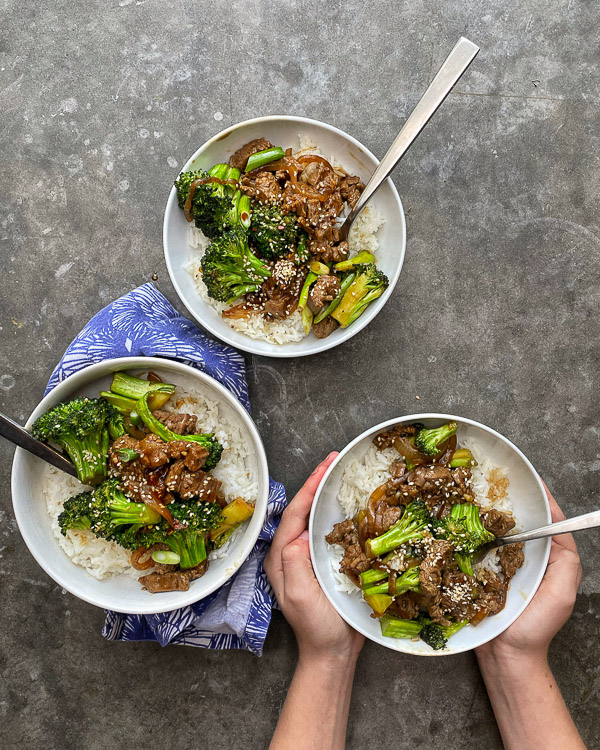 I go heavy on the broccoli on my portion.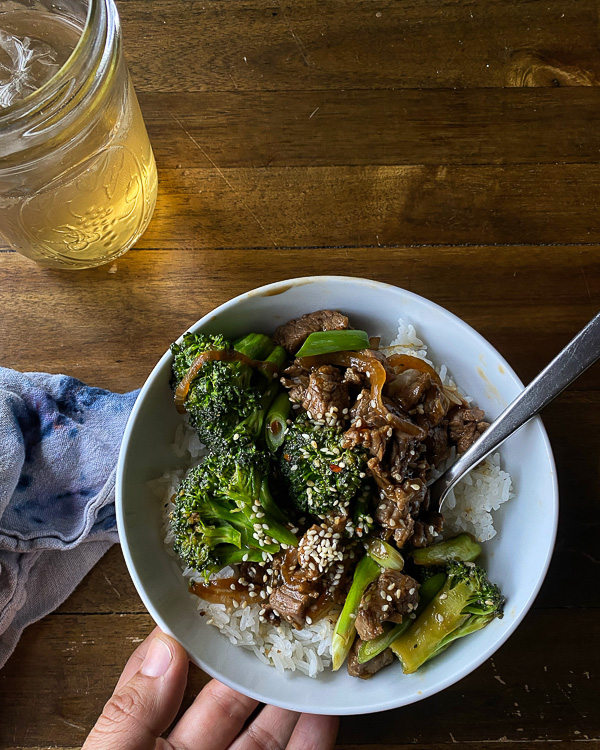 I saved the 4th helping for leftovers and used them to help fortify our fried rice!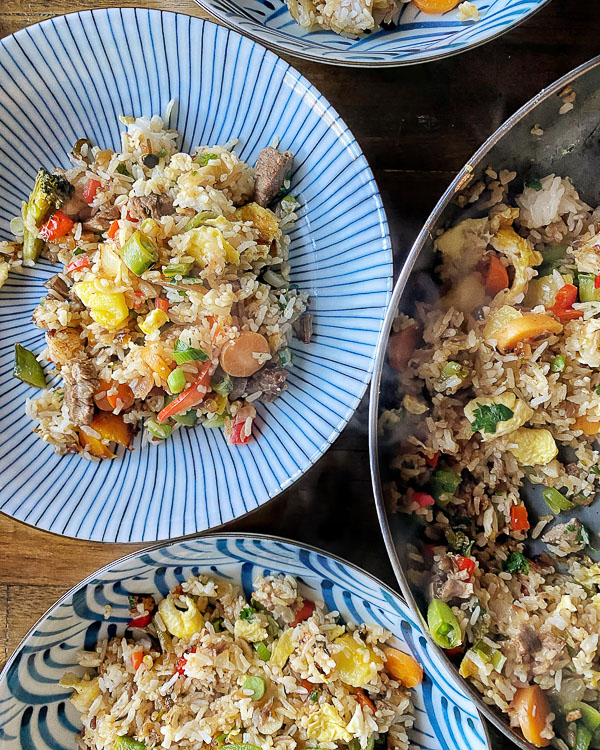 Next, I'm going to make Gaby's Texas Sheet Cake from Eat What You Want
because we deserve DESSERT.
If you have broccoli to use up, might I suggest these recipes?
Broccoli Beef

recipe serves 4

recipe slightly adapted from Eat What You Want

1 pound flank steak, cut into 1-inch cubes
1/2 teaspoon kosher salt
1/2 teaspoon pepper
1/4 cup soy sauce
3 tablespoons brown sugar
5 cloves of garlic, minced
1- 2 inch piece fresh ginger, peeled and grated
1 tablespoon cornstarch
3 tablespoons sesame oil
1/2 yellow onion, thinly sliced
1 large head broccoli, cut into florets and blanched
1 tablespoon toasted sesame seeds
3 scallions, sliced on the bias

Season the beef with the salt and pepper. In a small bowl, whisk together the soy sauce, brown sugar, garlic, ginger, and cornstarch. Set aside.

In a large skillet over medium-high heat, warm 2 tablespoons of the sesame oil until just smoking. Add the beef and cook stirring occasionally, until the meat is just about cooked through. Transfer to a plate and set aside. Add the remaining 1 tablespoon of oil to the skillet, then add the onions and cook until they are softened, about 8 minutes. Add the blanched and drained broccoli and cook for 1 minute. Then add the reserved garlic sauce and stir to coat. Return the beef to the skillet and continue to cook until the beef is cooked through and the sauce has reduced slightly, about 3 minutes more. Spoon over rice, sprinkle with sesame seeds and scallions to garnish.