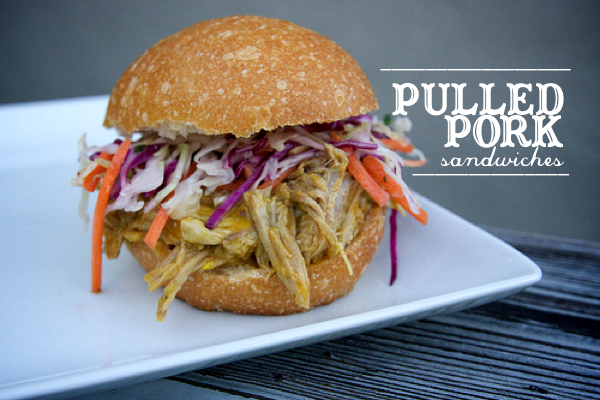 Vegans & vegetarians please divert your eyes. In fact, you might as well skip this post since it's all about meat. There's a lovely shot of coleslaw though!  And that recipe is pretty awesome!
I don't really eat much meat anymore. It adds a huge weight to our grocery bill so I've been supplementing with beans and the like. Every now and then I get a craving for meat so I give in; this always makes the boys I feed SUPER happy.
I've never been a huge pork lover. I do like bacon and sausage and that's usually where I draw the line. You'll never see me eating a pork chop or pork tenderloin, which my mom graciously calls "donkey dick." Perhaps that's why I stay away? However, in the past two years I've been enjoying pulled pork. There's just something about fork tender meat that falls right off the bone. Drench it in some BBQ sauce and we're totally best friends!
After making this recipe I am totally ready to dive into more braising/pork adventures. Can you believe I was kind of scared to do so? Pulled pork has been on my TO DO list for a two years now.  I was too worried about screwing it up. My father once told my brother "If you overcook that meat, I will never forgive you."  True story.
The results were so stellar that my husband begged me to make this for us at least once a week. While eating leftovers he said "I could eat this entire pot full." I would say that is a good indicator that it was a hit. And yes, I felt quite proud.
Pork shoulder is pretty inexpensive too. A 4-5lb. slab makes A LOT of meat and it cost us less than 10 dollars. We were able to get at least 5 meals out of it with some leftovers for the freezer.  I used half of the meat for our pulled pork sandwiches (with a lot leftover) and the next night I added some red wine to the braising liquid & veggies and made a stew. I served it over polenta and it was unreal.
Let's get started!
Gather the ingredients to make your dry rub for the pork shoulder.
Rub it in thoroughly and let the meat sit for 30 mins.
You want to brown the meat on all sides and then put it aside.
Gather your braising liquids & veggies!
Put the veggies in the pot and then add the canned tomatoes & beer.
Let it simmer for a bit.
Add the meat back to the pot, and pop it in the oven for next 3 hours.
You'll want to gather your ingredients for the BBQ sauce and get started on that. It's easy, just simmer it together.
The meat comes out of the oven like this.  Holy toledo!
I took half of the meat and used it for the pulled pork sandwiches.
I tossed it with a bunch of the bbq sauce and let it soak in for a bit.
I made a batch of Carnival Slaw to put in the sandwiches and to serve alongside.
I put a huge scoop of the pulled pork on a sourdough roll and the rest is history.
So with this recipe, you just do a little prep and then you have 3 + hours to clean the tornado that went through your kitchen in the process. If I can handle it, you can too!
The cider vinegar sauce is delightfully tangy! I think you'll like it!
Shredded Pork Shoulder

(recipe via thekitchn.com)
4 to 5 pound pork shoulder, bone-in
1 tablespoon brown sugar
2 teaspoons cumin
1 1/2 teaspoons paprika (I used smoked!)
1/2 tablespoon salt
1 teaspoon pepper
1 tablespoon olive oil
2 medium yellow onions, peeled and cut into wedges
3 medium carrots, peeled and cut into large chunks
4 cloves of garlic, peeled
1 14-ounce can diced tomatoes
1 12-ounce beer (we used New Castle cuz that's all we had around)
Preheat the oven to 325 degrees.
Trim the pork shoulder of any thick layers of fat. Combine the brown sugar, cumin, paprika, salt, and pepper in a small bowl. Rub the pork with the spice mixture, getting into crevices and on the sides. Allow the pork to sit for about 30 minutes.
Heat the olive oil in a large dutch oven over medium-high heat. Brown the pork on all sides, about 3 minutes per side. Remove from the pot. Add the onions, carrots, garlic, tomatoes, and beer. Bring to a simmer, scraping the bottom of the pot with a wooden spoon to bring up any browned bits.
Return the pork to the pot. Cover and put in the oven for 3 1/2 to 4 hours, checking once or twice, until the meat is extremely tender and pulls away from the bone easily. Shred the pork in the pot, using tongs to separate the meat from the fat.
Cider Vinegar Barbecue Sauce:
(recipe from Tyler Florence/ Food Network)
1 1/2 cups cider vinegar
1 cup yellow or brown mustard
1/2 cup ketchup
1/3 cup packed brown sugar
2 garlic cloves, smashed
1 teaspoon salt
1 teaspoon cayenne
1/2 teaspoon freshly ground black pepper
To make the barbecue sauce: combine the vinegar, mustard, ketchup, brown sugar, garlic, salt, cayenne, and black pepper in a saucepan over medium heat. Simmer gently, stirring, for 10 minutes until the sugar dissolves.
Remove the pork roast from the oven and transfer to a large platter. Allow the meat to rest for about 10 minutes. While still warm, take 2 forks and "pull" the meat to form shreds. Using 2 forks, shred the pork by steadying the meat with 1 fork and pulling it away with the other. Put the shredded pork in a bowl. Pour 1/2 of the sauce on the shredded pork and mix well to coat.
***This means that you will have extra sauce!***