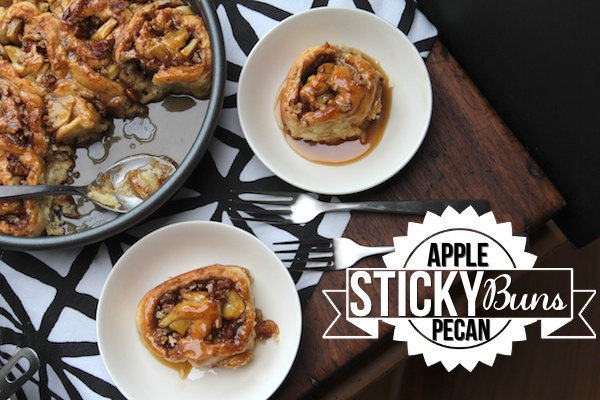 These Apple-Pecan Sticky Buns are the exact reason why I'm sitting here drinking vegetable juice right now. You see…I simply could not control myself. I ate half of the pan before they cooled.
When I regained consciousness I packed them up and left them with my friend.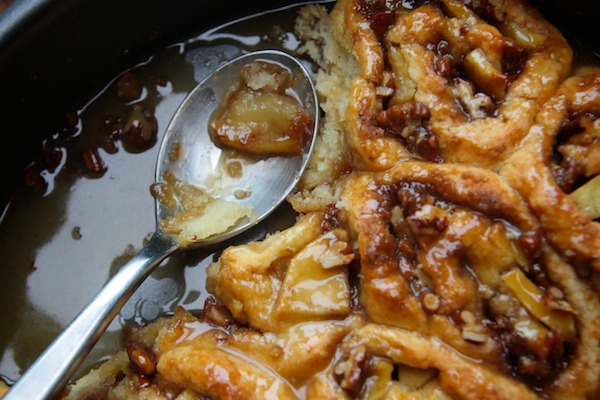 Ooey gooey carbs are mixed with crunchy pecans and sweet cinnamony apples in this seasonal treat. It's what dreams are made of, I'm sure.
You can see why I almost pulled a Miranda and doused them in dishwasher soap.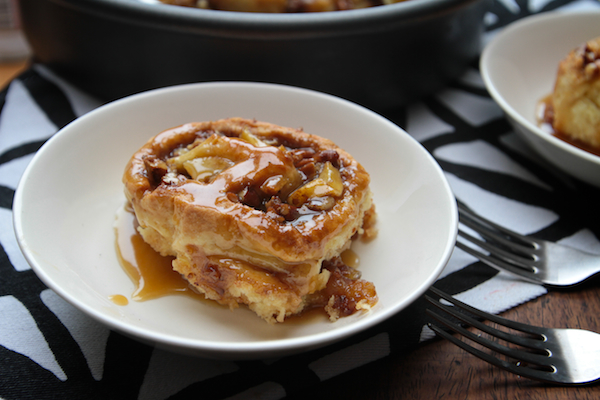 But that would be wasteful…so I just made the Apple Pecan Sticky Buns become someone else's problem.
That's what friends are for.
And we're off!
It all starts with peeling & slicing up apples. We're going to bake them first.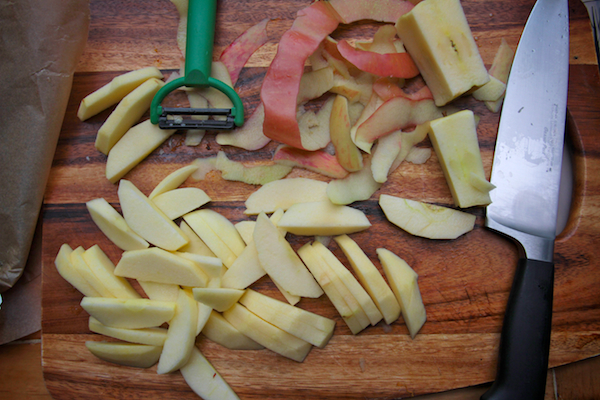 They go on a parchment lined baking sheet with butter & brown sugar. BAKE.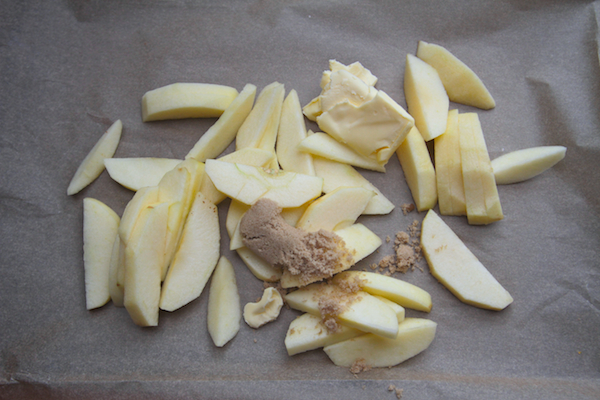 We need to make dough, glaze & pecan topping with these ingredients.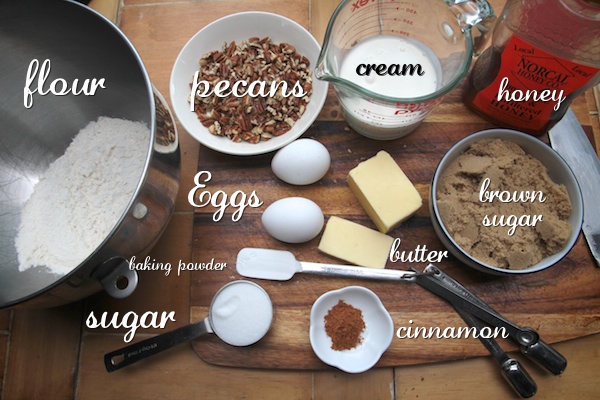 Dough first! In a stand mixer mix the sugar, baking powder, flour & butter together.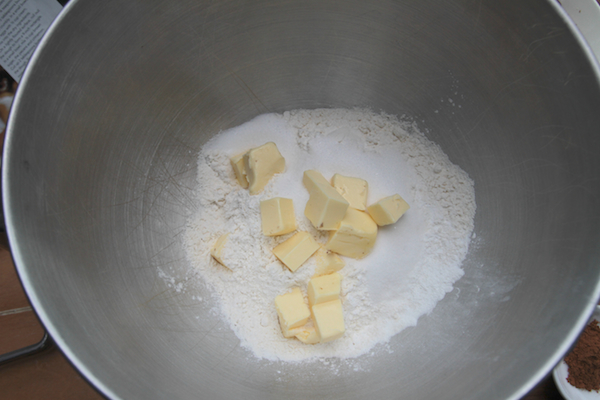 In a measuring cup, whisk half of the cream with the eggs.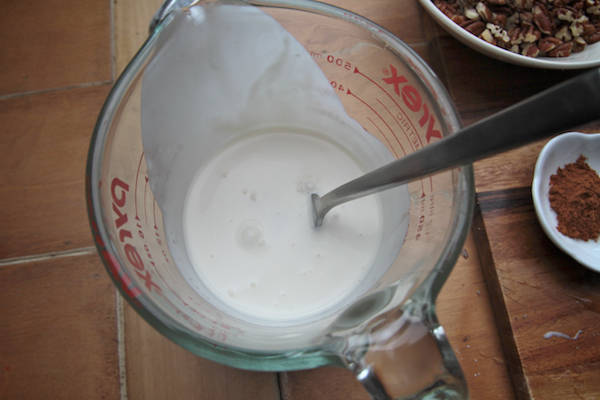 Pour the cream mixture into the dry buttery mixture and process until dough comes together.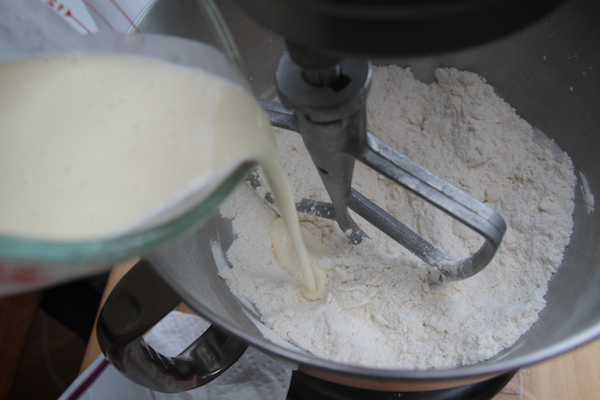 Topping time! Mix pecans with cinnamon & brown sugar. Get out a little butter too.
I could seriously eat this on its own.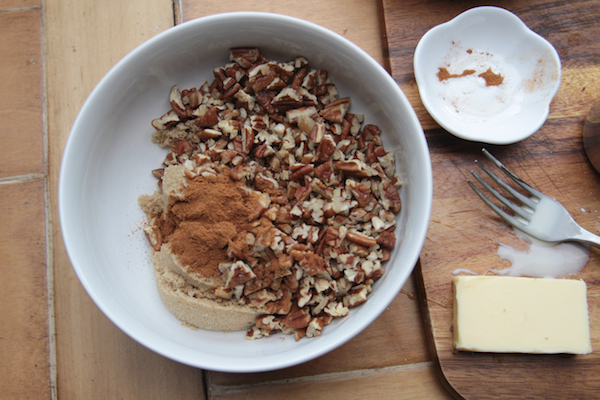 The apples are done! We bake them so they are nice and soft.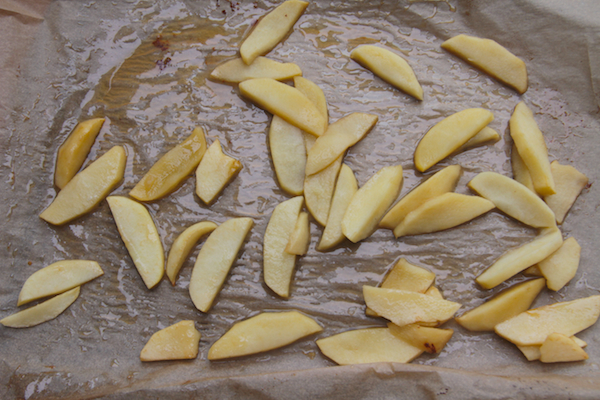 Place the dough on a floured surface. Roll out the dough into a large rectangle.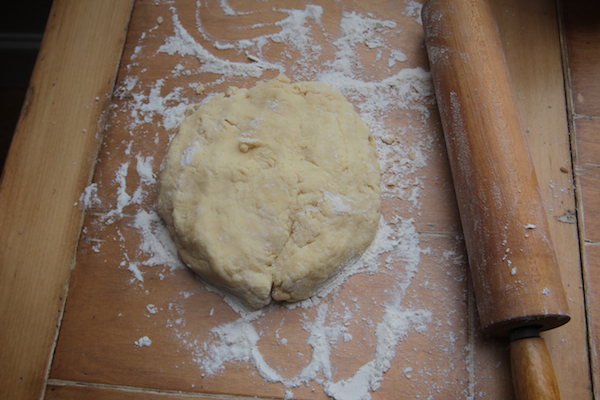 Top the dough with the pecan topping.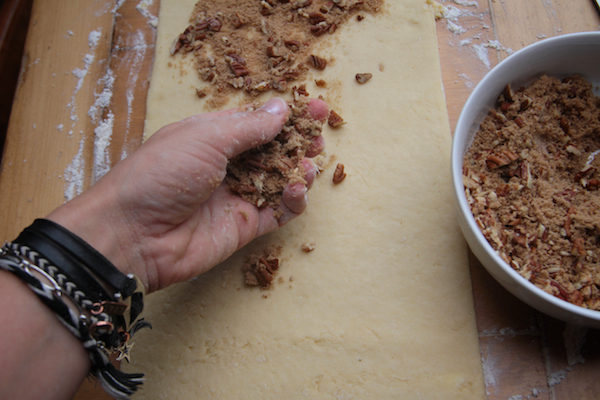 Add the apples and then top with pats of butter. Now we roll it. Lengthwise!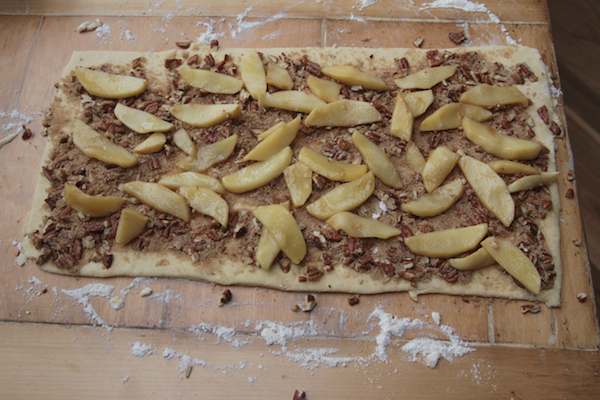 And we cut slices. I started out using a 9×9 baking tin but my rolls were quite uneven.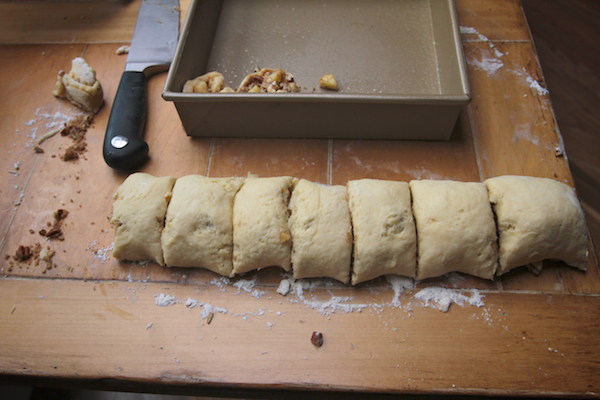 So I put them in a 9inch cake pan. I ended up with more rolls than the recipe called for.
WHATEVER. I do what I want.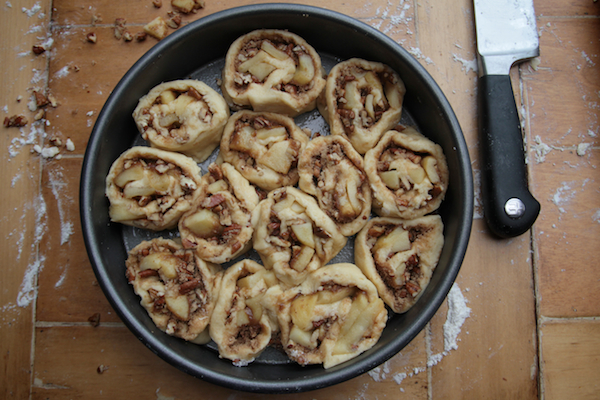 Now we make the caramel glaze for the top!
Cream, brown sugar, butter & honey go into a saucepan. We add salt at the end!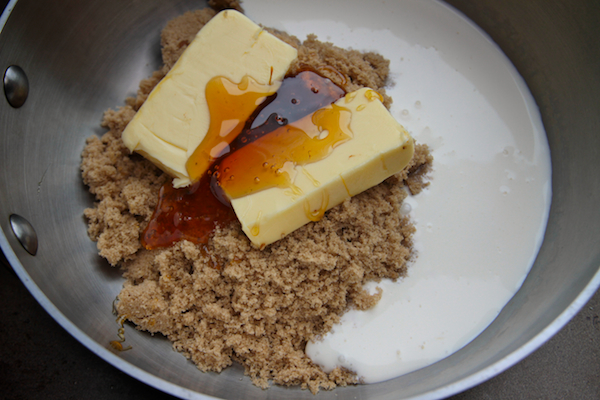 The rolls are baked. But WAIT. There's more.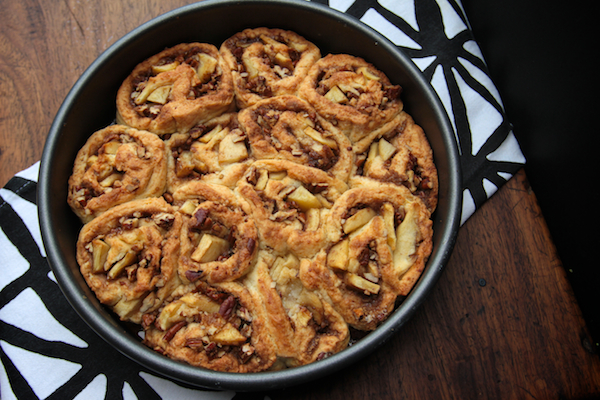 MMMM glazey!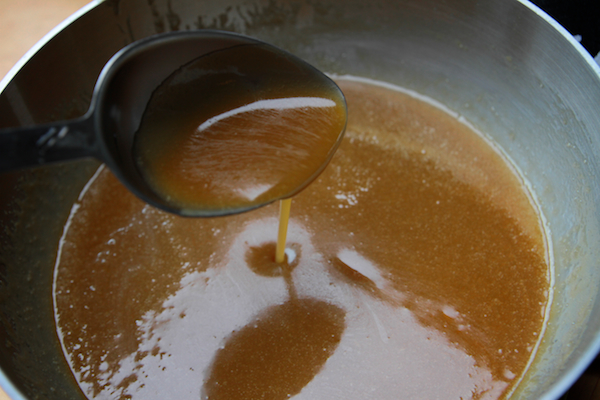 Let the buns cool briefly and spoon the caramel glaze all over the top.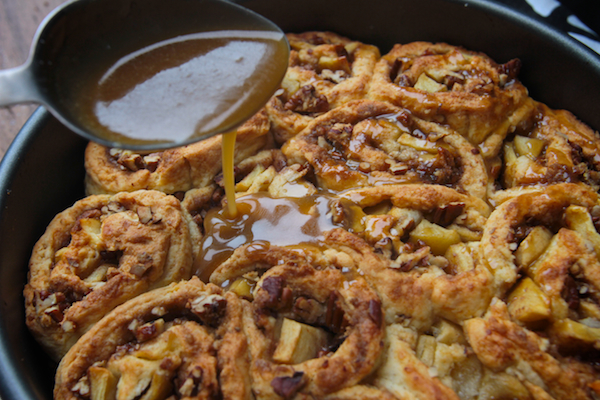 What's nice about these sticky buns is that when you serve them up, the bottoms are crunchy and there's a lot of glaze that pools on the bottom. I'm quite obsessed. I know that your family/overnight guests/friends will be in HEAVEN if you serve these warm.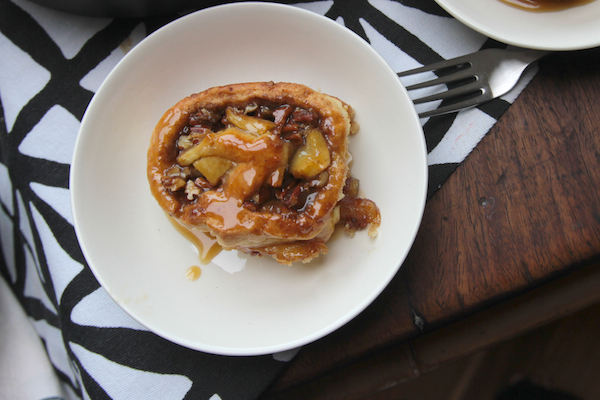 One last shot.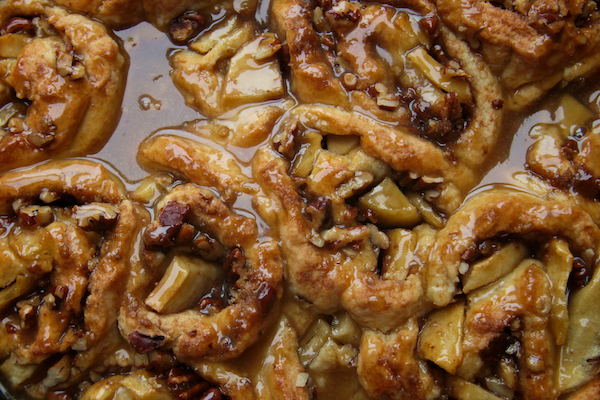 Juice diet begins. NOW.
Apple-Pecan Sticky Buns

makes 9 servings

recipe adapted from Rachael Ray Magazine

2 apples peeled, cored and sliced 1/4 inch thick
1 1/4 cups plus 1 tablespoon packed light brown sugar
1 1/2 sticks (6 ounces) butter, softened
2 cups flour
1/4 cup granulated sugar
1 tablespoon baking powder
3/4 teaspoon salt
2 large eggs
1 cup heavy cream
1 cup chopped pecans
1 teaspoon ground cinnamon
2 tablespoons honey

Preheat the oven to 400 degrees . Grease a 9-inch square baking pan. Place the apples, 1 tablespoon brown sugar and 1 tablespoon butter on a parchment-paper-lined baking sheet; toss to coat. Cover loosely with foil and roast until tender, 15 minutes. Lower the oven temperature to 350 degrees .

Meanwhile, using an electric mixer, blend the flour, granulated sugar, baking powder and 1/4 teaspoon salt at low speed. Add 5 tablespoons butter and mix until crumbly.

In a small bowl, whisk the eggs with 1/2 cup cream, then mix into the dry ingredients.
On a lightly floured surface, roll out the dough to form a 9-inch rectangle. In a small bowl, mix 1/2 cup brown sugar, the pecans and cinnamon. Cut up 2 tablespoons butter and dot the dough. Sprinkle the brown sugar mixture on top and cover evenly with the roasted apples. Roll up the dough, jelly roll-style, and cut crosswise into 9 slices; place the slices cut side down in the prepared baking pan. Bake until golden, 35 to 40 minutes. Transfer to a rack to cool.

Meanwhile, in a saucepan, bring the remaining 4 tablespoons butter, 3/4 cup brown sugar, 1/2 cup cream, 1/2 teaspoon salt and the honey to a boil, stirring. Whisk until reduced, about 2 minutes. Let cool slightly. Drizzle the sauce over the warm buns.