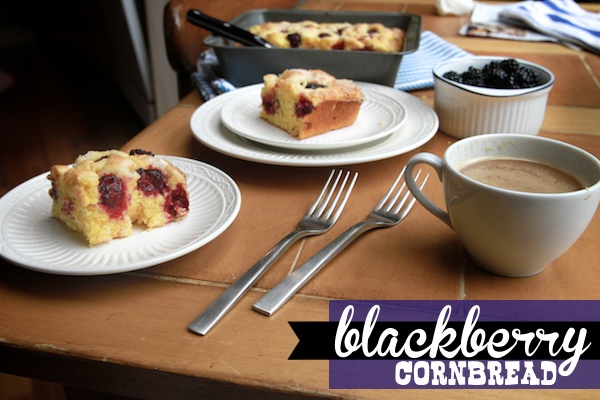 I asked Casey what I should say about this cornbread since he and my dad ate most of it yesterday.  His answer was a simple "YES."
Yes? Just yes?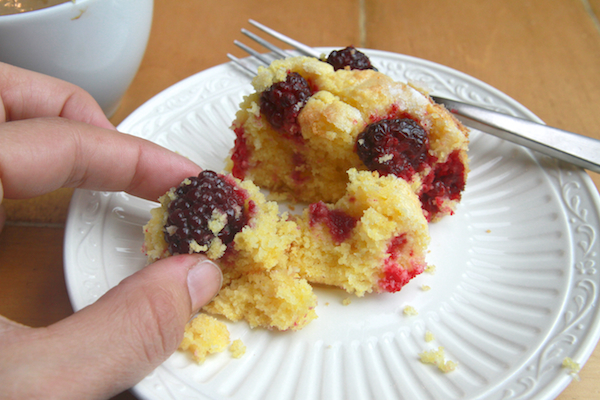 If he wasn't a man of few words, he probably would have gone off about how great this cornbread was. You would understand how thankful he was to have a wife who wakes him up with baked goods on a Sunday morning (I'm taking artistic license with this). He would also tell you how he loved how this cornbread wasn't super sweet. The sweetness and tang come from the juicy blackberries; it's like built in jam. The cornbread was slightly buttery, a little bit crunchy from the cornmeal and pretty epic when it was still warm from the oven.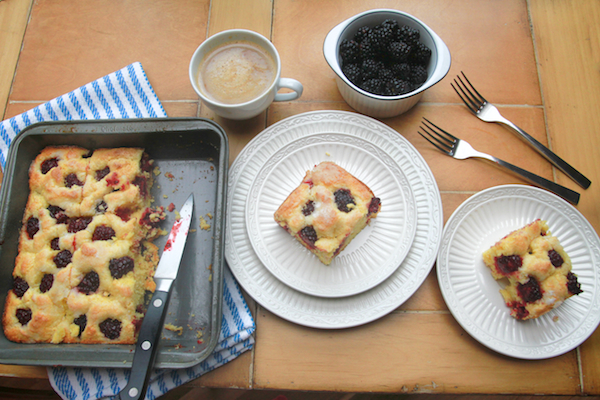 So…YES. You should make this and eat it. But please make sure you hide an extra piece for yourself. People get greedy with this dang cornbread!
And we're off!
Gather your ingredients.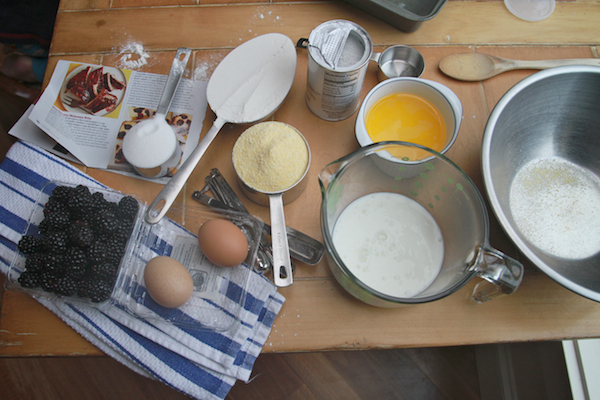 Blackberries!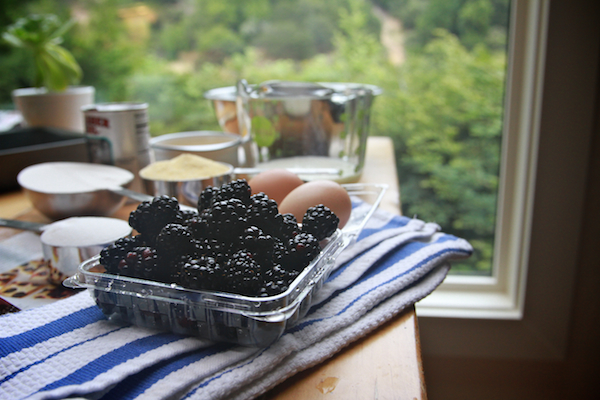 Stir the dry ingredients. Cooper helped with this. My kid eats flour! WTF.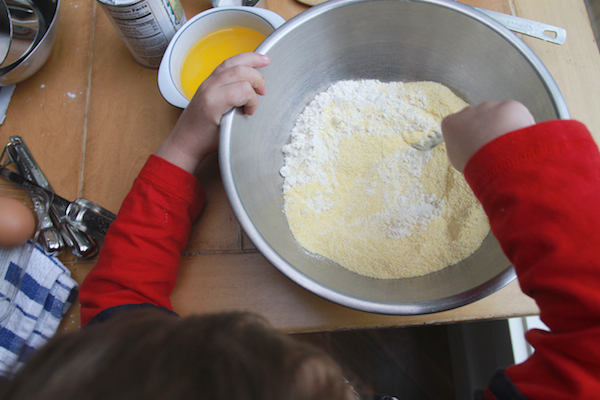 Now stir the wet ingredients. Buttermilk, eggs & melted butter.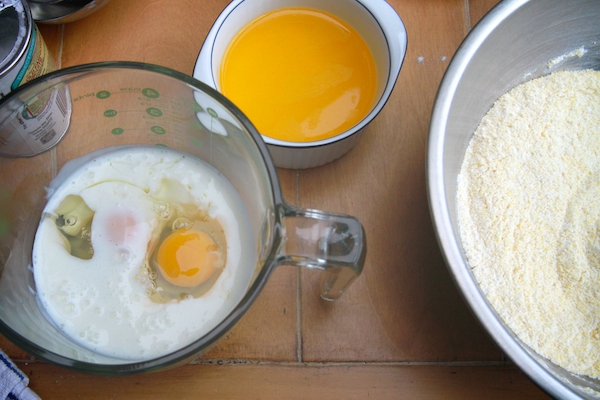 Dry meets wet.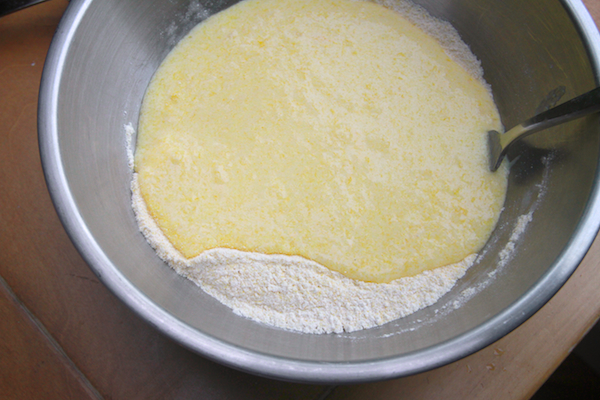 Put it into your oiled baking dish. Spread it around.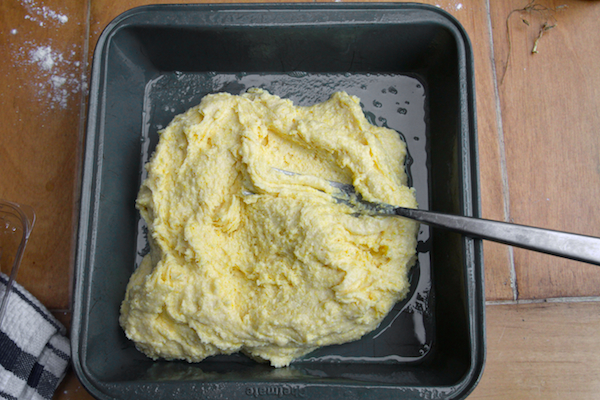 Plop the berries in.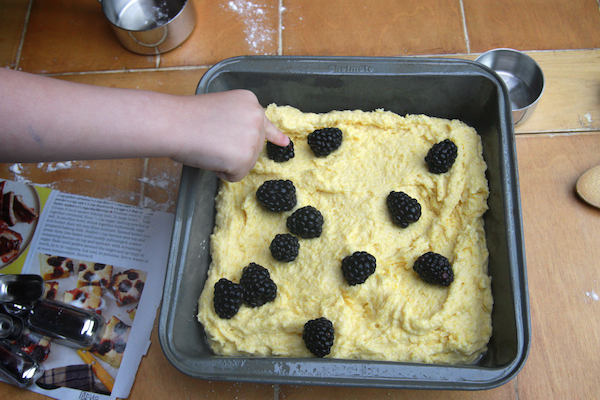 Add more on top and then sprinkle with the remaining sugar. Now BAKE!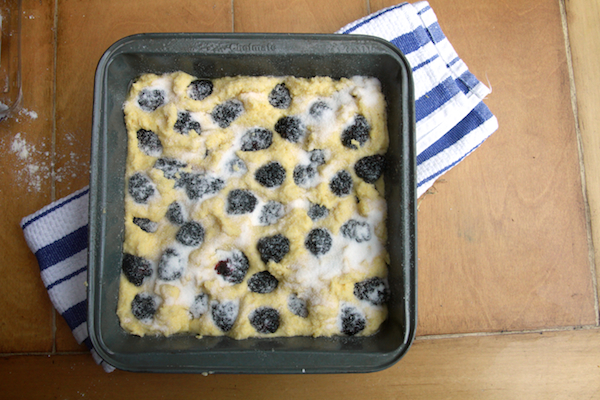 Ahh beauty!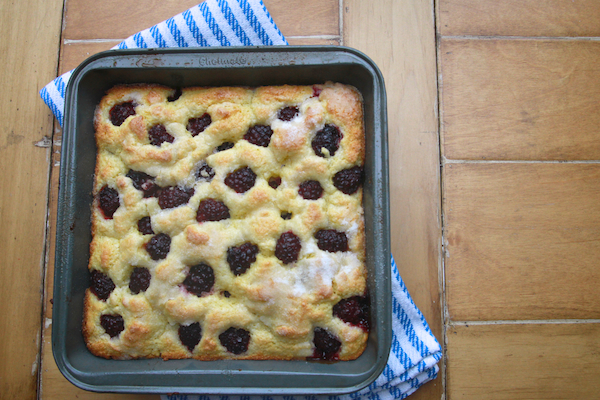 Cut it up!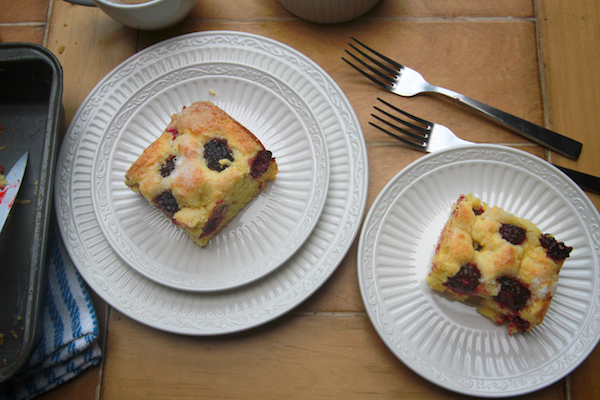 Eat it up!
Look at the inside!
YESSSSSSSSSS!

Blackberry Cornbread

serves 8

recipe from Everyday with Rachael Ray Magazine

1 cup yellow cornmeal
1 cup flour
1/3 cup sugar
2 teaspoons baking powder
1 teaspoon kosher salt
3/4 cup buttermilk
2 eggs
7 tablespoons unsalted butter, melted
1 1/2 cups blackberries

Preheat oven to 375F. Grease an 8 inch square baking dish. In a large bowl, whisk together cornmeal, flour, 1/4 cup sugar, baking powder and salt. In another bowl, whisk together buttermilk, eggs and butter, then stir into the flour mixture. Spread the batter into prepared baking dish. Scatter 1 cup berries over top and press them into the batter until mostly submerged; scatter remaining berries on top and sprinkle the top with the remaining sugar. Bake until golden around the edges and springy to touch, 25- 30 minutes. Let cool, 10 minutes. Serve warm or at room temperature.