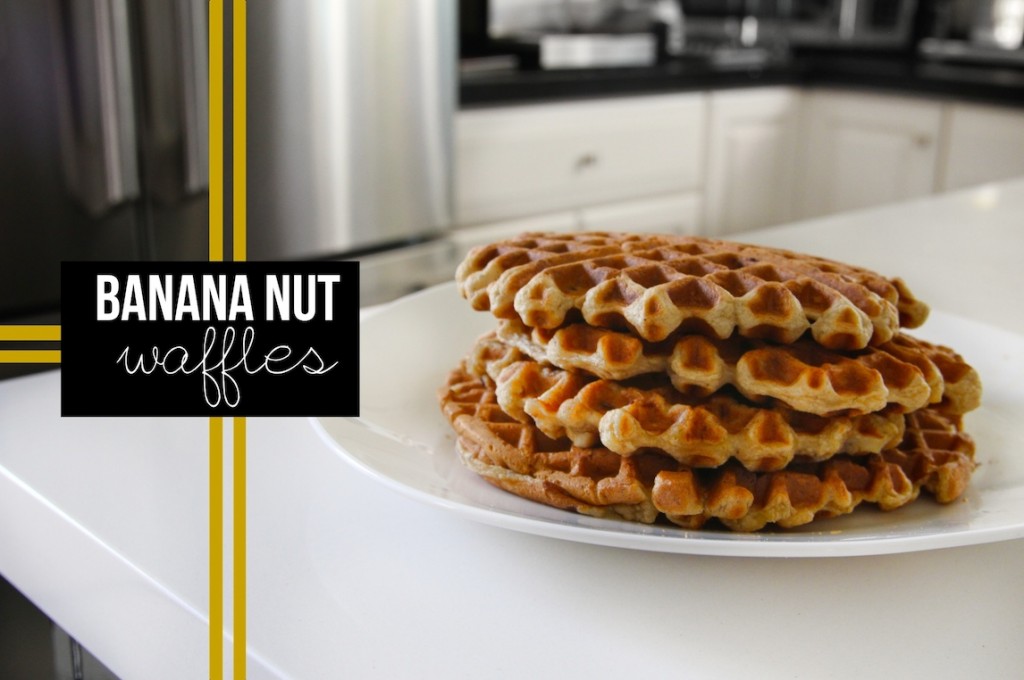 I make a lot of vegan recipes, yet I'm not vegan. Why? I think it's because I liked to be surprised by food. I love when a few ingredients can come together and taste almost identical to what it's like in its original form- kinda like this coleslaw that used cashews in place of mayo. It's pretty cool when things taste like other things like this Sun Dried Tomato Pasta Salad that tasted like pizza! I also get pretty excited when I find a recipe that pleases the guys in my life like this Kale Coconut Salad with Sesame Oil. I've made that recipe at least 5 times since then.
What I hoped to get out of this recipe was a batch of healthier waffles using what I had in my pantry; I almost always jump at a recipe if I've got all the ingredients. What I didn't realize is that I'd get a batch of waffles that tasted like banana bread. Being a lover of banana bread, I was thrilled.
While I could only eat one for breakfast, Cooper ate two. Future professional food eating champ? We'll see…
And we're off!
Ingredient gathering time.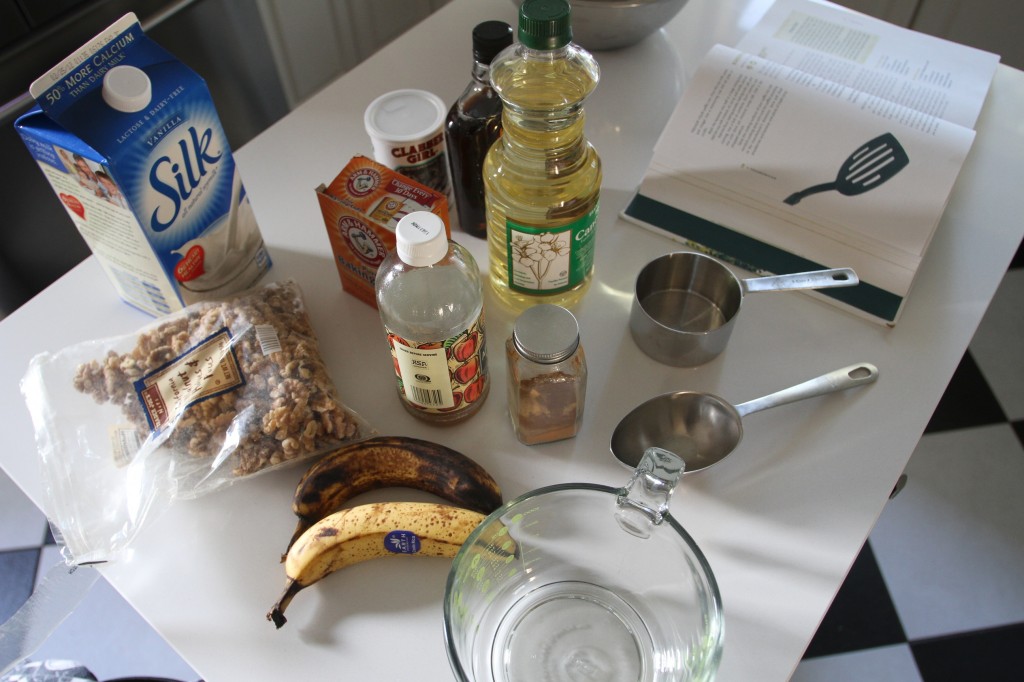 Apple cider vinegar goes into soymilk to get curdled. Just go with it!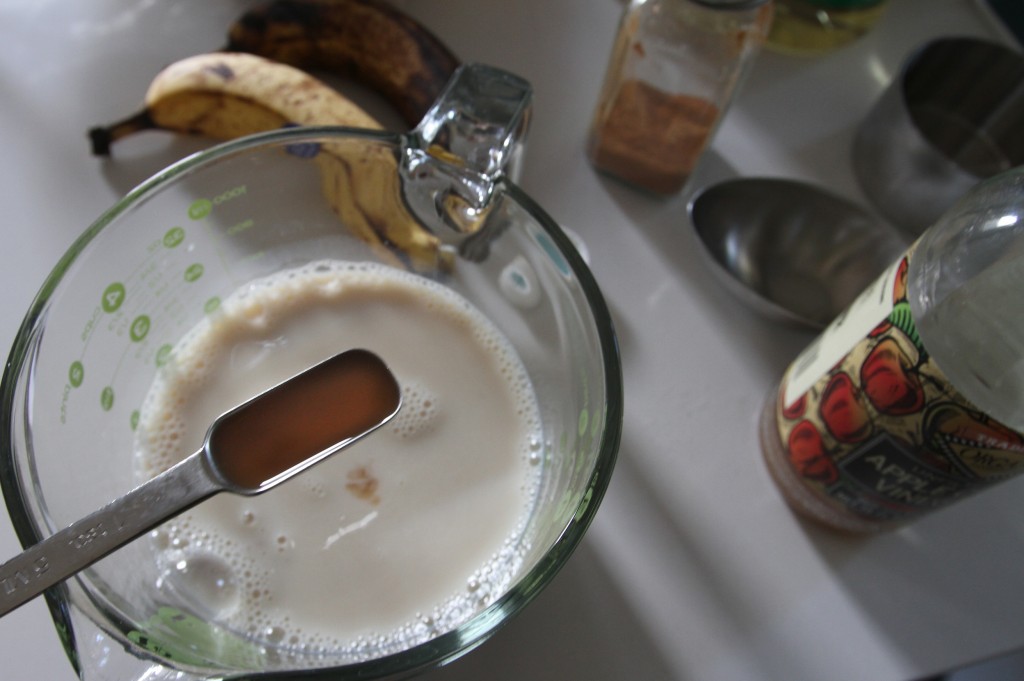 Bananas get their mash on.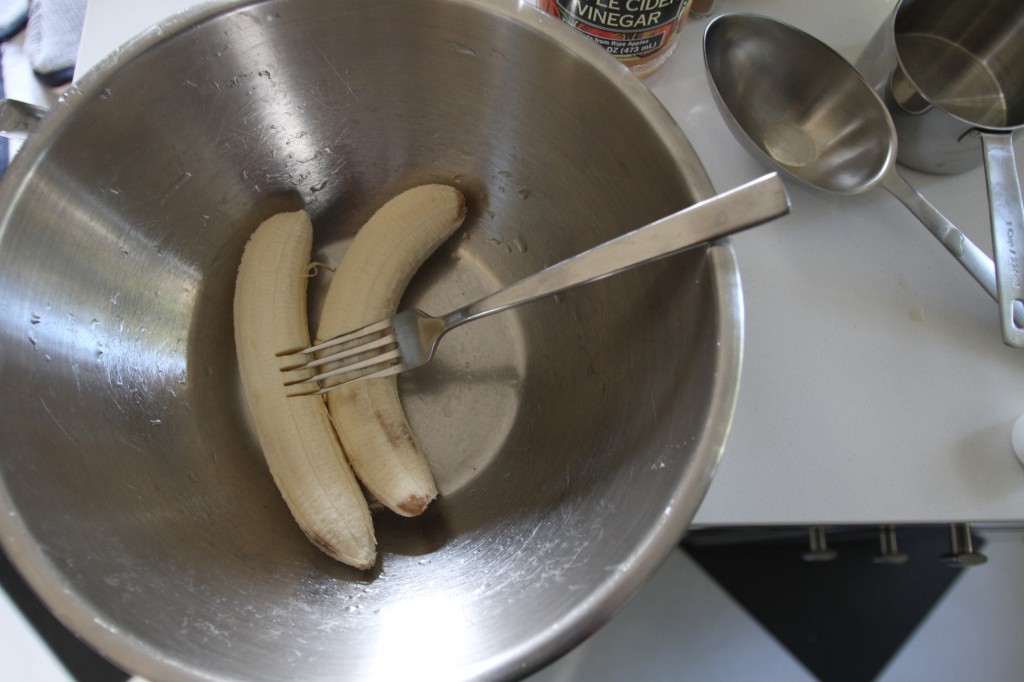 Dry ingredients get mixed.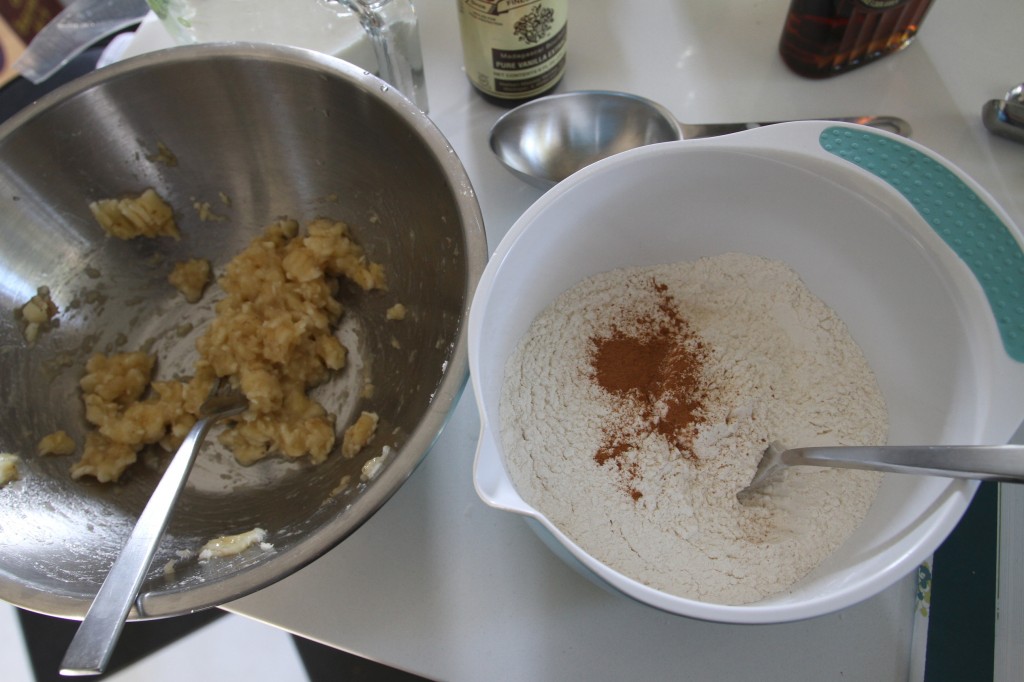 Nuts get chopped on the world's tiniest cutting board. Don't do this. It's not smart. Not smart at all.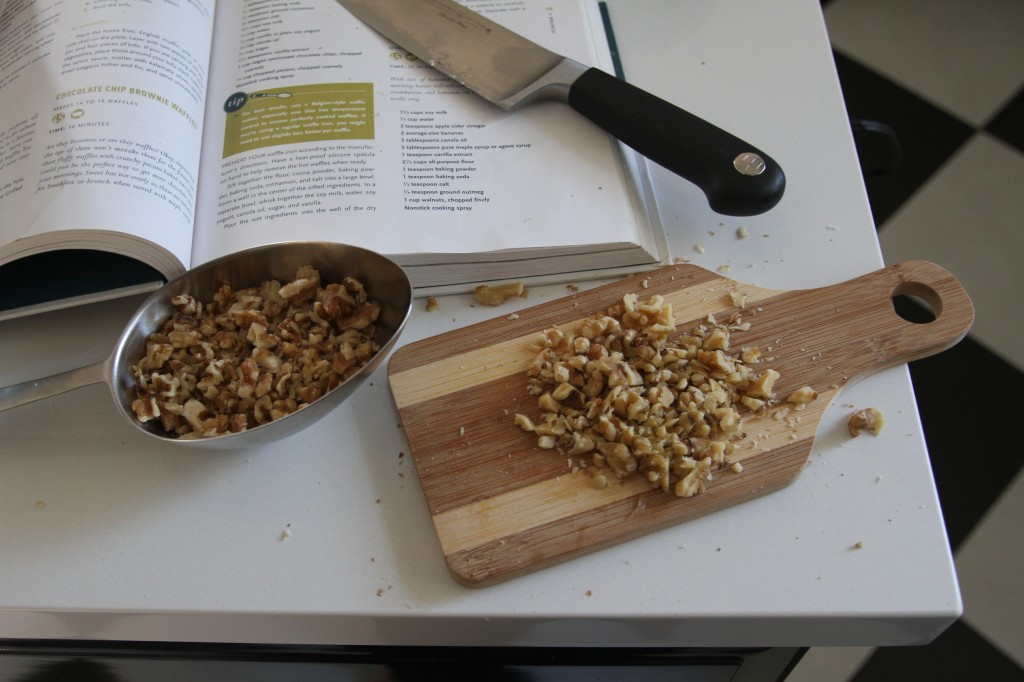 Vanilla & curdled soymilk (don't give me that look) go into the bananas.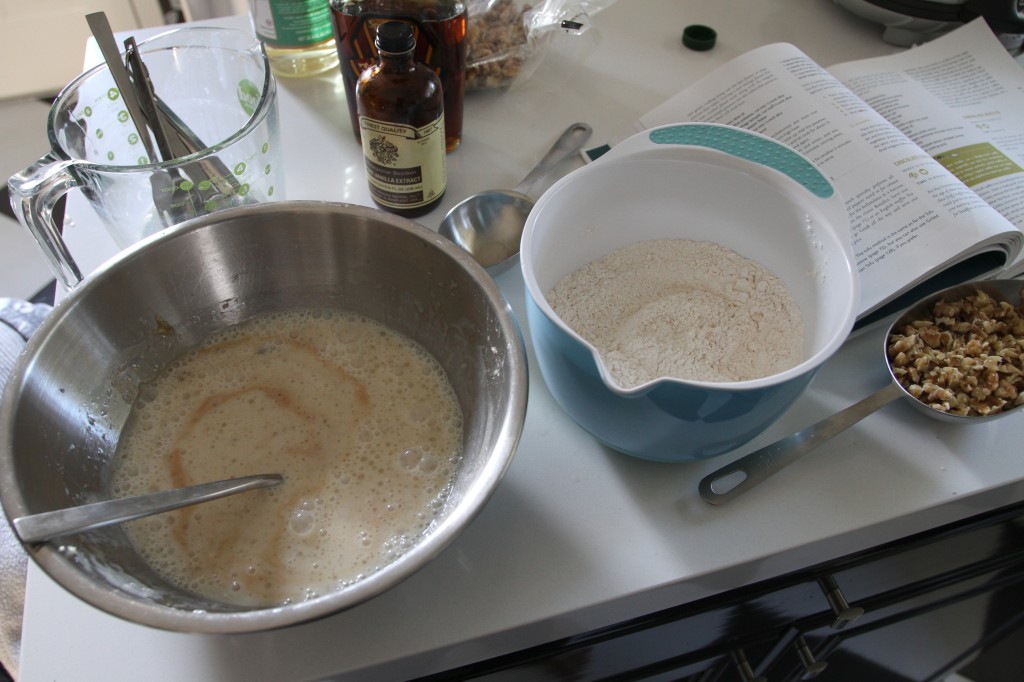 It's time for Dry to meet Wet.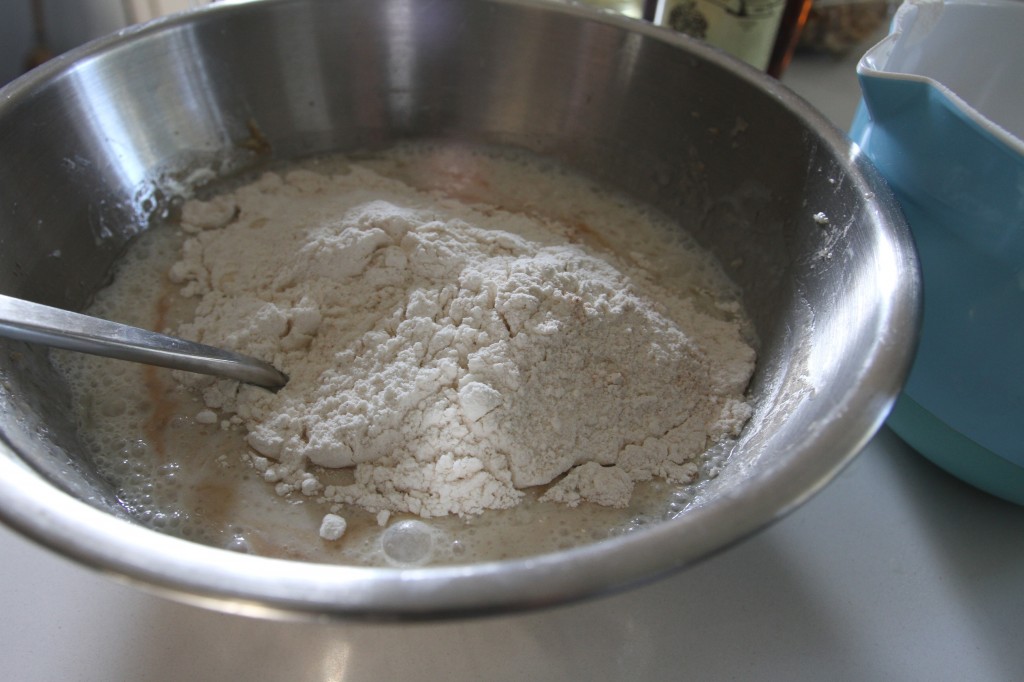 After mixing, you take those chopped walnuts and you fold them in.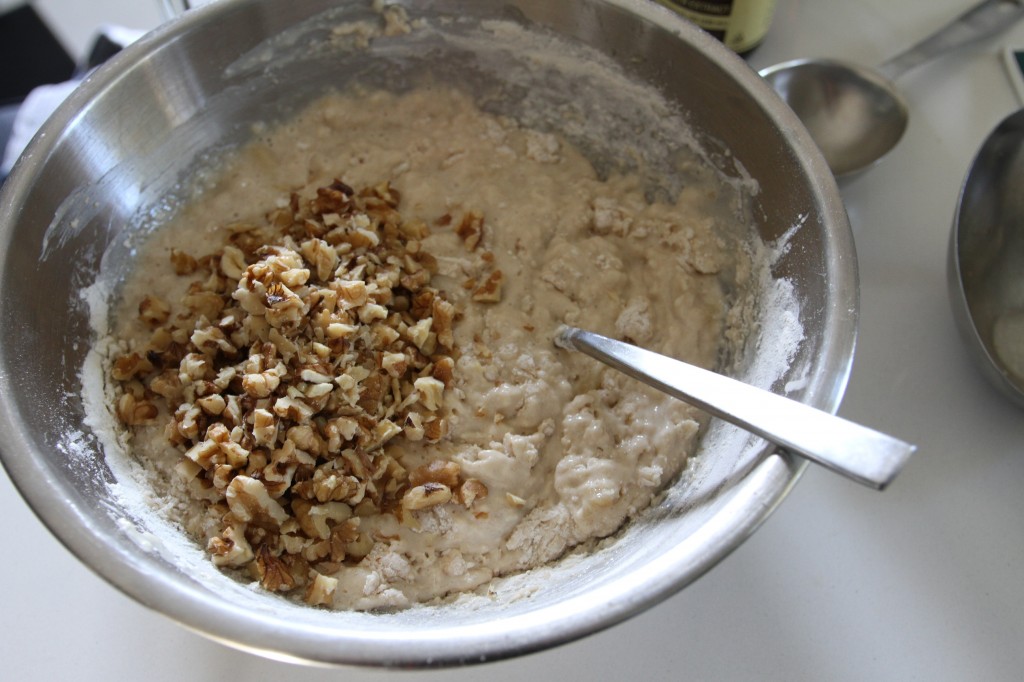 Did you lube up the waffle iron? (That sounds totes dirty) Now it's waffle time!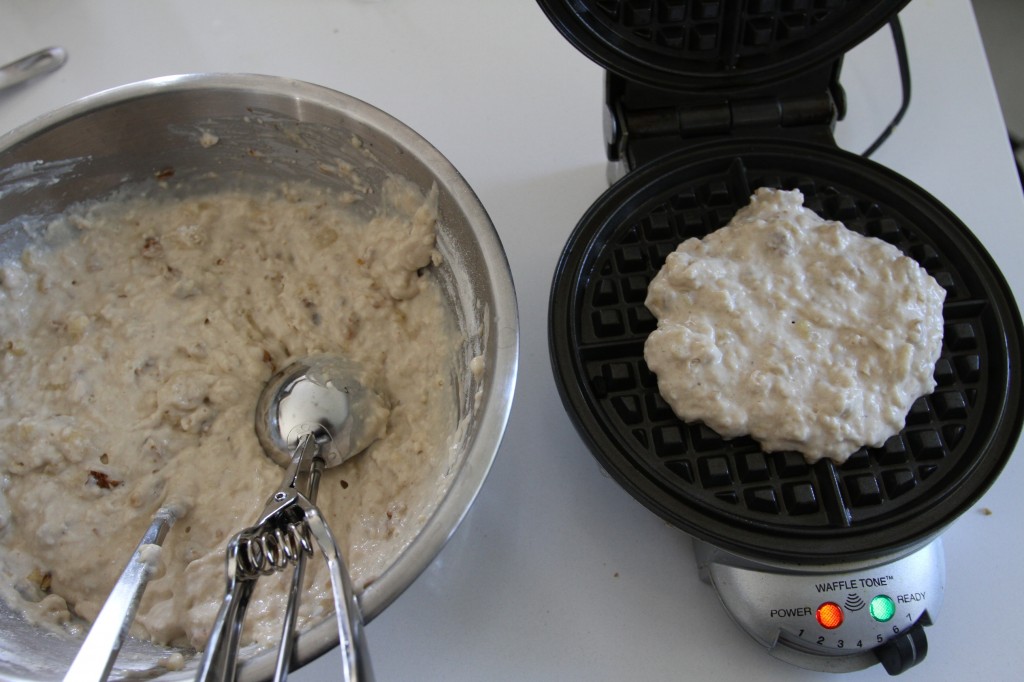 HELLO WAFFLE! You're looking good.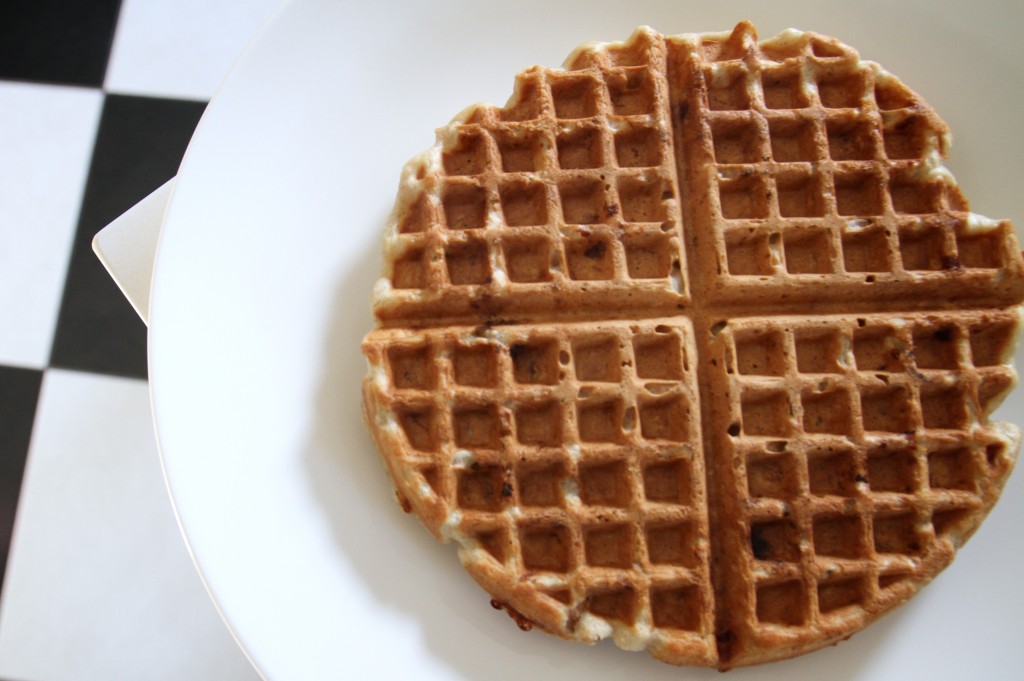 Let's top you with bananas and some syrup.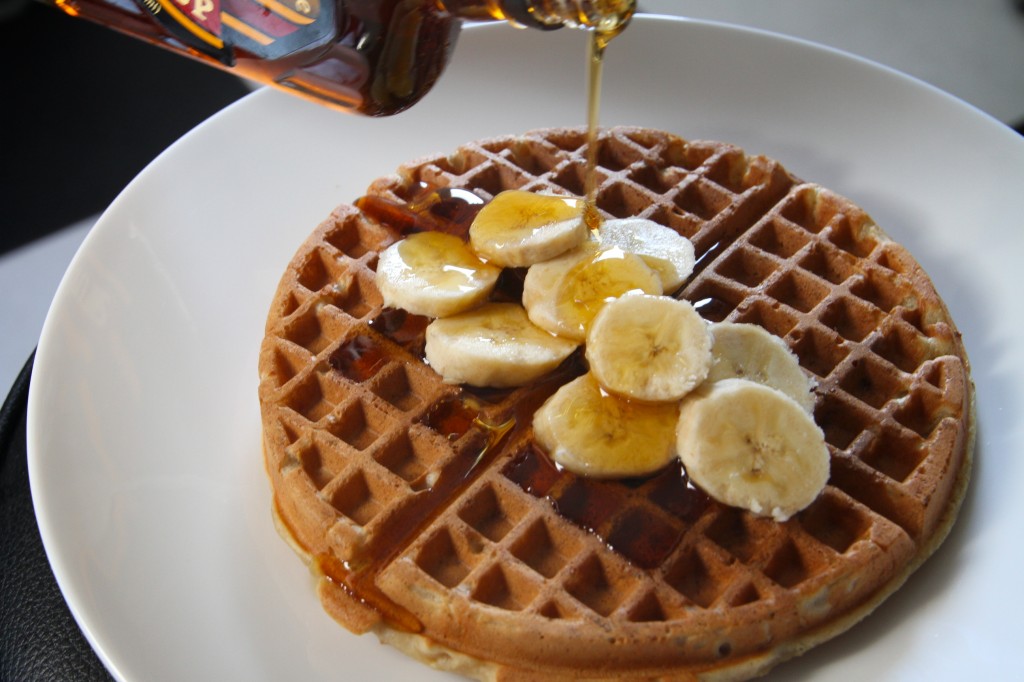 And let's have you with some coffee.
Later on I'll tell my husband that you were vegan. He won't believe me.
Banana Nut Waffles

Makes 8-10 waffles (depending on your waffle maker)
Recipe adapted slightly from Veganomicon: The Ultimate Vegan Cookbook)
1 3/4 cup vanilla soy milk
1/4 cup water
2 teaspoons apple cider vinegar
2 bananas
3 tablespoons canola oil
3 tablespoons pure maple syrup
1 teaspoon vanilla extract
2 1/4 cup all-purpose flour
1 teaspoon baking powder
1 teaspoon baking soda
1/2 teaspoon salt
1/4 teaspoon ground cinnamon
1 cup. walnuts, finely chopped
non-stick cooking spray
Pre-heat the waffle iron.  Pour the soy milk, water, and vinegar into a measuring cup and set aside to curdle.
Mash the bananas very well in a large mixing bowl.  Add the soy milk mixture, oil, syrup, vanilla, and stir.
Add the flour, baking powder, baking soda, salt, and cinnamon.  Use a fork to combine, but do not overmix.  Fold in the chopped nuts.
Spray the cooking spray on the waffle iron and scoop about 1/3 cup batter into the waffle iron to cook. Cook according to waffle iron's instructions and serve with sliced bananas and plenty of maple syrup.