This post has been a looooooong time coming. I feel like there have been a BAJILLION pictures of breakfast tacos on My Everyday Life series but like a jerk, I've never shared with you what I put in my Breakfast Tacos. My sincerest apologies for my occasional jerk ways. Somehow I carry the jerk gene. I think it skipped a few generations…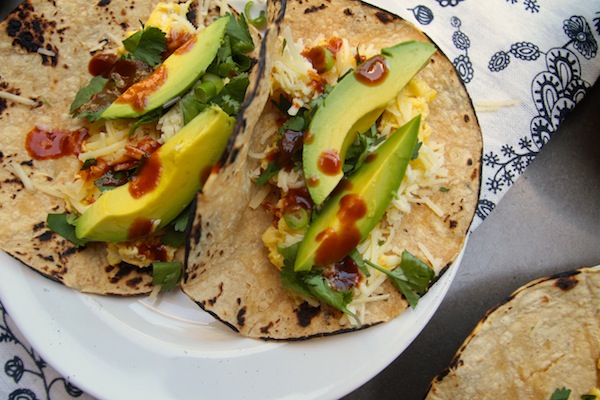 If I have time to make eggs in the morning then I'm almost guaranteed to have a good day. But now that I think about it, this recipe takes less than 10 minutes to whip up and WHY DON'T I MAKE TIME FOR THIS EVERYDAY? Oh, cuz I value sleep and I have an almost 5 year old. These things, I forget.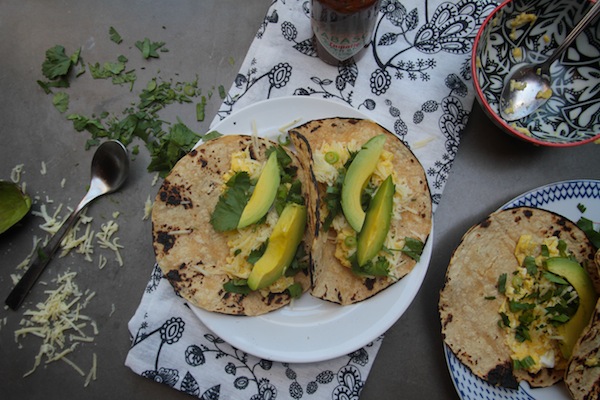 The best part of these tacos is that they are super easy to improvise & riff off of. Sometimes I add soyrizo. Sometimes there's no avocado (BLASPHEMOUS, I know). Sometimes there's no EGG! (ummm who needs to do some shopping?!) Occasionally it's just hot sauce & cheese. The point is…TACOS FOR BREAKFAST.
And we're off! These are the key ingredients I use for my Breakfast Tacos.
The key to the scrambled eggs is Chipotle Tabasco Sauce. It adds a bit of smokiness to the eggs that regular hot sauce doesn't.
I blame this hot sauce on my Chipotle addiction.
I'll tell you about that someday when we're out drinking…and eating Chipotle burrito bowls. I know the guac is extra. GEEZ.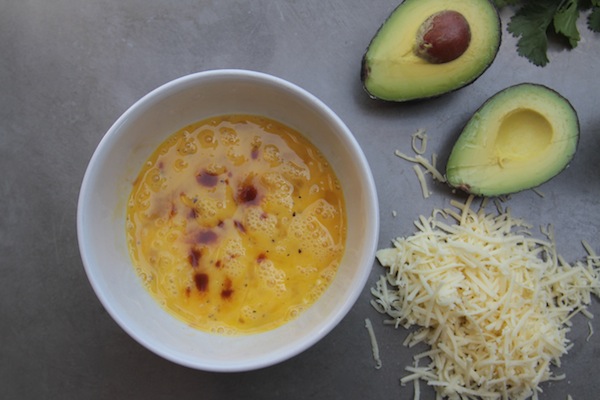 A few dashes and most of the chopped green onions and we're off to flavor nation.
So here's what I do. I get two burners going. One for my eggs which I cook in a buttered skillet.
The other burner is for tortilla charring. Make sure you don't get distracted while doing this.
PAY ATTENTION, Tracy and whoever is reading this line right now.
If you don't have a gas burner, use a candle. Just kidding DON'T do that. It would take forever…and only do it if it's taco scented…which it's not… but anyways don't. You can fry up a tortilla in some oil in a skillet if you'd like.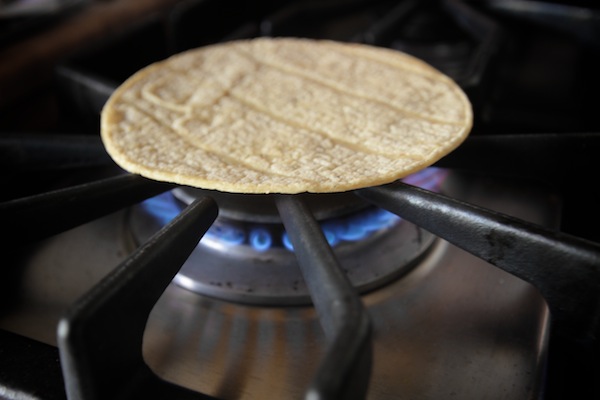 1-2 minutes per side for this charring action. Wrap the charred tortillas up in a dish towel and finish cooking your eggs.
This whole process takes around 5 minutes. Easy.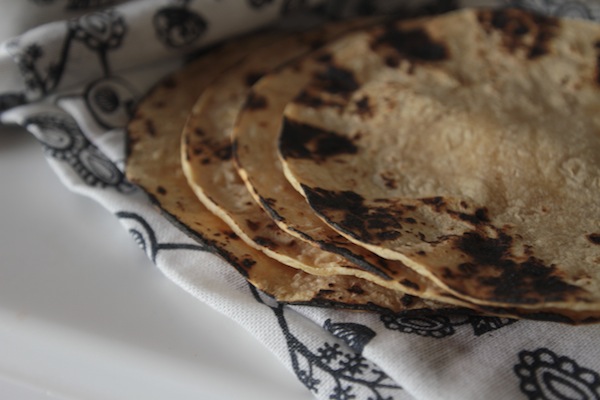 Now we get our assembly ON!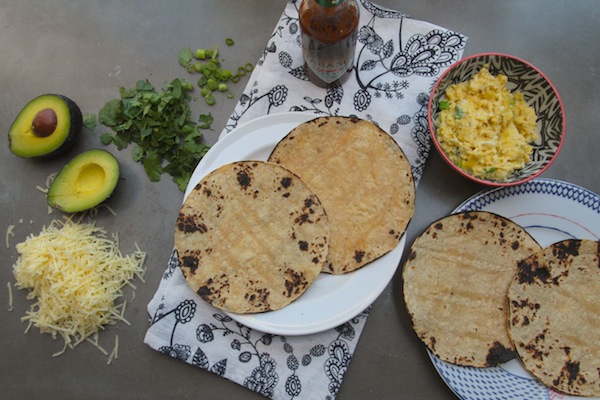 Eggs get spooned onto the tortillas. Cheese goes on top. You could put cheese IN the eggs at the last minute when you're about to take them off the stove or you could put cheese down before the eggs to melt them. Either way, CHEESE.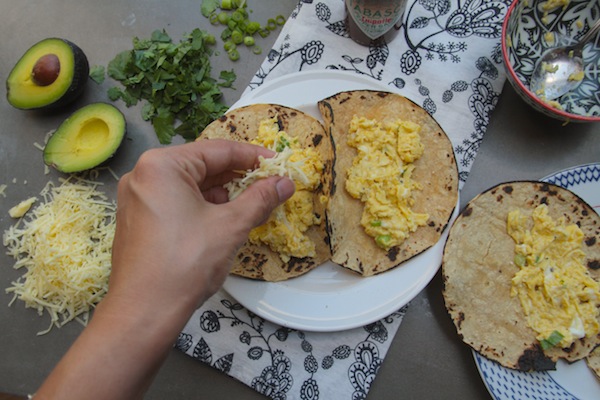 Green onions & chopped cilantro enter the party.
Throw some sliced avocado in there. Add a few more dashes of Chipotle Tabasco and…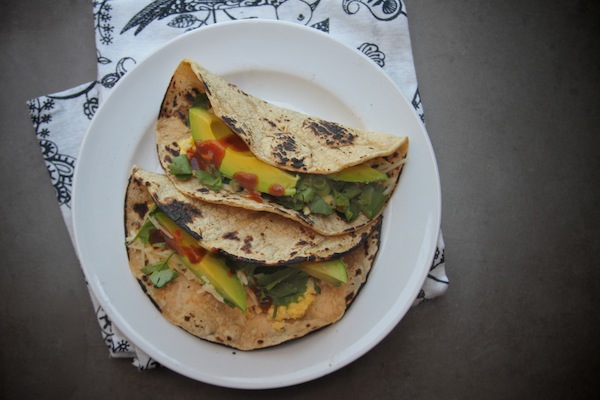 BOOM. Breakfast tacos. Around these parts, they're kind breakfast/lunch/dinner tacos. We have taco pride.
Breakfast Tacos

makes 4 tacos

4 corn tortillas
1 tablespoon unsalted butter
1 green onion, chopped (including both white & green parts)
5-6 dashes Chipotle Tabasco, plus more for garnish
salt & freshly ground pepper
4 eggs
1/3 cup shredded white cheddar
1/2 medium avocado, thinly sliced
1/4 cup cilantro, roughly chopped

Charring tortillas:

Heat tortillas one by one over an open flame. If doing it over a gas burner, turn the flame to medium-high heat. Cook tortillas 1-2 minutes per side, making sure to char the tortillas lightly. Be careful not to let them burn. When nicely charred, nestle tortillas in a cloth dish towel to keep warm.

Make scrambled eggs:

Crack eggs in a medium sized bowl and quickly break up egg yolks with a fork. Stir in half of the chopped green onions and season with salt & pepper.  Add butter to an 8 inch non-stick skillet over medium- high heat and melt. Add scrambled eggs and cook stirring occasionally until set.

Assemble the tacos:

Take a scoop of eggs and lay it down in the middle of the charred tortilla. Top with about 1-2 tablespoons shredded cheese and two thin slices avocado. Sprinkle tacos with cilantro & green onions and finish with 2-3 dashes Tabasco Chipotle. Serve immediately.