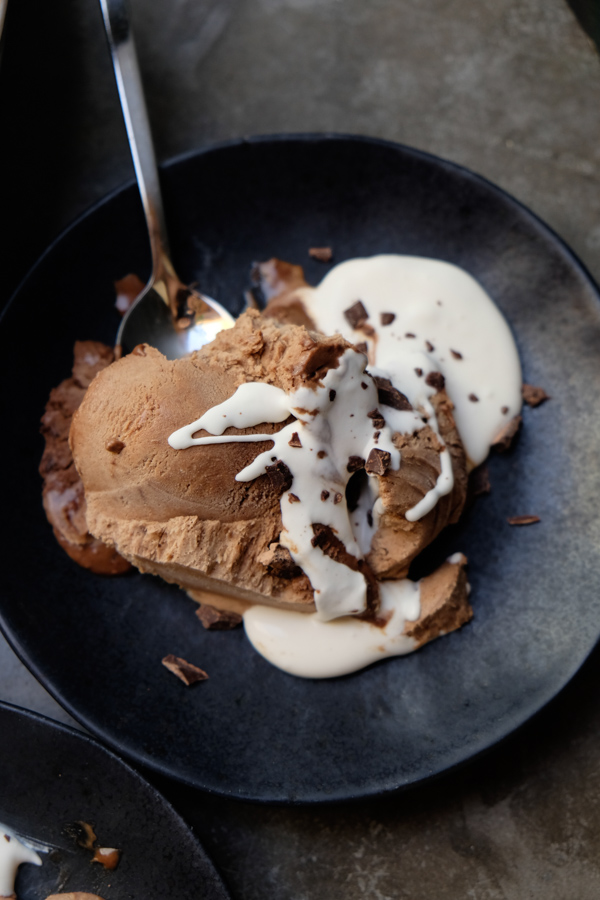 My dad, a man who never orders dessert and claims that he doesn't like chocolate….
LOVES this Frozen Mocha Mousse.
That means if you love chocolate, YOU SHOULD MAKE THIS.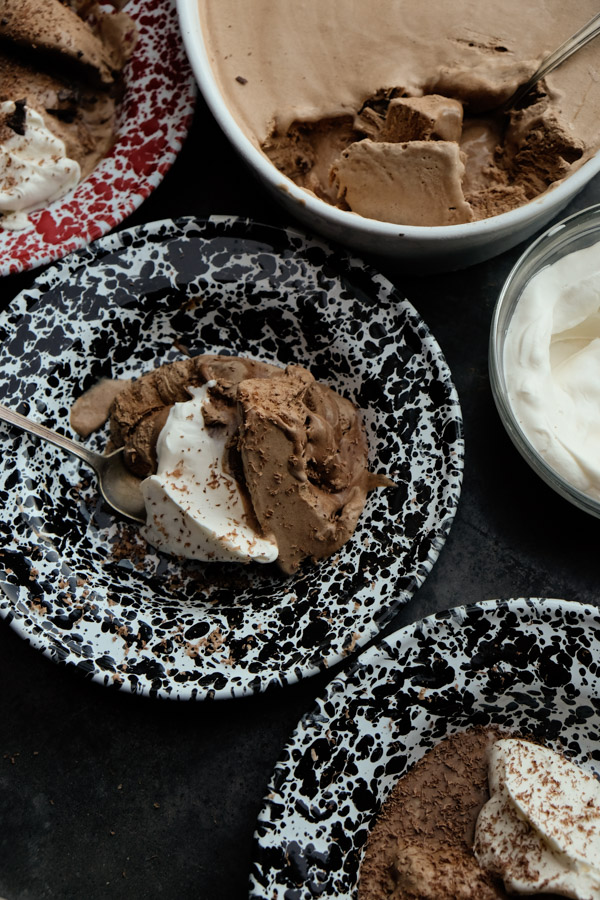 If you're like me and you love fluffy chocolate ice cream…that's light, whipped and almost melty, then you will definitely love this dessert. Also- you don't need an ice cream maker
to make it!  Just a few bowls and a hand mixer
!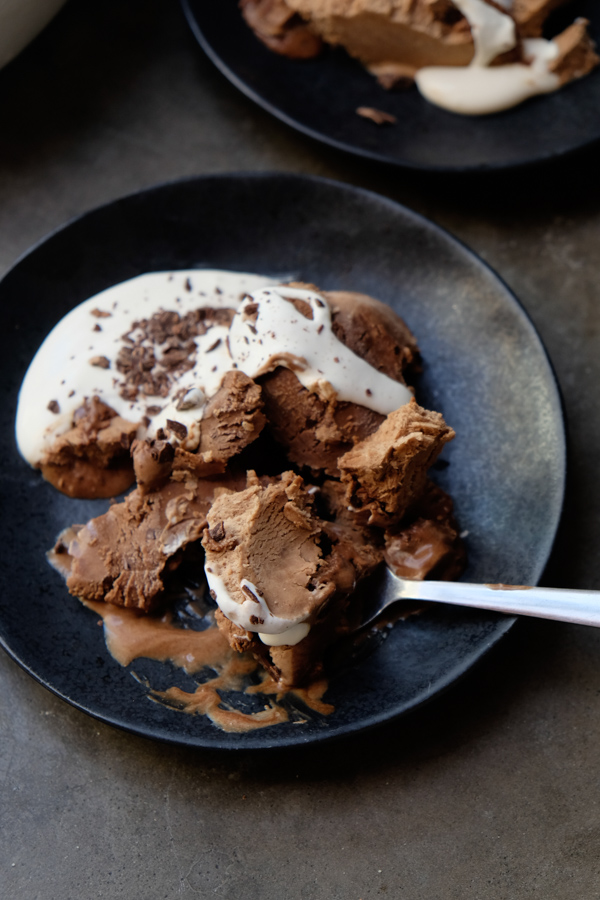 Thank you, Ina. Thank you for Cooking for Jeffrey
. THE WORLD THANKS YOU!
Mostly my dad 🙂
Let's gather our ingredients: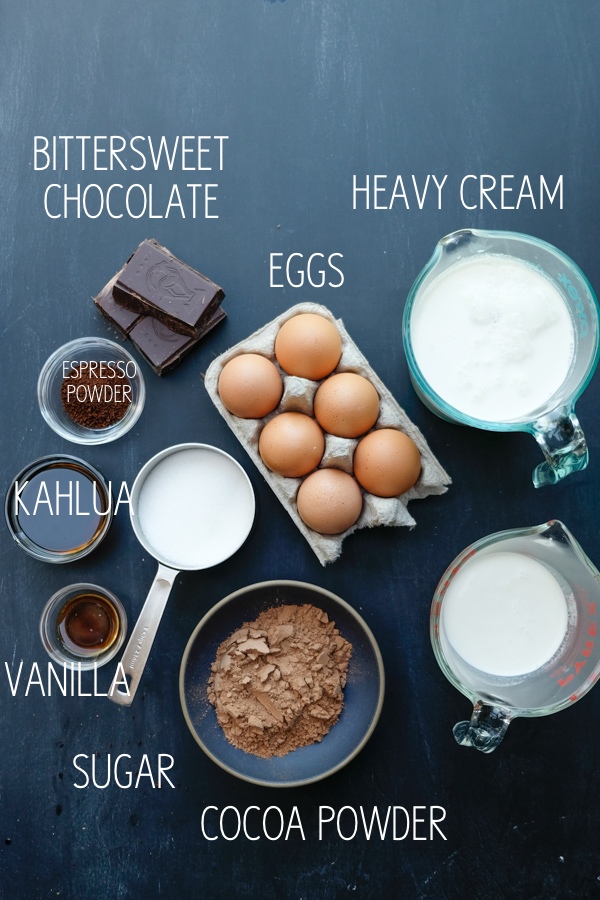 First, we need to melt some of the chocolate with water + the coffee liqueur.
Cover it up. Put it in the microwave.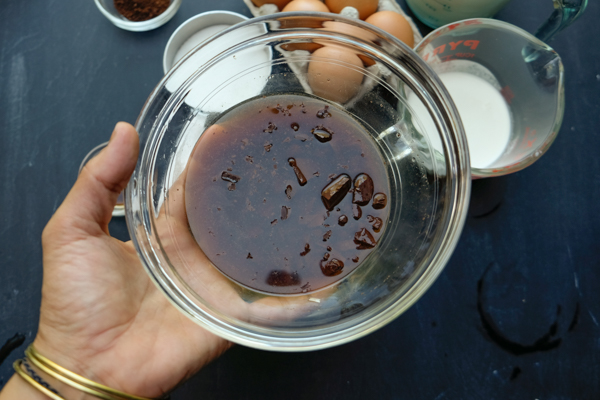 Chop the rest of the chocolate up, put it aside because it will be going in the mousse when we're almost done.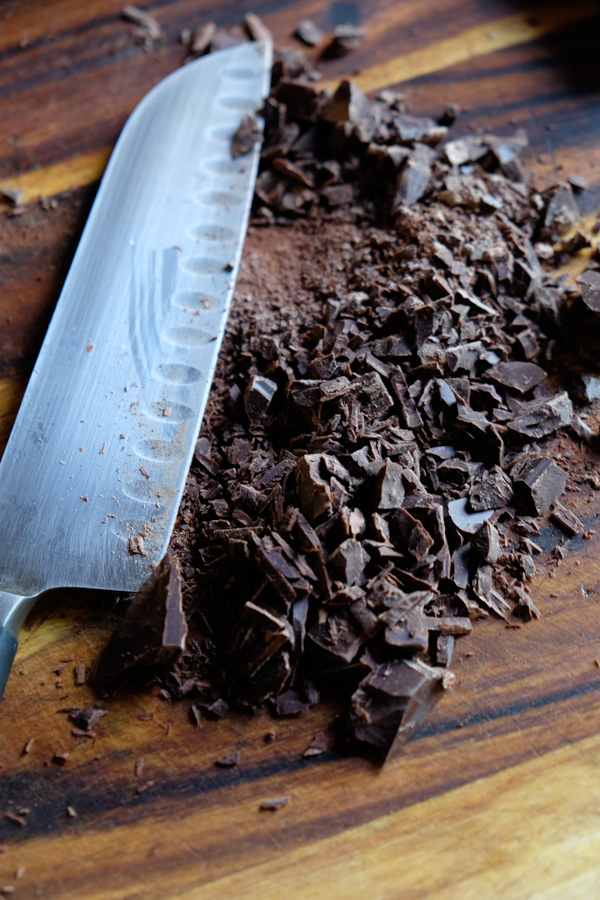 Chocolate has been melted.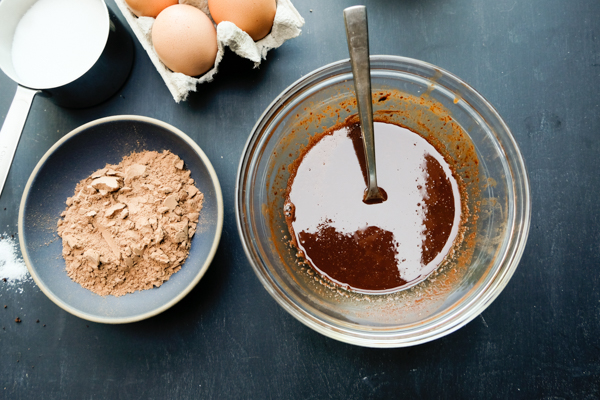 We need to mix the yolks together with the sugar.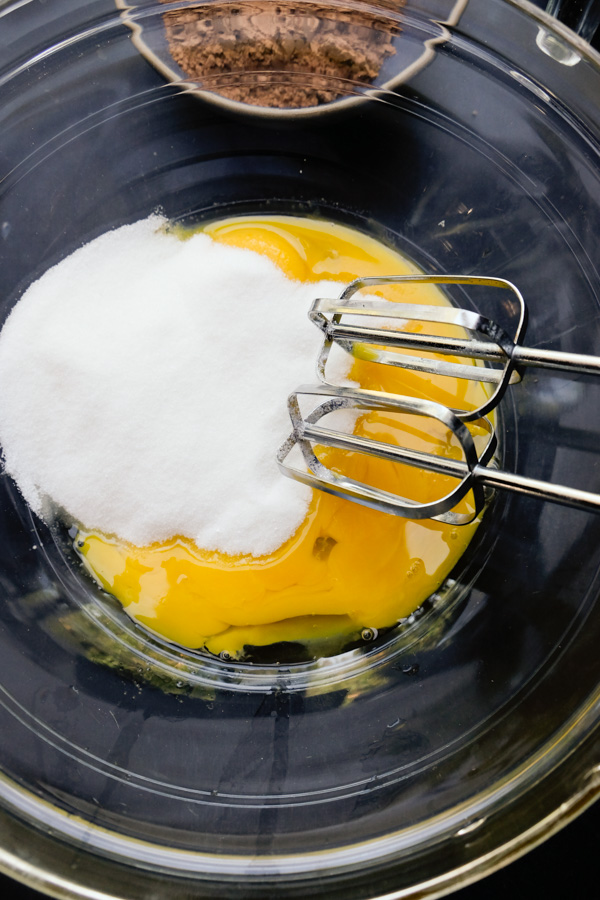 Cocoa powder, espresso powder, and vanilla!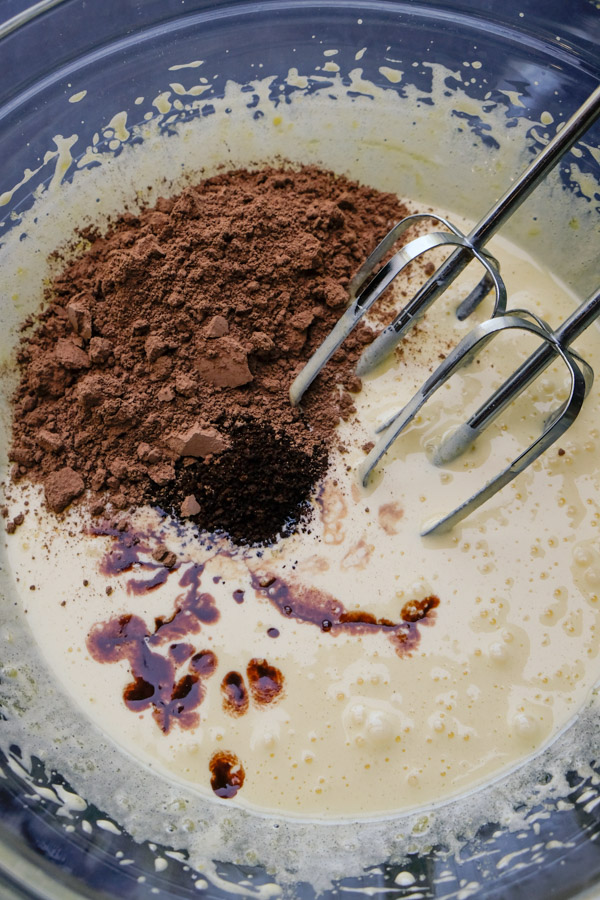 Now we need to whip up some egg whites.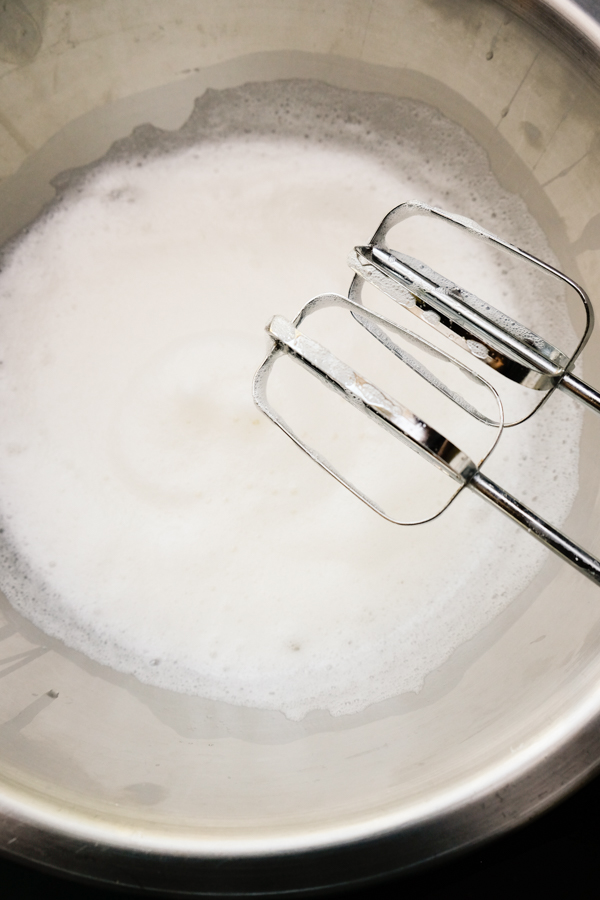 Whites are folded into the chocolate mixture.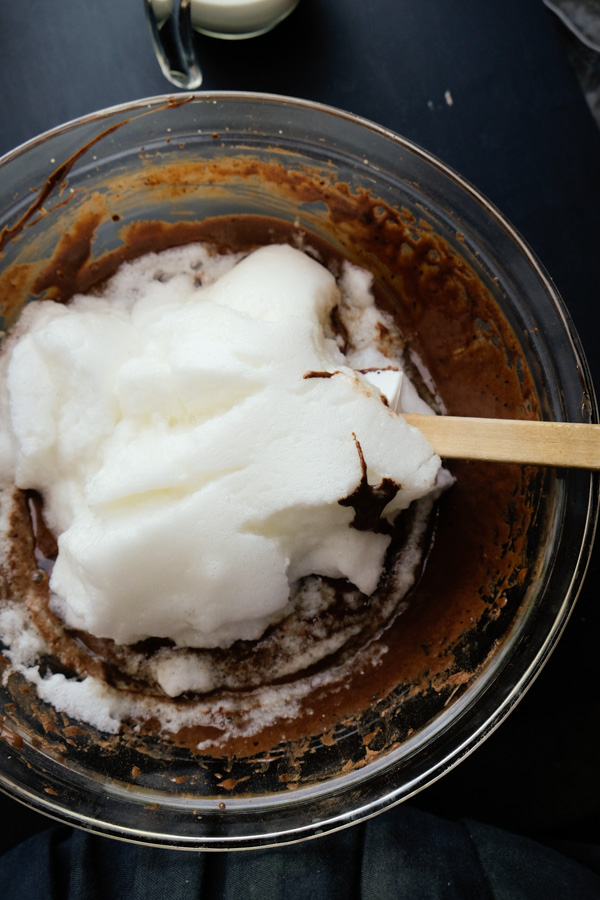 Followed by making whipped cream!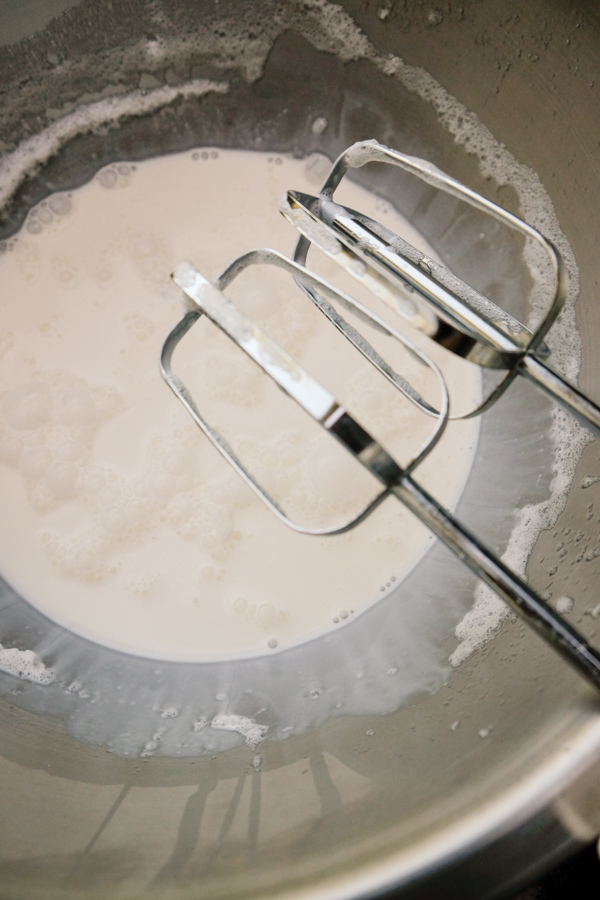 Fold the whipped cream into the chocolate mixture.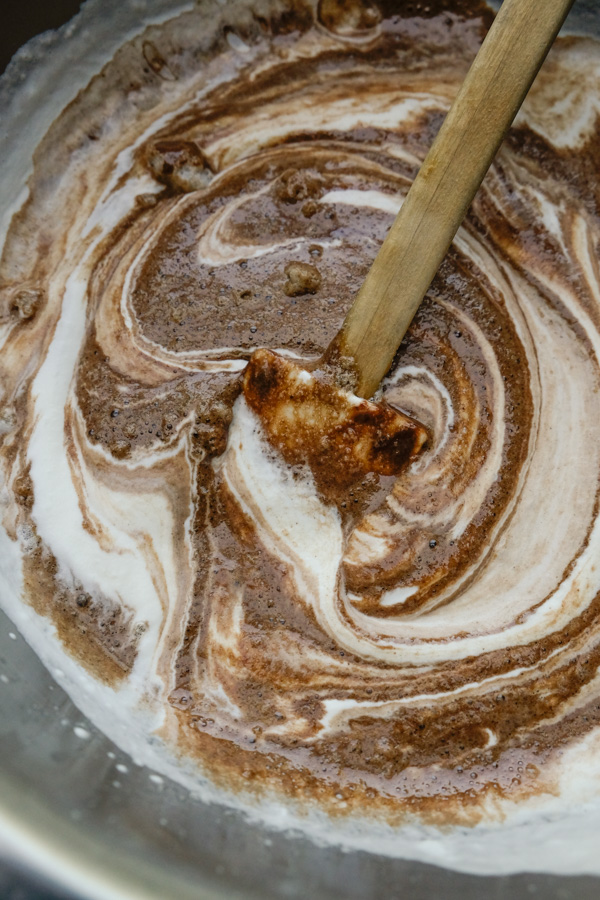 Followed by the chopped chocolate.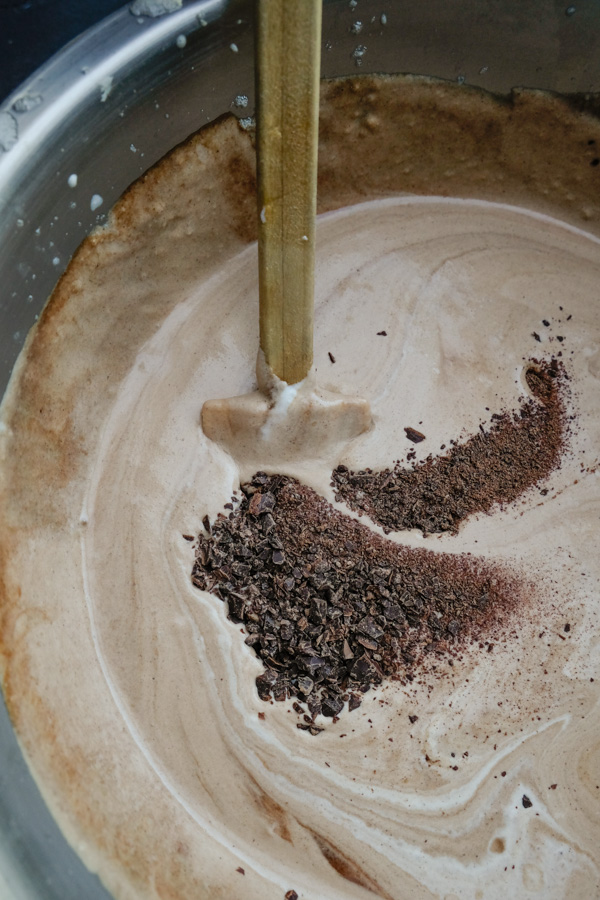 Now pour the creamy goodness into the souffle dish.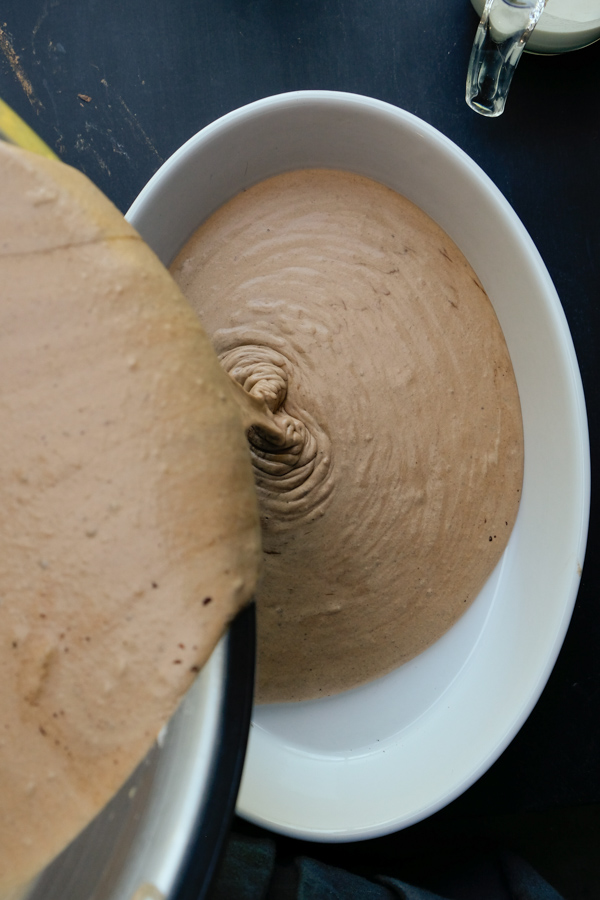 Off to the freezer you go!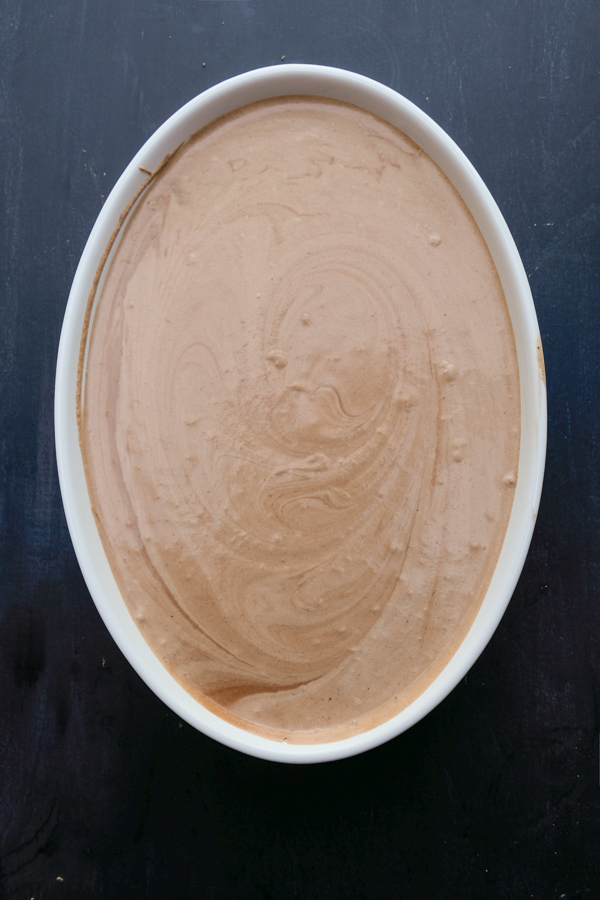 After a few hours, you're ready to serve. Let it all set up. You can leave it in the freezer overnight.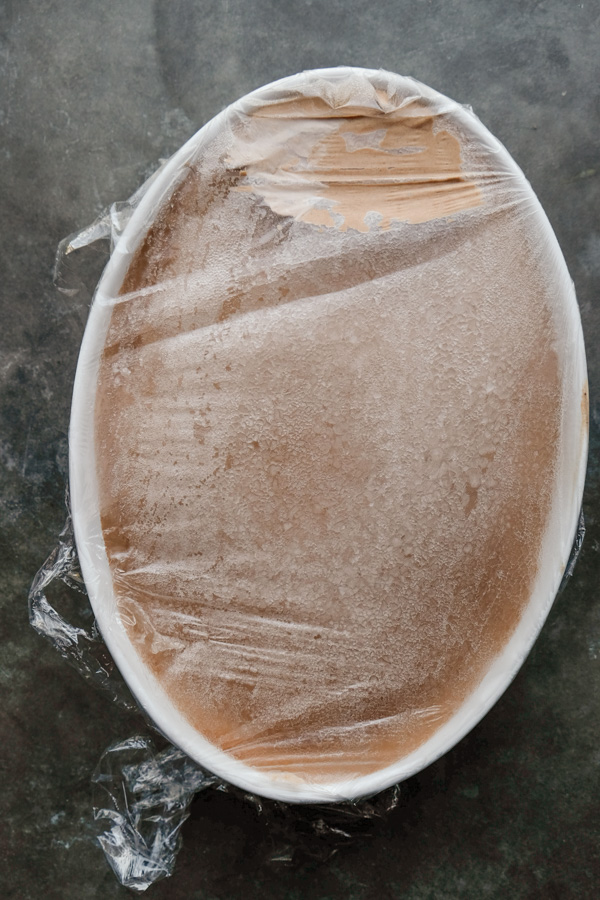 When you're ready to serve, make some whipped cream and bring out the chocolate to grate!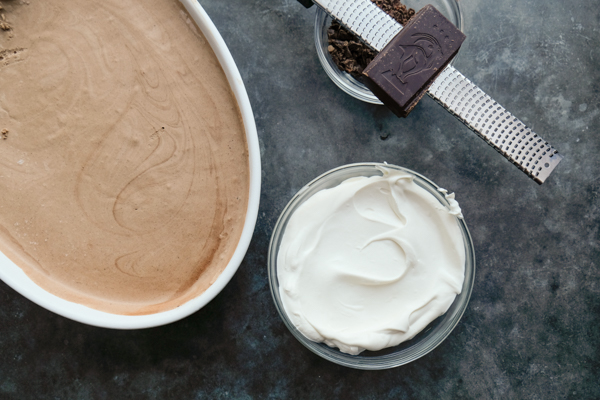 Texture sample for you: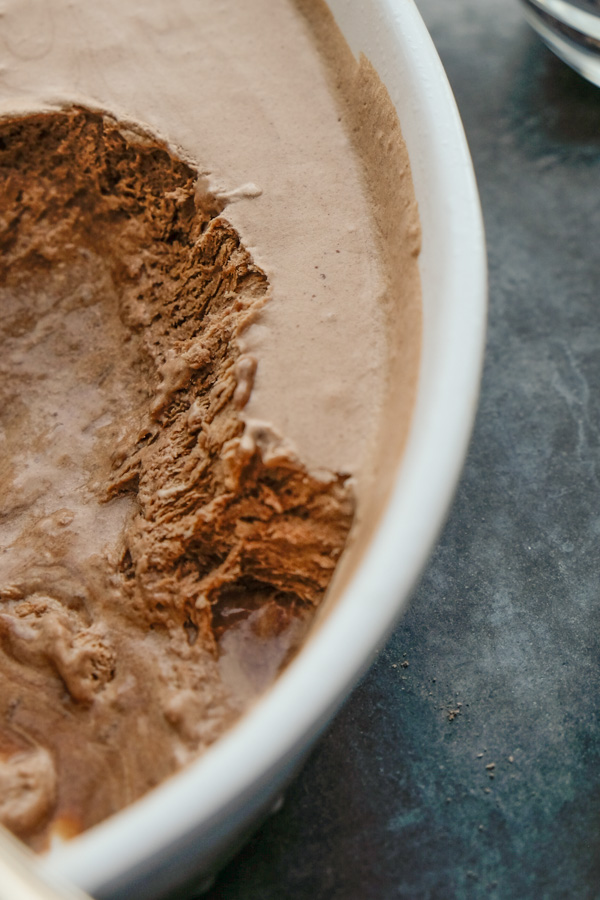 Look at that!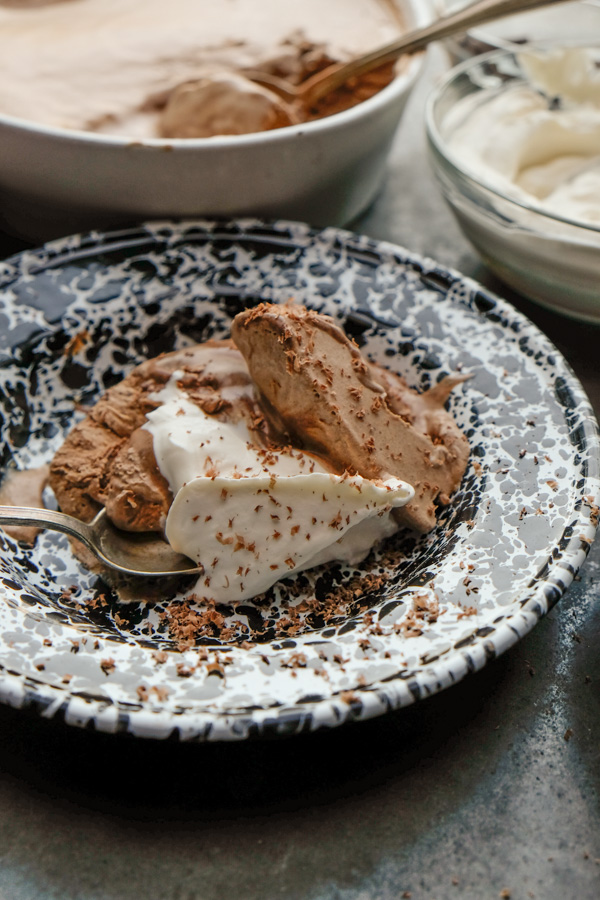 So light!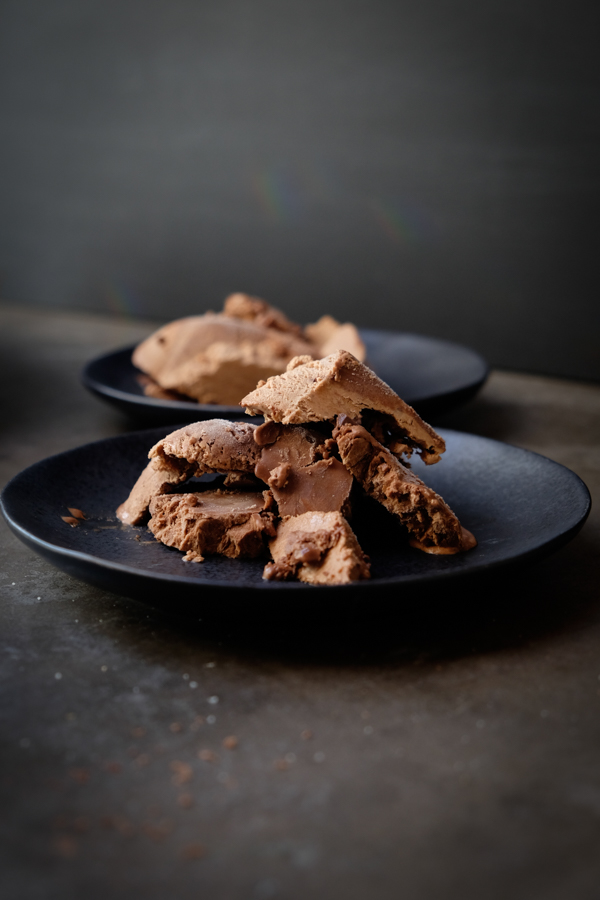 Don't be surprised if people ask for seconds.
You'll see what I mean!!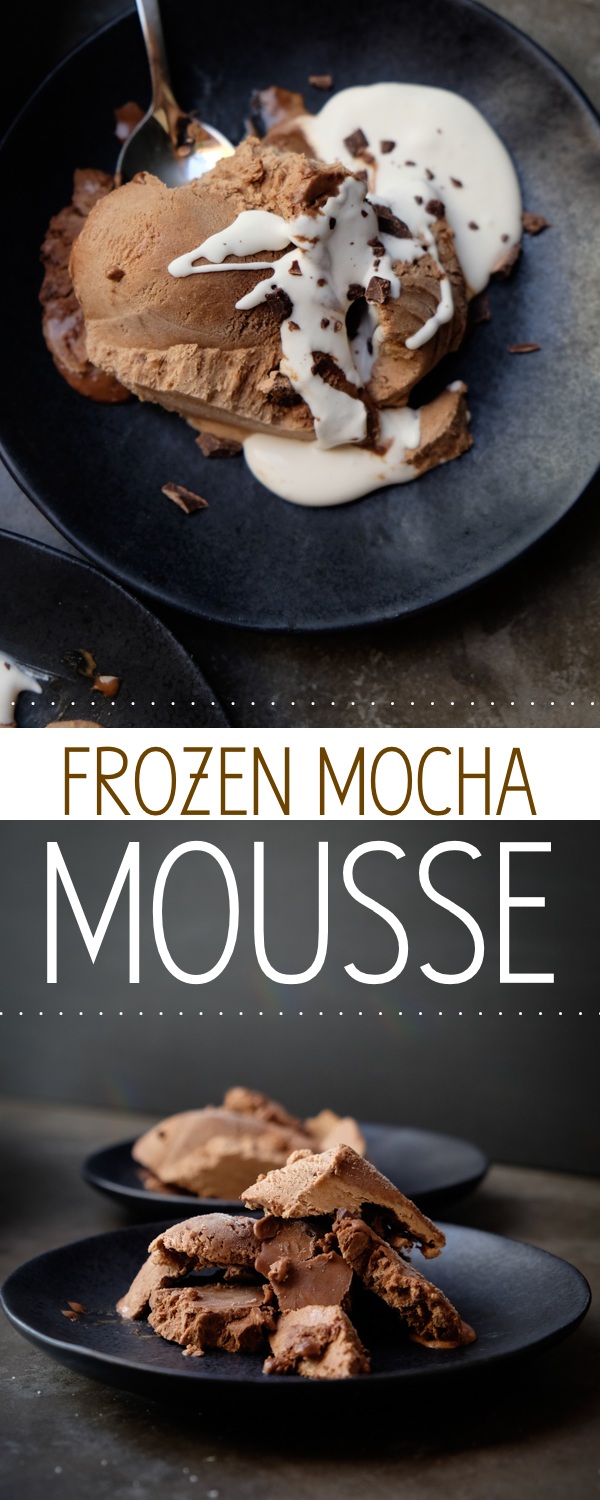 I can imagine changing out the toppings/subbing the Kahlua with a mint liqueur for a minty chocolate mousse. Or, how about some Grand Marnier?! Make it an orange chocolate situation!
serves 8

recipe slightly adapted from Cooking for Jeffery, by Barefoot Contessa

7 oz. bittersweet chocolate, divided
3 tablespoons coffee liqueur
6 large eggs, separated, at room temperature
3/4 cup sugar
1/4 cup unsweetened cocoa powder
2 teaspoons instant coffee (or espresso)
1 teaspoon pure vanilla extract
pinch kosher salt
2 cups cold heavy cream
whipped cream, for serving
grated bittersweet chocolate, for serving

Place 3 ounces of chocolate, the coffee liqueur, and 3 tablespoons of water and a small bowl and cover with plastic wrap. Keep the mixture in the microwave for 30 seconds, Stir, then heat for another 15 seconds. Continue just until the chocolate melts, stir until smooth and set aside to cool

Place the egg yolks and sugar in the bowl of an electric mixer fitted with the paddle attachment and beat on medium speed for three minutes, until the mixture is thick like mayonnaise, With the mixer on low, add the cool chocolate mixture, the cocoa powder, espresso, and vanilla.

Place the egg whites and salt in a clean, dry mixing bowl fitted with a whisk attachment and beat on high speed until the whites form soft peaks. Carefully fold into the chocolate mixture with a rubber spatula. In the same bowl (wiped clean), beat the cream on high-speed until it forms soft peaks, then fold into the chocolate mixture. Grate the remaining 4 ounces of chocolate and fold it in the mousse with a rubber spatula

Pour the mixture into a 10 cup soufflé dish. Cover and freeze for several hours or overnight before serving. Serve with whipped cream and grated chocolate on top.