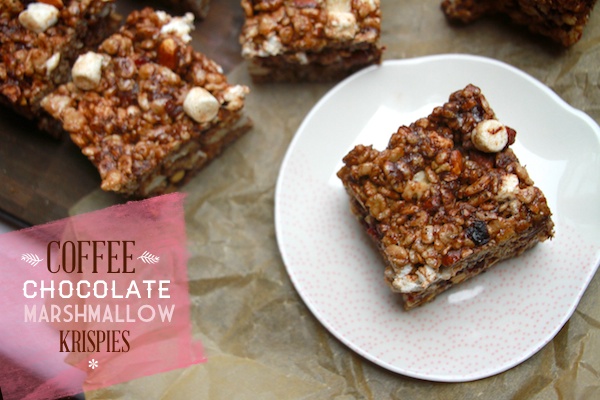 Three words: PROCEED. WITH. CAUTION.
Four Words: Coffee Chocolate Marshmallow Krispies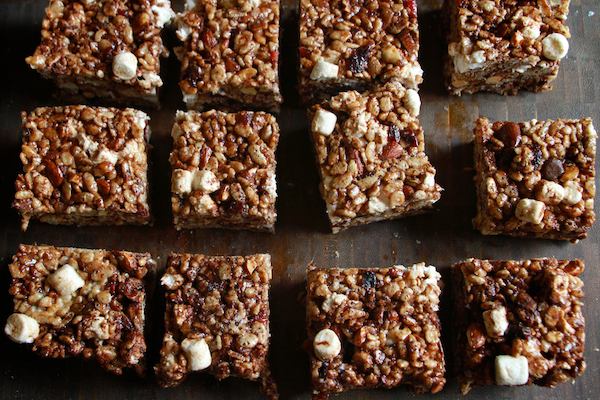 These krispies are dangerously good. It's the kind of dangerous where after one bite, you find yourself divvying up portions for neighbors and friends because you KNOW you can't be trusted with a whole batch in your kitchen.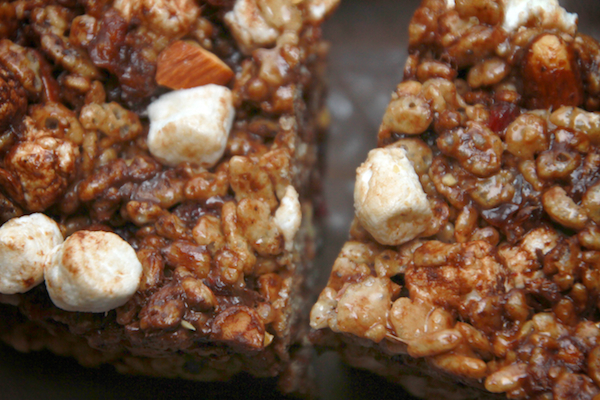 But then you somehow "forget" to actually give some to your friends and you find yourself eating the whole batch when no one is looking.
THAT kind of dangerous. It's that hint of coffee, the crunchy salted almonds and the subtle dried cherry flavor that give it the wow factor.
It's like a grown-up krispie treat mixed with rocky road & trail mix.
It's just…. INSANITY. Warning label necessary.
And we're off!
Ingredient gathering time!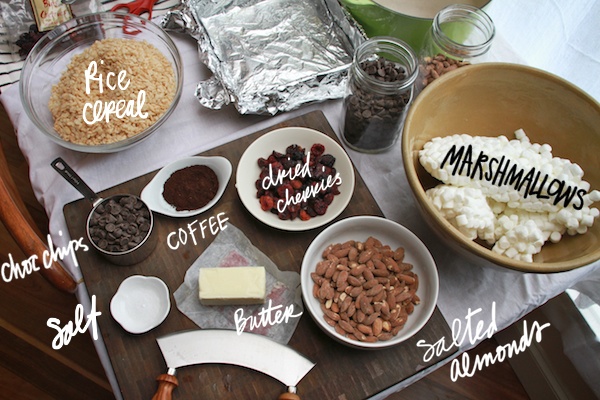 First we chop up the salted almonds & the dried cherries. This is a mezzaluna. It's just as fun to say as it is to use!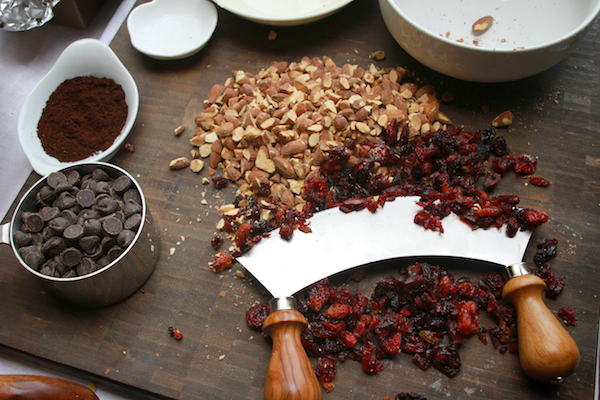 Now we melt the butter. YES.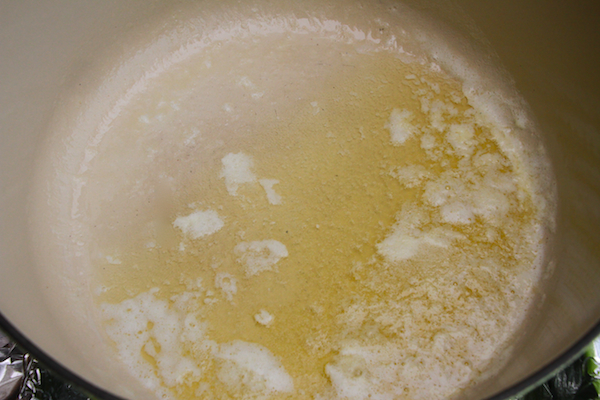 Put half of the marshmallows in. MELT!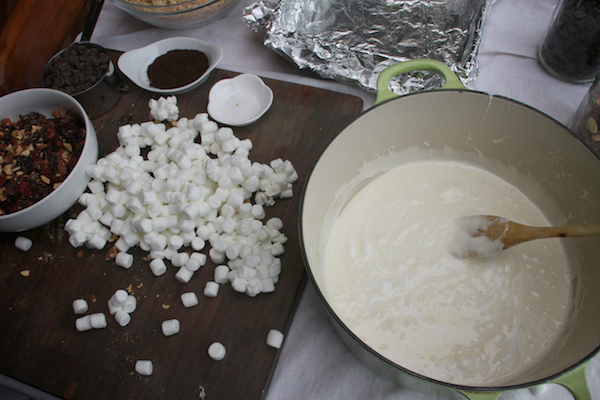 Now pour in the crisped cereal. Flex your muscles! We're gonna get a work out.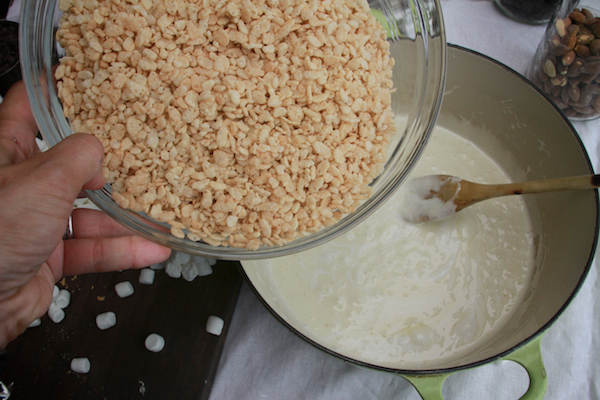 Start tossing in your stuff!
Add the coffee grounds & chocolate chips. STIR.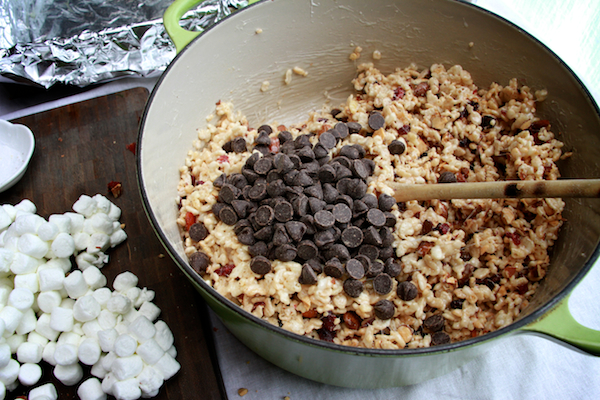 Now add in your marshmallows! STIRRRRRRR. It's gonna get a little hard at this point.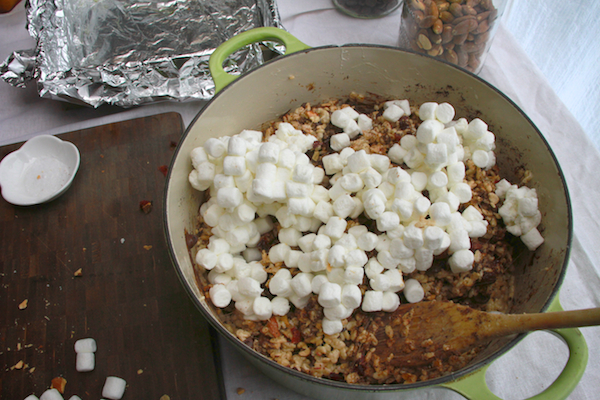 Dump it into a 9×9 baking tin lined with foil that has been sprayed with cooking spray. PUSH IT IN.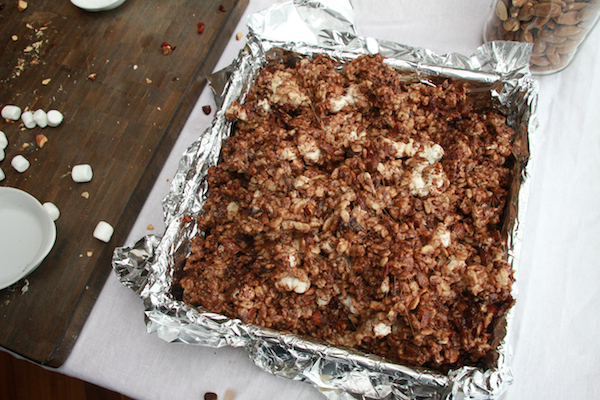 Flatten it and here comes the HARDEST PART….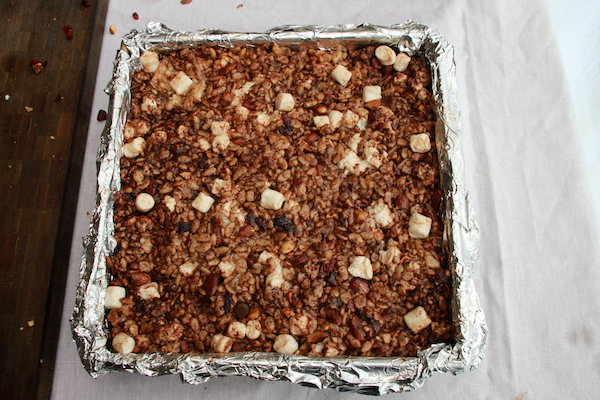 Letting it cool.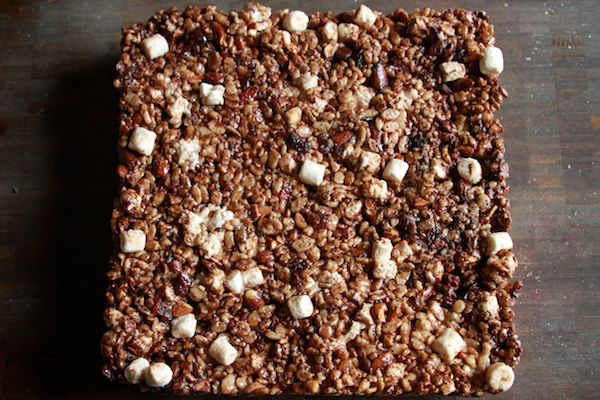 Cut it up. GET INTO IT.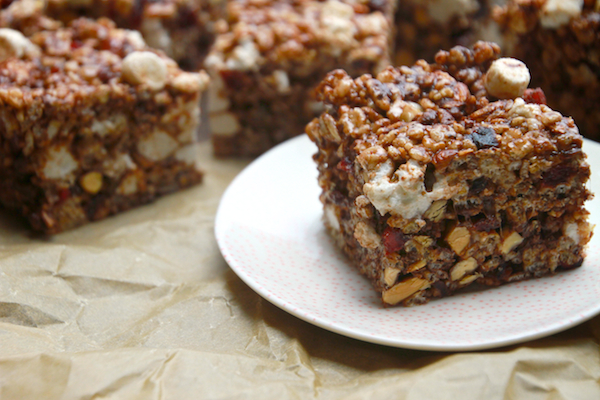 I'm sure that if you bring these to a summer BBQ, you'll get the guest of the year award. No doubt.
Coffee Chocolate Marshmallow Krispies

makes 12

recipe adapted slightly from Christina Tosi of Milk Bar via Rachael Ray Magazine

1 stick salted butter
2 bags (10 oz. each) mini marshmallows
5 cups crispied rice cereal
2 cups salted roasted almonds, coarsely chopped
1 1/2 cups dried cherries, chopped
2 teaspoons ground coffee (not instant)
1/4 teaspoon coarse salt
1 cup semi-sweet chocolate chips
cooking spray

Line a 9 inch square baking dish with foil and spray lightly with cooking spray. In a 10-12 quart pot, melt the butter over medium low heat. Add 10 cups mini marshmallows and cook, stirring occasionally, until melted and smooth, about 5 minutes; remove the pot from the heat.

Using a wet spoon or spatula, fold in the rice cereal. Sprinkle in the almonds, cherries, ground coffee & salt; fold quickly to distribute. Sprinkle in the chocolate chips and remaining mini marshmallows; fold gently to distribute.

Spoon mixture into the prepared baking dish. Using slightly damp hands or a wet spatula, press into an even layer. Let cool completely and cut into square to serve.