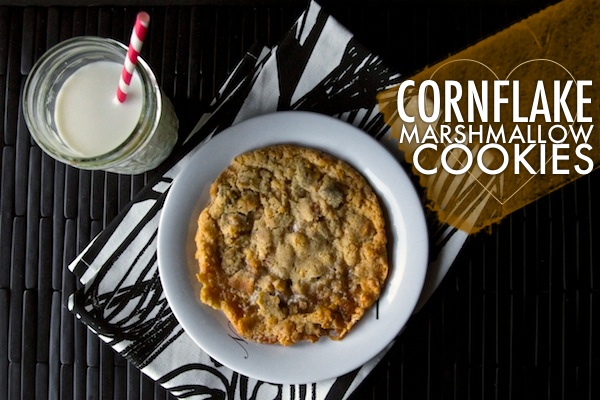 I wanted to write you this whole story about how my brother flew across country with a huge box full of cookies from Momofuku's Milkbar for my birthday but I just got sucked in on Facebook and I don't have the energy to go into detail. I don't know how I get sucked into Facebook, but I do. I have a few people who are into Crossfit & Paleo (OMG!), a bunch of people just got new baby dogs, a friend had a baby and some other people are performing in bands and it's all…
RIVETING STUFF.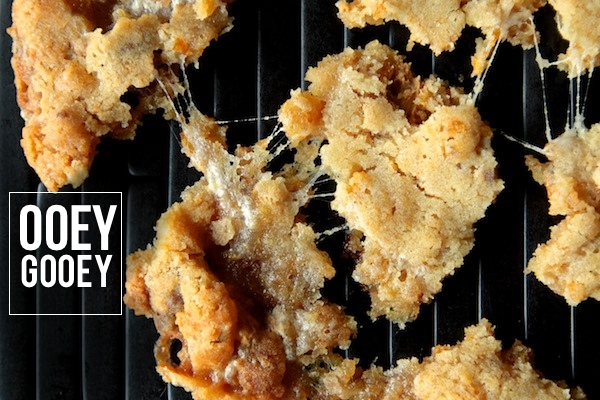 I now interrupt your allocated 5 minutes (ahem, 50) of Facebook time to tell you about these cookies. These cookies are everything. I had them many many years ago when I was in New York and I've never had anything like them since. I always make a point to pick one up on my trips out to NY. These cookies are crunchy (cuz of the cornflakes!), buttery, chewy and almost toffee-like. The marshmallows makes them ooey & gooey and the peanut butter chips (my addition!) make them kind of savory and leads to mouth watering goodness. Also, they are GIANT.
**please note that in real life, my hands are giant**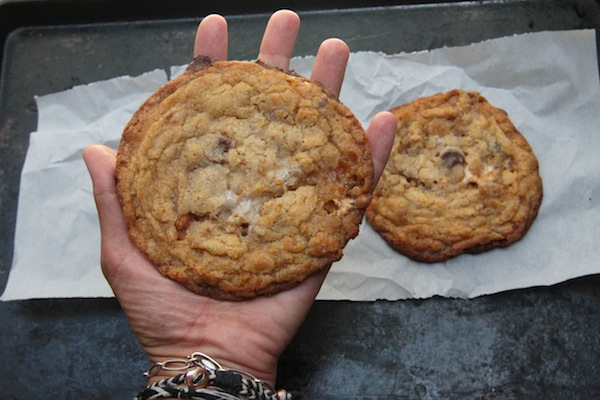 I made the mistake of leaving 8 of them on the counter while Casey was working from home. A few hours later I got a text saying, "These cookies are dangerous!" And when I came home there was a measly half a cookie left! He felt bad, but he had no idea that I stashed 4 uncooked cookie dough balls in the freezer. One must always be prepared!
And we're off!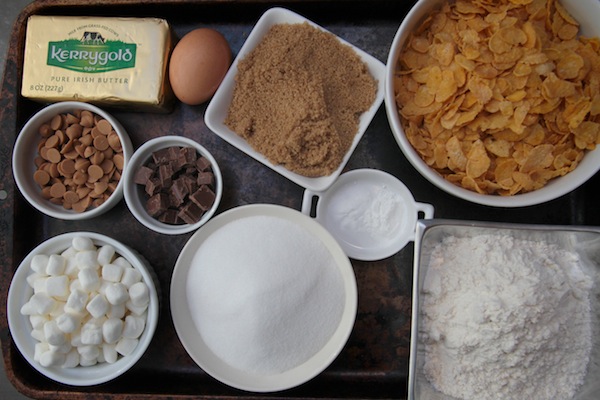 Let's talk about cornflakes for a second. They add a DELICIOUS CRUNCH. The bite is unreal.
If you aren't a fan of peanut butter, double up the chocolate.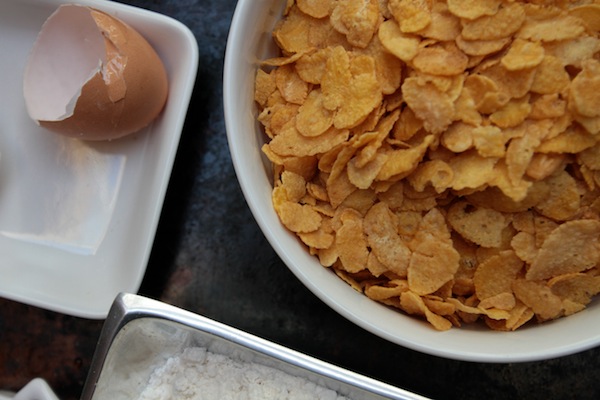 First you cream the butter & sugar together. Egg & vanilla time. POWER.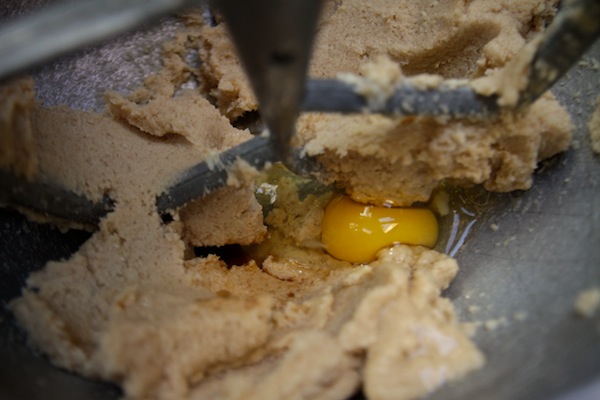 Sometimes I wonder if you're reading this.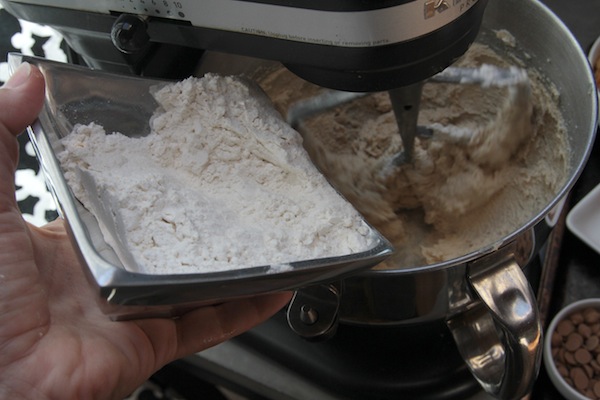 Does it bother you that I put so many dang photos in my posts? It's not like it's an easy task to take pictures along the way..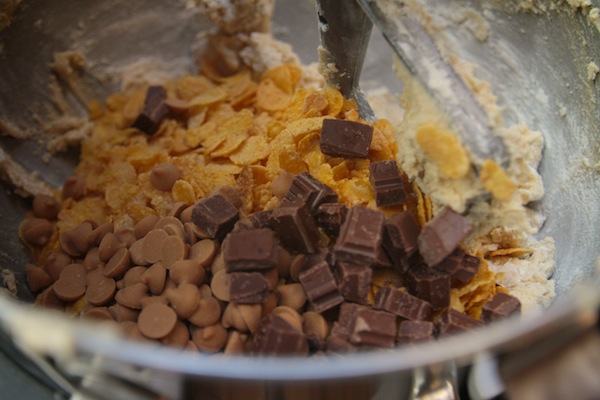 But I do it so that you'll know what's involved. And when I look back and make something again, I know what I need to do and I can figure out if I have enough time to do it.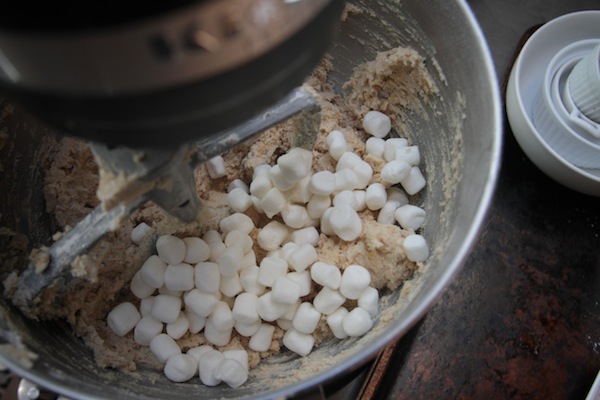 My goal is to get you into the kitchen. I want you to feel inspired.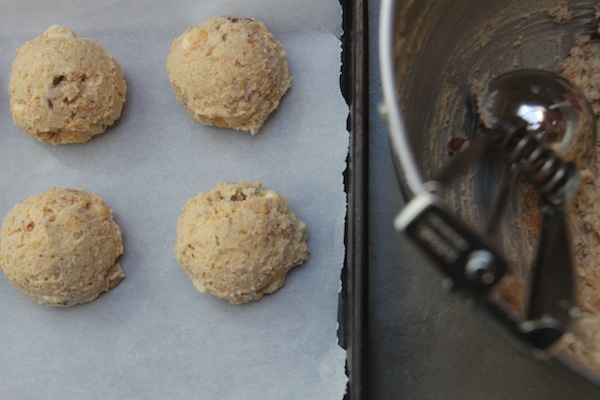 And these pictures are like me subtly holding your hand. We can do this. I can show you what the dough looks like.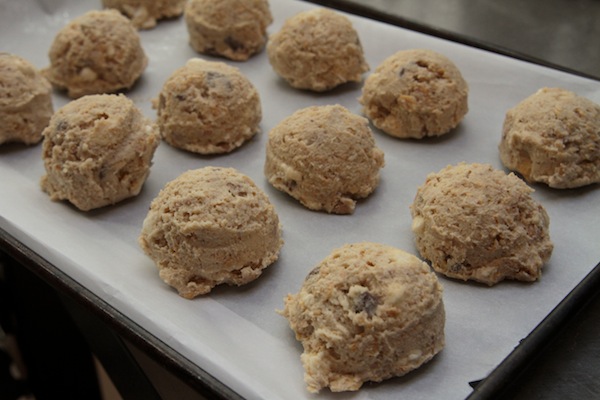 And if you are a visual learner like me… (this is the part where you let the dough chill for awhile)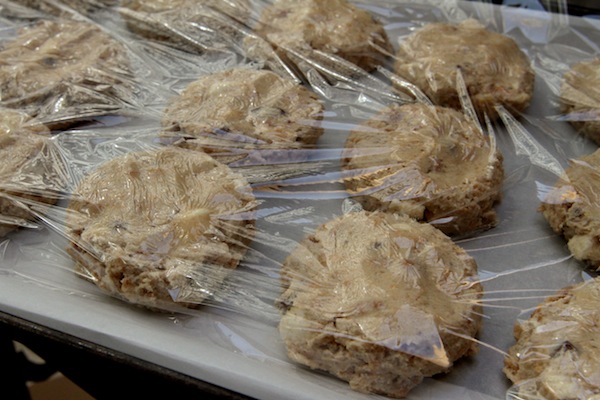 Here's something to look at besides words. But you're reading this now. So, that's weird.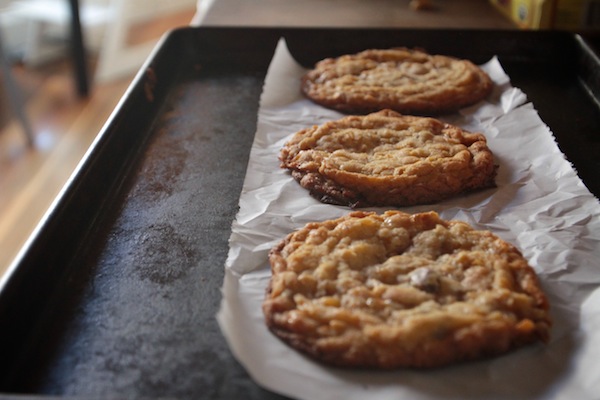 And at this part you're probably drooling.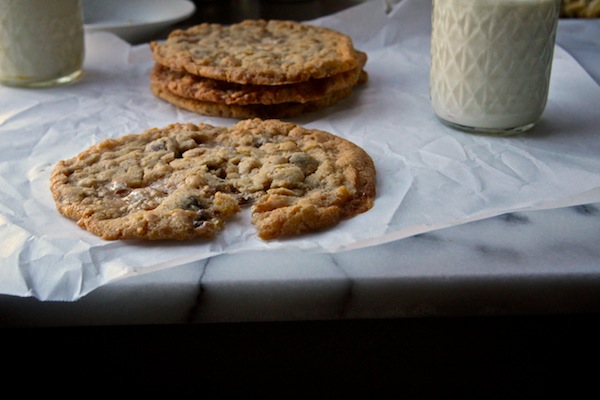 You are one step closer to making these cookies and I hope you do because of me. That is all.
Oh yeah and if you're a huge fan of Milkbar/Christina Tosi, you should try these Chocolate Coffee Marshmallow Krispies.
Seriously, she needs to quit making my sweet tooth so dang satisfied.
Cornflake Marshmallow Cookies

makes 12-15 cookies
recipe adapted from Momofuku Milk Bar

1 cup (2 sticks) unsalted butter, room temperature
1 cup granulated sugar
2/3 cup packed light-brown sugar
1 large egg
1/2 teaspoon pure vanilla extract
1 1/2 cups all-purpose flour
1 1/4 teaspoons coarse salt
1/2 teaspoon baking powder
1/4 teaspoon baking soda
3 cups cornflakes
1/3 cup mini chocolate chips (I cut up a Hershey's bar!)
1/3 cup peanut butter chips
1 1/4 cups mini marshmallows

Cream together butter and both sugars in the bowl of an electric mixer fitted with the paddle attachment on medium-high, 2 to 3 minutes. Scrape down sides of bowl and add egg and vanilla; beat for 4 to 5 minutes.

Reduce speed to low and add flour, salt, baking powder, and baking soda. Mix just until dough comes together, no longer than 1 minute. Scrape down sides of bowl with a spatula.

With the mixer on low, add cornflake crunch and both chocolate & peanut butter chips; mix until just combined, 30 to 45 seconds. Add mini marshmallows and mix until just incorporated.

Line a baking sheet with parchment paper. Using a 2 3/4-ounce ice-cream scoop or 1/3-cup measuring cup, portion dough out onto prepared baking sheet. Pat tops of cookie domes flat. Wrap baking sheet tightly with plastic wrap and refrigerate for at least 1 hour and up to 1 week. Do not bake cookies from room temperature or they will not hold their shape.

Preheat oven to 375 degrees. Line additional baking sheets with parchment paper or nonstick baking mats.

Arrange chilled dough at least 4 inches apart on prepared baking sheets. Transfer to oven and bake until puffed, cracked, spread, and browned on the edges, about 12-15 minutes. Let cool completely on baking sheets.

***notes***

The cookies have a high butter to flour ratio, which is why a chill in the fridge is necessary. I suggest chilling for at least 3 hours. If you want, you can freeze the cookies and bake them off. They work out perfectly- you might need to adjust baking time by a few minutes. Also in my research of the cookie, I read that the original 18 minutes the cookie was to bake for produced a burnt cookie so in my oven 12-15 was the right zone. Keep an eye on your cookies before they get too dark. You want them crisp around the edges. They harden as they cool.