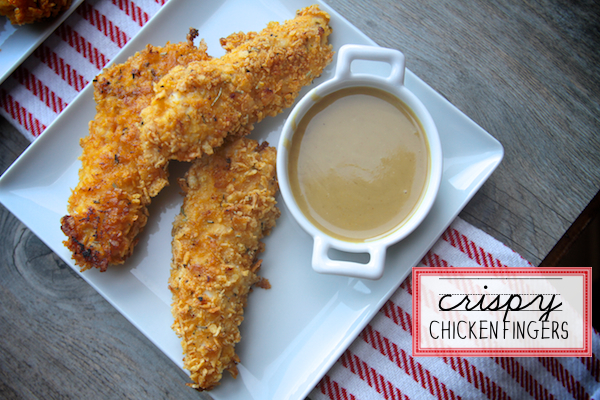 I woke up to the strangest dream Sunday morning. In my dream, I was attending a wedding and when I went to find a seat in the front, I noticed there was a spot open right next to Oprah. I quickly took it. She was wearing a shiny pink two piece outfit and I had on a hot red number. I almost remarked that we looked like we're attending a Valentine's Day party…but I held back. We said our casual hellos, the wedding service continued and then I felt her nose smooshed against my scalp…sniffing my hair. I let it go on for a bit (umm HELLO, if OPRAH wants to sniff your hair, you let her!) and then she immediately relocated three chairs down. I asked her, "What was that?!!"  Then she replied, "I don't like the smell of your shampoo."
Then I woke up.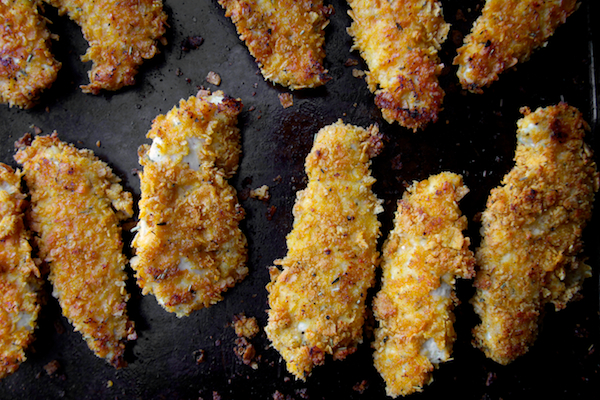 This dream haunted me all Sunday. Why did I dream this? Was it because I just bought new shampoo? Casey told me he liked the way it smelled…
Then I figured it out. This dream was meant to tell me something. In life, you HAVE to take risks. It was a risk for me to chose to sit next to Oprah. So, she didn't like the way my hair smelled. SO WHAT. At least I got to sit next to Oprah. You never know how things will turn out unless you try.
What does this have to do with chicken?
It turns out cornflakes are a really good coating for baked chicken fingers! They make them taste fried. It's pure genius.
My girl Oprah would no doubt enjoy these. I even made a tasty honey mustard dipping sauce!
THEY'RE BAKED & DEEEEEELICIOUS  (As said in my best Oprah voice, naturally)
And we're off!
It all starts with soaking the chicken in buttermilk.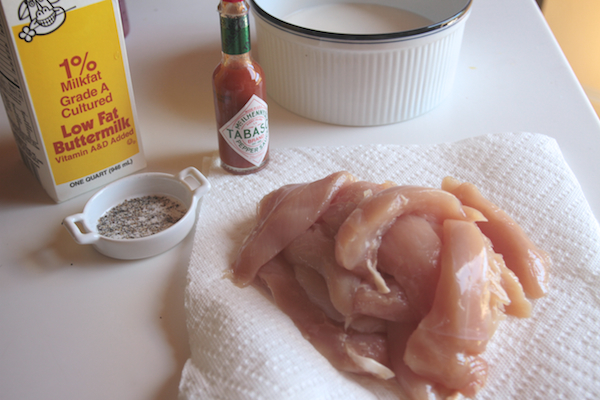 A few dashes of hot sauce & pepper jazzes up the buttermilk. Add the chicken. Stir.
Cover it up and let it sit in the fridge for at least 30 minutes.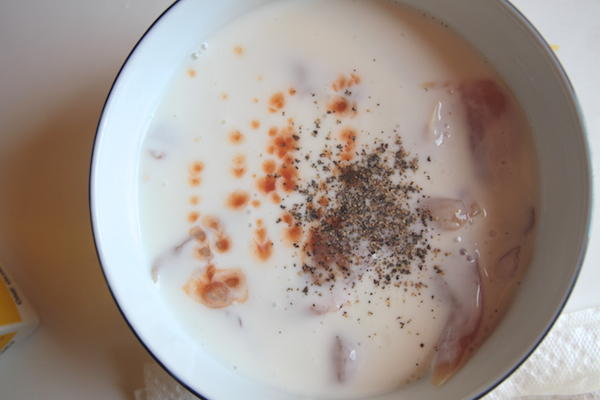 Smash cornflakes! Put them in a plastic bag, seal it up and BASH them up.
Here they are bashed. We're going to make a nice crunchy coating with spices & cheese!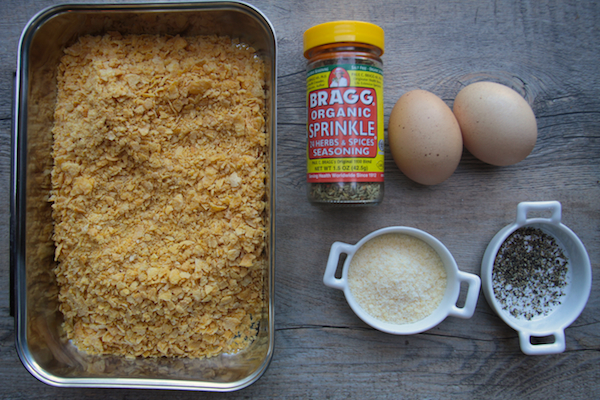 Have you tried Bragg Organic Sprinkle Seasoning? I'm kind of obsessed with it right now. I put it on ALMOST everything. It's really good in this mix. GET SOME.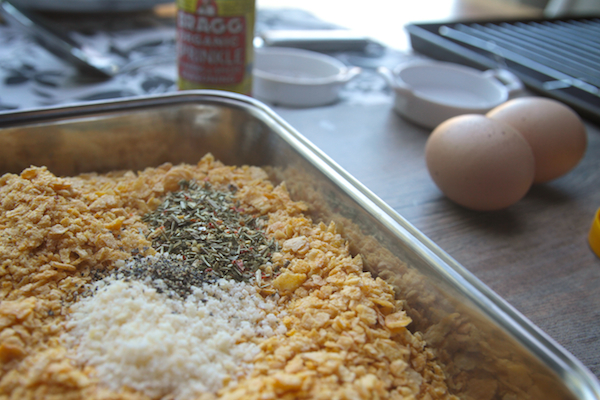 Get your station ready! Spray a baking sheet with oil. Now ONE TWO THREE, line up the chicken fingers!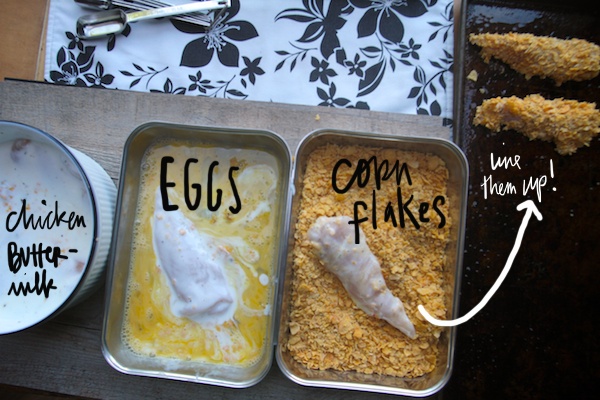 Here they are ready for the oven.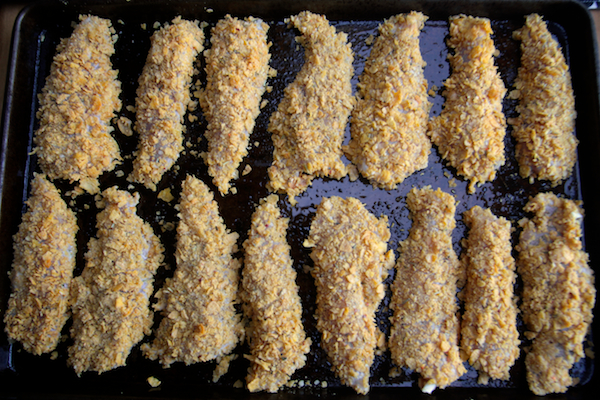 Here they are OUT of the oven. Let them sit a little bit. They crispy up more when they sit.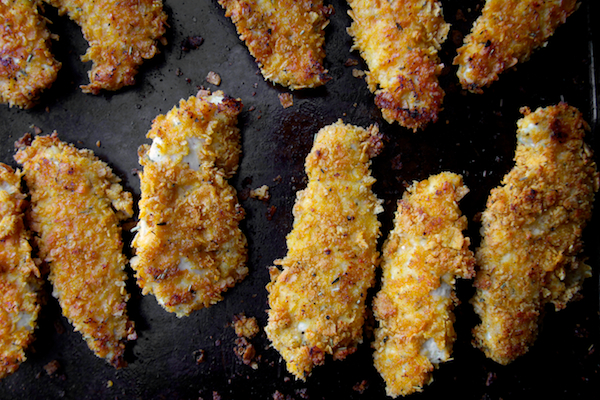 Let's make a honey Dijon dip! It's just honey, Dijon mustard & Greek yogurt.
You could use mayo…if you're into that sorta thing.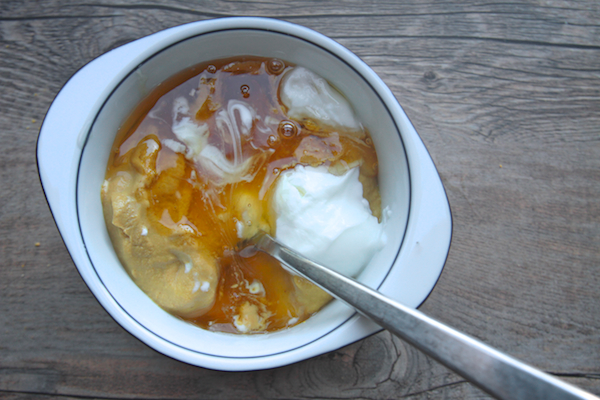 Look at what we have here!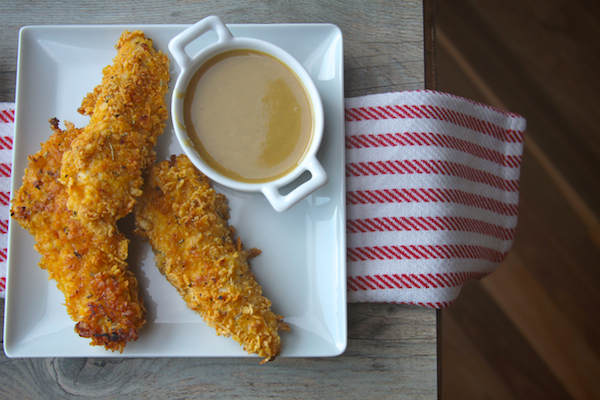 Real life application! I made a kale slaw & a riff on this corn dish for sides. I added bacon to the corn!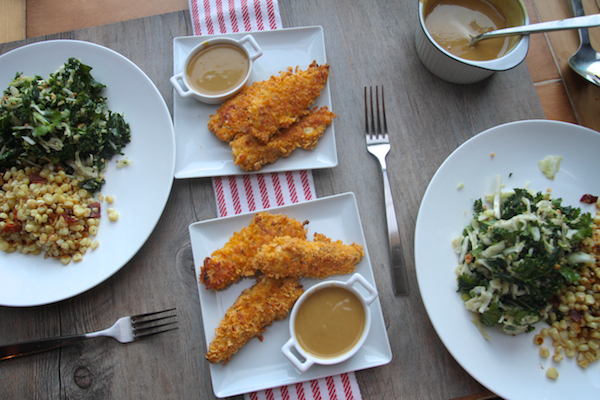 Living RIGHT. And for the record, my new shampoo smells AWESOME.
Crispy Chicken Fingers

serves 4

recipe adapted from Healthy Appetite with Ellie Krieger

1 1/4 lbs. chicken tenders
1 1/2 cups low fat buttermilk
2-3 dashes Tabasco sauce
4 cups cornflakes
2 tablespoons grated Parmesan cheese
1 heaping tablespoon Bragg's Organic herb seasoning (or seasoning mix of your choice)
2 eggs
kosher salt & fresh ground pepper

In a large bowl, mix the chicken tenders with the buttermilk, Tabasco and season with salt & pepper. Coat tenders evenly, cover and put in the fridge for at least 30 minutes or up to 3 hours.

Preheat oven to 400F.

Spray a baking sheet with cooking spray. Place the cornflakes in a sealed plastic bag and crush with the back of a wooden spoon. Transfer the crumbs to a shallow dish and stir in the Parmesan & herb mix. Season the cornflake mixture with salt & pepper. In another shallow dish, add the eggs and stir to break up the yolks.

Dip each piece of chicken in the egg and then add to the cornflake mixture, coating thoroughly. Arrange chicken tenders on a baking sheet and bake for 8 minutes, flip and then bake for an additional 5 minutes, until cooked through.

Serve warm or at room temperature.

HONEY MUSTARD DIP:

1/2 cup Dijon mustard
1 tablespoon Greek yogurt
3 tablespoons honey

Stir ingredients in a small bowl.