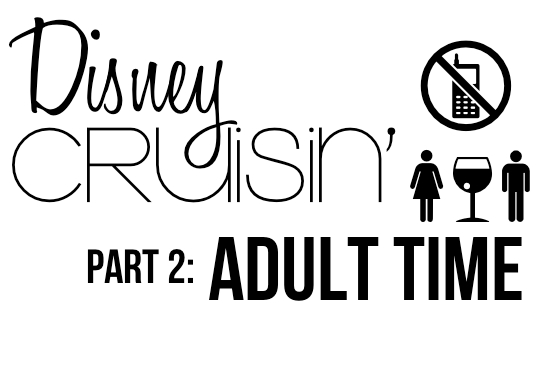 The nice thing about going on a Disney Cruise is that with the help of on board activities & camps for kids, you're able to sneak in some adult time! The camp that Cooper went to ran from 9am-midnight with open drop-in hours. During nap time and at night, Casey and I traded Cooper duty so we could both be apart of some memorable ADULT TIME  activities.
So in those brief moments of adult time, this is what happened:
I got to watch a sunset with my husband without kids. Totally awesometown awesomeness.
We also got a couple's massage together at the spa (not pictured for obvious reasons!)
I had girl time with my sister-in-law, Jill. We spent almost 3 hours talking. How I love girl time!
I got almost an hour of magazine reading to myself! (mothers you know how rare this is)
Casey got MANY hours of arcade time with his brothers & nephew.
He even stayed up til 3am playing soccer with his brothers one night…

HY
This is me hanging out with all the dudes in our group. What's up with those straws?
This is my brother-in-law trying to put his middle finger in front of my foot shot. I was wearing black & white and the floor was black & white but all I can see is his fleshy fingers. I can't tell you how many times I've been photo bombed by a brother/brother-in-law.
I should just post pictures of blurry middle fingers from now on. They're kind of fun. But then again that might encourage them…
While on board, I tagged along with a bunch of other family members for a Champagne tasting!
I think they tasted like 5-6 different Champagnes.
This is another brother-in-law who is sticking is tongue out behind the wine glasses.
Thanks, James. Love you too.
Casey and I had two meals all by ourselves on the ship in the fancy restaurant aboard.
Adult time, INDEED. So thankful for those moments (although brief) to be able to have an uninterrupted conversation with Casey. Since we live with the cutest 3 year old who NEVER STOPS TALKING, it's not always easy to be able to connect.
Much appreciated!
One of the nights I was able to have more adult time with a handful of adults from our group. I learned that my sister-in-law didn't know what a blog was! Hi, Kara! You reading this?!
This is a moment on the trip that kind of excited me. I took some gin that I brought aboard (you can see more about that here) and made makeshift cocktails with it. I grabbed a ginger ale from the bar and a few lime & orange slices and made drinks for Casey, my sister-in-law and myself. Good times.
On the podcast, I briefly talked about this little section here. It's the adult section on the boat. NO KIDS ALLOWED.
(Although, I do see two naughty kids on the top there!)
It's quiet, relaxing and very hard to find an open lounge chair!  The pool is for adults only and there are TWO hot tubs.
Disney totally gets it.
Every morning while Casey & Cooper slept,  I'd sneak up to this area and sit by myself with a cup of coffee and take in the views. I also did a few laps around the ship to get myself ready for the day.
There were a few moments I spent in the Internet Cafe on the ship checking email, but the connection was so terrible I just couldn't deal.
There's a reason for that; they want you to enjoy time with your family! I also didn't use my cellphone for an entire week. No one was happier than Casey 🙂
We also celebrated New Year's Eve on the cruise ship.
The adults had a fantastic meal at Palo.
Then we went to the main lobby where the big New Year's event was going down.
This girl decided to use the elevator as her go-go dancer cage. I was totally amused.
Before the clock struck midnight, servers were passing around champers.
And then the celebration continued! Streamers and confetti went EVERYWHERE.
It rained confetti on us for like 5 minutes. No joke. It was pretty incredible.
I found some confetti in my bag last week.
Did I mention BINGO?! There isn't a casino on a ship, but there's BINGO. While Cooper was at camp, we snuck in for a round of bingo. We didn't win, but we sure had fun! This is a computerized bingo machine. We were managing like 40 something cards on this little gadget. There were two major cash prizes during our cruise. One for 5k and the other for 10k.
And my favorite time on the boat was spent up on the top deck with almost every adult soaking in the sun with cocktails.
I felt truly relaxed and happy in that moment.
There were PLENTY of opportunities for adults to get away during excursions. Included in the activities were ATV tours, tequila tasting and a few golf outings. We didn't get to partake in those activities because you can't leave your child in daycare all day while you're out.
Next up, I'll talk about FAMILY time while on the ship. Stay tuned!