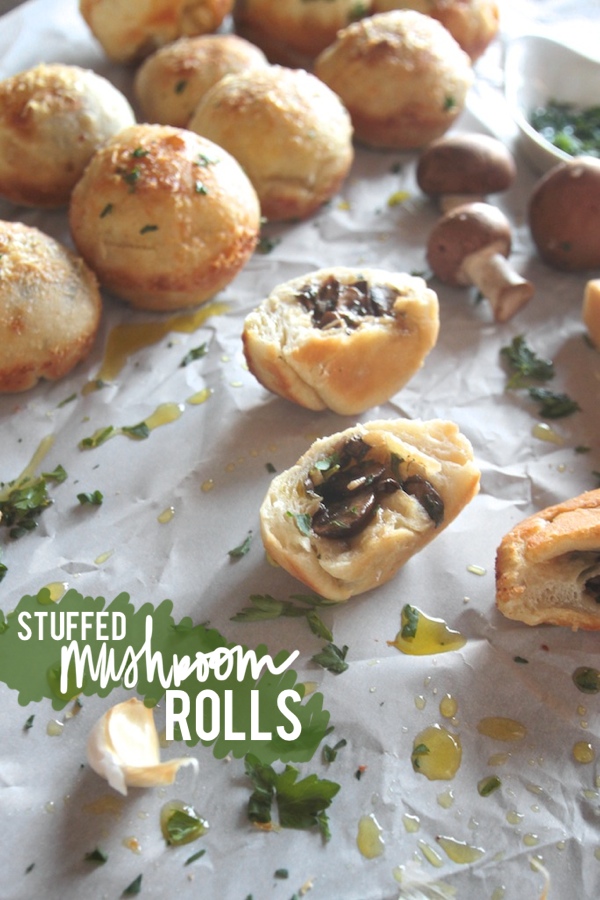 I bought pizza dough at Trader Joe's this week thinking I'd make pizza. But then life got in the way and Casey took Cooper out to pizza and they came home with a crazy amount of leftovers which meant I'd have to repurpose the dough in some other fashion.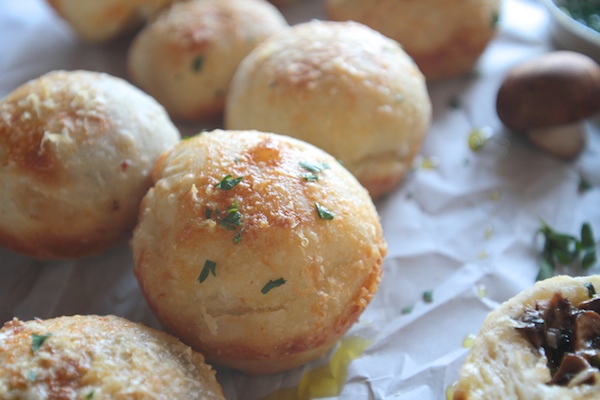 I thought about the garlic butter rolls I made with pizza dough (FOUR) years ago and how popular they were online & in my household. But this time I stuffed them with mushrooms and CHEESE because MUSHROOMS AND CHEESE.  Winning combo if you ask me.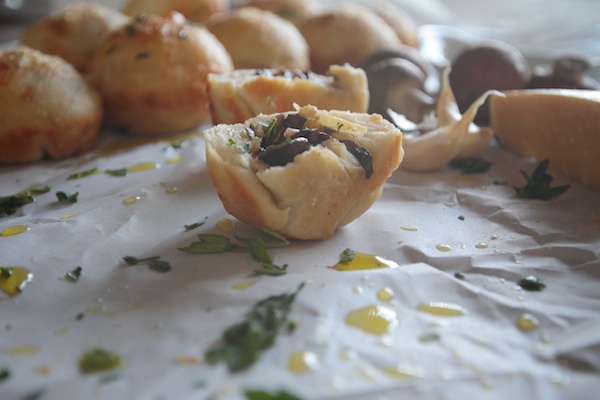 It's the time of year where I want mushroom EVERYTHING. The mushrooms inside these rolls are super garlic-y and have an injection of herbs and creamy Parmesan to make them EVEN BETTER.  If you're looking to make an easy dinner, these would be fantastic with a side of marinara or better yet a little saucer filled with alfredo sauce. Just add a salad to round it all out. I grilled some leftovers on our panini press and served them with eggs & spinach for Sunday breakfast this past weekend. They were crispy perfection.
And we're off!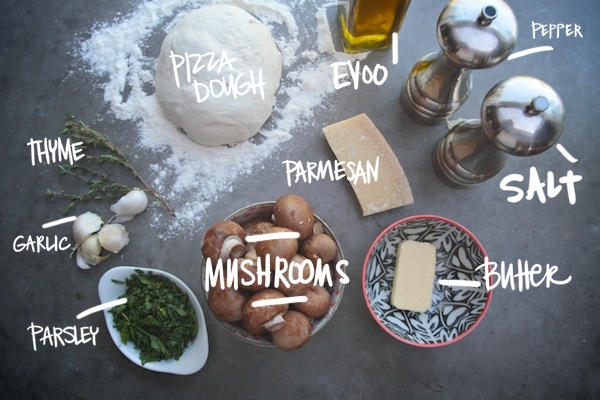 First we're going to slice the mushrooms.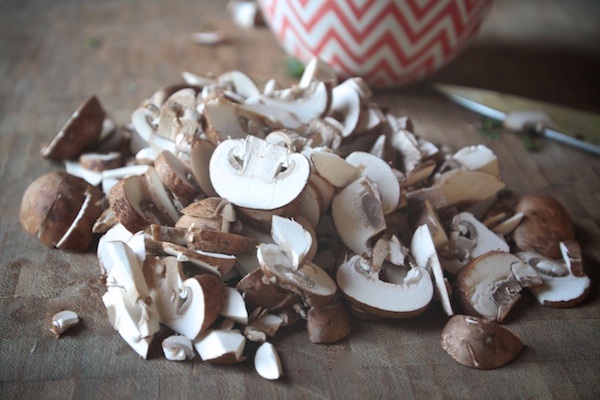 They go into a hot cast iron skillet. No butter. No oil. TOTALLY DRY.
You want to cook them until they are a little squeaky. It's weird but it totally works. You'll see.
Takes about 5 minutes or so.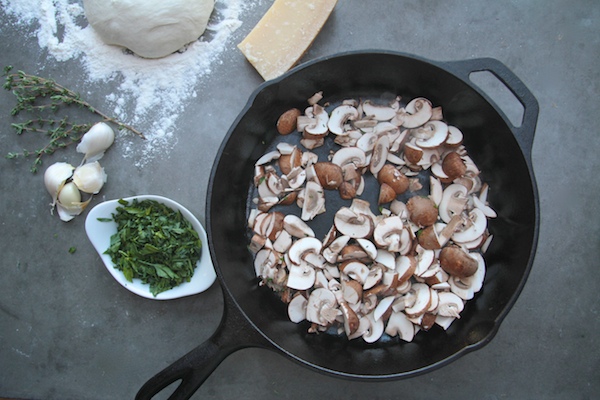 Now divide the pizza dough into 12 little rounds.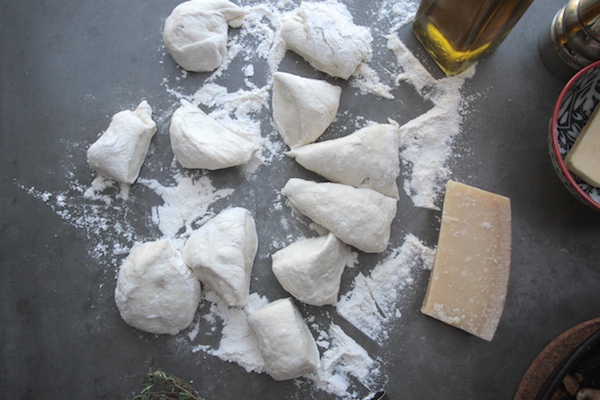 See mushrooms are cooked WITHOUT ANYTHING!
Now we add butter, thyme and garlic. Cook for another few minutes to soften the garlic.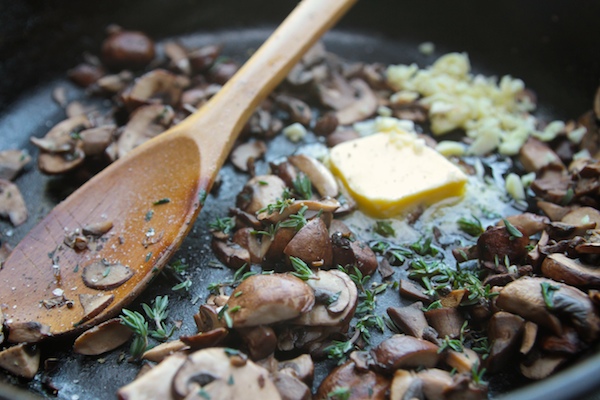 Stir in the parsley for extra flavor.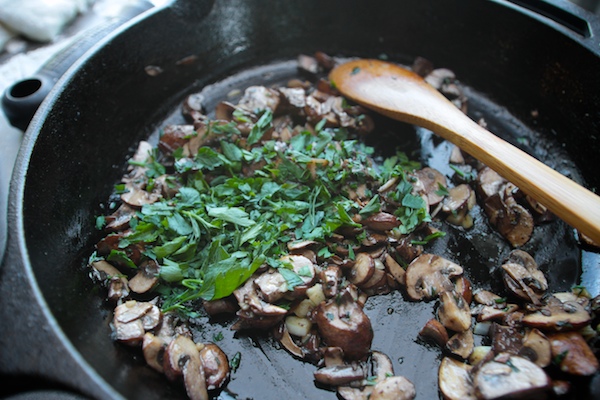 CHEEEEEEEEEESE. It makes the mushrooms creamy!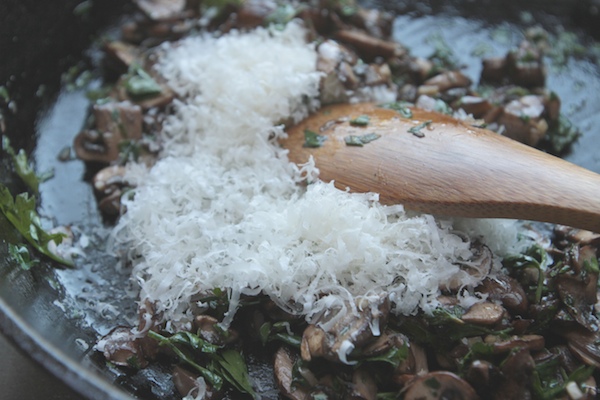 Grab one of the pizza dough rounds. Flatten it and then scoop some of the mushrooms on top.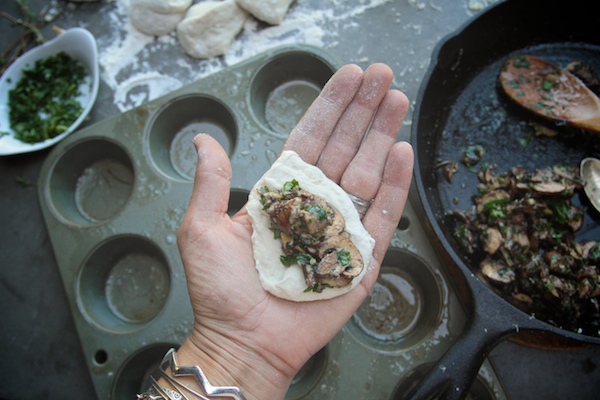 Roll it up by folding the dough over the mushroom mixture.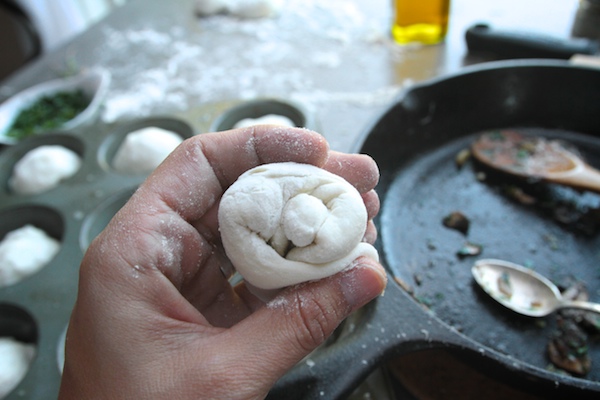 Place each stuffed round in a slot of a muffin tin. Brush with melted butter.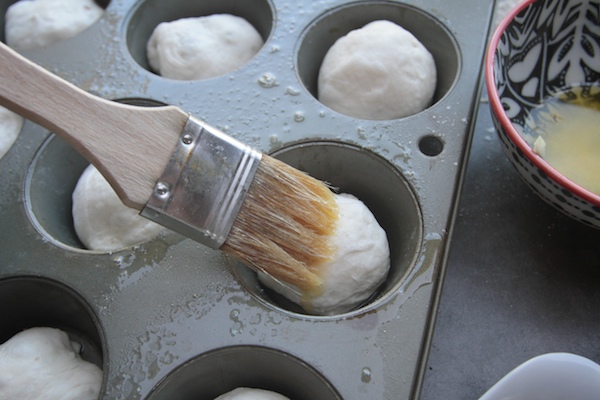 Top with a little more cheese. Now BAKE.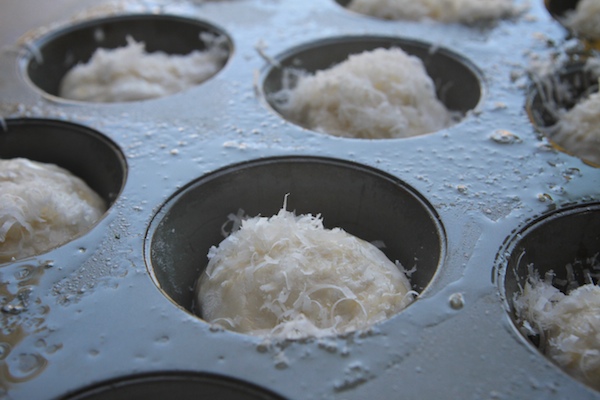 Hello little lovers.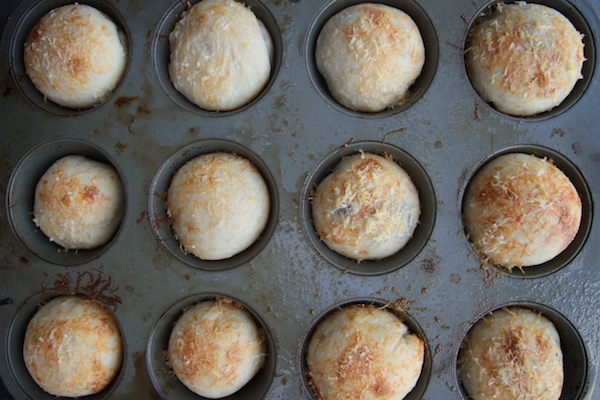 The bottoms get a little crispy. And the insides are doughy and full of mushrooms.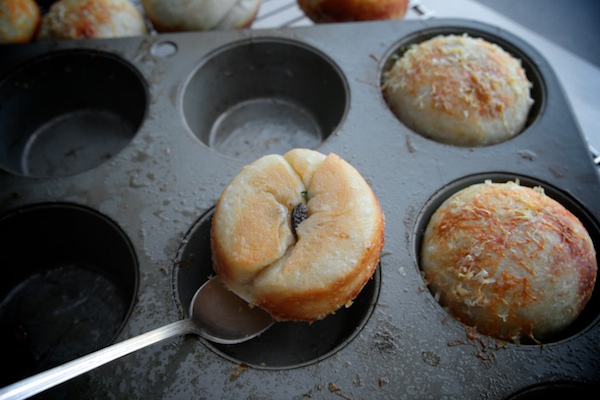 Drizzle the tops lightly with olive oil and sprinkle some parsley on top to garnish.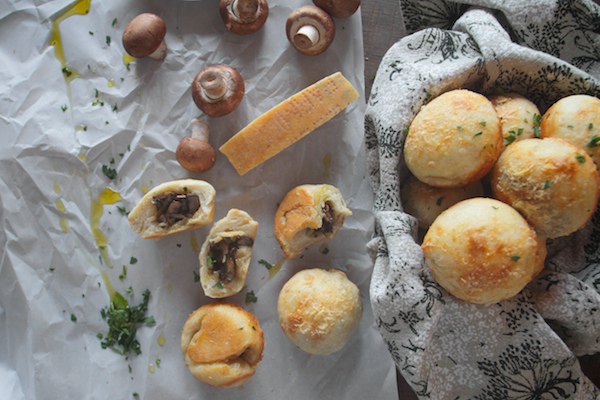 I MEAN.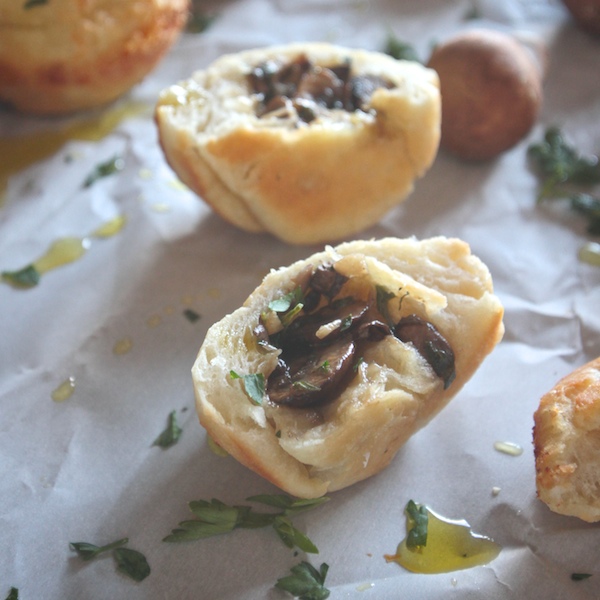 Here are the leftovers for breakfast!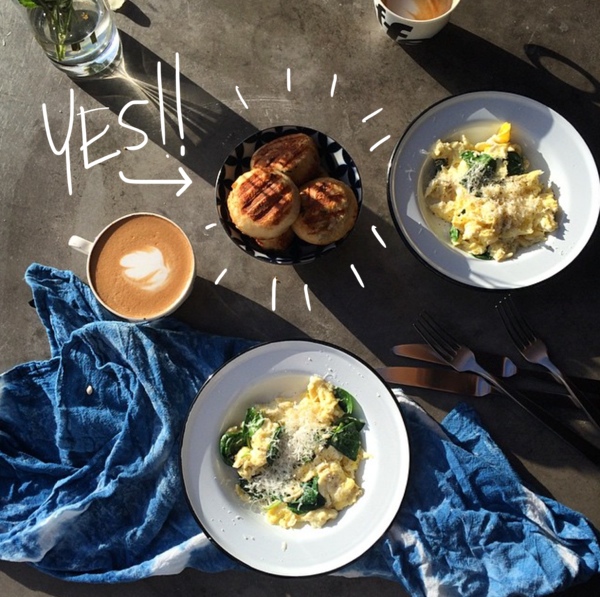 TOO GOOD!
Stuffed Mushroom Rolls

makes 12

1 pound pizza dough
8 oz. sliced crimini mushrooms (about 3 cups)
6 sprigs fresh thyme
3 cloves chopped garlic
1 cup freshly grated Parmesan, divided
2 tablespoons butter, divided
3 tablespoons chopped Italian parsley
1 tablespoon olive oil

Preheat oven to 450F. Spray a 12-cup muffin tin with cooking spray and set aside.  Place pizza dough on flour lined work surface and cut into 12 pieces.

Heat a cast iron skillet over medium high heat and place mushrooms in pan until they start to soften, about 5 minutes. Stir in one tablespoon butter and chopped garlic. Pull the leaves from thyme sprigs and stir them into the mushroom mixture. Cook for another 2-3 minutes until garlic is softened. Season with salt and pepper and stir in 1/2 cup grated Parmesan cheese and two tablespoons chopped parsley.

Grab a piece of pizza dough, flatten slightly in your hand and spoon about a tablespoon of the mushroom mixture into the center of the dough. Fold over the sides and place each stuffed dough piece into the prepared muffin tin.  Melt remaining tablespoon of butter in a small bowl. Brush the tops of each dough roll with a pastry brush and sprinkle 1-2 tablespoons grated Parmesan cheese onto the tops.  Place muffin tin in the oven and bake until rolls are golden and brown, about 15-18 minutes. To serve, drizzle hot rolls with olive oil and sprinkle remaining chopped parsley on top.