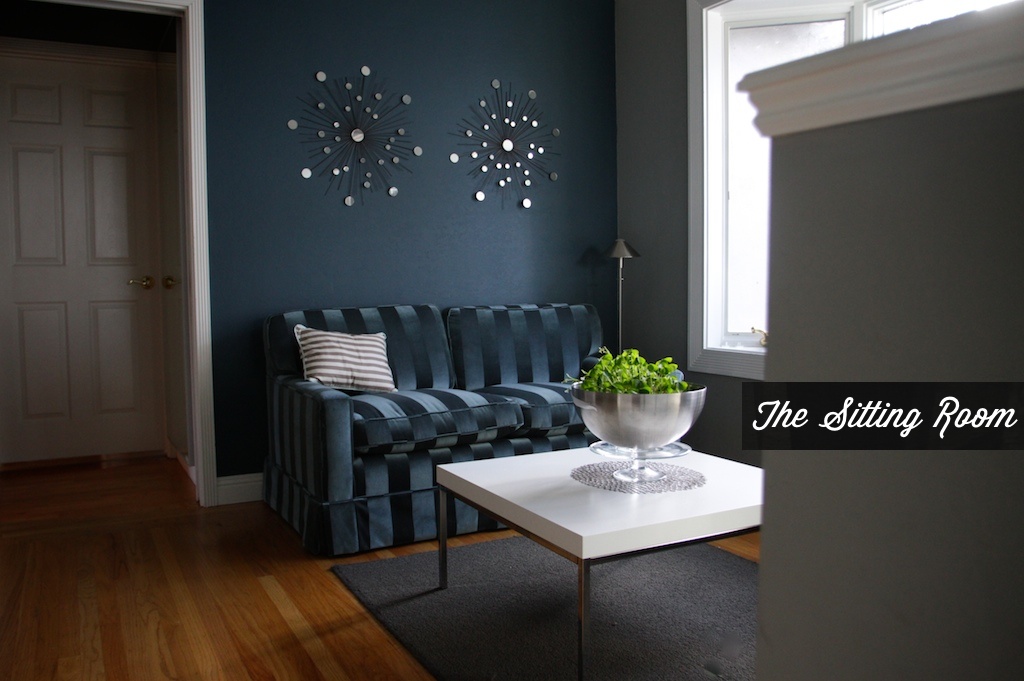 Today I'm gonna show you one of my favorite parts of our house- The Sitting Room.
When you walk into our house, you see the sitting room to your immediate right.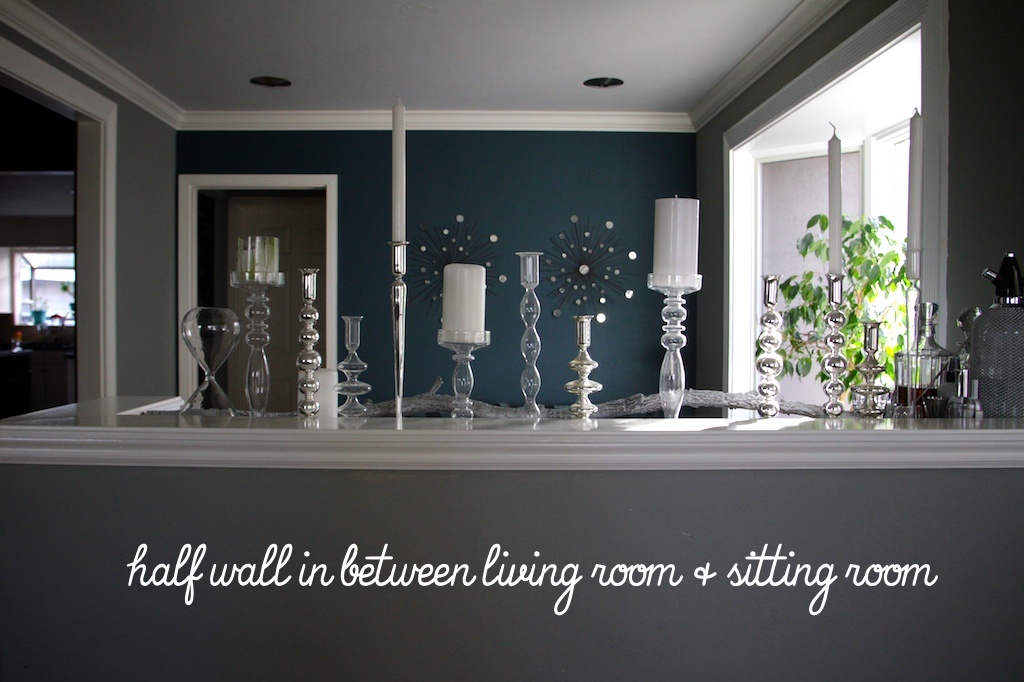 When you look to your left, you can see the blue wall of the sitting room reflected in the mirror in the living room.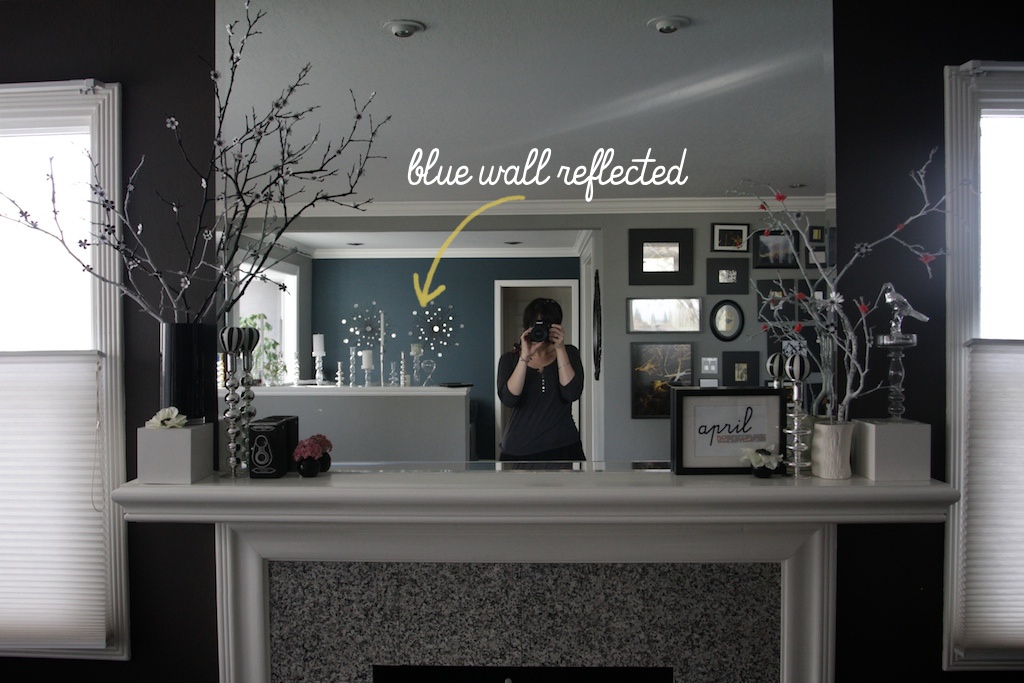 The best part of the sitting room is the light. Pinot & Remy obviously  think so too.
The love seat we have in this room belonged to my parents. It's really well made so we kept it in the family and had it reupholstered in this really cool striped fabric to match the wall we painted. I always wanted a teal blue accent wall.
Here's the deets on that paint color:
Flat Finish
Benjamin Moore
Newburg Green
http://www.benjaminmoore.com/en-us/paint-color/newburggreen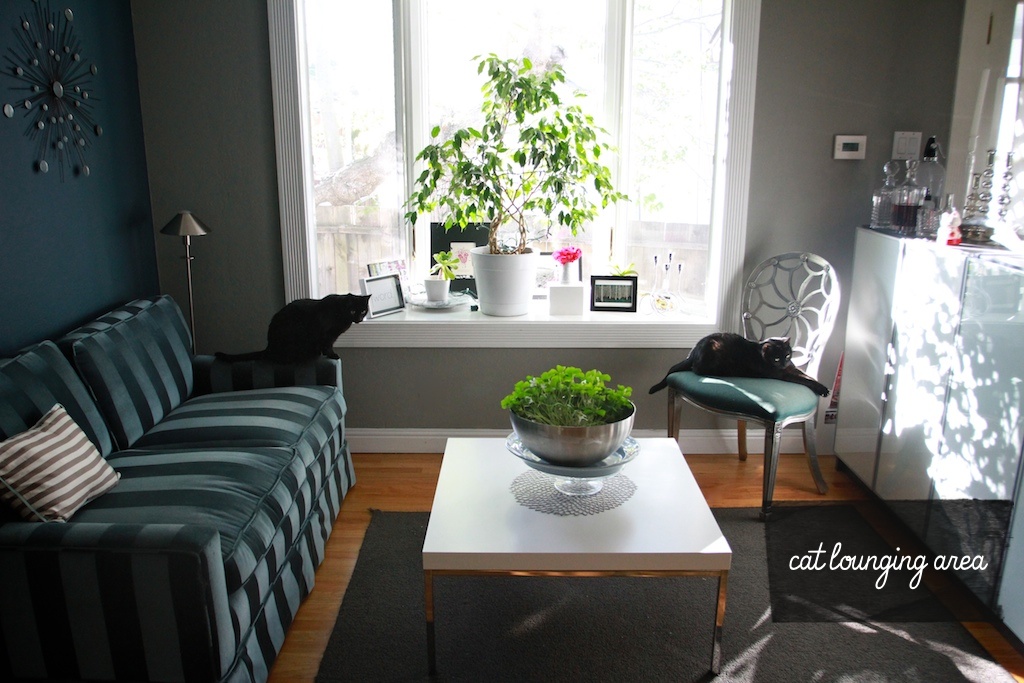 On the accent wall we have two starburst mirrors I bought from West Elm a loooooong time ago. I love how they pick up the light when you walk by them. They're like sparkly earrings.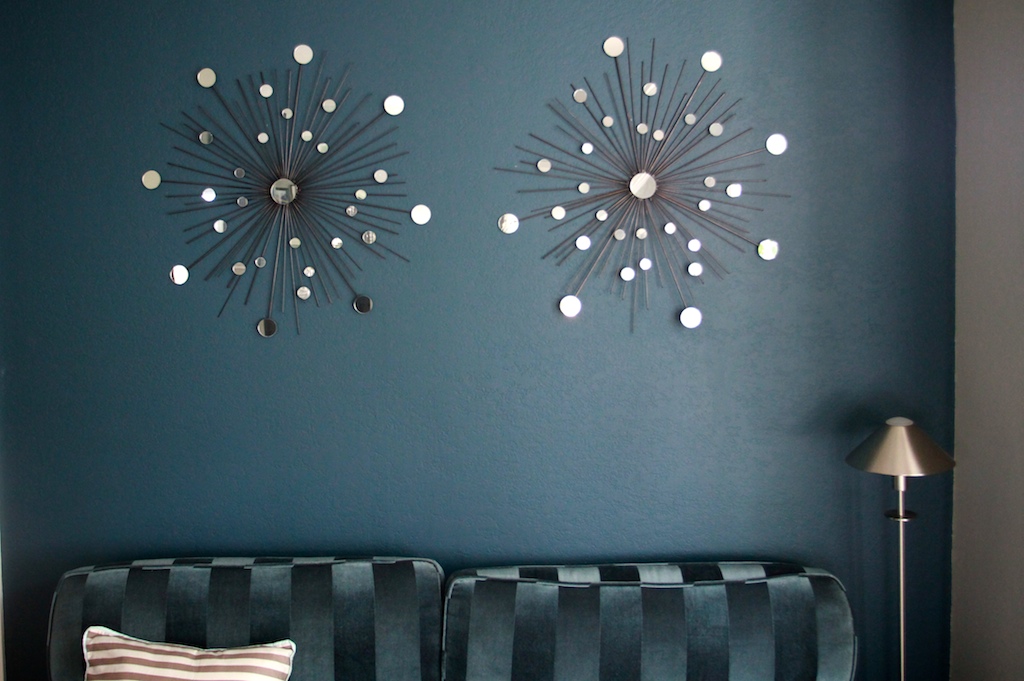 Six years ago when we bought our house, my mom gave us a ficus benjamina as a housewarming gift. She picked it out for its namesake….you know…since we're the Benjamins & all… The plant LOVES this spot in the window. I really enjoy having it there because the leaves on the trees fall off during the winter months and we get very little privacy from our neighbor. Ficus Benjamina is a nice shield! Thanks, mom.
Next to the plant I have a collection of things that make me happy…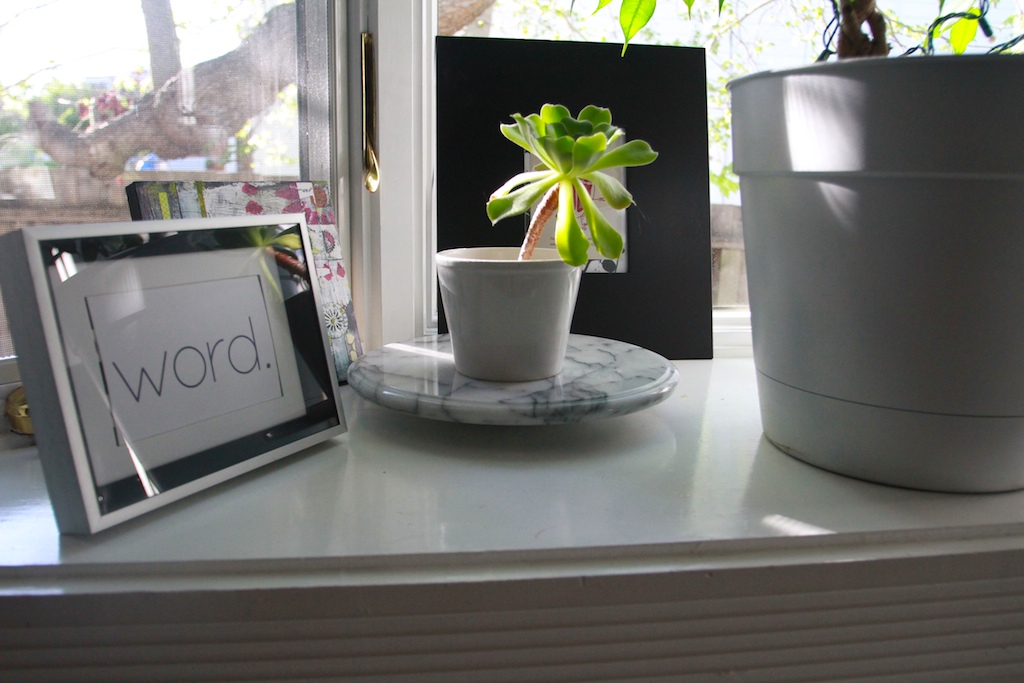 I like to change things out for different seasons.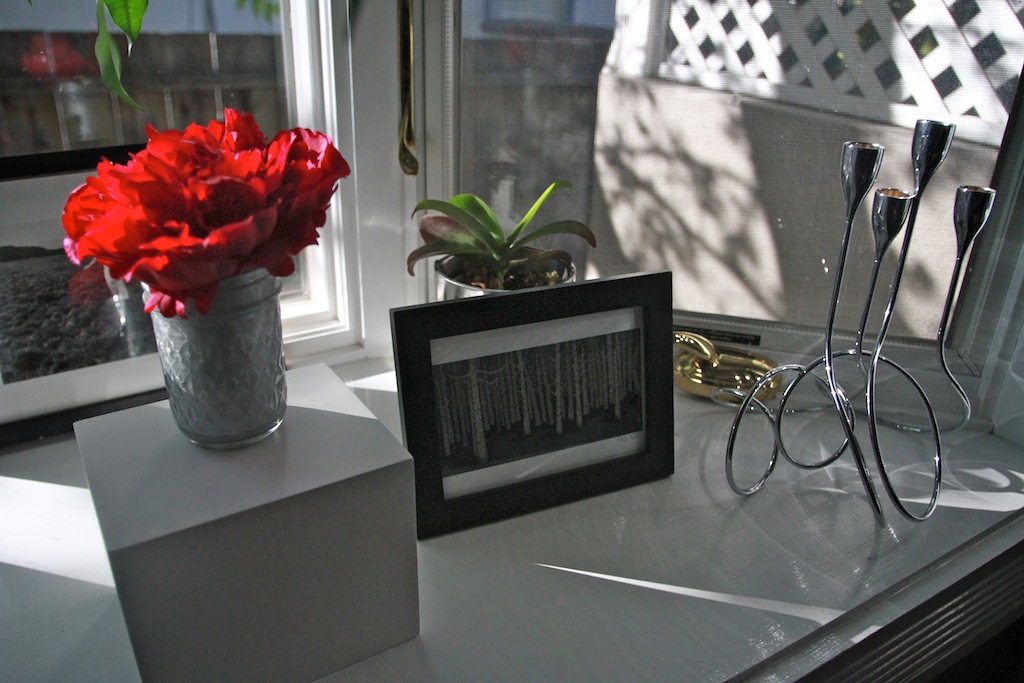 Here's another little sample of the afternoon light. It's really nice because the shadows of the leaves dance on the walls.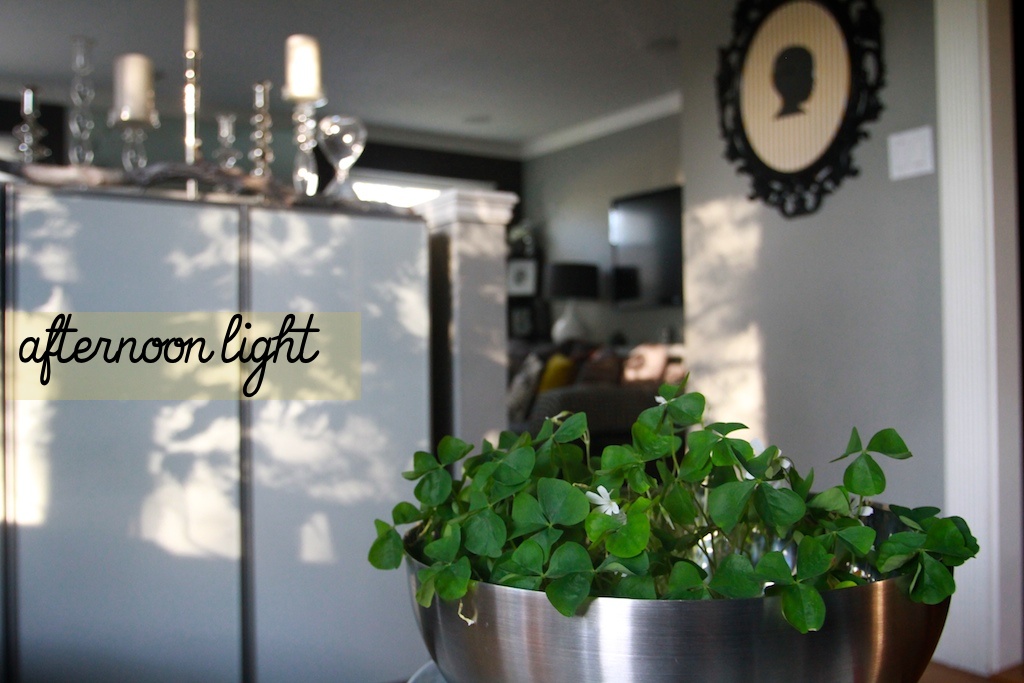 My cookbooks & other fun things are hidden behind these IKEA cabinets. This is what they look like on the inside.   We secured two gray BILLY IKEA bookshelves to the wall (earthquake/child-proofing!) and put a doors on the cabinets. Instant clutter hider. I like how it opens up the space to have all that white there.
I snagged one of the chairs from the dining room (which I'll show you next!) to help warm up the space and make it more inviting. As you can see, our cat Remy is quite fond of that chair!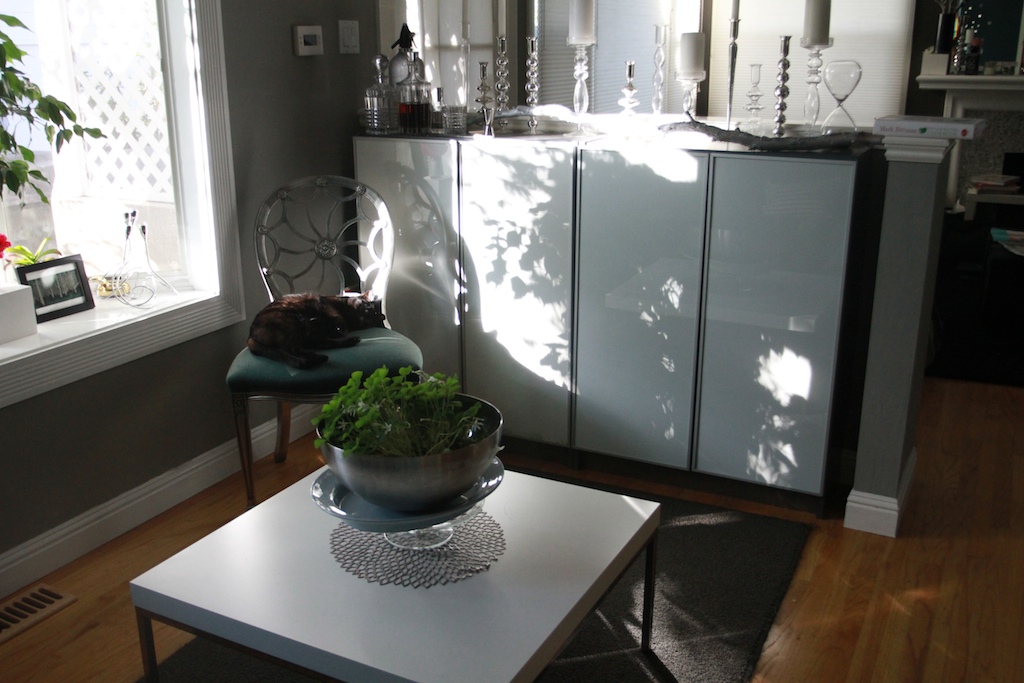 We used to have a big gray/furry shag rug in this room (which I ADORED!!) but the cats did not respect it. Sadly, it had to be pulled out and relocated. That's real life.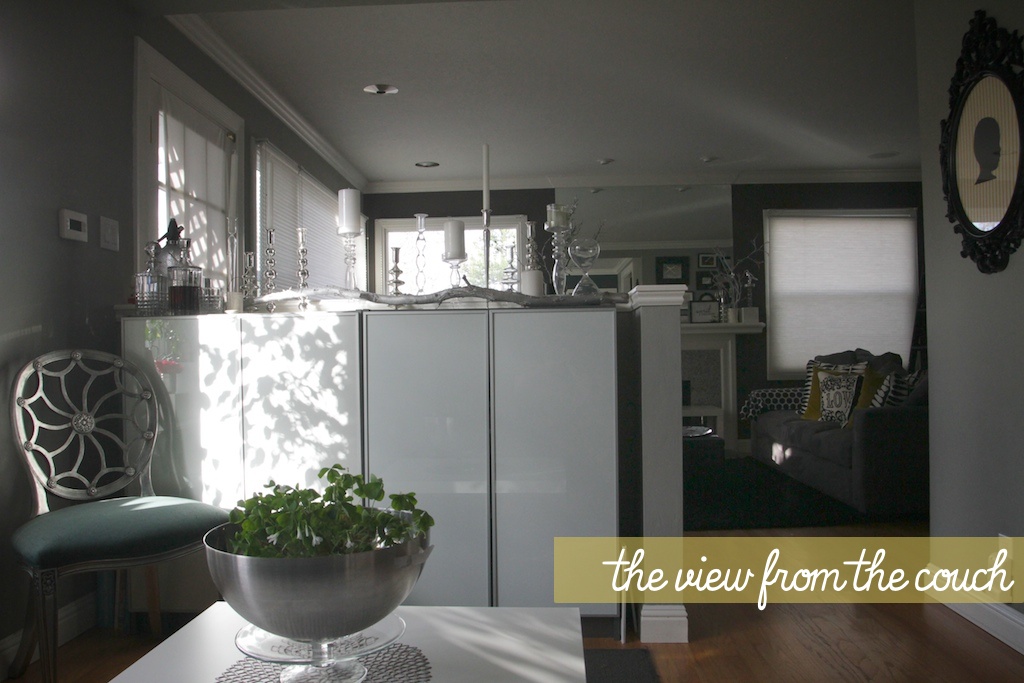 When you sit on the couch you can see into the living room. It's the perfect place to read a book.
And the perfect place to sit…cuz you know…it's The Sitting Room.