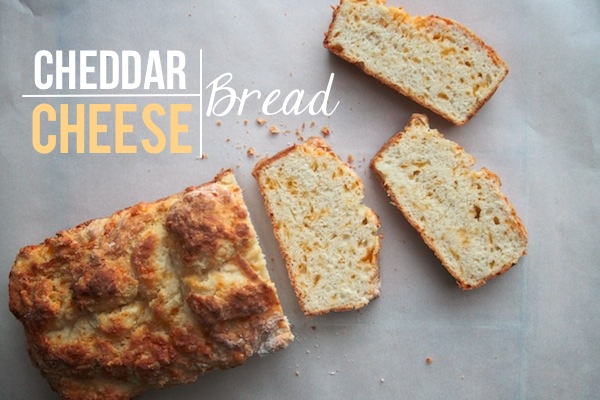 As someone who cooks & bakes a lot, I find it necessary to have a few tricks up my sleeve when I'm entertaining. In my experience, people are always impressed if you can make carbohydrates fancier. That's why I always run out of my killer garlic bread and continually blow minds with this herbed flatbread recipe.
Carbs can be mind blowing. What can I say? See that avocado on top of this bread? EPIC.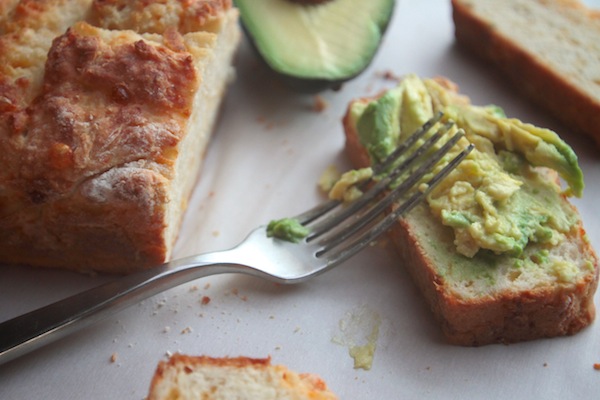 And this here Cheddar Cheese Bread is no exception. It's like a bread meets biscuit. That means you can portion control (err on the big side!) your slice of bread. It's crispy on the outside, and fluffy/slightly dense on the inside. What makes it more awesome is the bits of cheese that can be seen throughout. The edges of the bread have some crispy cheese baked in. YES to that.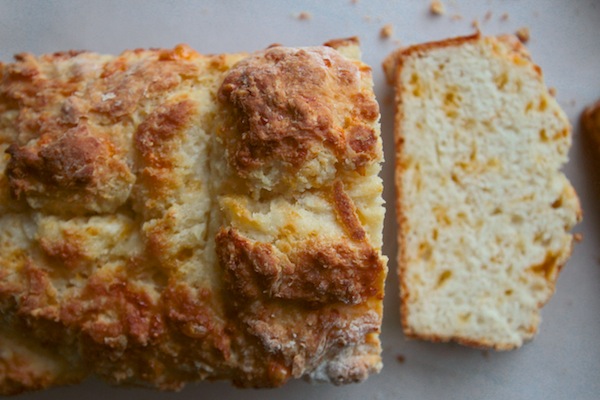 I can imagine this recipe could be a gateway for more amazing Cheese Bread Combinations. Rosemary mixed in? Smoked Paprika? How about a few dashes of hot sauce? Pair it with a soup & salad?
Don't mind if I do…
And we're off!
Time to gather our ingredients.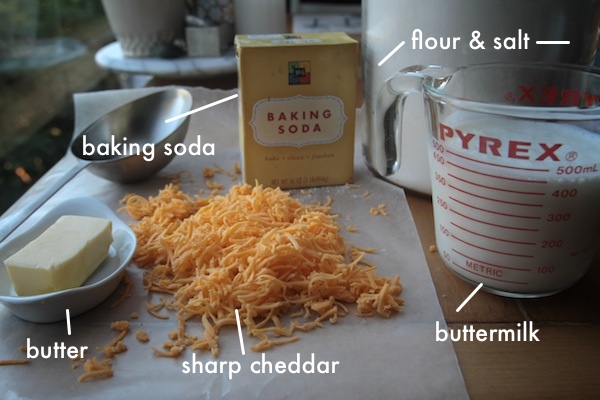 Dry stuff! HELLO.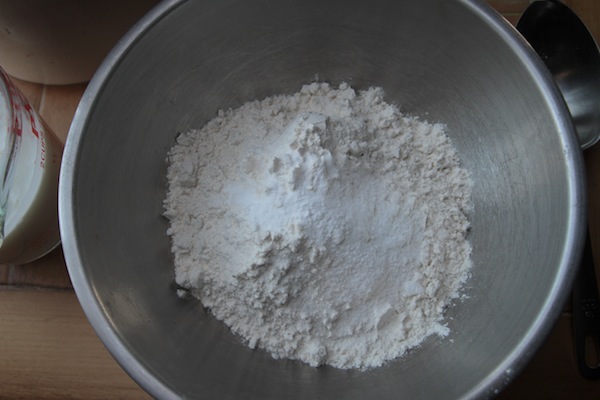 Butter. Hey. Hi.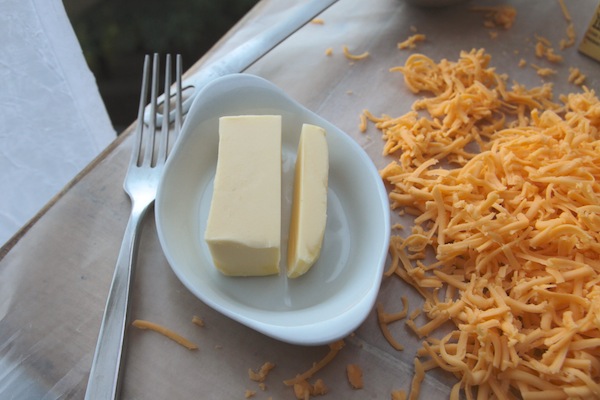 Butter gets cut into the flour/baking soda/salt mixture. This pastry cutter was not used.
My hands were.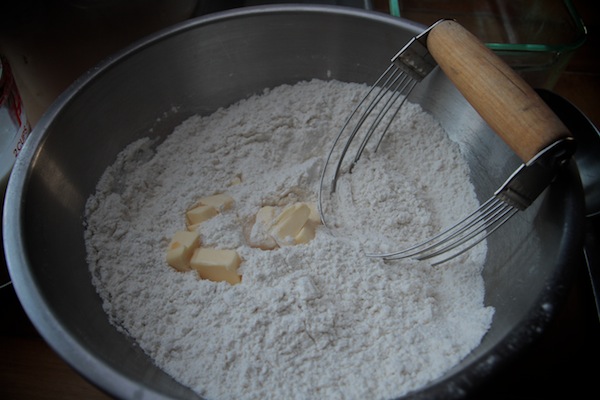 Sharp cheddar goes in. Find the sharpest cheddar you can find. The bite is what you need/crave.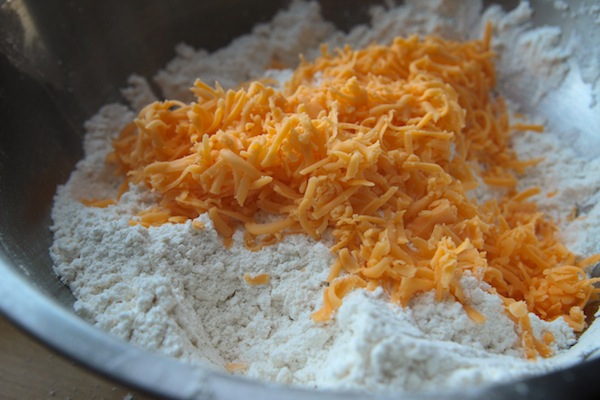 Buttermilk enters the picture.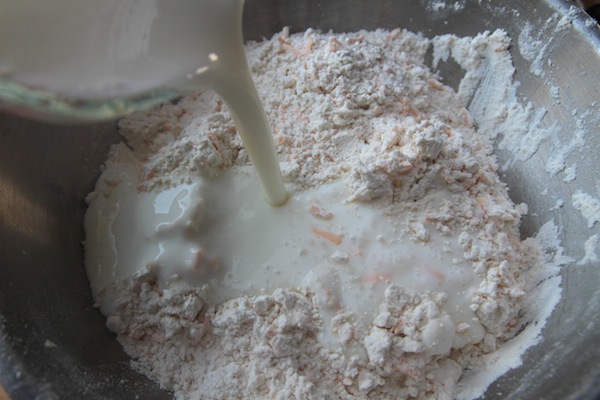 Cut that dough in half. This recipe makes two loaves!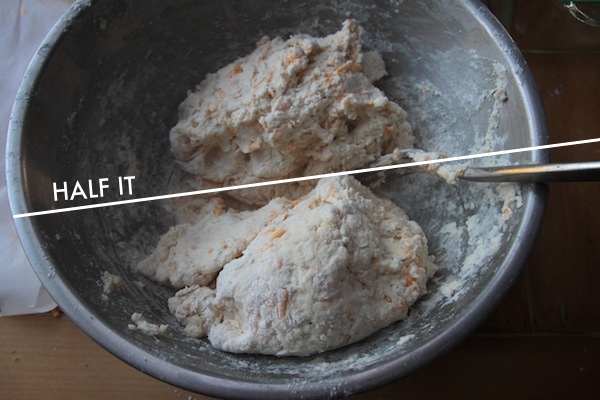 Put the dough in two pans. Cut a cross on the top of each loaf. Shove some butter up in.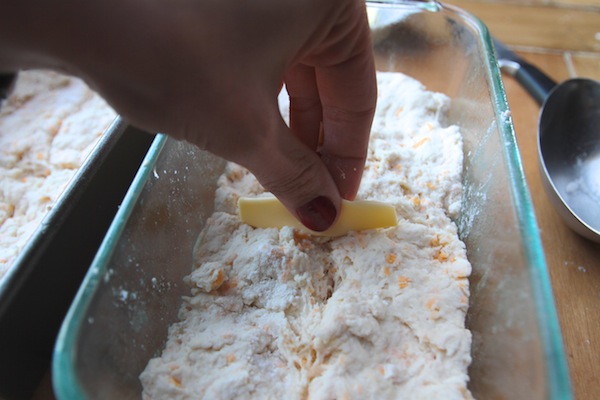 Like so…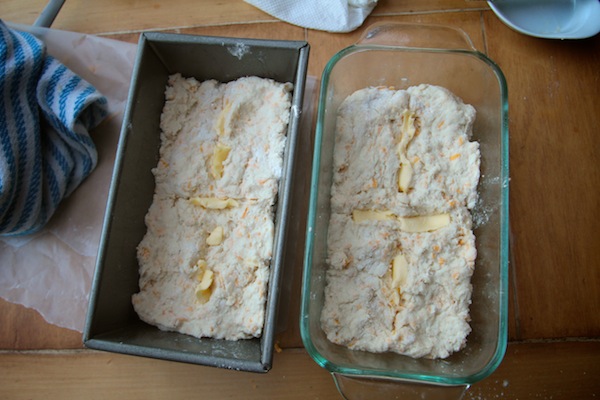 I have a glass Pyrex loaf pan so I can see the edges. More like…I have it so I can drool over the edges.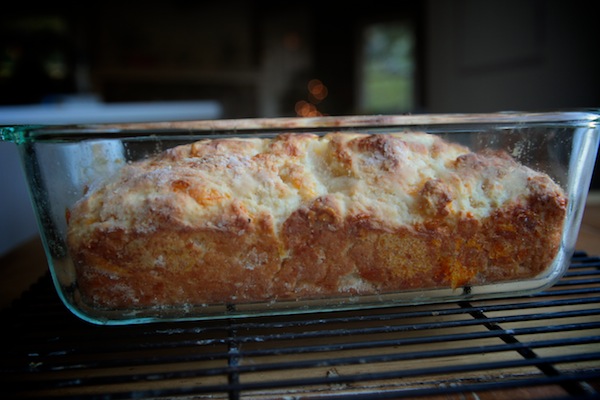 Hello, mama.
Slice it up.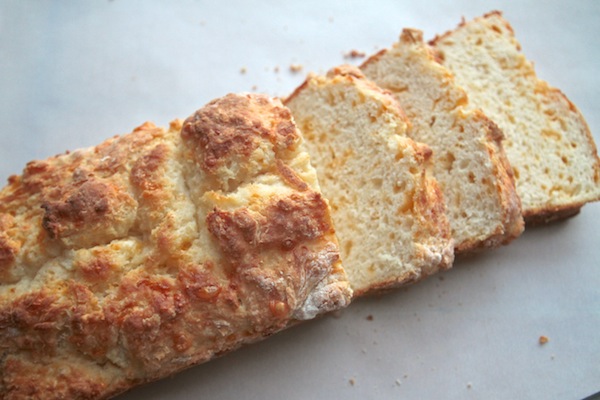 It's amazing with avocado smashed in with a sprinkle of sea salt.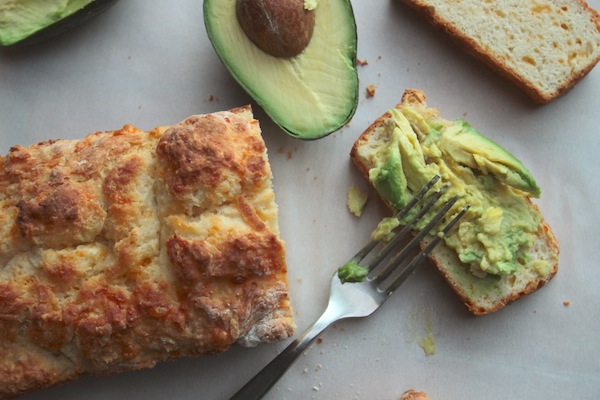 We grilled it with our panini press and added honey on top. It was scrumptious!
And if you're worried about having two loaves in your possession. Freeze one!

Cheddar Cheese Bread

makes 2  5 x 9 loaves

recipe slightly adapted from Rachael Ray Magazine 

3 1/2 cups flour
1 1/4 teaspoons salt
1 teaspoon baking soda
3 tablespoons butter, softened
5 ounces sharp orange cheddar, coarsely shredded
1 3/4 cups buttermilk

Preheat the oven to 400 degrees . Grease two 5-by-9-inch loaf pans. In a large bowl, whisk together the flour, salt and baking soda. Using your fingers, mix 2 tbsp. butter into the flour mixture until well incorporated (it should look like sand). Add the cheese; toss to coat. Add the buttermilk and stir until the dough just comes together. Divide between the pans; smooth the tops.

Cut a shallow cross all the way across the tops of the loaves. Thinly slice the remaining 1 tbsp. butter. Place the butter in the cuts in each loaf. Bake until the top is browned and a tester inserted in the center comes out clean, 25 to 30 minutes. Let cool in the pan at least 30 minutes before slicing.