When you hear the word shortcake, you immediately think strawberry, right?
Get over it! Peach shortcakes are the way to go! I mean…strawberry shortcakes are absolutely delightful but PEACH shortcakes are so unexpected. When you're baking to impress, unexpected is the way to go!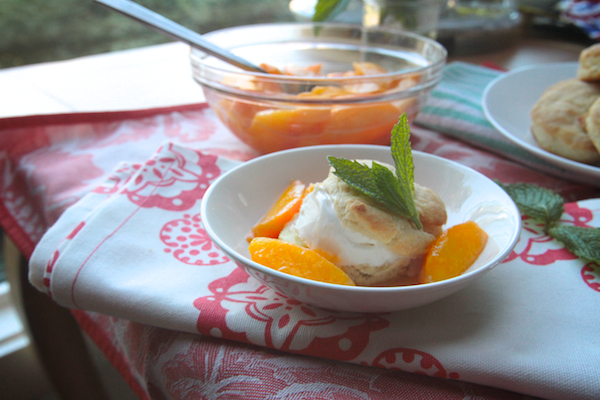 This is the dessert I made for Father's Day yesterday and for the 5-10 minutes it took for my family to eat this dessert, I heard nothing but silence. Silence is a good sign. Silence means that everyone is too busy enjoying what they're eating to carry on a conversation.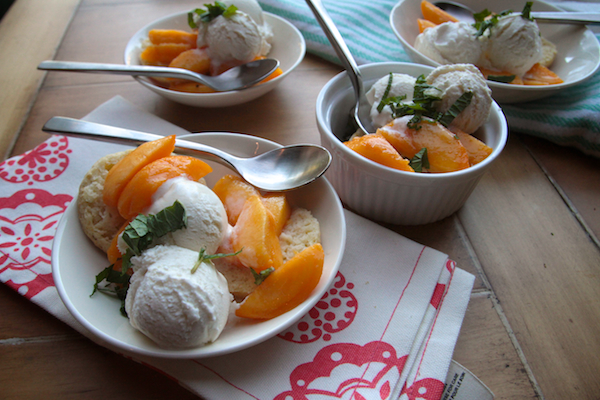 If you're a person who likes quiet (ahem, ME), this is the dessert you make when all you want is 5-10 minutes of peace. The best part is that you're eating something good in that time. Buttery shortcakes are topped with orange spiked peaches, creamy ice cream and finished with little sprigs of MINT. Uh huh.
Silence is golden. So are peaches. Get on it.
And we're off!
This recipe has two parts. Flaky Butter Biscuits then Peach goodness!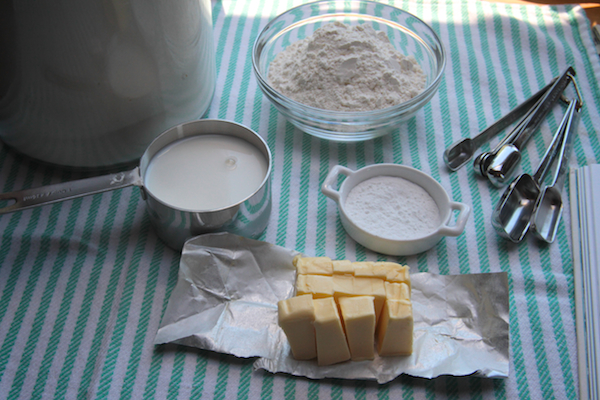 Put the flour, baking powder & salt in a bowl. Work the butter in with the flour mixture.
You want it to look like small crumbs.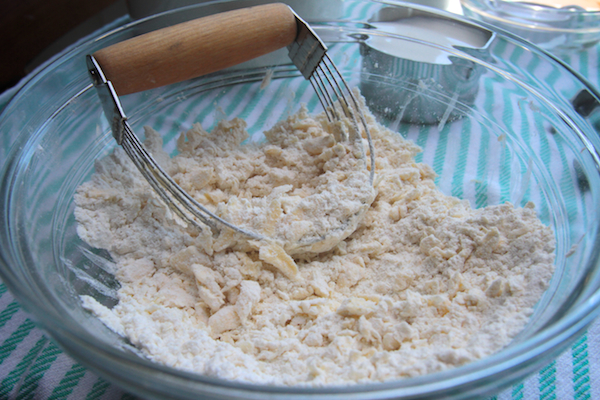 Add in the milk. You might not need it all. I didn't use all of mine.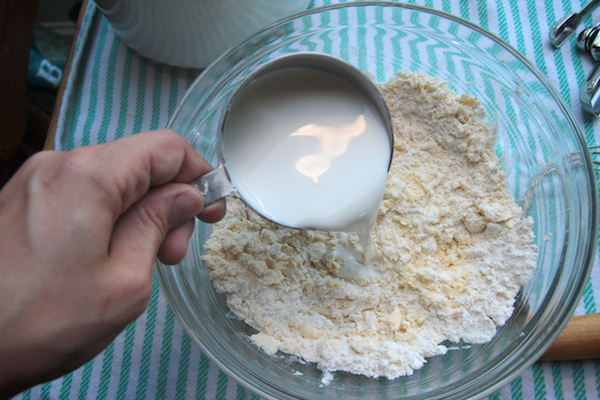 Roll the dough out on a floured surface.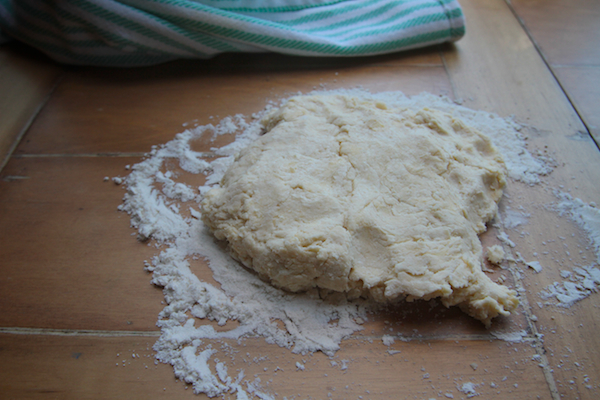 Make biscuits!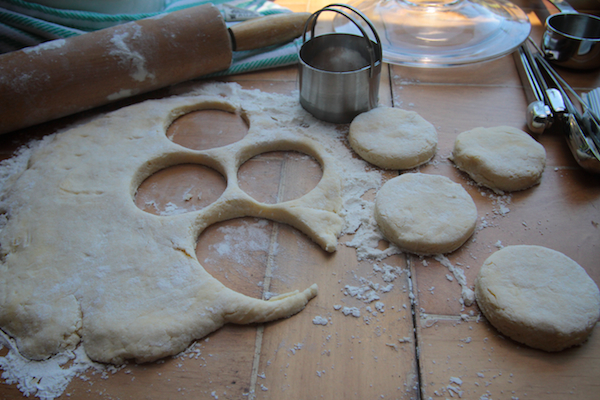 Bake biscuits!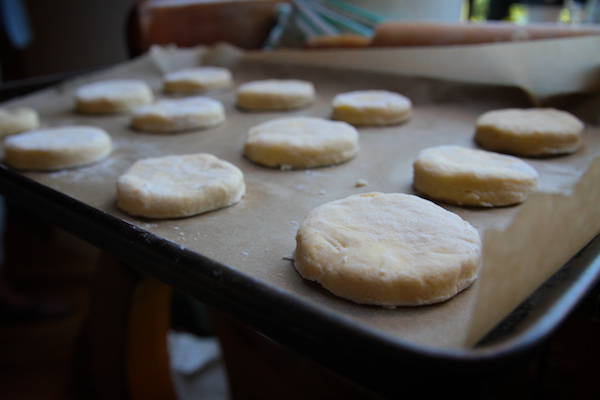 Stack biscuits!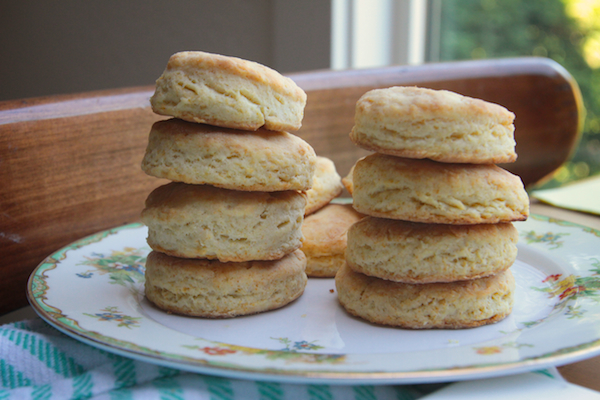 Blanch the peaches. Score the bottoms. Put them in boiling water for 2 minutes. Peel them!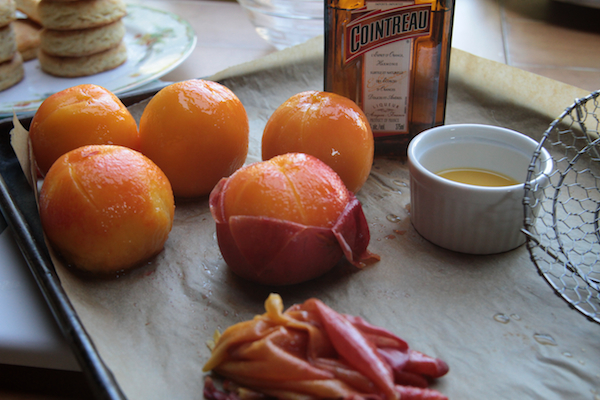 Slice the peaches up. Mix them with Cointreau (optional) and orange juice. Let it sit for a bit.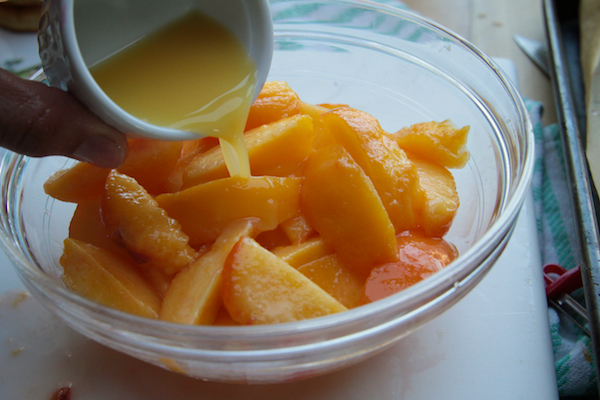 When you're ready…split open each biscuit. Place the biscuit in a bowl. Top with ice cream…
ADD PEACHES! Look at how juicy they are. DANG.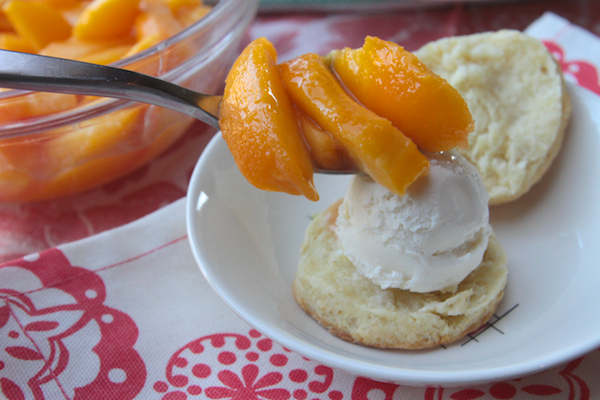 Guess who got wind of me opening up a pint of ice cream???!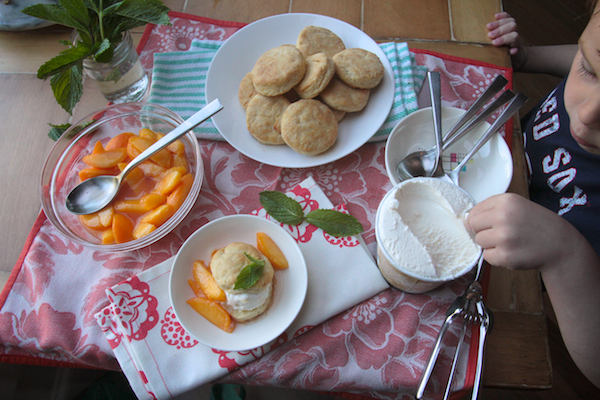 Peach shortcakes.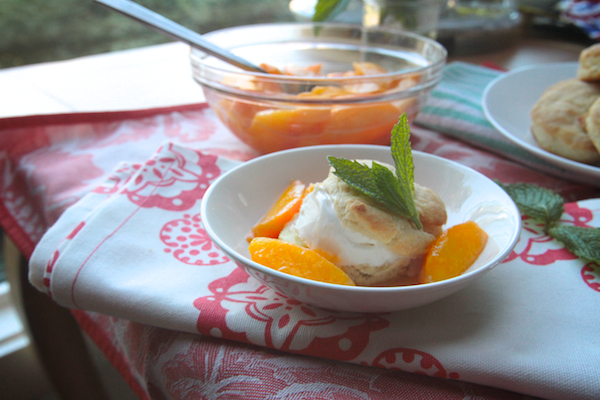 You know you want some.
Peach Shortcakes

makes 10-12 individual shortcakes

recipe slightly adapted from Mad Hungry: Feeding Men and Boys

1 recipe Flaky Buttery Biscuits (see below)
1 pound fresh ripe peaches or nectarines, peeled and sliced
2 tablespoons fresh orange juice
2 tablespoons Cointreau, optional
1 pint best-quality vanilla ice cream, slightly softened
mint, for garnish

Follow the steps below to make the Flaky Buttery Biscuits.

While biscuits are baking, place the peaches or nectarines in a bowl with the orange juice and Cointreau, if using. Stir and let sit for a while, stirring occasionally.

If the biscuits aren't straight from the oven, heat them in the microwave for about 30 seconds. Slice open each biscuit and place the bottom on a plate. Place 2 small scoops of the ice cream onto each biscuit. Top with a large spoonful of fruit. Drizzle over some juice and top the top of the biscuit. Sprinkle with chopped mint & serve immediately.

Flaky Buttery Biscuits:

1 3/4 cups all-purpose flour
2 1/2 teaspoons baking powder
1 teaspoon coarse salt
6 tablespoons (3/4 stick) chilled unsalted butter, cut into small pieces
3/4 cup milk (you may not need the entire amount)

Preheat the oven to 450 degrees. Line a baking sheet with parchment paper.

In a medium bowl, whisk together the flour, baking powder, and salt. Using a fork or 2 table knives, combine the butter and flour mixture until it resembles a coarse meal. Slowly add the milk, stirring with a fork, to the desired consistency.

Turn the dough out onto a clean, lightly floured surface and gently knead just to bring the dough together. Carefully roll out the dough about 3/4 inch thick. Using a biscuit cutter or sturdy glass, cut about 12 biscuits, re-rolling any scraps. Place on the lined baking sheet. Bake the biscuits for 13 to 15 minutes, until golden brown.

***If you want to take the skins off the peaches, score the bottoms of the peaches with a knife and drop them in boiling water for 2 minutes. Let cool to the touch and easily remove skins. It's a lifesaver!***