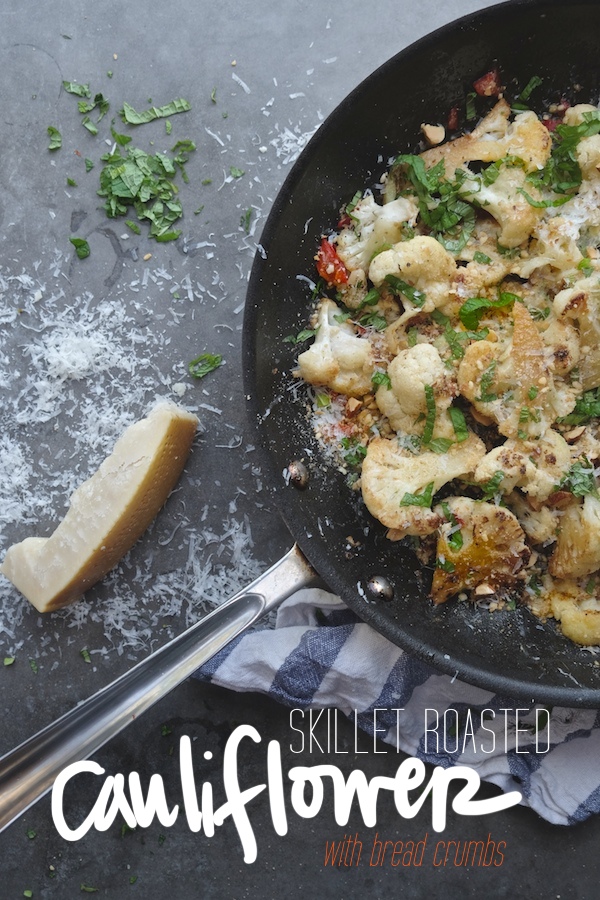 I never think to buy cauliflower and as a result it doesn't get much rotation in my kitchen lineup. I think this recipe will change that. Actually, I am sure it will.  This is the kind of recipe that I always order when we are out to dinner but I never think about making it at home.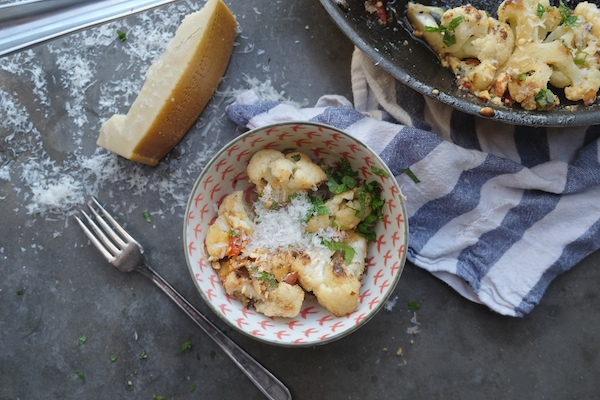 All of the work takes place on the stove. We're faking a roasted cauliflower situation with a skillet.
So if your oven is out, you're cool. You're cool!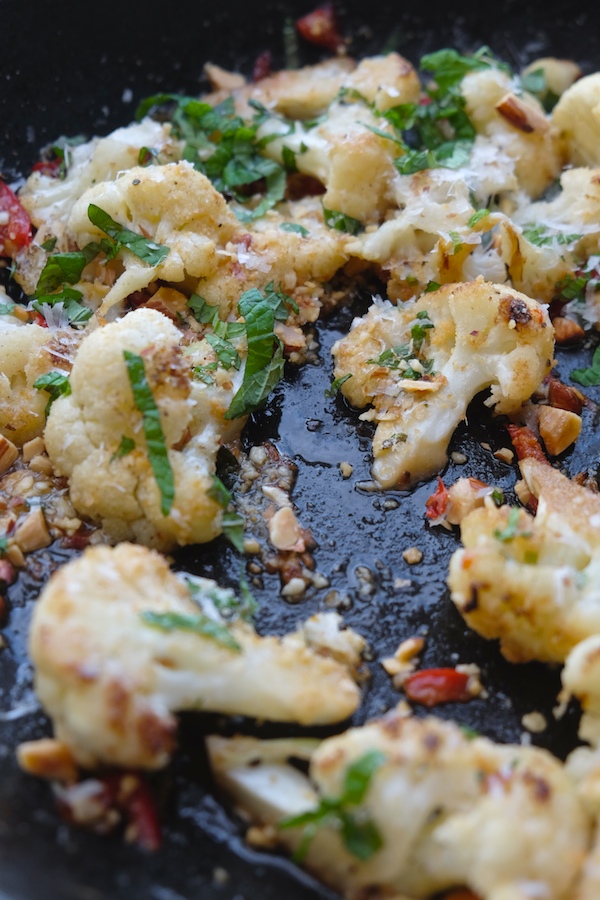 But what do we add to cauliflower to make it even better? Toasted bread crumbs, roasted chopped almonds, tangy peppadew peppers, fresh grated Parmesan and a generous serving of mint to top it off. Make it for your Thanksgiving or just be like me and eat an entire pan and call it dinner. Then you can tell everyone you ate a whole head of cauliflower in one sitting. It will be neat.
Let's gather our ingredients.
The original recipe called for pine nuts.
I didn't realize until I went to make this that I ran out of pine nuts.
Roasted almonds are pinch hitting in this recipe. Yay almonds!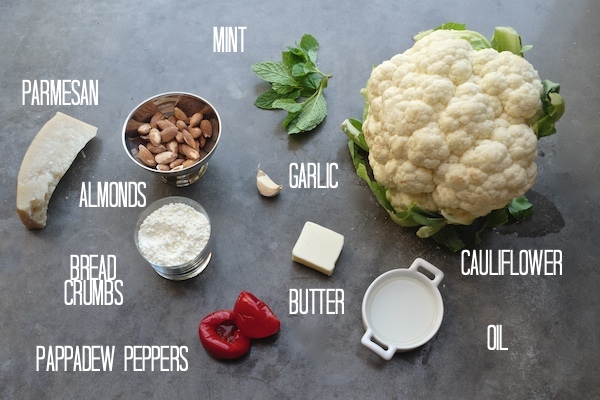 Cauliflower florets.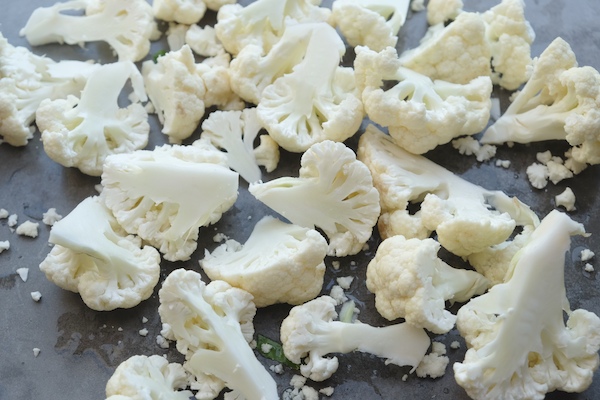 Nuts are chopped.
I used almonds that had already been roasted. One less step!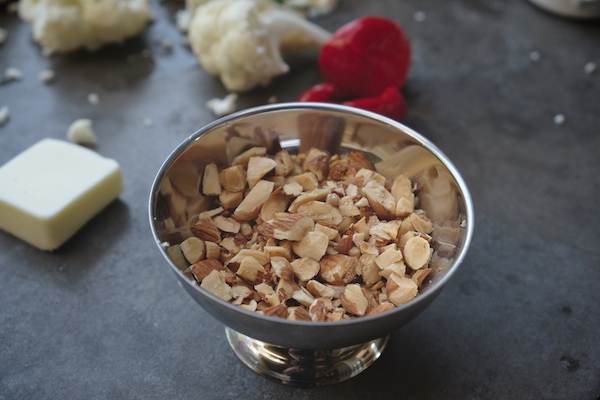 Breadcrumbs in oil. Skillet toasting.
Toasted.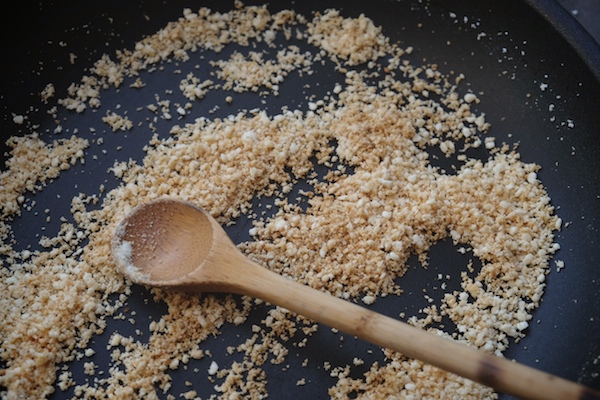 Combine breadcrumbs with nuts. Cauliflower goes into skillet.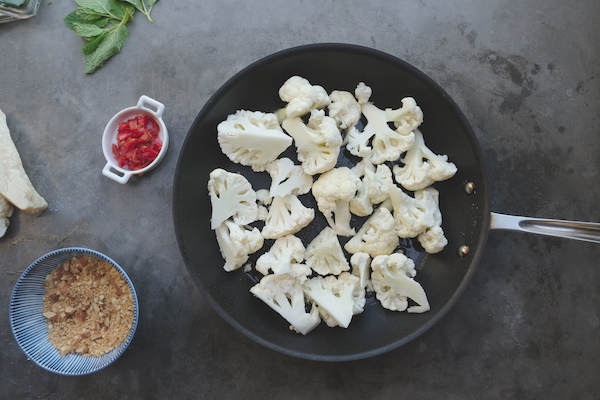 While the cauliflower cooks, we grate garlic with a microplane zester.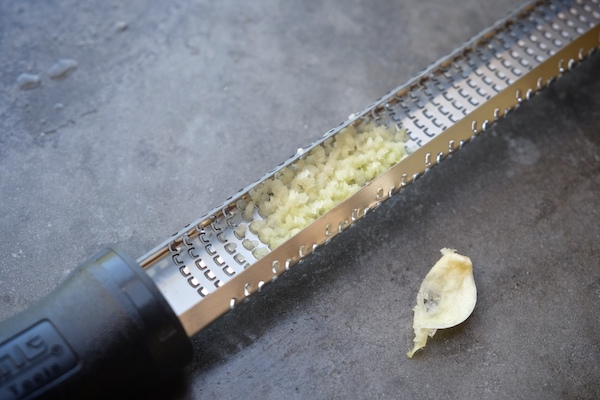 Cauliflower is kinda charred. We're faking a roast!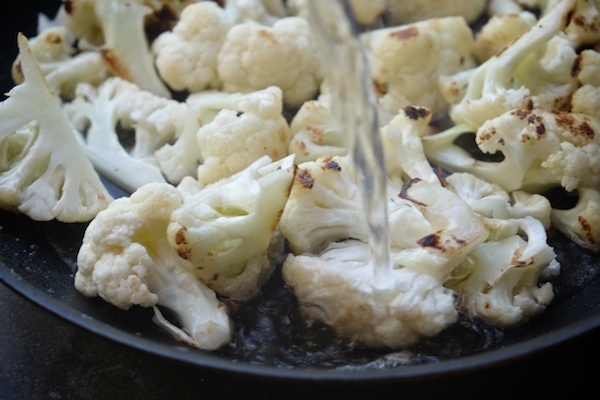 Water is added…then cooked down to soften the cauliflower.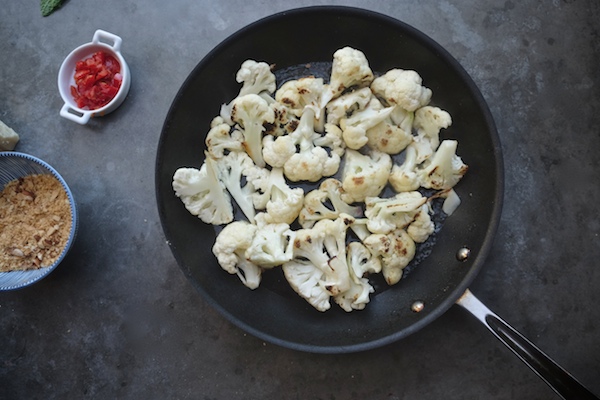 Butter, peppadew peppers & garlic go in. A little tossing….after a minute or two….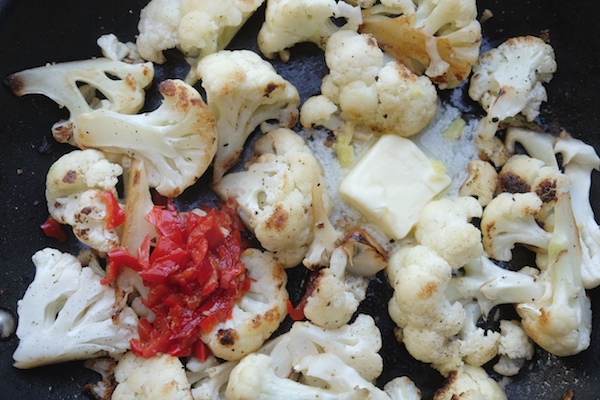 We start the topping situation.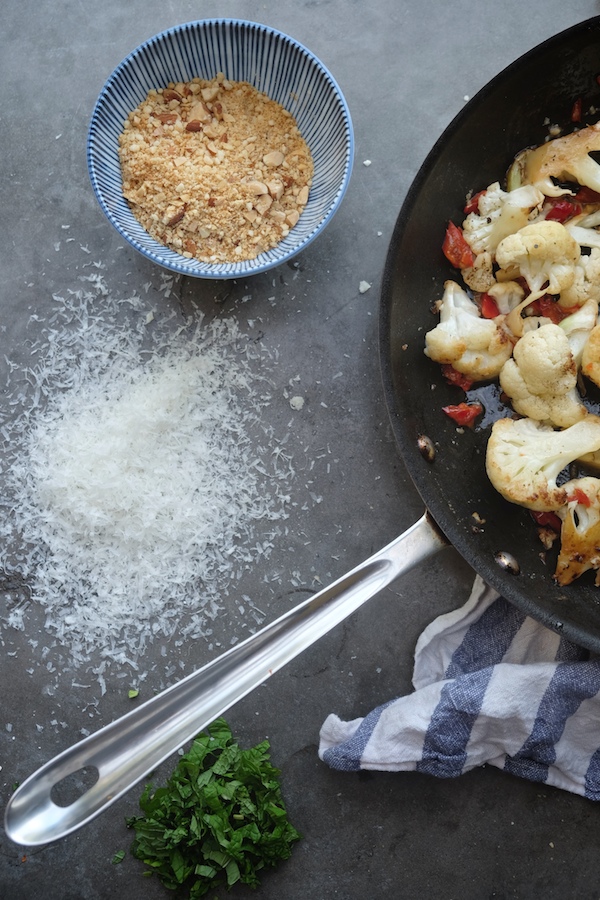 YES.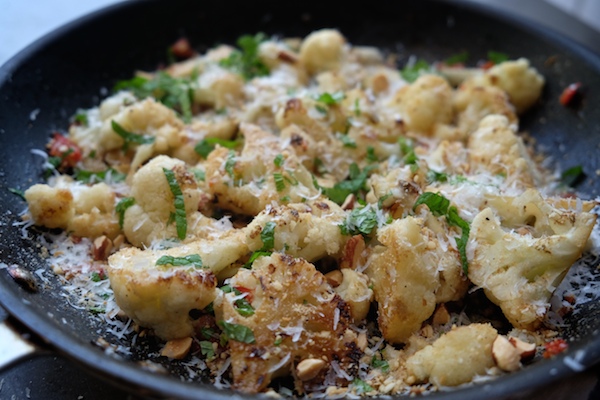 SO MUCH YES.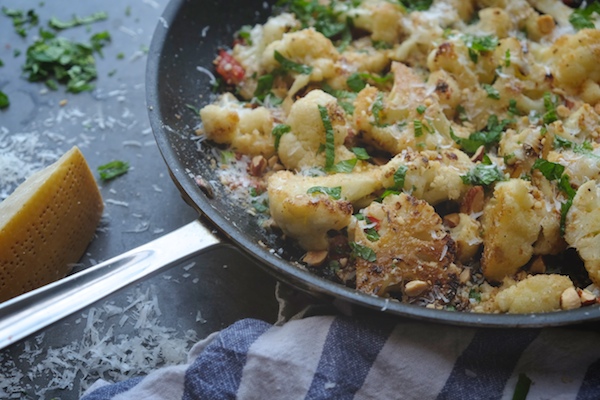 I could make a whole meal out of this. Maybe I'll throw an egg on it. I dunno!
Thanks for reading Shutterbean!  If you'd like check out my everyday life, follow me on Instagram and be sure keep in touch via Facebook, Twitter,  Bloglovin,  Pinterest, or subscribe via email to get new posts delivered to your inbox.
Skillet Roasted Cauliflower with Breadcrumbs

serves 4

recipe adapted from Bon Appetit – originally recipe by Girl & The Goat

2 tablespoons vegetable oil, divided
1/4 cup breadcrumbs
1 large head cauliflower, cut into florets with some stalk attached
1/4 cup chopped roasted almonds
kosher salt + fresh ground pepper
1 clove garlic, finely grated
2 tablespoons unsalted butter
2 tablespoons thinly sliced pickled peppadew peppers
1/4 cup freshly grated Parmesan
3 tablespoons finely chopped fresh mint

Toast breadcrumbs with 1 tablespoon oil in a large skillet over medium-high heat. Toss often and cook until golden brown, about 3 minutes. Add breadcrumbs to the bowl of chopped almonds and set aside.

Wipe out skillet and heat remaining 1 tablespoon oil in same skillet and cook cauliflower, tossing occasionally, until browned but not cooked through, 10 – 12 minutes. Season with salt and pepper and add 3/4 cup water. Cook until cauliflower is crisp-tender and water has evaporated, 10-12 minutes.

Add garlic, butter, and pickled peppers to the cauliflower and cook, tossing until butter is melted and garlic and pickled peppers are fragrant, about 2 minutes. Remove from heat and mix in almonds, breadcrumbs, Parmesan and mint; season with salt and pepper.