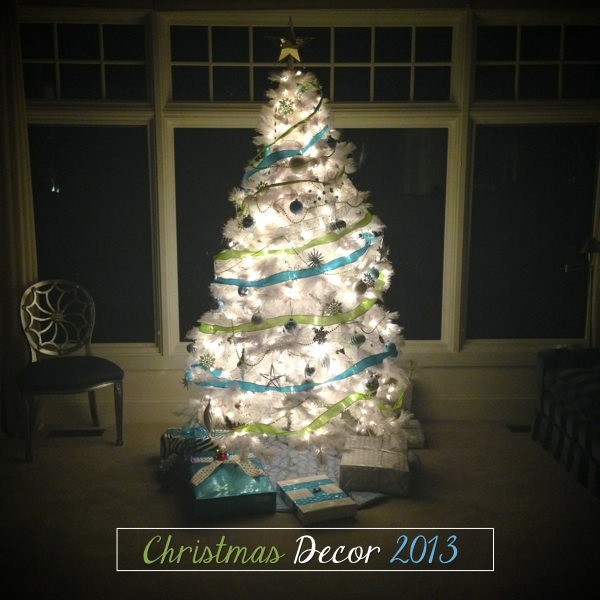 I realized that I didn't share my holiday decorations last year like I do every year. Bad Tracy!! Our house was in such a crazy state last year since we had just moved in a few months before the holidays and were still in the process of sorting & moving my parent's things into other parts of the house. This year I'm going to show you what's up! I decorated three parts of our house for the holidays. The living room (where the Christmas tree is), the dining room and our family room mantle.
As you can see…we are continuing our tradition with our white tree. This year two sections of lights died so I had to rip them out (took FOREVER) and restring. What a pain in the ass but way cheaper than buying a new tree so whatever. Our ceilings are quite big in this room, so one day we'll get a tree larger than 7 feet. I'm pretty sure that will make Casey happy since he's always wanted to go BIG while the practical side of me protests.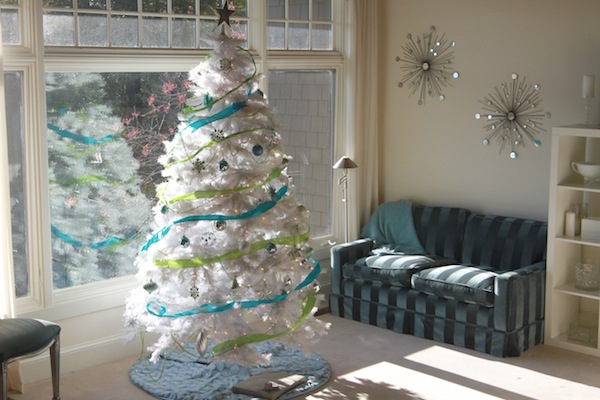 Here's the view from another angle. You can see that we have MAJOR wood ceilings in this area and a nice fireplace.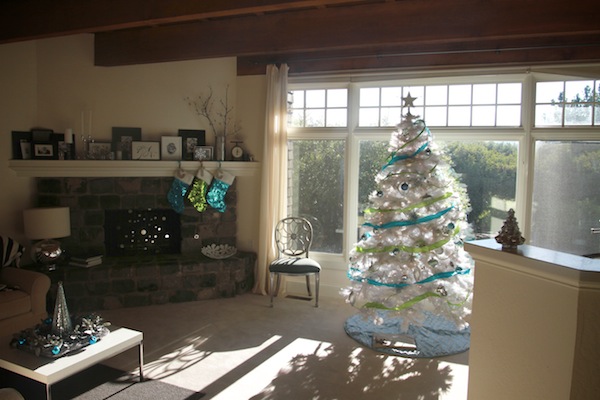 I have to say that the the wood ceilings have thrown off my decorating style a bit since I've never really been into natural wood. Our last house had a completely different style so it's taking awhile to figure out how our old furniture could fit in here. We're still in the process of editing, but it's slowly taking shape.  We figured out that an Industrial Modern look will fit well with our style & the architecture here— you can see what I've collected in my Pinterest board so far as inspiration. When we have enough saved, we'll slowly pull the trigger on furniture shopping, but for now we're using what we have.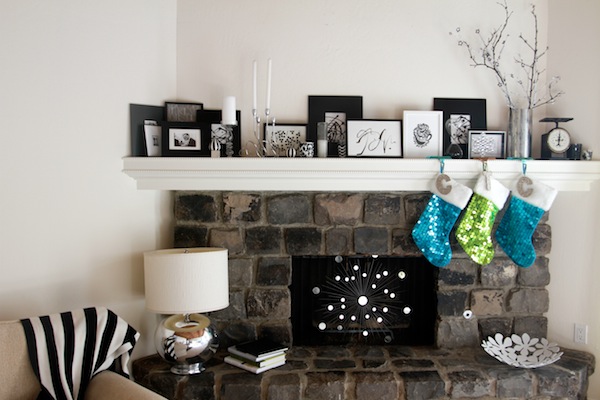 The mantle with our stockings. My sister-in-law gifted us these fancy letter ornaments. I believe their from Pottery Barn.
I love them!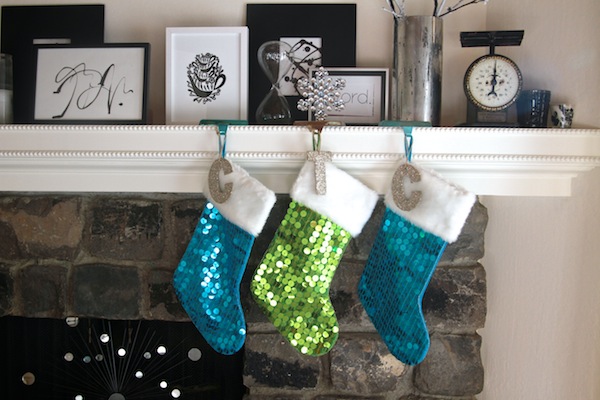 In the family room we have another mantle & fireplace. I put up a string of christmas lights on the top of the mantle and quickly decorated the top with silver, white & blue accents.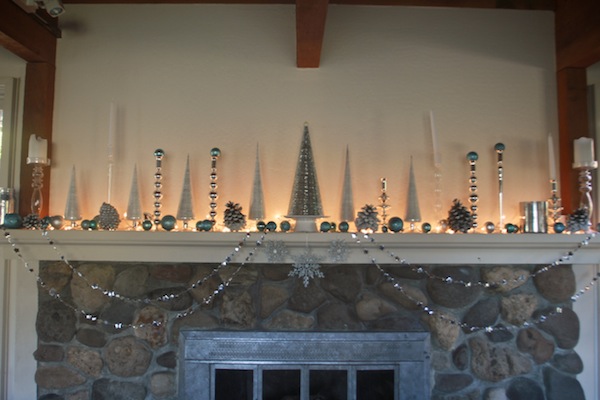 I just got those frosty glass trees at Costco. Stoked about those! Seven bucks for three of them.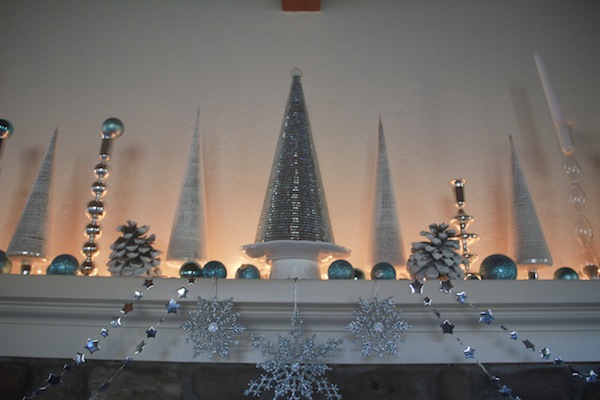 From the side. Look! More beams!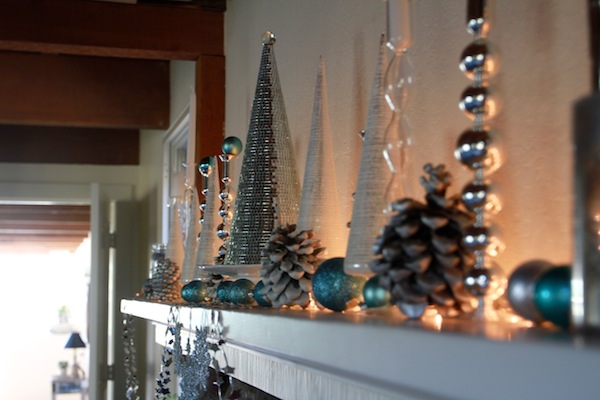 It's gorgeous at night because all you see is the silhouettes .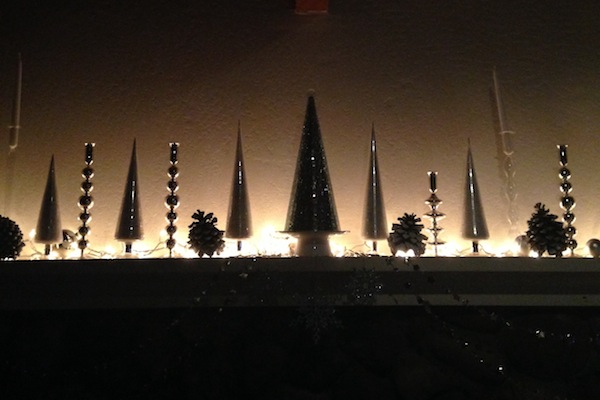 And we move onto the dining room table. This is our table styled for thekitchn shoot I did.
This year I went on a DIY mercury glass bender. That hurricane in the front is just one example.
They look really pretty when lit up at night.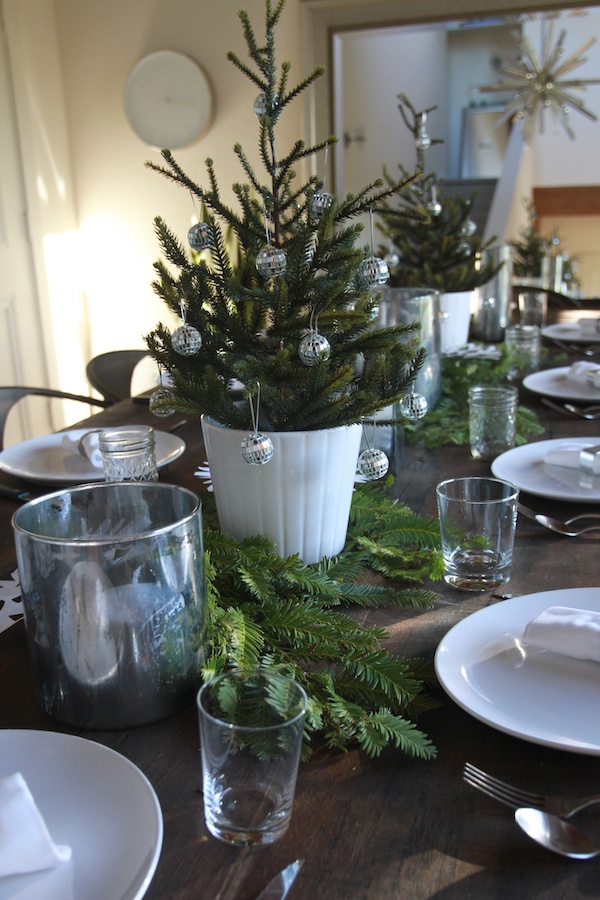 I cut branches from one of our redwood trees and made a centerpiece with them. Makes the house smell great.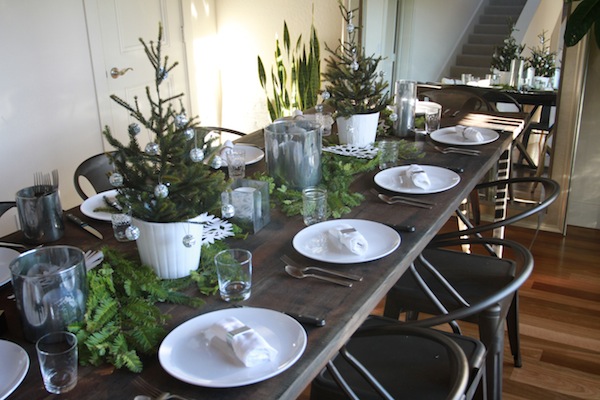 When I host Christmas dinner this week, it should look something like this. Except with bowls cuz we're having soup.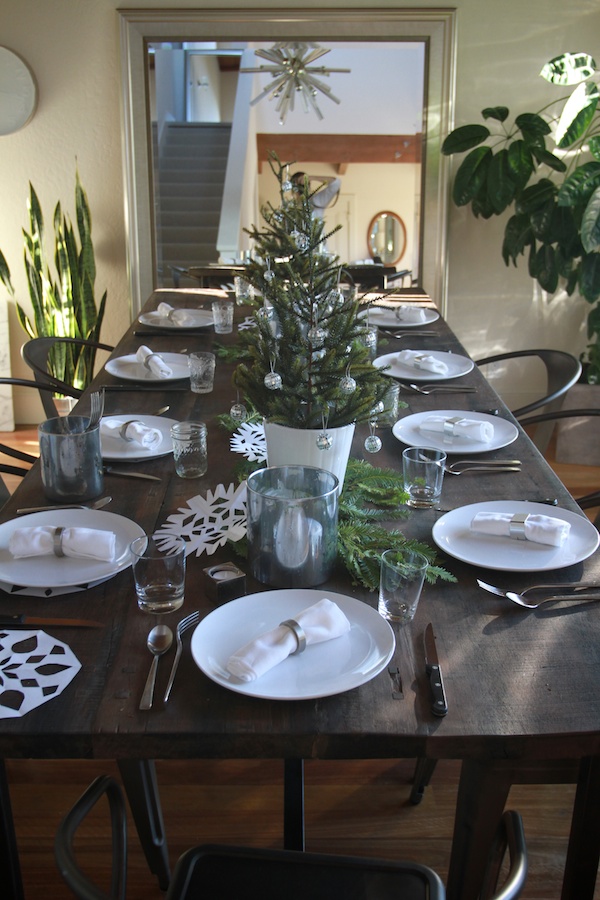 I had made a comment on my Instagram that Cooper was bummed our big tree wasn't a green tree because everyone else he knew had a green tree. Poor thing, right?  We bought Cooper a small/REAL tree so he could be in charge of decorating it. Here it is. I think he did a fantastic job.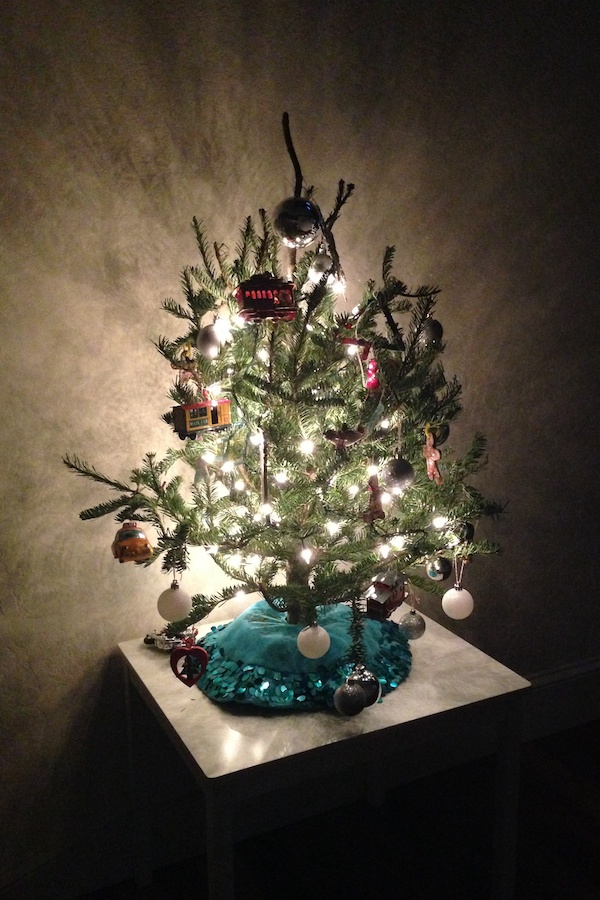 We did a little decorating outside our house. Casey strung lights up on our deck.
Next year we might decorate more, but that's it for now!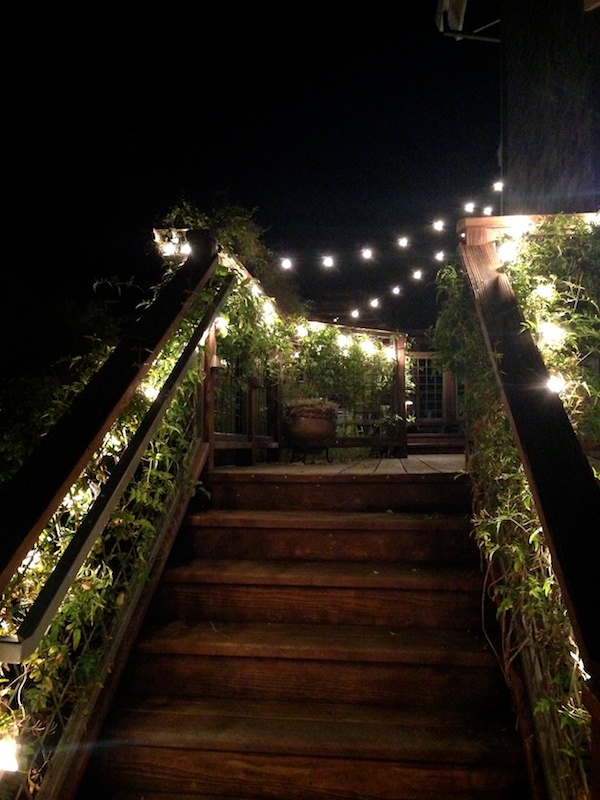 It's nice to see the lights on when we get home from work. I might even leave these up year round….
Hope you have a great Christmas Eve!!