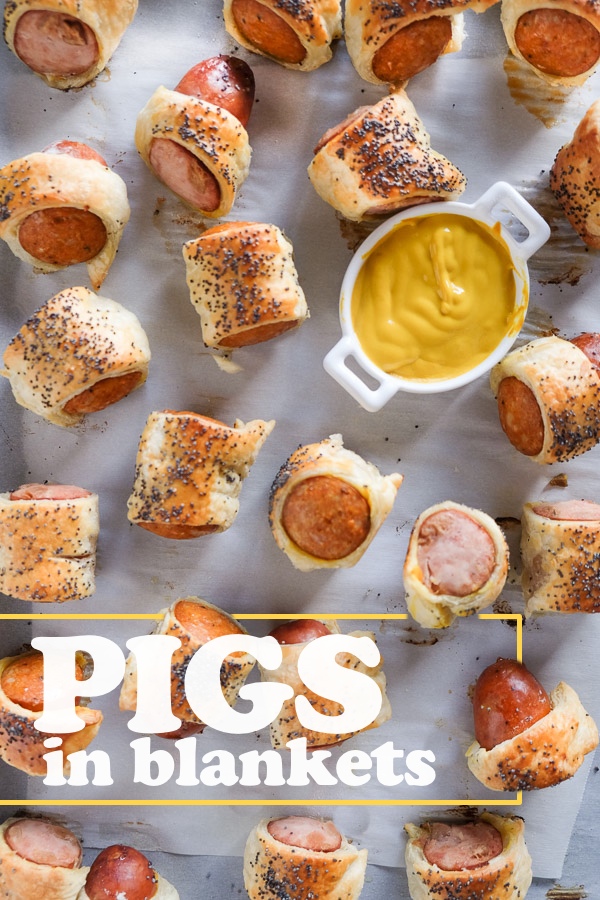 The name…Pigs in Blankets. I dunno, it's kind of a turn off, right? Can we come up with another way of saying fancy sausages wrapped in golden puffed pastry with poppy seeds instead of buns?  I found this recipe on Martha Stewart and scaled it back to make it a meal instead of an appetizer. Let's make it dinner or let's make some and freeze it for dinner for some other night.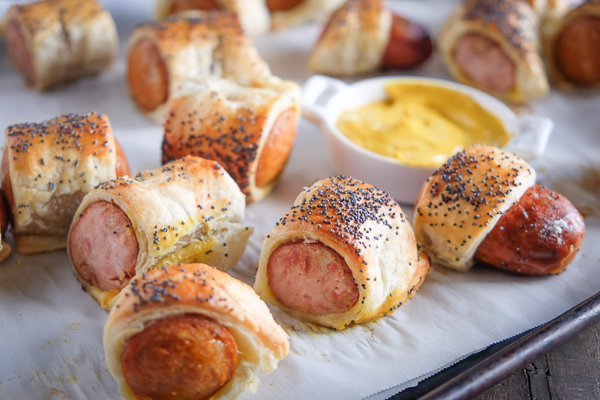 The funny thing is…. I made these with chicken sausage. So they're not really pigs in blankets are they? They're like chicken with duvet covers. I don't know where I am going with that… I've had a few glasses of wine and my parents came over for dinner so my judgement is a little off.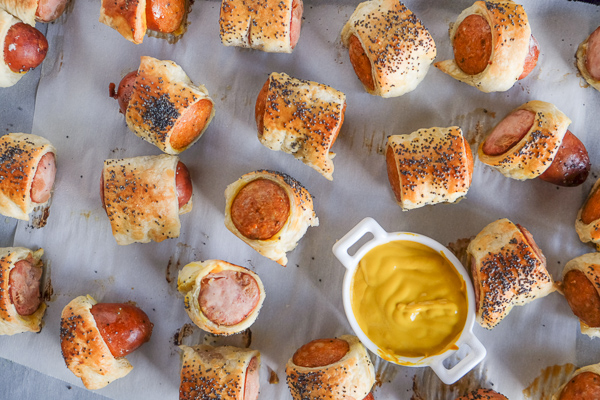 What I do know is that people go nuts for pigs in blankets. Chicken in duvet covers…. whatever. As a person in their mid 30s with a kid, I've been to many parties that include pigs in blankets (for the kids!) and the adults end up eating them all (because they're awesome).  Just a little puff pastry and some oven time and you're good to go. We can totally do this on a Monday night. Let's face it, it's so much easier than laundry and everybody wins.
Let's gather our ingredients: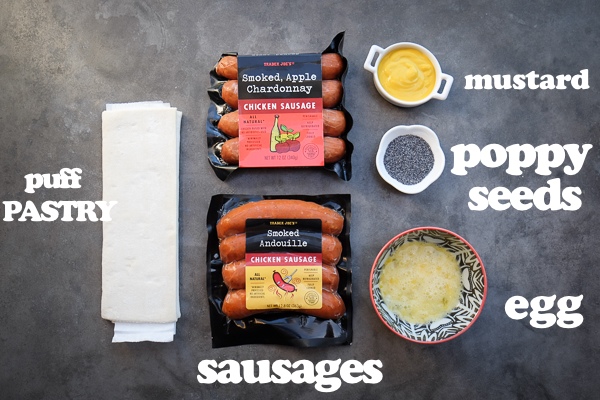 I have 8 sausages. There are 9 squares. Do the math.
Or eat the extra dough… dip it in cinnamon sugar first.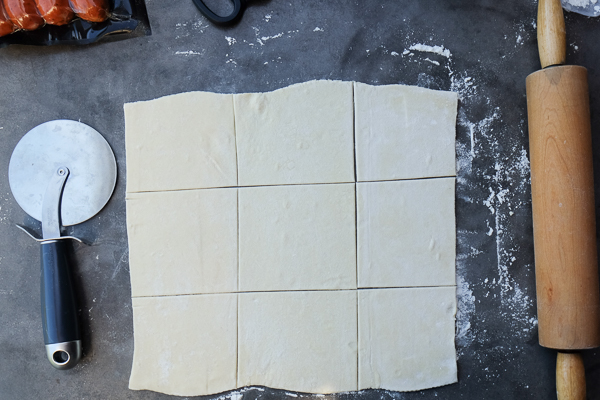 Sausage fest.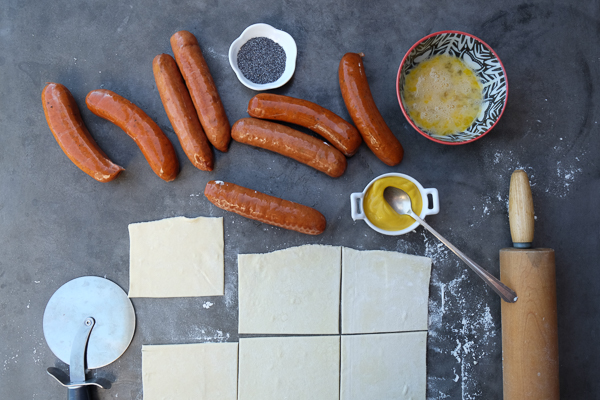 Roll them up.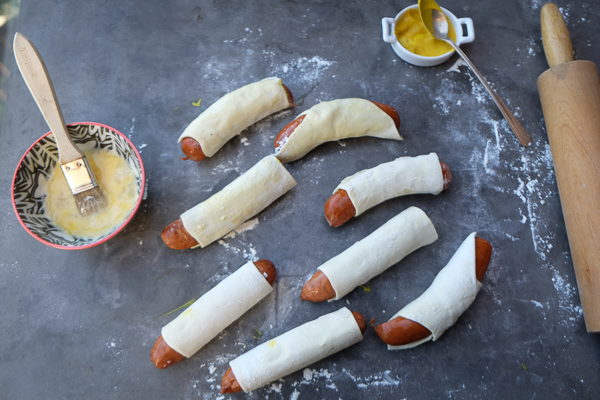 Egg wash.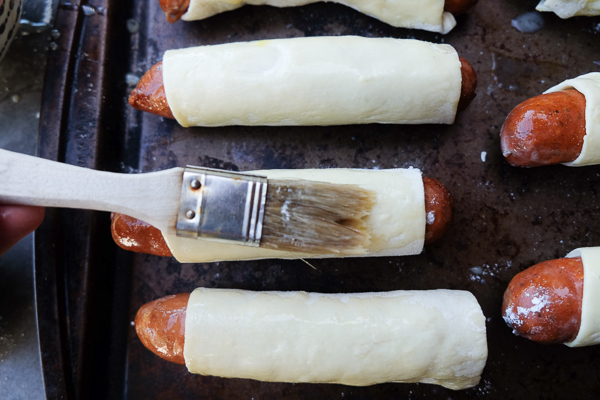 Poppy seed sprinkle.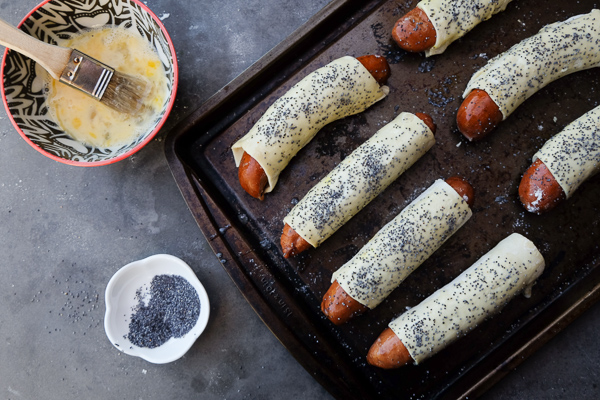 Let's make them bite sized.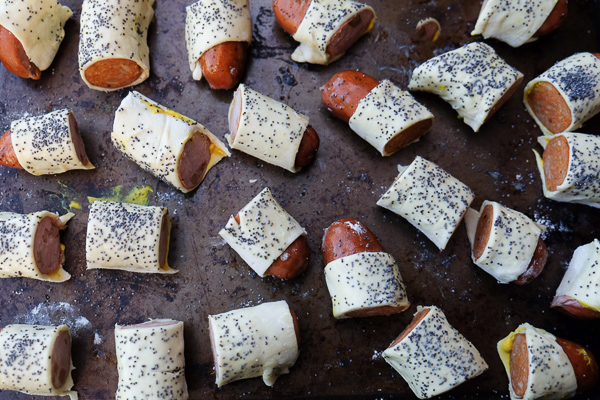 Pop them in the freezer to make them harden a bit.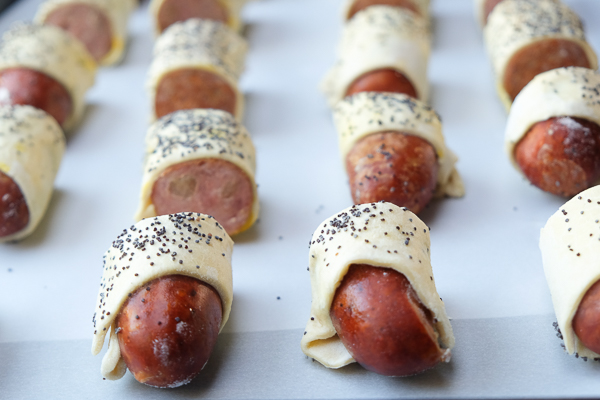 BAKE!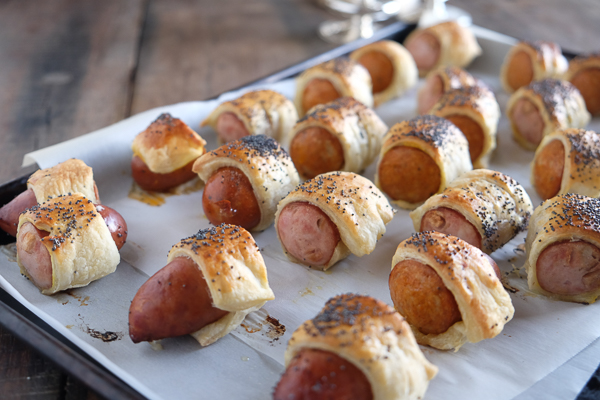 Let's find an excuse to serve these.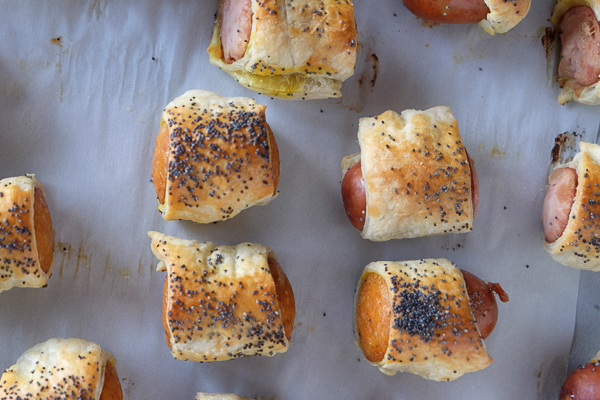 Tuesday night is Housewives of Beverly Hills. That's a good excuse.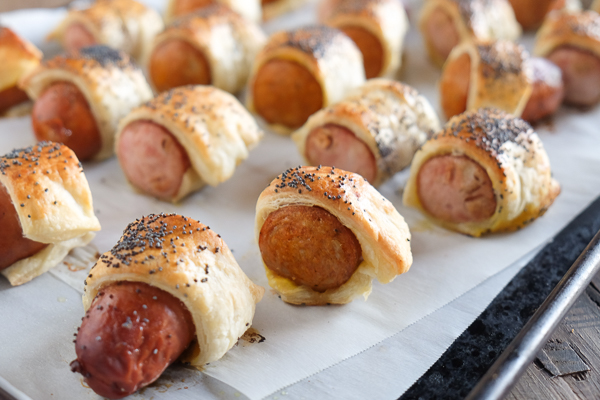 How about it's Monday and I ate alllllll healthy food until dinner? That's an occasion!
Wait. These are chicken sausages. We're cool. Let's make cookies. 
Pigs in Blankets

makes 27

recipe adapted from Martha Stewart

1 sheet puff pastry
2 tablespoons mustard, plus more for serving
8 fully cooked sausages (each about 5 inches long) Andouille, or chicken sausages
1 large egg, beaten
1 teaspoon poppy seeds

On a lightly floured work surface, roll pastry sheet out into a 12-inch square, then cut into 4-inch squares. Lightly brush lower half of each square with mustard, center a sausage on mustard-coated edge, and brush top inch with egg. Roll sausages in pastry, pressing seams to tightly seal. Brush tops with egg, then sprinkle with poppy seeds or flaky salt. Cut each at an angle into thirds. Freeze pigs in blankets, uncovered, on a parchment-lined baking sheet until firm.

Preheat oven to 400 degrees. Place frozen pigs in blankets 1 inch apart on parchment-lined baking sheets. Bake until pastry is puffed and golden brown, about 25 minutes. Serve warm with mustard.