Maximum reward for little effort. I should get that tattooed on my body because it's kinda my mantra. I've thought about the words YES, FOCUS, CARB LOVE and some other quote but I've never been able to figure out what font I'd choose. THAT WOULD BE SO DANG HARD.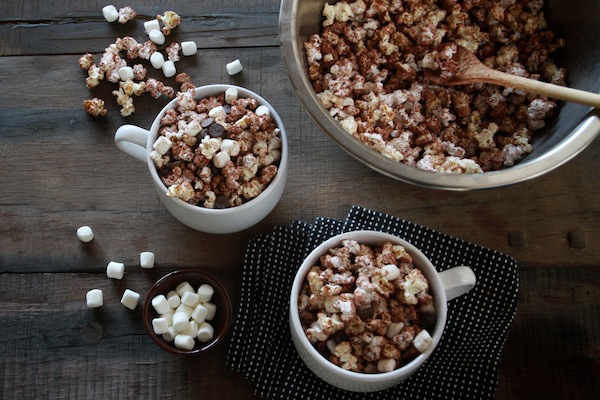 This Hot Cocoa Popcorn recipe falls into that maximum reward/little effort category. It's ridiculously easy! How do you get popcorn to taste like hot cocoa?? You mix it with cocoa powder, sugar and a bit of cinnamon. Then you sprinkle chocolate chips & mini marshmallows throughout.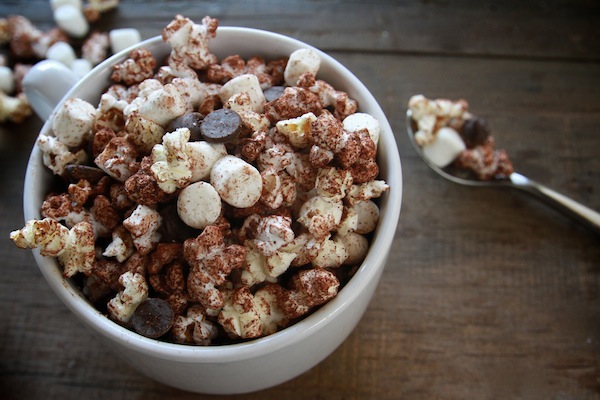 The only problem is…if you're trying to sneak some (ahem, COOPER) someone will instantly see you've been up to no good with your cocoa coated fingers (and face!). It makes a perfect after school treat or a nice little I need something to jam in my mouth before I make dinner–snack.
And we're off!
All of these items are pantry staples in my kitchen. BOOM. If you've got them, what's stopping you?
In a giant bowl, mix cocoa powder with sugar and cinnamon.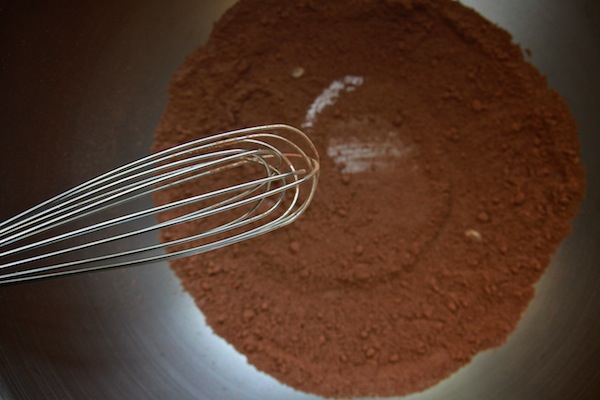 In a pot or a Whirley Pop! (that's what I always use to make popcorn) add the coconut oil and the kernels.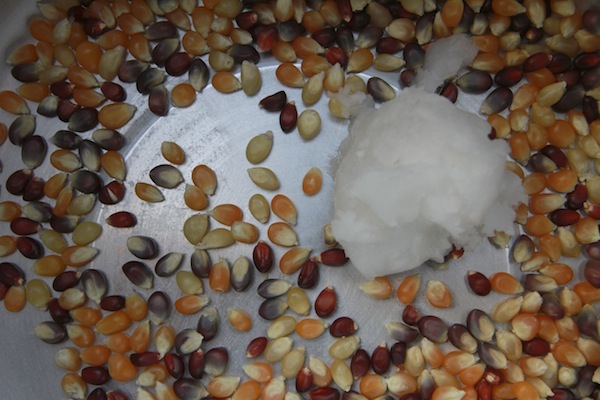 Get your pop on!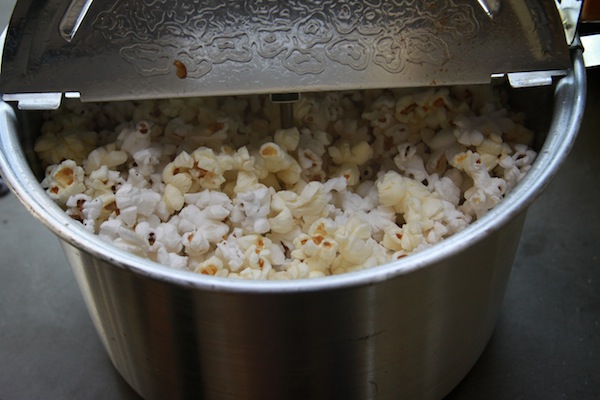 Slowly mix the hot popcorn into the cocoa mixture. STIR.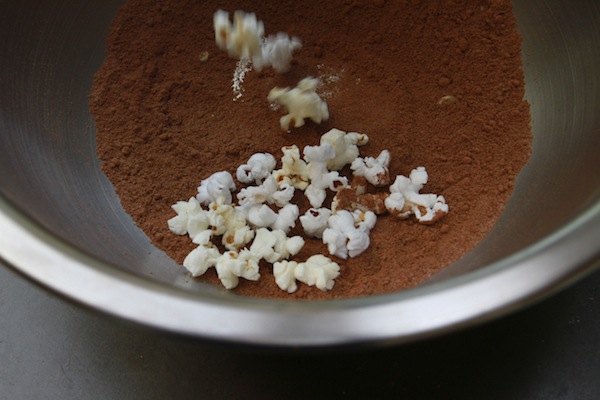 Keep at it. It smells good, doesn't it?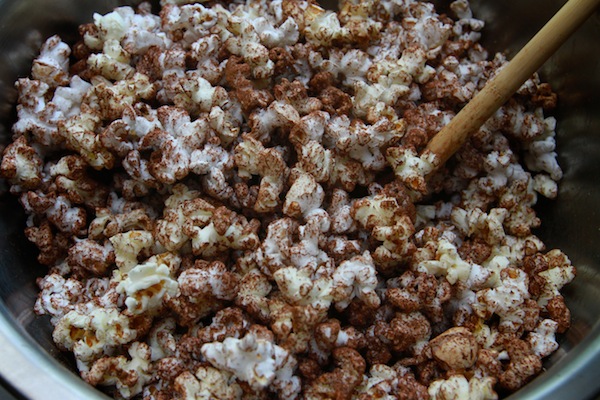 Now we add the chocolate chips & the marshmallows.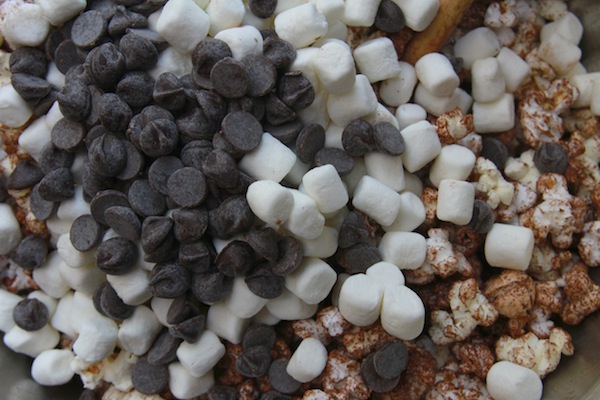 GOODNESS.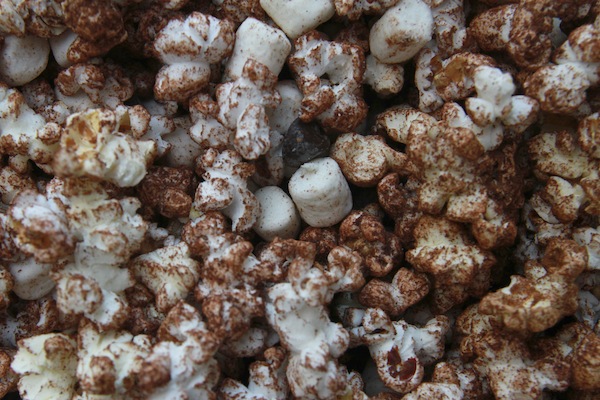 Serve it in GIGANTIC mugs.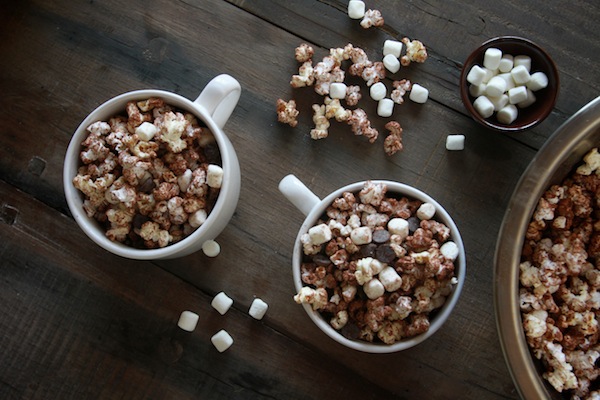 Can you imagine eating this AND drinking hot cocoa? My brain just exploded thinking about it.

Hot Cocoa Popcorn

makes 15-16 cups

recipe adapted from Rachael Ray Magazine

3 tablespoons unsweetened cocoa powder
2 tablespoons super fine sugar
1 teaspoon ground cinnamon
1/2 cup popcorn kernels
2 tablespoons coconut oil
2 cups miniature marshmallows
1/2 cup chocolate chips
kosher salt

In a large bowl, combine cocoa powder, sugar and cinnamon. Stir until well incorporated, set aside.

Place a 3 quart saucepan (or Whirley Pop) over medium-high heat. Add coconut oil and popcorn kernels to the pan. Close the lid and move pot back and forth (or whirl around!) on the stove and pop the popcorn until you start to hear the popping slow down. Remove from the stove.

Immediately add the hot popcorn to the cocoa mixture and stir to evenly coat the popcorn. Add in the mini marshmallow, chocolate chips, and sprinkle with kosher salt to taste. Stir evenly and serve.