Currently: October 2016
My child turned 8 this month. EIGHT YEARS OLD. This was my birth announcement on my blog. I had been blogging for almost 2 years when he was born. Crazy, right?
He and Casey went on an epic birthday trip to Boston at the beginning of the month. I had 4 days to myself. I organized. I relaxed. I worked.  I felt really sad that I couldn't go but also really happy that they had that experience together.  All of the dishes that were in the sink were only mine. You should have seen how cute my dishwasher was. It was just all of my favorite bowls, coffee cups and a lot of spoons. It was a weird feeling to pick up after ONLY MYSELF in our house for a few days. Kinda nice. Kinda eerie.
I completed Whole30. You can see more of that here.
In October our health insurance rates went up A LOT.  I went into PANIC MODE instead of going problem solving mode.
My back gave out. My back always gives out when my brain is overloaded with stress over money.
I didn't use food to cope. I just laid low (literally) and rested. That's what my body told me to do.
I found a new chiropractor through the process. I really like her. She is the first person I've gone to in a LONG time that has true healing vibes. She wants to get to the root of problems instead of just put a band-aid on one part of my pain. It felt like the universe was giving me a hug to have solid care and now I'm all paranoid that I am going to lose access to her with new health insurance. Oy.
I'm trying something new with this format.
Let's play: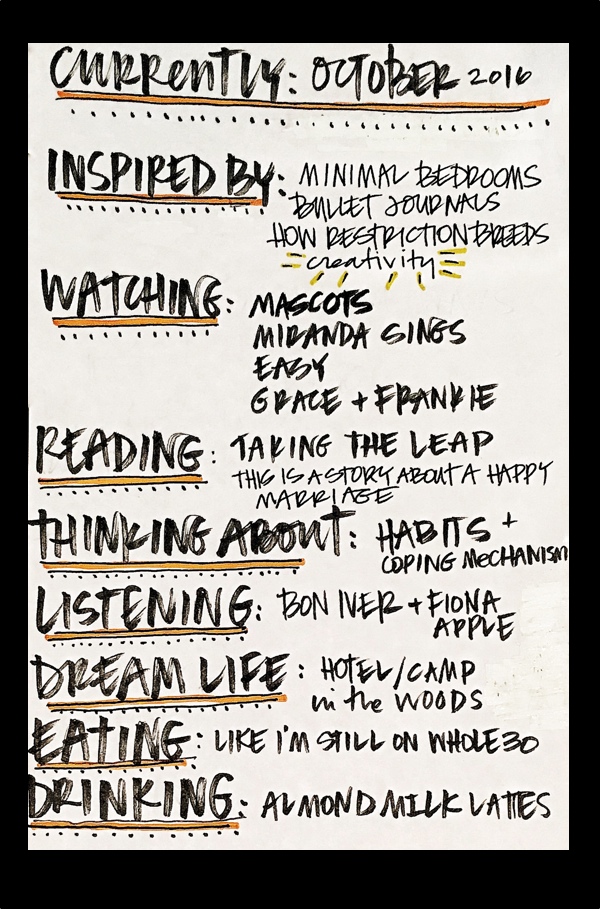 Inspired by:
Minimal Bedrooms. I would like to have one, but I also want a bedroom that is filled with books. Casey isn't a book lover so therein lies my problem.   I daydream about decorating our bedroom (we haven't really done anything to it since we moved in 5 years ago) but other things in our life require our attention right now.
It's life. It's all good. It will happen in time but man….LIFE.
I always come back to this quote on the left when I see all the stuff online that makes me
WANT WANT WANT: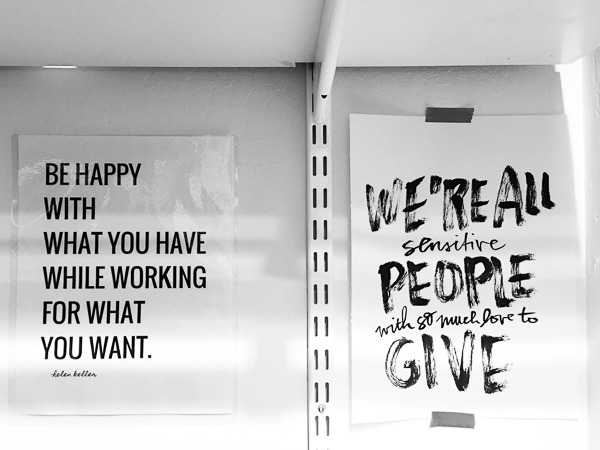 It makes me really question what it is I WANT WANT WANT. I have to remember that the internet is not always real life and maybe I can use this as an opportunity to be creative with what we have.
Also inspiring me….
Bullet Journals. I've hit my three month mark of keeping it up. I usually last about 4-6 months and then I start a new system. Crossing my fingers it lasts. I think it will. Don't worry, I will show you soon. Just still kinda working through the process right now.
How Restriction Breeds Creativity. I learned all about this over the past month with the Whole30. I am a solution oriented person, so having some of the food restrictions forced me to be creative about some of my food combinations. Today I made a potato salad that was pretty dang good. I'll share it soon.  But… I would have never come to that combination if it wasn't for the limitations.  I am really enjoying how limits can allow me to be more creative.
Watching:
We watched Mascots. If you're a fan of Best in Show or Waiting for Guffman….. you gotta see it. There were so many kooky moments that filled my heart. I love Christopher Guest's brain and it's so good to see the cast together again.
We started watching Back Off Haters  (from YouTube sensation Miranda Sings) last week and it's HILARIOUS. It reminds me a little bit of Napoleon Dynamite. With all the stuff that I see on TV for youth, there's a little glimmer of hope in there. I like that. Also, it's so bizarre and I LOVE BIZARRE. The mom is one of my favorite characters and of course my life feels complete when I can see a little bit of Steve Little (I loved him in Eastbound & Down)
Started watching Easy. I think it might replace that hole in my heart that was left when Parenthood and Togetherness ended. I'm still new to it, so who knows. BUT I LIKE IT. I appreciate real life comedies. I've only watched two episodes and whoa. #real
Finished watching Grace & Frankie. Frankie is my spirit animal.  When I was little, 9-5 was one of my favorite movies. To see Jane Fonda and Lily Tomlin still hustling and being relevant fills me with JOY. Love their honesty about getting older. I appreciate it so much.
Also… I really want to re-watch Boardwalk Empire. Dunno why. Just feeling it.
Reading:
I wish I could say that I was devouring books right now. I'm not. I'm more in research things online mode. I've been trying to figure out if I want to make a fall capsule wardrobe. I think I am really just combining my Winter and a few pieces from my Summer Capsule and calling it a day. I just want to wear tunics, leggings and boots right now.
But there are two things on my kindle that I've been going back to every few nights when I need a little reading before bed to get my head in another place. I've been going back and forth between Taking the Leap  &  This is a Story About a Happy Marriage.  Good things to busy my mind before sleep.
Thinking About:
Habits & coping mechanisms. Understanding that if I am able to work on this myself, I am better equipped to help Cooper through his own challenges. It's amazing to see much knowledge and perspective you gain when you can see some of your own behaviors in your children.
Listening to:
A lot of Bon Iver & Fiona Apple.  I've spent years building up my profile on Pandora (which I prefer sometimes over Spotify). Right now my stations are pretty dialed in. Casey has been testing out an Amazon Dot in our house right now. I was reluctant  to bring ANOTHER gadget into our lives because I am always worried about how technology will impact the way we think for ourselves….but I have to say that saying:
Alexa turn on Fiona Apple on Pandora
and have Fiona singing through a tiny speaker within seconds is pretty cool.
Yet again….I have questions to ask like.
How is this useful?
How will this make us lazy?
Can she order pizza?
Is my kid going to be able to order anything he wants on Amazon without my permission?
Dream life:
Been dreaming a lot lately. I don't remember many details, but I know that most of my dreams for the past few months have taken place at camp or a hotel. The vibe kinda reminds me of when Don Draper fled and went off on his driving journey across the country. A lot of it has to do with logistics and the inter workings of camp/hotel life. My dreamscape has a Wet Hot American Summer vibe mixed with the BBC version of The Office. I know. It makes no sense. Maybe someday it will.
Eating: 
Like I'm still on the Whole30. I dunno. It's just working for me.
Drinking:
Almond Milk Lattes.  Super into them. I have converted into a person who doesn't need sugar in their coffee now. It's weird.
So, what's going on with you?
I love it when we check in with each other. 
Type your stream of consciousness in the comments!