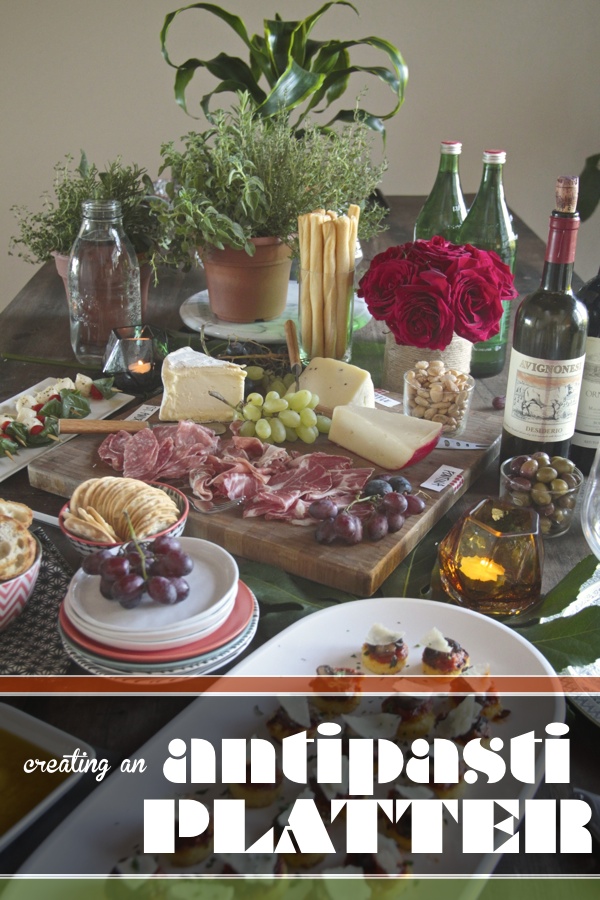 Creating an Antipasti Platter!
Every few months, Casey and I host a wine tasting at our house. He's in charge of the get-together (it's his wine group after all!) while I work on the food. Bertolli recently contacted me to see if I'd like to be a part of their Bertolli Gold Label Progressive Italian Dinner Party with a few other food bloggers. Over the next few weeks, you can follow along to see how we all hosted our own gatherings and then brought them together through a virtual Gold Label Dinner Party menu. I thought it might be a good way to show you what goes into creating an antipasti platter for one of our wine parties- from selecting the wines to pairing food items. As the first blogger course of the #BertolliGoldLabel Progressive Dinner Party, I came up with an original recipe (hope you love polenta & mushrooms!) using one of their Bertolli Gold Label sauces and will post that soon.
I may be a little biased, but I believe the food pairing is crucial to a successful wine tasting. To give you an example, the theme of our last event was wine that pairs well with oysters–Chablis, White Burgundy, Champagne & Muscadet. Everyone brought what they had with this requirement. We paired the wines with over 18 dozen raw oysters and a delicious mignonette as well as grilled oysters with a sriracha lime butter. Of course there was a lot of bread and other goodies, but the oysters really made the event special.
This particular tasting was on the smaller scale (7 people–we normally have 12!). We chose three Super Tuscan Wines to taste. Super Tuscan wines pair well with polenta, mushrooms and meat so I started brainstorming my menu around that idea.
The first thing that I do when we're having a party is start my list-making: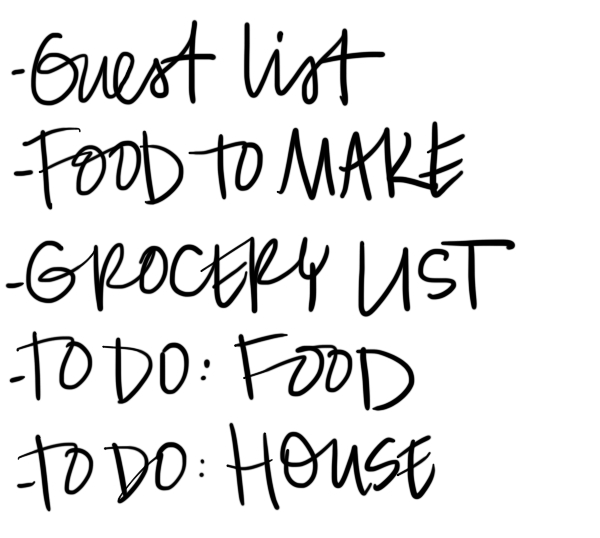 Once I know how many people will be at the event, it's easier for me to get started with my other lists. It's important for me to map out all of the puzzle pieces that fit together to make an event happen.
I think about the food visually (this usually takes place in my brain)…
As you can see, I want the spread to be rustic, natural, a little moody and herbaceous!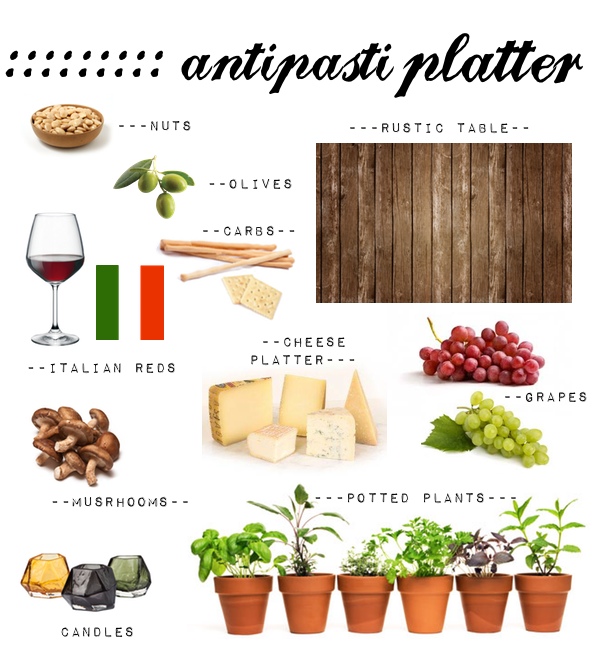 And from there I set my menu: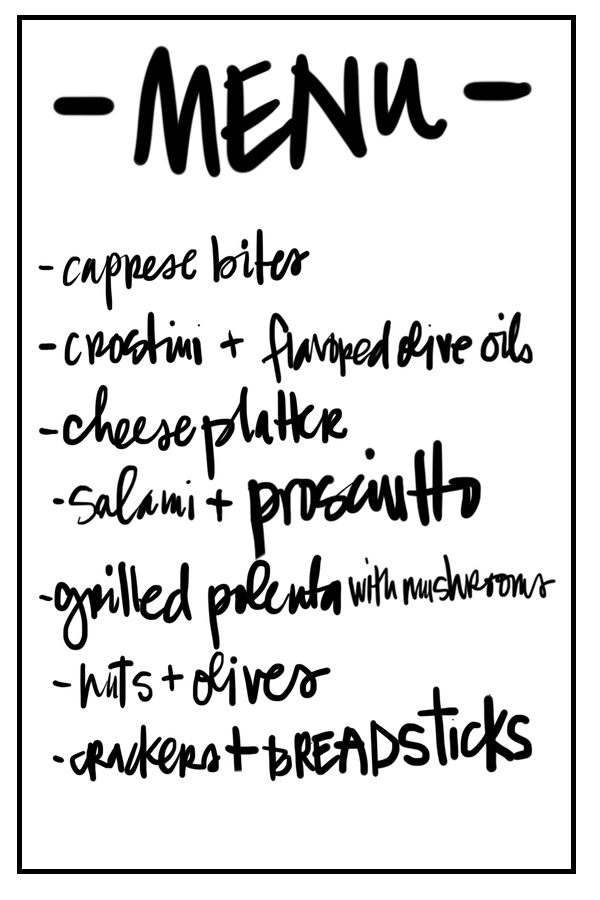 I usually do my grocery shopping the day of the party. The grocery store is practically VACANT at 8:30AM on a Saturday morning. It's one of my favorite times to do my shopping. As you can see, I come home and dump everything out on the table and take stock. I think about the timing and what can/should be done first.
Trader Joe's had potted herbs & pretty roses for my centerpiece. They also have a pretty decent selection of cheeses and some nuts, breadsticks & other little picky things that help round out a great antipasti platter. Bertolli provided some EXCELLENT sauces for me to use for the party. Thank you, Bertolli!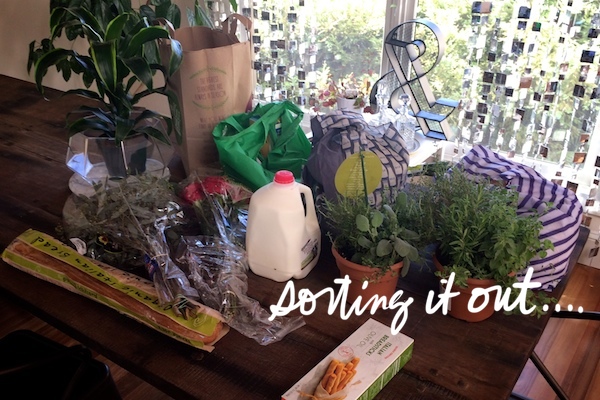 As you can see, I like to combine a lot of store-bought ingredients with a few homemade appetizers.
Really… it's all about the cheese, isn't it? But! I am adding a few things into the mix to make it feel extra special.
You'll see!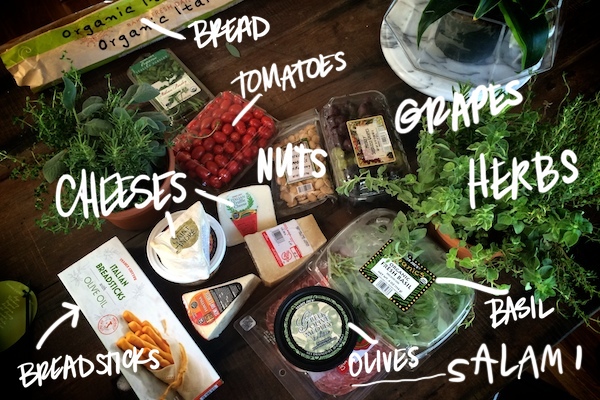 The cheese platter can be done up to a day in advance. I get this out of the way first.
I unwrap the cheeses and meats and place them on one of my wooden serving trays.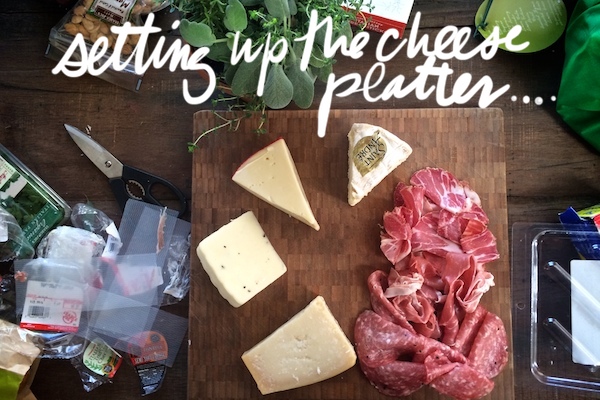 That gets wrapped up and put in the fridge. I will take it out about an hour before the guests arrive so the cheese softens to room temperature.
No one likes cutting into cold cheese. Especially when it's softer cheese!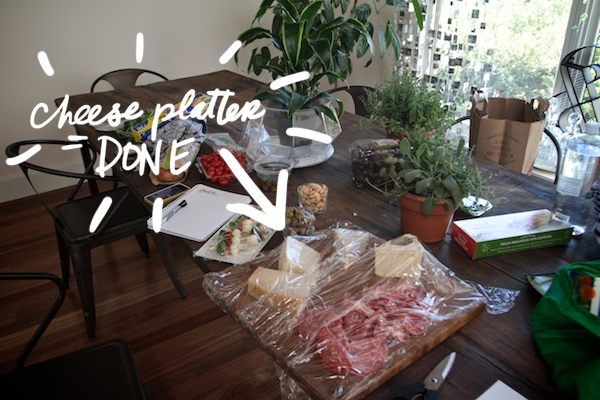 For this party, I decided to make some Caprese Salad Bites. They can get wrapped up and set in the fridge.
You can do this the night before and finish with the basil the day of.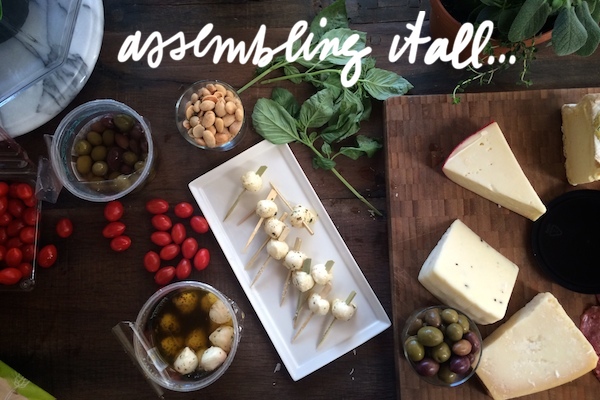 Nuts and olives go into small bowls. I like a mix of olives and Marcona Almonds are my favorite.
Aren't the Caprese Bites cute?
I saved some time and bought marinated mozzarella balls. I love the herb oil they're marinated in.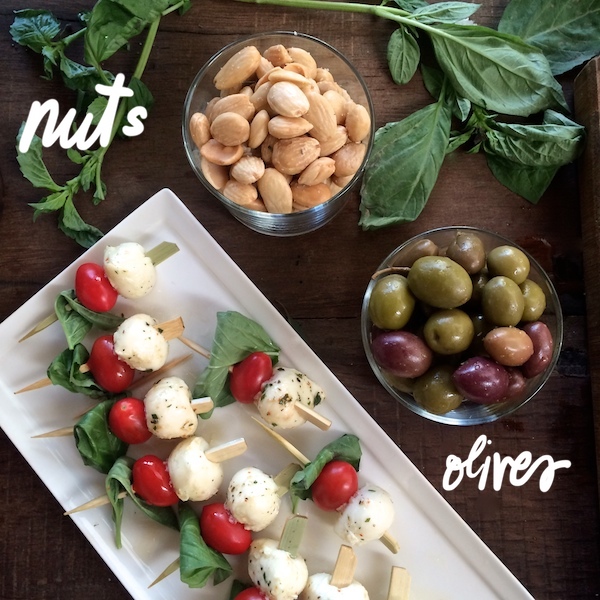 Another thing I do that takes NO TIME AT ALL is make some flavored olive oils for dipping. I do this the morning of the event in order to give the dips a little time to infuse the flavors.
Here I'm using Bertolli Extra Virgin Olive Oil as my base. It has a nice green taste to it.
Perfect for bread dipping!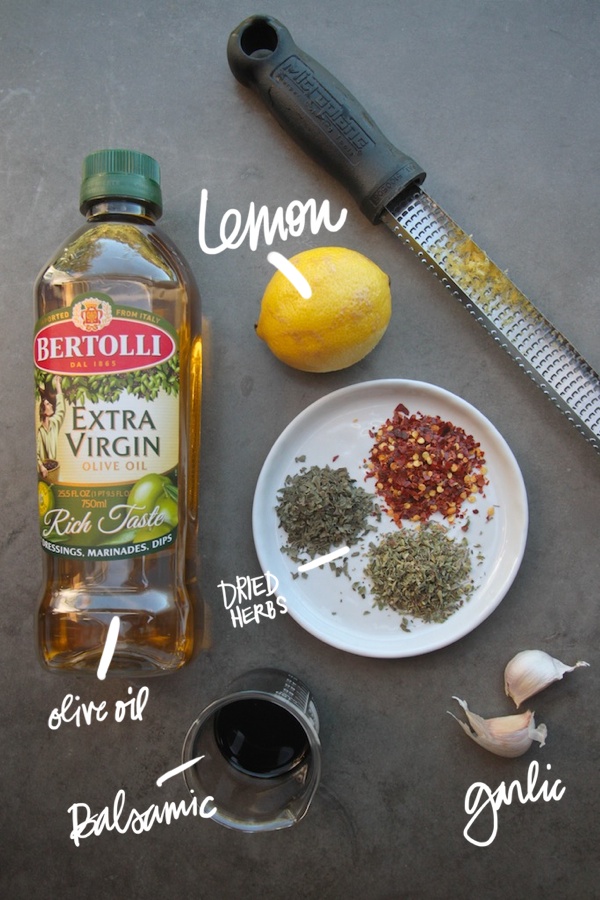 In a small bowl I mix fresh minced garlic with oil. PRESTO- GARLIC OIL.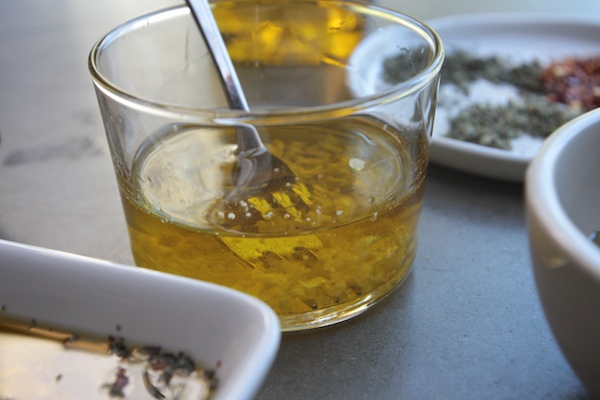 This oil is LEMONY with the help of some fresh lemon zest. Mix it in there.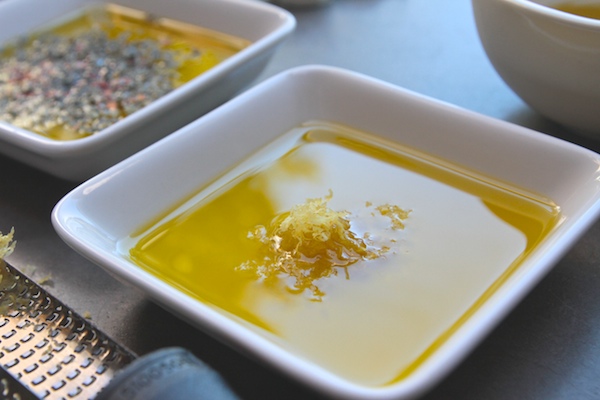 This is an Italian Seasoning Olive Oil- I mixed red pepper flakes, dried basil & dried oregano with the olive oil.
I tend to go heavy on the red pepper flakes, but it's really up to you!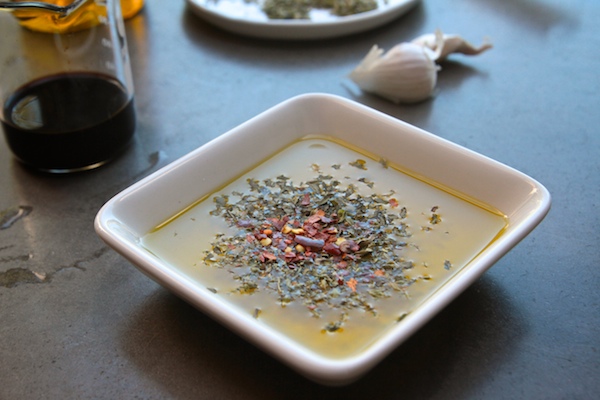 And here we have a simple balsamic vinegar & olive oil situation that everyone loves!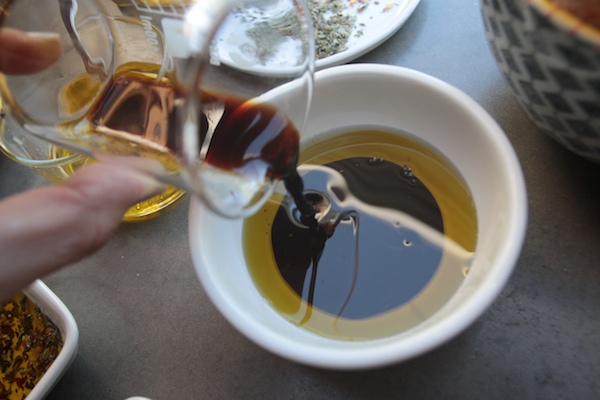 I serve the oils with some freshly sliced baguette.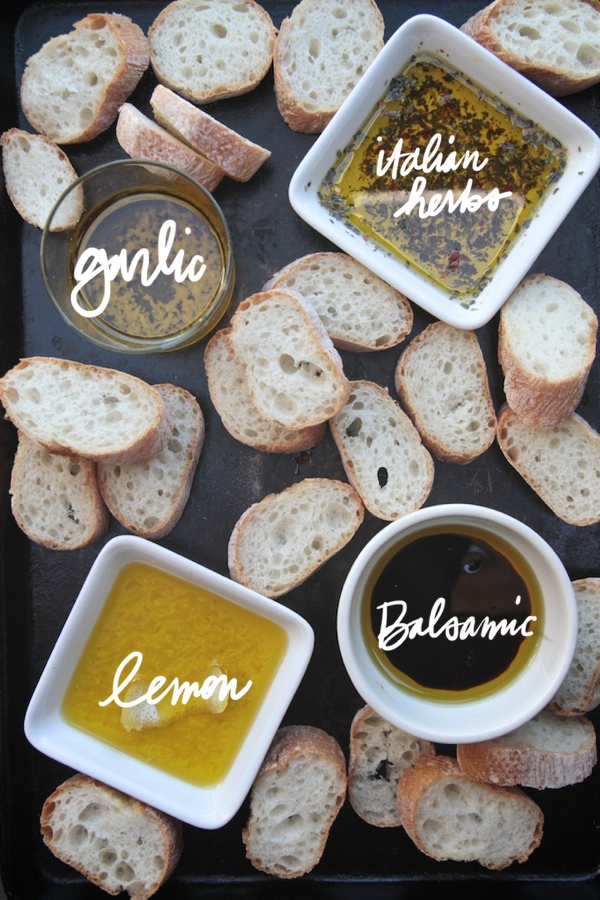 A little overview of my list making. I like to use large index cards & post-its when I'm in the process of party planning. They're perfect because I can tuck them in my apron or back pocket and refer to them throughout the day.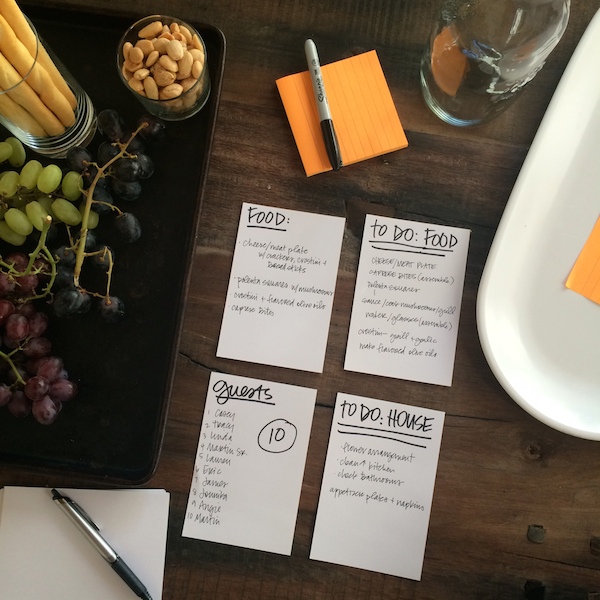 Two really helpful tips for you:
1. Set out all of your dishware/serving pieces ahead of time and label them with post-its.
Part of this is to make sure you have enough room on your table and also so you can visualize all of the things that you need to get done before guests arrive. Don't forget to put out water, cheese knives, a little bowl for olive pits & used toothpicks!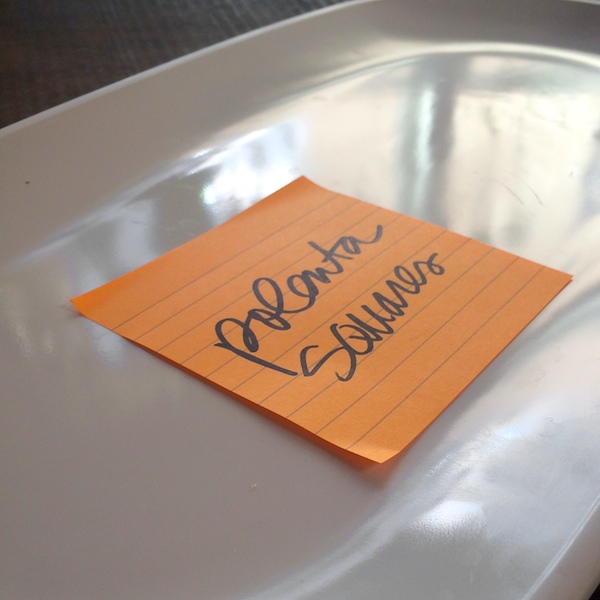 2. Always label your cheeses!
I cut up an index card and used a little washi tape to secure it to the cheese platter. People love knowing what cheese they're eating, and as a host, it's nice to not have to field those questions while you're in the middle of working!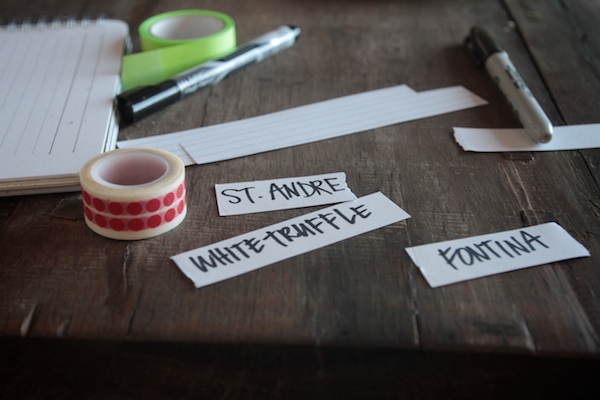 Here we have the labeling in action. You can see how I added the cheese knives, grapes & nuts into the scene!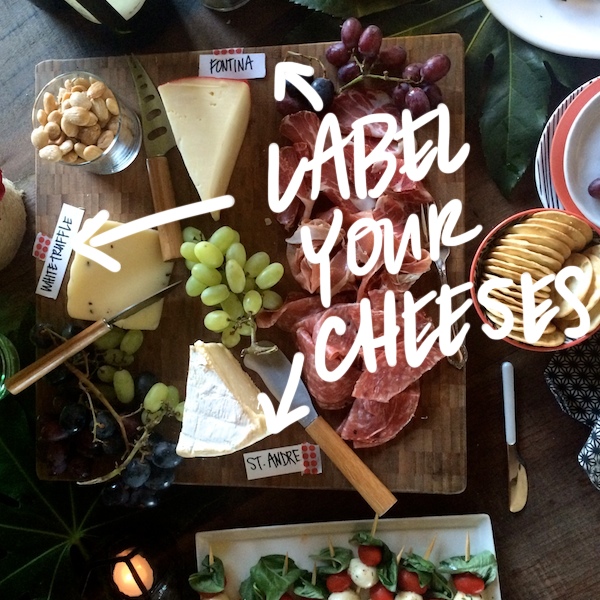 Here's a little peek of the spread: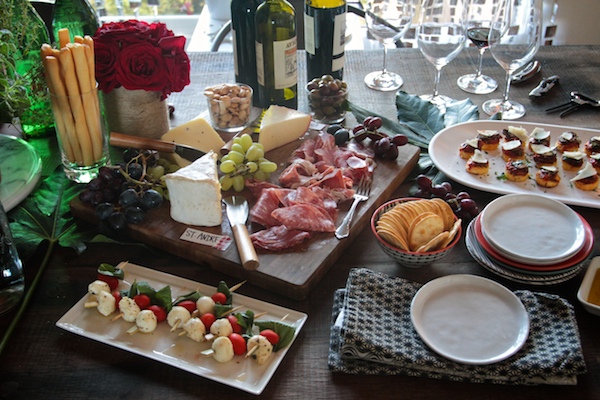 I'll share my special recipe using one of the new Bertolli Gold Label sauces next week. Stay tuned!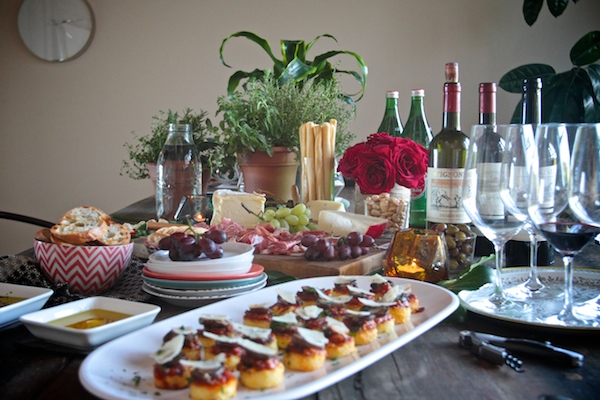 A big thank you to Bertolli for sponsoring this post and inviting me to be a part of their Bertolli Gold Label Progressive Italian Dinner Party.
Check-in with Bertolli on Facebook and follow #BertolliGoldLabel to keep up with the Bertolli Gold Label Progressive Italian Dinner Party.