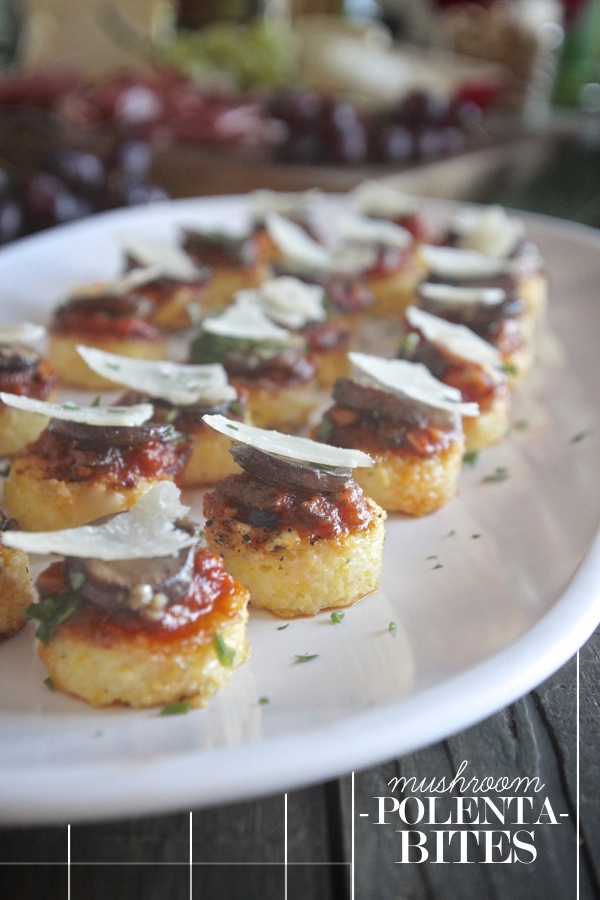 New post: Mushroom Polenta Bites
When I was a kid, my parents used to have a lot of catered parties. While my brothers spent the whole time fighting over the Atari downstairs all hopped up on soda (the only time we had it!), I was standing in a corner in the kitchen watching the caterer assemble serving platters. The assembly line fascinated me…the pace…the rhythm….the way one folds a piece of salami in half and creates a fan with it on a serving plate. To this day, I love putting together a spread because it's like setting up a tableau. It's a true art form!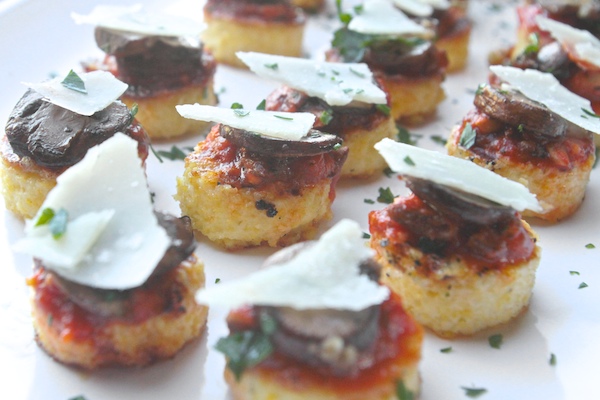 To continue our discussion about setting up an antipasti platter, I was telling you that I like to make things easy on myself and make one or two special/fancypants appetizers. If I'm serving a dinner afterward, I scale back on the apps because I don't even want to HEAR THAT YOU ARE FULL when I spent all this time on DINNER for us. If only people knew how to control themselves….
But then again, maybe I should stop putting out all this deliciousness?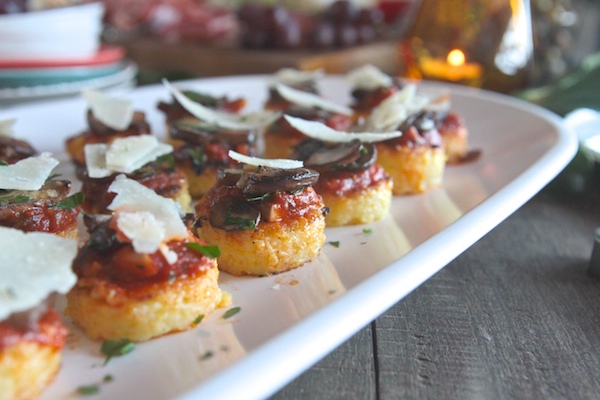 As the first blogger course of the #BertolliGoldLabel Italian Progressive Dinner Party, I came up with this recipe for Mushroom Polenta Bites using the Bertolli® Gold Label Imported Porcini Mushrooms paired with White Truffle Oil sauce. The polenta rounds are crispy on the outside and creamy on the inside. Each one is topped with the porcini & white truffle infused sauce, sautéed mushrooms and slivers of Parmesan cheese.
People will keep coming back for more!
Promise.
Before I show you how to make these tasty Mushroom Polenta Bites, make sure to head over to Dine & Dish tomorrow to see what she's making in the next course in our #BertolliGoldLabel Dinner Party!
And we're off!
Our first item of business is to make the polenta.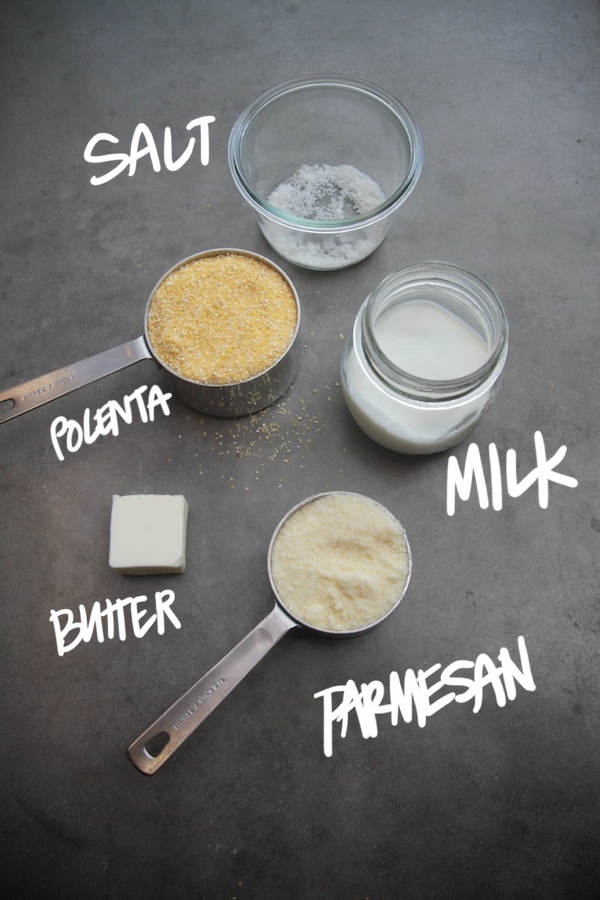 Get your salted water boiling. You want to pour the polenta into the water in a slow steady stream.
Stir. A lot. Polenta is kinda like risotto in that you shouldn't keep your eyes off it.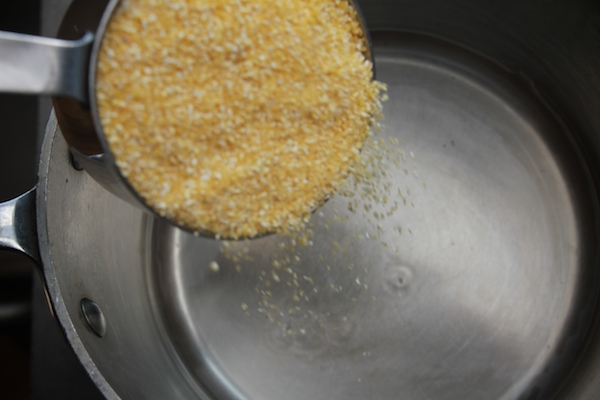 Constantly stir for about 15 minutes, or until the polenta starts to thicken.
Add the milk to thin it out and make it creamy.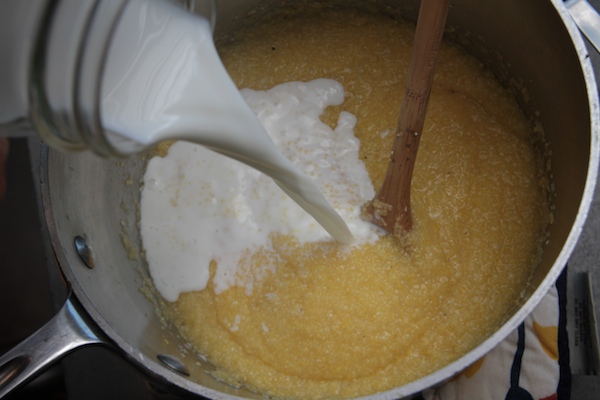 When polenta is creamy and smooth, finish with butter and grated PARMESAN.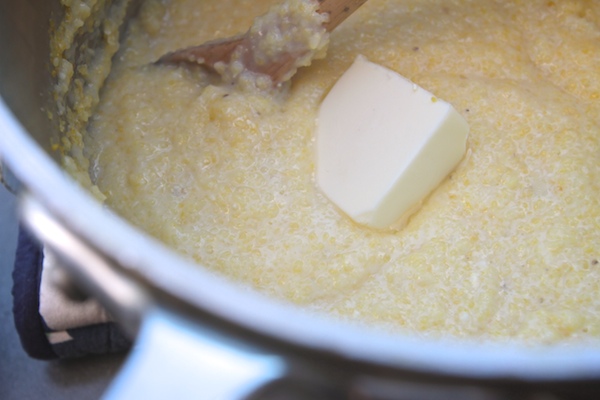 Spread polenta in a parchment lined baking dish.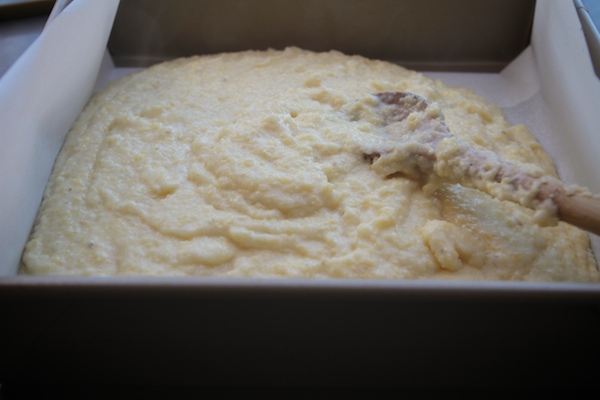 Smooth the top, cover and let it set in the fridge for about an hour.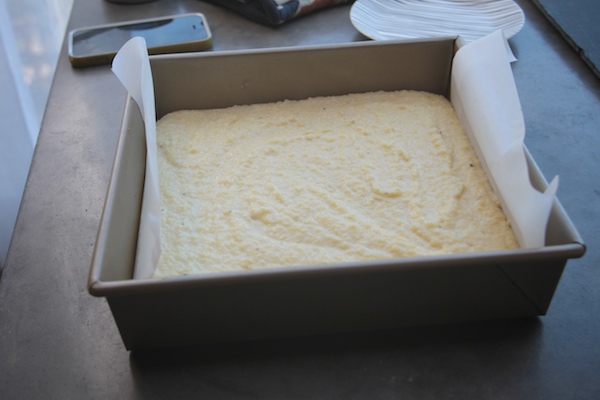 Cut polenta into small rounds with a 2 inch biscuit cutter. Alternately, you can make triangles or squares.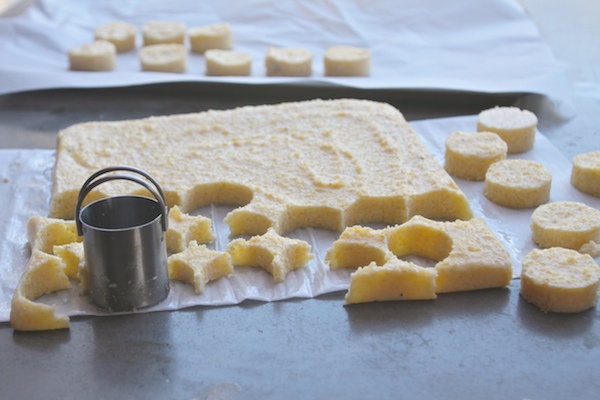 Drizzle with oil. We're going to grill them. This can be done a day ahead of time.
Also- If you don't have grill pan you can pan fry them in olive oil.
The nice part about this appetizer is that you can keep the grilled polenta rounds warm in the oven until you're ready to top them with the mushroom topping!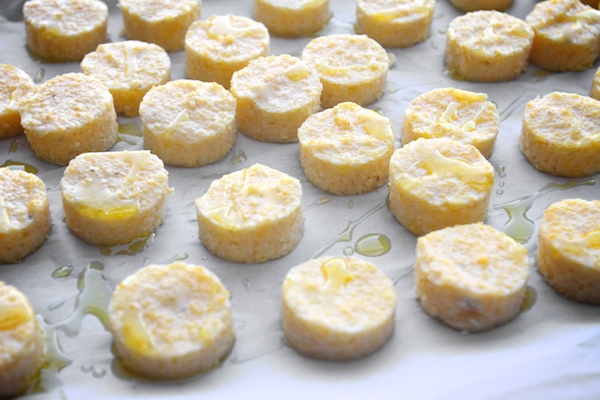 Let's talk about the mushroom topping!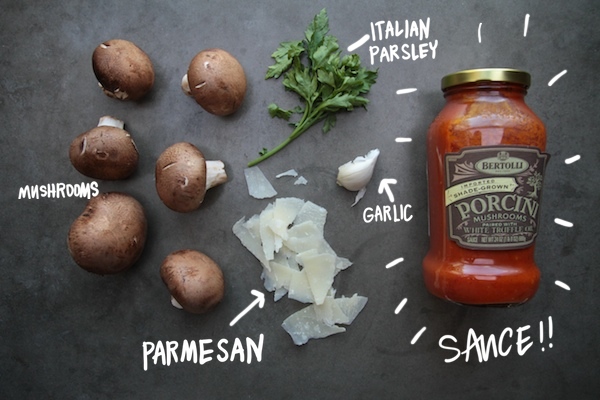 We're using a new Bertolli Gold Label sauce- Imported Porcini Mushrooms from Parma, Italy paired with White Truffle oil for this appetizer.
In this sauce, shade-grown porcini mushrooms imported from Parm, Italy are paired with decade white truffle oil to create an indulgently rich flavor. There's a little earthiness because of the truffles and a touch of cream to the sauce. All this goodness means we have less to add to our tasty polenta topping. Time saving!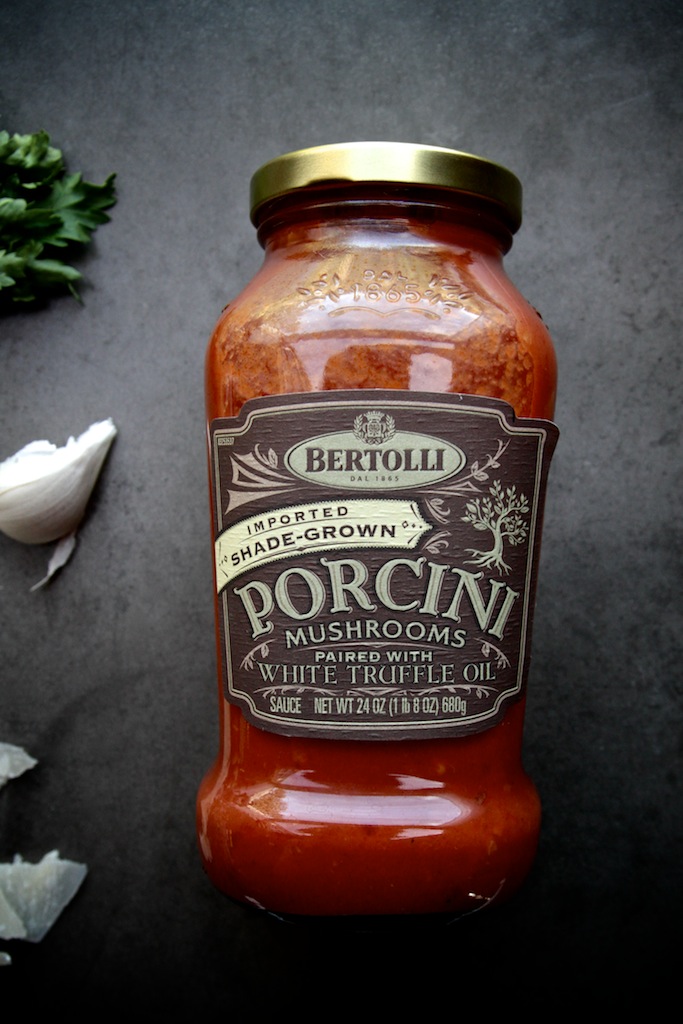 We're going to sauté mushrooms. We do this in a dry pan. No oil! Just let the mushrooms cook down.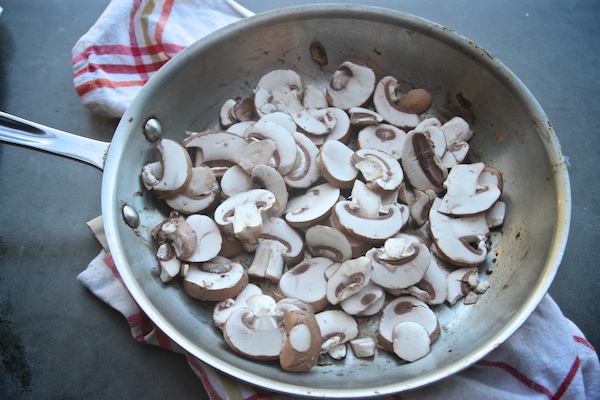 When the mushrooms have softened, and they're a bit squeaky, you add in the olive oil and chopped garlic.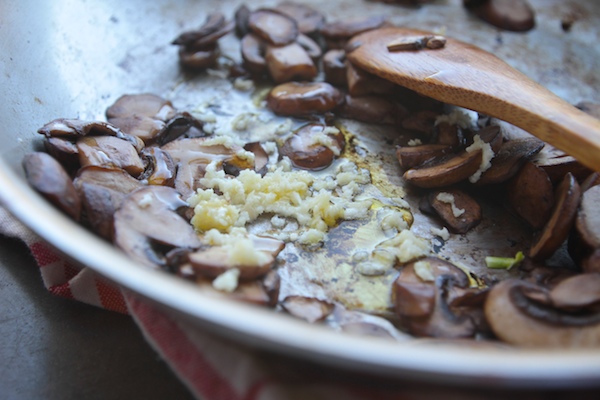 We add chopped parsley and we set the mushroom mixture aside because we're done!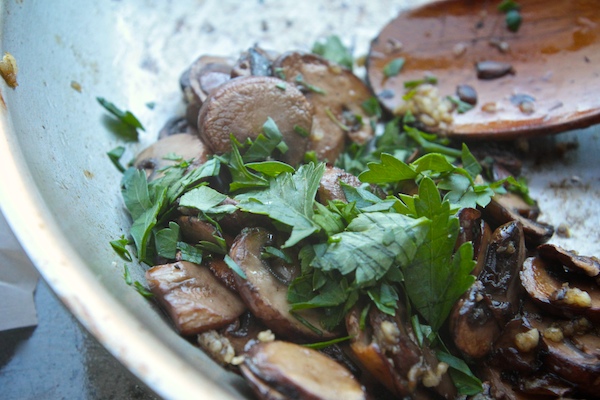 Liberally oil your grill pan and grill the polenta rounds.
You must be patient with the flipping…if you do it too soon, they'll stick to the pan.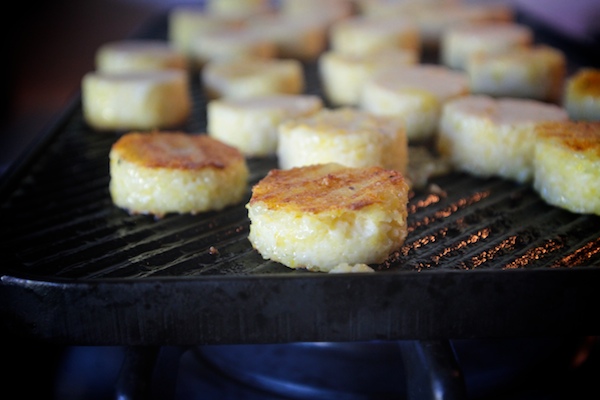 DONE.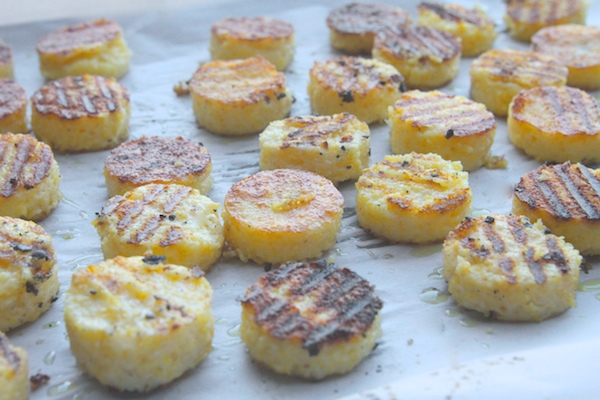 Let's assemble. We take the Bertolli Gold Label Porcini Mushroom Sauce and heat it up in a small pan.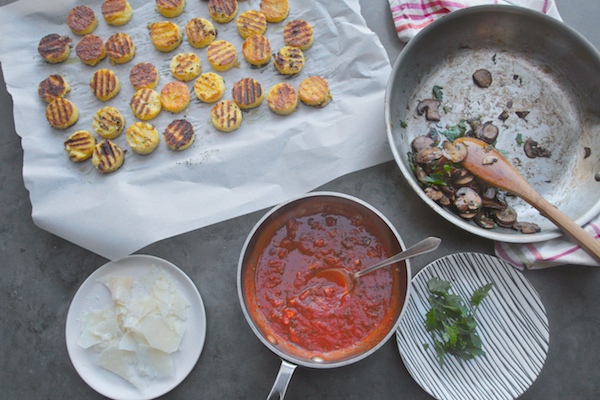 Top each grilled polenta round with a dollop of the Imported Porcini Mushroom sauce, a few sautéed mushrooms….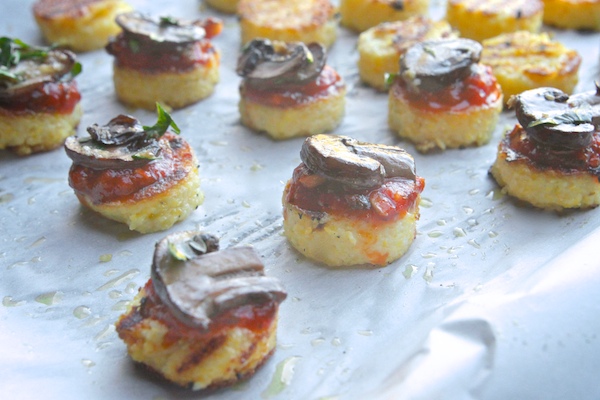 And then we top each one with a slice of Parmesan. A sprinkle of Italian parsley to finish it off!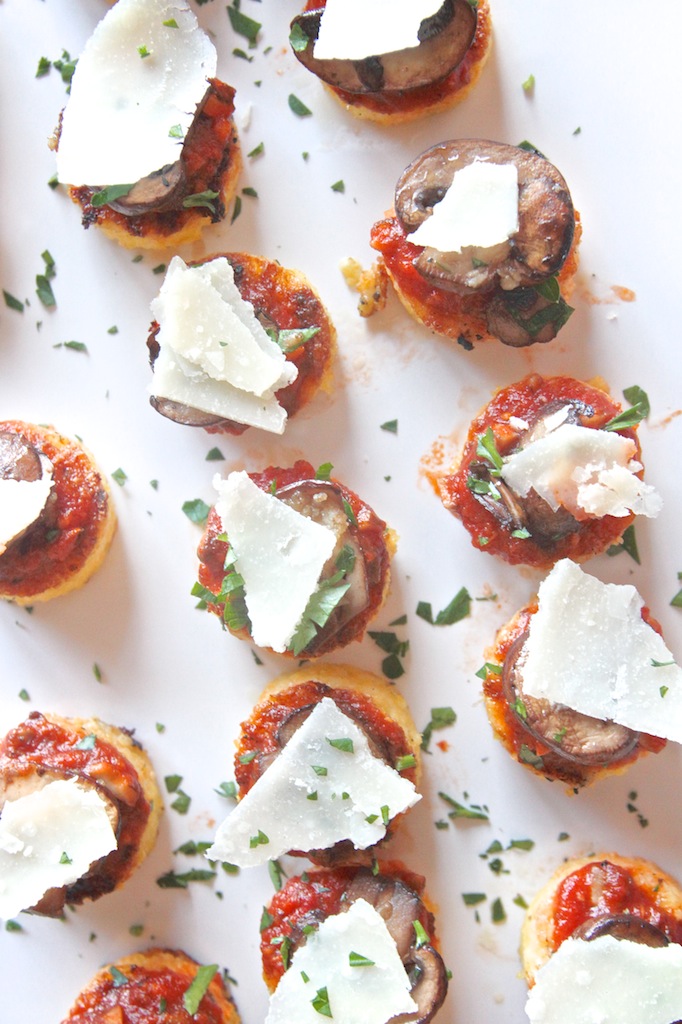 These Mushroom Polenta Bites fit perfectly with our antipasti platter.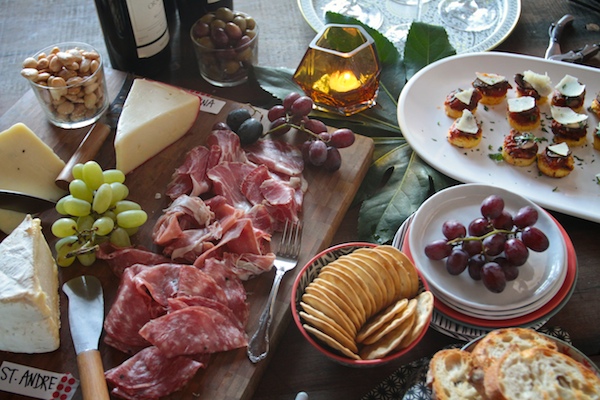 A perfect accompaniment to the Super Tuscan wines we selected for our wine tasting.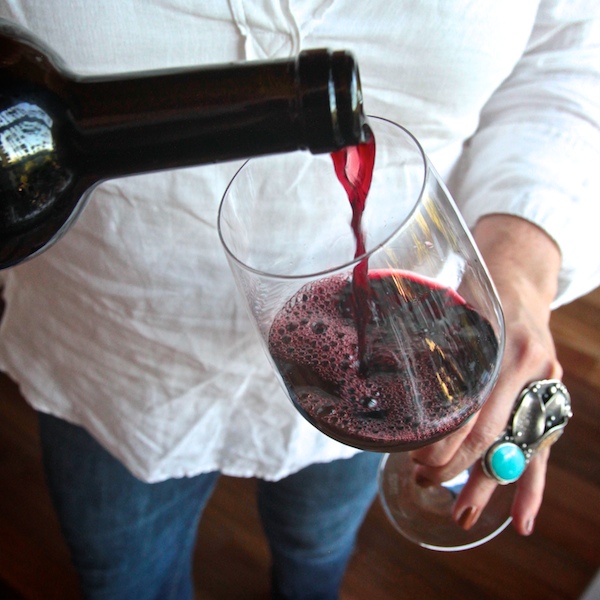 Let the games BEGIN!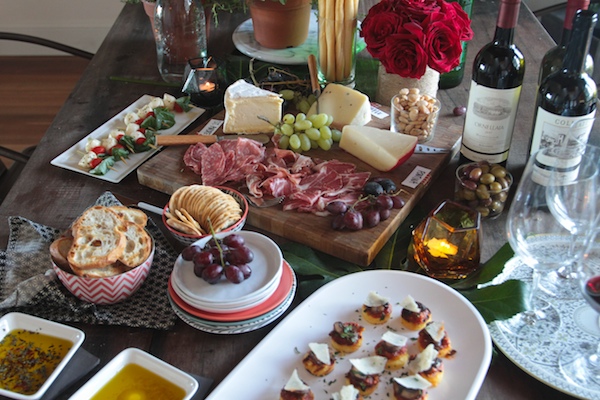 Be sure to check out my antipasti platter post. With the busy holiday season upon us, it might provide you a little inspiration for your upcoming parties.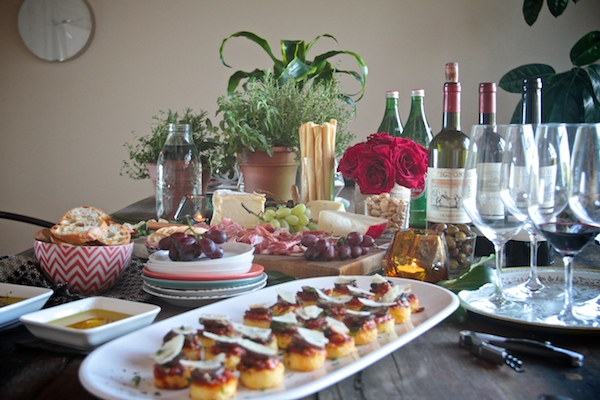 A big thank you to Bertolli for sponsoring this post and inviting me to be apart of their Bertolli Gold Label Progressive Italian Dinner Party.
Check in with Bertolli on Facebook and follow #BertolliGoldLabel to keep up with the Bertolli Gold Label Progressive Italian Dinner Party.
Mushroom Polenta Bites

makes about 25 polenta rounds

for the polenta:

3 cups water
1/2 teaspoon kosher salt
1 cup polenta
1 cup whole milk
2 tablespoons unsalted butter
1/2 cup freshly grated Parmesan cheese
extra virgin olive oil

for the mushroom topping:

8 oz. thinly sliced crimini mushrooms
1 clove chopped garlic
1 tablespoon extra virgin olive oil
2 tablespoons fresh chopped Italian parsley
1 cup Bertolli® Gold Label Imported Porcini Mushrooms with White Truffle Oil
sliced Parmesan cheese (about small 25 slices)

Line a 9 x 9 inch baking pan with parchment paper. Spray parchment with cooking spray and set aside.

Boil water in a medium saucepan with kosher salt, and slowly stir in polenta. Cook for 15-20 minutes, stirring constantly. Slowly pour in the milk and continue to cook until polenta is creamy and smooth. Stir in butter and grated Parmesan until well incorporated. Pour polenta into the parchment lined baking pan and spread the top so it's smooth. Wrap up polenta and place in the refrigerator for about an hour, or until polenta has hardened. Take the polenta out of the pan, with the parchment still attached and cut into rounds with a 2 inch biscuit cutter. Place rounds on another parchment lined baking pan and drizzle with olive oil and set aside.

Heat grill pan on medium high heat. Drizzle pan with olive oil and carefully place rounds on top, making sure not to overcrowd pan. Cook polenta rounds until each side forms a crust, about 4-5 minutes per side. Place polenta rounds back on baking sheet and set aside.

Meanwhile, cook mushrooms in a medium skillet over medium-high heat until mushrooms have softened, about 5-7 minutes. Add extra virgin olive oil, chopped garlic and cook for another minute. Stir in 1 tablespoon chopped Italian parsley. Meanwhile place porcini mushroom sauce in a small saucepan and heat over low heat to warm through.

To assemble polenta rounds, dollop a heaping tablespoon of the warm Porcini Mushroom sauce on top of each polenta round. Top with about 2 sautéed mushrooms and finish with a slice of Parmesan cheese. Continue until all polenta rounds are covered. Sprinkle fresh chopped parsley on top of the polenta rounds and serve warm.