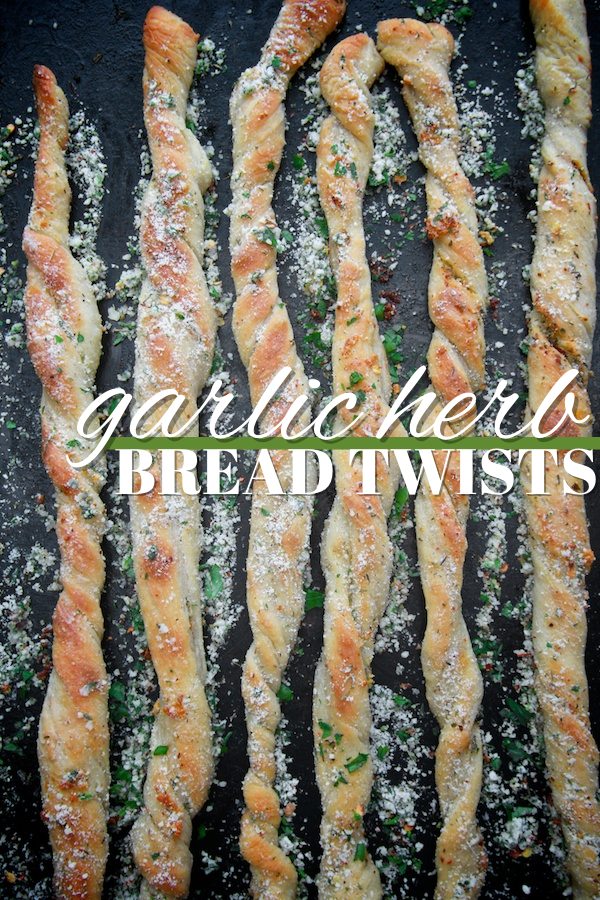 Has anyone ever ordered garlic bread twists from a pizza place WITHOUT a pizza? They always tempt us when they're on a menu, and yeah- we do get them but we eat them in ADDITION to the pizza and it's almost always CARB OVERLOAD. The question I'm faced with…do I eat one more piece of pizza or one more bread twist? It's agony.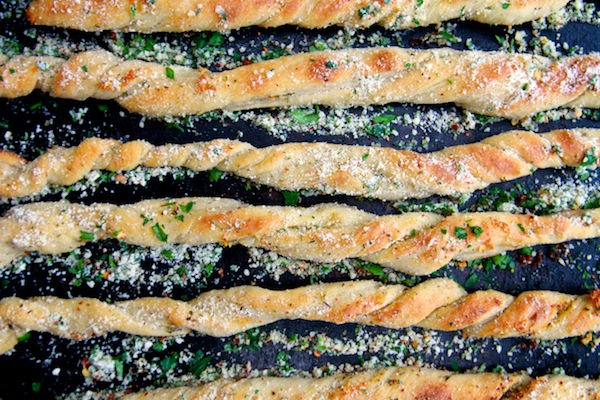 But, here's the thing. We ate these Garlic Herb Bread Twists on their own. No pizza was involved and it was glorious!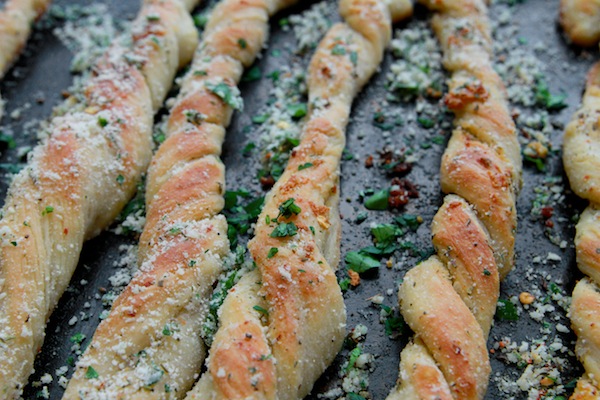 There was no holy crap, I feel bloated feeling. No OMG what did I just jam into my face feeling. No negotiation with myself that I'll just eat a bread twist instead of a piece of pizza because that's like sooo much less cheese. I just got the whoa those were really good and I might buy store bought pizza dough every week so this goes into the rotation feeling. They're crunchy, garlic infused, cheesy, herby, CARBY and totally delicious.
And we're off!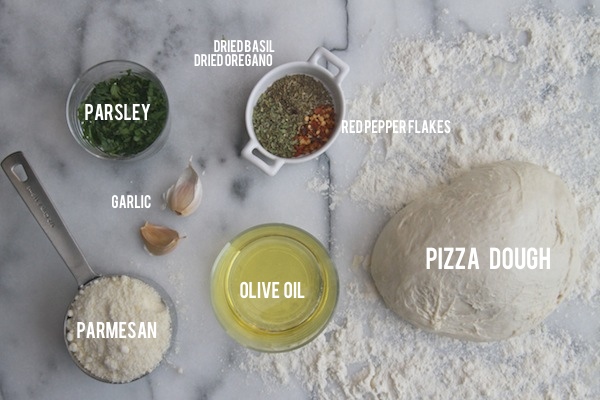 First we make our cheese/herb mixture and our garlic oil. Minced garlic goes into oil and the herbs & spices go into the cheese. We're gonna save the parsley for later.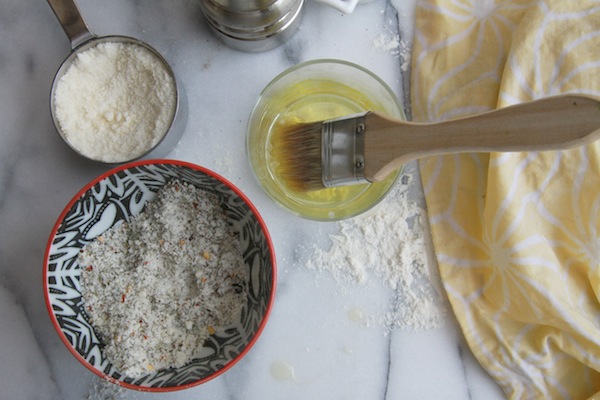 If we're using store bought dough (I got mine from Trader Joe's) we want to let it sit until it's pliable. If it bounces back to its original position, it's not ready. Let it sit. Be patient. That's the first rule in dough handling.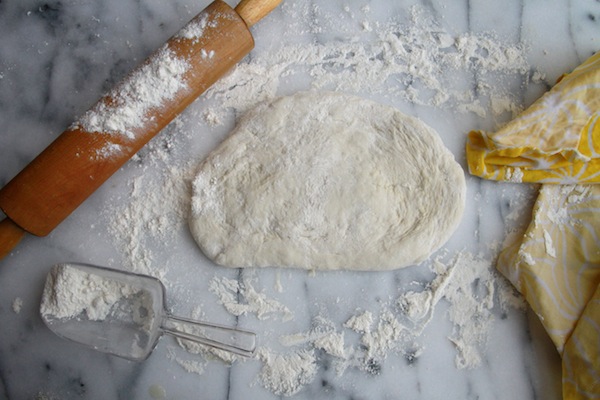 We roll out the dough and make it into a big rectangle. It's OK if it's not perfect. At least that's what I believe.
It's dough. It's gonna get baked and taste amazing. Spread half of the cheese mixture on top.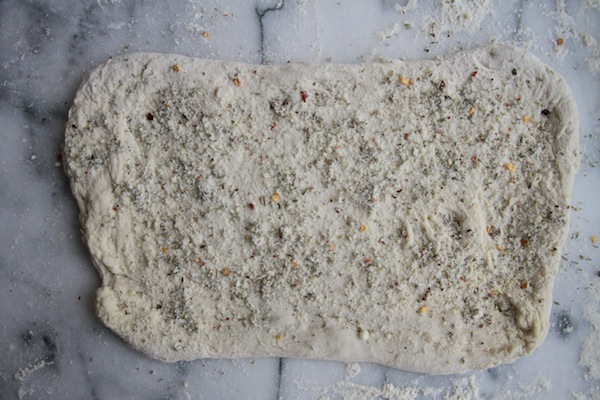 Fold it over! Press it down.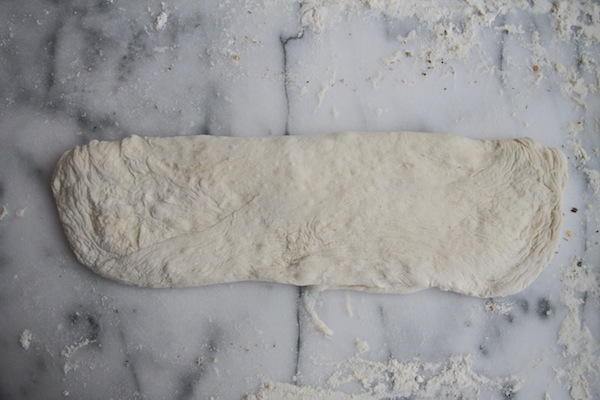 Cut the dough into strips.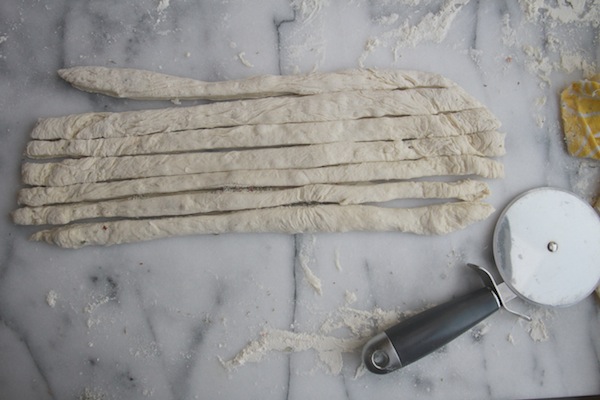 Put the strips on a oiled baking sheet. Twist them!
Brush them with the garlic oil. Now bake!
Mix the parsley in the rest of the cheese mixture. We're gonna add garlic oil & cheese to the hot twists.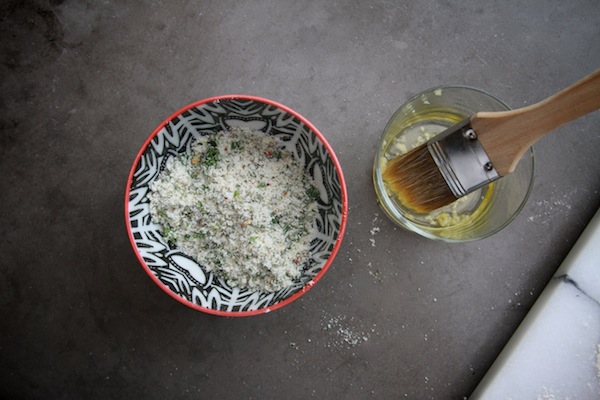 BAKED! I love how the bits of garlic get toasty.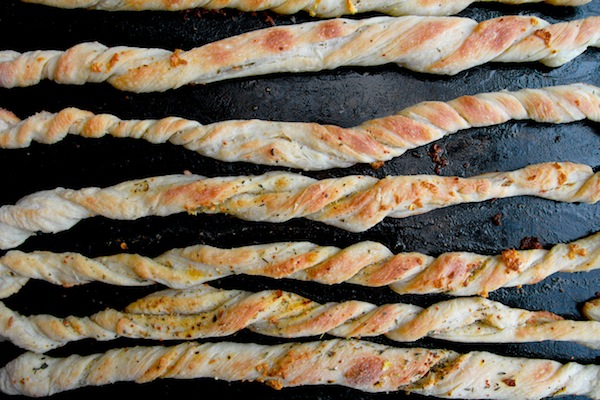 Brush with oil. It's like the glue!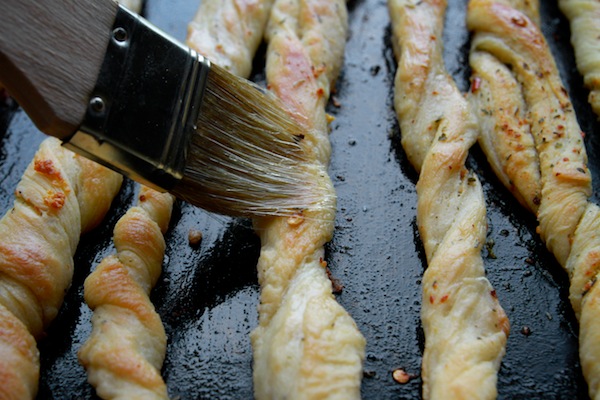 FOR THE CHEESE!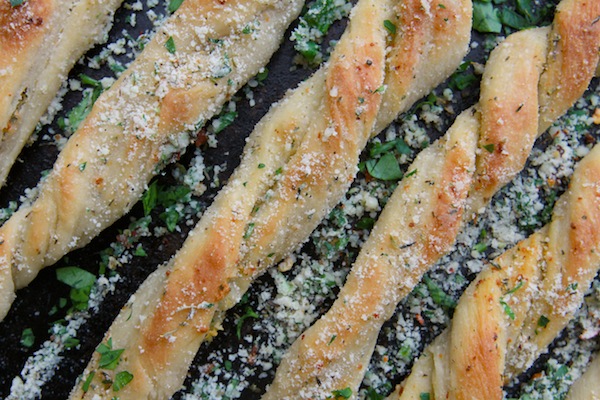 My version is kind of Dr. Seuss-like.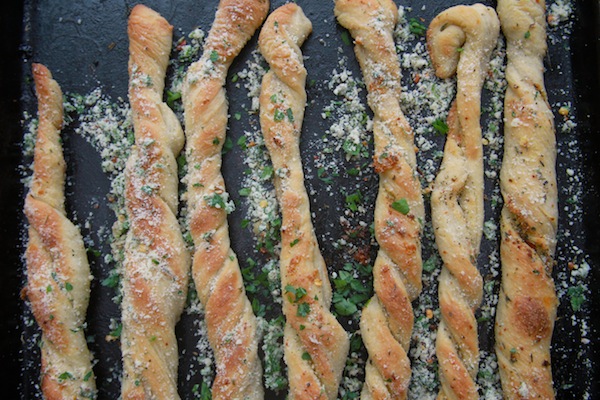 And now I quote Dr. Seuss…because I'm weird.
"I am weird, you are weird. Everyone in this world is weird. One day two people come together in mutual weirdness and fall in love."
I guarantee you'll fall in love with these twists and it won't be weird at all or maybe it will depending on what you do with them…

Garlic Herb Bread Twists

makes 7-8 bread twists

recipe adapted from Gourmet Magazine

1 teaspoon dried basil
1 teaspoon dried oregano
1/2 teaspoon dried red pepper flakes
1/2 cup grated Parmigiano-Reggiano, divided
1/8 cup olive oil
2 garlic cloves, minced
1 lb pizza dough, (or use store-bought)
1/8 cup finely chopped flat-leaf parsley

Preheat oven to 400°F. Lightly oil 1 large (17- by 13-inch) baking sheet.

Stir together basil, oregano, red pepper flakes and grated Parmesan in a small bowl. Stir together oil and garlic.

Gently roll out pizza dough into a 15- by 10-inch rectangle on a lightly floured surface with a lightly floured rolling pin. (Use your hands to pull corners. If dough is very elastic, cover with towel and let rest about 3 minutes.)

Sprinkle the top of the dough with half of herb cheese mixture, then fold dough in half crosswise and roll lightly to form a roughly 10- by 8-inch rectangle. Cut lengthwise into 7-8 strips (less than 1 inch wide) with a pizza wheel or a sharp heavy knife. Keeping remaining strips covered with a kitchen towel, twist each strip from both ends and place on baking sheet, arranging twists 1 inch apart. Brush with 1 Tbsp garlic oil and let stand while forming remaining bread twists.

Bake bread twists, switching position of sheets halfway through, until golden, 20 to 25 minutes total.

Meanwhile, stir parsley into remaining herbed cheese mixture. Immediately after baking, brush bread twists with remaining garlic oil, then roll in parsley and cheese until coated. Serve warm or at room temperature.