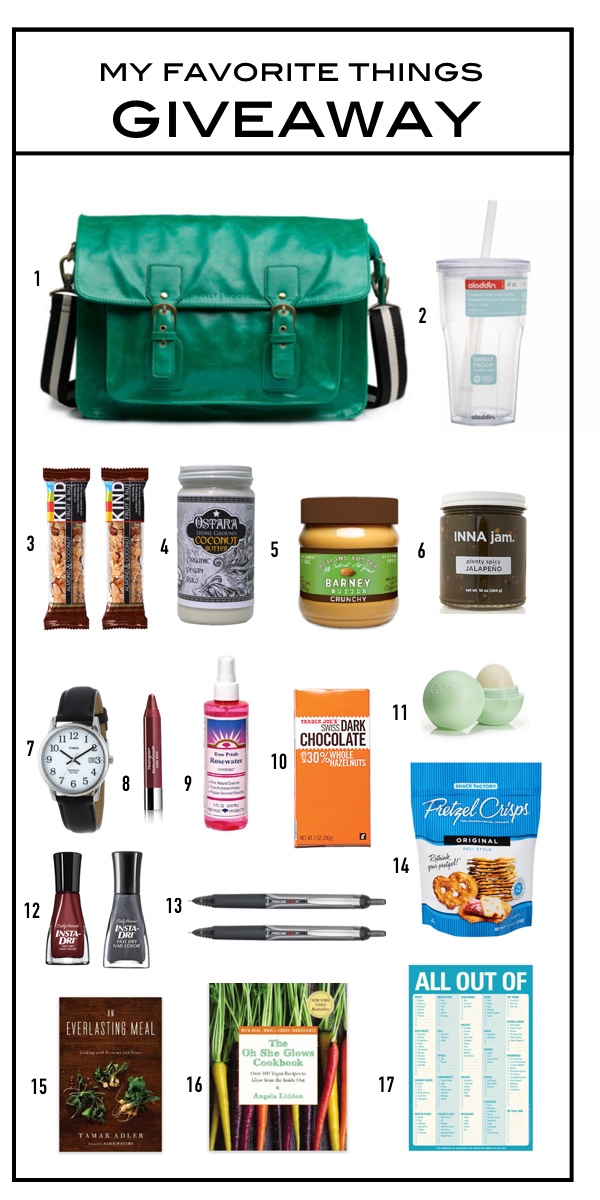 I had every intention of doing a giveaway when I hit 1234 posts…. but it came and went and here we are on post 1347. Oops.  It's kind of like how you look forward to the number changing on your odometer (88,888 and 111,111 are my favorites!) and you're so close to seeing it and then you realize you totally missed it.  I thought I'd use the beginning of June (we're so close to official SUMMER) to play Oprah and  share with you my FAAAAAVORITE THIIIIIIIIINGS.
Side note- Have you tried Oprah's chai? What do we think of it? I had it hot and it tasted like drinking a chai while chewing on cinnamon gum.  I prefer it iced! It's super cinnamon-y and I'm into it! Thanks Oprah!
 Ok let's discuss my (current) favorite things….
1. A Beautiful Mess Camera Bag — I've been searching for a really nice camera bag for awhile and I bought myself this bag in black and I couldn't be happier!  You know what sold me? The black & white striped interior liner and the option to use a striped strap on the bag.  I also love that it doesn't scream CAMERA BAG. The pockets are perfectly placed and the compartment that protects your camera and lenses can easily be removed from the bag so you can use it without a camera! If you click on the link to the bag, you can see a tutorial video. Elsie & Emma gave me a beautiful Kelly Green bag to giveaway. Thanks, ladies!
2. Aladdin 20-Ounce To Go Tumbler — This tumbler is the only way you can get me to easily drink water. Seriously! I love that they are sweat proof too. They're perfect for on the go and I love that the straw doesn't easily fall out (super important when you have a fidgety kid). Target has some really cute straws too if you're looking to accessorize your tumbler.
3. KIND Almond & Coconut Bars —  My most favorite snack/energy bar. I stock up when I'm at Trader Joe's or I get them in bulk on Amazon. I keep a few of these in my car & purse at all times. It's always important to have snacks in the car but it's more important that your snacks don't melt (I had a chocolate situation once-yikes!). There might be a few of these in my glove compartment… You don't want to see me stuck in traffic…hangry.
4. Ostara Coconut Butter —  I've made my own coconut butter…but then I tried this coconut butter and now my life is complete. My blender can never get the coconut butter finely ground enough. I want it CREAMY!! I want to to be actual BUTTER.  It's savory, slightly sweet and CREAMY. That's because it's stone ground. Ostara is a local (to me) company, so it may be hard for you to find a jar (SORRY!!).  On their website, you can try to source locations. IT IS AMAZING STUFF. I put it on everything. Excellent on toast and soo good on roasted sweet potatoes and pancakes.
5. Barney Butter Almond Butter (in Chunky!) — Hands down my favorite almond butter. It has the consistency of Skippy chunky peanut butter but it's ALMOND BUTTER!  In the chunky version, the almond chunks are PERFECTION. It's not gritty like a lot of other almond butters I've tried. Just a warning,  you don't want to be left alone with a jar of this. It's dangerously good.
6. INNA Jam Plenty Spicy Jalapeño Jam — I love this stuff. It's spicy & sweet. Perfect for a little cream cheese & cracker situation. It will most definitely be in the outdoor eating lineup this summer. I heart INNA Jams!
7.  Timex Men's "Easy Reader" Black Leather Strap Watch — I've used my phone as a watch for the past few years and I've grown to really miss wearing watches. Most of the time when I look at my phone to see what time it is, I get distracted with something else and won't even look at the time (whhhhhyyyy??!).  I wanted something classic, graphic, and inexpensive, so I bought myself this watch.  It matches all the black & white I wear! At night Cooper loves to press the Indiglo light. He's obsessed. We're obsessed.
8. Neutrogena Moisture Smooth Color Stick- Plum Passion —  I bought one of these when I was up in Oregon because I forgot to bring lipstick with me and needed something inexpensive to fancy up my dinner outfit. I found a winner with this color stick.  Not only does it add pretty/sheer color to my lips, it's really moisturizing. Most lipstick dries out my lips and makes me need to put more on. This one doesn't AND I like the way it smells. NYC makes some really good color sticks too. Wet & Wild as well. I'm kind of a sucker for drugstore makeup.
9. Heritage Store Rosewater Spray — Have you noticed that your tastes change as you get older? I vowed NEVER to wear rose perfume. I really didn't like the smell for a LONG time but somehow in the past few years I've done a 180. I have a bottle of this rose spray in my car and one next to my bed. When it's hot outside, we keep a bottle in the fridge. Whenever I need an attitude adjustment, I spray my face and body with it. We're all fans at my house.
10. Trader Joe's Swiss Dark Chocolate with Hazelnuts — I firmly believe that nuts belong in chocolate. It's kind of crazy that some people disagree! But I am always disappointed when there's not enough nuts in my chocolate bar. I impulse bought this dark chocolate hazelnut bar a few years ago and OMG! GAME CHANGER. There's almost more nuts than chocolate. Amazing! I keep a bar in my filing cabinet at work for 3PM chocolate attacks. One little square and I'm good.
11. EOS Lip Balm in Sweet Mint — My niece Camden was waaaaay into these EOS lip balms last year when she came to visit from Boston. I didn't understand the appeal until I bought one myself. Whoa! Application is a breeze. It's really easy to use while driving!  If you have kids, encourage them not to bite into them. I say this because I have Cooper's teeth marks in mine. Not cool dude, not cool. Mint is my favorite btw. If you're super into them, I've seen a huge package of them at Costco.
12. Sally Hansen Insta-Dri Nail Polish — I really love this particular polish because I am super impatient when it comes to letting nail polish dry (this polish dries fast!!)  The brush is wider than a regular nail polish brush, so it only takes one or two swipes for each nail. I alternate between the red (Cinna-Snap) and the grey (Gone Grey) for my toes.  It's really good to have some when you're running late to a party and you need a little touchup on your toes. They have a golden one that I like for my fingers. You don't notice the chips.
13. Pilot Precise V5  Retractable Rolling Ball Pens, Extra Fine Point  I'm a bold inky pen user at heart, but I vowed to try extra fine tip pens this year. It was kind of a New Year's Resolution of mine.  My friend Amy turned me onto these pens and I LOVE THEM. I alternate between the V5 and the V7 (which is slightly thicker).  If I'm writing checks for work I go with the V7. They don't bleed through the paper and that's super important when I'm making lists in my bullet journal. I hoard them!
14. Pretzel Crisps –The worst/best thing I ever did was buy a package of these at Costco. When I'm eating them by the handful, I think about the person who invented them and how I'd like to pat them on the back. I also think about the person who invented gummy vitamins a lot too. You two are cool. I like you a lot.
15. An Everlasting Meal: Cooking with Economy and Grace  I've talked about this book a lot. It really changed my life. I was buying one for a friend and I accidentally put TWO in my cart. I can't possibly read TWO books, so I'm giving you my extra copy. It will help inspire your weekly meal prep. Guess who won't be wasting food? YOU.
16. The Oh She Glows Cookbook– One of my favorite cookbooks right now. You don't have to be vegan to love it.  I've already made the strawberry chia jam (amazing) and the lemon tahini dressing in this post came from that cookbook.
17. All Out Of Magnetic Pad  I don't know how I would do grocery shopping without one of these notepads. I'm sure you've heard me say it time & time again…BUT SERIOUSLY. GET YOURSELF ONE. Store it on your fridge. Mark what you need. Carry some in your bag. DO IT.
There you have it. My favorite things! All of the products in this giveaway (with exception to the camera bag- thanks ABM!) were purchased by me for ONE of my readers.  Winner will be picked at random and announced on my I Love Lists, Friday June 6, 2014.  I will send the winner an email as well! 
If you'd like a chance to win, tell me:
Something that's on your Summer Bucket List!

Leave a comment below!
One entry per person. US Residents Only. THAAAAAANK YOUUUU!
</oprahvoice>
GIVEAWAY IS CLOSED!! THANK YOU FOR ENTERING!!!!!!!!!!