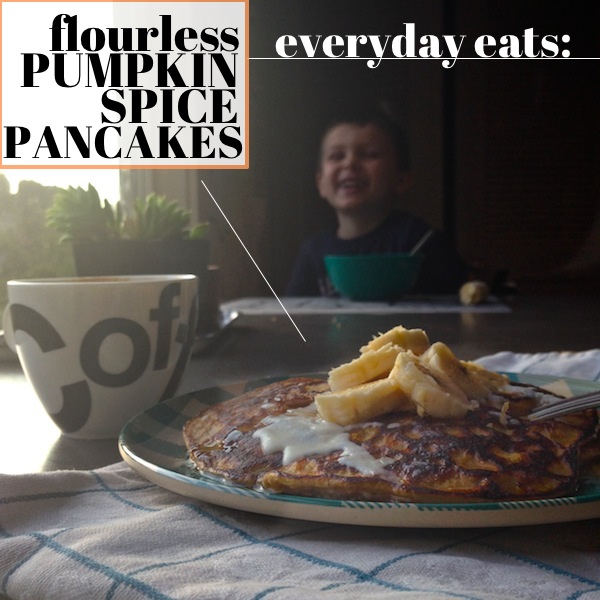 If you follow my Instagram, you might already know that I'm kind of obsessed with making pancakes these days. I've actually been eating these pancakes or a banana version for almost every breakfast for the past few months. I've limited the amount of times I've posted pictures because I don't want you to know how freaky my food obsessions are.   Ahem…it's bad.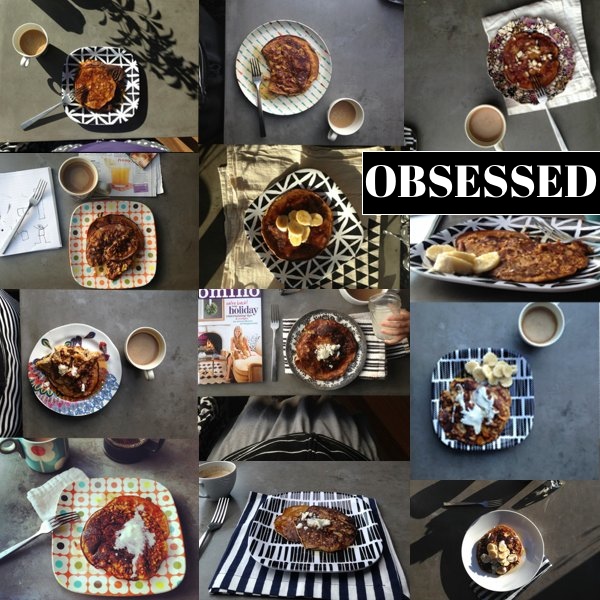 So, welcome to my latest food addiction. These pancakes have NO FLOUR in them. Which is great if you're looking to cut down your carb intake, trying out Paleo or you're gluten free. They taste much like a dutch baby pancake- light, fluffy, and a little eggy. I've found that if you roast your own pumpkin or even acorn squash you have much better results with the texture of these pancakes. Canned puree can make them a little too runny. If you want, you can substitute sweet potatoes or even make a banana version (just add 1 mashed banana to the mix!). Just make sure there's a bit of texture in your mixture.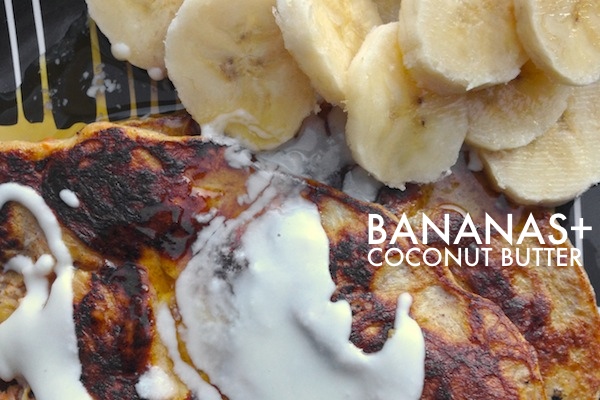 I really like adding coconut butter, maple syrup & sliced bananas on top. Sometimes I'll add chopped pecans or macadamia nuts.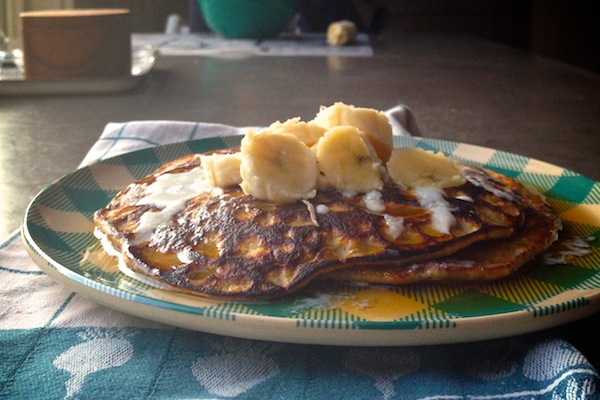 Three reasons why I LOVE THEM SO MUCH:
1. Cooper is a fan (don't tell them it's just egg! he won't even try regular eggs)
2. They come together in a snap! If I can make them and get a 5 year old off to school, then you can!
3. They're protein packed—which means that I'm not gonna need a second breakfast at 10am.
TRUST ME.
Flourless Pumpkin Spice Pancakes

makes 3-4 pancakes

1/3 cup pumpkin puree
1/2 teaspoon ground cinnamon
1/2 teaspoon pumpkin spice
1 teaspoon coconut oil (more for cooking)
2 eggs
1 teaspoon maple syrup
maple syrup & coconut butter (for serving)

In a small bowl mix pumpkin puree with cinnamon, pumpkin spice, coconut oil, eggs and maple syrup and beat with a fork until well incorporated.

Heat a large sauté pan or griddle over medium heat, lightly coat with coconut oil or butter and pour about 1/3 of the mixture onto the griddle for each pancake. This recipe will make 2 large pancakes and 4 small ones.

Cook for 3 minutes on each side or until pancakes are set and golden.