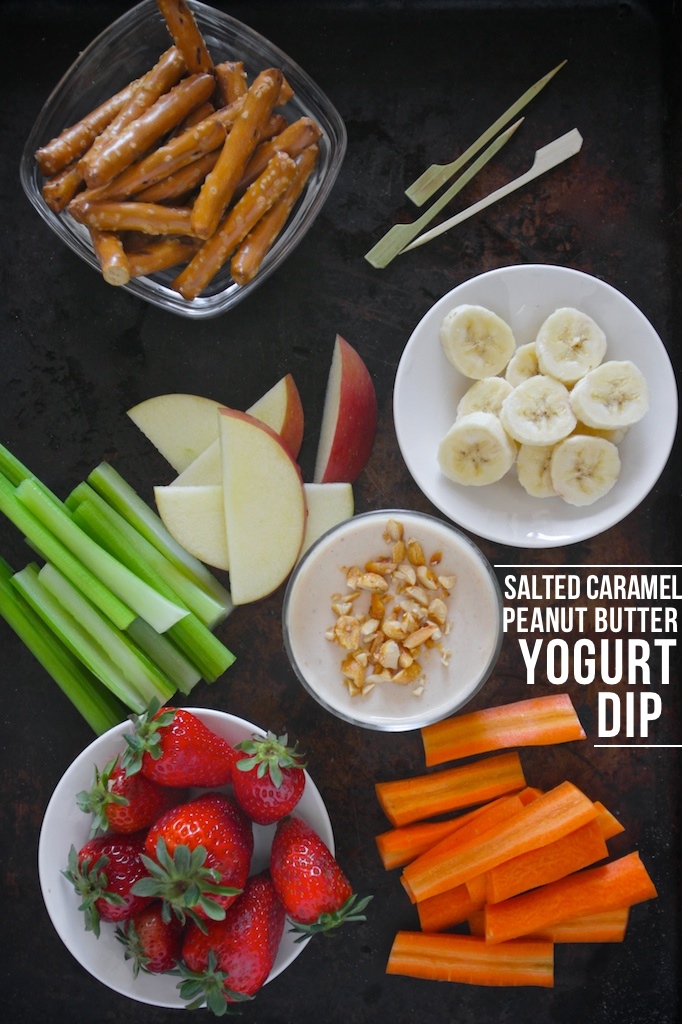 New post! Salted Caramel Peanut Butter Yogurt Dip
As much as I like having people over for a sit down/fancy dinner, I almost always prefer a last minute spontaneous play-date/party. The expectations are lower, it's more carefree, and I haven't agonized over how unkempt my house is. You busy tonight? No? Come over! Maybe bring a dessert or a drink mixer would be cool and we'll hang out with the kids while I'll fix us a cocktail. By the way, my house is a total mess. Oh? Yours is too? Cool.
Another thing I love about the spontaneity is that I can dig into my pantry/fridge and make something out of nothing. It feels like I'm having my own Iron Chef battle; I secretly love a good culinary challenge! I just don't want you to be filming me nor do I want to be competing with a chef coat on.
Spontaneous Play-date Iron Chef Battle:
Something for the kids that's nutritious but makes them think they're eating something indulgent so we can get as many fruits & vegetables into their little bodies as possible.
Challenge Accepted.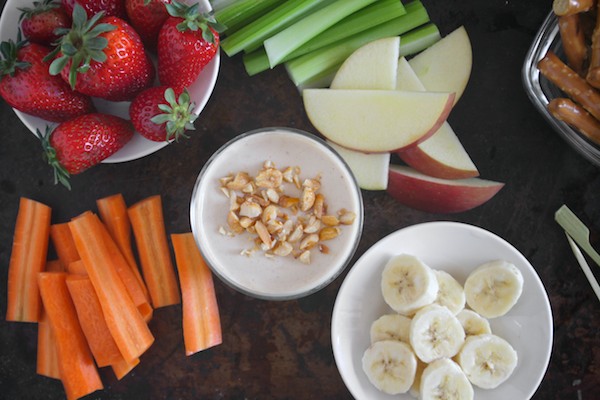 After a little rooting around in the pantry & raiding the fridge, I came up with this party spread ready for a gaggle of ravenous pruney fingered kids fresh out of the pool. The star of the show is this Salted Caramel Peanut Butter Dip- made from three simple ingredients
And we're off!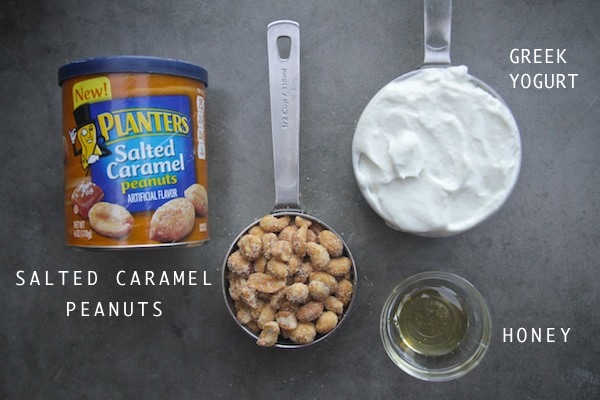 The flavor base of this dip comes from PLANTERS Salted Caramel Peanuts. They're both sweet and salty… kinda like honey roasted peanuts but with a little more oomph.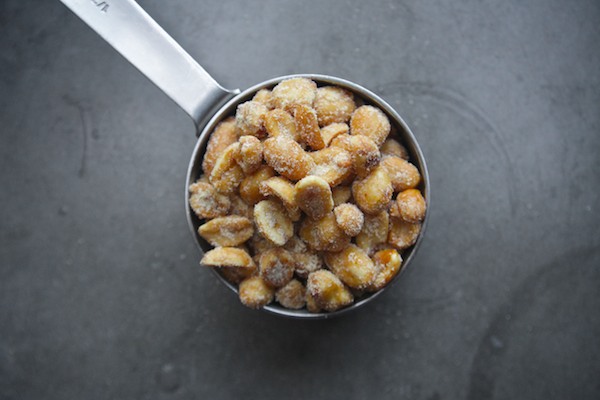 We place the peanuts in mini food processor to make our peanut butter base.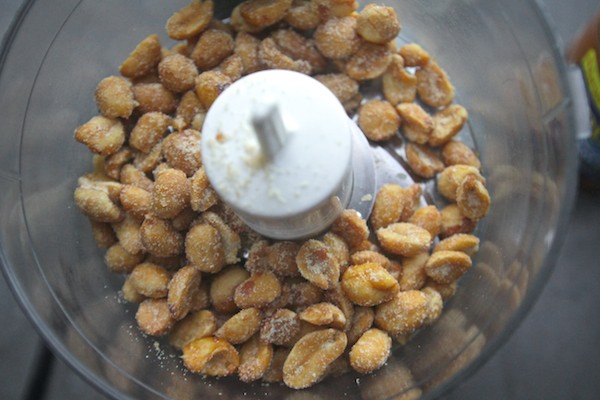 After we process for a minute, it starts to look like peanut butter.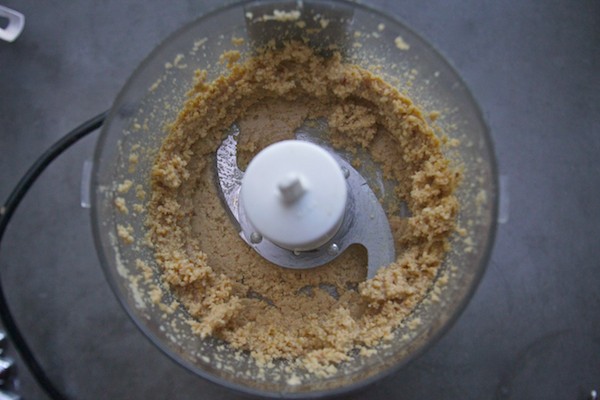 We're gonna need it a little smoother. We add another minute of processing…
Much smoother! Now we add in the yogurt. The yogurt makes the dip fluffy and creamy.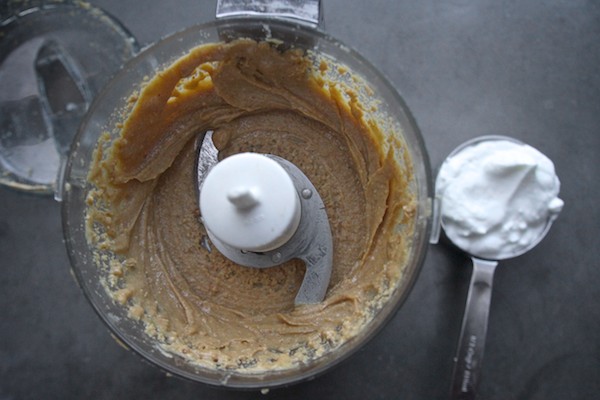 Process! Scrape down the sides and process for another minute.
Add honey to taste. I stopped at a tablespoon. The nuts add just the right amount of sweetness and a nice little salty kick for balance.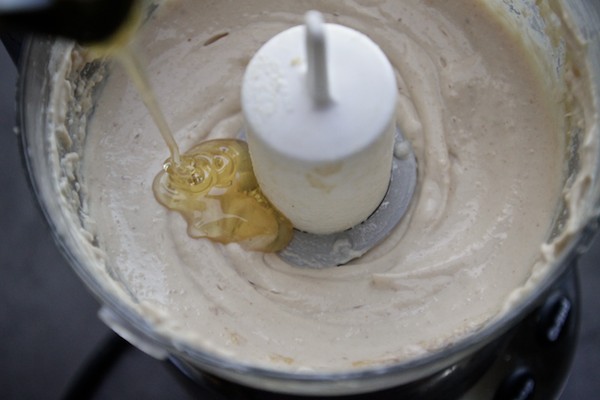 Transfer the dip. Add a sprinkle of chopped PLANTERS Salted Caramel Peanuts to the top for garnish.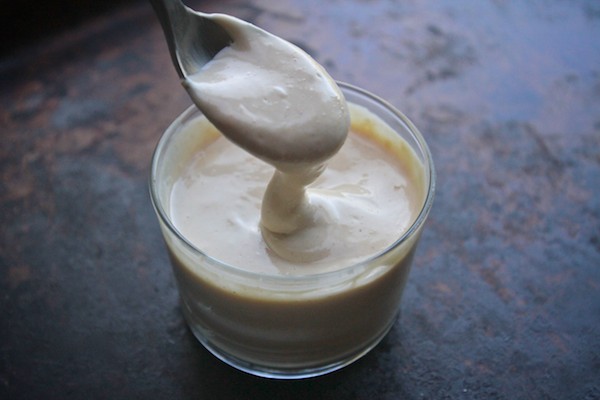 And let the dipping begin!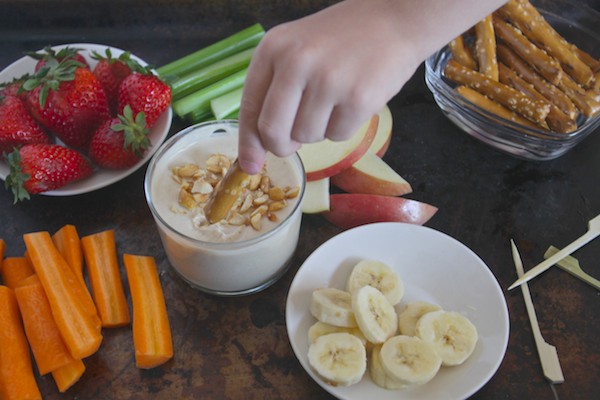 I just want to let you know that Cooper HATES peanut butter (blasphemous!). He ended up eating way more fruit & vegetables than I anticipated thanks to this dip. Talk about SUCCESS. I think it had something to do with the salty/sweet combination of the Salted Caramel peanuts. He told me that it tasted like dessert!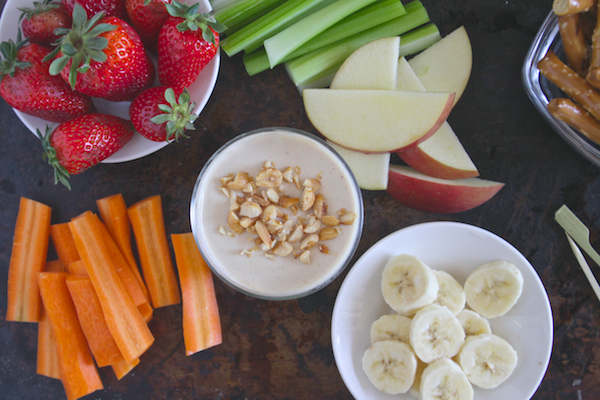 Hooray for spontaneous play dates & dips. I have a feeling my summer is going to be full of them.

Salted Caramel Peanut Butter Yogurt Dip

makes 1 cup

1/2 cup PLANTERS Salted Caramel Peanuts
1/2 cup non-fat Greek Yogurt
1 tablespoon honey

Place peanuts in a mini food processor and process until mixture resembles chunky peanut butter, about 1 minute. Scrape down sides and process for another minute until peanut butter is smooth. Add in the yogurt, process for another minute, scrape down sides and add honey. Process for another 30 seconds and transfer dip to a serving bowl. Serve immediately with an assortment of fruits, vegetables & pretzels. Dip will last covered in a refrigerator up to two days.