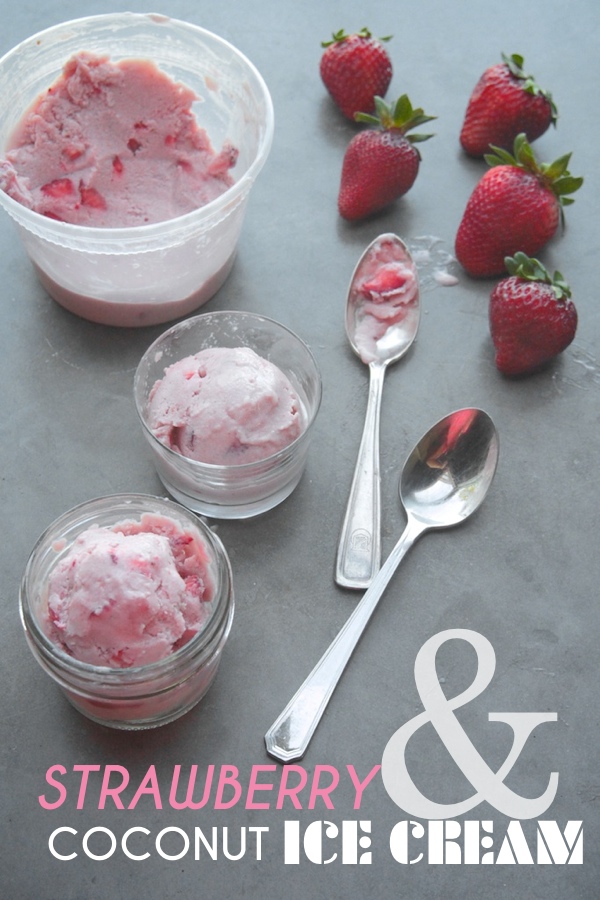 After we spent the weekend in Los Angeles, I was so ready to get back in my kitchen yesterday. There's something so nice about being home from a trip. Home is where my plants are. It's where Cooper's room smells like Cooper and where stacks of books rest precariously on my nightstand. Home is where my laundry pile stays a constant disheveled pile and where I scorn how much laundry I have to do EVERY dang DAY.  Home is where my routine lives and as much as I'm happy to be away, I find an incredible amount of comfort in my everyday routine.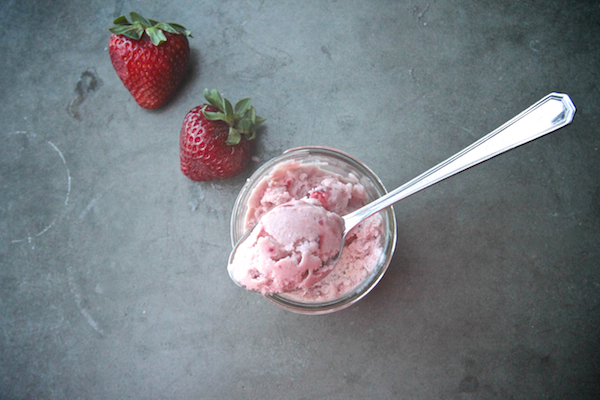 To get myself back in kitchen/cooking mode, I decided to make 4 recipes at once. I made some popsicles (coming soon!),  a batch of simple syrup (which fell on the floor), raw blueberry ice cream (that tasted too much like cashews-Boo!) and this Strawberry Coconut Ice Cream recipe (because I had all of the ingredients!!). I also cleaned my pantry for a good 4 hours (post soon!) and didn't bother to check my email once during that time (it was liberating!).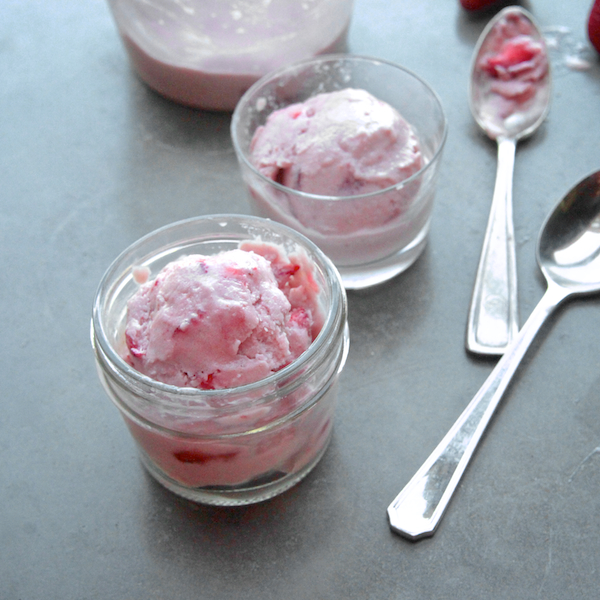 After all of that, I picked Cooper up from school where he proceeded to hound me with questions about dessert. There were negotiations (you must eat your dinner!) and some reminders to be patient, but at the end of the night we enjoyed small bowls of this Strawberry Coconut Ice Cream after dinner. It's a creamy strawberry ice cream that's mildly tart, and you'd have no idea it's made with coconut cream unless someone told you. I set myself up for Cooper not liking it, but then he asked for a second helping and THAT MY FRIENDS, was the icing on the cake yesterday. Well…that and my clean pantry. It's good to be home.
And we're off!
Gather our ingredients.
We have two new ingredients to work with here Xanthan Gum and  Vanilla Powder.
I bought xanthan gum (a gluten free thickening agent) a few months ago because I wanted to try a salad dressing recipe that used it.  You'll find it used a lot in molecular gastronomy.  A little goes a long way and it's great in ice cream because it helps thicken it up! You can read more about it here.
Vanilla powder is used in this recipe because the alcohol in a vanilla extract will most likely change the consistency of the ice cream. The powder adds a nice vanilla base. I think it's what makes it taste like a strawberry milkshake before the mixture freezes. You'll see.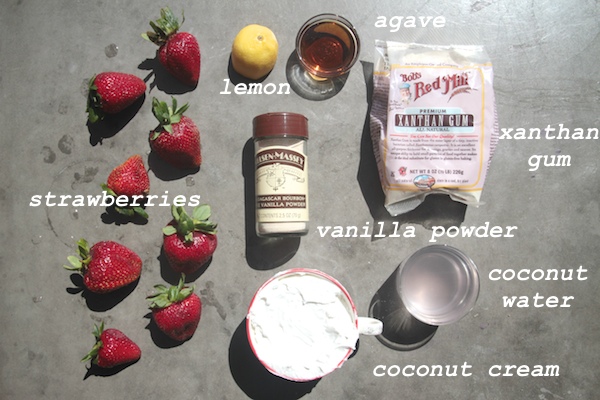 First we chop 1/3 cup strawberries.  We're going to mix them into the ice cream so it will be studded with berry chunks.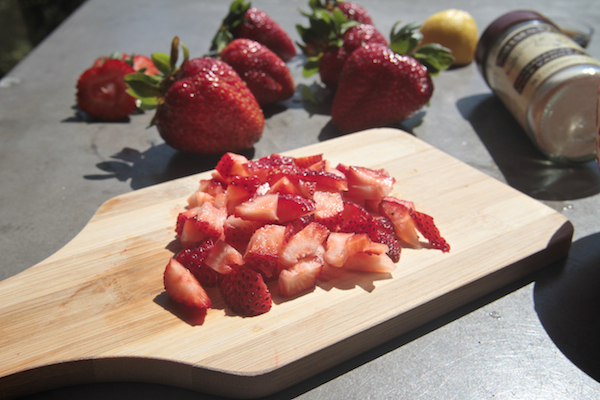 We measure out our vanilla powder & xanthan gum.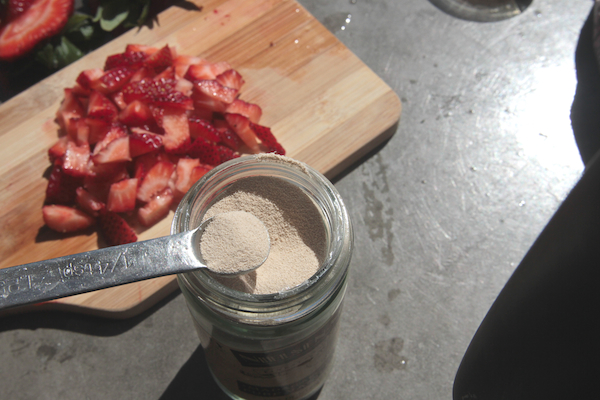 And we toss all of our ingredients in the blender!
Sidenote- I used leftover whipped coconut cream for this recipe and some of the leftover coconut juice I had from the process.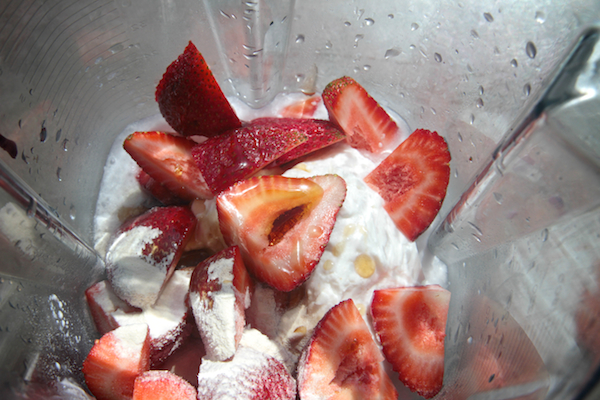 Once it's nicely blended, we pour the ice cream mixture in a shallow freezable pan. If you have an ice cream maker, you should use that. It will produce a creamier ice cream. I decided to do the freeze and stir technique because I wasn't prepared with my frozen ice cream bowl. Ice cream was an impromptu decision…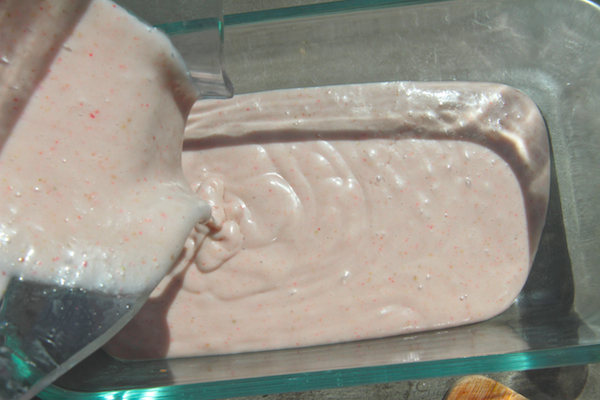 We mix the strawberries in. Now we freeze!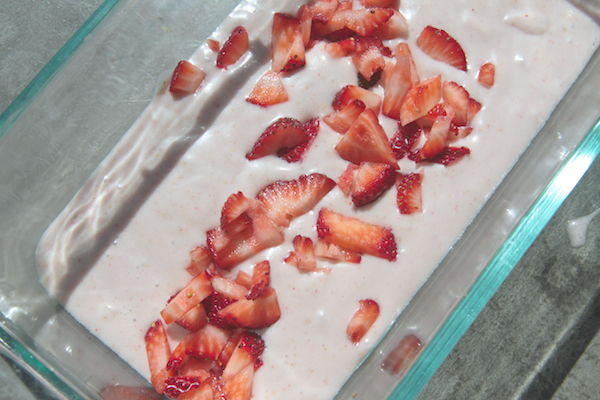 After about 15 minutes we stir. You'll want to do this for a few increments of 15 minutes.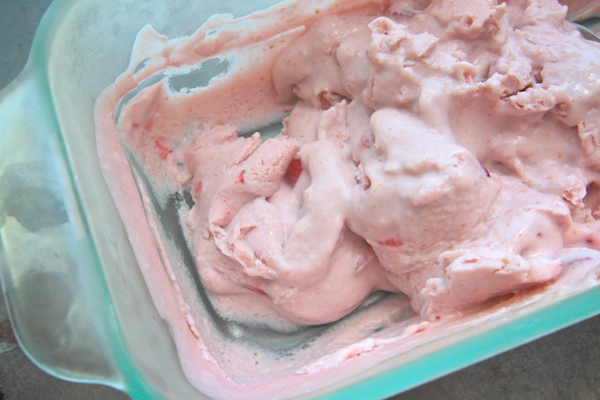 It's so good. Try some.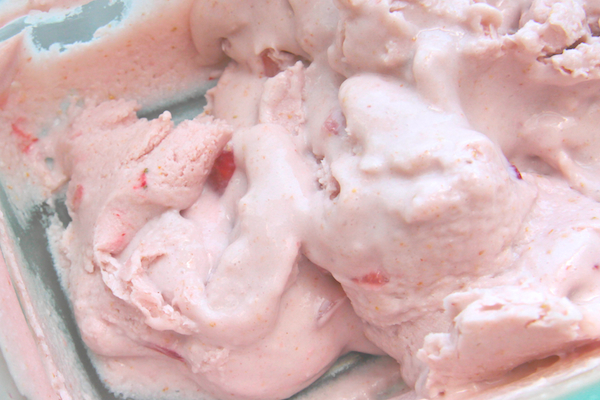 And then after a few hours it's frozen!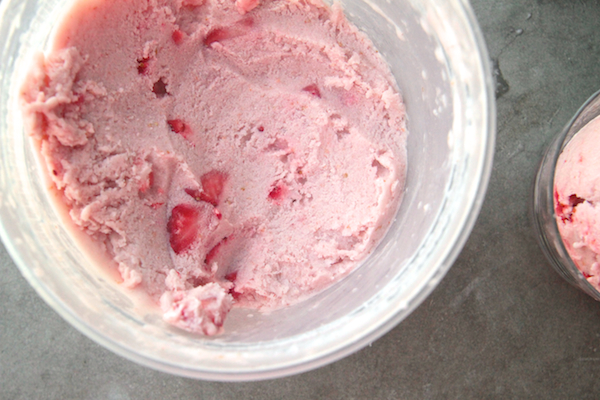 Let's scoop it out! You're gonna love the chunks!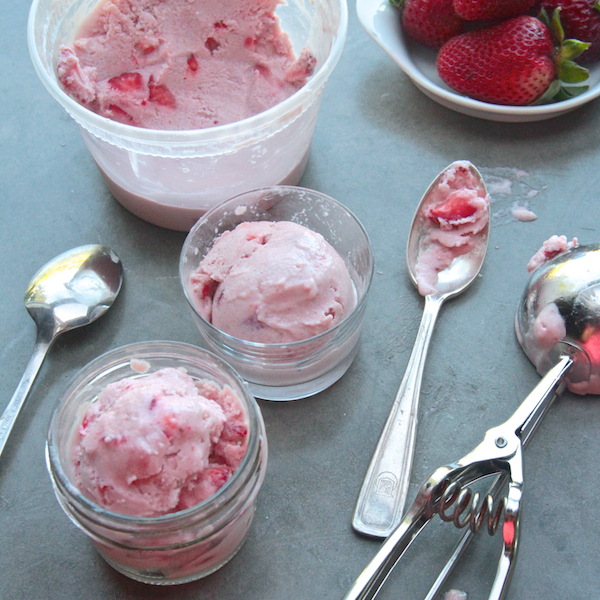 Good til…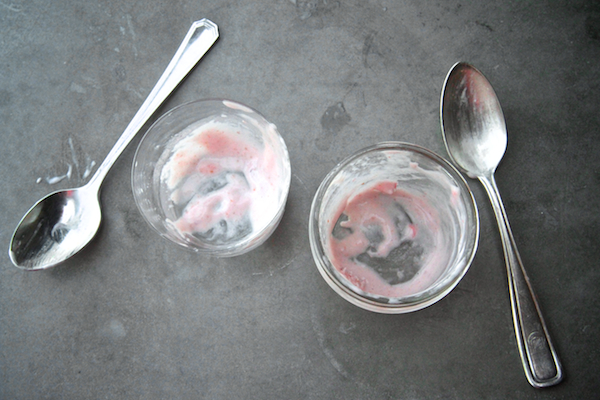 The last drop! Go ahead, beg me for seconds.
Strawberry & Coconut Ice Cream

makes 3-4 servings

recipe adapted slightly from Eating the Alkaline Way

2 cups strawberries
1 cup coconut cream
1/2 cup coconut water
2 tablespoons agave syrup
1/2 teaspoon vanilla powder
1/2 teaspoon xanthan gum
1/2 teaspoon lemon juice

Chop and gently crush 1/2 cup of the strawberries and set aside.

Whiz the remaining ingredients in a blender until smooth. Pour the mixture into a bowl and stir in the crush strawberries. Transfer to an ice-cream maker and freeze according to the manufacturer's instructions. Put in a freezer-proof container, cover and freeze until firm.

If you don't have an ice cream machine, transfer mixture to a shallow freezer-proof dish and place in the freezer until it just starts to harden around the edges (about 15 minutes). Whisk vigorously with a fork to break up any ice crystals, then freeze and repeat process until ice cream is firm.