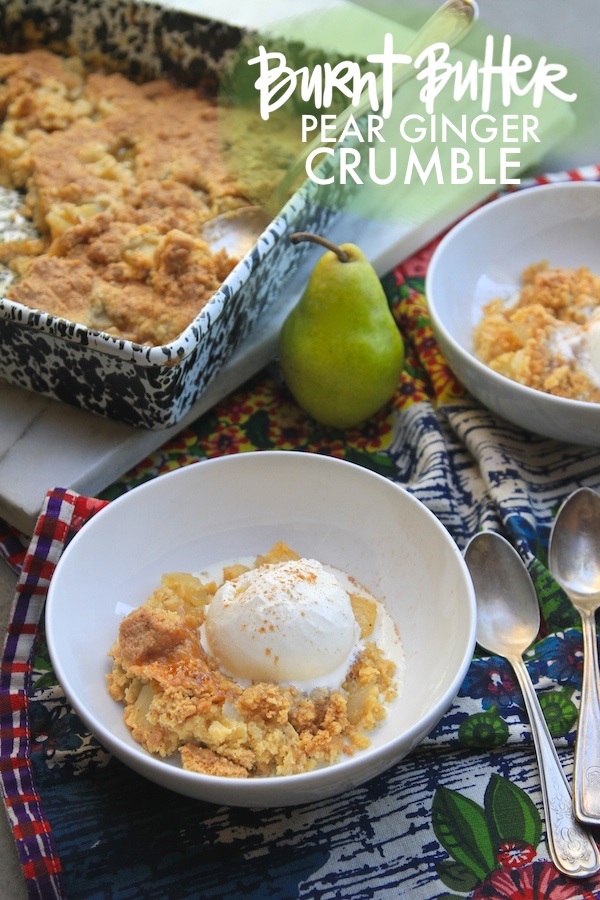 My friend Adrianna has a new cookbook —The Year of Cozy and I was lucky to snag an advanced copy. It comes out soon, so be sure to preorder! It's a cookbook and so much more.  There are so many DIY projects I want to tackle— like stenciling our front doormat, food inspired flower arrangements and making marbled dish ware.  It's packed with inspiration for every season.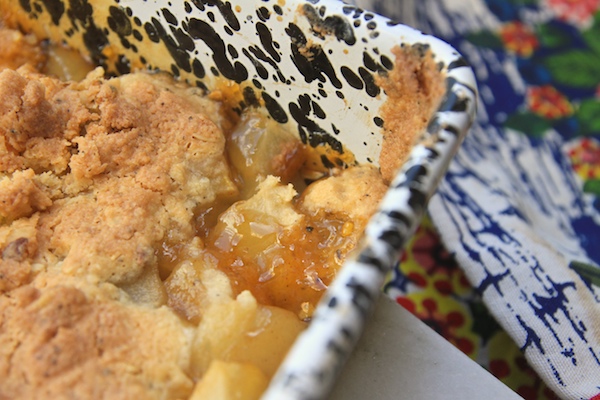 With Autumn being here and wanting to get cozy in the kitchen, I made her Burnt Butter Pear Ginger Crumble. Can you see that edge there? That gooey caramelized piece of pear? Gahhhhh. It was so good.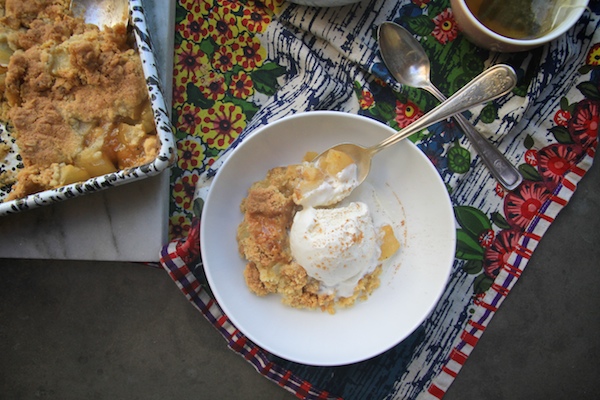 The burnt butter creates a savory/sweet crust and the fresh minced ginger in the filling is TO DIE FOR. I don't know why I don't mix the two flavor profiles more often.  Thanks for helping me get in the mood for Fall, Adrianna!  It's awesome to know that you can do good things with burnt butter…cuz sometimes I take my browned butter a little too far….My multitasking gets the best of me sometimes.
Let's gather our ingredients: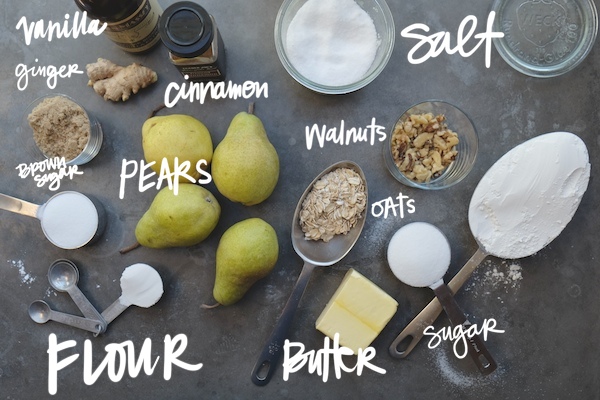 First we peel/core/chop the pears. I doubled up on the ginger because that's how I roll.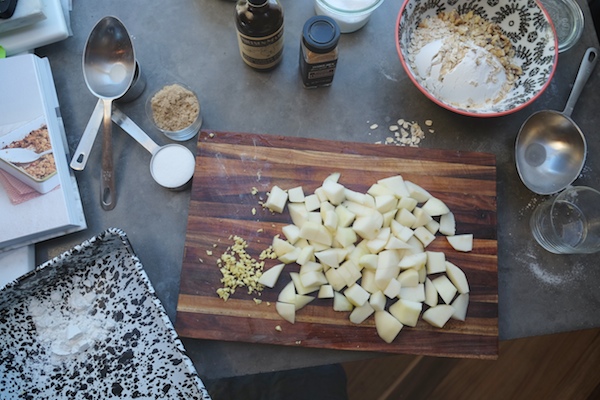 It all gets mixed in your baking pan. No extra bowl to clean up. Thankful.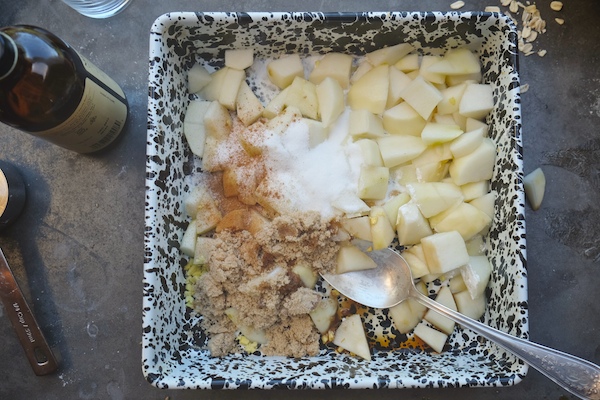 Butter gets melted.
And then burnt!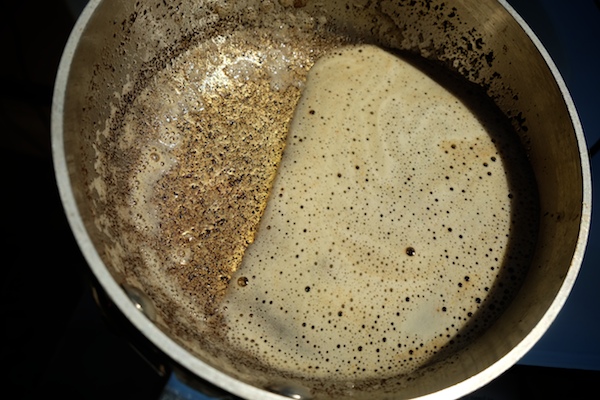 We stir it into the crumble mixture.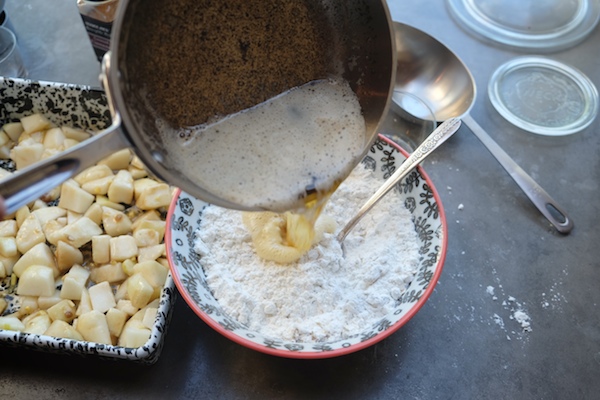 CRUMBLE.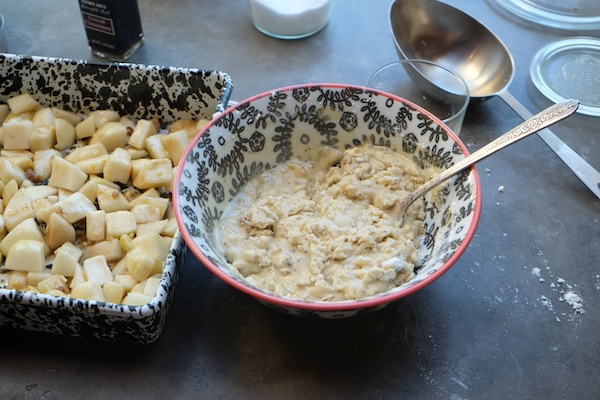 TOPPED.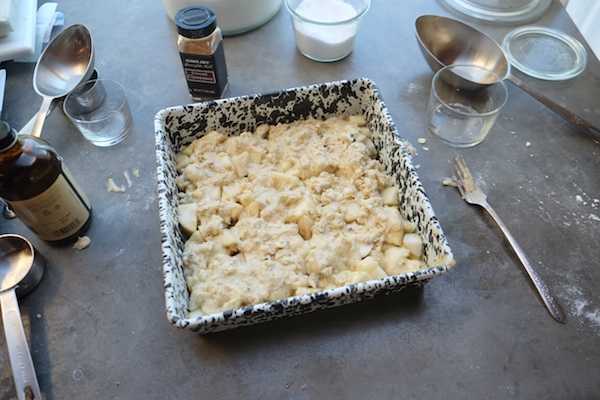 BAKED!
I love the additions of oats & walnuts. LOVE LOVE LOVE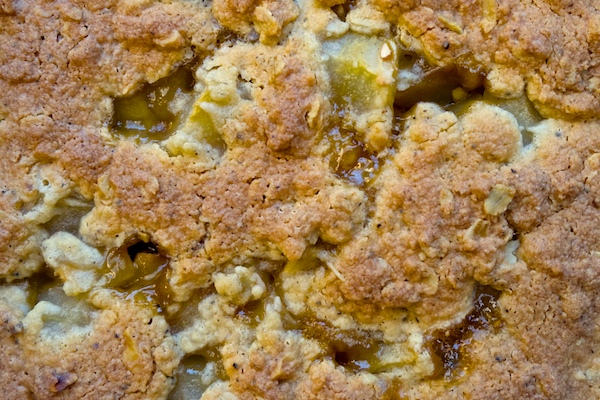 Look at you…. you look like you could use some ice cream.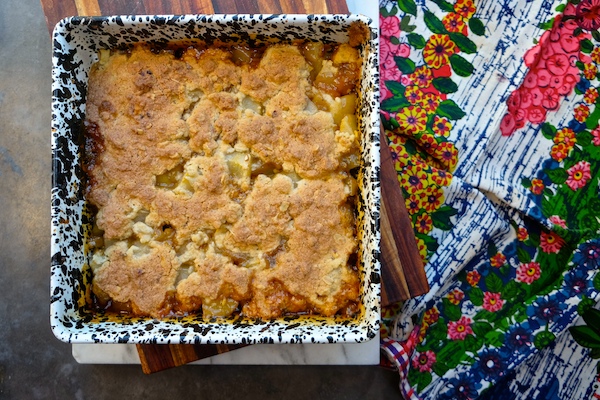 Spooned into bowls and topped with vanilla ice cream.
A little sprinkle of cinnamon for good measure.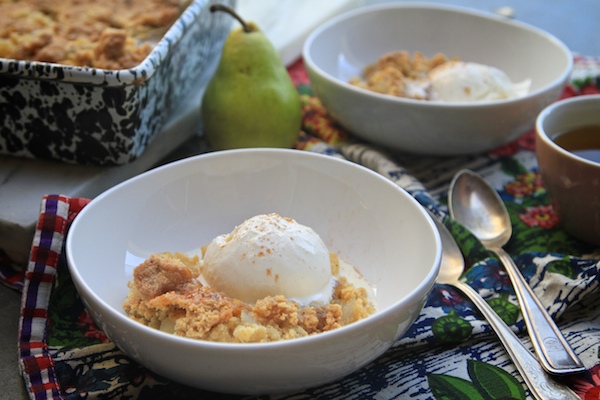 Say hello to your new favorite pear crumble.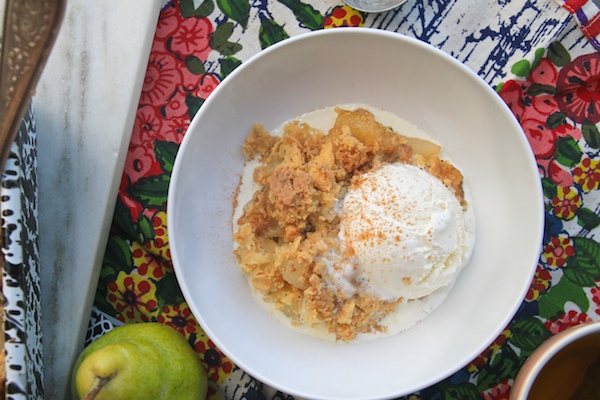 Casey told me, "At your next party, you should totally make this." A real crowd pleaser!
Thanks for reading Shutterbean!  If you'd like check out my everyday life, follow me on Instagram and be sure keep in touch via Facebook, Twitter,  Bloglovin,  Pinterest, or subscribe via email to get new posts delivered to your inbox.
Burnt Butter Pear Ginger Crumble

makes 4-6 servings

recipe slightly adapted from The Year of Cozy

for the filling

4 baking pears, peeled, cored and finely chopped
1/4 cup granulated sugar
1/4 cup brown sugar
1/2 teaspoon ground cinnamon
1 tablespoon all-purpose flour
1″ knob ginger, peeled, finely chopped
1 teaspoon pure vanilla extract
1/4 teaspoon salt

for the crumble topping:

1 cup all-purpose flour
1/3 cup granulated sugar
1/4 cup rolled oats
1/4 cup coarsely chopped walnuts
1/2 cup unsalted butter, cubed
vanilla ice cream,  for serving

To make the filling: Preheat oven to 350F. In an 8″x8″ baking dish, combine pears, sugars, cinnamon flour, ginger, vanilla and salt. Toss until the pears are thoroughly coated. Set aside.

To make the topping: In a medium bowl, whisk together the flour, sugar, oats, and walnuts.

In a small saucepan set over medium-high heat, add the cubed butter. Brown the butter until it goes from, yellow and bubbling to a very, very dark brown color. It might appear burnt (and it is), but not to worry, it will will taste delicious.

Pour the burnt butter into the medium bowl that's holding the flour and oat mixture. Using a spoon, stir the mixture until it's clumpy and everything is coated with butter.

Pour the crumble atop the filling and spread it out evenly. Transfer to the oven to bake for 35 to 40 minutes, or until crumble is bubbling and the top is golden brown. Serve warm with vanilla ice cream and sprinkle the top lightly with cinnamon.